Agatha Christie and Chess

Edward Winter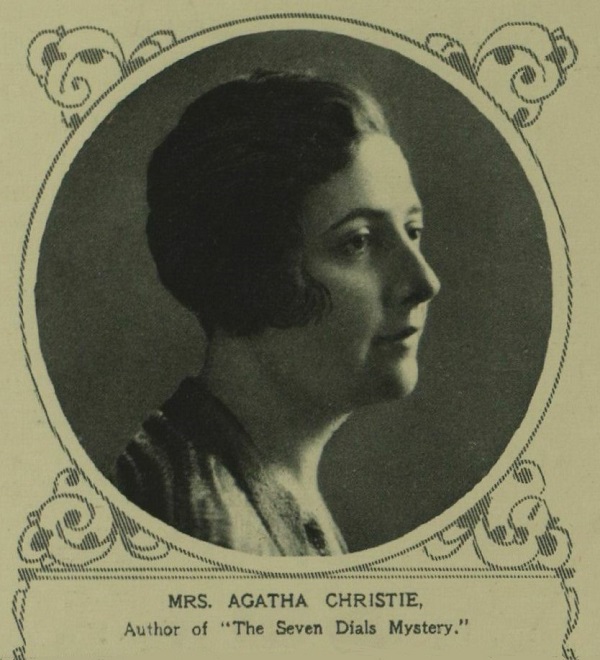 Illustrated London News, 16 February 1929, page 280
Agatha Christie's 1927 book The Big Four included 'A Chess Problem', which mentioned Lasker, Capablanca and Rubinstein. A murder mystery solved by Hercule Poirot, it has often been anthologized as a short story, two instances in the chess world being pages 184-195 of Chess in Literature by Marcello Trutti (New York, 1974) and pages 222-233 of Sinister Gambits by Richard Peyton (London, 1991).
Did Agatha Christie refer to chess anywhere else in her writings?
(4083)
---
When The Big Four was brought out by Planet Three Publishing Network Ltd. (no date given) the front cover had a chess illustration: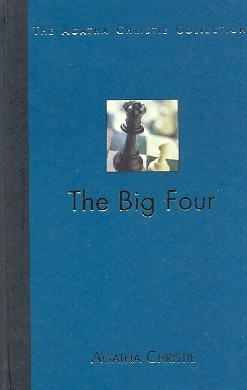 ---
Alexander Kotov's assessment of Agatha Christie was reported by Harry Golombek in The Times Saturday Review, 25 April 1981, page 9:

Below is the remark about 'even a Russian' (which was addressed to Hercule Poirot) in 'A Chess Problem', as published in the edition of Agatha Christie's book The Big Four referred to in C.N. 4105: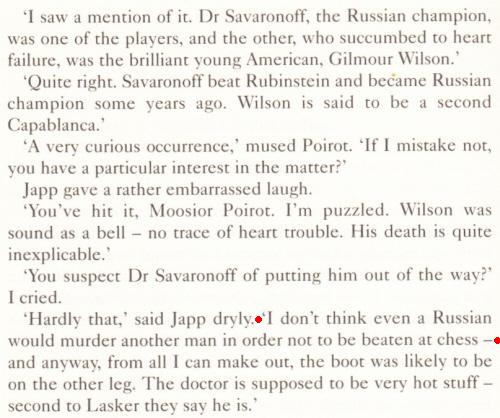 (8272)
---
Mike Salter (Sydney, Australia) quotes from page 219 of Sinister Gambits edited by Richard Peyton (London, 1991):
'["A Chess Problem"] reveals its author's knowledge of the game, for she played from her childhood, and to the end of her life continued to enjoy games with her husband, Sir Max Mallowan, as relaxation after a day's hard plotting.'
Peyton specified no source for this information.
Below is a passage from page 102 of the book shown in C.N. 4105 (in 'A Chess Problem', which is Chapter 11 of The Big Four):
(8371)
---
Latest update: 16 August 2015.
To the Chess Notes main page.
To the Archives for other feature articles.
Copyright: Edward Winter. All rights reserved.