Paulsen v Morphy, New York, 1857
Edward Winter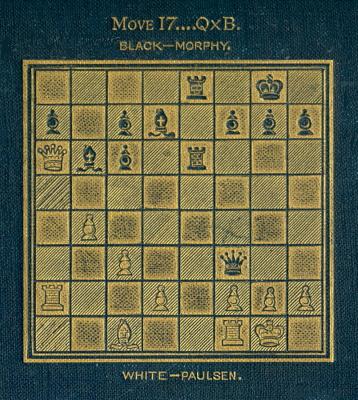 Front cover of The Modern Chess Instructor by W. Steinitz
As is well known, though not always mentioned by annotators, in his famous win against Louis Paulsen at New York, 1857 Morphy overlooked quicker mates at moves 22 (...Rg2), 23 (...Be4+) and 24 (...Bg2+). The second and third of these are, of course, the same mating line.
It is worth recalling the discussion in such popular books as Chernev's The Bright Side of Chess (pages 120-122) and The Chess Companion (pages 231-233). In the latter work the discovery of 22...Rg2 was credited to Zukertort, and it was stated that 23...Be4+ was 'pointed out by Bauer'. Many other books say the same. On the other hand, page 71 of Morphy Chess Masterpieces by F. Reinfeld and A. Soltis (New York, 1974) referred to 22...Rg2 as 'the beautiful four-move win discovered by Steinitz'. (The annotations were by Reinfeld, having previously appeared on page 327 of the November 1954 Chess Review.)
So, was it Zukertort or Steinitz who first pointed out 22...Rg2, and where exactly did Bauer comment on the game?
On pages 171-173 of the February 1887 Chess Monthly an article by Zukertort was published under the title 'The Morphy-Paulsen End-Game':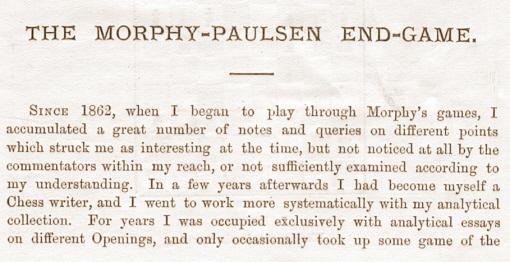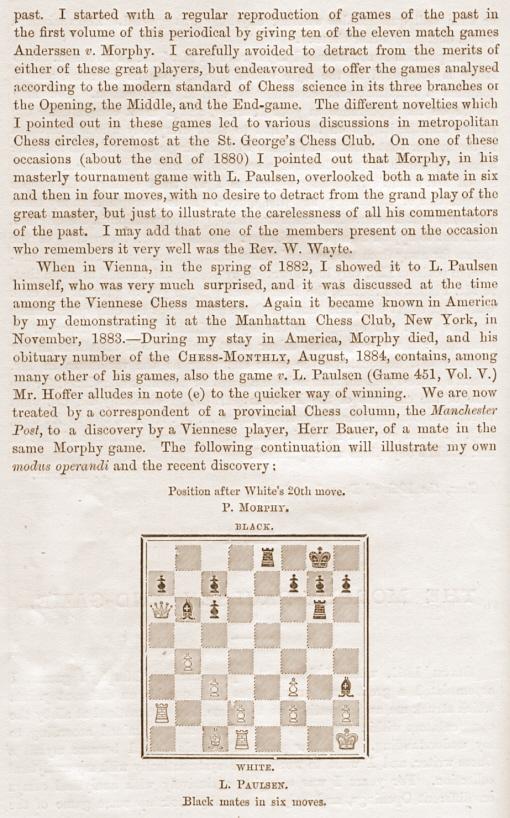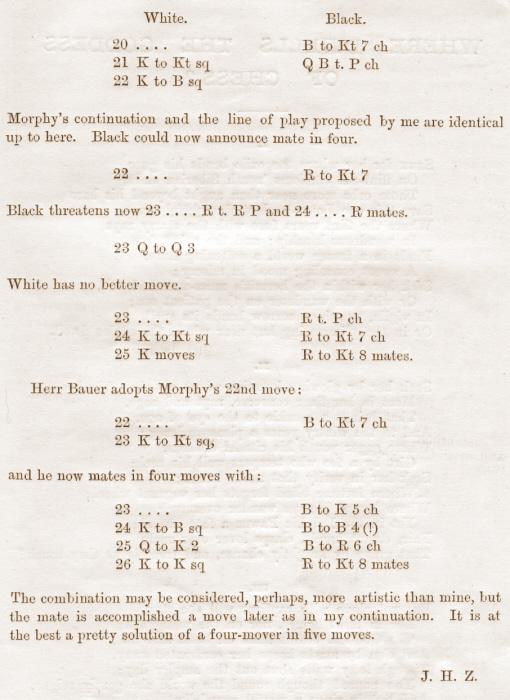 Steinitz, for his part, gave the game on pages 48 and 51 of part one of The Modern Chess Instructor (New York, 1889). Without offering details he asserted that it was he who had 'first discovered' 22...Rg2 ('though it was afterward claimed by another player now deceased'). Steinitz made no mention of Bauer's 23...Be4+:
What was the exact chronology of the analytical findings by Steinitz, Zukertort and Bauer in the Paulsen v Morphy game?
(7120)
After giving the finish of Morphy's celebrated win at New York, 1857 against Louis Paulsen (17...Qxf3), Fred Reinfeld wrote on page 156 of Great Moments in Chess (New York, 1963):
'Beautiful, isn't it? Géza Maróczy, the author of a definitive book of Morphy's games, has this closing comment: "Morphy played the whole game faultlessly, powerfully, and with youthful verve."

Is this the truth, the whole truth, and nothing but the truth? Not by a long shot.'
Reinfeld then discussed the play from move 17 onwards, examining the quicker wins missed by Morphy.
Contrary to the impression thereby created, such improvements had also been reported in Maróczy's book Paul Morphy (Leipzig, 1909 and Berlin and Leipzig, 1925), on pages 45-46 and 30-31 respectively. See too pages 30-31 of the English-language edition by Robert Sherwood (Yorklyn, 2012).

It is curious that despite analysing Morphy's inferior handling of the conclusion, Maróczy did indeed write that Morphy had played the game faultlessly, as quoted by Reinfeld above. Both editions of Maróczy's book stated:
'Morphy spielte die ganze Partie tadellos, durchwegs kräftig und mit jugendlicher Verve.'
Conscientious annotators naturally mention the faster wins missed by Morphy in the Paulsen game. On pages 24-26 of Duels of the Mind (London, 1991) Raymond Keene noted none of them.
(10029)
C.N. 10689 showed the first page of unit three of Amenities and Background of Chess-Play by W.E. Napier (New York, 1935), where the Paulsen v Morphy brilliance was described as 'an off-hand game':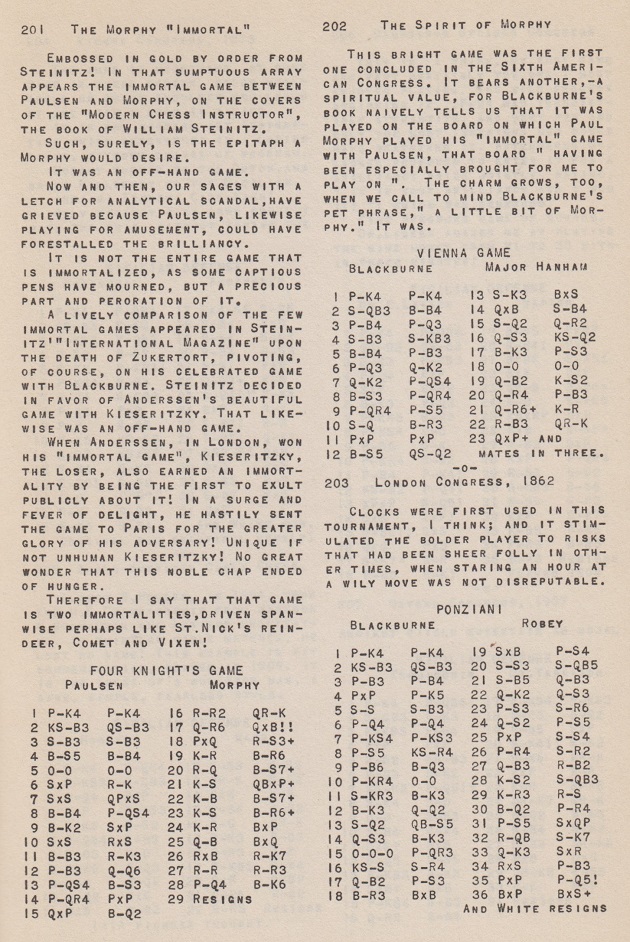 ---
See too Chess and Time and World Champion Combinations.
---
Latest update: 3 January 2018.
To the Chess Notes main page.
To the Archives for other feature articles.
Copyright: Edward Winter. All rights reserved.