Chess: Hitler and Nazi Germany

Edward Winter
(2000, with updates)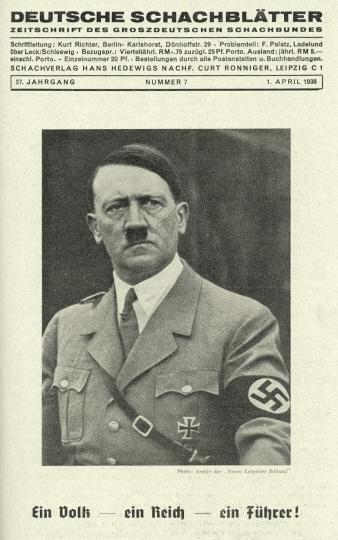 We offer a digest of quotes from the BCM of the 1930s and 40s.
June 1933, page 269:
'In his anxiously awaited speech to the Reichstag on 17 May, Herr Adolf Hitler made a curious comparison, which is thus reported in the telegraphic accounts. Speaking of the Nazi Storm Troops, he said: "If Storm Troops are to be called soldiers, then even the chess and dog-lover clubs are military associations." Well, we know that chess has been called effigies belli; but it has not yet gone to the dogs!'
Regarding the authenticity, or otherwise, of the attribution, see C.N. 5902.
---
August 1933, page 344:
'The German "Propaganda Minister", Dr Goebbels, is honorary president of the new Federation.'
---
September 1933, page 385:
'The new German Chess Federation is the Grossdeutsche Schachbund, being a Pangermanic League of Chess on National Socialist lines, of which the president must be approved by Chancellor Hitler. We have not seen the articles of constitution. But it is stated that by them players of Jewish origin are not in future eligible for membership of chess clubs in Germany unless they have received the decoration of the Iron Cross or were combatants in the War. "Aryan" race is a requisite for participation in national tournaments.'
---
December 1934, page 506:
'The recent embargo on Germans leaving the country, forbidding them to take with them more than the equivalent of about 15s., is likely to prevent visits abroad of players from Germany – notably to England.'
---
October 1935, page 446:
'The new German C.A. is not affiliated, but a representative was present [at a FIDE meeting in Warsaw] seeking support of the FIDE for a team tournament at Munich next year concurrently with the Berlin Olympiad (athletics). Some opposition was offered on account of Germany's non-affiliation, but eventually on a vote it was left to each country to take its own line on the matter.'
---
April 1936, page 175:
'We omitted to record last month that in a tournament held at the Bar Kochba, Leipzig, at the end of 1935, for the Jewish championship of Germany, S. Fajarowicz and J. Mundsztuk, both of Leipzig, and S. Rotenstein, of Berlin, tied for first place, with 5 points each in 7 games. The tournament was played on the Swiss system, with 17 competitors in all.'
---
November 1936, page 546:
'When then shall we hear of the re-entry of Germany into the International Chess Federation? It is difficult to understand why Germany withdrew; for it was, of course, a case of withdrawal, not of expulsion. The virus of politics is indeed potent if it prevents both Germany and Russia making the FIDE truly what its name claims to be.'
---
June 1939, pages 257-258:
'... Germany, since Hitler adopted Nimzowitsch's theory of over-protection, has acquired fresh and vast resources in the matter of chess masters – e.g. Eliskases, Becker and Lokvenc from Austria and Gilg from Czechoslovakia.'
---
October 1939, page 425:
'This time the same enemy has attacked wantonly another Ally, and unfortunately we are not in a sufficiently good geographical position as to give the same assistance as we were able to render to France in 1914 to 1918; and it is evident that, after 25 years, in a war on a large scale, as we must feel this is likely to be, all civilians have to do their share towards helping their country to win the battle for Right over Might.'
---
October 1940, page 321:
'Last month our Editor, Mr H. Golombek, reported that as he was serving in the Royal Artillery, he had handed over his editorship to me [R.C. Griffith, Acting Editor], and that all communications should be addressed to me at 8 Victoria Avenue, Bishopsgate, London, E.C.2. In the early hours of 9 September a Nazi pigeon dropped his mess in our courtyard, and Victoria Avenue is now a dust heap. Consequently, much material handed over to me by Mr Golombek, such as articles by I. König, games from all sources, etc., which we had selected for inclusion in the British Chess Magazine, are buried, perhaps to be discovered in the year A.D. 2000.'
---
December 1940, page 394:
'The "Gambit", the famous chess resort in Budge Row, still caters for the lover of chess. We are glad to say that it has escaped the fate of other chess centres, the National Chess Centre, Printingcraft and Frank Hollings (an extraordinary number of disasters for chess and quite out of proportion to the amount of damage done to the capital as a whole).'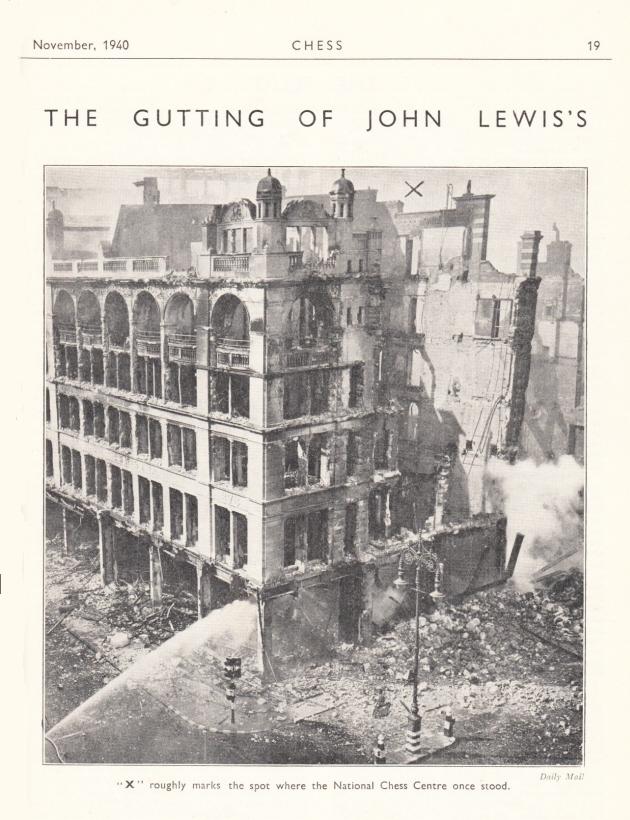 The photograph was also published on page 93 of CHESS, February 1952.
From C.N. 10418:
---
June 1941, page 166:
'A remarkable feature of the "Blitzkrieg" is the quite disproportionate amount of damage inflicted on concerns dealing in chess materials and books. The latest sufferers are Messrs John Jaques & Sons, whose factory and offices have been completely destroyed. New premises are being obtained and they expect to recommence manufacture at an early date. The true spirit of the bulldog breed is illustrated by a postscript to their circular letters "DOWN BUT NOT OUT!"'
---
November 1941, page 285:
'Mr J. Mieses informs us that a tournament has taken place in Munich last September. … Mr Mieses calls this a "Quisling" tournament and thinks that Opočenský, Foltys, Roháček, Rabar, Nielsen, Cortlever and even – Mr Mieses regrets to add – Dr Alekhine ought to be ashamed to go as guests to Germany.

It is with extreme regret that we must subscribe to Mr Mieses' criticism. The facts of the case appear to lend credence to the political and literary activities with which the present champion has been credited. We have studiously refrained from quoting from his alleged writings because even now we do not think it possible for Dr Alekhine to be the author of the farrago of absurdities and contradictions which have been attributed to him.

… We have nothing to add to what Mr Mieses says; the strictures passed by such a kindly, gentlemanly and fair-minded man are a terrible indictment.'
---
January 1942, page 10:
'The "New Order" in Germany is busy on chess literature. The outstanding text-book in the German language is Dufresne's Lehrbuch des Schachspiels, which has held the field for some 60 years. From 1901 to 1937 it was periodically revised, and brought up to date by J. Mieses, and so remained a thoroughly modern work.

As its popularity could not be gainsaid, it had to be "aryanized", and a new revision was entrusted to a 100 per cent Aryan master [Max Blümich (1886-1942)].

It will hardly be credited that the names of "non-Aryan" players have been omitted from the historical section, including Kolisch, Zukertort, Steinitz, Lasker, Rubinstein, etc. Not only that, all their most brilliant games which adorned earlier editions have been eradicated, although a few of their games were allowed to remain – those they lost! This is on a par with the maintenance of "Aryan" superiority in chess by the simple expedient of excluding non-Aryan competition.

There is only one word for it – lunacy. "Whom the gods wish to destroy …".'
---
August 1942, page 178:
'The German comments on the tournament [Salzburg, 1942] make hilarious reading. It was acclaimed as an event of the highest importance since, with the exception of Euwe, the world's six strongest players were competing!! Apparently, Russians, Czechs and Americans don't count.'
---
January 1943:
'In the course of these notes, we referred to the grandiose plans by which German chess, supported by German propaganda, proposes to organize European chess, without reference either to the probable outcome of the present crisis or to the wishes of the bulk of players in the invaded countries.

As opposed to this crazy edifice of wantonly abused temporary power, would it not be a reasonable proposition for the organizers of British chess to get together now and to examine where our present system may be at fault and what remedies could be applied after the last shot has been fired?'
---
May 1943, page 104:
'Referring to our remarks in our last issue about L. Prins, Mr Belinfante says there is a much more serious reason why his name does not appear in any tournament. The Germans have barred Jews in occupied countries from playing chess even in private clubs. For the same reason, Landau's name does not appear anywhere. As nearly all Jews in Holland are in concentration camps or have been sent to Poland, very few, it is feared, will survive the ordeal.'
---
March 1944, page 49:
'One of our supporters has written to us in protest against our reporting chess news from countries with which we are at war; according to him, we should ignore them and not give them gratuitous publicity.

… We have given chess news from Germany in an entirely objective spirit, except when we criticized, perhaps unnecessarily, propagandist attempts to institute a "new order" in chess also by the creation of a new International Chess Association, which apparently intended the permanent exclusion of such unimportant agglomerations as the USA, Russia and the British Empire. We need not have wasted criticism on such a ludicrous, megalomaniac fatuity, of which very little is heard nowadays.'
---
August 1944, page 173:
'The news of this unspeakable tragedy [the death of Vera Menchik] will be received by the chess world with sorrow and with abhorrence of the wanton and useless robot methods of a robot people.

One shudders at the heritage of hatred which will be theirs, but their greatest punishment will come with their own enlightenment.'
---
January 1945, page 1:
'A striking feature of the past year is the falling off in the number of tournaments held in Germany and German-occupied territory on the Continent. The great activity in this direction in the early years of the War was a matter of propaganda. But propaganda loses its value in the face of hard and incontrovertible facts.'
---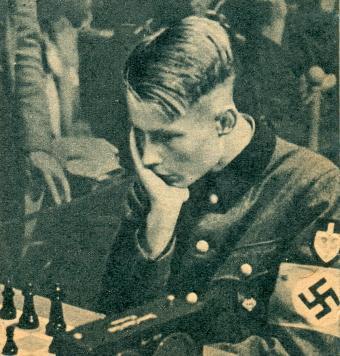 Klaus Junge (see C.N. 6433)
---
Note: This article originally appeared on pages 50-55 of the Winter 2000 issue of Kingpin. The front cover of the magazine's Spring 2000 issue had been inspired by the front page of the 1 April 1938 issue of Deutsche Schachblätter reproduced above.
---
Latest update: 30 April 2017.
To the Chess Notes main page.
To the Archives for other feature articles.
Copyright: Edward Winter. All rights reserved.