The Marshall Gambit

Edward Winter
Frank James Marshall
We offer some historical notes on the Marshall Gambit in the Ruy López (1 e4 e5 2 Nf3 Nc6 3 Bb5 a6 4 Ba4 Nf6 5 O-O Be7 6 Re1 b5 7 Bb3 O-O 8 c3 d5).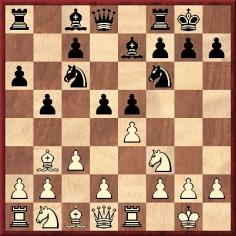 The then US champion, Frank James Marshall, played 8...d5 against Capablanca in the first round of the New York, 1918 tournament, and some writers still perpetuate the myth that Marshall held the gambit in reserve for many years to spring it on the Cuban. For example, C.N. 3097 quoted from page 20 of Every Move Must Have a Purpose by Bruce Pandolfini (New York, 2003):
'Humiliated by the loss [his match defeat by Capablanca in 1909], Marshall diligently trained for some future encounter with the Cuban. He developed a curious gambit that seemed to afford him splendid chances regardless of how Capablanca replied, and he practiced in private to keep his plan a secret.

Seven years went by before Marshall's opportunity came knocking. He unveiled his new setup at the Manhattan Chess Club Masters Tournament in New York [in 1918] …'
We commented in C.N. 3097:
'Marshall did not have to wait "seven years". Page 93 of our book on Capablanca pointed out that between 1910 and 1918 the Cuban played 1 e4 against Marshall on six occasions. Five times the American responded with the Petroff Defence and once with the French Defence. As little as three years before Marshall played his 8…d5 gambit he was still unwilling to face 1 e4 e5 2 Nf3 Nc6 3 Bb5 from Capablanca.'
Whether Marshall played the 8…d5 line before his meeting with Capablanca is a question raised in C.N. 1798. An oft-published game is Walter Frere v Marshall, 'New York, 1917' (see, for instance, pages 238-239 of 1000 Best Short Games of Chess by Irving Chernev), but we have yet to find it in a magazine or column of the time. As mentioned in C.N. 2332, Marshall published the Frere game on pages 110-111 of his rarely-seen book Comparative Chess (Philadelphia, 1932):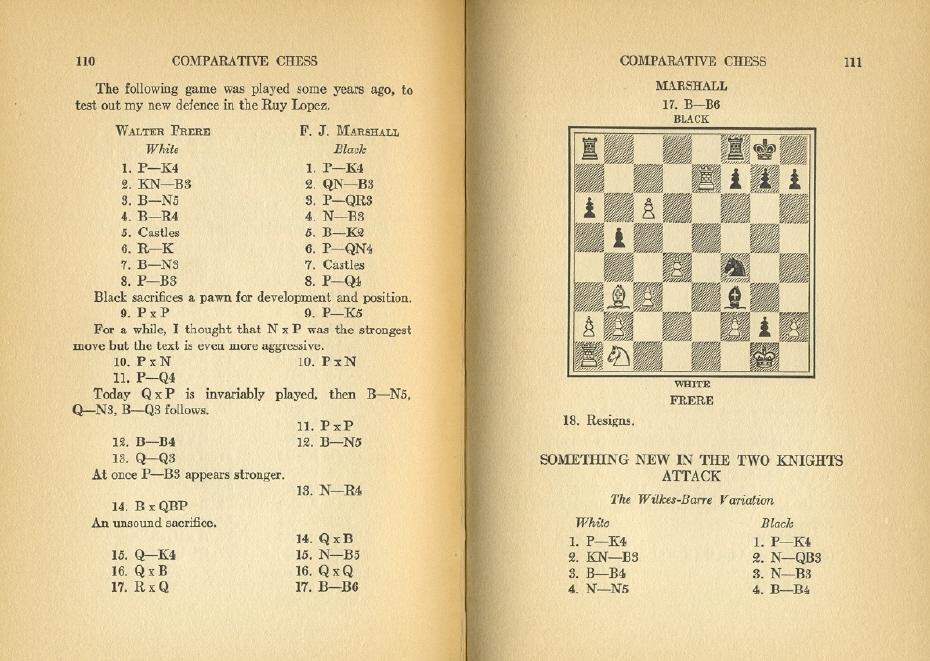 It will be noted that Marshall offered no date or venue, merely announcing, 'The following game was played some years ago, to test out my new defence in the Ruy Lopez.'
A further curiosity in Comparative Chess is that on page 104 it was 7…O-O, rather than 8…d5, that Marshall emphasized. Of 7…O-O he wrote (incorrectly), 'This move of mine, I claim to be original'.

---
From page 135 of The Greatest Ever chess opening ideas by Christoph Scheerer (London, 2008):
We are aware of no 'argument' about the venue of the Walbrodt game, which was given in C.N. 1996 (see page 151 of Kings, Commoners and Knaves). He played the game in Havana on 18 or 19 February 1893 against four Cuban amateurs: Enrique Conill, Enrique Ostolaza, López and Herrera. In another encounter involving the same players Walbrodt was Black.
As shown below, the 'Marshall Gambit' game was published on pages 22-23 of the February 1893 issue of The Chess World (a magazine based in Washington, DC) and on pages 120-121 of Deutsches Wochenschach, 2 April 1893: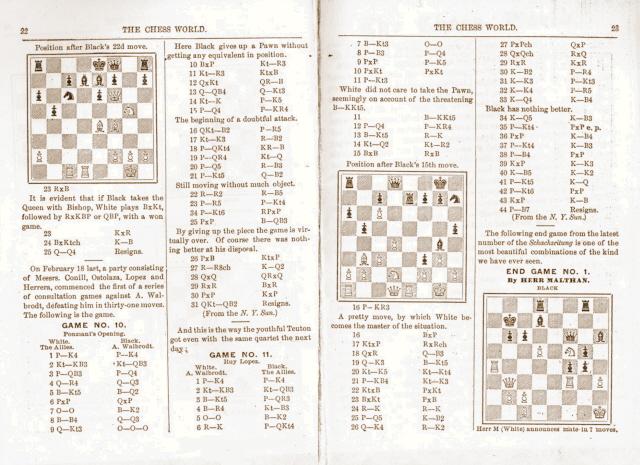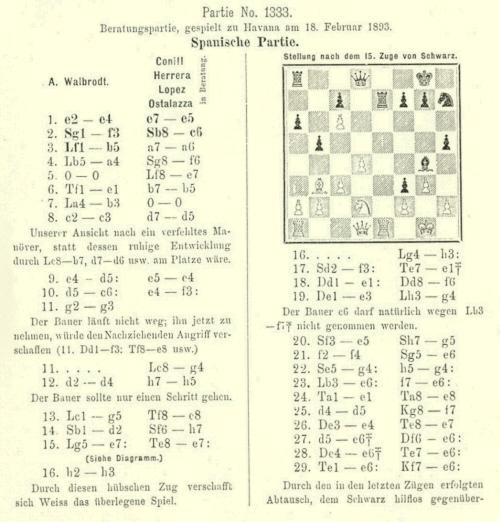 The Deutsche Schachzeitung (pages 110-111 of the April 1893 issue) gave only the game in which the Allies had the white pieces: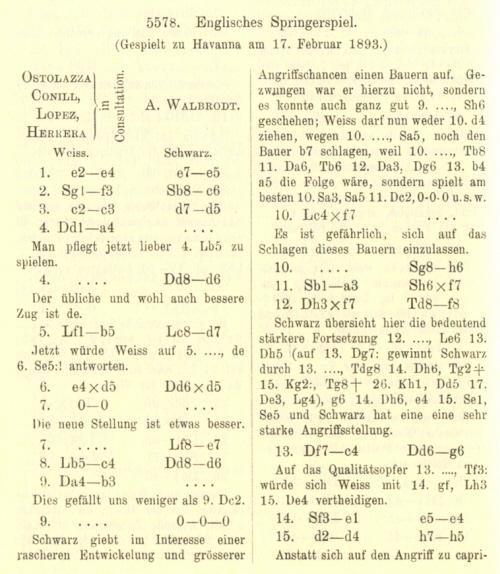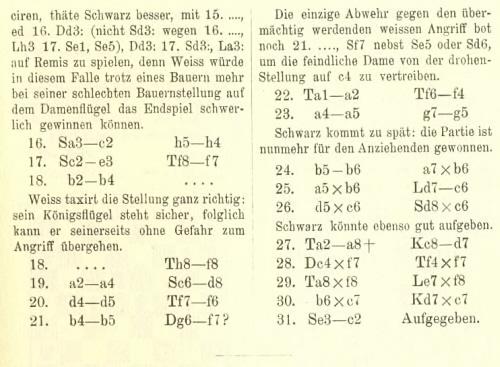 We believe that the German magazines' spellings of the name Ostolaza were incorrect. See page 23 of Ajedrez en Cuba by Carlos A. Palacio (Havana, 1960).
(5664)
---
Regarding Capablanca v Marshall, New York, 1918, page 259 of part one of Garry Kasparov on My Great Predecessors (London, 2003) quotes Capablanca's note in My Chess Career on 15...Nxf2: 'The trapper trapped. Black, however, had nothing better, and had to go on with the attack to do or die'. Kasparov's book then comments:
'Not reckoning on Shamkovich's idea 15...h5!? 16 Be3 (16 Nd2 Bh2+ 17 Kf1 Bd6! is equal) 16...Nxe3 17 Rxe3 Qf4 18 Qxf4 Bxf4 19 Re1 Bf5, when Black's two powerful bishops prevent White from converting his extra pawn.'
In fact, Capablanca's earlier set of notes (on page 12 of the New York, 1918 tournament book) did 'reckon on' the move 15...h5, and he even suggested that it may have been the best move. He wrote of 15...Nxf2:
'Very likely a mistake and overlooking the reply. 15...h5 was perhaps the best way to keep up the pressure.'
In My Chess Career, however, the Cuban made no mention of 15...h5.
Below, for the record, we give in full his brief notes to the game in the tournament book:
7...O-O: 'Castling has been supposed to be undesirable at this point, on account of 8 Bd5.

8...d5: 'The sacrifice, if accepted, yields Black a powerful attack, although of a doubtful nature, and I am inclined to think that White should come out with advantage.'

12 Re1: '12 d4 looks like the natural move, but leads to the same thing.'

13 h3: 'If 13 d4, then will follow 13...Ng4.'

15 d4: 'The tempting move of 15 Re8 is met by 15...Bb7 16 Rxf8+ Rxf8 17 Qxg4 Re8 18 Kf1 Qe7 19 Be6 Bd5, and Black has the best of it.'

15...Nxf2: 'Very likely a mistake and overlooking the reply. 15...h5 was perhaps the best way to keep up the pressure.'

18...Bg3: 'The alternative was 18...Nh1, leading to a complicated game, but always White is apparently able to find a valid defense.'

19 Rxf2: '19 Ke1 was also feasible, as it is not possible for Black to play 19...Rae8 on account of 20 Qxf7+.'

22...Rae8+: 'As it is important for Black to avoid exchanging queens he is now compelled to drive the king to c2 and presently also his rooks are on the wrong side of the board.'

28...Bd6: 'If, instead, 28...Be3 29 Bxe3 Rxe3 30 Nd2!'

36 Bxf7+: 'White forces checkmate in six moves.'
Below is the only photograph we recall from the New York, 1918 tournament, which was held at the Manhattan Chess Club. It appeared at the front of the tournament book and on page 252 of the December 1918 American Chess Bulletin. The caption quoted was in both sources.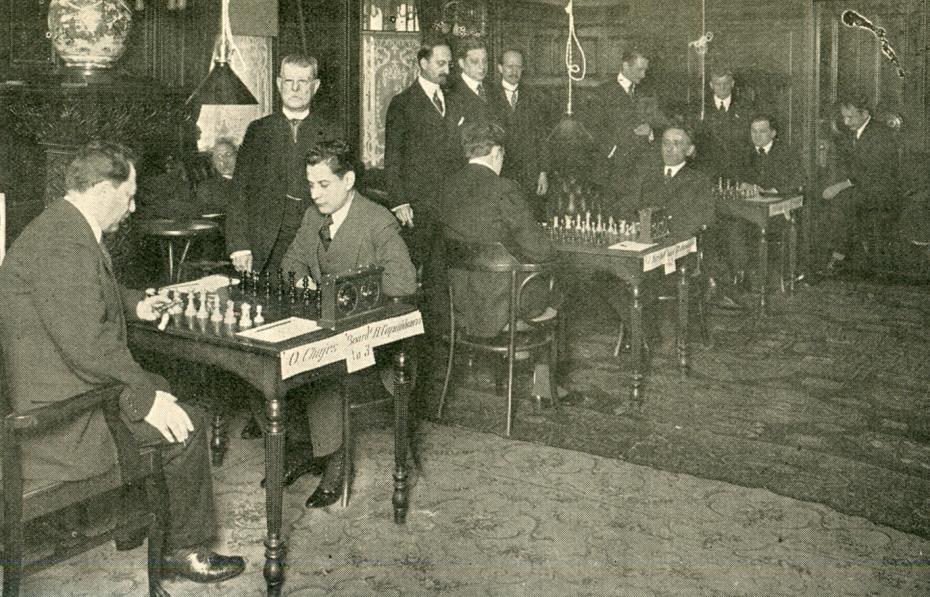 'Seated, from left to right: O. Chajes, A. Ettlinger (by window), J.R. Capablanca, F.J. Marshall, D. Janowsky, J.S. Morrison (obscured), B. Kostić, E.B. [or B.B.] Edwards
Standing, from left to right: A. Martinez (President), H.R. Limburg (Vice-President), R. Raubitschek (Treasurer), H. Helms (Umpire), W. Malowan (Secretary), J. Kraus (Serjeant-at-Arms)'
(3980)
---
Regarding the involvement of Vassily/Basil Soldatenkov in the Marshall Gambit, see C.N. 6138.
---
We are still trying to determine when the Frere v Marshall game first appeared with the date 1917, i.e. the year before the Marshall Gambit was played by the US champion against Capablanca. The earliest instance found so far remains pages 238-239 of 1000 Best Short Games of Chess by Irving Chernev (New York, 1955):
On page 11 of the January 1983 Chess Life A. Soltis wrote regarding the opening of Capablanca v Marshall, New York, 1918:
'But how much of a surprise was it really? A year before his attempt at revenge against Capablanca, Marshall saw this game published ...'
There followed Frere v Marshall, 'New York, 1917'. Mr Soltis' account being devoid of any sources, it can only be wondered on what specific grounds he stated that Marshall saw the Frere-Marshall game published in 1917. We have found the game nowhere prior to Marshall's Comparative Chess (Philadelphia, 1932), a book which, moreover, gave the game datelessly.
(6777)
---
Three games in which Black deviated from the Capablanca v Marshall game by playing 20...Qxc1 rather than 20...Bxf2:
Yates v O'Hanlon, Malvern, 1921 (BCM, September 1921, page 324);
Moritz v Emmrich, Hamburg, 1922 (Schachjahrbuch 1922 by L. Bachmann (Ansbach, 1924), pages 70-71);
Bechert v Hagel, correspondence game, 1925 (Wiener Schachzeitung, October 1927, pages 306-307).
---
Page 21 of Modern Chess Preparation by V. Tukmakov (Alkmaar, 2012) follows Kasparov in erroneously ascribing the idea of 15... h5 to Shamkovich, whereas Capablanca himself had pointed it out.
On page 127 of World Chess Championship Kramnik vs. Leko (Aylesbeare, 2004) Raymond Keene wrote:
'... when faced with Marshall's gambit in the first game of their 1918 match, Capablanca rose to the occasion.'
---
The present item discusses two analytical points in Capablanca v Marshall, New York, 1918 (which began 1 e4 e5 2 Nf3 Nc6 3 Bb5 a6 4 Ba4 Nf6 5 O-O Be7 6 Re1 b5 7 Bb3 O-O 8 c3 d5 9 exd5 Nxd5 10 Nxe5 Nxe5 11 Rxe5 Nf6 12 Re1 Bd6 13 h3 Ng4 14 Qf3 Qh4 15 d4 Nxf2 16 Re2 Bg4 17 hxg4 Bh2+ 18 Kf1 Bg3 19 Rxf2 Qh1+ 20 Ke2 Bxf2).
Firstly, an analytical oversight by Capablanca:
Position after 13 h3
Marshall now played 13...Ng4, and the Cuban wrote in My Chess Career:

Page 157 of the 1994 algebraic edition of My Chess Career changed Capablanca's words and added an editorial note in italics:

Position in Capablanca's analysis after 18...Rae8+
Lest it be assumed that 19 Be6 was a suggestion original to that 1994 book, we show, firstly, what had appeared on pages 104-105 of Kapablanka by V. Panov (Moscow, 1959):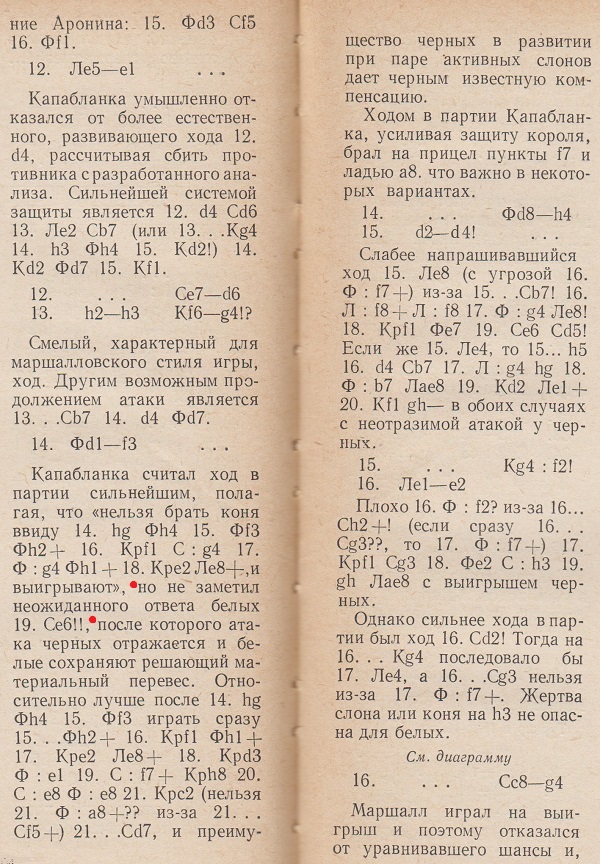 On page 141 of a subsequent (1970) monograph on the Cuban, Panov ascribed the discovery of 19 Be6 to E. Palkin of Leningrad, 36 years after the game was played:
Palkin was also mentioned by Leonid Shamkovich in an article about the game on pages 28-30 of the September 1985 Chess Life: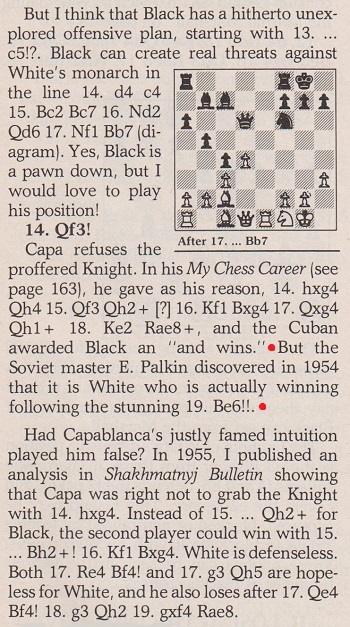 Wanted: more information about the discovery of 19 Be6 by E. Palkin in the mid-1950s and, more generally, about Palkin himself.
---
The second, less intricate, analytical point concerns the board position after Marshall's move 15...Nxf2: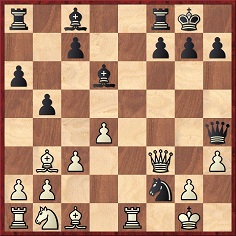 From page 164 of the March 1919 Chess Amateur: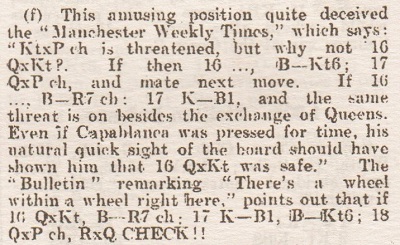 Does a reader have access to the Manchester Weekly Times (chess columnist: V.L. Wahltuch)?
White plays 17 Qxf7+
White does not play 18 Qxf7+.
(10909)
Olimpiu G. Urcan (Singapore) has found this picture in the photogravure section (pages unnumbered) of the Baltimore Sun, 1 December 1918:
(10910)
White can play 19 Be6
The request in C.N. 10909 for information about the publication in which E. Palkin reported that analysis by Capablanca in My Chess Career missed 19 Be6 has been answered by Andrey Terekhov (Singapore) and Vitaliy Yurchenko (Uhta, Komi, Russian Federation), both of whom have provided page 50 ('Readers' letters') of the 2/1954 issue of Shakhmaty v SSSR: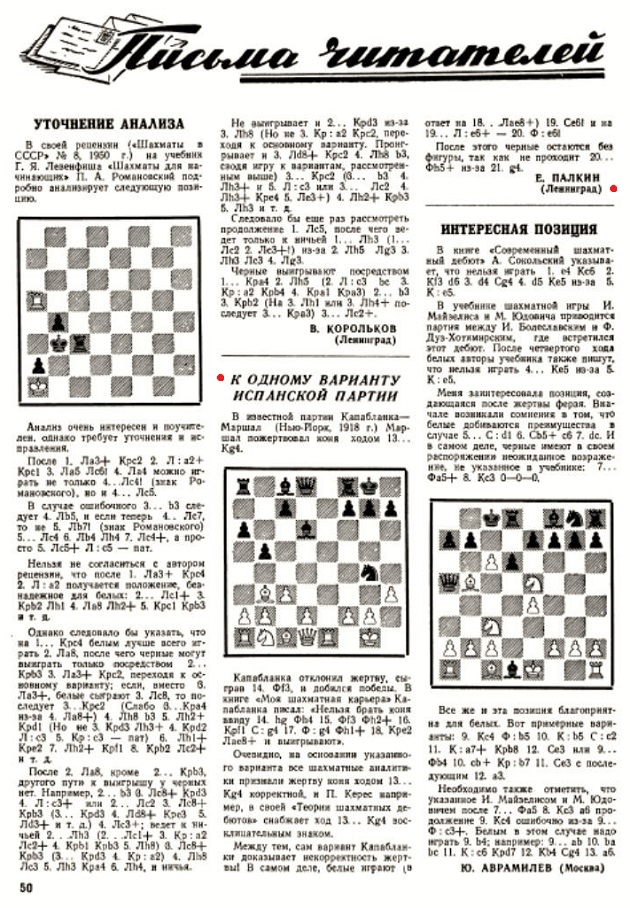 (10914)
For further information about E. Palkin, see C.N. 10924.
---
Latest update: 31 July 2018.
To the Chess Notes main page.
To the Archives for other feature articles.
Copyright: Edward Winter. All rights reserved.