---
10657. Immortal games
The concluding note in the famous Rotlewi v Rubinstein game on page 18 of Rubinstein Gewinnt! by Hans Kmoch (Vienna, 1933):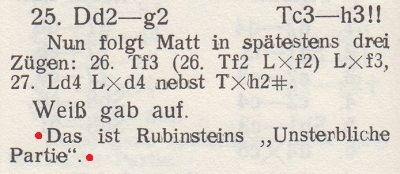 Many games labelled 'immortal' have been discussed in C.N. over the years, but are there any not yet mentioned here?
This cartoon comes from page 15 of the November 1947 Chess Review: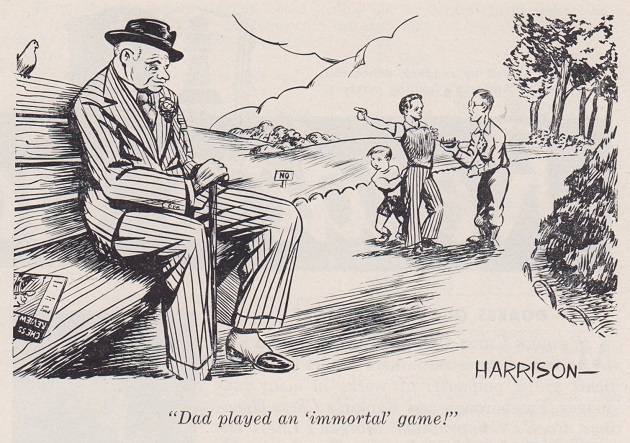 The caption text is from the accompanying article (pages 14-15) by Fred M. Wren, 'Attempts at Immortality!', in his 'Tales of a Woodpusher' series.
---
10658. Problem by Frank Janet
From page 187 of the 17 April 1916 issue of The Chess News, a small publication edited by George H. Walcott (Boston):
There are three key moves, but we lack the edition(s) of the magazine which may have discussed the solution.
Below are some remarks received from Michael McDowell (Westcliff-on-sea, England):
'1 Nd3 is clearly the intention. The set variation 1...cxb4 2 Qf5 helps to hide the key, which gives two flights, and there is a Grimshaw on d6. The a7 pawn is not strictly necessary, but Janet preferred not to repeat a thematic mate 1...Ba7 2 Nxf4. The cooks can be eliminated by moving the knight from d1 to g8 and adding a black bishop at c8. It is a neat enough problem, and the source is obscure. The WinChloe database contains only one composition from The Chess News, and that is a problem by A.C. White which is quoted in his 1919 Christmas book ACW Flights of fancy in the chess world.'
---
10659. Chess in New Orleans
Dan Scoones (Port Coquitlam, BC, Canada) points out an exterior shot of the New Orleans Chess, Checkers and Whist Club, taken in 1903, and a brief history of the Club.
---
10660. Marshall v Tarrasch photograph
From the plate section of American Chess Masters from Morphy to Fischer by Arthur Bisguier and Andrew Soltis (New York, 1974):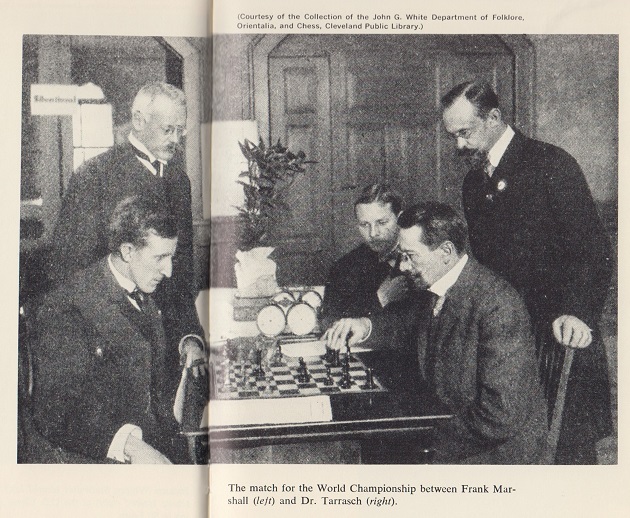 The reference to the world championship is an obvious mistake, but when was the photograph taken? Below are two more recent appearances: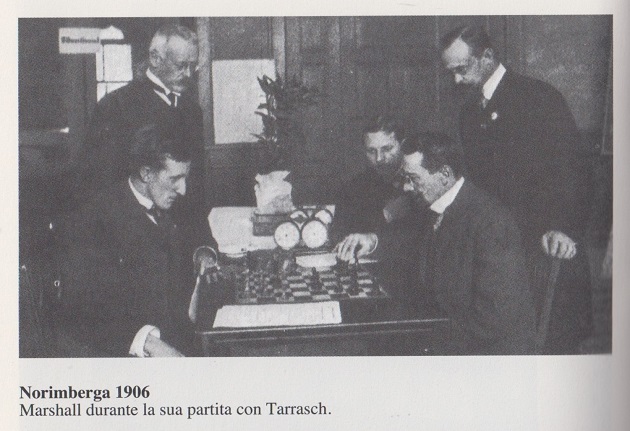 Tarrasch potere della logica by Jakov Nejstadt (Rome, 1996)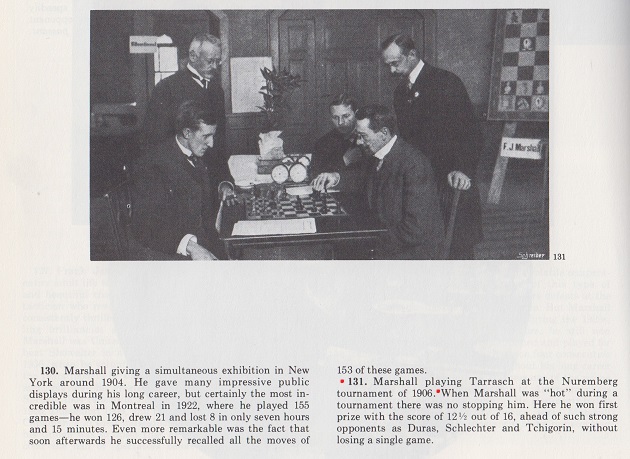 A Picture History of Chess by Fred Wilson (New York, 1981), page 74
Apparent confirmation that the occasion was the Nuremberg, 1906 tournament is on page 6 of Chess Review, December 1944, which showed a dated copy inscribed by Marshall: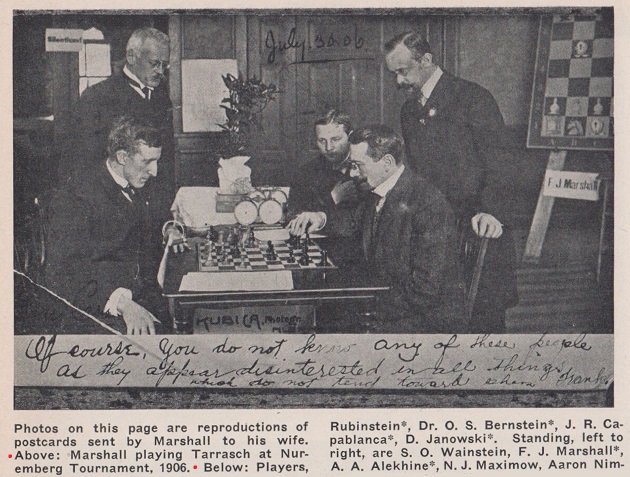 However, in the Nuremberg tournament (third round, 25 July 1906), Tarrasch had the white pieces against Marshall. (See the tournament book, pages 91-92.)
The photograph had been published the previous year, on page 318 of the October 1905 American Chess Bulletin: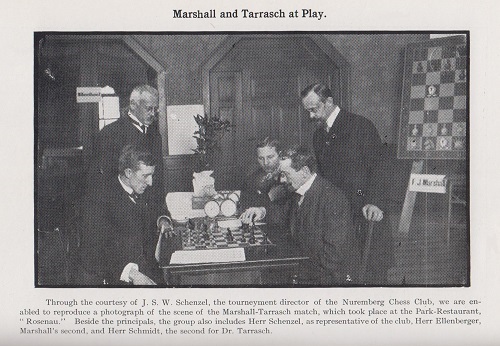 It seems to us that the position is from the 17th and final match-game, won by Tarrasch on 14 October 1905: 1 e4 e5 2 Nf3 Nc6 3 Bb5 Nd4 4 Nxd4 exd4 5 O-O c6 6 Bc4 Ne7 7 Qh5 d5 8 exd5 cxd5 9 Bb5+ Bd7 10 Bxd7+ Qxd7 11 Qe5 d3 12 cxd3 O-O-O 13 a3 Nc6 14 Qh5 g6 15 Qd1 Qf5 16 b4 Qxd3 17 Nc3 Bg7 18 Qa4 Kb8 19 Ra2 Nd4 20 Re1 Rc8 21 h3 Nf5 22 Qd7 Rhd8 23 Qxf7 Rc7 24 Qe6 Re7 25 Qxe7 Nxe7 26 Re3 Qc4 27 Rxe7 Bf8 28 Rxh7 d4 29 Rc2 dxc3 30 Rxc3 Qe2 31 g3 Bd6 32 Kg2 Rf8 33 White resigns.
---
10661. Breyer and sources (C.N. 10563)
A few months ago, C.N. 10563 criticized Jimmy Adams' treatment of sources in Gyula Breyer. The Chess Revolutionary (Alkmaar, 2017). At the Kingpin website Mr Adams has recently made a response; much of it reads like a leg-pull, and here we simply revert to the fundamental issue.
In recent decades, historical chess biographies have seen a major advance in scholarship, with far greater recognition of the need for precise sources. The world's leading publisher in the field is McFarland & Company, Inc., and any list of its best biographical works is likely to include the following:
Stephen Davies: Lipschütz;
Richard Forster: Burn;
Stephen W. Gordon: Reshevsky;
Tim Harding: Blackburne and Eminent Victorian Chess Players;
John S. Hilbert: Hodges (with Peter P. Lahde), Kemeny, Leonard, Pollock (with O.G. Urcan), Shipley;
Martin Frère Hillyer: Frère;
Hans Renette: Bird;
Miguel A. Sánchez: Capablanca;
Leonard M. Skinner and Robert G.P. Verhoeven: Alekhine;
Per Skjoldager and Jørn Erik Nielsen: Nimzowitsch;
Olimpiu G. Urcan: Albin, Finn, Kaufmann (with P.M. Braunwarth), Pollock (with J.S. Hilbert);
Joost van Winsen: Mason;
Aidan Woodger: Fine;
Fabrizio Zavatarelli: Kolisch.
Question: How many of the above authors treat sources in a manner even remotely similar to Jimmy Adams' method?
Answer: None.
---
10662. The parentage of Alexander McDonnell
From John Townsend (Wokingham, England):
'In his will (National Archives, PROB 11/1855/197) Alexander McDonnell (/MacDonnell) identified as his brother Thomas MacDonnell, of Belfast, a barrister. The only Belfast barrister of that name at that time was a graduate of Trinity College, Dublin, who, accordingly, has an entry in Alumni Dublinenses (edited by G.D. Burtchaell and T.U. Sadleir, second edition, Dublin, 1935).

On page 533, the entry for "McDonnell, Thomas" states that he was admitted on 7 November 1808, aged 15, a son of Thomas, a merchant, having been born in the county of Antrim; he obtained his Bachelor of Arts degree in Spring 1813, was called to the Irish Bar in 1816 and later became a QC. The entry concludes by referring the reader to Frederic Boase's Modern English Biography.

Boase (volume II, page 590), in an entry for "McDonnell, Thomas", supplies the additional information that he was born in 1793, was a scholar at Trinity in 1811, became a QC on 1 July 1837 and a crown prosecutor for the county of Down, and died at Eglantine Hill, near Belfast, on 25 September 1878. The above information about the barrister, which I believe will be new to chess historians, builds on earlier research by James O'Fee (including Researching Alexander McDonnell Part 9) and proves that the father of the chessplayer, Alexander, was Thomas McDonnell (/MacDonnell), a merchant, and not Alexander MacDonnell, a Belfast physician.'
---
10663. Defences

From pages 211-212 of the City of London Chess Magazine, October 1874:
'Writers in the press often try their hands at chess technology, but not always with edifying results. A reviewer in the Morning Advertiser lately made allusion to an opening which he called the "Three Pawns' Defence". We presume he intended some reference to the "Compromised Defence" in the Evans Gambit, in which the three pawns are captured. Better, however, is the following, which we cull from the Standard, concerning Marshal MacMahon's tour, i.e. – "This is his defence against the National Assembly, and the strategy is worthy of one brought up to consider how one move is to be checkmated by another." We should like to have a match with Steinitz upon condition that he should checkmate one of our moves. We think the odds would be rather greater than those of mating with the capped pawn.'
Below is page iv of G.H.D. Gossip's Preface to his 1874 work The Chess-Players' Manual, with a reference to 'the three pawns' defence':
On page 285 'Game the Fourth' had the heading 'The Anderssen-Zukertort, or three pawns defence to the Evans Gambit' as an introduction to the moves 1 e4 e5 2 Nf3 Nc6 3 Bc4 Bc5 4 b4 Bxb4 5 c3 Ba5 6 d4 exd4 7 O-O dxc3 8 Qb3 Qf6 9 e5.
---
10664. Immortal games (C.N. 10657)
With regard to the 'Chinese Immortal', won by Liu Wenzhe against J.H. Donner in the Buenos Aires Olympiad, 1978, what was the nature and extent of the attention it received in the Chinese media of the time?
---
10665. Havana, 1952
From the front cover of the April 1952 Chess Review: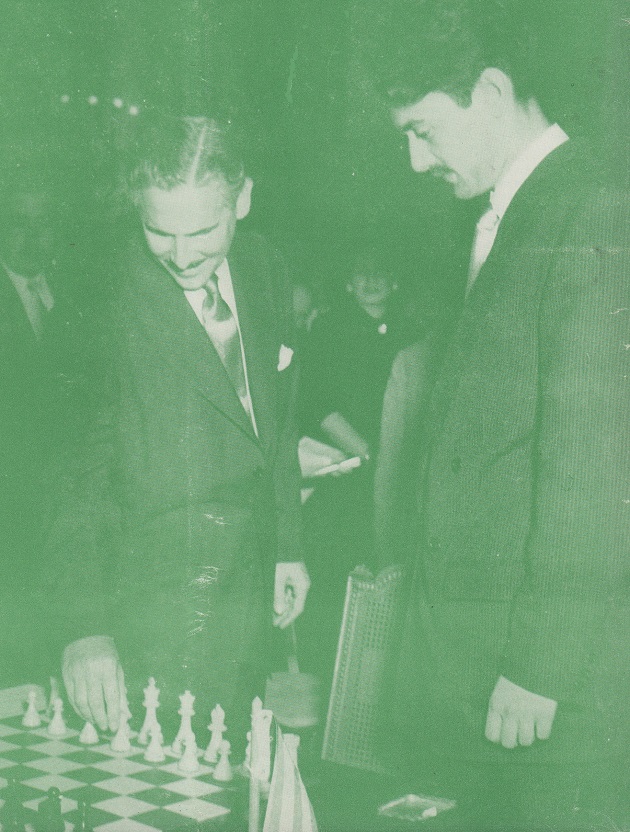 As mentioned on page 98 of the same issue, the Cuban President, Carlos Prío Socarrás, accompanied by Román Torán, was making the first move in the Havana tournament. 'A few days later, the President had been deposed, but, despite two withdrawals and one death, the Chess Congress survived.'
Pages 99-100 reported on the death:
'Still another untoward incident occurred just before the 17th round. Juan Quesada, former Cuban champion, who had given a fair account [of] himself including wins from Prins and Guimard and a draw with Eliskases, suffered a heart attack from which he failed to recover. While this tragedy had a depressing effect on the concluding days of the tournament, it seemed to lend force to the practical adage that there is always time to resign – one's opponent may literally drop dead before the necessity arises of turning down one's king!'
Would Chess Review have written similarly if the victim of the fatal heart attack had been a US master?
See too The Facts about Larry Evans for his flippant, inaccurate remarks on Juan Quesada's death.
---