---
11389. An alleged Mieses v Post position (C.N. 11378)
C.N. 11378 had a reference to Kurt Richter's book Der Schachpraktiker, and below is an excerpt from pages 95-96 of the fifth edition (Hollfeld, 1998):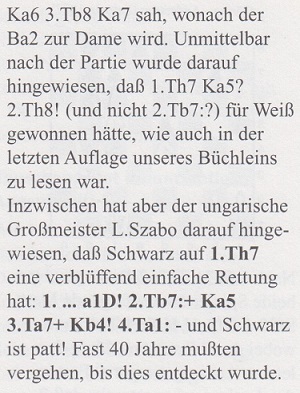 Hans-Georg Kleinhenz (Munich, Germany) sends the following from page 11 of the 1/1951 Deutsche Schachblätter (edited by Richter and with Szabó as a contributor) in an article entitled 'Für und wider den Glossator':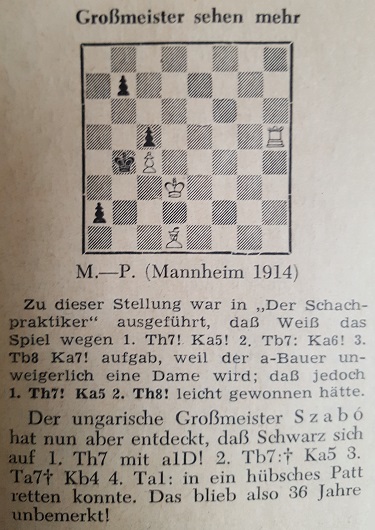 ---
11390. Hastings, 1954-55
Olimpiu G. Urcan (Singapore) has obtained permission from the Keystone Pictures archives for two photographs of Vassily Smyslov (Hastings, 1954-55) to be reproduced here: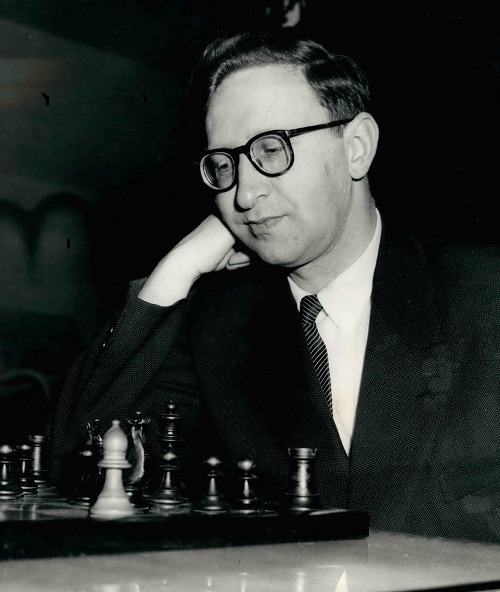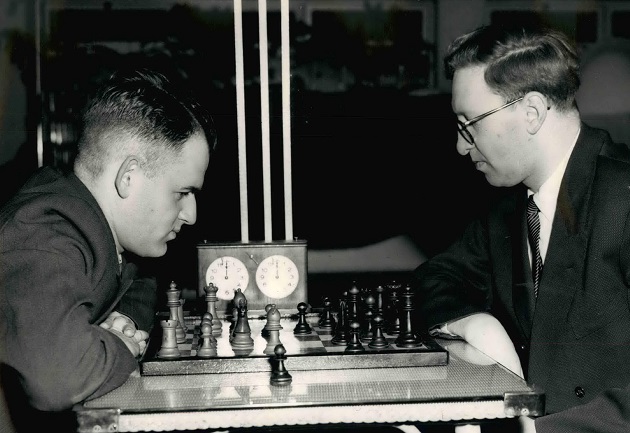 Another shot of Smyslov and Unzicker was on page 169 of CHESS, 8 January 1955: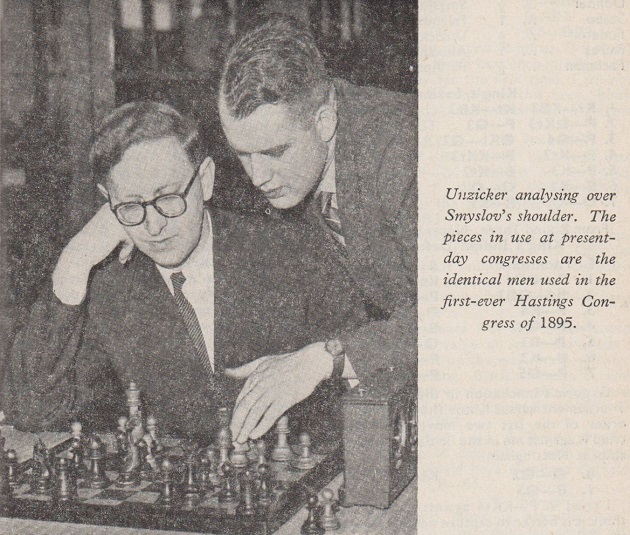 Page 184 of the 22 January 1955 issue of CHESS had an account of these press reports by Ralph Hewins:
Daily Express, 5 January 1955, page 5

Daily Express, 7 January 1955, page 5.
J. Hudson and A. Spiller participated, respectively, in the Major Section, Premier Reserves and in the Premier Reserves 'A', each obtaining 3½ points (BCM, February 1955, page 69).
---
11391. Withers v Justice
Eduardo Bauzá Mercére (New York, NY, USA) draws attention to an 1844 game published on page 291 of the Chess Player's Chronicle, 1845 (volume six) and, with two brief notes, on page 37 of The Bristol Chess Club by J. Burt (Bristol, 1883):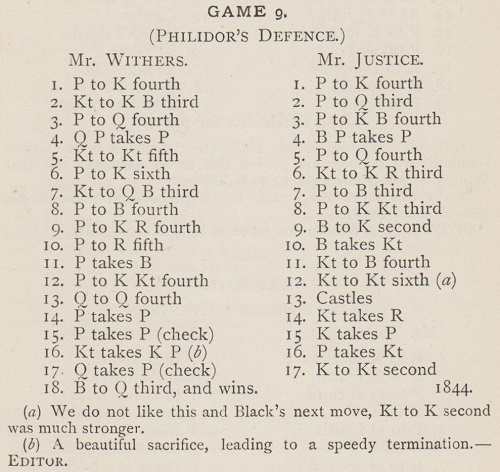 1 e4 e5 2 Nf3 d6 3 d4 f5 4 dxe5 fxe4 5 Ng5 d5 6 e6 Nh6 7 Nc3 c6 8 f4 g6 9 h4 Be7 10 h5 Bxg5 11 fxg5 Nf5 12 g4 Ng3 13 Qd4 O-O 14 hxg6 Nxh1 15 gxh7+ Kxh7 16 Nxe4 dxe4 17 Qxe4+ Kg7 18 Bd3 and wins.
Our correspondent comments that after 18 Bd3 no mention was made of the possible line 18...Rf1+ 19 Bxf1 Qd1+ 20 Kxd1 Nf2+ 21 Ke2 Nxe4 ...
... with an extra piece against three pawns, although computer analysis suggests that the game should still be won by White.
---
11392. John Cochrane (C.N. 11102)
From John Townsend (Wokingham, England):
'The Royal Parks website makes it possible to search the burial register of Brompton Cemetery, and an image of the burial entry of John Cochrane shows that he was buried there on 8 March 1878. The address recorded was 12 Bryanston Street, Bryanston Square, and his age was given as 77, whereas 78 was specified in the death indexes of the General Register Office. The website also provides a link to an aerial view showing the location of the grave.

Does a memorial to Cochrane exist?'
---
11393. US accounts for the 1935 Olympiad
Particularly detailed information regarding the US team is on page viii of Book of the Warsaw 1935 International Chess Team Tournament by Fred Reinfeld and Harold M. Phillips (New York, 1936):
At the time of the Olympiad, the cover price of the American Chess Bulletin and of Chess Review was $0.25.
---
11394. Reinfeld on annotating
On page v of the 1935 Warsaw Olympiad book mentioned in the previous item Fred Reinfeld wrote:
'As I have occasion to analyse upwards of 500 games during the course of a year, my judgment tends at times to assume a routine or dogmatic character, and for this reason I found Mr Phillips' unwillingness to take anything for granted, and his painstaking search for hidden resources, particularly invaluable.'
---
11395. A Pleci story
From an article by Jeremy Gaige, 'The Ethics of Chess', on page 106 of Chess Review, April 1961: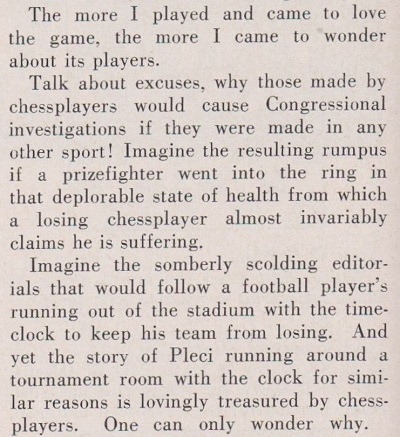 The story is related on, for instance, pages 82-83 of The Chess Scene by David Levy and Stewart Reuben (London, 1974):
No source was given, naturally, but the ease with which anyone can fill space with such stuff is demonstrated by this extract from a 'Round the Chess World' article by G. Koltanowski on page 77 of CHESS, 14 October 1935: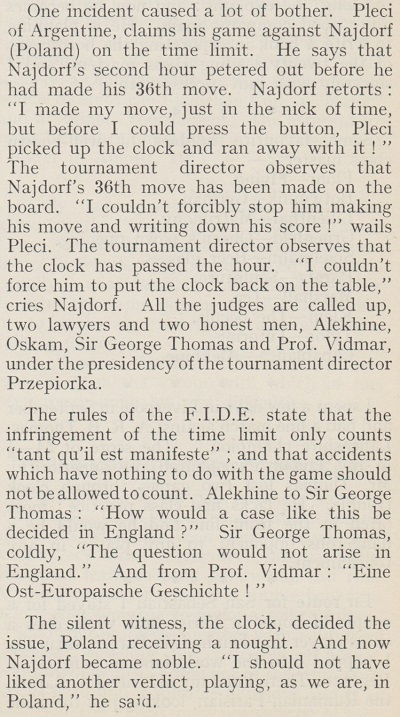 The episode was also related on page 18 of Najdorf: Life and Games by T. Lissowski and A. Mikhalchishin (London, 2005). The conclusion:
On the strict basis of authoritative accounts, and ideally with the game-score, how can the incident best be summarized in a brief paragraph?
---
11396. The altar of topicality
'One cannot but deprecate this tendency to sacrifice good work on the altar of topicality ...'
That comes at the end of a short book review by Harry Golombek on pages 82-83 of the February 1955 BCM: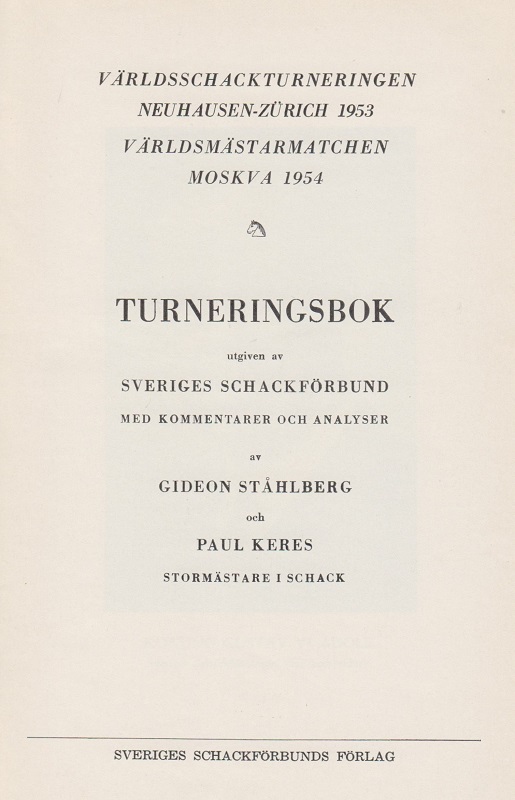 Golombek had high praise for Euwe's book on the Candidates' tournament, Schach-Elite im Kampf, on page 165 of the May 1955 BCM.
---
11397. Lasker v Capablanca in 1906
Yandy Rojas Barrios (Cárdenas, Cuba) raises the topic of the 1906 rapid transit tournament at the Manhattan Chess Club, New York referred to by Capablanca towards the end of Chapter II (page numbers vary) of My Chess Career (London, 1920):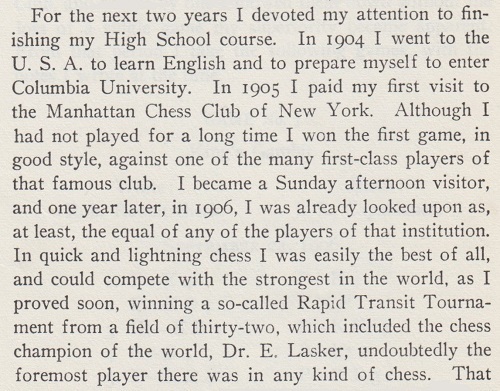 A reference to the tournament on page 35 of the February 1907 American Chess Bulletin was shown in C.N. 10421:

From page 8 of the Chicago Tribune, 20 January 1907:

On page 100 of The Unknown Capablanca by David Hooper and Dale Brandreth (London, 1975) the semi-final pairings against Davidson and Delmar were given the other way round: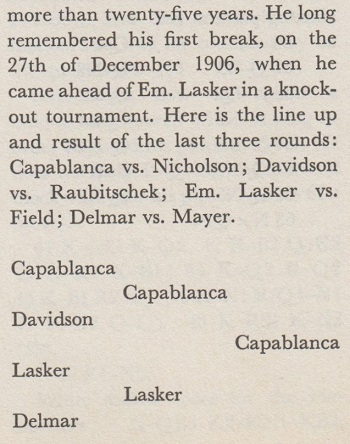 A later report on page 5 of the New York Evening Post, 23 January 1907: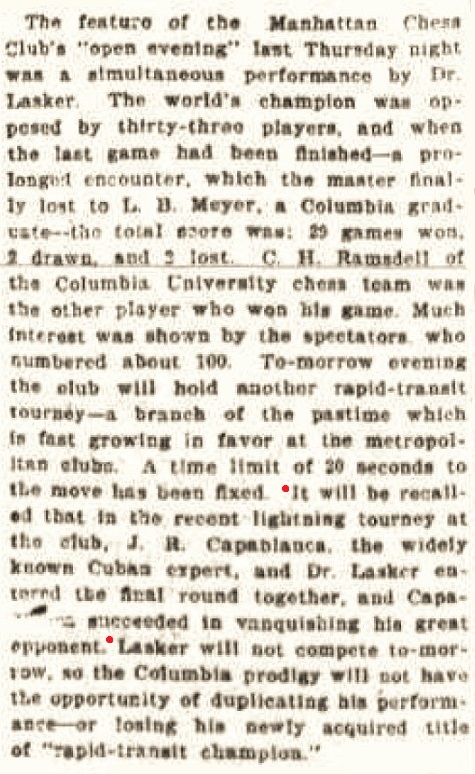 No earlier item in the Evening Post specifically on the December 1906 tournament has yet been found.
An assessment of Lasker and Capablanca was provided by Walter Penn Shipley on page 9 of the Philadelphia Inquirer, 20 January 1907: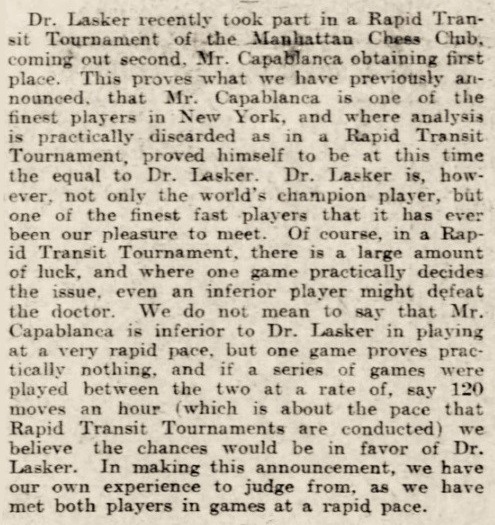 Mr Rojas Barrios notes that in secondary sources the tournament which brought together Lasker and Capablanca in December 1906 is sometimes misdated April 1906, one example being page 28 of El ajedrez en Cuba by José Luis Barreras Meriño (Havana, 2002):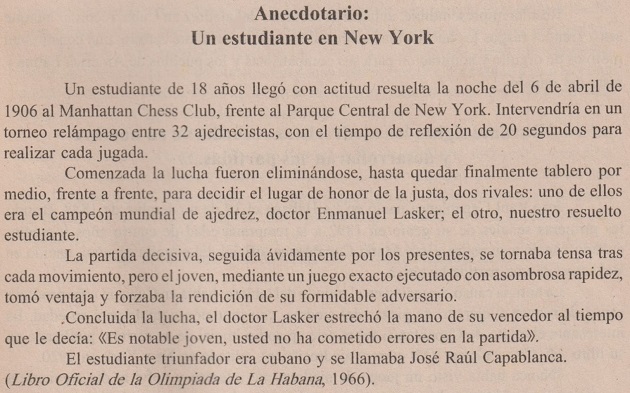 The source indicated (page 11 of the book on the Havana, 1966 Olympiad) had given no date for the rapid transit tournament: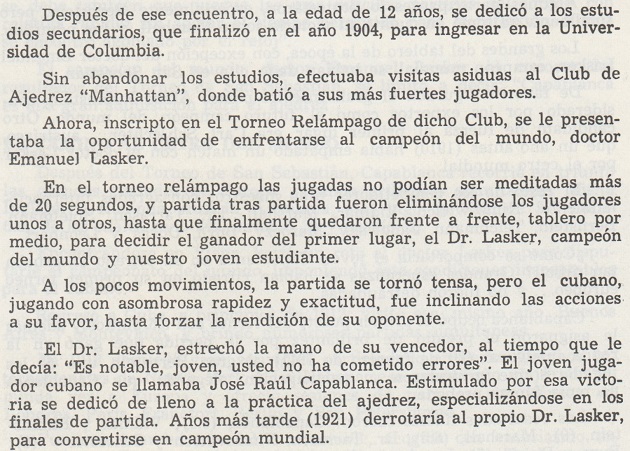 As our correspondent also points out, the April 1906 event was at the Rice Chess Club. From pages 61-63 of the April 1906 American Chess Bulletin:


See too page 309 of our book on Capablanca.
C.N. 6077 noted that the remark by Lasker about Capablanca's freedom from error, mentioned in the two Cuban books above, was supposedly made after their ten-game rapid transit match in Berlin in 1914. See Fast Chess.
---
11398. George Henry Mackenzie and James Parker Barnett
From John S. Hilbert (Amherst, NY, USA):
'Olimpiu G. Urcan and I are working on a biography and game collection of George H. Mackenzie; although it is unlikely to be published for several years, we have already collected over 1,000 of his games.

When drafting material about Mackenzie's play in the United States in the first few years after the Civil War, and in dealing with his opponents, we ran across an article about Dr James Parker Barnett. Your readers may like to see our draft account, which comes after a description of Mackenzie's first-round match with Stanley at the 1866 New York Chess Club tournament:
"His most trying challenge met, Mackenzie faced Dr James Parker Barnett in the second round. His opponent had the benefit of Worrall resigning to him in the first round without a game played, although Barnett would have been favored to win against almost anyone. Six years older than Mackenzie, Barnett was born and raised in New York City. A product of the Morphy boom, he started playing publicly in the late 1850s, when he was living and practicing medicine in Brooklyn. In 1860 he made it to the final round of a chess tournament at the Morphy Chess Rooms, but lost to the now dead James A. Leonard. Absent from chess during the war, Barnett returned with the 1866 New York Chess Club tournament, and went on to play offhand and tournament games at the Café Europa and Café International later in the decade and into the mid-1870s. Hazeltine, after Frank Teed told him of Barnett's death in 1886, remembered Barnett from his earliest days, writing that Barnett 'possessed the happy combination of a lively imagination and unflinching courage, coupled with perfect suavity of manner whether victor or vanquished. Consequently, his game was at once strong, steady and brilliant'. Mackenzie himself believed, according to Alexander Sellman, that at one point Barnett was 'one of the strongest players of the country'. [See endnote 1.]

Barnett received his college degree from the University of the City of New York in 1848. He graduated from Dartmouth Medical College in 1854. His academic road, impressive as it was, was neither smooth nor easy, although not because of any academic failing on his part. Barnett was one of three children of James Barnett, Sr, a self-made businessman who made his fortune along New York's East River supplying metal services for the packet ship companies. Barnett's mother was Eliza Beaumont, also from New York. In October 1850 Barnett was in his third and final year at Columbia School of Physicians and Surgeons when he was grilled by his professors over his racial background, as allegations had been made earlier by a never-identified 'Southern gentleman' that Columbia harbored 'colored students', naming among them Barnett. Barnett was expelled subsequently by Columbia for failure to disclose his African 'blood' at the time of his application. Barnett's father hired the grandson of John Jay, a well-known abolitionist lawyer and Columbia graduate, to represent the medical student in his appeal against expulsion. According to Barnett, Sr, his son was in fact of mixed Native-American and White ancestry, which explained his darker complexion. This, however, hardly explained why the younger Barnett was apparently unaware of any such Native-American ancestry.

What few facts remain are not in favor of the elder Barnett's allegation of his son's supposed Native-American ancestry. Barnett's sister Malvina married a prominent black abolitionist and physician, the first to hold such a degree. In addition, although unbeknownst to Columbia, the 1850 Federal Census as well as the 1855 New York State Census identified Barnett and his family as Mulatto, although later censuses marked them as White. (Census records at the time reflected a highly suspect, subjective classification, as the census enumerators were left to their own devices for assessing race.) In any event, the appeal was futile, as Columbia had no intention of relenting. The faculty and trustees, however, seeking to end the litigation, offered to examine Barnett, and subsequently found him fit to practice medicine. His degree, despite his tested competence, was eventually blocked by the Regents of the University of New York on the technical, and exceedingly hypocritical, grounds that he had failed to satisfy a lecture requirement that, in fact, he had been barred from completing. This dismal conclusion did not end Barnett's career, as he went on to earn a medical degree from Dartmouth and practiced medicine in the greater New York metropolitan area for the rest of his life, respected by his friends and colleagues." [See endnote 2.]
Endnotes:

"1. See Mason, p. 296. 'possessed the happy combination …' New York Clipper, March 6, 1886. 'One of the strongest players …' Baltimore American, April 18, 1886. See also Leonard, Hilbert, pp. 34-37.

2. Barnett's full name and degrees appear in the General Catalog of Dartmouth College (Hanover, New Hampshire, 1890), pp. 127, 178. The detailed and compelling history of his fight against expulsion by Columbia's medical school appears in the article 'Blurring the Lines: James Parker Barnett, Racial Passing, and Invisible Early Black Students at Columbia University' by Ciara Keane (accessed June 17, 2019)."
A small sketch of James Parker Barnett is on page 172 of Brentano's Chess Monthly, August 1881. Below we reproduce with permission a photograph of him forwarded by Dr Hilbert and owned by the Cleveland Public Library: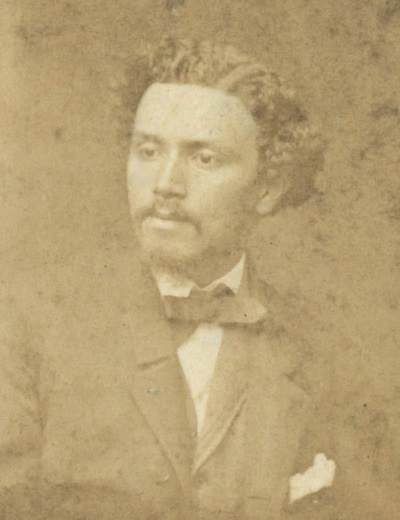 ---
11399. Alekhine's date of birth
Pages 20-21 of the 21/1972 issue of Shakhmaty
As mentioned in C.N.s 4719, 4739 and 5782 (see When Was Alekhine Born?), a clear copy of Alekhine's birth certificate is sought.
The opening paragraph of our feature article:
Alekhine's birth-date is often given as 1 November 1892, but we are aware of no authoritative book published in the past 20 years or so which deviates from the 'established' date of 31 October 1892 (Gregorian calendar); this is the equivalent of 19 October 1892 in the Julian calendar, the gap in the nineteenth century being 12 days, and not 13.
Writers still go astray, and below is the poor start to a section on Alekhine on page 78 of The Big Book of World Chess Championships by Andre Schulz (Alkmaar, 2016):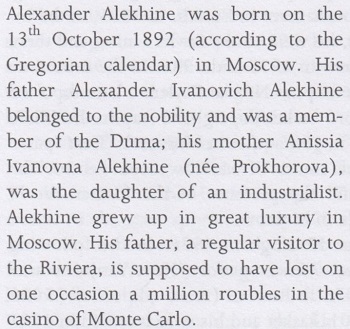 Regarding the final sentence, no discernible purpose is served by mentioning what Alekhine's father 'is supposed to have lost on one occasion'.
---
11400. Draw offers
On the subject of draws, C.N. 2549 (see page 359 of A Chess Omnibus) quoted this remark on Rubinstein by L. Steiner on page 54 of the March 1961 Chess World:

A claim about Emanuel Lasker's practice appeared in 'My Encounters with Lasker' by Ossip Bernstein on pages 202-204 of the July 1955 Chess Review:


---
11401. Keys and key-moves (C.N. 5294)

From Robert John McCrary (Columbia, SC, USA):
'On pages xxix-xxx of volume one of A Treatise on the Game of Chess (London, 1808) J.H. Sarratt introduced his "critical and remarkable situations, or ends of games", writing:

"These situations will not greatly improve amateurs, unless they attempt to find out the method of winning without looking at the solution; the author has therefore deemed it eligible to insert the situations in the first volume, and the solutions in the second: and he earnestly recommends amateurs to seek diligently for the proper moves, without having recourse to the key: the improvement which they will derive from adhering to that system will amply compensate them for their trouble."'
Our correspondent also draws attention to the word 'key' on page 65 of volume six (1845) of the Chess Player's Chronicle: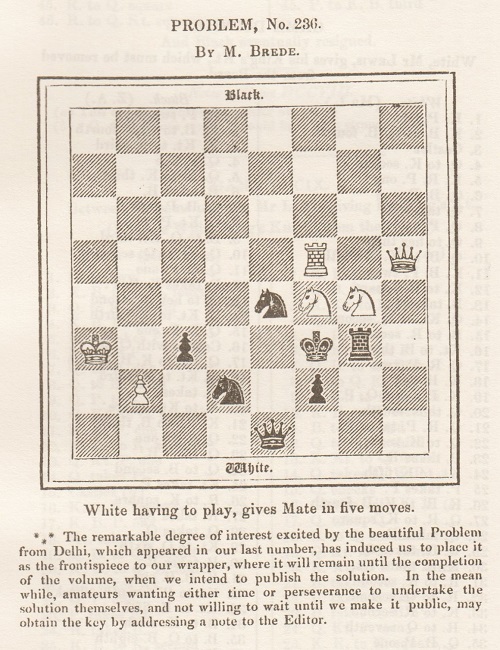 Below are the chess citations for 'key' and 'key-move' in the on-line Oxford English Dictionary:


A reference will be added in Earliest Occurrences of Chess Terms.
---
11402. Carlsbad, 1929
An article by Louis Max on pages 40 and 92 of Social, October 1929 has been submitted by Yandy Rojas Barrios (Cárdenas, Cuba):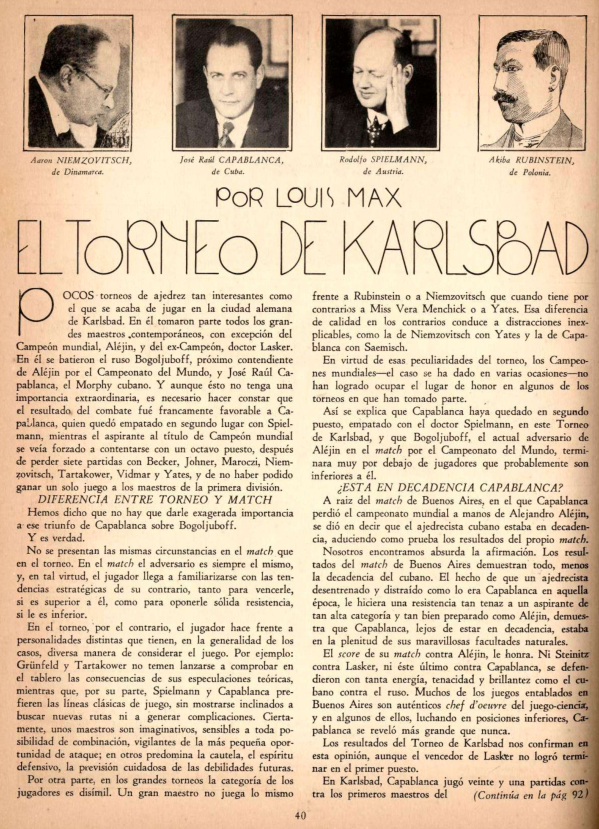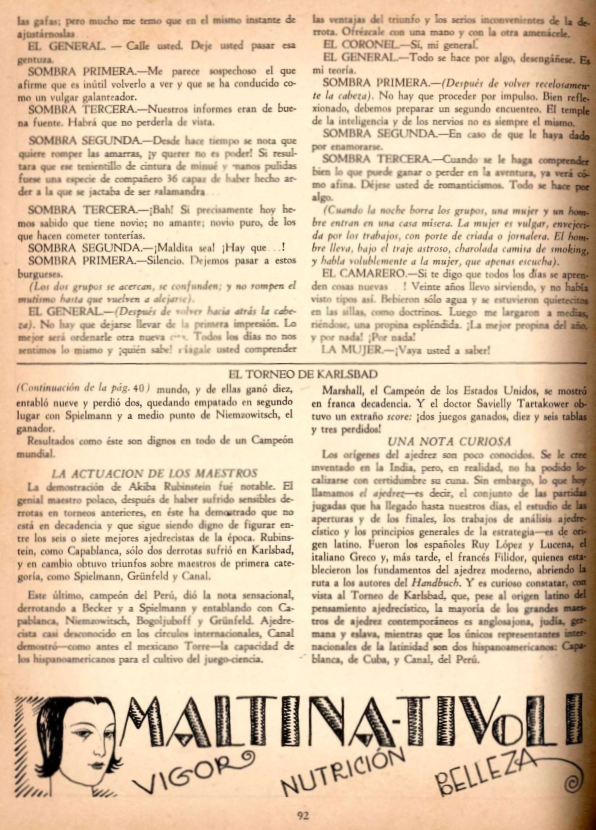 Apart from obvious factual errors, the article is notable for its heavy pro-Capablanca slant.
---
11403. Dutch players (C.N.s 5408 & 5416)
Rod Edwards (Victoria, BC, Canada) draws attention to Adriaan Plomp's article about B.W. Blijdenstein, which identifies him as the player active in London in 1859-61, as well as Dutch events in the 1870s, whereas the participant in Amsterdam, 1851 was W.J. Blijdenstein.
---
11404. Cased image (C.N.s 6018 & 7390)
This picture was also discussed on page 37 of the October 1993 Chess Life by Frank Skoff, who concluded that it did not feature Paul Morphy.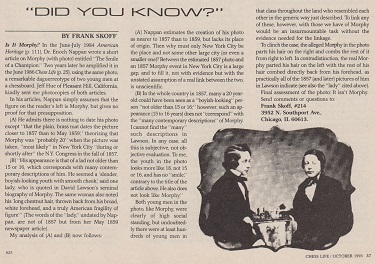 ---
11405. A Countess from Hong Kong
Olimpiu G. Urcan (Singapore) has acquired permission from Mondadori for us to reproduce a photograph taken during the shooting of the 1967 film A Countess from Hong Kong: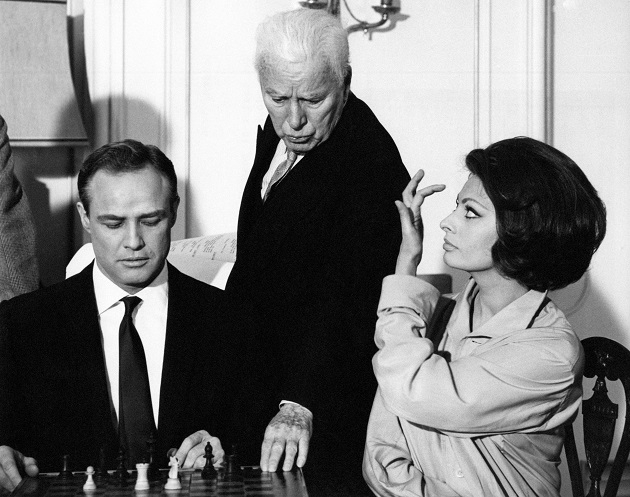 Marlon Brando, Charlie Chaplin, Sophia Loren
---
11406. Frank James Marshall
'The name of Marshall is associated with the unexpected in chess. No-one, not even Morphy, has won more brilliant games, many of them brought about from most unpromising looking positions.'
Source: page 58 of Modern Master-Play by F.D. Yates and W. Winter (London, 1929).
---
11407. Lasker v Schlechter
A paragraph about Emanuel Lasker on page 97 of A Short History of Chess by H.J.R. Murray (Oxford, 1963):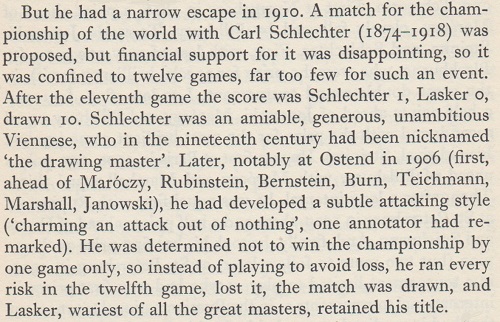 The writer of these references to 12 games, instead of ten, in the 1910 Lasker v Schlechter match was B. Goulding Brown.
The quoted remark about 'charming an attack out of nothing' was on page 218 of Lasker's Chess Magazine, August-September 1906, in a note to Schlechter's 29...c5 against Rubinstein, Ostend, 1906:
Position after 29 Nf2-d1
---
11408. Threats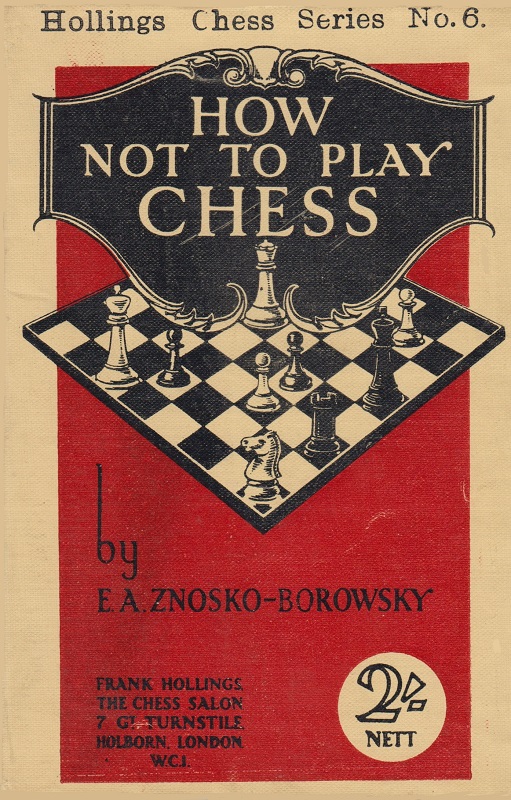 'We can gain nothing in chess except by means of threats.'
That observation is on page 69 of How Not to Play Chess by E. Znosko-Borovsky (London, 1931):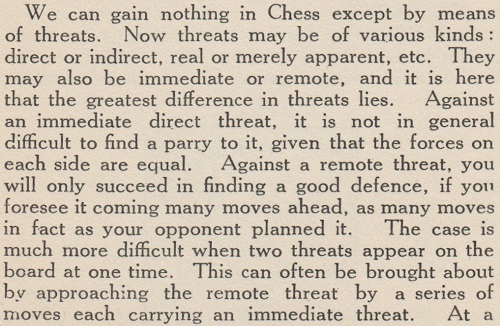 A dissenting note appeared in a book review by Charles De Vide on page 73 of the April 1932 American Chess Bulletin:

---
11409. G.H.D. Gossip
On the question of whether G.H.D. Gossip's second forename was Hatfield or Hatfeild, an extensive contribution from Neil Hickman (Hardingham, England) has been added to our feature article.
---
11410. Alekhine in the Second World War
A wild claim on page 96 of Le grand livre des échecs by Camil Seneca and Adolivio Capece (Paris, 1977):
'Quand la Seconde Guerre mondiale éclata, Alekhine, étant naturalisé français, fut appelé sous les drapeaux et engagé dans les services secrets, surtout parce qu'il parlait et écrivait parfaitement dix langues!'
---