---
9710. The First World War
Chess and the Code-Breakers, which focuses on the Second World War, prompts Vladislav Tkachiev (Moscow) to ask for information about chess figures who made a contribution, in whatever capacity, to the war effort of any country during the period 1914-18.
---
9711. Tidskrift för Schack
A run of this magazine is available on-line.
---
9712. Bauer v Porges (C.N. 9691)
Jan Kalendovský (Brno, Czech Republic) reports a reference to J.H. Bauer and play at the Café français in Prague on page 474 of the Allgemeine Sport-Zeitung, 29 May 1884: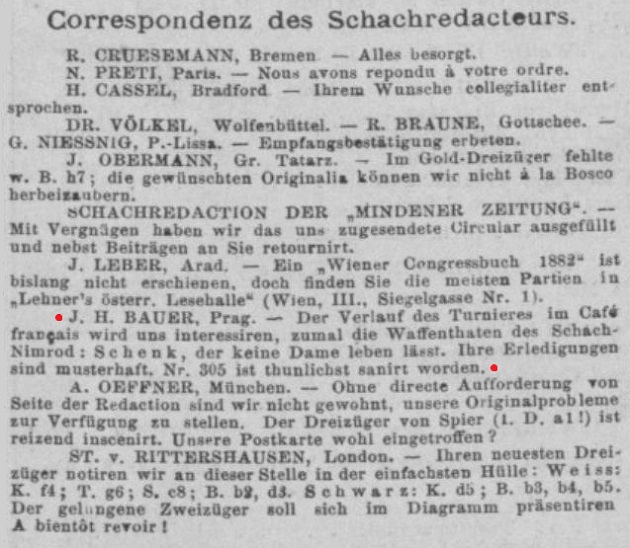 ---
9713. Purdy on Logical Chess Move by Move
The above passage about Logical Chess Move by Move by Irving Chernev comes from page 80 of the March-April 1967 Chess World. It was omitted from page 65 of The Search for Chess Perfection II by C.J.S. Purdy (Davenport, 2006) and from page 147 of The Chess Gospel According to John edited by R.J. Tykodi and Bob Long (Davenport, 2010). In both books its place would have been just before the paragraph beginning 'In this series ...'.
---
9714. Tabia/Tabiya (C.N.s 9689 & 9699)
Dan Scoones (Coquitlam, BC, Canada) draws attention to the discussion on page 10 of Вопросы современной шахматной теории by Isaac Lipnitsky (Moscow, 1956):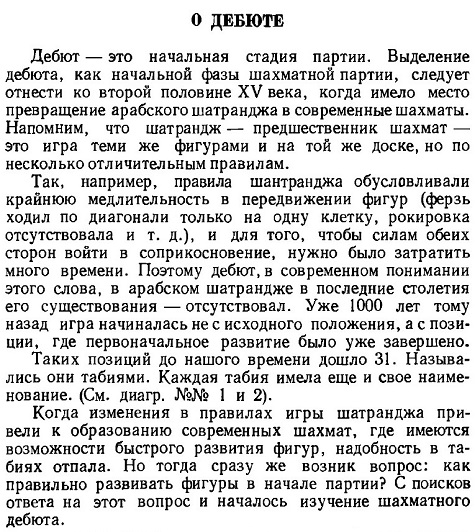 The diagrams mentioned by Lipnitsky in the penultimate paragraph were on page 11: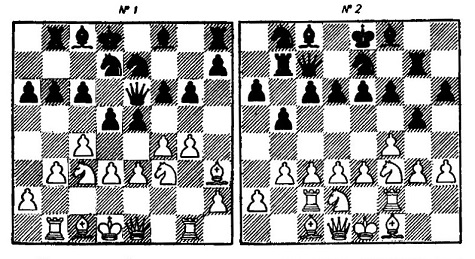 See too pages 12-13 of the English translation (by John Sugden), Questions of Modern Chess Theory (Glasgow, 2008).
---
9715. Spielmann's tournament performances
From page 79 of Modern Master-Play by F.D. Yates and W. Winter (London, 1929), in the section on Rudolf Spielmann:
'A curious feature of his record is the unevenness of his performances. He himself maintains that he plays as consistently well in tournaments where he has been less successful as in those which he has won, and he explains the difference in the results by what may almost be termed the luck of the game. If this really exists it is more applicable to the case of an attacking player, since he commits his whole game to an onslaught, the outcome of which it is in many cases impossible to foresee.'
---
9716. The Classical Era of Modern Chess (C.N. 8856)
Wanted: references to authoritative reviews of the 594-page book The Classical Era of Modern Chess by Peter J. Monté (Jefferson, 2014).
As a small example of the book's contents, below is a chart on page 22:
---
9717. Colonel Moreau (C.N.s 9441 & 9490)
Until now, no portrait of Colonel Moreau has been available, but Olimpiu G. Urcan (Singapore) has found the photograph below, reproduced here courtesy of the London Borough of Hackney Archives (photograph reference number D/S/1/3 no.3):
---
9718. Chigorin
C.N. 1106 (see pages 192-193 of Chess Explorations) noted W.H. Watts' remark that at Hastings, 1895 he 'had expected Chigorin to be a great burly Russian, but found him in fact a small jerky man, no bigger than Steinitz'.
An addition from page 10 of the Columbia Chess Chronicle, 10 January 1889 (with an underestimation of his age):
'On Wednesday, 9 January, Mr Tchigorin arrived in New York. Mr Tchigorin is in the diplomatic service of Russia. He is about 36 years old, short in stature and compactly built. He has black hair and flashing black eyes.'
---
9719. Corn
To Chess Corn Corner many additions from the Columbia Chess Chronicle could be made, but one extract will suffice, from page 145 of the 12 May 1888 issue: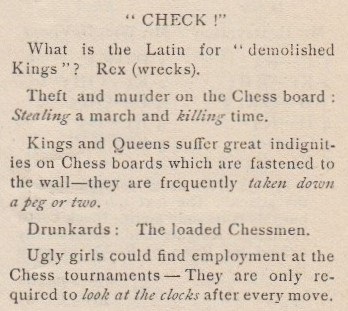 ---
9720. Sokolov book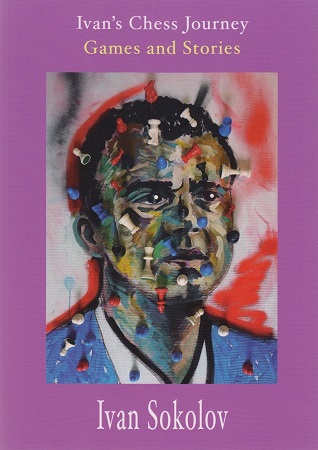 Ivan's Chess Journey by Ivan Sokolov (Ghent, 2016) shows no sign of involvement by anybody of English mother tongue.
---