---
11123. Openings monotony
James Mortimer's comments about the 1908 Lasker v Tarrasch match on page 8 of the Daily Mail, 15 September 1908 (C.N. 11094) included the following:
'The monotonous repetition of the Ruy López opening, varied only by the equally tiresome and uninteresting French Defence, exhibits a want of enterprise disappointing to those who regard chess as a game par excellence of resource, imagination and self-reliance.'
Among other world championship matches criticized for the 'monotony' of the openings played are not only Lasker v Capablanca (1921) and Capablanca v Alekhine (1927) but also Alekhine v Bogoljubow (1929). Page 79 of the January 1930 Chess Amateur quoted from the Yorkshire Observer Budget (date not specified) these comments on the 1929 match:
'With the exception of about four games the play was confined to some form of the Queen's Pawn Opening , and this weary persistence may be attributed to the "hypermodern" policy which is a marked feature of the efforts of present-day master players when contesting against each other. Also to the fact that, of all the openings on the chess board, pawn to queen's fourth in its various phases calls for more close analysis and sound judgement than any other debut.

If those who provide stakes and expenses for championship matches are satisfied with games practically starting with pawn to queen's fourth, we suppose that the next contest for the championship of the world will most probably be a repetition of monotony of openings, as in the struggle just closed; but the time will come, we think, when combatants in matches and tournaments will be called upon to adopt a more varied policy in regard to the openings.'
In the Internet age, the opening choices of the world's best players are frequently attacked in real time by nameless ten-opinions-an-hour individuals for whom suitable advice would be: kibitz inwardly.
---
11124. Charosh v L. Jaffe (C.N.s 3619 & 8023)
C.N.s 3619 and 8023 asked for more information about the game Mannis Charosh v L. Jaffe, New York, 1936 on page 10 of Irving Chernev's 1000 Best Short Games of Chess (New York, 1955): 1 d4 c5 2 d5 Na6 3 Nf3 d6 4 e4 Bg4 5 Ne5 Qa5+ 6 Bd2 dxe5 7 Bxa5 Bxd1 8 Bb5 mate.
Moshe Rubin (Jerusalem) has taken up the matter with the late Mannis Charosh's son Paul, who states that Black was 'Louis Jaffe, a history teacher at New Utrecht High School (Brooklyn) and a colleague of my father'.
Paul Charosh has provided this photograph of his father in play against Irving Chernev in 1942: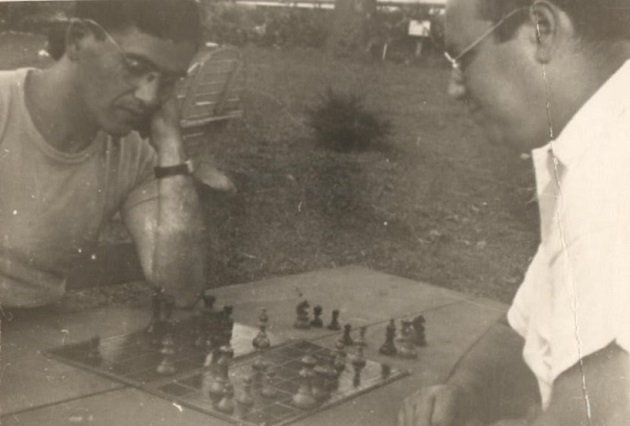 We are also grateful for a shot of Mannis Charosh taken in 1944:
---
11125. The 1930 Spanish championship
From page 38 of El Ajedrez Americano, March 1931: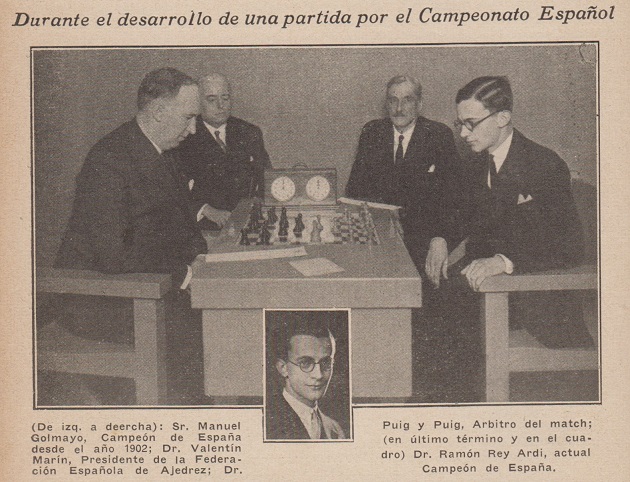 The match between Manuel Golmayo and Ramón Rey Ardid for the Spanish championship was held in Barcelona in December 1930. Rey Ardid won +4 –1 =2 and annotated all the games on pages 39-65 of his book Cien partidas de ajedrez (Saragossa, 1934).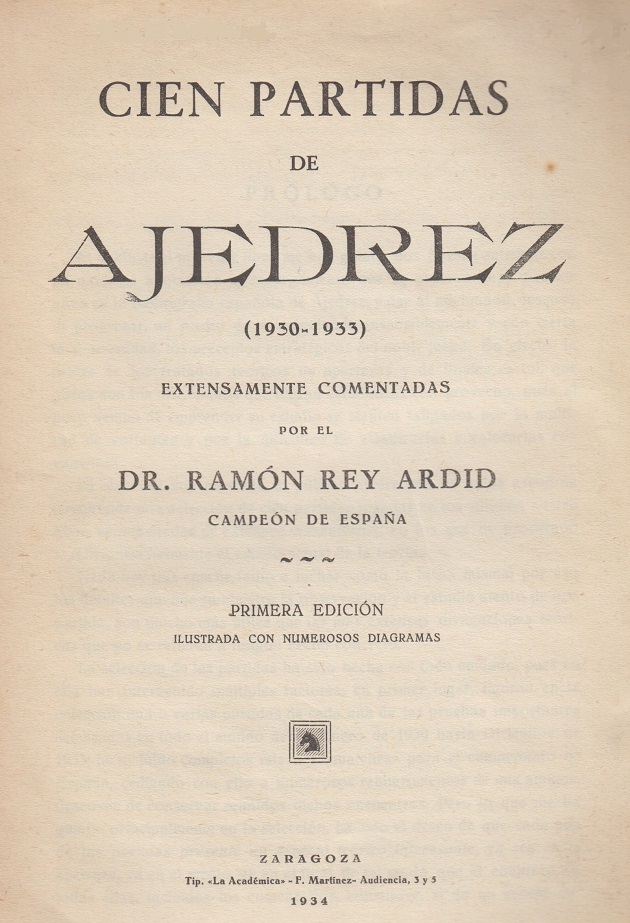 As an example of Rey Ardid's detailed analysis, below is the sixth match-game: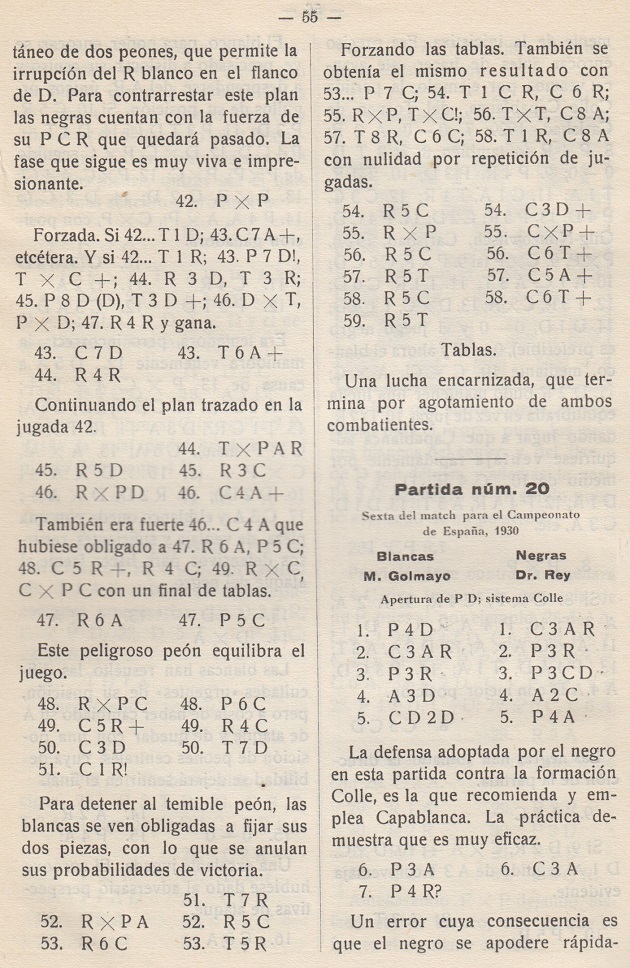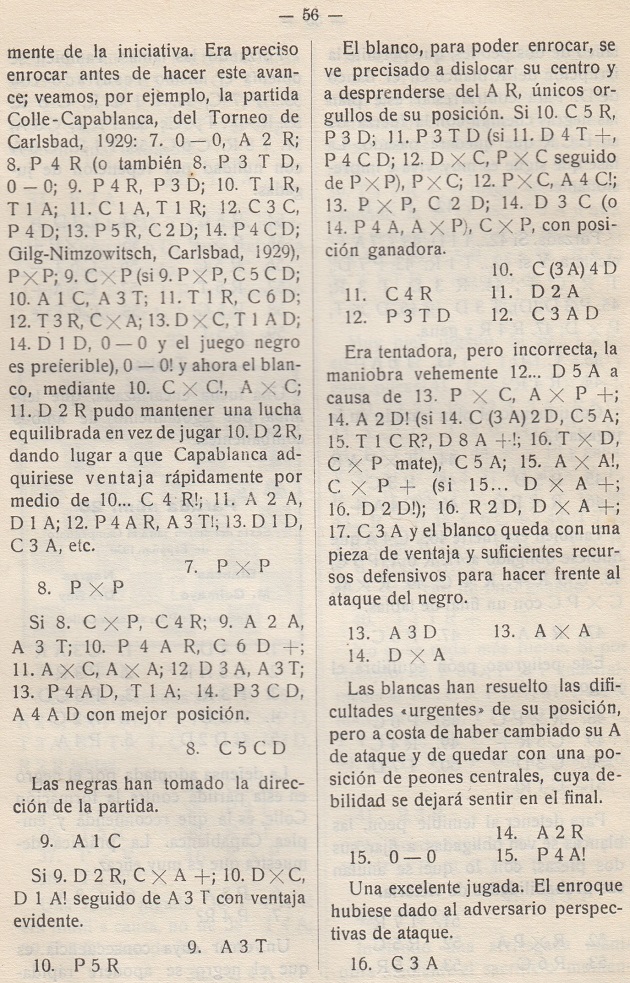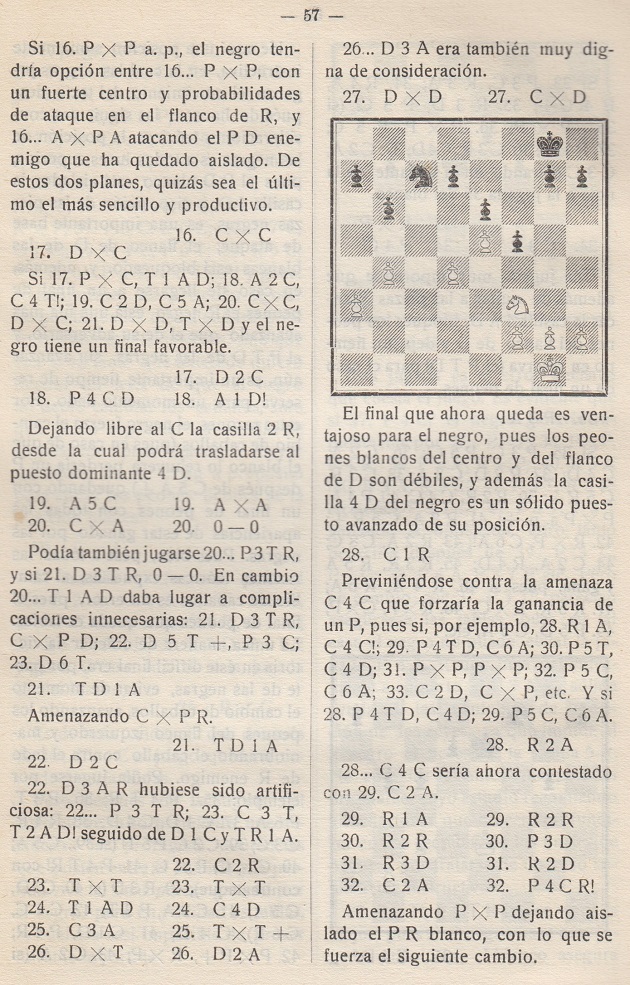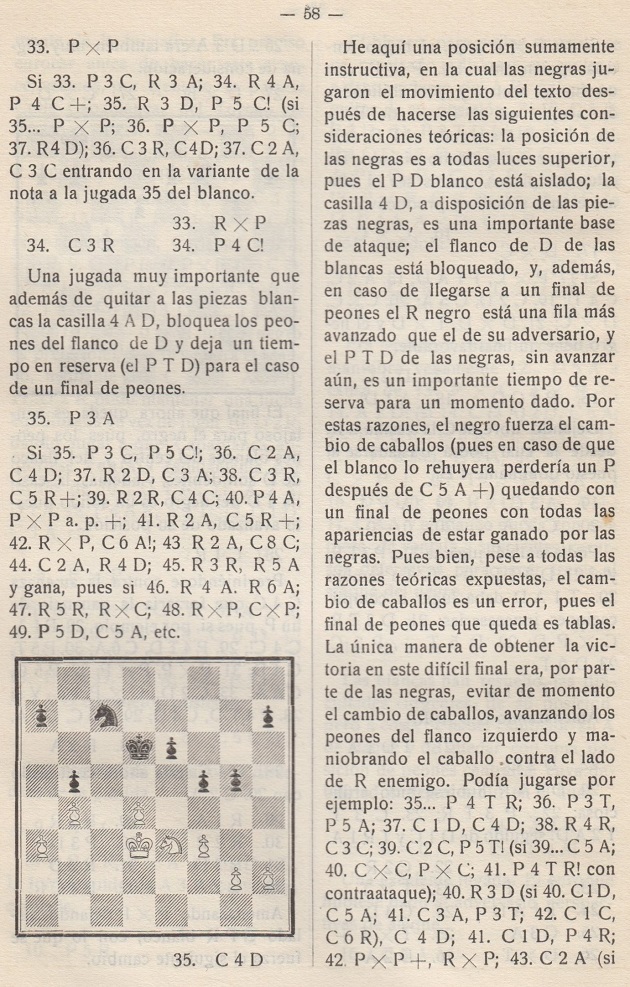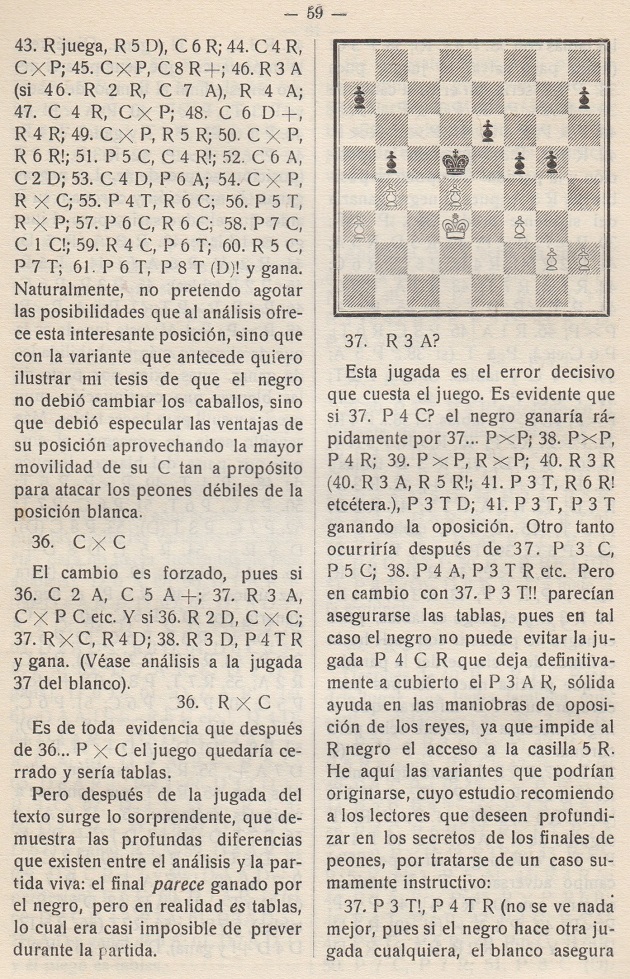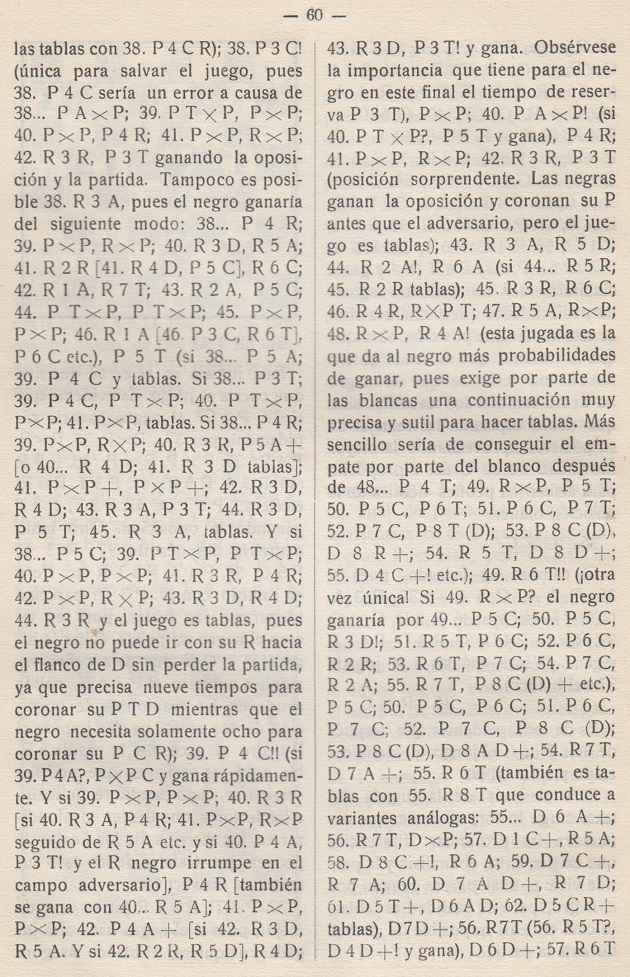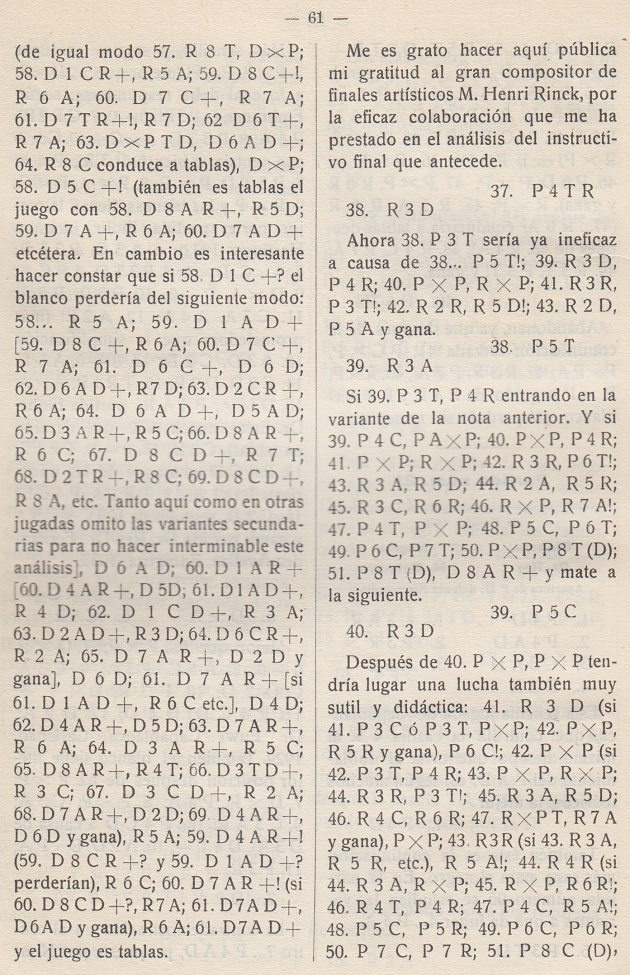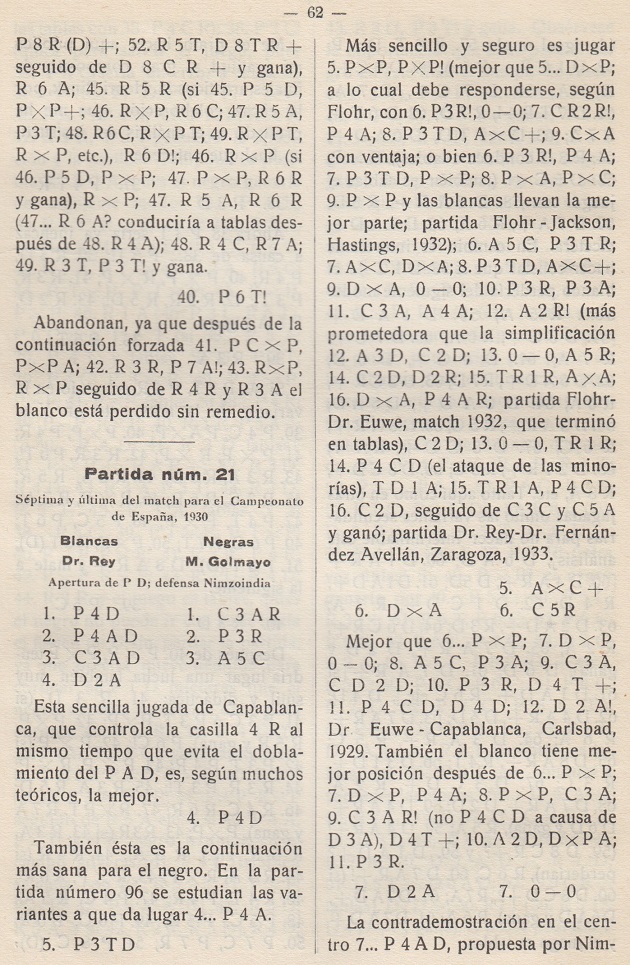 1 d4 Nf6 2 Nf3 e6 3 e3 b6 4 Bd3 Bb7 5 Nbd2 c5 6 c3 Nc6 7 e4 cxd4 8 cxd4 Nb4 9 Bb1 Ba6 10 e5 Nfd5 11 Ne4 Qc7 12 a3 Nc6 13 Bd3 Bxd3 14 Qxd3 Be7 15 O-O f5 16 Nc3 Nxc3 17 Qxc3 Qb7 18 b4 Bd8 19 Bg5 Bxg5 20 Nxg5 O-O 21 Rac1 Rac8 22 Qb2 Ne7 23 Rxc8 Rxc8 24 Rc1 Nd5 25 Nf3 Rxc1+ 26 Qxc1 Qc7 27 Qxc7 Nxc7 28 Ne1 Kf7 29 Kf1 Ke7 30 Ke2 d6 31 Kd3 Kd7 32 Nc2 g5 33 exd6 Kxd6 34 Ne3 b5 35 f3 Nd5 36 Nxd5 Kxd5 37 Kc3 h5 38 Kd3 h4 39 Kc3 g4 40 Kd3 h3 41 White resigns.
---
11126. Carlsen v Caruana e-book
Olimpiu G. Urcan (Singapore) draws our attention to his review of the e-book Carlsen v Caruana: FIDE World Chess Championship, London 2018 by Raymond Keene and Byron Jacobs (London, 2018) and sends us half a dozen lines from the book's 'History of the World Championship' section:

We offer a few comments:
Anderssen's opponent in the Immortal Game 'of London 1851' was Kieseritzky, a name which Raymond Keene has persisted in misspelling for decades.


The Evergreen Game was not 'against the pseudonymous Dufresne (in reality the German player E.S. Freund)'. Dufresne was his name, and E.S. Freund was his pseudonym. Raymond Keene made the same obvious gaffe 30 years ago, on page 136 of his Pocket Book of Chess (London, 1988), as pointed out in C.N. 10155. See too Cuttings.


Anderssen v Dufresne was not played in 1856. Our feature article on the game shows that it was published on pages 338-339 of the September 1852 Deutsche Schachzeitung.


Anderssen v Zukertort was played in Barmen, not Breslau.
Even without primary sources, a quick glance at, for instance, The Oxford Companion to Chess by D. Hooper and K. Whyld (Oxford, 1992) would have sufficed to avoid all these elementary blunders.
---
11127. Journalistic folly
From page 3 of the Chess Amateur, October 1925:
'To the folly of the lay journalist writing about chess there is no end.'
---
11128. Brin-Jonathan Butler (C.N. 11084)
An extreme example of a chess book treating the leading players of the past without respect is The Grandmaster by Brin-Jonathan Butler (New York, 2018). From page 133, this is the sum total (Wikipedia-based, of course) of what the book offers on Nimzowitsch: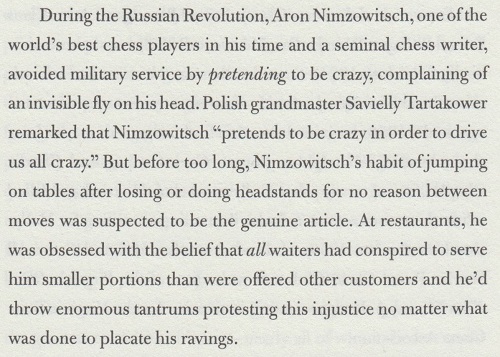 ---
11129. The Australian Nimzowitsch
The nickname for F.A. Crowl, 'the Australian Nimzowitsch', was the heading to his game against L. Steiner in the 1936-37 Australian championship in Perth on page 57 of the Australasian Chess Review, 27 February 1937.
---
11130. A new Lasker book
Everyman Chess has just brought out Lasker move by move by Zenón Franco (London, 2018):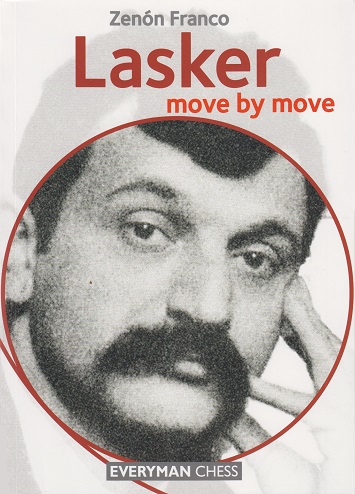 It arrived this morning, and we have not yet progressed beyond the desperately superficial bibliography on page 5 and the welter of unsourced quotes by and about Lasker on pages 9-12.
---
11131. Reinfeld and Chernev on Steinitz
From page 11 of Chess Strategy and Tactics by Fred Reinfeld and Irving Chernev (New York, 1933):
---
11132. Fairy chess
Further to The Knight Challenge, Michael McDowell (Westcliff-on-sea, England) writes:
'Fairy chess enthusiasts divide pieces into riders, leapers and hoppers, although this does not by any means cover all unorthodox pieces. Riders can move any distance along a line unless obstructed (e.g. bishop, rook, queen), leapers move directly to a square ignoring any obstacle, and hoppers need a hurdle to jump over in order to move. Hence the knight is succinctly described as a 2,1 leaper. There are numerous unorthodox examples, such as the camel (a 3,1 leaper) and the root-50 leaper (which combines two lengths of move, being a 5,5 or 7,1 leaper).'
Our correspondent furthermore draws attention to the definitions on pages 8-9 of A Guide to Fairy Chess by Anthony Dickins (Richmond, 1969 and New York, 1971). The first edition was published in Richmond in 1967.
---
11133. Chess and draughts/checkers
From Arie van der Stoep (Hooge Zwaluwe, the Netherlands):
'As shown on my website, I have carried out a comparative investigation into the social position of chess, draughts and other board games. Chess historians have, unfortunately, neglected it, but how can one establish the popularity of a game without comparative research?'
See too Chess and Draughts/Checkers.
---
11134. Oversights
From pages 25 and 110 of Blunders and Brilliancies by Ian Mullen and Moe Moss (Oxford, 1990):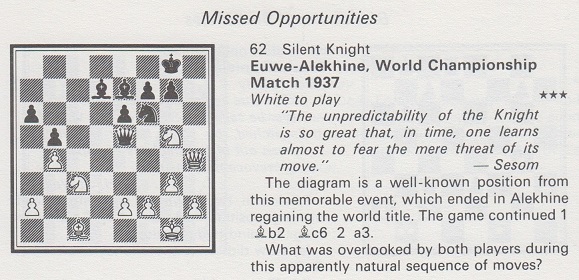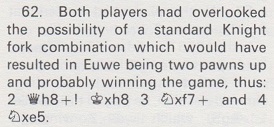 Before discussing blunders in the game, we point out one in the book: Alekhine was White.
The series of oversights by Alekhine and Euwe was discussed on page 131 of CHESS, 14 December 1937. Here is that text as reproduced on page 45 of the book The World-Championship Match by B.H. Wood (Sutton Coldfield, 1938):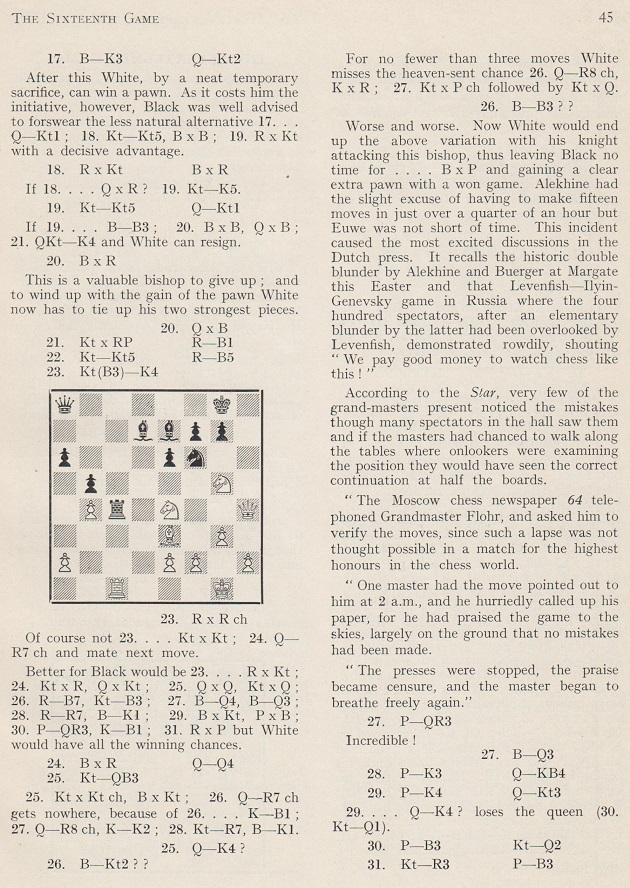 Information about the reference to the Star in the note to Black's 26th move will be appreciated.
From pages 113-114 of Alekhine's book The World's Chess Championship 1937 (London, 1938):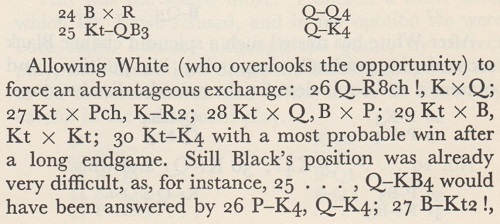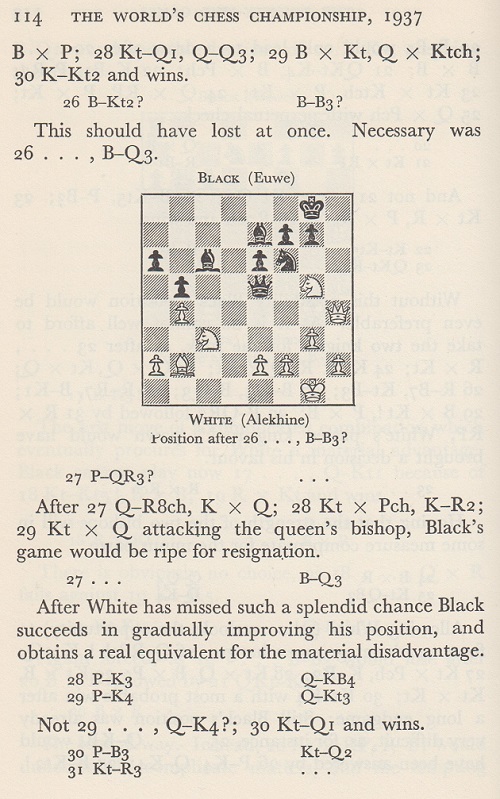 Below are those notes of Alekhine's as published on pages 61-62 of Euwe-Aljechin 1937 by M. Euwe and A. Alekhine (Leiden, 1938):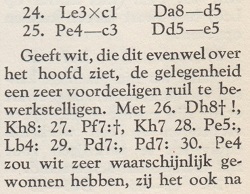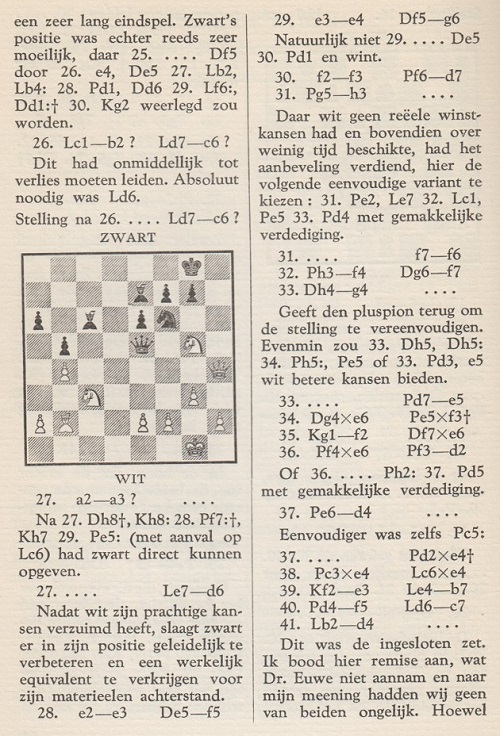 The game was annotated by Adolf Seitz on pages 116-117 of the American Chess Bulletin, November-December 1937 with this comment on the adjournment position (after 40...Bc7):
'Notwithstanding that the newspapers in the Netherlands reported that Dr Euwe had the better position, the game ended eventually in a draw. A certain Dr Tartakower writing in the Telegraaf, failed to mention the combination beginning with 26 Q-R8ch! May Caissa veil your head!'
The game was played in Rotterdam on 11 and 12 November 1937. The relevant part of Tartakower's annotations on page 5 of De Telegraaf, 12 November 1937: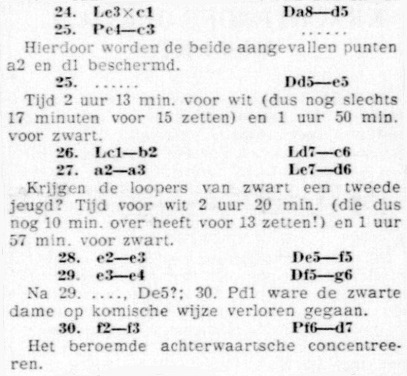 Towards the beginning of his report in the following day's edition (page 5) Tartakower referred to the series of mistakes on moves 25-27: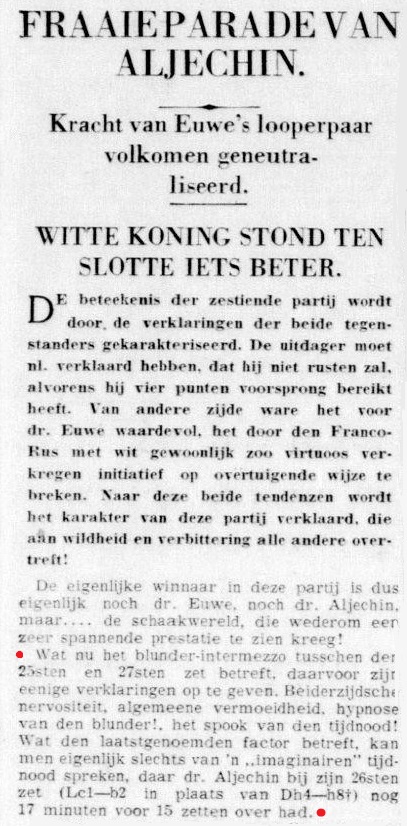 Did other Dutch newspapers of the time have further information?
---
11135. Chess maxims
Reproduced without comment from pages 57-58 of Chess by Kenneth M. Grover and Thomas Wiswell (London, 1952):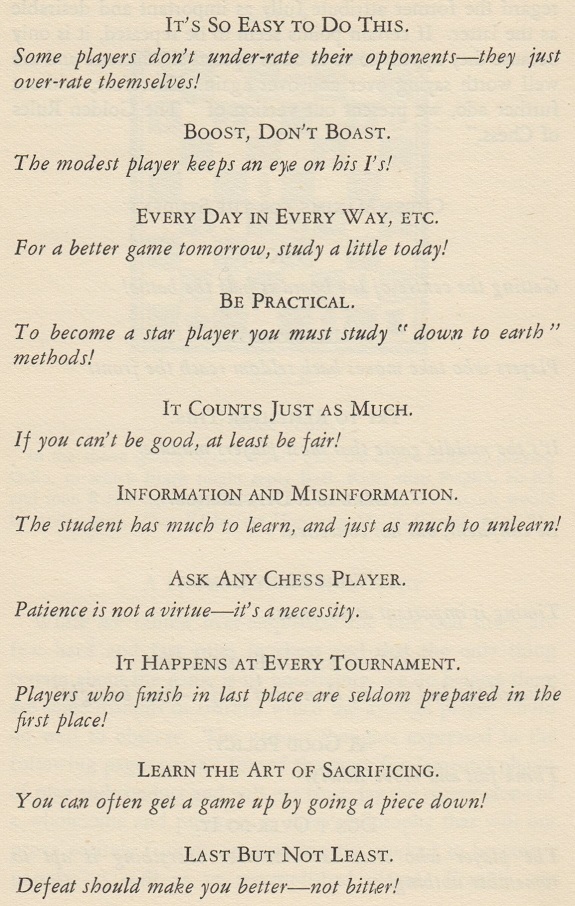 ---
11136. Steinitz brilliancy
'The best years of his life were squandered under the loathsome necessity of eking out a "living" by playing skittle games with prosperous nonentities ...'
Regarding this comment about Steinitz by Reinfeld and Chernev in C.N. 11131, Eduardo Bauzá Mercére (New York, NY, USA) writes:
'At least he could exercise his tactical prowess against them, as in the following game:'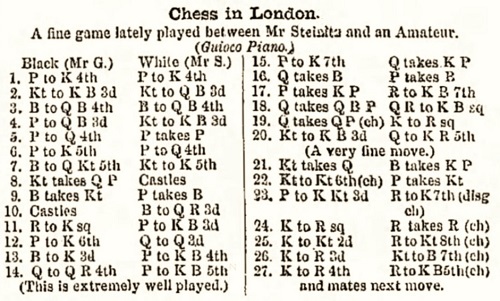 Source: The Era, 25 June 1871, page 7.
1 e4 e5 2 Nf3 Nc6 3 Bc4 Bc5 4 c3 Nf6 5 d4 exd4 6 e5 d5 7 Bb5 Ne4 8 Nxd4 O-O 9 Bxc6 bxc6 10 O-O Ba6 11 Re1 f6 12 e6 Qd6 13 Be3 f5 14 Qa4
14...f4 15 e7 Qxe7 16 Qxa6 fxe3 17 fxe3 Rf2 18 Qxc6 Raf8 19 Qxd5+ Kh8 20 Nf3
20...Qh4 21 Nxh4 Bxe3 22 Ng6+ hxg6 23 g3 Re2+ 24 Kh1 Rxe1+ 25 Kg2 Rg1+ 26 Kh3 Nf2+ 27 Kh4 Rf4+ 28 White resigns.
---
11137. Alekhine v Euwe (C.N. 11134)
Rudy Bloemhard (Apeldoorn, the Netherlands) writes:
'The Dutch website Delpher shows that many of the country's newspapers dated 12 November 1937 shared the same analysis, including references to Alekhine's severe time-trouble. An example is Twentsch Dagblad Tubantia, fourth section, page 1:

The note after 27 a3 states that it was only at that point that Euwe was seen to turn his attention to "the endangered corner of the board", after which "a sigh of relief went through the playing hall".

From page 1 of Het Vaderland:

My translation of the paragraph about time-trouble:

"Be that as it may, the fact is that the world champion achieved excellent counter-play, added to which was the circumstance that Alekhine started to be in serious time-trouble (the complicated position had caused him many headaches). That it was not only Alekhine who was nervous, but also the always seemingly calm Euwe, can be deduced from the fact that for two moves both players missed the sacrifice Qh8+ (possible on move 26 and even stronger on move 27). From Alekhine, who feverishly and fearfully checked his clock, this was more understandable than from Euwe, who had more than enough time."'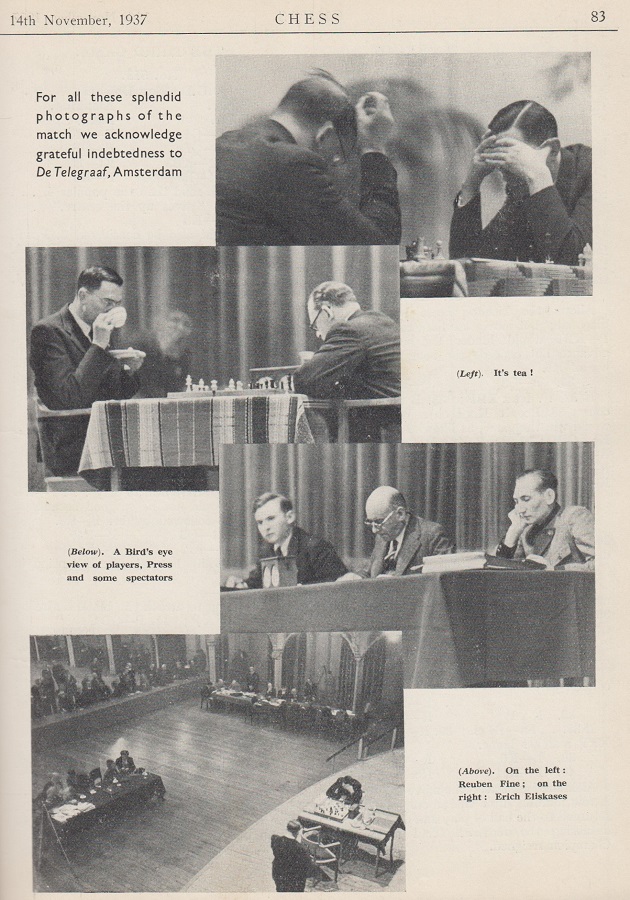 We add an excerpt from page 13 of The Chess Mind by Gerald Abrahams (London, 1951):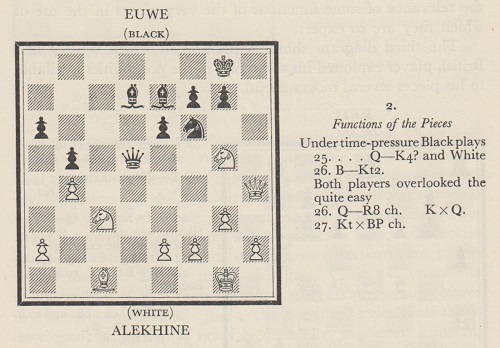 As already demonstrated, it was Alekhine, not Euwe, who was short of time.
Writers wishing to revel in world champions' lapses may choose to ignore the issue of clock-pressure. See, for instance, pages 29-30 of The Inner Game of Chess by A. Soltis (New York, 1994) and pages 140-141 of the same author's Chess Lists (Jefferson, 2002).
A sample comment from the latter book, after 27 a3:
'Black continues to allow – and White continues to miss – the Qh8+ combination, the kind most 1800-rated players would find quickly.'
It may be pointed out, however, that Alekhine's own annotations to the game, in his match book, had only one reference to the clock, and it was later in the game: he stated that at move 31 he 'was very short of time'. Alekhine's general view about time-shortage not being an excuse may be recalled from C.N.s 7973 and 10354.
---