---
11530. The Moves That Matter
Just received and to be savoured at a leisurely pace: The Moves That Matter by Jonathan Rowson (London and New York, 2019):
Jonathan Rowson is one of the best and cleverest chess writers.
---
11531. Capablanca caricatures
This caricature is given at the start of Glorias del Tablero "Capablanca" by J.A. Gelabert (Havana, 1923) and at the end of the second edition (Havana, 1924):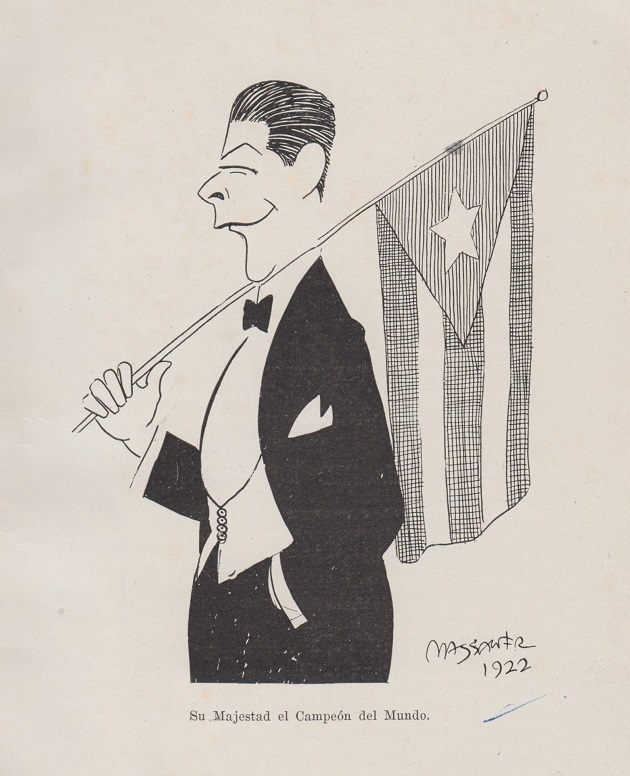 Yandy Rojas Barrios (Cárdenas, Cuba) writes:
'Concerning this widely-disseminated caricature by Conrado Massaguer, I can add that page 23 of the March 1923 edition of the magazine Social, which Massaguer edited, had another one of Capablanca: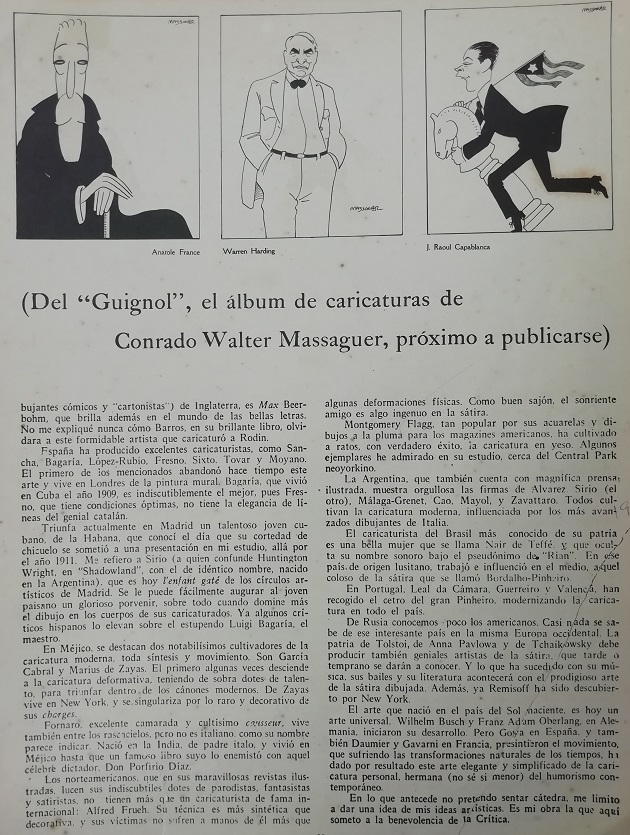 A colour version was on the back cover of the January 1924 issue: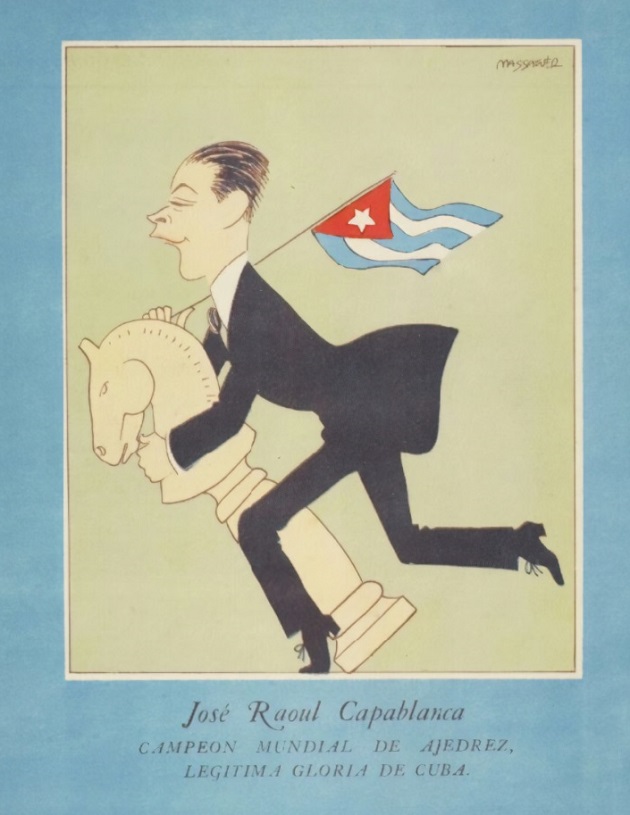 It is curious that the well-known 1922 caricature does not appear in any edition of Social that year.'
---
11532. Leopold Löwy (C.N.s 11511, 11520, 11521 & 11527)
The heading of the document shown in C.N. 11527: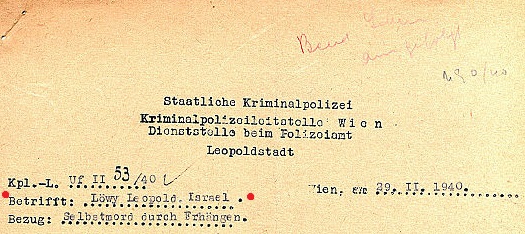 From Alan McGowan (Waterloo, Canada):
'As a result of some research for my Kurt Richter book, I noted that one of the "laws" introduced by the Nazis was that all female Jews had to adopt the name Sara and all males had to adopt the name Israel. Perhaps your correspondent in Vienna, Michael Lorenz, can clarify whether "Israel" was recorded as part of Leopold Löwy's name at the time of his birth or whether it is on the document because Löwy was still considered Jewish by the Vienna authorities even though, as Mr Lorenz notes, Löwy had renounced Judaism in 1905.'
We have put the matter to Michael Lorenz, who replies:
'Löwy was born with only one forename, Leopold. Because he was considered Jewish under the 1935 Nuremberg Laws, he was forced to adopt the second forename "Israel". The Vienna authorities were implementing a law of the German Reich.'
In the light of the foregoing we shall refer to the master only as Leopold Löwy.
---
11533. Richard Réti (C.N.s 4834, 4856 & 5335)
The above-referenced C.N. items discussed whether Richard Réti was Jewish. Michael Lorenz now adds:
'As far as is known, Réti was indeed Jewish. His father Samuel was Jewish and was buried in his parents' grave in Vienna's Jewish cemetery. He is not listed in Anna Staudacher's book Jüdisch-protestantische Konvertiten in Wien 1782-1914 (Frankfurt am Main, 2004). Most Viennese chess masters were born Jewish, although many of them renounced Judaism. Prominent non-Jewish chess masters who come immediately to mind are Feyerfeil, Grünfeld, Hamppe, Kmoch, Krejcik, Liharzik, Marco, Mayerhofer, Müller, Schlechter and Seidl.'
---
11534. Sourceless quotes
How do such things happen?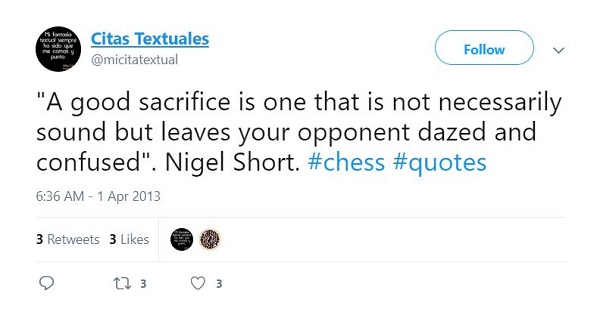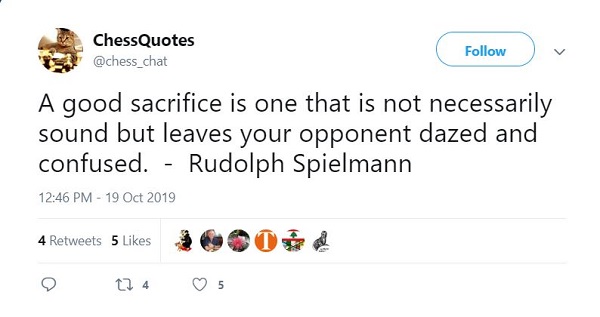 ---
11535. Fiction
Our latest feature article is Chess in Fiction.
---
11536. A constant struggle (C.N. 11506)
C.N. 11506 asked for more information about a remark ascribed to Jan Gustafsson:
'Chess is a constant struggle between my desire not to lose and my desire not to think.'
In C.N. 7203 a correspondent drew attention to a comment by Dominic Lawson in an interview:
'Someone once said, "Chess is a battle between your aversion to the pain of losing, and your aversion to the pain of thinking".'
Christian Sánchez (Rosario, Argentina) notes a passage attributed to Adolf Albin on page 106 of Jaque Mate by Kurt Richter (Barcelona, 1972):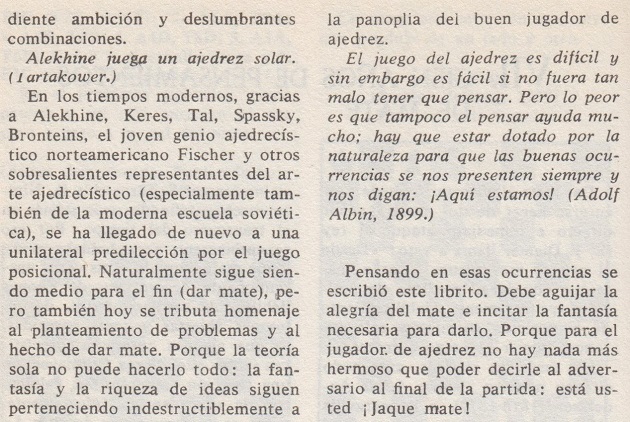 We add the corresponding passage on page 96 of the second edition of Richter's Schachmatt (Berlin, 1958):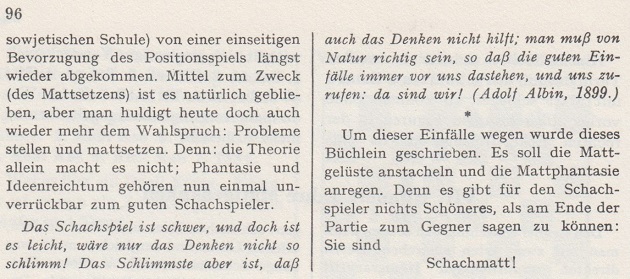 From page 10 of Schach-Aphorismen und Reminiscenzen by A. Albin (Hanover, 1899):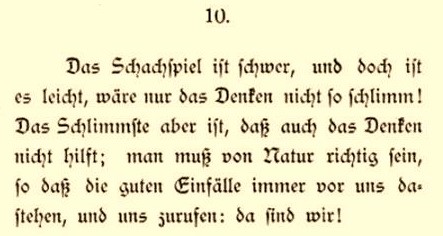 ---
11537. Morphy v the Duke and Count
Eduardo Bauzá Mercére (New York, NY, USA) notes that pages 225-226 of Paul Morphy, Sketch from the Chess World by Max Lange (London, 1860) give the celebrated consultation game as played at the Italian Opera during a performance of The Barber of Seville, which, in accordance with the information provided by Fabrizio Zavatarelli in C.N. 6582, suggests 4 November 1858.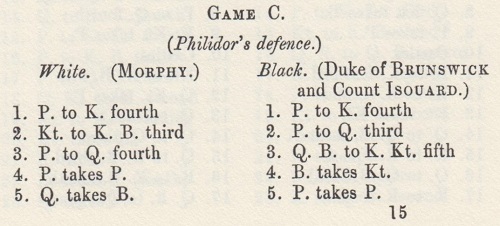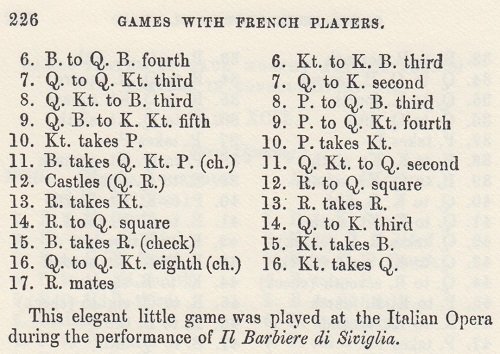 However, we add page 210 of a later German edition of Max Lange's monograph, Paul Morphy Sein Leben und Schaffen (Leipzig, 1894), where the heading had a date (October 1858):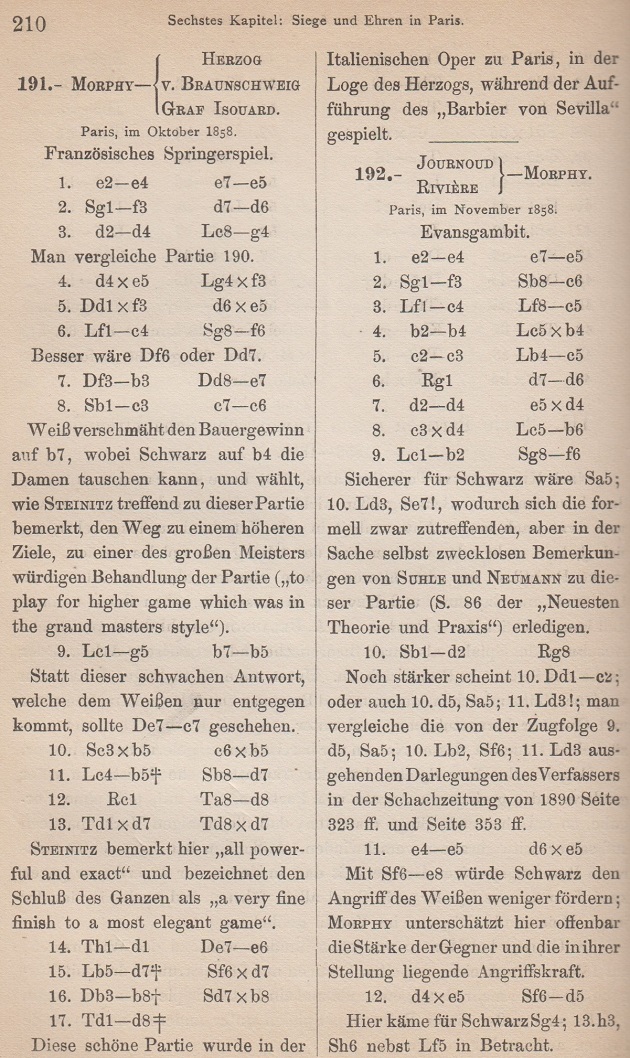 On the basis of the 1858 documentation about Paris opera performances which has been found so far, the statements 'October 1858' and 'The Barber of Seville' cannot both be correct.
---
11538. Lipke playing blindfold (C.N. 9130)
Philadelphia Times, 24 March 1895, page 21
The above report was shown in C.N. 9130, and now we add, courtesy of the Cleveland Public Library, this image: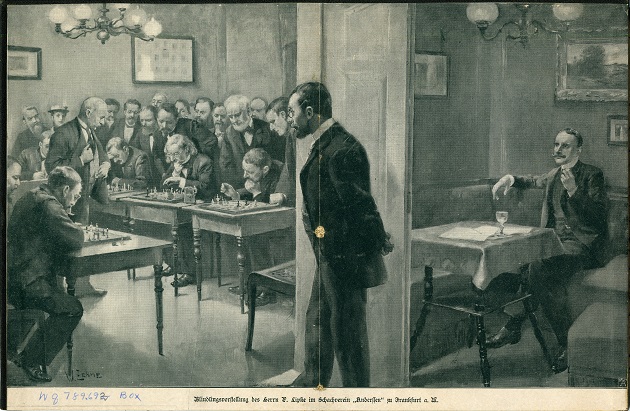 C.N. 9130 had a report on Lipke's display in Frankfurt from page 347 of the November 1894 Deutsche Schachzeitung, and below is the conclusion of one of his games, against E. Thomas, on page 18 of the January 1899 issue: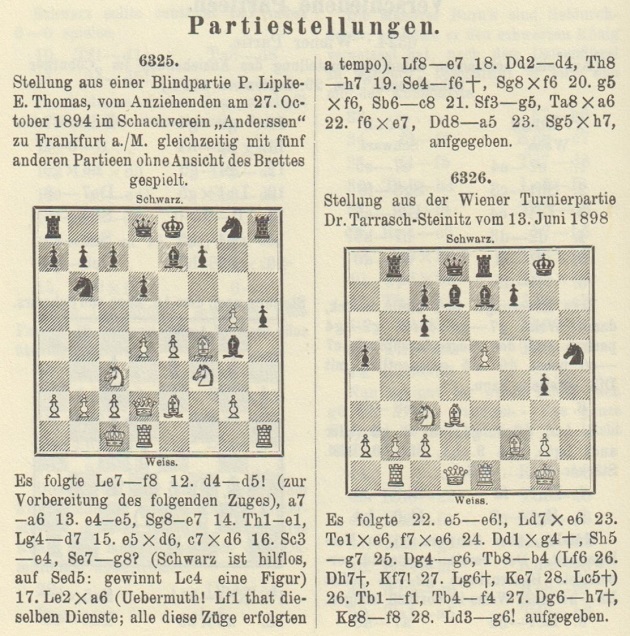 Can more specimens of his blindfold play be found?
A photograph of Lipke was the frontispiece of the January 1900 Deutsche Schachzeitung, and a biographical note on pages 33-34 of the same issue mentioned his ability to play up to ten games simultaneously without sight of the board: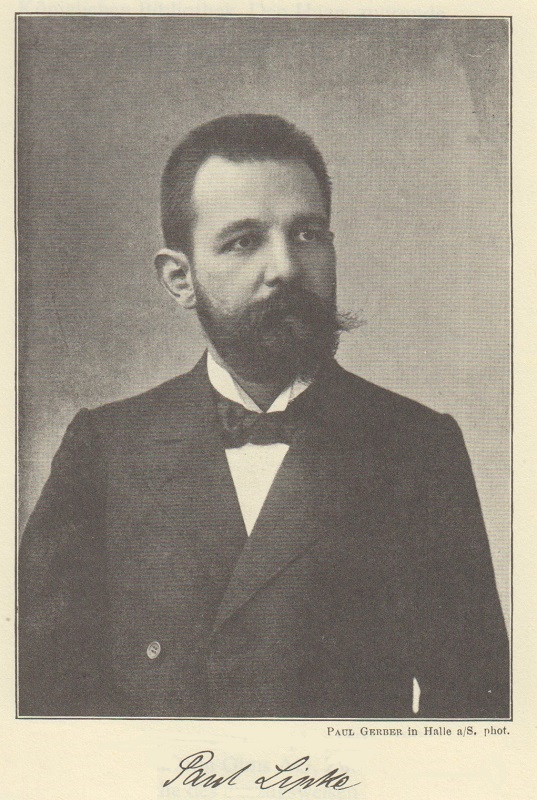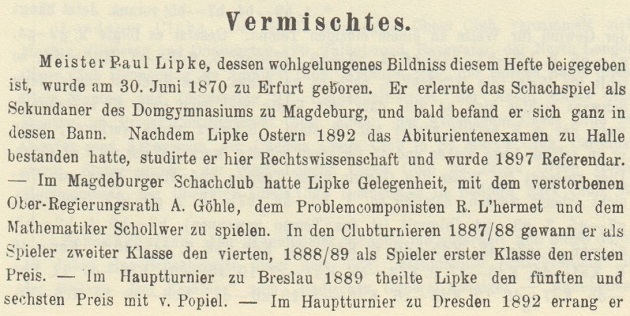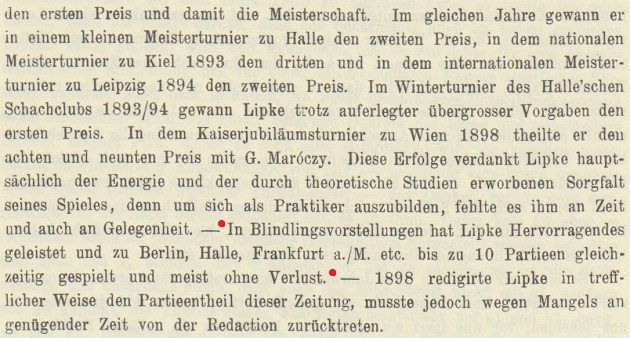 ---
11539. Levenfish book (C.N. 8520)
On the topic of books deserving an English translation, in C.N. 8520 a correspondent nominated Izbrannye partii i vospominanya by G. Levenfish (Moscow, 1967).
Douglas Griffin (Insch, Scotland) informs us that Quality Chess has just published his translation of the book, with additional material, under the title Soviet Outcast (Glasgow, 2019).
---
11540. Guinness World Records
It may be mentioned à sa décharge that the Guinness company has, in addition to its books, a website with a database featuring many chess-related exploits.
---
11541. Morphy v the Duke and Count (C.N. 11537)
From Fabrizio Zavatarelli (Milan, Italy):
'Morphy first dined with the Duke of Brunswick on 19 September 1858 (Lawson, page 158), which is a post quem date. C.N. 6582 reported my findings in the Parisian publication La presse, which announced daily the performances in Paris theatres. My search covered 19 September-31 December 1858.

As shown in C.N. 11537, Max Lange specified that the famous consultation game was played during a performance of Rossini's The Barber of Seville at the Italiens. There are no possible dates in October, and the only ones in November are 4, 13 and 14; the last of those is unlikely, given the Deutsche Schachzeitung report mentioned below. There was a performance of The Barber of Seville on 23 December, but that has to be ruled out for the additional reason that Morphy was ill (during his match with Anderssen).

According to a report on pages 492-493 of the December 1858 Deutsche Schachzeitung, Morphy had played in consultation against the Duke and the Count more recently than against Chamouillet and Laroche. Although there are no extant consultation games involving Laroche, page 2 of the Supplement to Bell's Life in London, 31 October 1858 published a "game just played by Paul Morphy (blindfold) against M. Chamouillet and the rest of the members of the Versailles Chess Club, all in consultation".

On page 172 of his book on Morphy, F.M. Edge wrote regarding the Duke of Brunswick that "we were frequent visitors to his box at the Italian Opera", and that on the first occasion the opera was Norma. The relevant possible dates are 21, 23, 26 and 30 October. Norma was also performed on 9 and 28 December, but those dates seem too late in view of the above-mentioned report in the Deutsche Schachzeitung.

To summarize, it appears that Morphy v the Duke and Count was played either during a performance of Norma on 21, 23, 26 or 30 October 1858 or, most probably, during The Barber of Seville on 4 November 1858.'
---
11542. F.M. Edge
The edition of Bell's Life in London referred to in the previous item contained a brief correction:
'We were mistaken in considering Mr Frederick Edge, Paul Morphy's energetic friend, an American. Mr Edge is an Englishman, who had the honour to make Paul Morphy's acquaintance at the New York great Chess Congress, where Mr E. officiated as one of the stewards.'
The previous week (page 3 of the 24 October 1858 edition) Bell's Life in London had stated, 'Mr Edge is an American merchant, travelling with Paul Morphy as his second and friend'. That came at the end of a letter from Edge on the Staunton-Morphy affair. For the full text, see pages 108-112 of his book on Morphy; page 143 of Lawson's monograph gave only the final section. In the newspaper and in the Edge book the spelling of his name was 'Frederick Milns Edge', whereas Lawson put 'Milne'. It may seem remarkable that Edge's lengthy letter (approximately 1,500 words) was dated (Wednesday) 20 October and written in Paris yet could already be included in Bell's Life in London on Sunday, 24 October. (Similarly, page 3 of the 10 October 1858 issue had a letter from Morphy in Paris dated Wednesday 6 October; it had reached the newspaper on 8 October.)
---
11543. Fischer in Münster
From John Donaldson (Berkeley, CA, USA):
'The recent publication of all 20 games from Bobby Fischer's simultaneous exhibition in Münster, Germany in 1970 resolved several mysteries and gave the chess world over a dozen new games played by the late world champion.

The display was previously known, although not the exact date. The fact that it took place on 27 September 1970 makes it probable, if not 100% certain, that the exhibition game Fischer v Andersson, sponsored by the Swedish newspaper Expressen, occurred the day before. The Siegen Olympiad ended on 27 September, but the last day of play was 25 September. It is conceivable, if unlikely, that the Fischer v Andersson game was on 25 September, as neither played in the final round of the Olympiad.

The complete set of games, both good and bad, in the Münster display makes it clear that Fischer did not follow the practice of some old-time masters of considering that his move was not completed until he had moved on the following board. In view of some of the blunders committed by him that evening, such as 35 Rb5 against Langhanke, giving a final score of 15½-4½, Fischer may have wished that he had.

The game against Eugen Kurz has a pretty finish with some affinity to Fischer v Benko, US Championship, 1963-64 (17 Rg6 in one game and 19 Rf6 in the other): 1 e4 e6 2 d4 d5 3 Nc3 dxe4 4 Nxe4 Nd7 5 Nf3 Ngf6 6 Bg5 Be7 7 Nxf6+ Nxf6 8 Bd3 O-O 9 Qe2 c6 10 O-O-O Qc7 11 h4 b6 12 Ne5 Bb7 13 Rh3 Rad8 14 Rg3 Kh8 15 Bxf6 Bxf6 16 Qh5 h6

17 Rg6 fxg6 18 Qxg6 Resigns.

Another question is whether the Münster display is the only one ever given by Fischer in which he took Black (in eight of the 20 games). Most exhibitors take White, and in this Fischer was no exception. In his 1964 exhibition tour of North America he gave over 40 displays, and in not one is there a record of him playing a single game as Black.'
---
11544. Retracting moves in simultaneous displays
From page 157 of CHESS, March 1973:
Readers related experiences and voiced opinions on pages 189, 196, 219 and 220 of the April 1973 CHESS and on pages 229 (see C.N. 11222) and 230 of the May 1973 issue. On page 257 of the June 1973 CHESS Wolfgang Heidenfeld contributed a letter referred to in C.N.s 9531 and 11222:

Heidenfeld's final paragraph referred to a news item on page 221 of the May 1973 CHESS: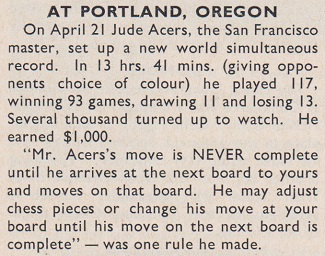 ---
11545. F.D. Yates
C.N. 7910 drew attention to a surprising article by Stephen John Mann on the Yorkshire Chess History website which advocated, on the basis of extensive documentation, 'Fred Dewhirst Yates':
'The popular rendering of his name as "Frederick Dewhurst Yates" is erroneous. There seems no evidence of any formal, official documents ever calling him "Frederick"; instead "Fred" seems to appear throughout. "Dewhurst" is a spelling mistake now widely copied in the literature.'
Given that, in the seven years since C.N. 7910 carried that item on Yates, no historian has, to our knowledge, disputed Mr Mann's conclusion, it would seem appropriate for efforts to be stepped up to eradicate occurrences of the previously-accepted version, 'Frederick Dewhurst Yates'.
---
11546. H.G. Wells
C.N. 1554 mentioned that page 5 of a 1984 book by Nicolas Giffard, Les Echecs, attributed this quote to Oscar Wilde:
'Si vous voulez détruire un homme, apprenez-lui à jouer aux échecs.' ['If you want to destroy a man, teach him to play chess.']
A correspondent in Canada, C.D. Robinson, observed in C.N. 1566:
'Surely this is not Wilde, but a neat compression of two sentences in H.G. Wells' essay "Concerning Chess": "You have, let us say, a promising politician, a rising artist, that you wish to destroy. Dagger or bomb are archaic, clumsy and unreliable – but teach him, inoculate him with chess!" The essay has been reprinted several times since its first publication in 1901, e.g. in Jerome Salzmann's The Chess Reader (pages 194-198).'
See page 380 of Kings, Commoners and Knaves.
Wells' essay had, in fact, first appeared on page 3 of the Pall Mall Gazette, 12 February 1895. Parts have often been quoted, and not least his observation, 'though we revere Steinitz and Lasker, it is Bird we love'. Below is the full article in its original publication:
---