Chess History: Photograph Collections

Edward Winter
Below is a digest of C.N. items which include links to collections of little-known photographs of past chess masters.
John Hilbert (Amherst, NY, USA) writes:
'Over 55,000 photographs from the Chicago Daily News for 1902-33, now the property of the Chicago Historical Society, are available at this webpage. A simple search for "chess" listed 38 images, including pictures of Lasker, C. Medinus, Sidney Johnston, C.W. Parks, Charles Phillips, Louis Uedemann, Sammy Rzeszewski, Frank Marshall, Harry Lee and Emil Kemény. The quality is exceptional, as they are taken from original negatives.'
(4021)
---
Dan Scoones (Coquitlam, BC, Canada) asks whether it is possible to identify when this photograph of Alekhine was taken: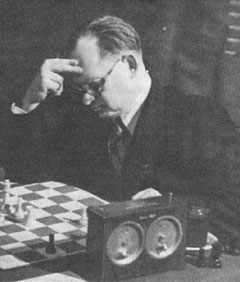 We note that it appeared on page 163 of Freude am Schach by Gerhard Henschel (Gütersloh, 1959) and that page 187 credited it to Ullstein Bilderdienst, Berlin.
This prompted us to look at the webpage of Ullstein Bild, where a search for 'Alekhine' and 'Aljechin' results in several unknown portraits of the master, although not the one above. Information will be welcomed on any other photographic agencies or companies with significant chess holdings.
(4757)
---
Jan Kalendovský (Brno, Czech Republic) draws attention to an Amsterdam website whose picture archives include many chess photographs. Some particularly interesting ones can be found by searching for the names Aljechin, Capablanca and Euwe.
(5084)
---
Olimpiu G. Urcan (Singapore) notes that additions continue to be made to the Library of Congress photograph collection and he draws particular attention to a pair of pictures of Capablanca dated 1915.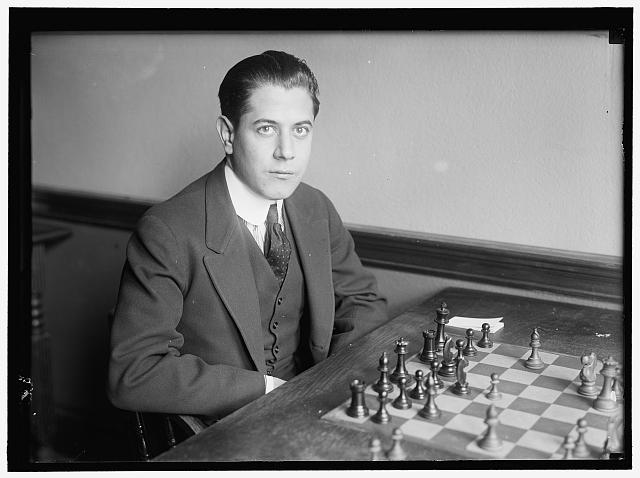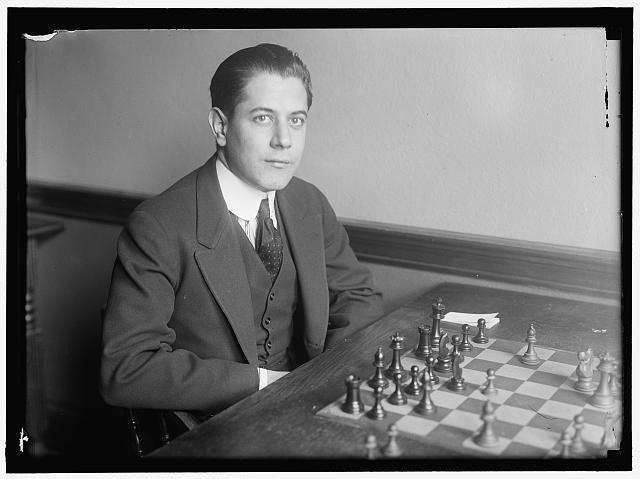 The following shot appeared on page 278 of The Golden Dozen by Irving Chernev (Oxford, 1976):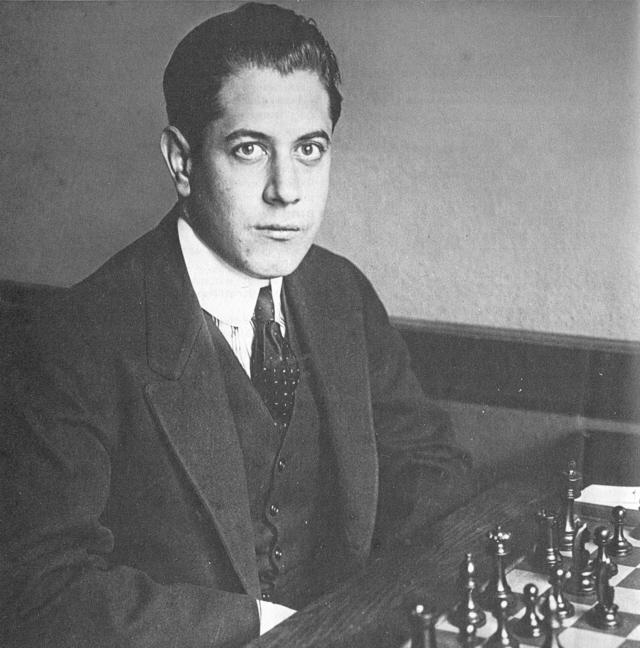 The Library's conditions for use of its pictures should be noted. A search for chess photographs at the website also yields a good shot of Tartakower and Edward Lasker.
(5864)
---
Olimpiu G. Urcan notes that many chess photographs, including unknown shots of Alekhine, can be found at the website of the Österreichische Nationalbibliothek (Vienna) by making a search for Schach.
(6369)
---
See too the Cleveland Public Library Digital Gallery.
(6721)
---
A set of unknown photographs of Capablanca at the website of the University of Miami Libraries is pointed out by Christian Sánchez (Rosario, Argentina).
(6900)
---
Olimpiu G. Urcan mentions that many chess photographs can be viewed at the 'Memory of the Netherlands' website by entering either the Dutch word for chess, Schaken, or the names of such players as Lasker, Marshal [sic], Capablanca, Aljechin, Euwe, Botwinnik, Keres, Larsen and Tal.
(7336)
---
Wolfgang Franz (Oberdiebach, Germany) notes that the photographs in C.N. 8204 can be viewed, together with many others, at the Polish Zbiory NAC on-line website, e.g. by searching for Szachowe or Alechin.
(8208)
The DigitaltMuseum website has many chess photographs.
(9087)
Dan Scoones reports that there are many high-resolution chess photographs at the Russian Gallery website.
(9397)
---
Latest update: 31 July 2015.
To the Chess Notes main page.
To the Archives for other feature articles.
Copyright: Edward Winter. All rights reserved.