The Immortal Game
Edward Winter
No blunder is too elementary to have been made by chess writers at one time or another. R.F. Green's book Chess (page number varies in different editions) and C.B. Rogers' How to Play Chess (pages 155-156) both gave the 'Immortal Game' as having been won by Kieseritzky against Anderssen.
(2469)
When the above item was included on page 314 of A Chess Omnibus we added in a footnote that another instance was page 45 of Chess and Draughts by Albert Belasco (various editions).
---
Before us lies a modern reprint of R.F. Green's 1889 book Chess, brought out by the Tynron Press, Stenhouse in 1990. Slothful, uninformed duplicators posing as publishers were referred to in C.N. 3586, and here is another instance. The reprint even perpetuates Green's blunder (on page 108) of stating that in the Immortal Game Kieseritzky defeated Anderssen.
(5464)
It has been shown that the 'immortal games' won by Nimzowitsch and Najdorf were not widely published at first. The same applies to the Immortal Game between Anderssen and Kieseritzky, although the loser did give it, with praise for Anderssen, on pages 221-222 of La Régence, July 1851.
Can readers help us to draw up a list of the game's appearances in print in the mid-nineteenth century?
As mentioned in C.N. 2469, some books have inexplicably stated that Kieseritzky won. Below are the three cases referred to on page 314 of A Chess Omnibus:
Chess by R.F. Green (various editions)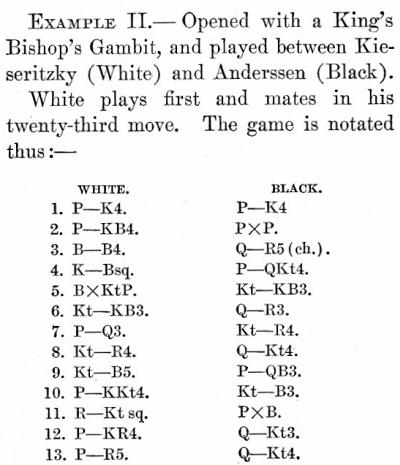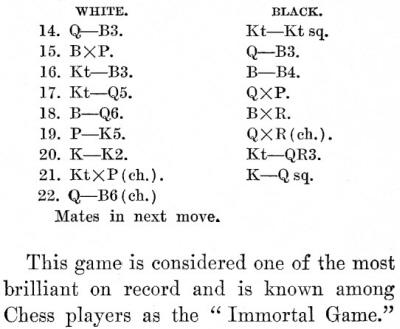 Pages 155-156 of How to Play Chess by Charlotte Boardman Rogers (New York, 1907)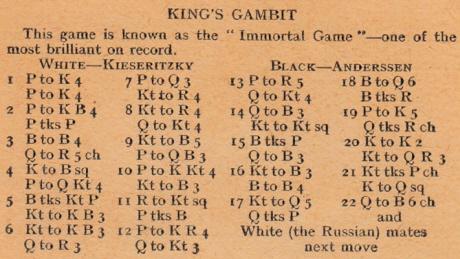 Page 45 of Chess & Draughts by Albert Belasco (various editions).
C.N. 1965 (see page 270 of Kings, Commoners and Knaves) noted that the 1930s book Chess and How to Play It by B. Scriven correctly identified Anderssen as the winner but made a peculiar claim about the occasion of the game:
(8854)
Michael Clapham (Ipswich, England) also mentions that the Immortal Game was published on pages 171-172 of Horć Divanianć by Elijah Williams (London, 1852):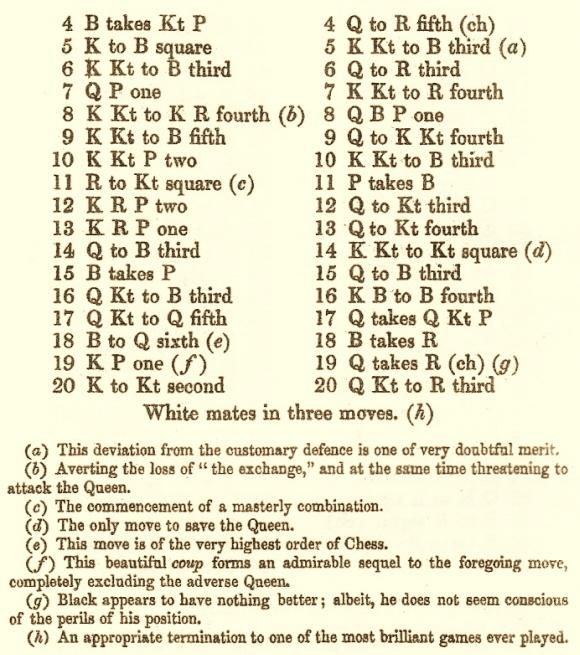 Our correspondent furthermore points out a remark on page 274 of The Game of Chess by George Selkirk (London, 1868):
(8862)
John Townsend (Wokingham, England) notes that the game was published on pages 2-3 of the Chess Player (edited by Kling and Horwitz), 19 July 1851, with the first player indicated as having the black pieces (as was often the practice at the time):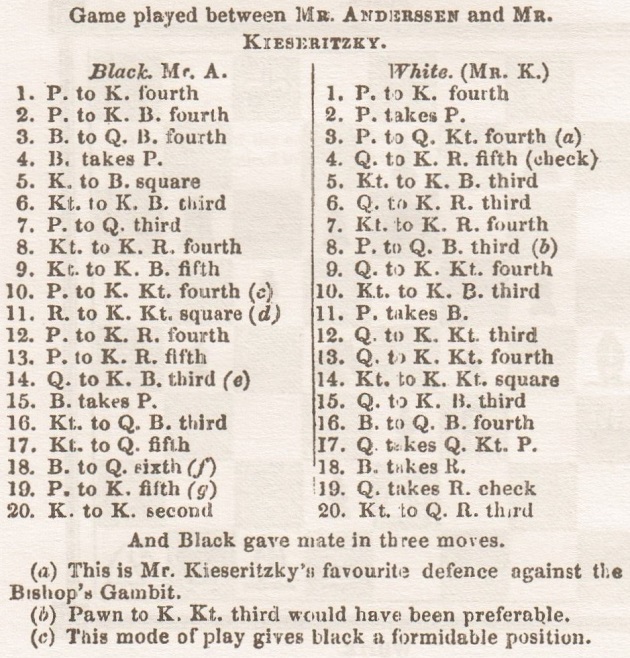 Our correspondent adds that when the game appeared in Bell's Life in London, 28 November 1852, page 5, there was an acknowledgement to the Chess Player, but Anderssen was said to have played with the white pieces: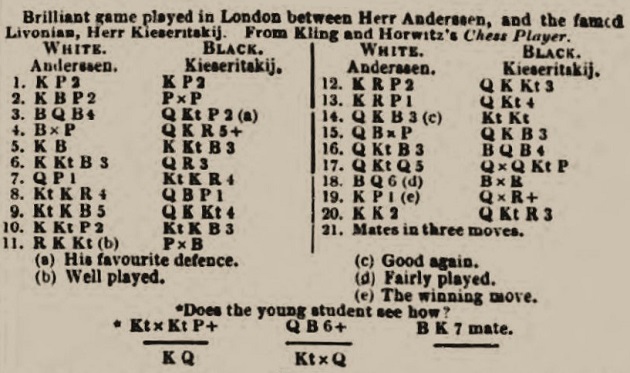 ---
Emanuel Lasker's view of the Immortal Game:
'It is not very difficult to understand why the "Immortal Game" between Anderssen and Kieseritzky should appeal to the popular mind. Besides the enormous sacrifice of material by White, there is the rare occurrence of all Black's pieces on the board when he is mated.

The effect of the tremendous labor of the annotators of this game must ultimately result in removing it from the singularly high position in which it has been fixed. The demonstrable fact that White missed a certain win, and that later Black missed a certain draw, practically removes the game from the realms of the classics.

It is a very moot question whether "skittle" games deserve the amount of attention which is bestowed upon them. It may be that irresponsibility and accident produce bewildering, dazzling and even original positions.

"Skittle" playing, as recreation, has a useful function to perform. But, if chess is to be treated as literature, then it is incumbent that the games that are published shall be the product of much thought, of deep imagination, of a sentiment of truth; and above all that the players shall be imbued with a feeling of responsibility, such as follows from tournament or match play.'
The game was then given with detailed notes.
Source: pages 18-20 of the Chess Player's Scrap Book, February 1907. The periodical, edited by Lasker, was discontinued later that year, after issue 6-7.
(10502)
The Immortal Game and the Evergreen Game were annotated on pages 82-84 of Emanuel Lasker's London Chess Fortnightly, 14 January 1893.
---
An inscription by Al Horowitz in one of our copies of his book How to Win in the Middle Game of Chess (New York, 1955):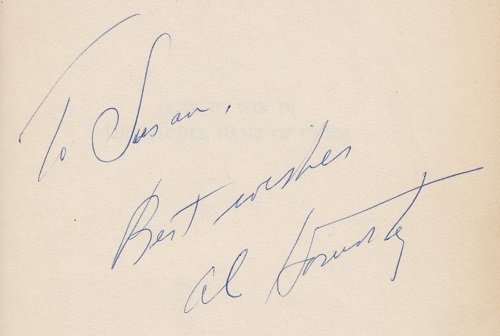 From pages 45-46: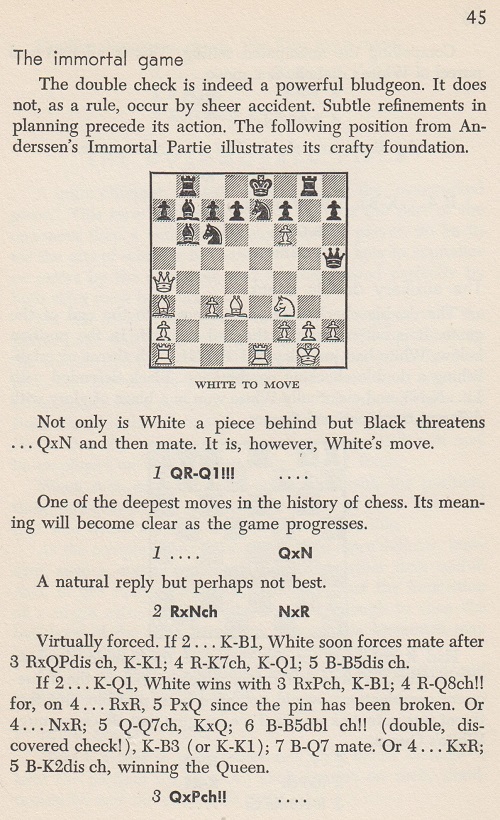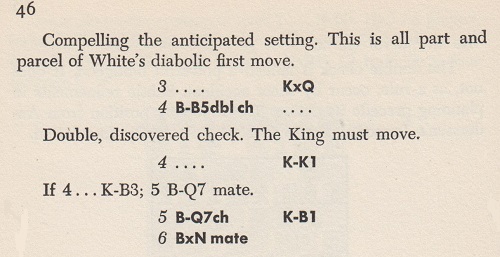 On page 202 of the July 1953 Chess Review Horowitz had given the same material, also mistitled 'The Immortal Game'.
(10566)
See too C.N. 11126 (including Raymond Keene's references to 'Kieseritsky').
---
Some more snippets:

Chess Words of Wisdom by Mike Henebry (Victorville, 2010), page 346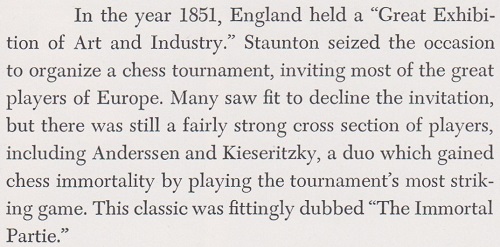 The World of Chess by Anthony Saidy and Norman Lessing (New York, 1974), page 86

Chess An Illustrated History by Raymond Keene (Oxford, 1990), page 48

Championship Chess and Checkers for All by Larry Evans and Tom Wiswell (New York, 1953), page 49

Chess Life, May 1996, page 15 (a reply in the 'Evans on Chess' column).
(11323)
---
Latest update: 22 May 2019.
To the Chess Notes main page.
To the Archives for other feature articles.
Copyright: Edward Winter. All rights reserved.