Amsterdam, 1954: A Chess Photograph

Edward Winter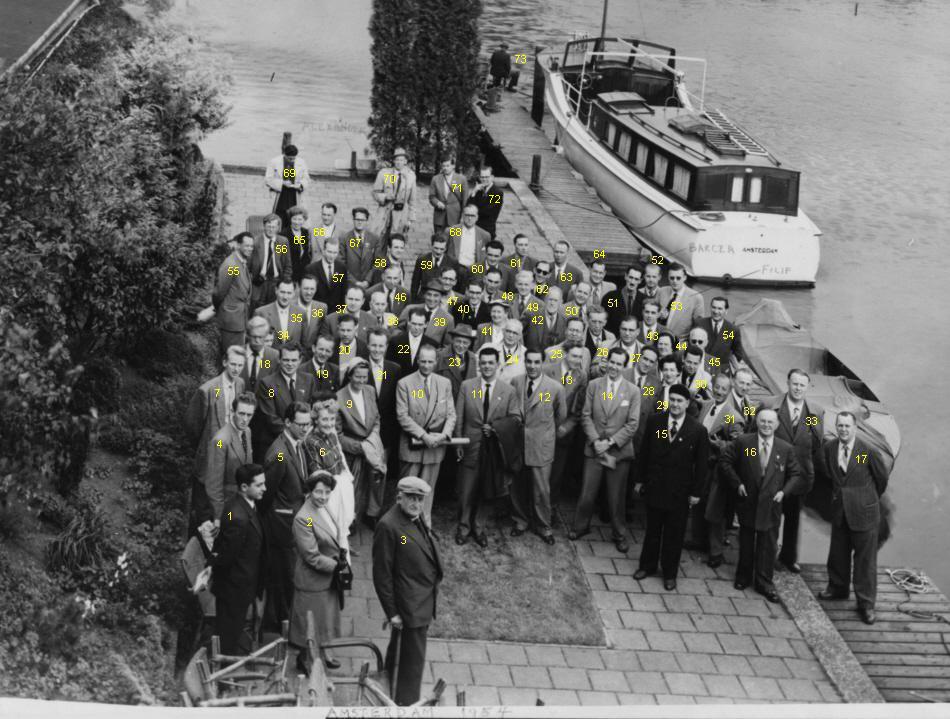 5 Gu­mundur Pßlmason; 7 Fri­rik Ëlafsson; 8 Gu­mundur ┴g˙stsson; 13 Peter Clarke; 14 Leonard Barden; 17 Enrico Paoli; 18 Ingi R. Jˇhannsson; 20 Arthur Dunkelblum; 22 Alfons Franck; 25 Nathan Divinsky; 26 Fedor Bohatirchuk; 27 John Prentice; 28 Georges Noradounghian; 30 Frank Anderson; 31 Maurice Fox; 35 Lodewijk Prins; 36 Robert Lemaire; 37 Georges Thibaut; 39 Conel Hugh OĺDonel Alexander; 40 Jim Walsh; 42 Alexander Rueb; 46 Harry Golombek; 47 Brian Reilly; 51 Gedeon Barcza; 52 JiřÝ Fichtl; 53 Miroslav Filip; 57 B°rge Andersen; 63 Otto Benkner; 68 E. Verner Nielsen; 70 Axel Nielsen; 71 Harald Enevoldsen; 72 Palle Nielsen.
An unnumbered version is available here. Clicking on that second photograph will, in most browsers, make it larger still.
The photograph was presented in C.N. 5780 by John Donaldson (Berkeley, CA, USA), and we hope to identify as many of the figures as possible. For the partial key above, assistance has been received from Mr Donaldson, as well as Leonard Barden (London), Calle Erlandsson (Lund, Sweden), Bent K°lvig (R°dovre, Denmark) and Luc Winants (Boirs, Belgium).
The Amsterdam Olympiad took place in September 1954, with 26 teams: Argentina, Austria, Belgium, Bulgaria, Canada, Colombia, Czechoslovakia, Denmark, England, Finland, France, Greece, Holland, Hungary, Iceland, Ireland, Israel, Italy, Luxembourg, Norway, Saar, Soviet Union, Sweden, Switzerland, West Germany and Yugoslavia.
---
Sean Coffey (San Francisco, CA, USA) has passed on from J.J. Walsh (Dublin) information regarding the four remaining unidentified players from the Irish team: 48: Warwick Nash; 49: Terry Kelly; 58: Enda Rohan; 59: Vincent Maher.
A­alsteinn Thorarensen (Reykjavik) suggests the following: 4: Per Lindblom (Norway); 10: Otto B. Morcken (Norway); 19: Gu­mundur Arnlaugsson (the second reserve on the Icelandic team).
---
Latest update: 5 May 2022.
To the Chess Notes main page.
To the Archives for other feature articles.
Copyright: Edward Winter. All rights reserved.