---
11905. A recording of Emanuel Lasker's voice
C.N. 10977 referred to the unavailability of any sound recording featuring Emanuel Lasker, but now Olimpiu G. Urcan (Singapore) has found an instance on the Beeld en Geluid website and has secured permission for the file to be presented by us:
It was broadcast by the Dutch station KRO on 5 November 1935, during the Alekhine v Euwe world championship match. The interviewer, it seems, was Salo Landau.
The following transcript of Lasker being interviewed in Dutch has been provided, together with an English translation, by Hans Renette (Bierbeek, Belgium):
'Ja, ja, ook zij hebben getoond zwakke zijden te hebben. Zo is de mens nu eenmaal. Niet steeds übermensch. Wat is de mens zonder enige zwakte? [Dat] bestaat alleen in de verbeelding.

Hoe kan Euwe van de zwakke zijde van Aljechin profiteren?

Indien hij speelt wat Aljechin niet goed ligt. Meer voor de hand ligt de vraag: wat zal Aljechin doen om zijn zwakke zijden te versterken? Dat hij daarmee tussen het spelen van de partijen druk bezig is, daaraan bestaat voor mij geen twijfel.

Zal het hem lukken?

Ik zal je een geheim toevertrouwen. Deze jonge man heeft talent. [De interviewer lacht.] Dat zeker. Dus wat een geniaal mens bereiken kan en hoe snel en handig hij iets kan aanleren, kan immers niemand raden.

Als ik het goed begrijp, heeft Euwe dus goede kansen als hij met wit speelt mits hij met de damepion opent. Maar hoe staat het met zijn verdediging als hij met zwart speelt?

Tot nu toe heeft hij met zwart ongunstig gespeeld. Vier partijen verloren met zwart is allesbehalve mooi. Maar vijf winstpunten met wit en slechts een verliespartij met deze kleur is uitstekend.

We zullen het zo zeggen: wie met wit speelt heeft een voordeel?

Zo was het niet altijd. Zukertort's mening was dat e2-e4 een slechte zet was die door e7-e5 weerlegd werd en Aljechin's loopbaan onderlijnt dit. Hij heeft met zwart in de Spaanse partij, die toch als zeer sterk geldt, zo goed als alle partijen gewonnen en geen enkele daarvan verloren, haast dertig jaren.

Tegenwoordig echter worden de meeste partijen door wit gewonnen?

Maar dat is individueel en afwisselend. Sommige meesters voelen zich beter thuis in de verdediging en anderen voelen zich meer op hun gemak als ze kunnen aanvallen.

Hoe komt dat dan, dokter?

Alles in het leven gaat op en neer. Zo is het ook hier. In het ene tijdperk winnen de witte stukken, in het andere, de andere keer, winnen de zwarte. Ik zal u liever vertellen wanneer Euwe zich echt in zijn element voelt.'
---
'Yes, yes, they too showed weaknesses. That is how man is. Not always an übermensch. What would a man be without weaknesses? That exists only in the imagination.

How can Euwe take advantage of Alekhine's weak side?

By playing that which does not suit Alekhine. But the more obvious question is: what will Alekhine do to strengthen his weaknesses? I have no doubt that he is working on that between the games.

Will he succeed?

I shall entrust you with a secret. This young man has talent. [The interviewer laughs.] That is for sure. How much a genius can achieve and how quickly and skilfully he can learn something – that is anybody's guess.

If I understand correctly, Euwe has good chances when playing White – provided that he opens with the queen's pawn. But what about his defence with Black?

So far he has played inauspiciously with Black. Losing four games with Black is anything but good. But five wins and just one loss with White – that is excellent.

Can we put it this way: White has the advantage?

It was not always like that. Zukertort considered e2-e4 a bad move, refuted by e7-e5, and Alekhine's career underlines this. With Black against the Spanish Opening, known, after all, as a very strong opening, he has won almost all his games and did not lose a single one for nearly 30 years.

However, nowadays are not most games won by White?

But that is individual and variable. Some masters feel more at home in defence, and others feel more at ease when they are able to attack.

How can this be explained, Doctor?

Everything in life goes up and down. The same also here. In one period, the white pieces win, in another the black pieces do. I would prefer to tell you when Euwe truly feels in his element.'
---
Richard Forster (Winterthur, Switzerland) points out that Lasker mentioned the radio broadcast in two letters to his wife Martha (xeroxes courtesy of Jurgen Stigter, Amsterdam). On 31 October 1935, Lasker wrote from Amsterdam:
'Jetzt arbeite ich an meinem nächsten holländischen Vortrag vom 5ten Nov Abends 9.45min, indem fortgesetzt unter Leitung von Alex Frank Übungen an der Aussprache mache.'
['Now I am working on my next talk in Dutch for 5 November, 9.45 PM, by doing constant pronunciation training under the guidance of Alex Frank.']
For some details concerning the journalist and actor Alex Frank (1888-1950), see this webpage.
On the day of the radio broadcast, 5 November 1935, Lasker informed his wife late at night:
'Alle sind erstaunt, dass ich so gut auf holländisch geredet habe. Landau + Alex Frank waren entzückt, auch die Leute vom Radio selbst.'
['Everyone is amazed how well I spoke Dutch. Landau and Alex Frank were delighted, as were the radio people themselves.']
---
11906. Buckle and Korchnoi
Olimpiu G. Urcan (Singapore) has obtained permission for us to show the following images here:
Henry Thomas Buckle
(The archives of the Pushkin State Museum in Moscow hold this original engraving by Stephen Henry Gimber.)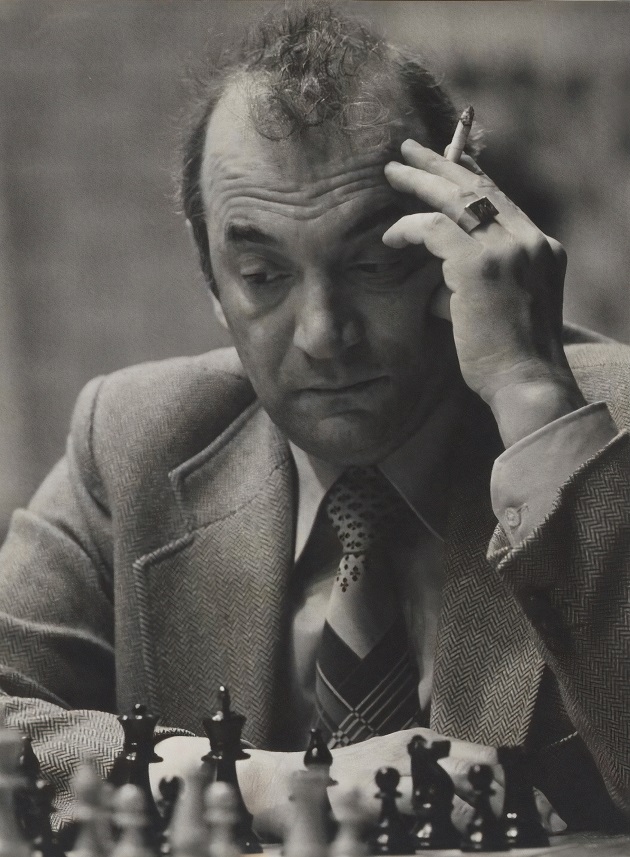 Victor Korchnoi
(A 1979 portrait from the Lev Abramovich Borodulin Collection held by the Multimedia Complex of Contemporary Arts in Moscow.)
---
11907. Additions
Of late, additions have been made to many feature articles, and especially Chess Jottings. From that page, six posers are reproduced below: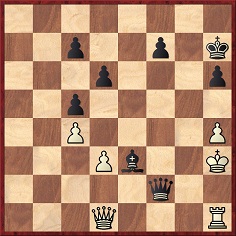 Black to move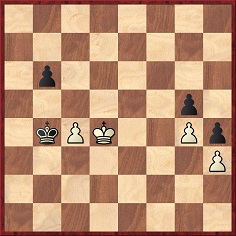 White to move
Mate in two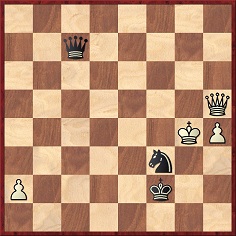 Black to move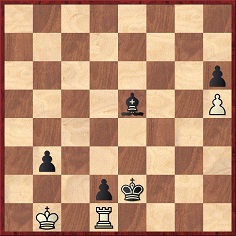 Black to move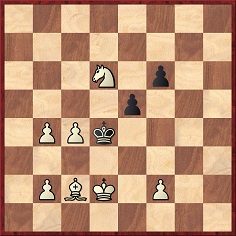 What is the fastest mate for White?
---
11908. The early life of James Mason
From John Townsend (Wokingham, England):
'Several sources indicate that James Mason was for some time employed as a newsboy in New York. For example, an article appeared on page 5 of The Sun (New York), on 25 June 1882, entitled "The Newsboy Chess Player":

"Fifteen years ago or thereabouts a bright-faced youngster "established himself in business", as he was fond of telling his customers on board the Fulton Ferry boats. His business was selling the morning and evening papers. In time, he had a list of regular customers, who waited till they were on the boat to buy papers of him. The youngster's name was James Mason. In those days Otis Field, well known to New York billiard players, kept a billiard room in the basement at the northeast corner of Fulton and Nassau streets. On the Nassau side he had tables for chess and draughts. The newsboy had to pass the place four times a day, and, as the windows were open in warm weather, could not fail to see the chess games, with their carved men. One day, while he was watching the pieces with boyish interest, an old gentleman at one of the tables beckoned him down stairs ..."

The chronology in this article may not always be accurate. It can be viewed on the Chess Archaeology website.

To this picture, Stephen Davies, on page 37 of Samuel Lipschütz: A Life in Chess (Jefferson, 2015), adds that, having sold newspapers in the morning, Mason worked in the delivery department of the New York Evening Telegram in the afternoon.

The New York Evening Telegram was established (in 1867 according to Chronicling America) by James Gordon Bennett, the son of J.G. Bennett. The Oxford Companion to Chess (Hooper and Whyld, second edition, 1992, page 250) makes the following comment in connection with Mason:

"Coming to the notice of J. Gordon Bennett of the New York Herald, he was given a job in the newspaper's offices ..."

Meanwhile, using Chronicling America it is possible to follow newspaper reports of the newsboy's growing force over the chequered board and his advancing fame. When the New York Herald, 16 January 1869, reported on page 7 about the "Handicap Chess Tournament" at Seider's Café Europa, Nos. 12 and 14 Division Street, "Captain George Mackenzie being the manager", James Mason was noted as being "among the most prominent" players.

On page 9 of the New York Herald of 7 May 1870, which looked forward to the approaching Baden-Baden congress, "J. Mason" was identified as someone who could ably represent chess in America. As it turned out, no US players took part.

He was occasionally mentioned in the press in connection with local chess activities, as in a report in the New York Herald of 28 October 1870 (page 8):

"This evening the Nineteenth Ward Chess Club will play their return challenge game with the Downtown Chess Club at the Europa Chess Rooms, 12 and 14 Division Street, at eight P.M. Messrs. Perrin, Mason, Merian, prominent players, also a committee from the Williamsburg Chess Club will be present to witness the contest ..."

Fairly close in time to the above reports was the United States Federal Census of 1870, which can be viewed on-line. The census day was 1 June, and no reason is known not to expect Mason to have been in New York at that time. Only one James Mason entry has been found which is at all consistent with his place of residence, his occupation, and his supposed age. A certain James Mason, aged 22, resident in New York city's 9th District and 6th Ward, is described as a "vender" [sic]. Vendors were commonly seen on the streets of New York. Newspapers were among the items which could be bought, and, although the merchandise sold by this James Mason is not recorded, the description of "vender" is consistent with what is known of the chessplayer's work. Residence in New York city is in line with expectation, and the age is also tolerably accurate. In the same household are to be found his father, James Mason, aged 52, a tailor, his mother, Mary Ann Mason, aged 43, tailoress, and his younger sister, Kate Mason, aged 18. The parents were born in Ireland, which also fits the bill, but, interestingly, the birthplace of both children was entered as "US" (United States) and has been overwritten with "NY" (New York). However, it is not yet possible to confirm whether this census entry relates to the chessplayer. The same James Mason has not so far been identified in any other US censuses.

The story of James Mason's birth in Kilkenny in 1849 has been widely embraced by chess writers, and they may well be right. However, caution is called for. It is difficult either to prove or disprove. There has been no corroboration from a primary source, such as a birth or baptism record, and no information about his early life and background in Kilkenny was ever given beyond a date of birth, even though he is said to have been 11 when he was next mentioned in the United States. His existence during those first years has taken on an almost mythical quality.

Leaving this New York census entry aside, there are other difficulties with attributing Irish birth to Mason. In the English census of 1881, the first after his arrival, the chessplayer's place of birth was, similarly, entered as "America" (see National Archives, RG 11 590/90, page 14).

In the 1901 census, his place of birth was recorded as "Ireland, American citizen" (National Archives, RG 13 30, page 52). If that were correct, one would assume that he had been naturalized in the US. Searches so far for a naturalization record have proved negative. The only other way he could have been an American citizen was by birth.

P.W. Sergeant was evidently perplexed by Mason. On page 172 of A Century of British Chess he remarked:

"But James Mason was not an American, either by birth or, apparently, even by naturalisation, since in 1901-2 he played for Britain in the cable-matches. He is one of the most enigmatic characters in the history of British chess."

Sergeant implies that American citizenship would have prevented him from playing for Britain. Yet American citizenship is precisely what he declared to the 1901 census; if it was not true, then it is hard to understand why he said it. Sergeant does not comment here on the extent to which birth in Ireland, as opposed to America, may have assisted his eligibility to represent Britain in international matches. He also made the point that, on his arrival in 1878, Mason was not received as one returning to Britain:

"... and, though he was, in a sense, like Bird, an exile returned, he was not recognised as connected with the British Isles. He was received as Mr Mason, the American master."

James Mason was well liked and he has emerged with the reputation of an honest person. His alleged plea to Buckley ("Don't split on me till I'm dead ..."), noted in your feature article Who Was R.J. Buckley?, entails an element of conspiracy, but chessplayers have, generally, sympathized with the circumstances. However, when considered in conjunction with that, the inconsistent information which he gave to censuses gives one cause to question how straightforward he was in the matter of nationality, and whether Irish birth was the truth.

One final point: that Mason was born in "New York city" was affirmed by the editors of the Columbia Chess Club Chronicle (who included S. Lipschütz) in the Editor's Table on page 31 of the issue dated 23 July 1887:

"The St Paul Pioneer states that an American gentleman, greatly interested in chess, is endeavoring to arrange a match between Blackburne and James Mason, the strong American player, who is by far the finest native player since Paul Morphy's time. Mason is still a young man. Born in New York city, he began life as a newsboy there. In later years he has pursued a journalistic career in London, where he has resided for nearly ten years."

Conclusion:

Although it is widely accepted that James Mason was born in Ireland, there is also a significant amount of evidence that he was born in the United States. More information is needed before any firm conclusion can be safely drawn.'
---
11909. Lasker volume three
Just received: the final volume in the Emanuel Lasker trilogy by Richard Forster, Michael Negele and Raj Tischbierek, published by Exzelsior Verlag, Berlin, with a Foreword by John Nunn.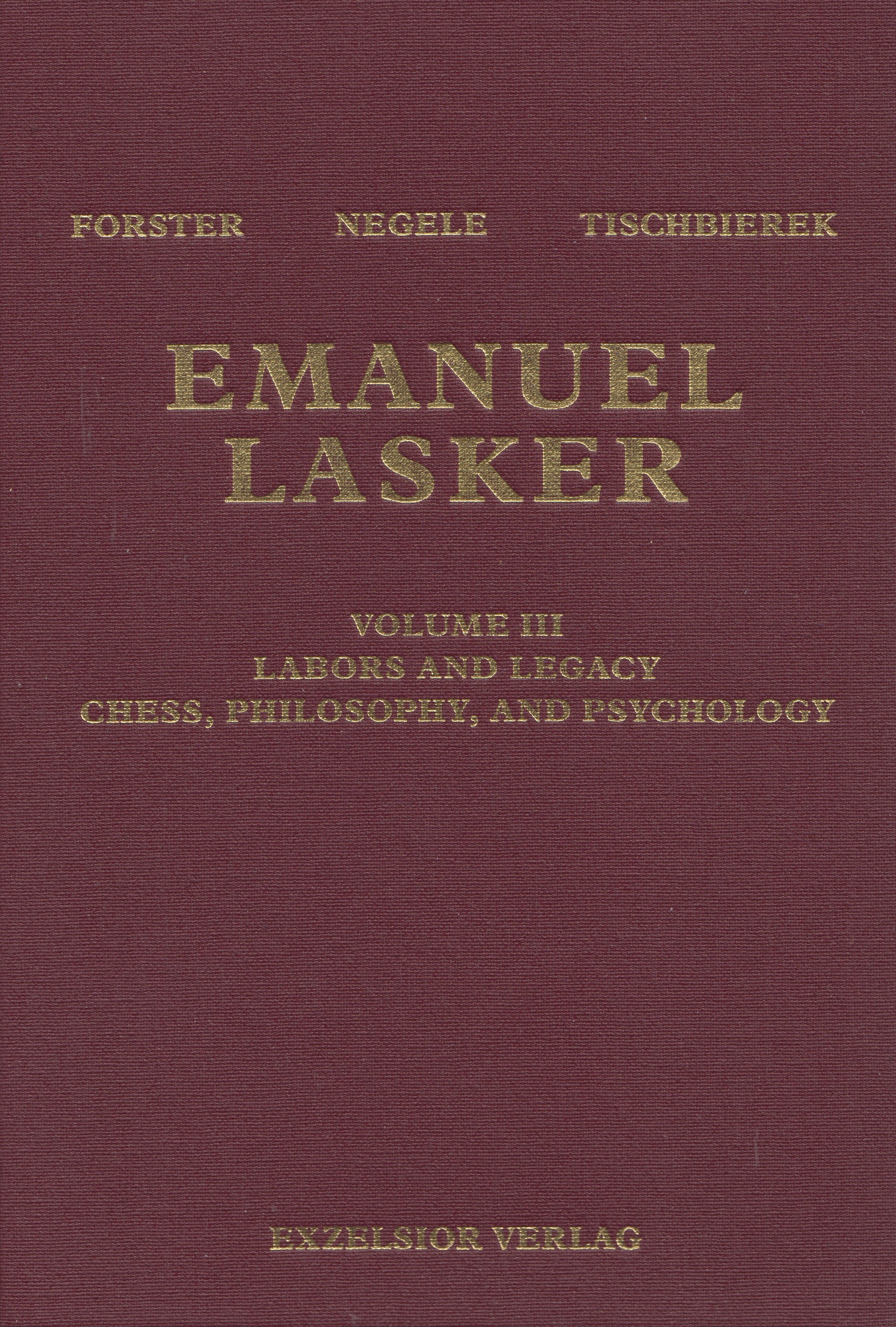 Extracts are available on-line, and the book may be ordered direct from the publisher's webpage, although some readers outside Europe may prefer to use the McFarland page.
Below are four photographs of Lasker (on, respectively, pages 125, 149, 196 and 220 of the book):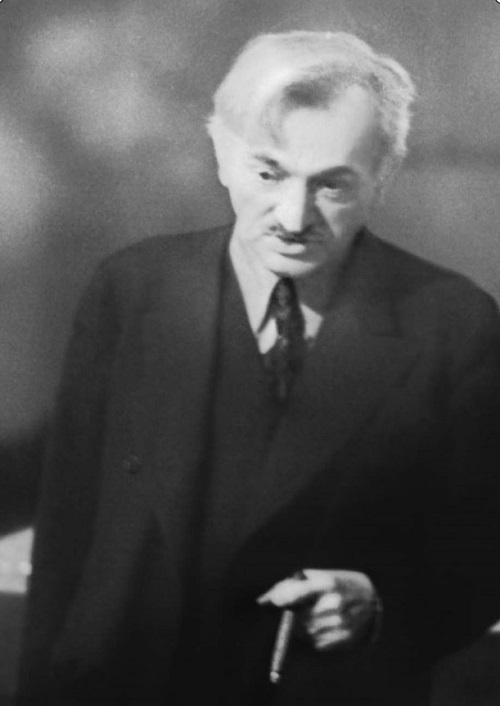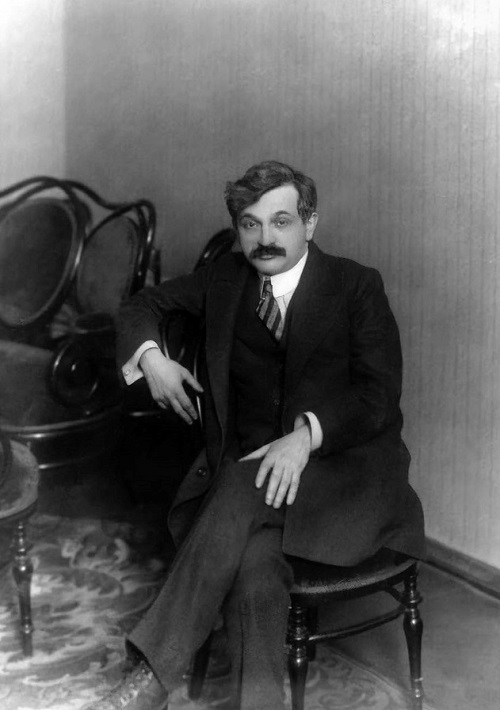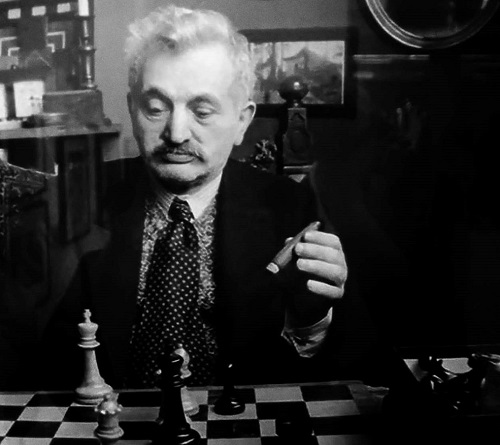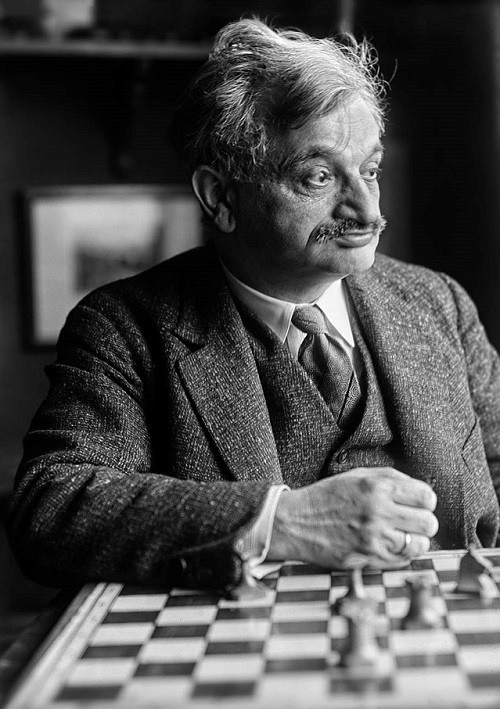 In common with its predecessors, this third volume is of superlative quality.
---
11910. As incorrigible as ever
Below is the text of C.N. 11126, posted on 6 December 2018:
Olimpiu G. Urcan (Singapore) draws our attention to his review of the e-book Carlsen v Caruana: FIDE World Chess Championship, London 2018 by Raymond Keene and Byron Jacobs (London, 2018) and sends us half a dozen lines from the book's 'History of the World Championship' section:

We offer a few comments:

Anderssen's opponent in the Immortal Game 'of London 1851' was Kieseritzky, a name which Raymond Keene has persisted in misspelling for decades.


The Evergreen Game was not 'against the pseudonymous Dufresne (in reality the German player E.S. Freund)'. Dufresne was his name, and E.S. Freund was his pseudonym. Raymond Keene made the same obvious gaffe 30 years ago, on page 136 of his Pocket Book of Chess (London, 1988), as pointed out in C.N. 10155. See too Cuttings.


Anderssen v Dufresne was not played in 1856. Our feature article on the game shows that it was published on pages 338-339 of the September 1852 Deutsche Schachzeitung.


Anderssen v Zukertort was played in Barmen, not Breslau.

Even without primary sources, a quick glance at, for instance, The Oxford Companion to Chess by D. Hooper and K. Whyld (Oxford, 1992) would have sufficed to avoid all these elementary blunders.
***
Now we quote from Raymond Keene's Article dated 30 July 2022:
'Anderssen can claim to be one of the supreme tacticians of all time. Three of his wins are of imperishable beauty. On their own they would justify anyone's devotion to chess. They are his Immortal Game against Kieseritsky (played at Simpsons-in-the-Strand, not the tournament) of London, 1851; his Evergreen game against the pseudonymous Dufresne (in reality the German player E.S. Freund) of Berlin 1856, and his majestic sacrificial masterpiece against Zukertort of Breslau, 1869.'
---