How to define checkmate? For a larger version of this 1978 article by Gordon Pollard, see Chess Jottings.
---
11844. Warren Goldman
As reproduced on page 360 of Kings, Commoners and Knaves, C.N. 2077 gave an appreciative welcome to Carl Schlechter! Life and Times of the Austrian Chess Wizard by Warren Goldman (Yorklyn, 1994), a 537-page hardback published posthumously.
Although our correspondence with Goldman chiefly concerned his Schlechter manuscript, already largely completed by 1984, an exception was his letter of 23 May 1990. After reporting that five days previously he had retired from civilian employment with the US Army (Europe) recreation program, he offered a few chess reminiscences: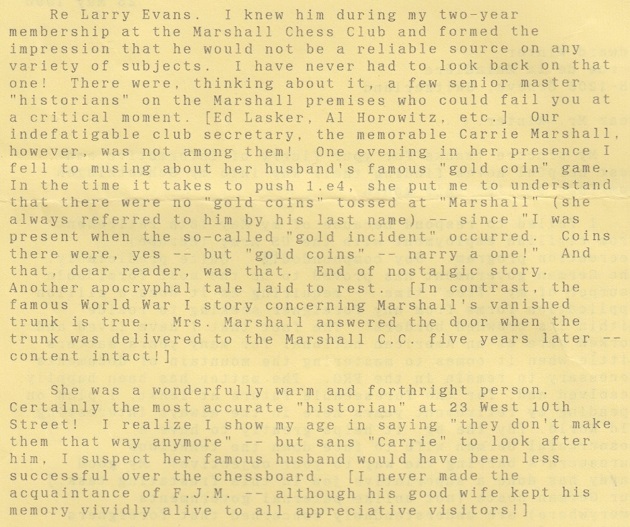 A Christmas card (1991) stated that he expected the Schlechter book to be published the following year, and below is an extract from his final letter to us, dated 6 March 1992: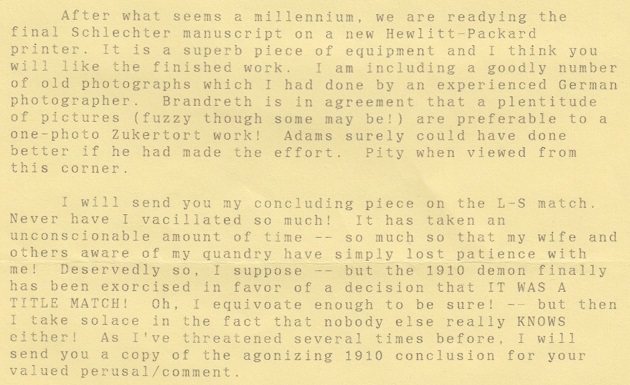 On 5 January 1993 Hildegard Goldman wrote to us:
'... my dear husband passed away last 26 June after suffering a light stroke, followed, while in the head clinic of the University of Heidelberg, by complications and heart failure after days in the intensive care unit of the clinic. My only solace is that he did not suffer ...'
Regarding Warren Goldman's work as an opening theoretician, see issue 15 of Kaissiber, which carried a photograph of him on the front cover.
---
11845. Euwe and Capablanca
A letter from Max Euwe dated 27 May 1974: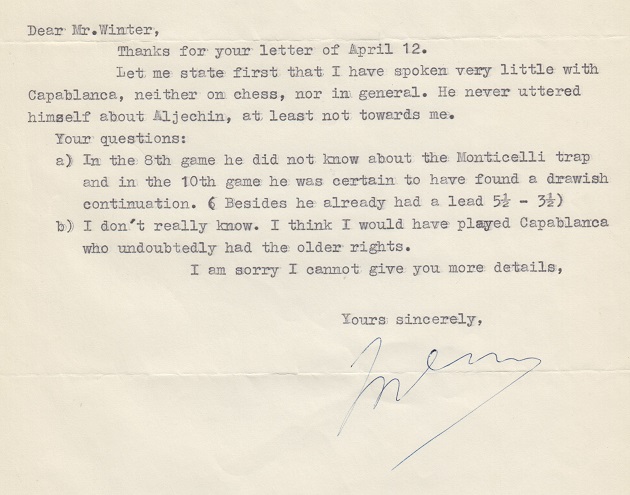 The second question concerned his likely action had he defeated Alekhine in 1937. See too page 324 of our monograph on Capablanca.
---