Announced Mates

Edward Winter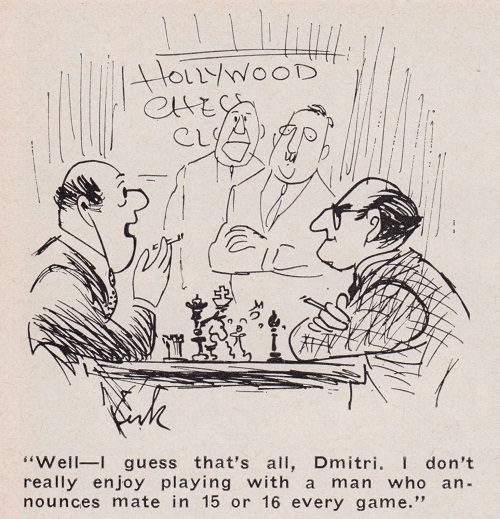 Chess Review, July 1967, page 198
From Stephen Wright (Vancouver, Canada):
'When and why did the practice of announcing mate in tournament and match games end?'
Is there unanimity today among administrators and officials on the procedure applicable if a player announces mate during a game (and, additionally, in case of an incorrect announcement)? Information will also be welcomed on the most recent games to contain mate announcements. Have there been many significant specimens since Marshall v Bogoljubow, New York, 1924, in which White announced mate in five moves at move 38?
A cutting from page 1 of an untitled scrapbook produced by Dale Brandreth: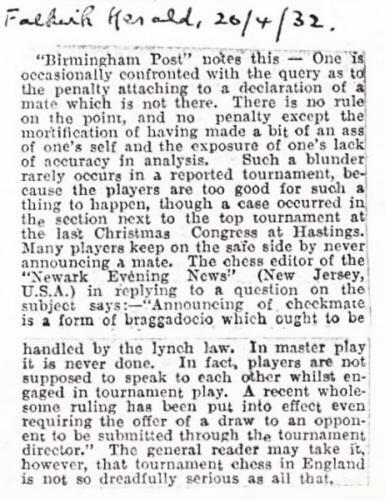 The Factfinder refers to a number of older examples of announced mates, and one case of an announced stalemate.
(8329)
---
From Geurt Gijssen (Nijmegen, the Netherlands):
'For more than 30 years I have worked as a chess arbiter, and it has never happened that a player announced checkmate in x moves.

If it did occur, I would apply Article 12.6 of the current Laws of Chess:
"It is forbidden to distract or annoy the opponent in any manner whatsoever. This includes unreasonable claims, unreasonable offers of a draw or the introduction of a source of noise into the playing area."
The player can be given a warning, but I would also be inclined to add some extra time to the opponent's thinking time, and especially if any such remark were made when the opponent was short of time.

In my opinion, announcing checkmate in a certain number of moves is annoying, distracting and also intimidating for the opponent, and it is therefore forbidden.'
(8334)
---
Steve Wrinn (Homer, NY, USA) recalls the report in the Bled, 1931 tournament book by Hans Kmoch that Bogoljubow announced a non-existent mate in two against Asztalos: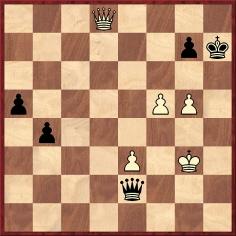 Bogoljubow overlooked that after 51 g6+ Kh6 there could occur 52 Qh8+ Kg5 or 52 Qh4+ Qh5.
From pages 110-111 of Kmoch's tournament book, published in 1934:


The relevant text is on page 121 of Bled 1931 International Chess Tournament translated by Jimmy Adams (Yorklyn, 1987).
Mr Wrinn also mentions that the English edition includes an article by Salo Flohr, translated from a 1976 issue of 64, which refers to the announced mate (on pages xi-xii). See too page 29 of the March 2003 CHESS, in which issue the full Flohr article was reprinted.
(8351)
---
Wanted: early examples of announced mates, as well as information on how the practice began and developed.
(8360)
---
Rod Edwards (Victoria, BC, Canada) writes:
'Pages 71-74 of the November 1880 Chess Monthly have an article by Alphonse Delannoy, and page 74 describes an encounter between Labourdonnais and Mouret where the former announced mate in five moves in the final game of a series in which the stakes escalated dramatically. Labourdonnais offered a knight sacrifice, which Mouret accepted. Then Labourdonnais said, in Delannoy's account: "Well, sir, you have lost the game. You are mated in five moves."

It is stated that this occurred before Labourdonnais had directly challenged Deschapelles, and therefore presumably before their 1821 contest involving Cochrane as well, but after Mouret had been on a tour as director of the Turk. This places the event around 1820, though possibly a year earlier or later.'
(8367)
---
Richard Hervert (Aberdeen, MD, USA) asks whether anything further can be found about the announcement of an alleged mate-in-ten first discussed in C.N. 1857. See page 83 of Chess Explorations, as well as pages 29-30 of A Chess Omnibus and a Chess Explorations article of ours at ChessBase.com dated 31 May 2008.
Below is the game as it appeared in our source, page 65 of Kunst des Positionsspiels by Herbert Heinicke (Hamburg, 1981):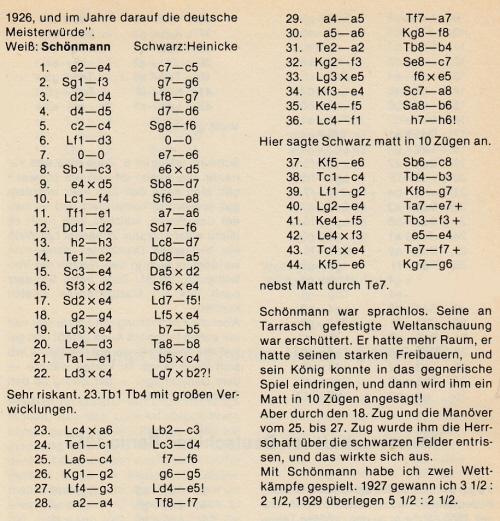 Position before 36...h6
The latest computer check still suggests that there is no clear mate. Black wins in all lines, and 37 Kg6 offers more resistance than 37 Ke6.
(8571)
'A novel prize is offered by a member of the Manhattan Chess Club to the competitors in the club championship tourney. The prize is to be awarded "for the best long-distance mate or, in other words, to that player who shall announce mate the furthest number of moves ahead".'
Source: Lasker's Chess Magazine, December 1904, page 59.
(10301)
---
Latest update: 15 August 2017.
To the Chess Notes main page.
To the Archives for other feature articles.
Copyright: Edward Winter. All rights reserved.