The Berlin Defence (Ruy López)
Edward Winter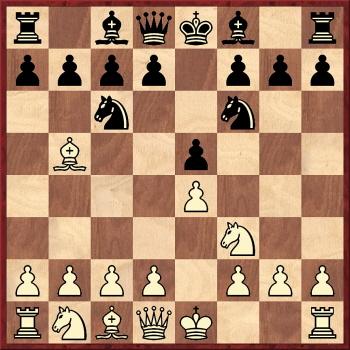 We give a compendium of old analysis of the Berlin Defence (1 e4 e5 2 Nf3 Nc6 3 Bb5 Nf6).
---
Handbuch des Schachspiels by P.R. von Bilguer (Berlin, 1843), pages 166-167: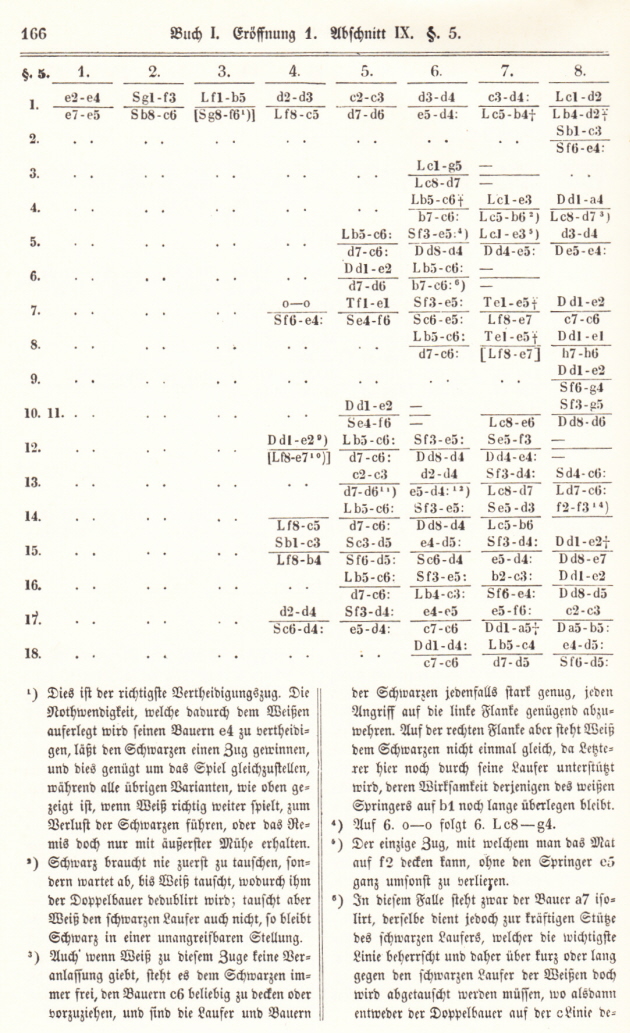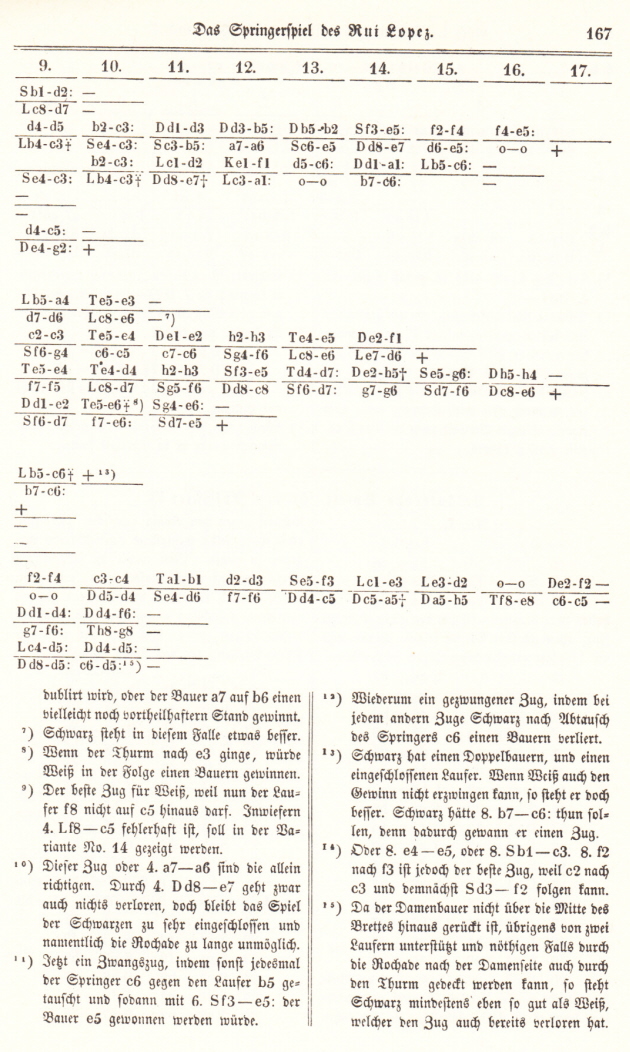 ---
Jaenisch's Chess Preceptor by C.F. de Jaenisch (London, 1847), page 167: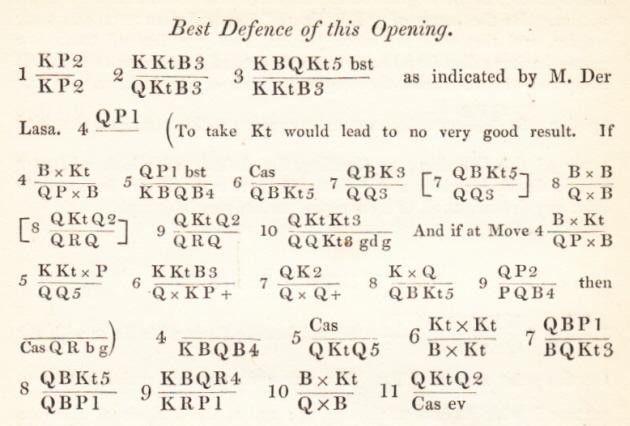 The above text is George Walker's translation from page 76 of volume two of the French original, Analyse nouvelle des ouvertures du jeu des échecs (St Petersburg, 1843).
---
Deutsche Schachzeitung, July 1848, pages 259-264: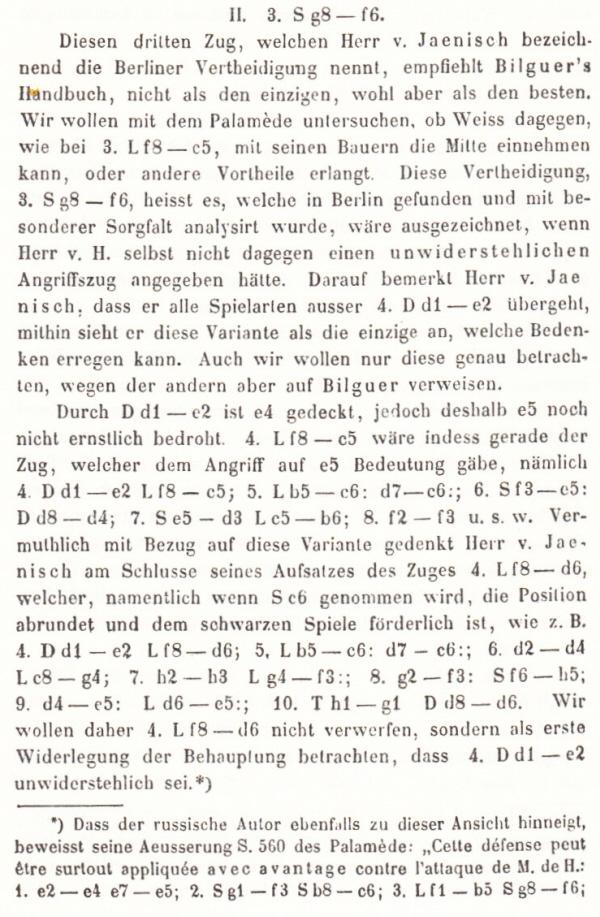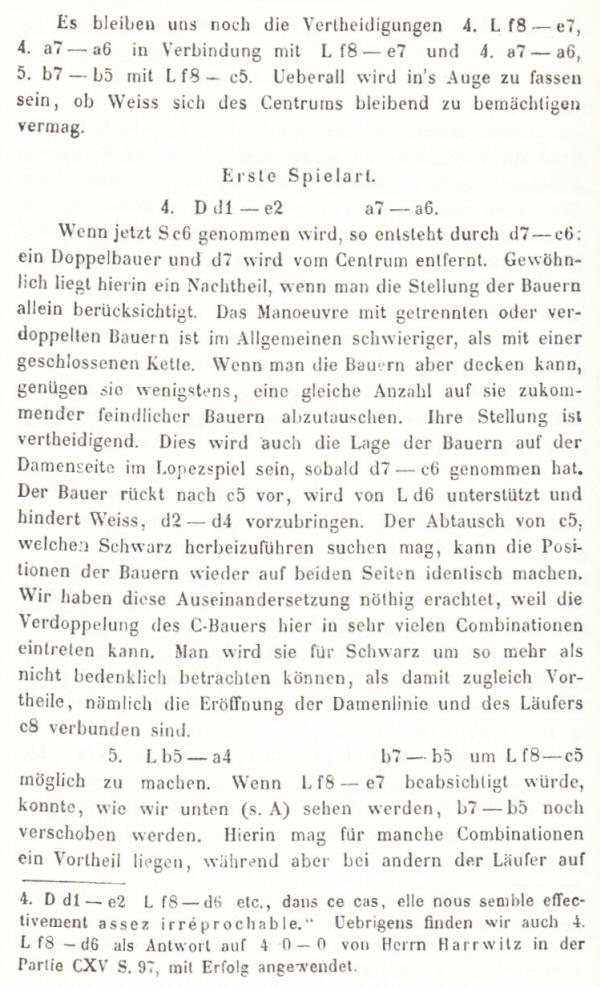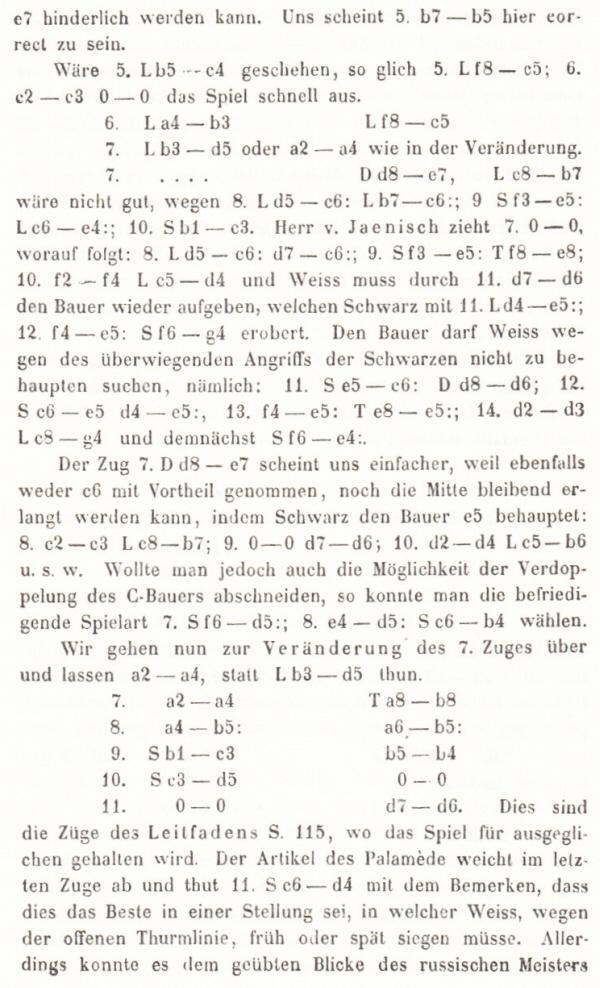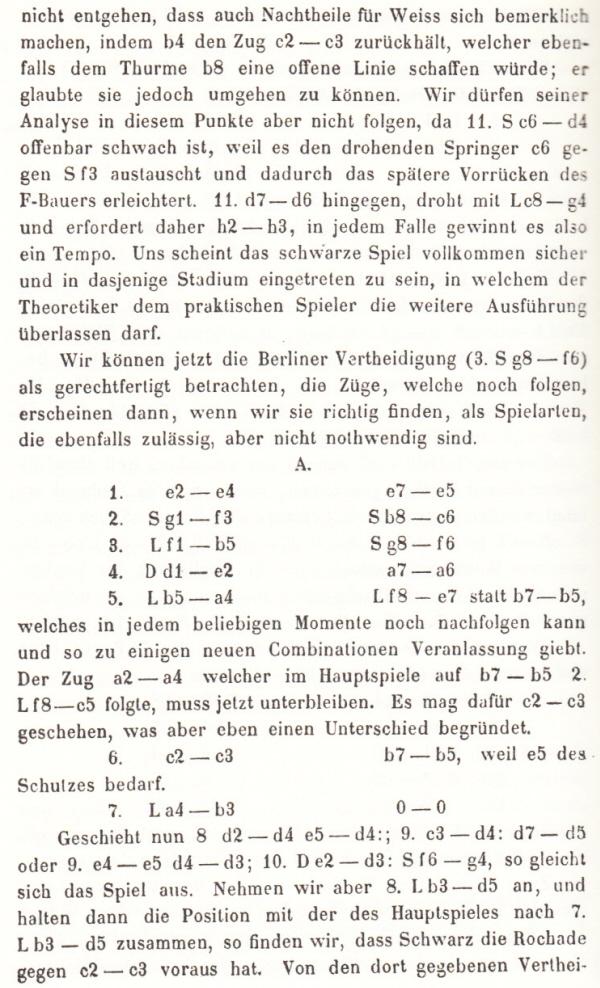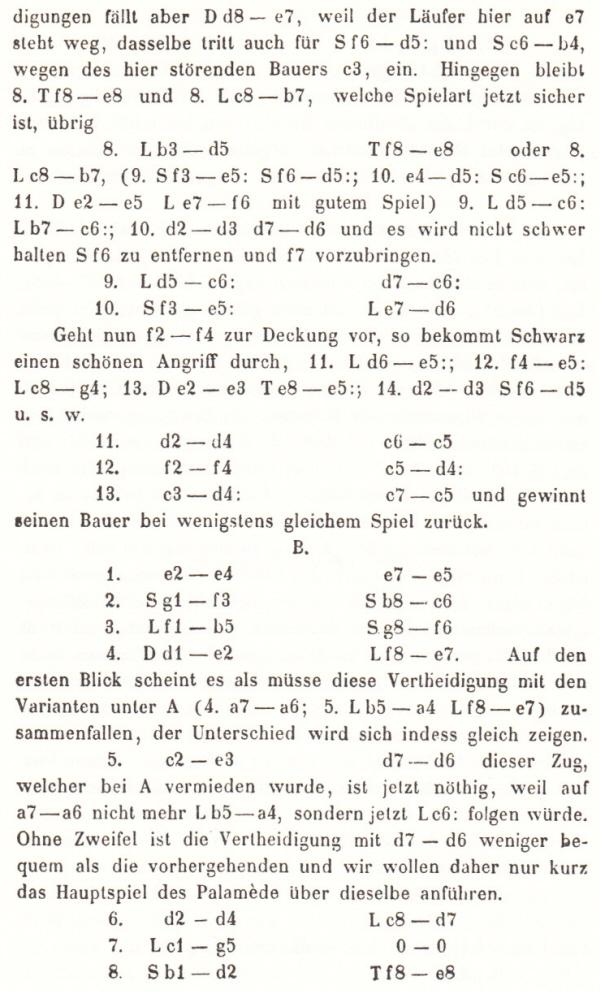 ---
Deutsche Schachzeitung, October-November 1863, pages 316-317: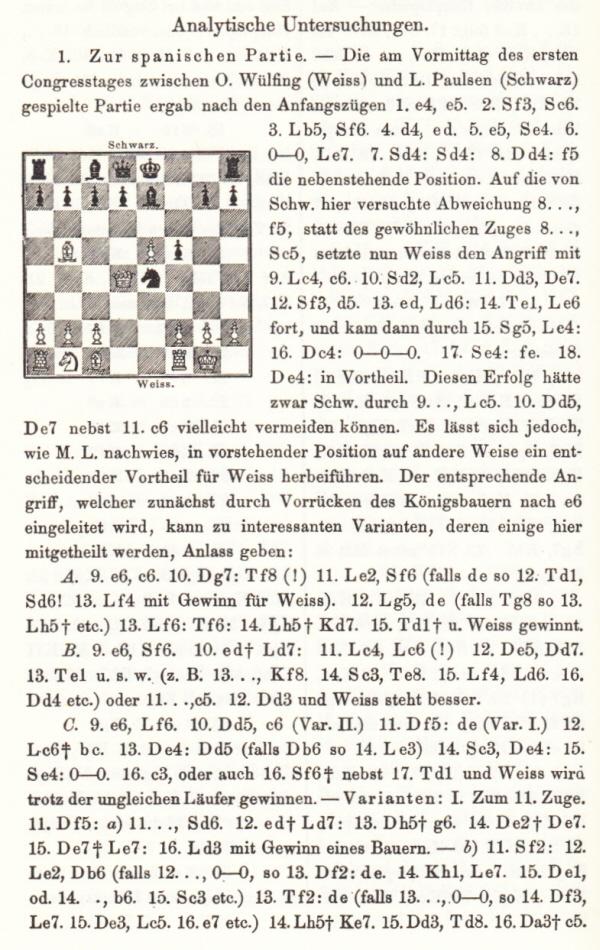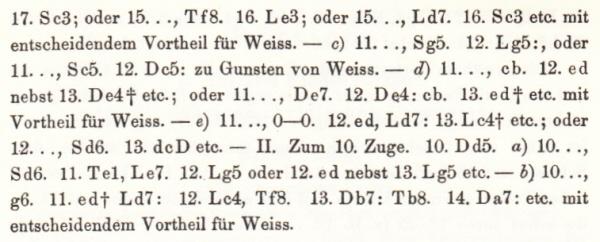 ---
Chess Monthly, February 1883, pages 185-187: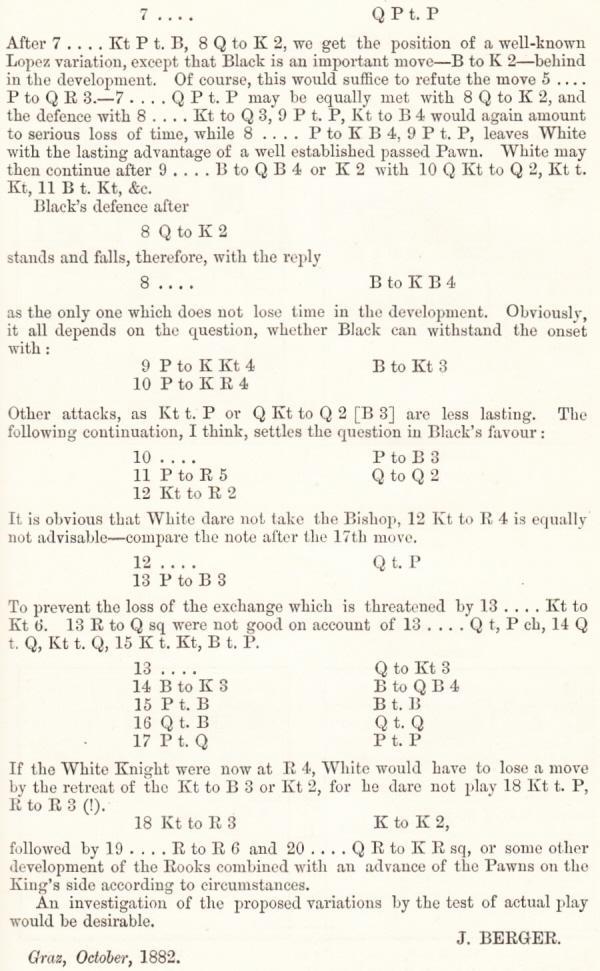 ---
Deutsche Schachzeitung, November 1888, pages 321-324: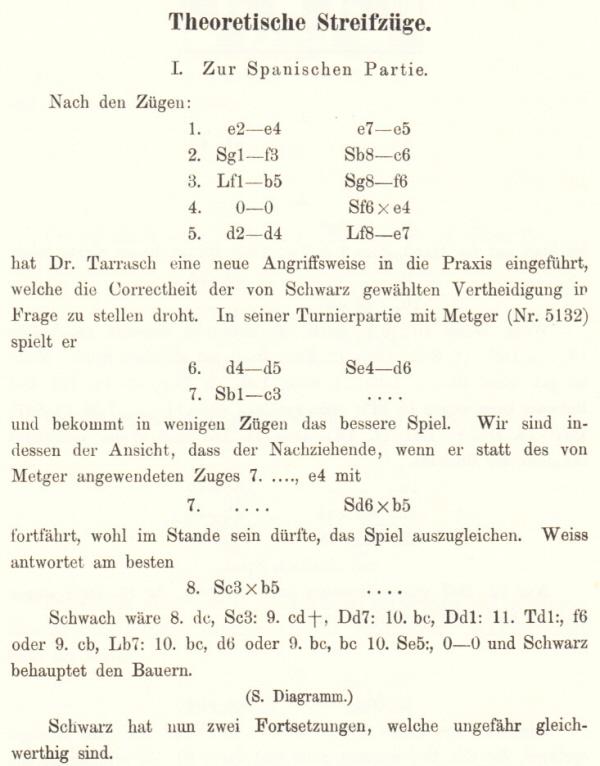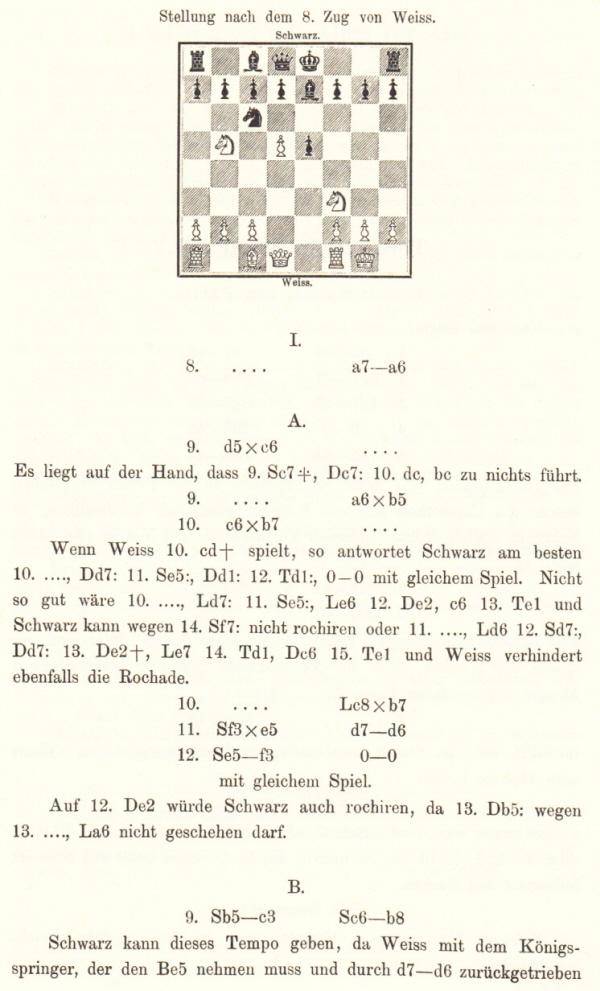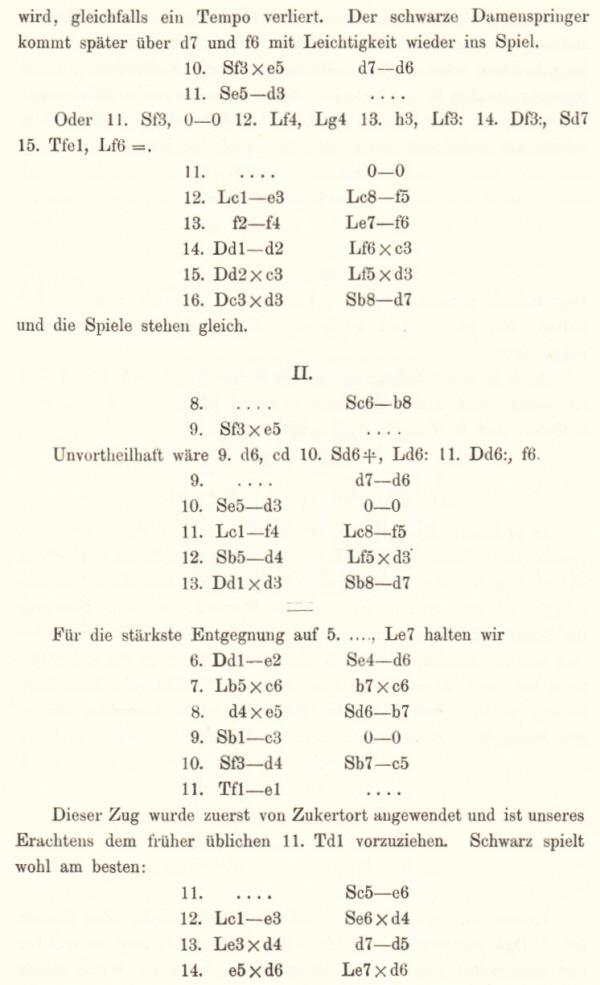 ---
Brüderschaft, 1 December 1888, pages 380-382: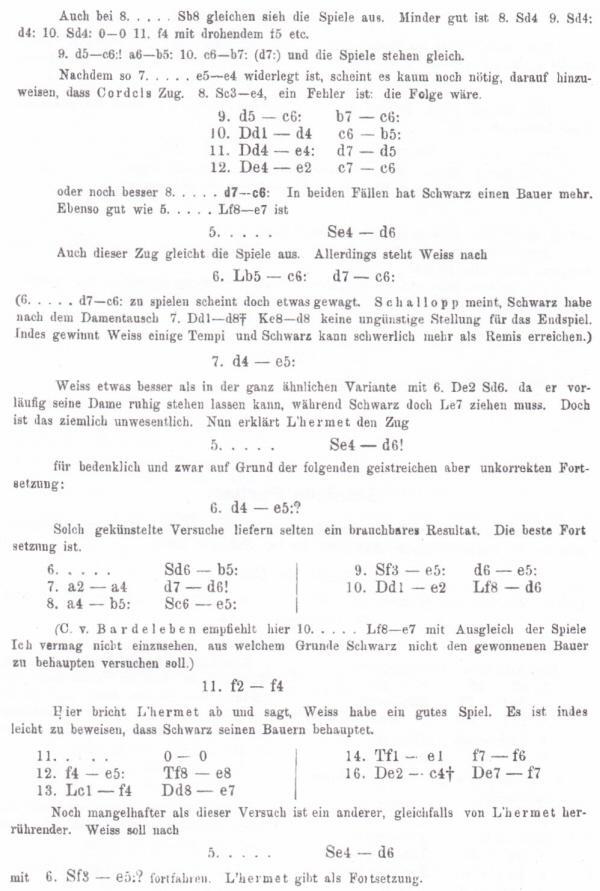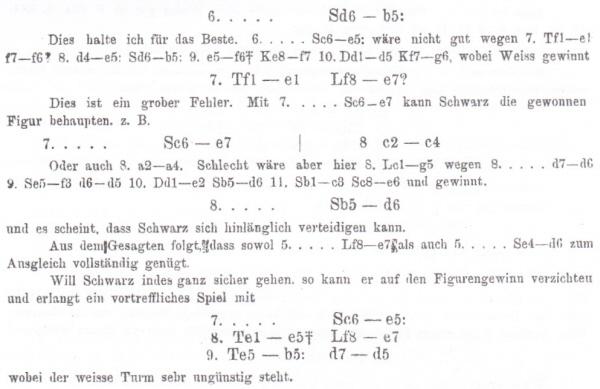 ---
Deutsche Schachzeitung, August 1889, pages 225-228: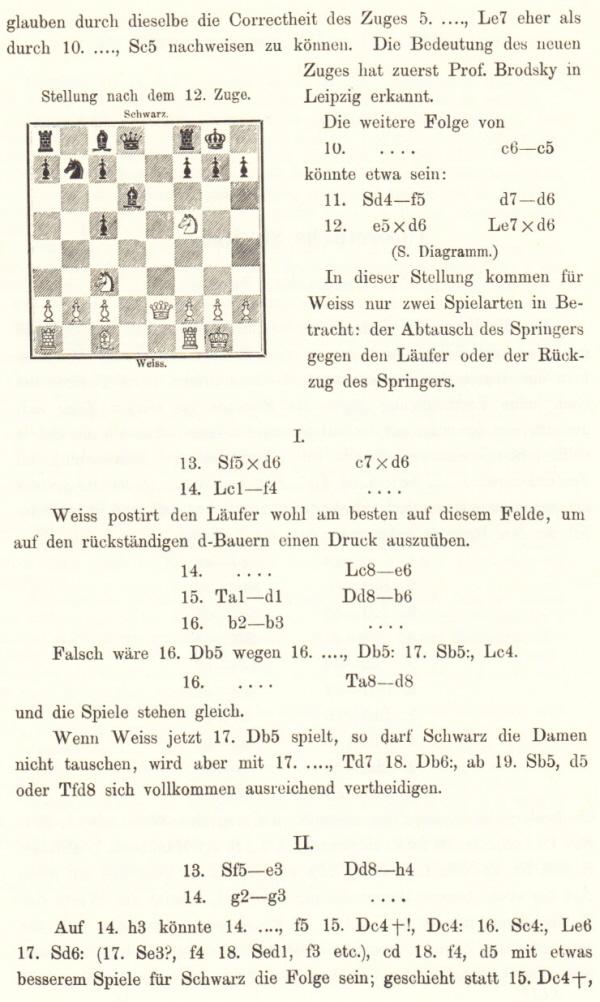 ---
Deutsche Schachzeitung, February 1897, pages 33-34: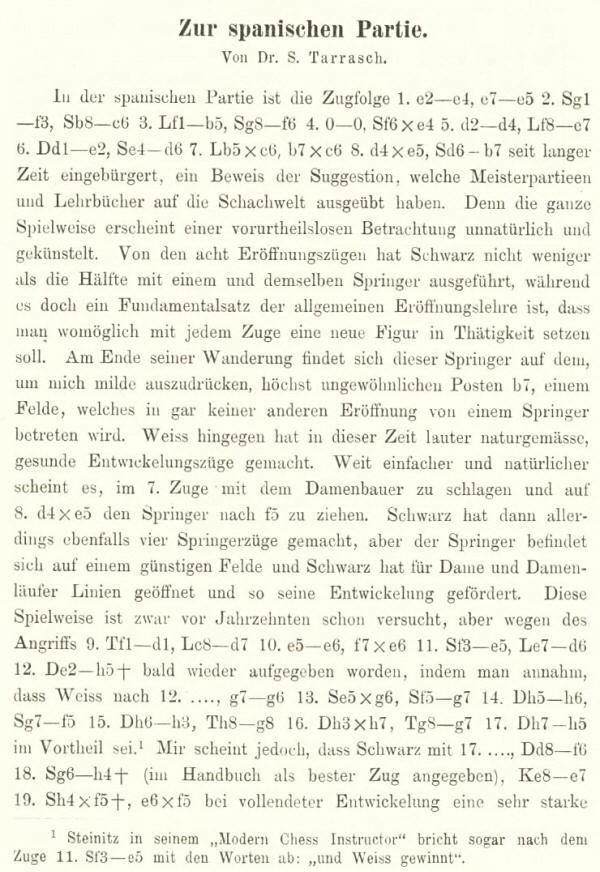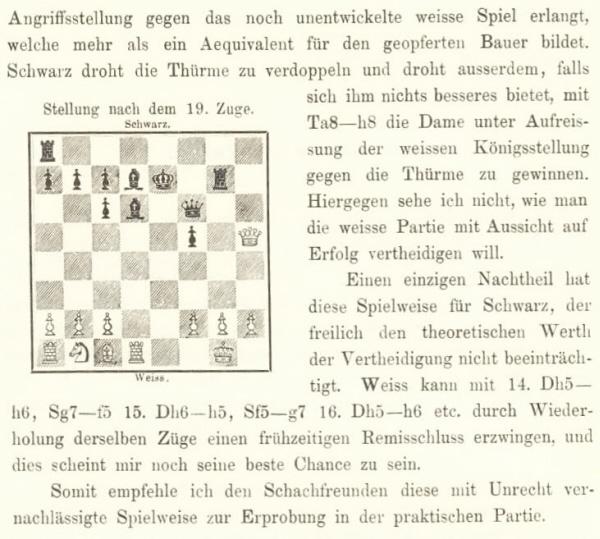 ---
Deutsches Wochenschach, 7 March 1897, pages 77-78: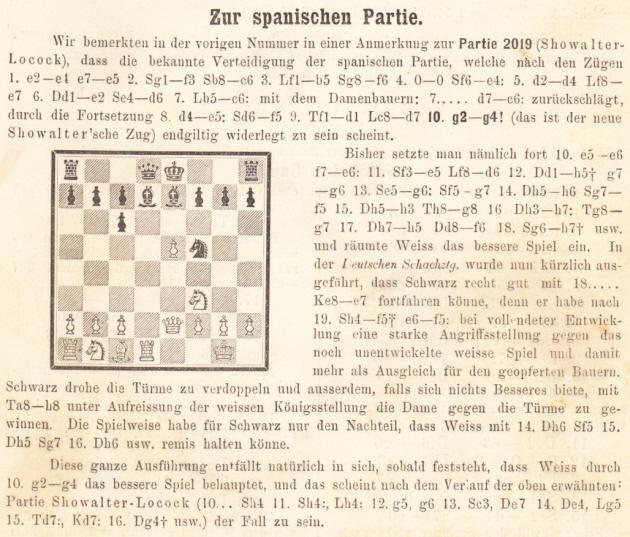 ---
Deutsches Wochenschach, 21 March 1897, pages 96-97:

---
Wiener Schachzeitung, July 1901, pages 121-124: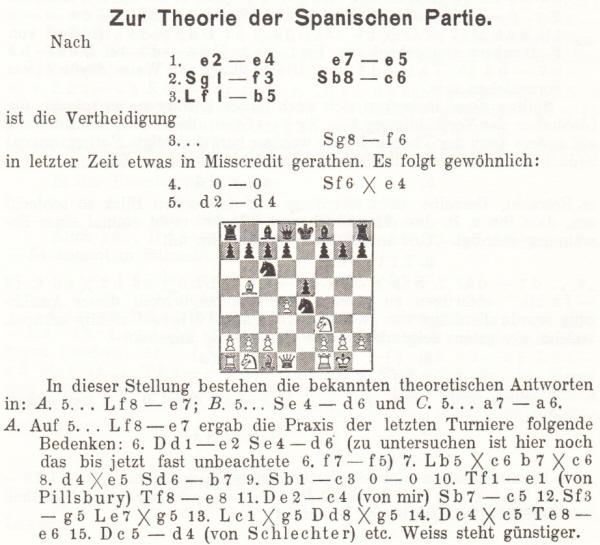 ---
BCM, April 1902, pages 159-160:

---
El Ajedrez Americano, October 1938, pages 298-300: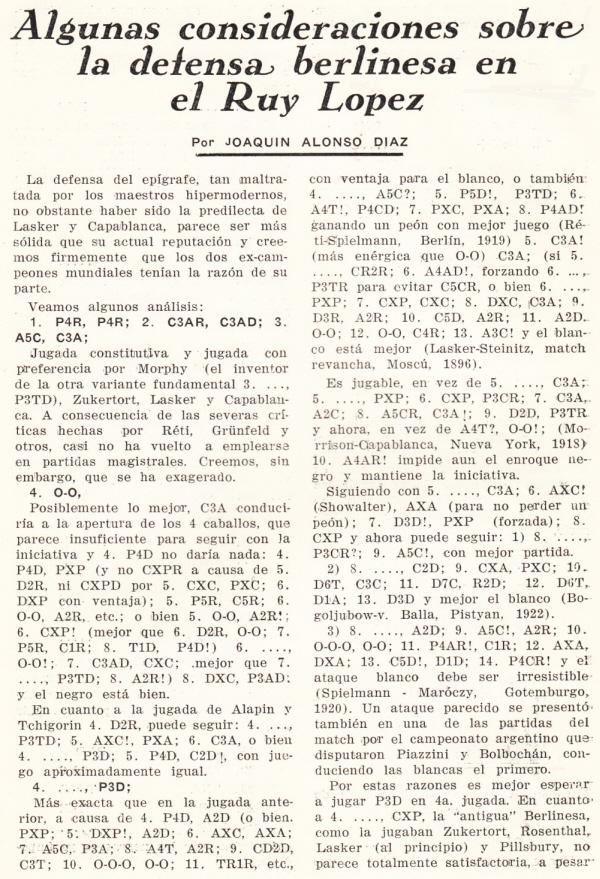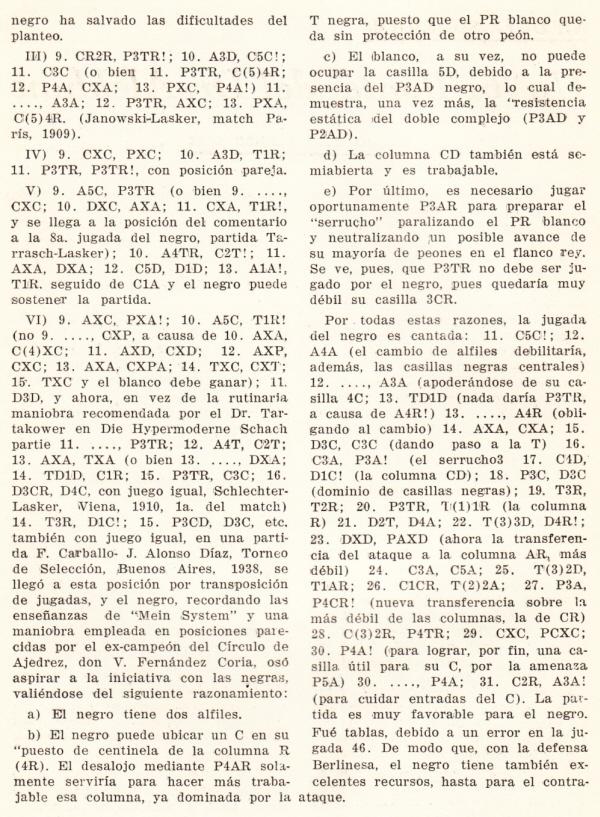 ---
An obsolete comment was provided by W.N. Potter in his notes to a Lord v Bird game on pages 144-146 of the City of London Chess Magazine, July 1874. After 1 e4 e5 2 Nf3 Nc6 3 Bb5 Nf6 he wrote:
'Very rarely do we now meet with this defence. Its appearance is as the trotting out of an old Derby favourite years after being backed for the blue ribbon. We confess to a sense of refreshment at any break in the monotonous reiteration of P to QR3.'
(9866)
---
Yasser Seirawan (Amsterdam) asks who introduced the term 'Berlin Wall' in connection with 3...Nf6 in the Ruy López.
Readers are invited to cite earlier occurrences than our own spontaneous suggestion: an article entitled 'Breaking down the Berlin Wall' by Jimmy Adams on pages 337-346 of the August 1979 BCM.
(6808)
From Steve Giddins (Rochester, England):
'The Jimmy Adams article to which you refer deals with the line 4 O-O Nxe4 5 Re1, which is a general way to meet the Berlin Defence. In this context, Adams' use of the term "Berlin Wall" was simply a pun on his part, based on the general reputation for defensive solidity that the Berlin Defence has always enjoyed. However, the term "Berlin Wall" has become more widely used in recent times, to refer specifically to the endgame arising after the sequence 4 O-O Nxe4 5 d4 Nd6 6 Bxc6 dxc6 7 dxe5 Nf5 8 Qxd8+ Kxd8. It is thus a way of distinguishing this nowadays popular variation of the Berlin Defence from other lines, such as the Rio de Janeiro variation, beginning 5...Be7.'
---
Latest update: 29 July 2020.
To the Chess Notes main page.
To the Archives for other feature articles.
Copyright: Edward Winter. All rights reserved.