Rupert Brooke and Chess

Edward Winter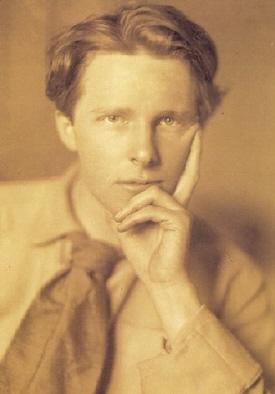 Rupert Brooke
As mentioned in C.N. 2372 (see pages 162-163 of A Chess Omnibus), various quotation books attribute the observation 'History repeats itself; historians repeat one another' to Philip Guedalla, in his 1920 work Supers and Supermen. In that item, though, we pointed out that the poet Rupert Brooke (1887-1915) gave the epigram as his own invention in a letter to Geoffrey Keynes dated 4 June 1906. See pages 53-54 of The Letters of Rupert Brooke chosen and edited by Geoffrey Keynes (London, 1968).
C.N. 2518 reported that the sole reference to chess that we had found in Brooke's published writings was in his essay 'An Unusual Young Man'. The scene is Munich:
'Together, walking with ferocious care down the middle of the street, they had swayed through Schwabing seeking an open café. Café Benz was closed, but further up there was a little place still lighted, inhabited by one waiter, innumerable chairs and tables piled on each other for the night, and a row of chess-boards, in front of which sat a little bald, bearded man in dress-clothes, waiting. The little man seemed to them infinitely pathetic. Four against one, they played him at chess, and were beaten. They bowed, and passed into the night.'
Source: The New Statesman, 23 August 1914, pages 638-640. The essay also appeared on pages 215-222 of Brooke's posthumous anthology Letters from America.
We recently learned that among the Brooke papers in the King's College Archive Centre, Cambridge is a small (13 cm x 8 cm) notebook containing a few pages of chess material in the poet's handwriting (reference RCB/M/21). The notes are in pencil and difficult to reproduce, but we are very grateful to King's College for permission to show pages here: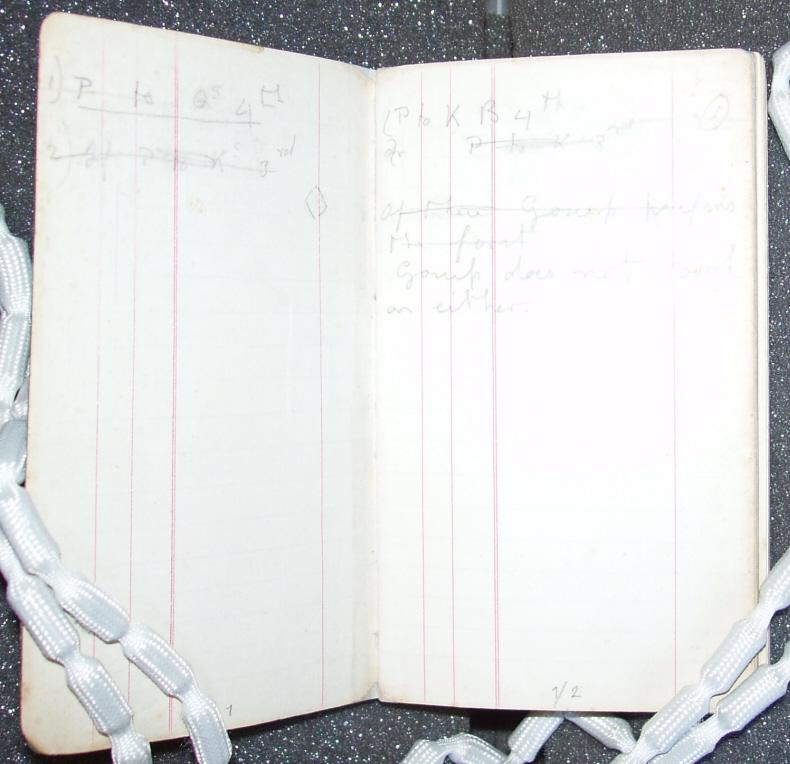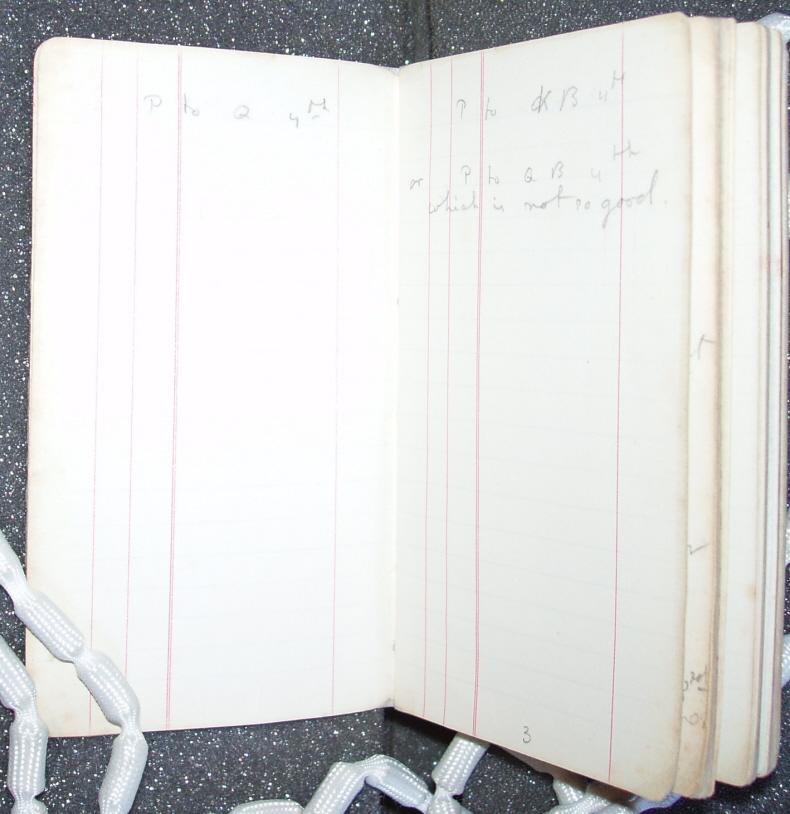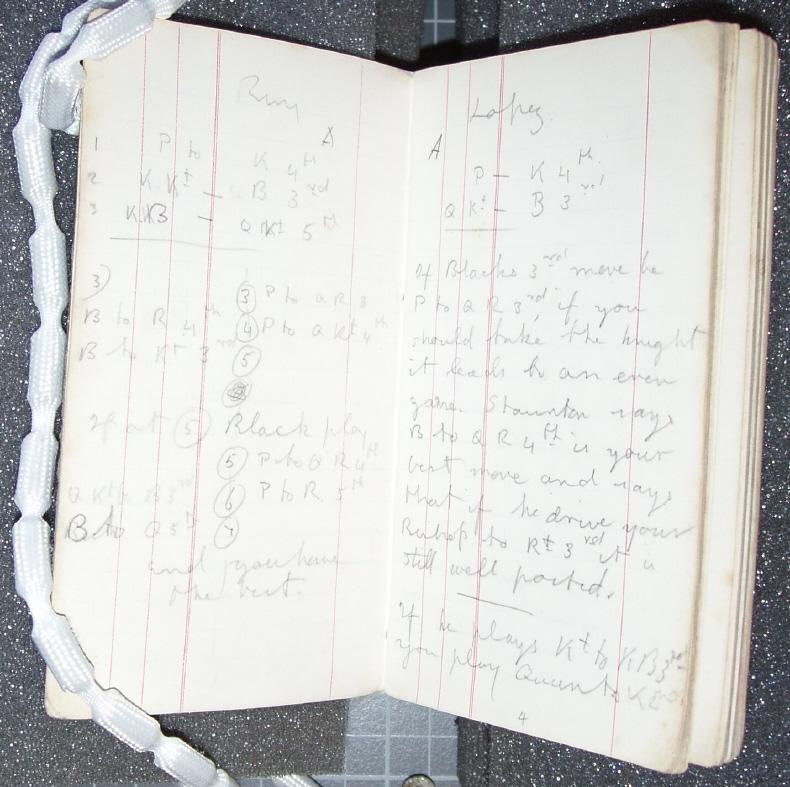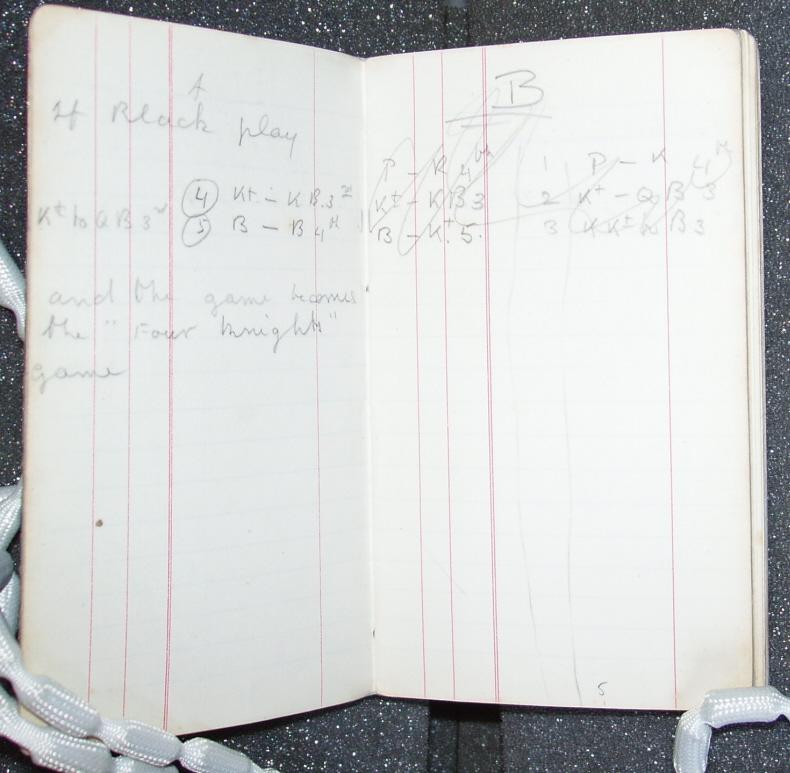 It seems to us that Brooke was copying openings material from a book or magazine which has yet to be identified. The reference to Staunton relates to remarks which had originally appeared on page 148 of his Handbook (London, 1847).
The other pages in the notebook have only brief jottings about chess openings. Elsewhere there are two (non-chess) entries dated 1902 and 1904, suggesting that the chess material was also written around that time, when Brooke was at Rugby School.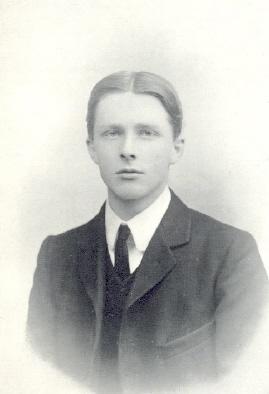 Rupert Brooke at Rugby School

(4567)
---
It may be recalled that Rupert Brooke died in the Great War, aged 27. Some six months previously he wrote for Cathleen Nesbitt a poem entitled 'Safety' which concluded:
War knows no power. Safe shall be my going,
Secretly armed against all death's endeavour;
Safe though all safety's lost; safe where men fall;
And if these poor limbs die, safest of all.
---
From page 69 of Rupert Brooke by Michael Hastings (London, 1967)
On the centenary of the death of Rupert Brooke (3 August 1887-23 April 1915) we mention that no progress has been made with identifying the source of the chess material in a notebook of his.
There is no reference to chess in the 'Books from the library of Rupert Brooke' section on pages 47-50 of Catalogue of Books and Manuscripts by Rupert Brooke, Edward Marsh & Christopher Hassall by John Schroder (Cambridge, 1970), from which we reproduce the poet's bookplate: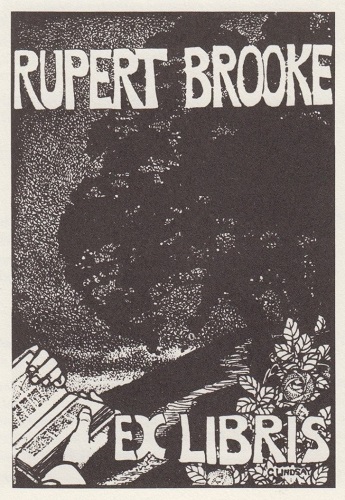 (9249)
---
Addition on 9 March 2023:
The Second I Saw You by Lorna C. Beckett (London, 2015) related the forgotten relationship between Rupert Brooke and Phyllis Gardner (1890-1939). We note, among her artwork, chess sets owned by The Met, New York.
---
Addition on 4 June 2023:
Concerning the remark 'History repeats itself; historians repeat one another', see too page 15 of The Life and Selected Works of Rupert Brooke by John Frayn Turner (Barnsley, 2004).
---
Latest update: 4 June 2023.
To the Chess Notes main page.
To the Archives for other feature articles.
Copyright: Edward Winter. All rights reserved.