Chess Cartoons by Tom Webster

Edward Winter
(2013)
Page 72 of the April 1920 American Chess Bulletin quoted an item from the Australasian:
'Capablanca's Magnetism. Some clever cartoons and sketches by Tom Webster were reproduced by the Daily Mail recently, showing in a humorous manner the impression produced by the Cuban master's personal magnetism on players, who became overawed by the seemingly uncanny chess powers he possesses. One, "When Señor Capablanca Enters the Chess Room", depicts his rampant, with eyes glaring and hands ready to seize hold of the lesser lights' scalps, while he stealthily creeps into the room. Another shows even the clocks galvanized into ticking 122 to the minute, while a third illustrates a pawn twice its normal circumference, "bursting with pride at being handled by Señor Capablanca". Of course, the drawings themselves must be seen to be properly appreciated.'
A number of Webster's cartoons have been reproduced (in C.N.s 3938, 7268 and 7372), and now Olimpiu G. Urcan (Singapore) has gathered a comprehensive set, as originally published by the Daily Mail:
Daily Mail, 16 August 1919, page 7 (with a mistaken reference to Kostić instead of Capablanca)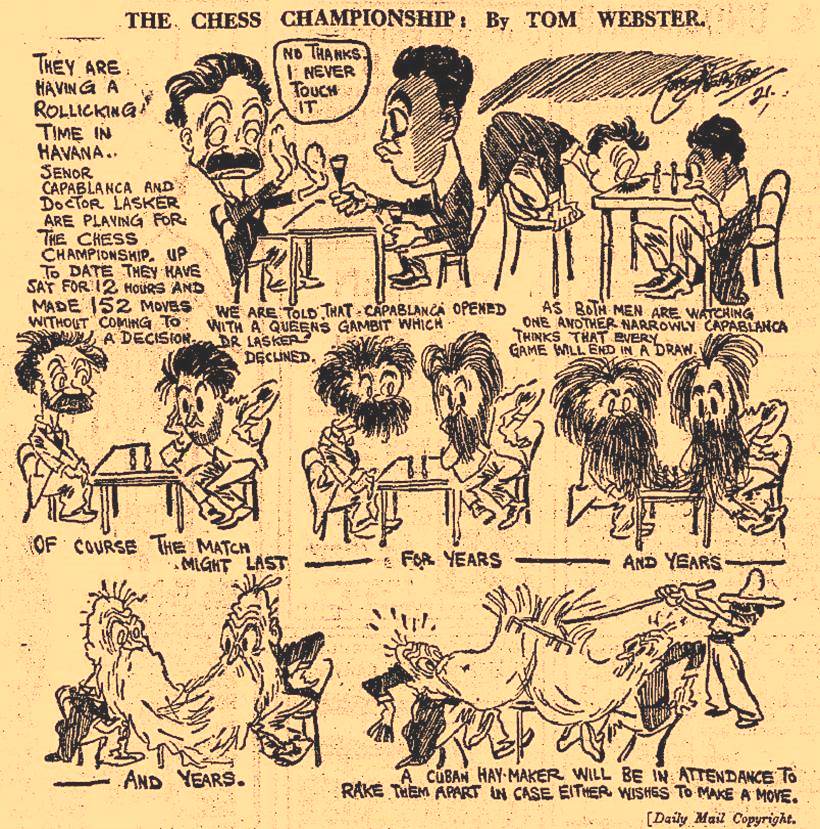 Daily Mail, 23 March 1921, page 9
Daily Mail, 2 April 1921, page 7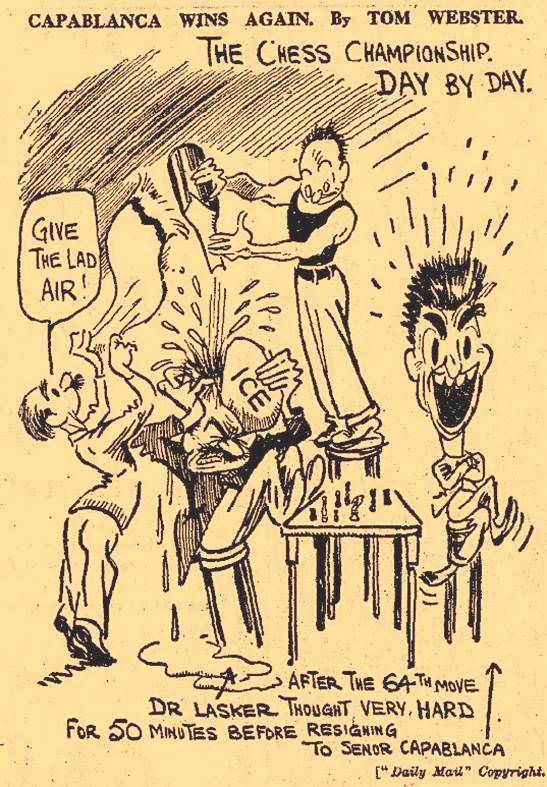 Daily Mail, 12 April 1921, page 9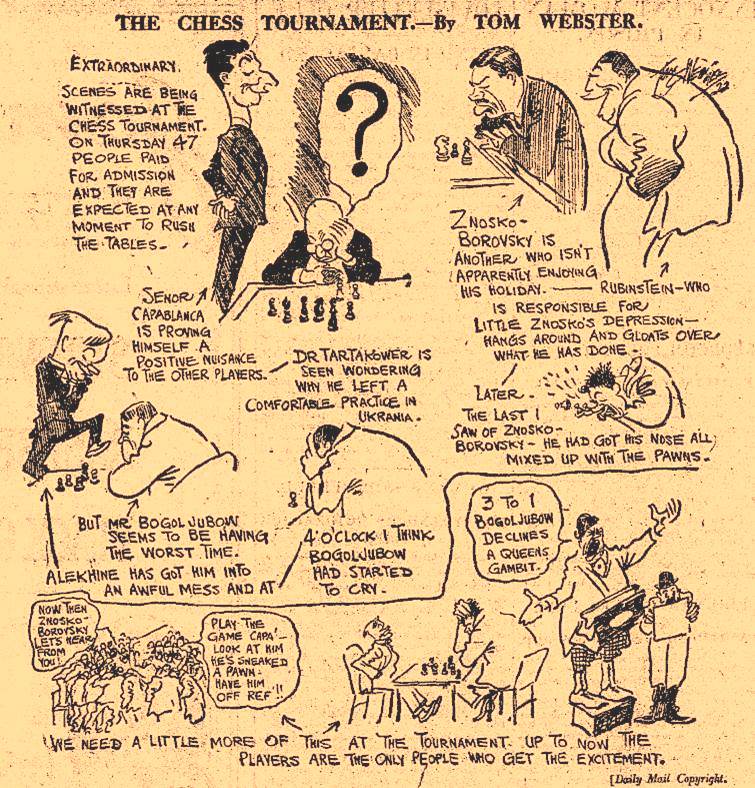 Daily Mail, 11 August 1922, page 9
Daily Mail, 14 August 1922, page 9
Daily Mail, 5 September 1930, page 14
Daily Mail, 6 September 1930, page 12
---
In the entry on Capablanca on pages 58-59 of The Encyclopedia of Chess (London, 1977) Harry Golombek wrote:
'Of debonair appearance, intelligent and handsome, he had a sort of magnetic aura that was well expressed by a cartoon in a London evening newspaper during the 1922 tournament there which depicted him with a sort of electric ray about his forehead.'
Mr Urcan has found the cartoon, also by Tom Webster and published in the Weekly Dispatch, 1922, in the British Cartoon Archive.
Golombek also wrote about the cartoon in his article 'World Champions I Have Met' on page 11 of The Chess Player's Bedside Book by R. Edwards and R. Keene (London, 1975).
---
Latest update: 18 April 2022.
To the Chess Notes main page.
To the Archives for other feature articles.
Copyright: Edward Winter. All rights reserved.