FIDE Presidential Campaigns

Edward Winter
Wanted: leaflets, manifestos, statements and other documentation in relation to FIDE presidential elections of all periods. It is hoped that a future item will be able to identify high and low points and to show how campaigns have changed over the years.
From our reading so far, nothing compares in quality to the FIDE Facts written by the late Hugh Myers in 1986.
(8690)
Below is a selection of items in our archives from the 2006 campaign (Kirsan Ilyumzhinov v Bessel Kok):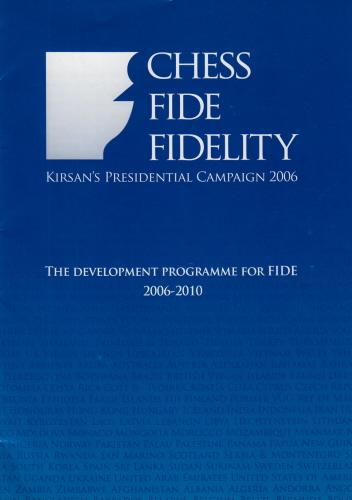 The penultimate page (page 11):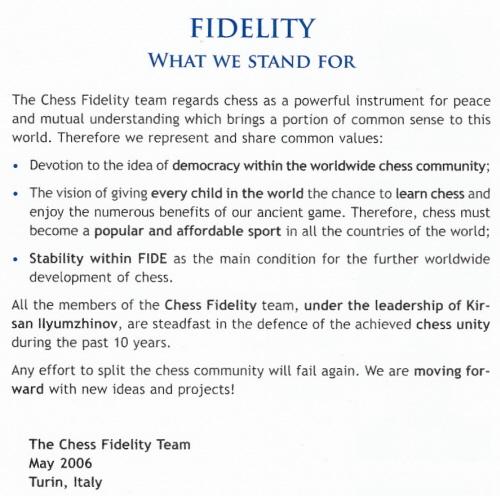 Another publication in 2006 was Kirsan The Incredible by Yuri Vasilyev, a 16-page brochure: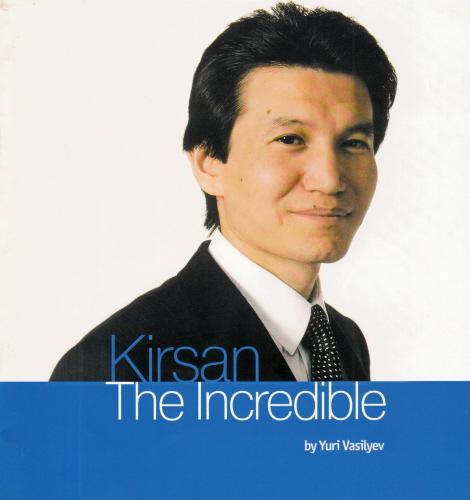 The opening paragraph:
'Kirsan Ilyumzhinov works for almost 24 hours a day, in average he sleeps for four hours; he has at least three or four air flights a week and manages to do damn lots of things.'
Next, Bessel Kok's editorial at the start of his 44-page Manifesto ('The Right Move. For a Bona FIDE'):
The front cover of two copies of Kok's 'The Right Move' leaflet:
From the final page:
'In FIDE too many people have become dependent upon having the fish on the plate rather than catching their own fish with a provided fishing rod. Our team will have to ensure long-term commercial sponsorship from valid international corporations.'
An open letter dated 31 May 2006 from Garry Kasparov to the FIDE General Assembly: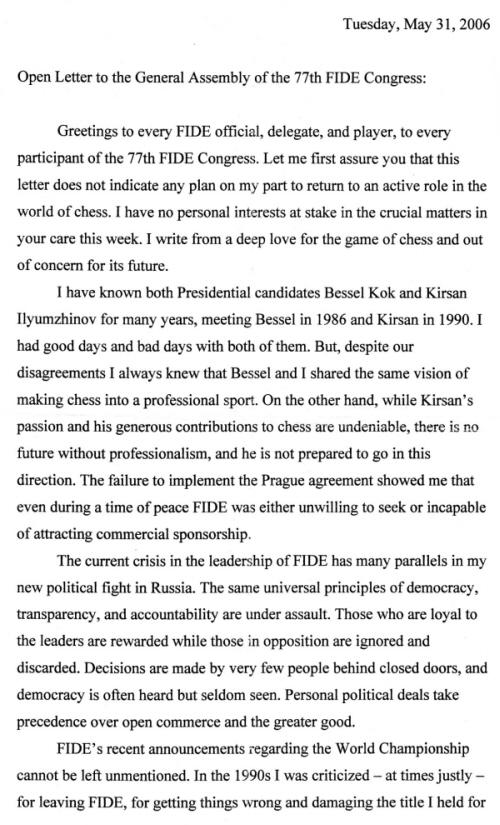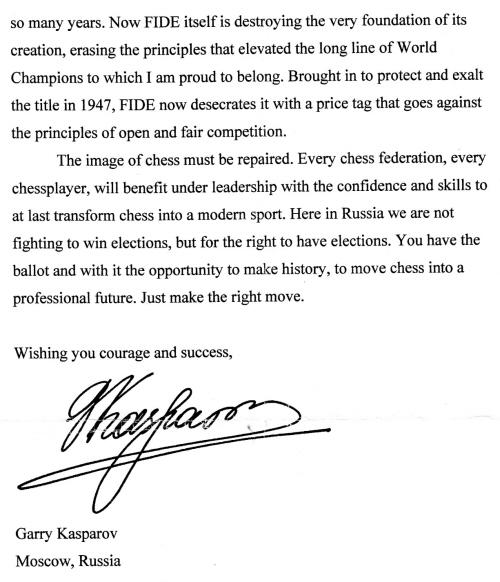 ---
To cut to the chase, we should like to see one question answered, succinctly and in writing, by anybody who aspires to lead FIDE:
If you are elected FIDE President, what are the main specific changes that the chess world will see A) after one year, and B) after four years?
(10923)
The question has been put to Arkady Dvorkovich by Macauley Peterson in a ChessBase interview.
(11003)
---
Latest update: 15 May 2022.
To the Chess Notes main page.
To the Archives for other feature articles.
Copyright: Edward Winter. All rights reserved.