The Gibaud v Lazard Gamelet
Edward Winter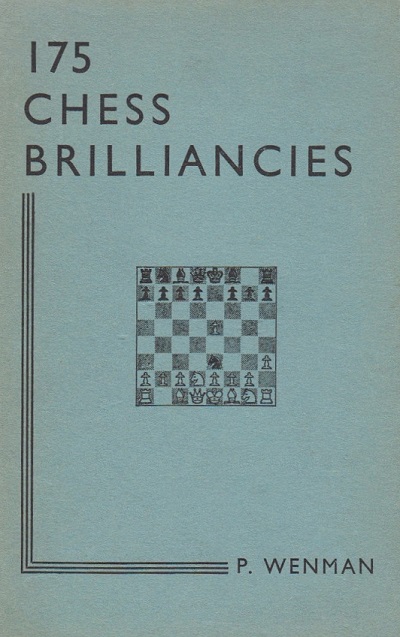 Page 351 of Kings, Commoners and Knaves quoted two passages regarding the alleged Gibaud v Lazard brevity:
'When in England recently, M. Znosko-Borovsky ... showed us the score of the following curious little game played in Paris last year: 1 d4 d5 2 Nf3 Bg4 3 Ne5 Nf6 4 Nxg4 Nxg4 5 Nd2 e5 6 h3 Ne3 7 White resigns.'
Source: page 221 of the June 1921 BCM.
'Monsieur Gibaud asks us to correct a mistake made by the author of Curious Chess Facts [Irving Chernev] and quoted by us last month. He never lost any tournament game in four moves. Searching his memory he recalls a "skittles" he once played against Lazard, a game of the most light-hearted variety, in which, his attention momentarily distracted by the arrival of his friend Muffang, he played a move which allowed a combination of this genre – but certainly not four moves after the commencement of the game. Rumour, he said, must have woven strange tales about this game, coupling it perhaps with the theoretical illustration Znosko-Borovsky gives on page 24 of his Comment on devient brillant joueur d'échecs (Paris, 1935).'
Source: page 420 of CHESS, 14 July 1937.
We commented that the shortest version (1 d4 Nf6 2 Nd2 e5 3 dxe5 Ng4 4 h3 Ne3 5 White resigns) regularly appears in books and that in his introduction to Chess Tactics (Ramsbury, 1984) Paul Littlewood even called it 'the shortest match game known in chess literature – Gibaud-Lazard, Paris, 1927'. Richter's Kombinationen (various editions) dated it 1935.
Now, Dominique Thimognier (Fondettes, France) forwards a cutting from page 12 of the Feuille d'Avis de Lausanne, 24 June 1933 (chess column by André Chéron):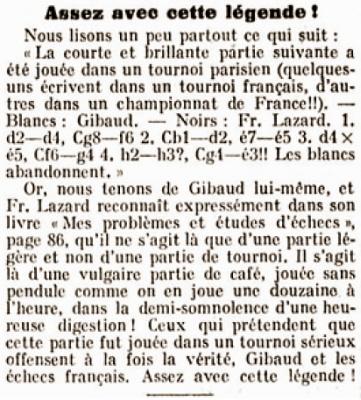 (7904)
---
Below is the news item quoted in C.N. 7904 from page 221 of the June 1921 BCM:

The text appeared in the 'Colonial and Foreign News' section, of which the Editor was apparently P.W. Sergeant (see page 396 of the October 1922 BCM).
Our earlier item included a Chéron cutting which referred to page 86 of Lazard's book Mes problèmes et études d'échecs (Paris, 1929). That page is shown below, courtesy of Alain Biénabe (Bordeaux, France):
(7927)
---
From page 2 of Traps on the Chessboard by E.A. Znosko-Borovsky (London, 1938):
'Another fine example of this murderous check by the queen at KR5 is supplied by a game won by F. Lazard in Paris in 1922 (Queen's Pawn Game): 1 P-Q4 P-Q4 2 Kt-Q2 Kt-KB3 3 P-QKt3 P-K4 4 PxP Kt-Kt5 5 P-KR3?? Kt-K6 and White resigns. His queen is lost for, if 6 PxKt, then 6...Q-R5ch and mate next move.'
When the game was published on page 20 of volume two of Lehrbuch der Schachtaktik by Alexander Koblenz (East Berlin, 1972) the opening was identified as the Budapest Gambit, and White was named as 'Gibaut'.
---
Page xxiv of The Blue Book of Charts to Winning Chess by Arthur M. Stevens (South Brunswick and New York, 1969) took a discredited game and added more fiction. Other imprecision includes the misspelling of Monsieur six times: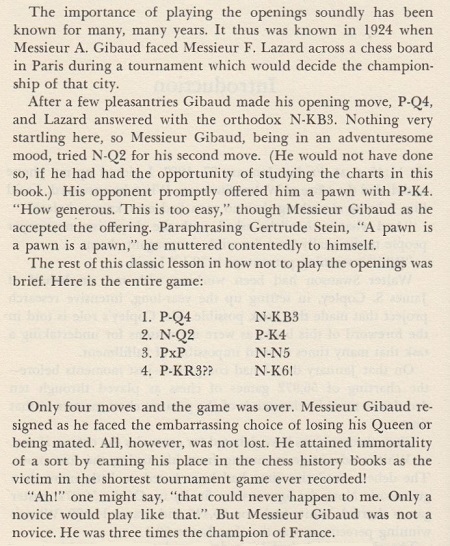 (9537)
---
See too C.N.s 3295 (pages 253-254 of Chess Facts and Fables) and 4493.
---
C.N. 7156 gave this photograph of Gibaud (right) with Alekhine, from the November 1928 issue of L'Echiquier: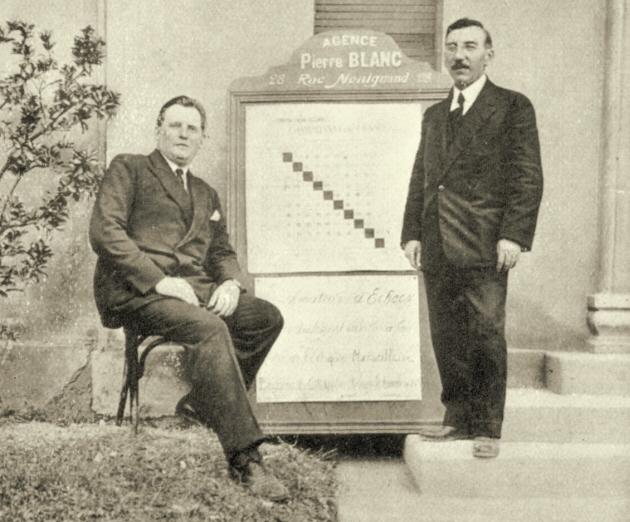 For a photograph of Lazard, see Chess in 1924.
---
Latest update: 2 August 2020.
To the Chess Notes main page.
To the Archives for other feature articles.
Copyright: Edward Winter. All rights reserved.