The London Rules

Edward Winter
(2008, with additions)

From page 10 of The Observer (London), 13 August 1922:
'Capablanca has drawn up a set of rules for future championship matches, and all the great masters now playing at the London Congress have agreed to them, namely Alekhine, Bogoljubow, Maróczy, Réti, Rubinstein, Tartakower and Vidmar. It is a long document of 21 clauses ...'
As discussed in chapter nine of our book on Capablanca, there exist slightly different versions of the Rules. They are set out in full below.
Pages 185-186 of the December 1923 American Chess Bulletin: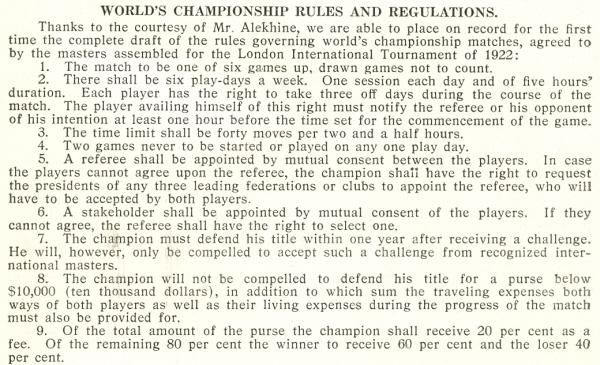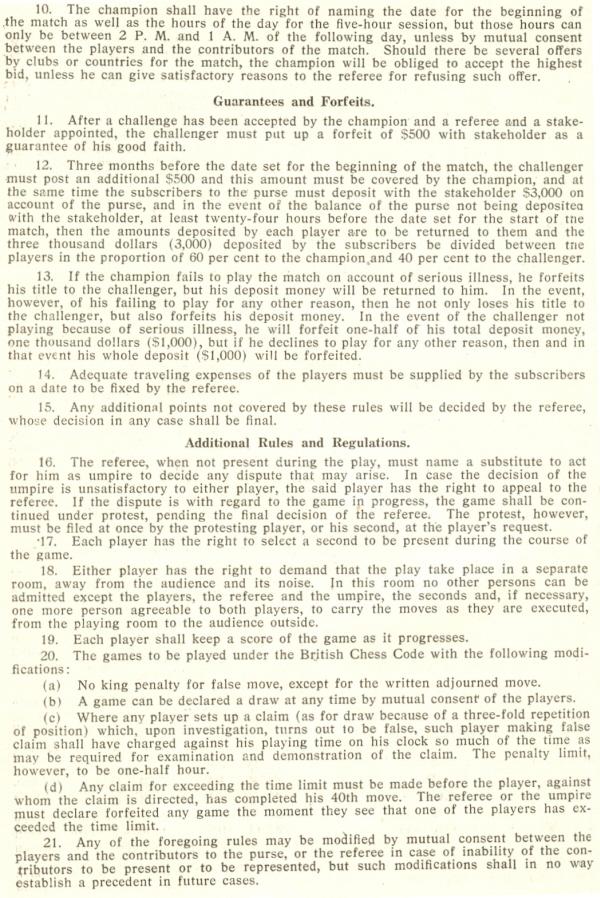 Pages 133-134 of the November 1926 American Chess Bulletin: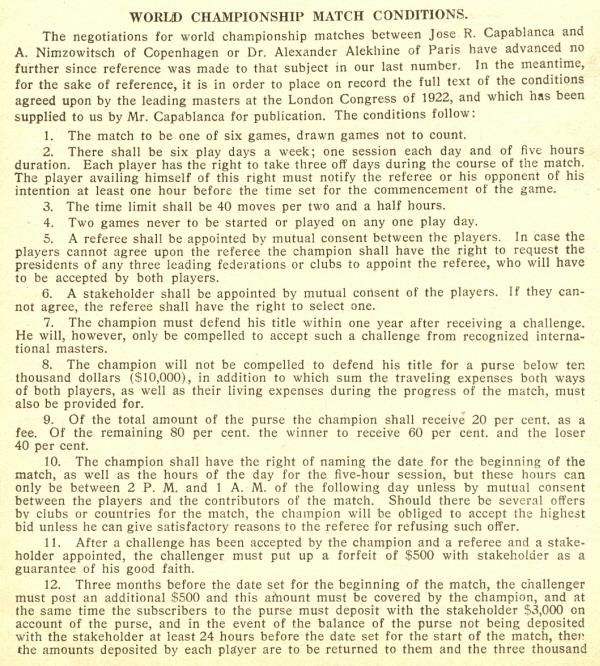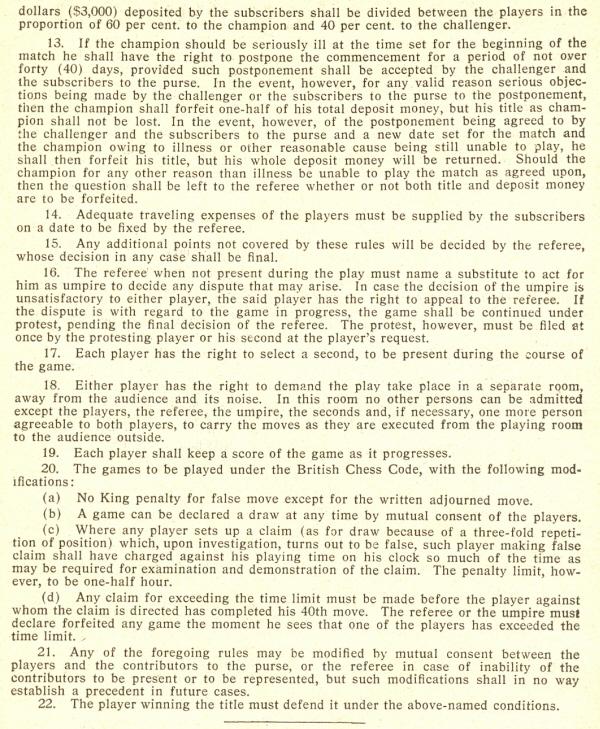 Pages 125-126 of the January 1927 Chess Amateur: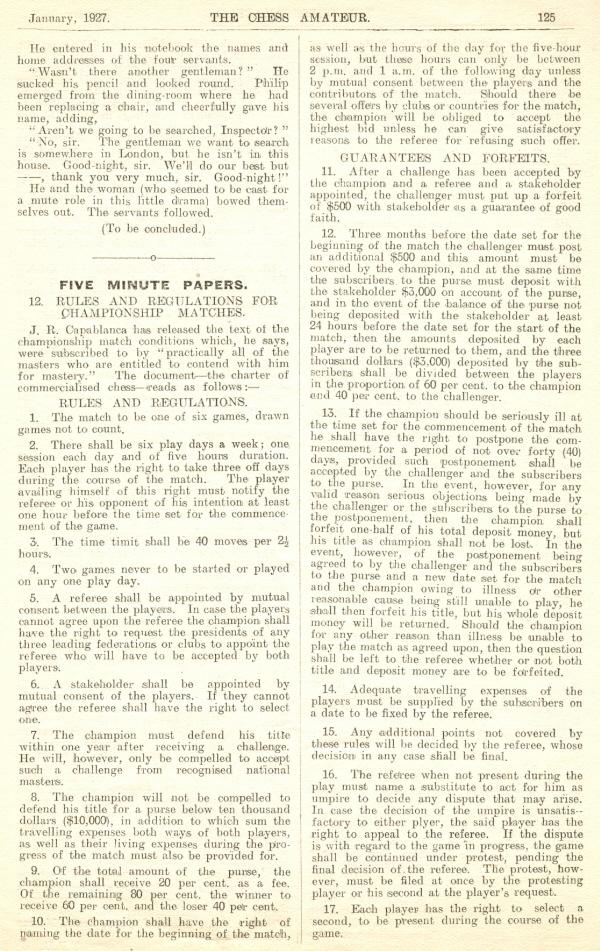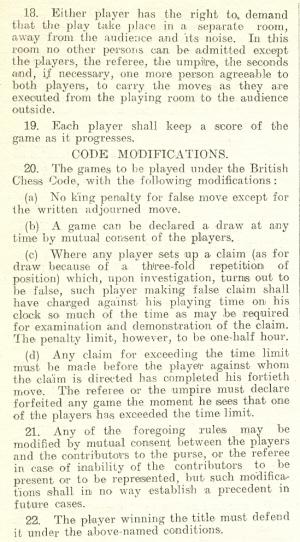 Finally, a copy of the Rules sent to us in the late 1980s by the Manhattan Chess Club: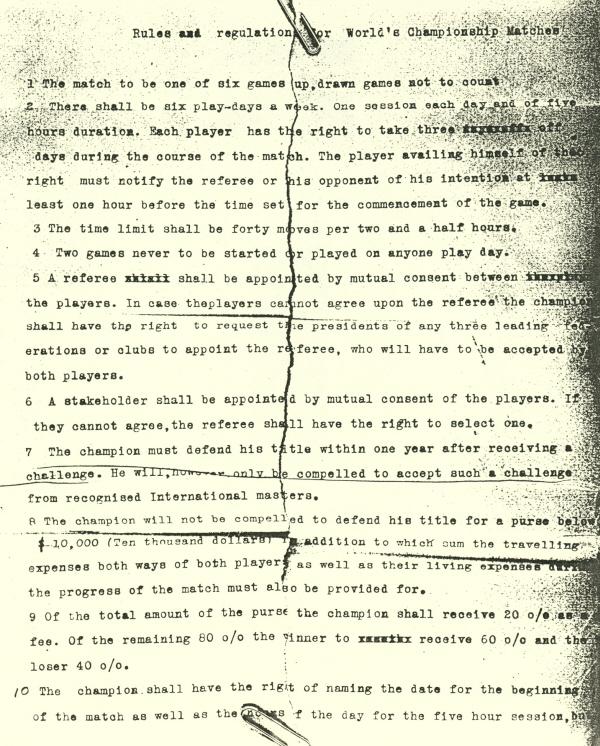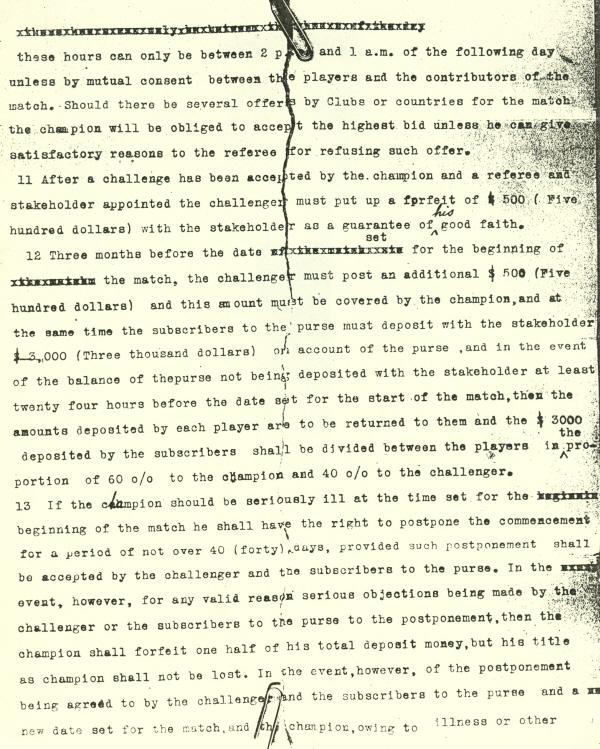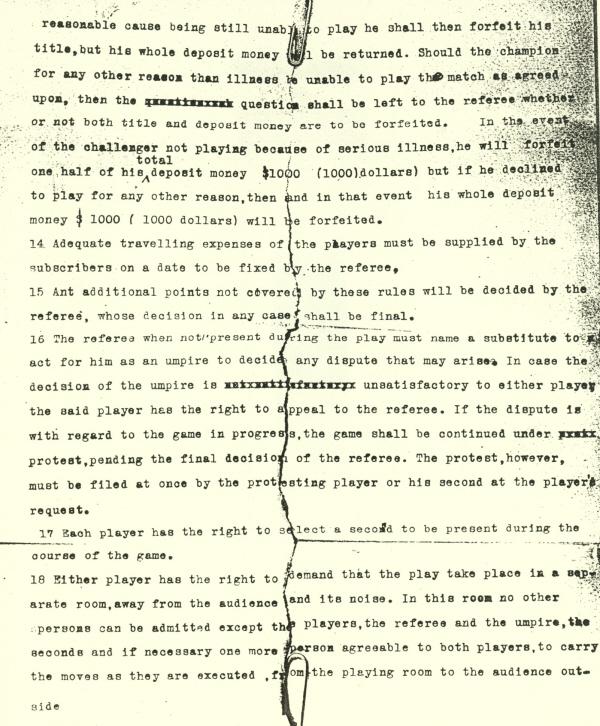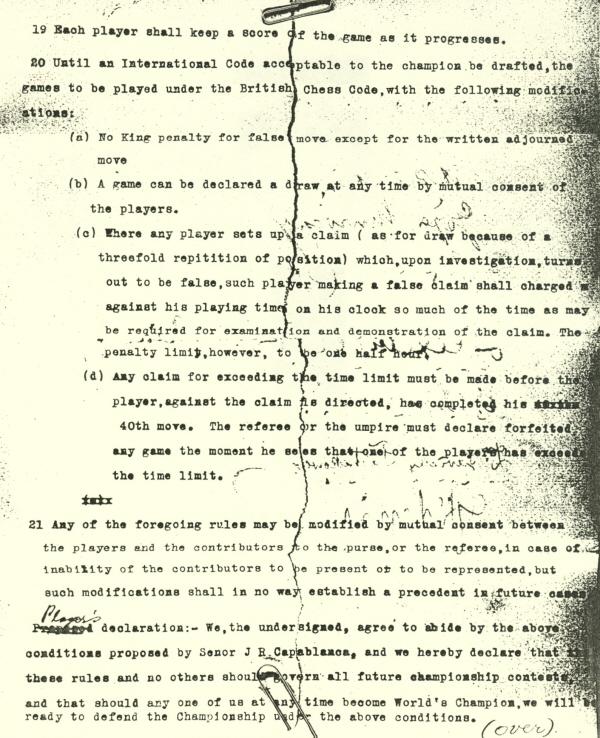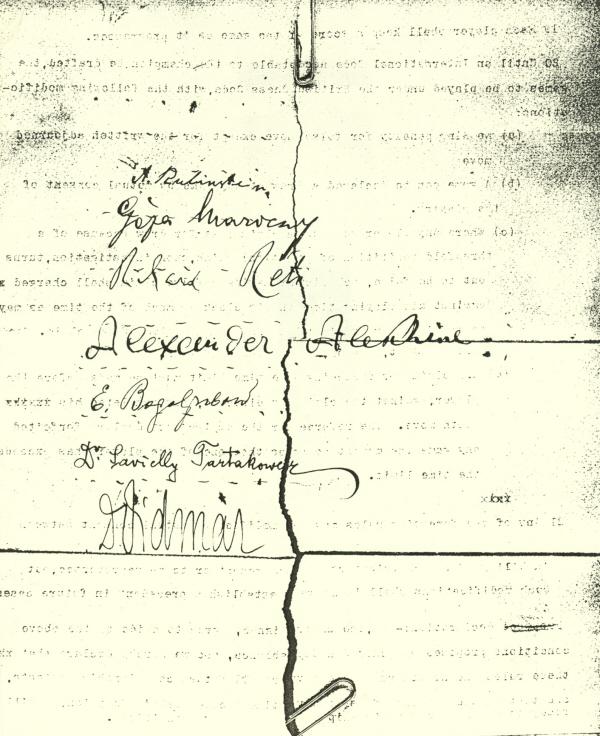 ---
According to a number of books, Alekhine considered that Capablanca imposed excessive financial conditions in the London Rules of 1922. For example, on pages 43-44 of Alexander Alekhine (London, 1975) Kotov wrote:
'Ten thousand dollars! And besides that, about a further five thousand for the cost of organizing the match. It was a colossal sum! How could a challenger possibly accumulate it? Grandmasters were crestfallen, even the usually self-confident Alekhine was dejected.'
It is therefore of interest to note a comment by Alekhine to A.J. Mackenzie in the Birmingham Post of 8 June 1926:
'I stand just where I did four years ago. I think the financial conditions are reasonable and the amount to be found by the challenger (£2,000) is not too much for a match for the World's Championship. Any movement to modify these conditions must come first of all from Capablanca, and, unless he makes any movement, I am bound by my signature to the agreement.'
(Quoted on page 8 of booklet 32 in the A.J. Gillam series of Rare and Unpublished Tournaments and Matches.)
(2301)
---
With regard to page 8 of the 4/2000 New in Chess, Capablanca v Alekhine, 1927 was the only world title match played under the London Rules. As pointed out in C.N. 1775 (see also C.N.s 728 and 880) and on page 322 of our Capablanca book, during the encounter the Cuban wrote letters discussing the eventuality of a drawn match. We are still mystified as to how that could possibly have occurred under the London Rules.
(2412)
---
Among the notable comments by Alekhine in his 1928 interview with Brian Harley (C.N. 8488) are those concerning the stakes for future world championship matches. Below is the text as it appeared on page 38 of Harley's book Chess and its Stars: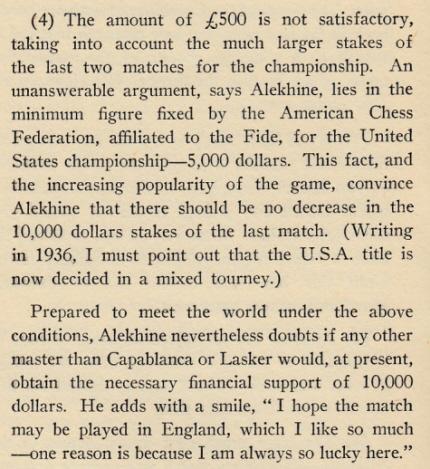 Alekhine's attitude to stakes of $10,000 was not always so positive in other public statements, but it is a subject on which many authors have written simplistically. From pages 266-267 of The Batsford Book of Chess Records by Yakov Damsky (London, 2005):
'[Capablanca] offered to "defend" his chess crown for a prize fund of ten thousand dollars, almost a fairytale figure by the standards of the mid-1920s. Without that sum, no claimant to the throne could even think of an audience with His Chess Majesty. "Capa has cut himself off from everyone by a wall of gold", the newspapers wrote at the time, and indeed the stake appeared incredibly high. As often in this life, however, it was a case of "Vengeance is mine; I will repay." When Alexander Alekhine did succeed in finding sponsors and wresting the crown, he agreed to give Capablanca a return match – on those same conditions of Capablanca's.'
Matters are far more complex than that, and any writer should avoid the technique of vaguely attributing a quote in the singular to 'newspapers' in the plural.
The London Rules stated: 'The champion will not be compelled [our emphasis] to defend his title for a purse below $10,000.' The implications of that wording are often overlooked, and in a statement published on page 90 of the July-August 1926 American Chess Bulletin Capablanca himself wrote regarding the Rules: 'Among other conditions, they call for a minimum purse of $10,000.' This was quoted on page 194 of our book on the Cuban, and we remarked on page 319 that it was a surprisingly loose interpretation of Clause 8.
(8489)
---
For a discussion of the London Rules in the context of the 5-5 affair, see our feature article Capablanca v Alekhine, 1927.
---
Latest update: 29 May 2022.
To the Chess Notes main page.
To the Archives for other feature articles.
Copyright: Edward Winter. All rights reserved.