The Mysterious Rook Move in Chess

Edward Winter
'The most inspired "mysterious rook move" (to use Nimzowitsch's terminology) I ever saw' was C.J.S. Purdy's comment on 19 Rhe1 in Crowl v Steiner, Sydney, 1945 (see The Australian Nimzowitsch):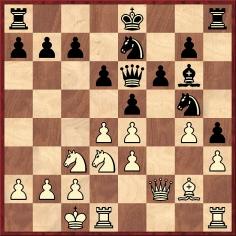 Position after 18...Qe6
A famous specimen (see a page by Tim Krabbé on 'The 110 most fantastic moves ever played'):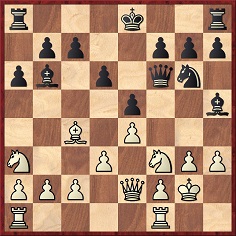 Black played 14...Rg8
Gomes v Neto, Rio de Janeiro, 1942 is the information given too on page 140 of Relax with Chess by Fred Reinfeld (New York, 1948), although the book stated that White resigned after Black's 18th move: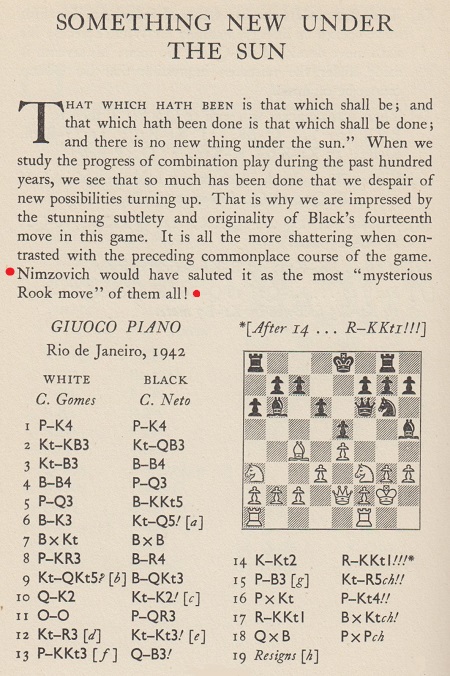 The spelling Netto is also found, as on page 7 of the June 1947 Chess Review (where Gomes' initial was O., and not C.):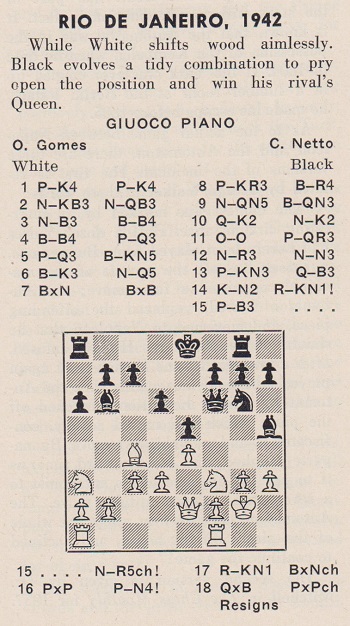 What solid information can be traced about the players and the occasion?
(10702)
---
Eduardo Bauzá Mercére (New York, NY, USA) has found the Brazilian game on pages 253-254 of Jogo de Posição by Erich Eliskases (Rio de Janeiro, 1943), the players being named as Oliveira Gomes and Caetano Neto:
We note, though, the spelling Cayetano Netto in reports on other Brazilian activities in the periodical Enroque!! (Necochea, Argentina); see pages 2, 3 and 7 of the 15 February 1942 issue.
(10704)
---
Latest update: 11 February 2023.
To the Chess Notes main page.
To the Archives for other feature articles.
Copyright: Edward Winter. All rights reserved.