Najdorf against the French Defence
Edward Winter
Pages 110 and 111 of Relax with Chess by Fred Reinfeld (New York, 1948):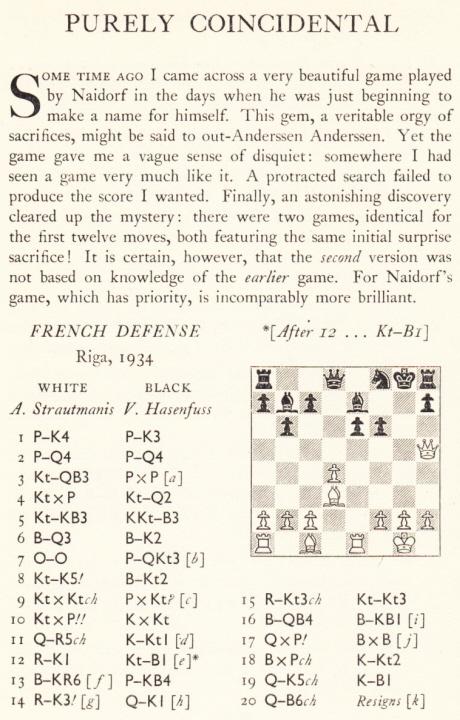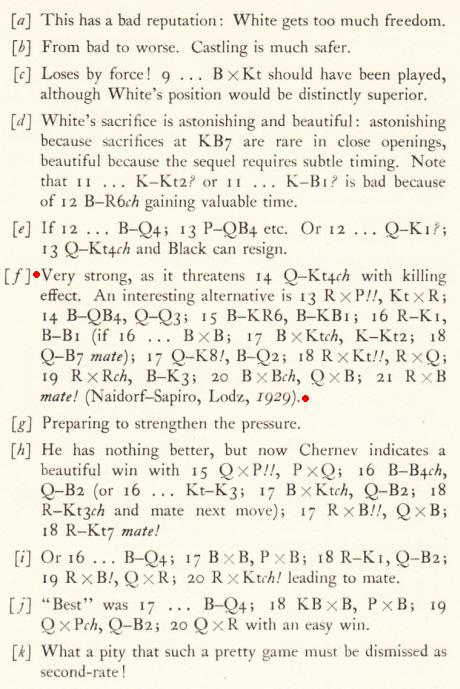 There are complications with this Latvian game but also, particularly, with the Najdorf one mentioned in Reinfeld's sixth note.
Beginning with Strautmanis' victory over Hāzenfūss, we note that it was published by Spielmann on page 150 of the May 1935 Wiener Schachzeitung: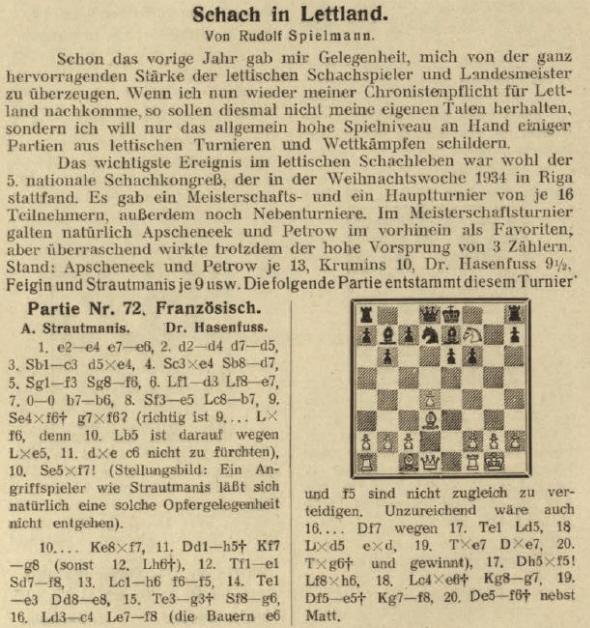 A few years later it was given on page 181 of Šachs Latvijā by K. Bētiņš, A. Kalniņš and V. Petrovs (Riga, 1940):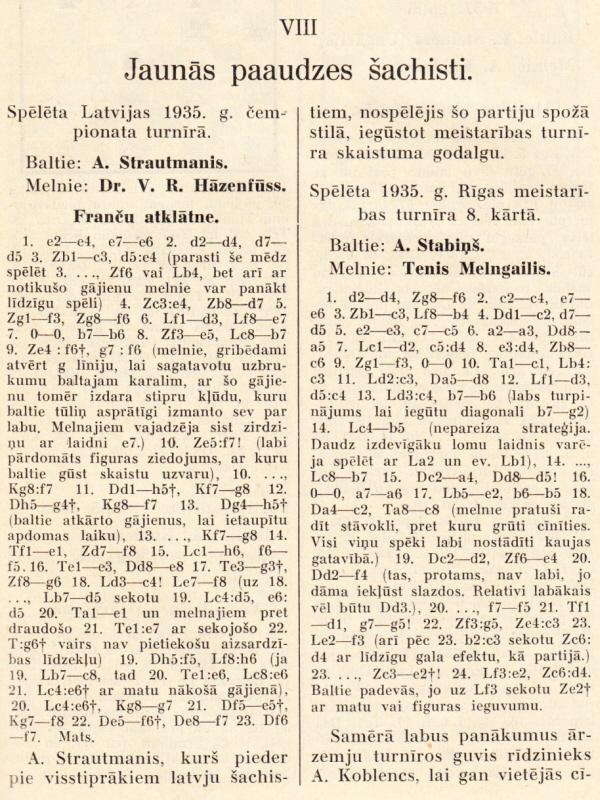 In this book the game was dated 1935, rather than 1934, but according to the crosstable on page 23 the tournament was played from 22 to 31 December 1934.

The second discrepancy is the repetition of moves immediately after the white queen's sortie: 1 e4 e6 2 d4 d5 3 Nc3 dxe4 4 Nxe4 Nd7 5 Nf3 Ngf6 6 Bd3 Be7 7 O-O b6 8 Ne5 Bb7 9 Nxf6+ gxf6 10 Nxf7 Kxf7 11 Qh5+ Kg8 12 Qg4+ Kf7 13 Qh5+ Kg8 14 Re1 Nf8 15 Bh6 f5 16 Re3 Qe8 17 Rg3+ Ng6 18 Bc4 Bf8 19 Qxf5 Bxh6 20 Bxe6+ Kg7 21 Qe5+ Kf8 22 Qf6+ Qf7 23 Qxf7 mate.

The Najdorf game is referred to in our feature article about another brilliancy by him, The Polish Immortal, where it is reported that, according to recent research, his opponent (in the French Defence game) was named Gliksberg and that the occasion was Łódź, 1929. From page 60 of Najdorf: Life and Games by T. Lissowski and A. Mikhalchishin (London, 2005):
'Numerous sources wrongly give the loser's name here as Szapiro (or Shapiro, Schapiro). Gliksberg from Łódź should not be confused with the second-category Warsaw player Glücksberg.'
An endnote on page 62 stated:
'Najdorf's notes to this game were published in the 1970s. Other sources give White's eighth move as Nfg5 and omit the repetition at moves 12-13.'
The repetition of moves (identical to the repetition which, according to the Latvian book, occurred in the Strautmanis encounter) would mean that Najdorf's game ended with 23 Rxf8 mate, and not 21 Rxf8 mate as in the Reinfeld book. See too pages 15-17 of Young Najdorf by T. Lissowski (Nottingham, 2010).
Earlier sources had some other oddities. On pages 243-244 of The Fireside Book of Chess by I. Chernev and F. Reinfeld (New York, 1949) Najdorf's opponent was named as 'Sapiro', and the occasion was given as Łódź, 1929; however, pages 410-411 of Chernev's 1000 Best Short Games of Chess (New York, 1955) had 'Sapira' and 'Buenos Aires, 1948'. (The latter book also included the Strautmanis game, on pages 388-389.)
Another venue that has been suggested is Warsaw. See, for instance, pages 63-66 of Miguel Najdorf El hijo de Caissa by Nicolás Capeika Calvo (Buenos Aires, 2002), which named Black as 'Shapiro' and gave the occasion as 'Torneo de Varsovia, 1927?'. Apart from the question mark, the same details were in Najdorf 103 partidas by A.M. Calúa (Buenos Aires, 1985), again on the strength of a quote from Najdorf claiming that the game was played in the same event as the 'Polish Immortal', that it won the second brilliancy prize, that he believed that it should have been preferred for the first prize, and that he was aged 17 at the time:
'Es cuestión de puntos de vista. El jurado optó por la "inmortal polaca", que ustedes ya conocen, y dieron el segundo premio de belleza a la presente partida con Shapiro, que, a mi juicio, hubiese preferido para ese honor.

Repito que en ese torneo de Varsovia yo tenía 17 años ...'
As mentioned in our Polish Immortal article, Najdorf also claimed to have played the Dutch Defence game at the age of 17. He was born in 1910.
A key question now is when Najdorf's game against the French Defence was first published.
(7882)
---
Eduardo Bauzá Mercére (New York, NY, USA) submits page 9 of ¡Najdorf! juega y gana by Raúl Castelli (Hurlingham, 1968):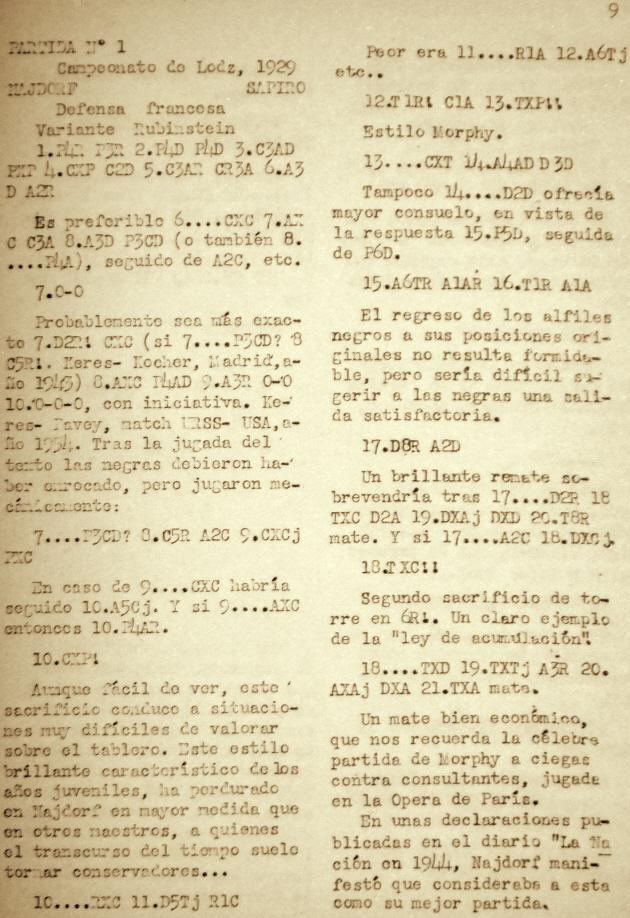 Of particular interest is the last paragraph, which reports a remark by Najdorf in the newspaper La Nación in 1944 that it was his best game.
(7889)
---
The twists continue with Najdorf's brilliancy against the French Defence. Christian Sánchez (Rosario, Argentina) points out an occasion when Najdorf identified Black as Frenke. Below is an article contributed by Najdorf on pages 204-205 of the July 1964 Chess Review:
(7898)
---
Christian Sánchez points out that the game was given as Najdorf v Sapiro, Buenos Aires, 1948 when published by H. Kramer in De Heerenveensche koerier on 6 August 1948.
---
Fred Reinfeld also annotated the French Defence game on pages 119-121 of Great Short Games of the Chess Masters (New York, 1961):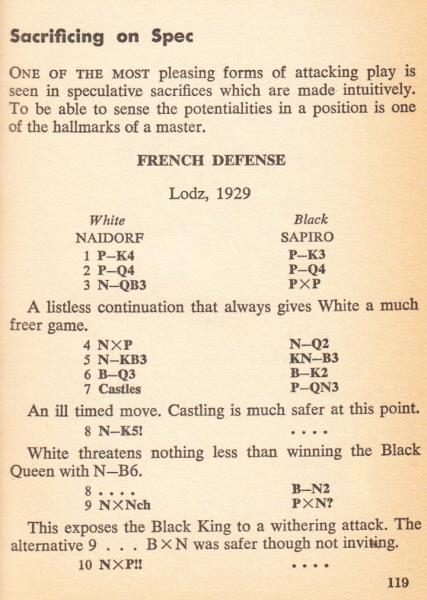 ---
Latest update: 30 April 2022.
To the Chess Notes main page.
To the Archives for other feature articles.
Copyright: Edward Winter. All rights reserved.