The Chess Wit and Wisdom of W.E. Napier

Edward Winter
(2002, with updates)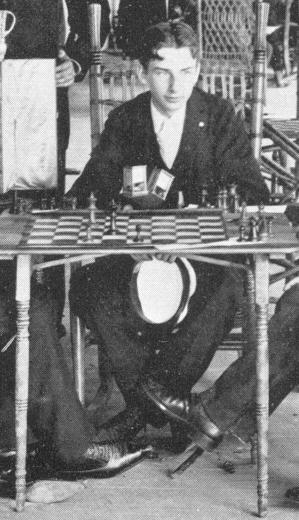 William Ewart Napier
Although W.E. Napier (1881-1952) was a highly quotable writer, he produced only one chess work, Napier's Amenities and Background of Chess-Play (published in three 'units', the first two in 1934 and the third the following year). After his death they were adapted into a single volume entitled Paul Morphy and The Golden Age of Chess (New York, 1957 and 1971).
In the quotations below (some of which have entered chess lore) the figures refer to the item numbers in the Amenities work, the pages of which were unnumbered:
3. 'In the laboratory, the gambits all test unfavourably, but the old rule wears well, that all gambits are sound over the board.'
18. 'Once I asked Pillsbury whether he used any formula for castling. He said his rule was absolute and vital: castle because you will or because you must; but not because you can.'
22. 'John McCutcheon, of Pittsburgh and undying fame for his research in the French Defense, often said about opening moves, "Not new, but old enough to be new."'
28. [On Bird] 'He earned the rebuke of playing impulsively in tournaments. It was disrespect and scandalous, some thought; but if there is genius in chess, Bird of all players had it, I think, in greatest abundance.'
32. [On Mason] 'As player, he had the unique quality of competently simmering thru six aching hours and scintillating in the seventh. Others resembled him but forgot to scintillate.'
52. 'Once in chatting with Janowsky at Lake Hopatcong, he referred to Maróczy as the gentle iron-man of Hungary, which was accurate as to both specifications.'
67. 'Some of Marshall's most sparkling moves look at first like typographical errors.'
72. 'I knew Dr Tarrasch pleasantly at Monte Carlo, 1902. One day the fates had gone against me, malevolently, I felt, in a game against a man I had counted on beating. I got, by way of spur, this vitamin from the Doctor: "In these tournaments it is never enough to be a connoisseur of chess; one must also play well."'
75. 'The super-men of chess come by that distinction through two rare capacities, an inscrutable vision in end play and a bland sense of well-being in what, to lesser men, look like predicaments.'
78. 'No chess book, I think, can be complete without a page of homage to Master Bird. If I had only one page to rejoice in, it should own up to a kindly veneration for all his adventures and misadventures, his farce and comedy and drama of the chess board. The roots of his chess were deep sunk in the tradition of Labourdonnais and McDonnell; he played Morphy; and half a lifetime afterwards we see him at Hastings, playing a thorough-bred game which Pillsbury declared was too beautiful to annotate. A long stretch, that – and brim-full of enthusiasm. He adored chess, – the play itself, I mean, which is not common among masters.
I saw him once at Simpson's Divan but not to speak to. I brought away an impression of fulminating chess, of hearty laughter and liberty and beefsteak. He romped.

Once I asked Teichmann what he thought of Bird's chess; "Same as his health", he replied, – "always alternating between being dangerously ill and dangerously well."

England will not know his like again.'
85. [On the game Sim v Morrison, Toronto, 1918.] 'This is a Canadian game of exceptional worth in my collection, as resembling, as few games do, a sustained, Charousek attack. That slow-burning type of invasion, not essentially dependent on preserving the queen, implies a grasp of endings and a willingness to play them. As Pillsbury once said, "So set up your attacks that when the fire is out, it isn't out".'
93. 'Pillsbury was present [at Thousand Islands, 1897] on other business, and I remember his taking me for a row on the river, in the morning, before play started. He lectured a bit on Steinitz' opening vagaries; when we separated, he said – revealing perhaps a glimpse of his ruling philosophy, "Be steady, but not to the point of morbid restraint."'
96. 'Louis Paulsen. It was surely a frolic of fate that translated an enviable potato planter of sedate Dubuque, Iowa, to that evergreen, mellow fame he achieved in chess. Paulsen was the landscape of that pioneer period from Morphy to the early nineties, not given to gay, aggressive outbursts, but a quiet pastoral ideal of sufficiency.'
115. [On the game Důras v Teichmann, Ostend, 1906]: 'Důras needs no better monument to his genius than this lofty and exciting struggle with an eminent opponent. In my catalogue of genuinely great contests it rises up close to the top. It is chess all the way, but from move 43 it goes in a dignity unsurpassed.'
128. 'A genial disposition shines in all Tartakower's chess. It is infectious fun. And when he loses a game, he writes sincere eulogies, fit for an epitaph, of the victor.
He is very unusual.'
166. 'It has been my observation all through the years that the master player nearly always makes lively games at correspondence, even tho his play vis-à-vis is governed by more conservative models.
The paradox is baffling.

The only theory I have adduced is that the social nature of mail exchanges quite subordinates mere winning to joyful, yawing chess.

In match games over the board, the killing instinct necessary to success is the same that men take into Bengal jungles, – for a day. A killing instinct which survives the day and endures month in and month out, is stark pantomime; and mail chess is the gainer by it.'
180. 'Among tournament masters, Marshall has had few superiors, and, as to style, has clearly been in a class of his own, without forerunner or disciple. He is a whole school.'
191. 'I have met no critic who could not detect, in Torre, a potential world's champion.'
196. [On Nimzowitsch's win over Yates at Carlsbad, 1923]: 'It is witch chess, heathen and beautiful.'
225. 'Once while walking over Waterloo Bridge, in London, with stout-hearted Teichmann, we conversed of the ingredients that associate to make a chessplayer. I ventured a remark that, if he would name one indispensable ingredient, I would name an able player wholly destitute of it. And Richard very tolerantly said, "Have you given any thought to 'vanity'?"'
230. [Of Lasker's play beginning 17…Rxc3 against Pillsbury at St Petersburg, 1895-96]: 'Pillsbury told me that the exquisite combination here initiated was the only startling and utterly diabolical surprise he suffered in all his career abroad.'
237. 'Spielmann plays always like an educated cave-man, who fell asleep several thousand years ago, – and woke up quite lately in the Black Forest.'
243. 'The greatest difficulty of the game is to play it as well as one knows how.'
253. 'F.M. Teed, of Brooklyn, was one of America's most powerful master players. Business kept him out of match play; and he describes well as a master "without portfolio".'
253. [On Winawer v Englisch, London, 1883. Napier had given the game as item six of unit one, where he stated that 'it was a revelation when first I studied its deliberate beauty while a boy enthusiast; and it never seems to stale.']: 'The most important single game ever played, I think.'
262. 'It is astonishing how much hot water a master can wade into within the first dozen moves, despite a century of opening exploration.'
264. 'I never see a King's Bishop Opening without thinking of the first of several lessons I took, when a youngster, from Steinitz. He said, "No doubt you move your knight out on each side before the bishop? And do you know why?" I was stuck for an intelligent answer. He went on to say, "One good reason is that you know where the knight belongs before you know that much of your bishop; certainty is a far better friend than doubt."'
268. 'It has always been my doctrine that chess is easier to play with many pieces than few; that ending play more strains the mind than a middle-game involvement. Of many options, one may be fit. Resource is likely to be present in a tangled, critical situation.'
297. 'Zugzwang is a very useful term. I sometimes think it is best defined by the story of the negro who drew a razor across the enemy throat:
Said the enemy, "I'm not cut."

And the knight of the razor replied, "Just wait till you turn yo' head, before guessing at it."'
---
'What he was in the '80s and '90s he [Tarrasch] is now and seemingly ever will be, one of the best. Only this and nothing more. He is a vastly learned chess master, which quality, coupled with stamina worthy of a Marathon runner, renders him superior to everything but the pelting of downright genius.'
Napier in the Pittsburg Dispatch, quoted on page 127 of the July 1907 American Chess Bulletin. The passage was given on page 387 of Kings, Commoners and Knaves.
---
Quoted on page 388 of Kings, Commoners and Knaves:
'The great players also lose in short order. We hear very often from a modest player of small proficiency that he shirks taking on players of renown because they would "wind him up" in a trice; and, per contra, we often hear it boasted by the same sort that he was the last to capitulate in a simultaneous performance. Yet the length of the game is relatively unimportant. It is no praise to have won in 15 moves nor any disparagement to lose as speedily.

Great chessplayers are only comparatively great; and they all have weak moments, and occasionally whole seasons of disability, when their best moves are not better than their worst at other times. Duration is no reliable criterion of a game's quality; indeed, there is a certain wooden style of play which is quite devoid of spirit, but is for all that tenacious and hangs on to insufferable length. Let the tyro take heart, and not proclaim himself a duffer for the brief compass of his games.'
W.E. Napier in the Pittsburgh Dispatch, quoted on page 16 of the January 1907 BCM.
---
Michael McDowell (Westcliff-on-sea, England) asks for the origin of a remark attributed to W.E. Napier on page 260 of 777 "Chess Miniatures in Three" by E. Wallis (Scarborough, 1908):
'A good problem – to the connoisseur is a canvas, a poem, a symphony, and quite as permanent.'
(5829)
We note that when the passage was attributed to Napier on page 72 of Lasker's Chess Magazine, June 1905, there was no reference to chess problems: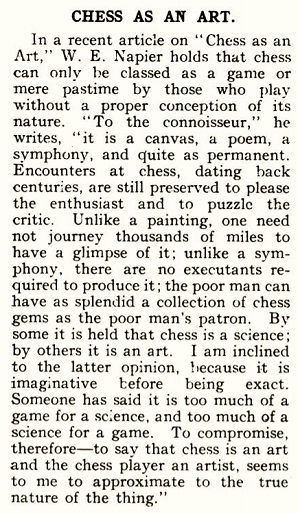 ---
A brief item on page 151 of the May 1952 CHESS:
'W.E. Napier won the British Championship in 1904 then emigrated to the USA and for some years challenged Marshall and Pillsbury. His three slim volumes of Chess Amenities (selected games annotated with a delightfully light touch) are much-sought literary gems. He is suffering from advanced cancer of the throat but has written a new book Evergreen Chess.'
Napier died a few months later. The manuscript of Evergreen Chess had been conveyed to Hermann Helms but has never been traced, let alone published. Further information is available on pages 352-354 of Napier The Forgotten Chessmaster by John S. Hilbert (Yorklyn, 1997).
(6843)
---
What is the peculiarity of the text below?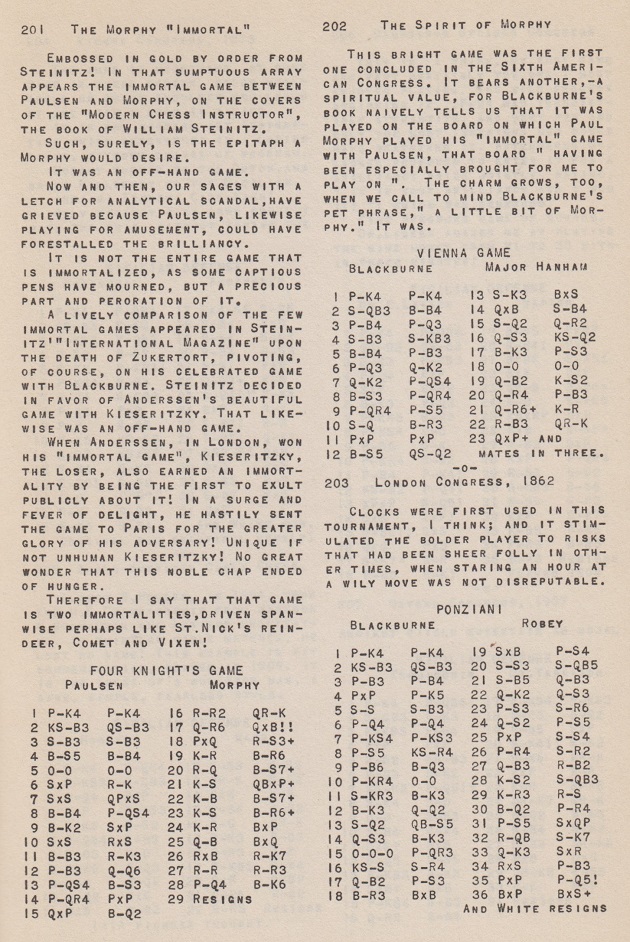 That page, picked at random, is the first of unit three of Amenities and Background of Chess-Play (New York, 1935).
William Ewart Napier (Wiener Schachzeitung, August-September 1904, page 260)
The textual peculiarity was mentioned by K.O. Mott-Smith in a letter on page 353 of the December 1952 Chess Review:
(10689)
---
From pages 179-181 of CHESS, February 1939:
In the first diagram a black pawn is missing from c5. The remark by Napier in the ensuing paragraph is notable:
'The history of chess is largely a chronicle of self-imposed intimidation and untimely excitement.'
It is also worth highlighting the CHESS Editor's comment about Napier in the box on page 179: 'one of the wittiest writers among British or American chess masters of all time.'
Napier's article and the game against Helms were discussed on pages 13 and 339-341 of Napier The Forgotten Chessmaster by John S. Hilbert (Yorklyn, 1997). Helms wrote tributes to Napier on pages 86-87 of the September-October 1952 American Chess Bulletin and on page 70 of CHESS, Christmas 1952/January 1953.
(10690)
The first paragraph of 'Chess Lore', an article by W.E. Napier on pages 98-99 of Checkmate, February 1903:
'The best book on chess? The question blossoms afresh with every new student of the game, and the answer, if candid, is ever the same: "Gather all you can from every good source, and let experience prove the worth or worthlessness of your harvest." As in other things, mere bookishness is not knowledge, nor on the other hand is a fine disregard of chess literature a key to proficiency; and the beginner drinking in the plausible hallucinations of a Gossip or a Staunton is quite as misguided as he who heeds the warning of a Lasker to give the chess book a wide berth.'
(10699)
---
From page 118 of the February 1905 issue of The Rice Gambit, Souvenir Supplement to the American Chess Bulletin: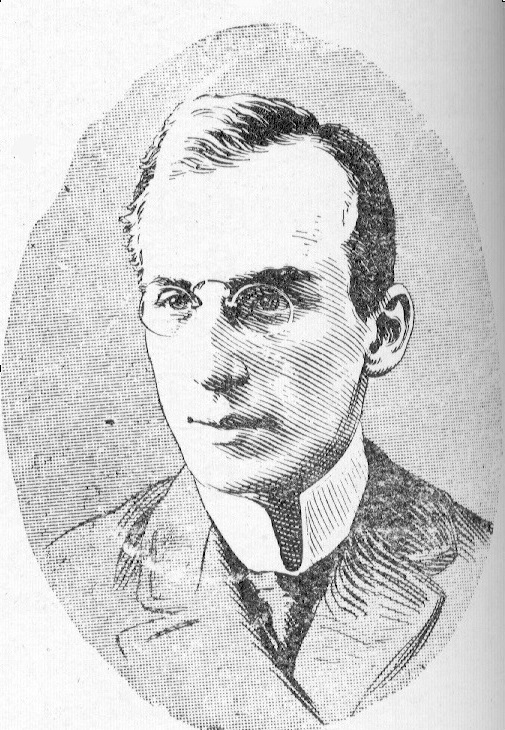 ---
See too The Best Chess Games.
---
Latest update: 4 June 2022.
To the Chess Notes main page.
To the Archives for other feature articles.
Copyright: Edward Winter. All rights reserved.