Steinitz v von Bardeleben

Edward Winter
William Steinitz
William Steinitz – Curt von Bardeleben
Hastings, 17 August 1895
Giuoco Piano
1 e4 e5 2 Nf3 Nc6 3 Bc4 Bc5 4 c3 Nf6 5 d4 exd4 6 cxd4 Bb4+ 7 Nc3 d5 8 exd5 Nxd5 9 O-O Be6 10 Bg5 Be7 11 Bxd5 Bxd5 12 Nxd5 Qxd5 13 Bxe7 Nxe7 14 Re1 f6 15 Qe2 Qd7 16 Rac1 c6 17 d5 cxd5 18 Nd4 Kf7 19 Ne6 Rhc8 20 Qg4 g6 21 Ng5+ Ke8 22 Rxe7+ Kf8 23 Rf7+ Kg8 24 Rg7+ Kh8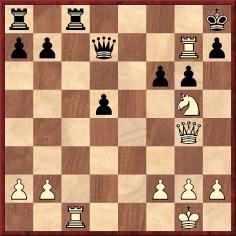 25 Rxh7+.
'But Bardeleben didn't resign. He stared at 25 Rxh7+, shot a glance at Steinitz, and without a word got up from his chair and left the room. He didn't come back. Tournament officials searched and found Bardeleben pacing angrily. No, he wouldn't return to the board so that outrageous Austrian could mate him.

So Steinitz had to wait for Bardeleben's time to run out before he could claim the win. Not only claim it – he demonstrated the final ten-move mate and the crowd cheered.'
The author of that apparent exercise in imagination, simultaneously fertile and sterile, is A. Soltis (The Great Chess Tournaments and Their Stories, pages 67-68). He then moved on to discuss 'John' Henry Blackburne, but we shall move on to chess history, with a straightforward question: what really happened at the conclusion of Steinitz v von Bardeleben, Hastings, 1895? All kinds of assertions have been made; for instance, page 110 of Kasparov's first Predecessors book stated (without specifying any source) that von Bardeleben 'suddenly stood up and silently walked out of the room (later he sent a note by special delivery tendering his resignation)'.
The game was played in round ten, on 17 August. 'The weather is very hot', noted Horace F. Cheshire's tournament book (page 156). Publications of the time gave no impression that a scandal of any significance had occurred. The Chess Monthly (September 1895, page 12) merely noted that the game had been von Bardeleben's first loss, 'and he got so despondent in consequence that without serious pressure he would have retired from the contest'. The BCM (October 1895, page 412) described him as:
'a very reserved gentleman, with somewhat wearied look, probably from ill-health, fragile figure, suggestive of highly strung nervous temperament, with hat upon head – he generally wore it – in his favourite attitude, right elbow upon the table and hand supporting his face on that side.'
The BCM's annotations (December 1895 issue, page 529) were by C.E. Ranken and made no mention of any incident. An account of how the game ended was, however, included in the annotations by W.H.K. Pollock, who had been a participant in the tournament, on pages 298-300 of La Stratégie, 15 October 1895. As it has not yet been established where the original English version appeared we quote the French translation after the move 25 Rxh7+:
'La partie a été terminée ici, M. de Bardeleben s'est retiré sans abandonner et la partie a été adjugée à M. Steinitz à l'expiration du temps limité. M. de Bardeleben a dit à son adversaire que sa conduite était pour protester contre les applaudissements souvent trop prolongés dont les visiteurs saluaient les victorieux et c'est à la suite de cet incident que le Comité du tournoi a défendu toute démonstration.'
In short, von Bardeleben left the hall without resigning and allowed his time to run out because of the disturbance caused by spectators applauding winners of games, and he informed Steinitz personally of this. The above-mentioned tournament book confirms the remark by Pollock that von Bardeleben's grievance was acted upon promptly, for regarding the next round of play the book reported (page 171):
'On this day also the Committee, finding that applause, even if slight, was liable to be misunderstood by our foreign competitors, and in any case was annoying to the players, put up a notice asking visitors to refrain, and the directors of play and stewards had strict instructions to enforce the notice.'
Did either Steinitz or von Bardeleben ever write about their Hastings game?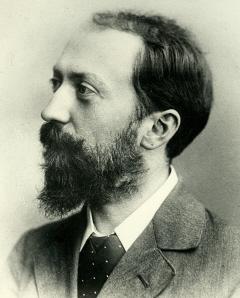 Curt von Bardeleben
(3114)
---
On the basis of contemporary chess magazines' coverage of the Steinitz v von Bardeleben game we commented in C.N. 3114 above: 'Publications of the time gave no impression that a scandal of any significance had occurred.' Now Roger Bristow, the Information Services Librarian at Hastings Library, has looked at the local newspapers. He has examined six of them (all weekly publications), in each case checking through the first issue following the date of the game, i.e. 17 August 1895. Mr. Bristow comments:
'There is nothing about the circumstances in which this game ended. Two of the newspapers reprint (from the Daily News) a report of the game, simply recording the moves, with occasional commentary. But no particular comment is made about von Bardeleben's resignation, and there is no mention of his walking out at all.'
(3117)
---
Joost van Winsen (Silvolde, the Netherlands) has found the following note by Pollock, after White's 25th move, in the Baltimore News:
'Bardeleben here retired and lost the game on the time limit. Subsequently he explained to his opponent that his action was meant as a protest against applauding a victor. Hence the notice of the committee described above.'
Pollock's description of the notice read as follows:
'At the beginning of the third week's play the following notice was posted: "Visitors are requested to refrain from applause on the conclusion of any game, as such demonstrations are most obnoxious to the masters and are contrary to the wish of the committee." This stopped the applause, which, it must be said, had been frequently quite prolonged and irrepressible, which arose quite spontaneously, and which was evidently more objected to by the modest winners than the losers. Here it should be stated emphatically that the constant efforts of the committee to secure comfort to both players and spectators have been attended with great success. Reserved seats close around any board are sold at 2s.6d. a day.'
The report by Pollock in the Baltimore News was dated 21 August 1895, but the exact date of the newspaper is not available. Our correspondent found the item on page 126 of a scrapbook of Baltimore News cuttings held by the Cleveland Library.
(5671)
---
Addition on 21 September 2008:
Olimpiu G. Urcan (Singapore) draws attention to a passage on page 731 of Contemporary Review, July-December 1900, in an article by Antony Guest entitled 'Steinitz and Other Chessplayers' (on pages 727-737):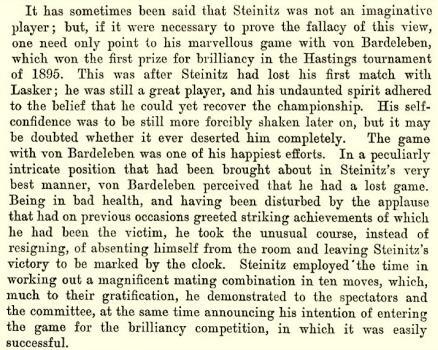 ---
Addition on 18 June 2011:

On pages 149-150 of the April 1932 BCM, in an article entitled 'Chess Reminiscences', R.C. Griffith wrote:
'I was a steward at the big international tournament at Hastings in 1895 and was on duty when that wonderful game between Steinitz and Bardeleben was played. Bardeleben seeing he had a lost game left the room, and Steinitz sat at the board for 50 minutes before he could claim the game on time. He then showed to the spectators how he won in every variation. The applause was difficult to stop.'
Griffith's recollections were also reported by Frank Rhoden on page 66 of the February 1971 Chess Life & Review: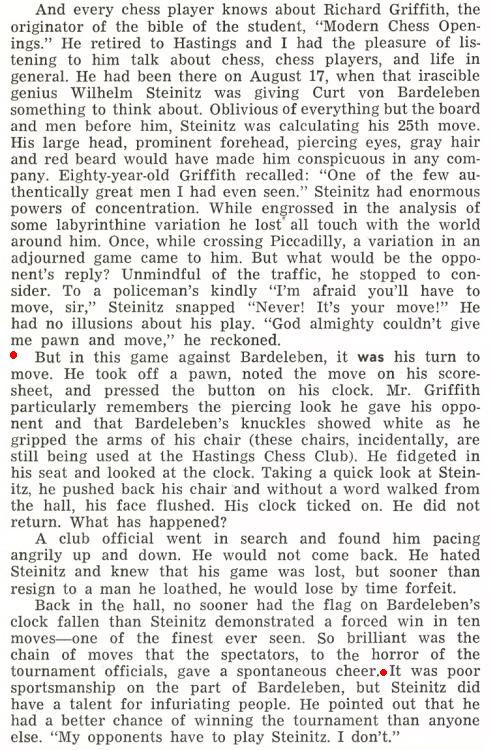 ---
An unsubstantiated statement by Eric Schiller on page 381 of Encyclopedia of Chess Wisdom (New York, 1999):
'Don't pull a "Von Bardeleben!" The nineteenth-century player had a habit of simply walking away from the board. Eventually, he'd exceed the time limit and his opponent would finally get the point.'
---
Olimpiu G. Urcan sends this cutting from page 2 of the 8 September 1900 edition of the Newcastle Weekly Courant:

(7638)
---
From Jerry Spinrad (Nashville, TN, USA) comes this item on page 13 of the Newark Sunday Call, 22 September 1895:

(7712)
---
On page 141 of the Chess Weekly, 29 January 1910 Capablanca described the Steinitz v von Bardeleben game as 'one of the last masterpieces handed to us by the Grand Old Man'.
---
From an article 'Some Chess Celebrities Whom I Have Met' by Rhoda A. Bowles on pages 23-27 of The Year-Book of Chess, 1907 by E.A. Michell (London, 1907):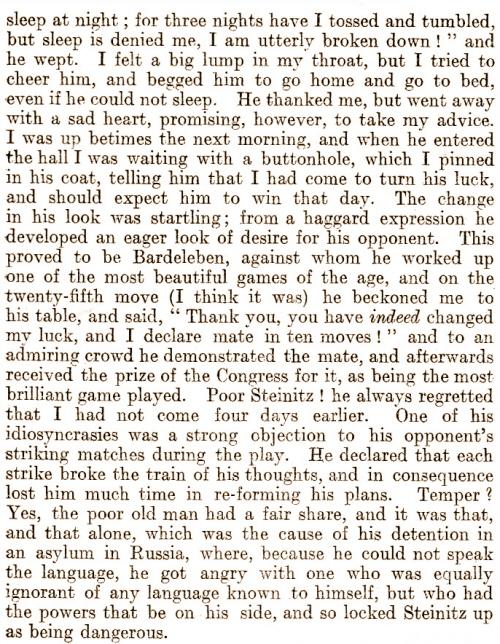 ---
Page 7 of Hastings Congress 1946-1947 by H. Kmoch and L. Prins (Sutton Coldfield, 1947) incorrectly stated that the Steinitz v von Bardeleben game was played in the first round of the 1895 tournament.
---
Tarrasch wrote about von Bardeleben's manner of finishing games in an article, 'Betrachtungen über das Schachturnier zu Hastings', on pages 324-328 of the October 1895 Deutsche Schachzeitung, reproduced from the Frankfurter Generalanzeiger of 29 September and 6 October 1895. It included the following:
'Liegt Deine Partie aber ganz darnieder,
dann geh' mal 'raus und komm' nicht wieder!'
Possible English translations of the couplet were given on page 217 of Lasker's Chess Magazine, March 1905. The matter was discussed, without any precise attribution, on pages 189-191 of Chess to Enjoy by A. Soltis (New York, 1978).
---
From page 98 of the Chess Monthly, December 1888:
'Since Morphy there is perhaps no other young player whose record of success can be compared with that of v. Bardeleben. He has played in four tournaments as a youth, and in two he was first, and in the others placed.'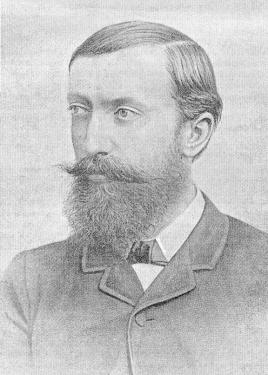 Curt von Bardeleben
(5049)
---
This interview with C. von Bardeleben on page 129 of The Sketch, 14 August 1895 was published three days before his loss to Steinitz in the Hastings tournament: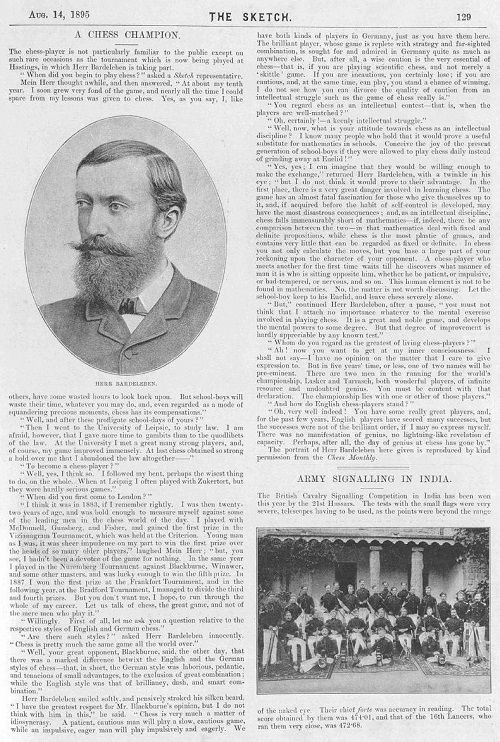 (10257)
Concerning the interview with C. von Bardeleben on page 129 of The Sketch, 14 August 1895 (C.N. 10257), Colin Patterson (Cullercoats, England) notes that, contrary to the statement attributed to the master, he did not win first prize at Frankfurt, 1887 but finished fourth: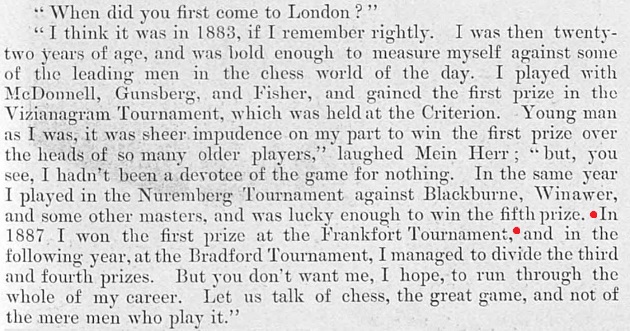 Von Bardeleben's fourth prize – he had been in the lead after the first week of play – is confirmed by the tournament book, which he co-edited with Hermann von Gottschall and Jacques Mieses. In addition to the full crosstable on page 13, this summary was on page 12: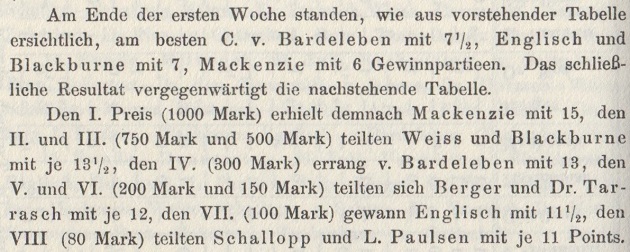 (11347)
---
C.N. 5999 asked for corroboration of claims by Edward Lasker on pages 20-21 of Chess Secrets I Learned from the Masters (New York, 1951) about Curt von Bardeleben:
'He always wore a black cut-away suit of dubious vintage. Apparently he could never spare enough money to buy a new suit, although I learned one day that at fairly regular intervals he received comparatively large sums – from one to several thousand marks – through the simple expedient of marrying, and shortly after divorcing, some lady who craved the distinction of his noble name and was willing to pay for it. Unfortunately, when he received his reward, it was usually far exceeded by the amount of the debts he had accumulated since his last divorce. Evil tongues had it that the number of the ladies involved in these brief marital interludes had grown so alarmingly that they could easily have made up a Sultan's harem.'
Richard Forster (Zurich) writes:
'I have checked the civil records available at Ancestry.com (Berlin, Germany, Marriages, 1874-1920. Provo, UT, USA: Ancestry.com Operations, Inc., 2014), the original data being from the Landesarchiv, Berlin.

These records confirm, at least partly, Edward Lasker's story, as they show that Curt von Bardeleben married ten times between 1902 and 1919:
13 September 1902-19 December 1903: Hedwig Beyer (born 24 June 1870; died 10 June 1959);


18 April 1906-20 October 1906: Katharina Kastenmayer (born 8 February 1875);


12 February 1907-12 July 1907: Heinriette Elisabeth Boehnke (born 5 September 1857);


19 August 1907-13 March 1915: Charlotte Luise Therese Michel (born 3 May 1886);


24 April 1915-21 July 1915: Ilse Marie Auguste Sack (born 17 February 1891);


25 February 1916-27 June 1916: Martha Helene Goetsch (born 4 November 1869);


20 November 1916-21 May 1917: Rosa Ida Hedwig Krüger (born 13 August 1879);


14 June 1917-13 June 1918: Marie Elisabeth Thierau (born 8 April 1888);


1 August 1918-8 February 1919: Anna Luise Lange (born 6 June 1892);


25 February 1919: Auguste Anna Ida Schulz (born 18 December 1877).'
(10592)
---
See too The Best Chess Games.
---
Latest update: 7 July 2021.
To the Chess Notes main page.
To the Archives for other feature articles.
Copyright: Edward Winter. All rights reserved.