Stefan Zweig and Chess
Edward Winter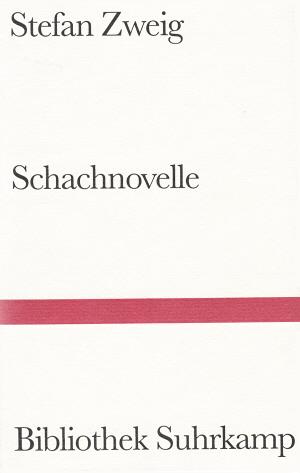 From Oliver Beck (Seattle, WA, USA):
'While observing a game of chess, a character in Stefan Zweig's Schachnovelle (Buenos Aires, 1942) points out its similarity to Alekhine v Bogoljubow, Bad Pistyan, 1922. In fact, beginning with 38...Kh7 the game described in Zweig's novella appears identical to that game.

I find it interesting that Zweig was inspired to use the Alekhine v Bogoljubow game as a model, and I wonder what his source for this game might have been. There appears to be no obvious connection between the text on pages 33-37 of the Suhrkamp Verlag edition ofSchachnovelle (Frankfurt, 2001) and the game's annotations found on either page 139 of the tournament book or pages 84-85 of Tartakower's Die hypermoderne Schachpartie.

Zweig's source may have been another book of collected games. We learn that the aforementioned character had become familiar with this game through his study of "ein Schachrepetitorium, eine Sammlung von hundertfünfzig Meisterpartien" (page 64), and in a letter written in Petrópolis, Brazil on 29 September 1941 and quoted on page 111 of Siegfried Unseld's afterword, Zweig writes:

"... habe eine kleine Schachnovelle entworfen, angeregt davon, daß ich mir für die Abgeschiedenheit ein Schachbuch gekauft habe und täglich die Partien der großen Meister nachspiele."

Can a likely source be identified?'
The matter was discussed in detail in an article 'Stefan Zweig Schachspieler' by Egbert Meissenburg on pages 20-28 of 65 Jahre Schachnovelle edited by S. Poldauf and A. Saremba (Berlin, 2007):
(6940)
---
The Factfinder contains a number of references to Alistair Cooke's interest in chess. We note now a video clip in which he introduces a production of The Royal Game by Stefan Zweig.
(7520)
[Addition on 29 July 2013: the link to the video clip is no longer working. Can another one be found?] 24 May 2015 (C.N. 9293): Paolo Bertino (Madrid) provided a new link.
---
Below are the English editions of Stefan Zweig's Schachnovelle in our collection. For identification purposes, the first sentence of the story is quoted in each case, i.e. the translation of:
'Auf dem großen Passagierdampfer, der mitternachts von New York nach Buenos Aires abgehen sollte, herrschte die übliche Geschäftigkeit und Bewegung der letzten Stunde.'
---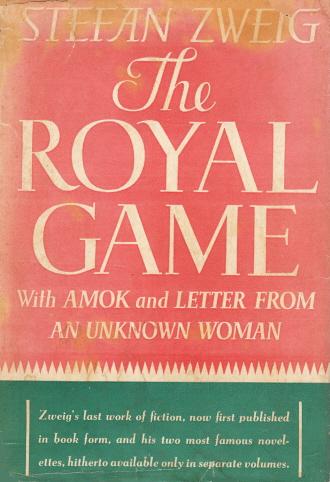 Translation by B.W. Huebsch, published by the Viking Press (New York, 1944 and 1945):
'The big liner, due to sail from New York to Buenos Aires at midnight, was filled with the activity and bustle incident to the last hour.'
Other appearances of this translation are the Armed Services edition (New York, 1944) and the volume published by Pushkin Press (London, 2001 and 2010):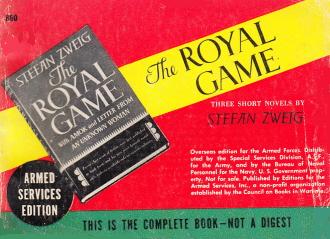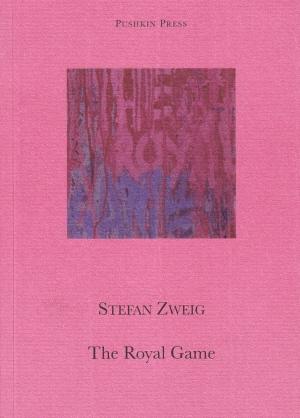 ---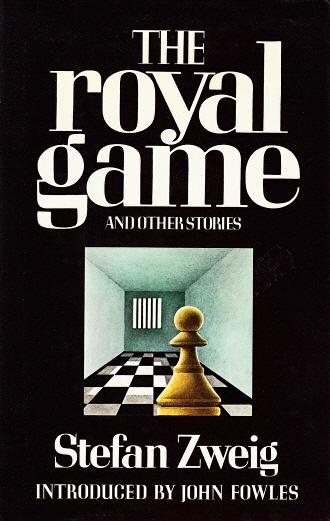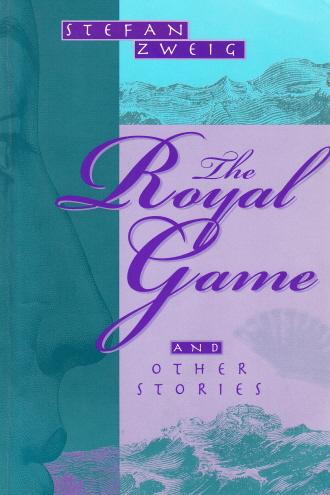 Translation by Jill Sutcliffe, published by Jonathan Cape (London, 1981) and Holmes & Meier Publishers, Inc. (New York, 2000):
'The usual eleventh-hour bustle and commotion reigned on the big liner that was due to sail from New York to Buenos Aires at midnight.'
---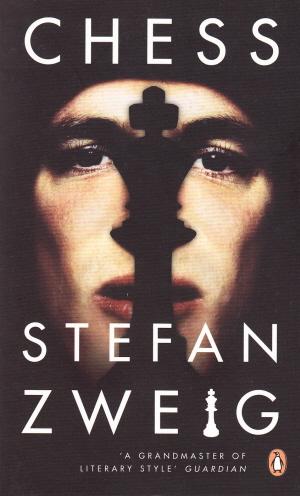 Translation by Anthea Bell, published by Penguin Books Ltd. (London, 2006):
'The usual last-minute bustle of activity reigned on board the large passenger steamer that was to leave New York for Buenos Aires at midnight.'
---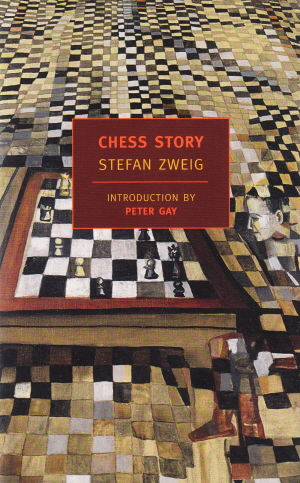 Translation by Joel Rotenberg, published by New York Review Books (New York, 2006):
'On the great passenger steamer, due to depart New York for Buenos Aires at midnight, there was the usual last-minute bustle and commotion.'
(7731)
---
A further article: 'Stefan Zweig's "Chess Novella"' by C.P. Ravilious on pages 20-24 of Kingpin, Autumn 2001.
---
From Oliver Beck:
'An assessment of Stefan Zweig's chess ability can be found in Ernst Feder's contribution to Stefan Zweig: A Tribute to his Life and Work edited by Hanns Arens (London, 1951), page 130. In an essay entitled "Stefan Zweig' s Last Days" Feder describes visiting Zweig on the eve of his suicide. Finding him increasingly melancholic, and unaware that he and his wife were planning to end their lives shortly after his departure, Feder suggested a game of chess:

"At the time I didn't know ... why his wife gave him a long astonished look when he agreed to play a game of chess with me. I suggested this because I hoped that the game he enjoyed so much would divert him from his gloomy thoughts. In itself it was no pleasure to be his opponent on the black-and-white board. I am a poor player myself but he knew so little about chess that I had difficulty in wangling an occasional win for him."'
(7744)
---
The text of The Royal Game was published on pages 55-79 of Chessworld, March-April 1964, introduced as follows:
'Considered by many critics to be the most exciting chess story ever written, The Royal Game appears here for the first time in any chess publication. Undoubtedly written out of Zweig's own fearful experience with the Nazis, the story is also a searing indictment of the frightening system which fostered the tortures described by the chess-obsessed narrator.'
---
A very free French-language adaptation of Stefan Zweig's story in comic-strip form has been produced by Thomas Humeau under the title Le joueur d'échecs (Paris, 2015):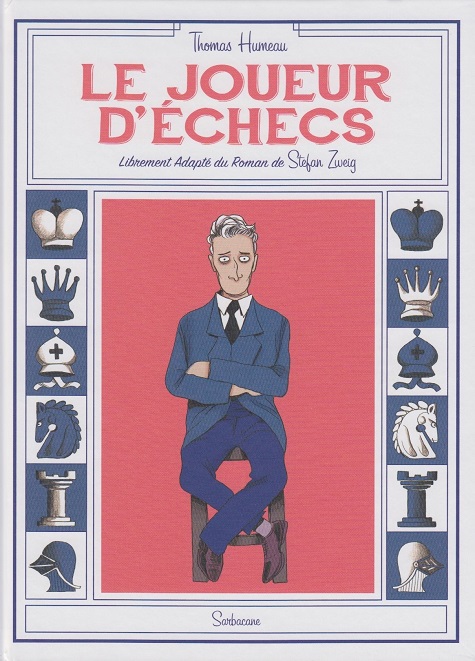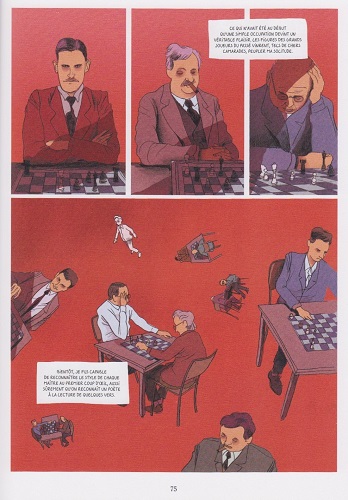 (9730)
---
Latest update: 23 May 2022.
To the Chess Notes main page.
To the Archives for other feature articles.
Copyright: Edward Winter. All rights reserved.