Chess Notes
Edward Winter
When contacting us by e-mail, correspondents are asked to include their name and full postal address and, when providing information, to quote exact book and magazine sources. The word 'chess' needs to appear in the subject-line or in the message itself.
---
7497. Capablanca v Tartakower
On 28 April 1987 Olga Capablanca Clark offered for sale the score-sheet of an unknown game played by her late husband and Tartakower in Paris circa 1938. The text of her letter to us is given in The Genius and the Princess. The reserve price for the score-sheet was not met, and a footnote on page 181 of Kings, Commoners and Knaves mentioned that in 1998 we were unaware of the document's whereabouts. Subsequently (see C.N.s 5323 and 6687) we learned that the score-sheet had become part of the collection of Mr David DeLucia (Darien, CT, USA).
It will be featured in Mr DeLucia's forthcoming work, a two-volume set entitled In Memoriam, and we are most grateful to him for allowing the game to appear for the first time here, in the present C.N. item: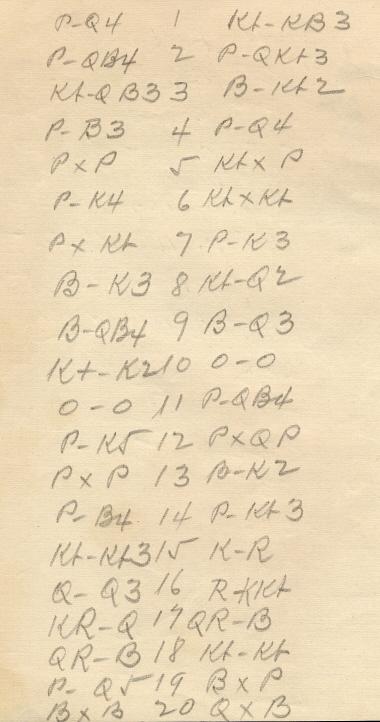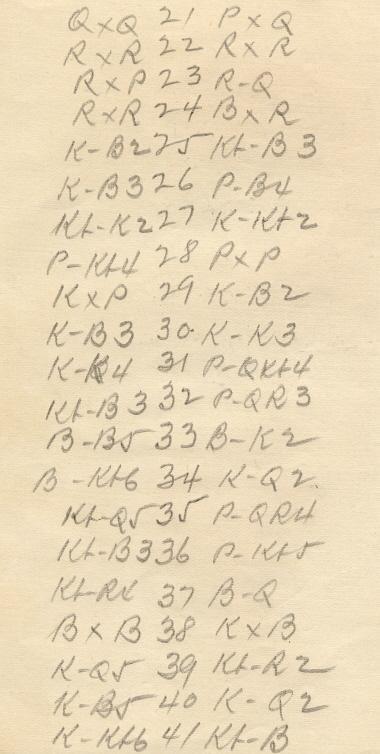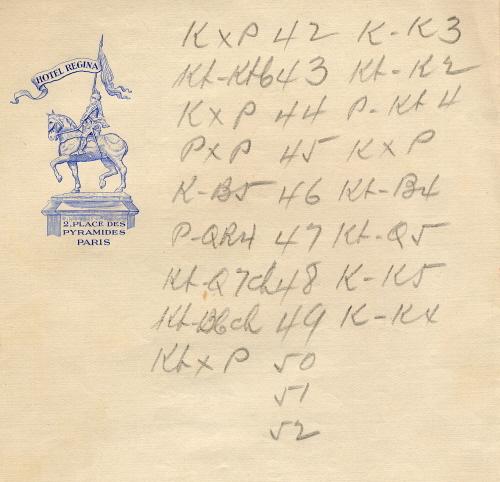 José Raúl Capablanca – Savielly Tartakower
Paris, circa 1938
Queen's Indian Defence
1 d4 Nf6 2 c4 b6 3 Nc3 Bb7 4 f3 d5 5 cxd5 Nxd5 6 e4 Nxc3 7 bxc3 e6 8 Be3 Nd7 9 Bc4 Bd6 10 Ne2 O-O 11 O-O c5 12 e5 cxd4 13 cxd4 Be7 14 f4 g6 15 Ng3 Kh8 16 Qd3 Rg8 17 Rfd1 Rc8 18 Rac1 Nb8 19 d5 Bxd5 20 Bxd5 Qxd5 21 Qxd5 exd5 22 Rxc8 Rxc8 23 Rxd5 Rd8 24 Rxd8+ Bxd8
25 Kf2 Nc6 26 Kf3 f5 27 Ne2 Kg7 28 g4 fxg4+ 29 Kxg4 Kf7 30 Kf3 Ke6 31 Ke4 b5 32 Nc3 a6 33 Bc5 Be7 34 Bb6 Kd7 35 Nd5 a5 36 Nc3 b4 37 Na4 Bd8 38 Bxd8 Kxd8 39 Kd5 Na7 40 Kc5 Kd7 41 Kb6 Nc8+ 42 Kxa5 Ke6 43 Nb6 Ne7 44 Kxb4 g5 45 fxg5 Kxe5 46 Kc5 Nf5 47 a4 Nd4 48 Nd7+ Ke4 49 Nf6+ Ke5 50 Nxh7 1-0.
In Memoriam will be published later this month. Readers interested in ordering the set are invited to let us know, and we shall forward their enquiries to Mr DeLucia.
---
7498. Simultaneous display (C.N. 7476)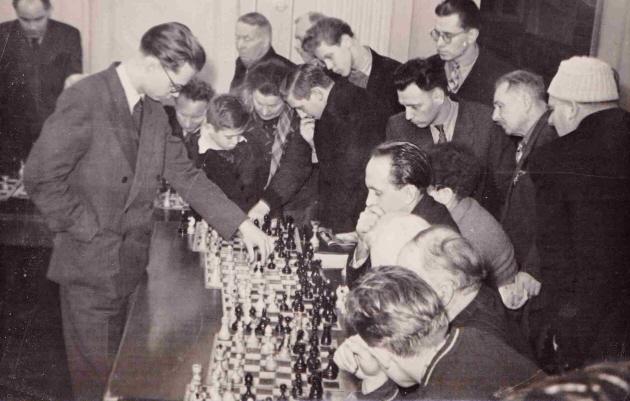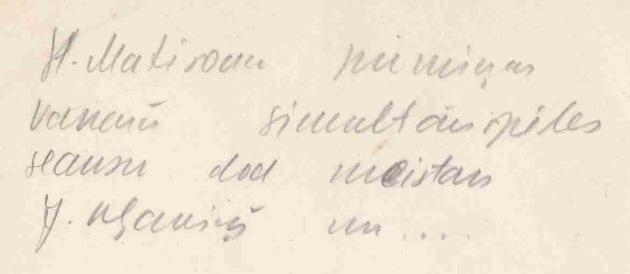 Alexei Shirov (Riga) informs us that the handwritten inscription in Latvian reveals that the occasion was a simultaneous display given in memory of H. Mattison by J. Kļaviņš.
For purposes of comparison, it may be noted that Jānis Kļaviņš (1933-2008) appears in the photograph section of Mikhail Tal Tvortshestvo 1962-1967 (Riga, 1998).
Kļaviņš was also identified by Hassan Roger Sadeghi (Lausanne, Switzerland).
---
Wanted: information about a game whose conclusion was on page 13 of Combinations The Heart of Chess by Irving Chernev (New York, 1960):
---
Steve Wrinn (Homer, NY, USA) submits this previously unpublished game played in a simultaneous exhibition in Billerica, MA, USA:
Boris Spassky – Steve Wrinn
Billerica, 1 February 1987
Nimzowitsch Defence
1 e4 Nc6 2 d4 d5 3 Nc3 dxe4 4 d5 Ne5 5 Bf4 Ng6 6 Bg3 a6 7 h4 e5 8 dxe6 Bxe6 9 Qxd8+ Rxd8 10 h5 N6e7 11 Nxe4 Nd5 12 O-O-O Nb4 13 Rxd8+ Kxd8 14 a3 Nc6 15 Nf3 Nh6 16 Be2 Be7 17 Neg5 Bf5 18 Bc4 Rf8 19 Re1 Bd6 20 Bxd6 cxd6 21 Nh4 Ne5 22 Nxf5 Nxf5 23 Bd5 h6 24 Ne4 Kc7 25 Kd2 Ne7 26 Ba2 N5c6 27 Nc3 Kd7 28 Nd5 Nxd5 29 Bxd5 g5 30 b4 f6
31 f4 Re8 32 Rxe8 Kxe8 33 fxg5 fxg5 34 Kd3 Ne5+ 35 Ke4 b6 36 Kf5 Ke7 37 Bb7 Nc4 38 Bxa6 Ne3+ 39 Kg6 d5 40 Bb7 Nxg2 41 Kxh6 g4 42 Bxd5 Ne3 43 Be4 g3 44 Kg7 Nf5+ 45 Kg6 Nh4+ 46 Kg5 g2 47 Bxg2 Nxg2 48 h6 Kf7 49 c4 Ne3 50 c5 b5 51 Kf4 Nc4 52 c6 Kf6 53 Ke4 Ke6 54 h7 Nd6+ 55 Kd4 Resigns.
Mr Wrinn adds that Spassky scored +30 –2 =10, as stated in the report on pages 30-31 and 34-35 of Chess Horizons, April-May 1987. The magazine had four photographs of the occasion (which included a lecture), as well as annotations by Peter Vlahos to his victory over the former world champion.
---
Details are still sought about Birdie Reeve's chess activities, further to the published claims that she was a prodigy and blindfold exponent.
In the meantime, three photographs which we have acquired recently are in our feature article on Birdie Reeve. They date from 1935, when she was jailed.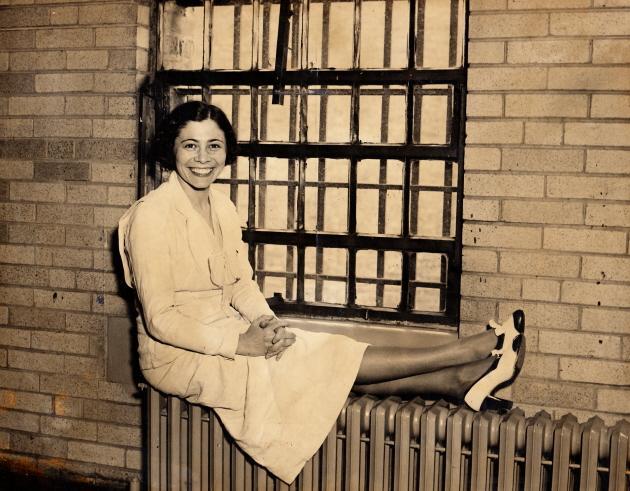 ---
7502. Alekhine's world championship preparation
Félix Valderrama Loyola (Barquisimeto, Venezuela) reports that during a meeting which he had with Julio Bolbochán in Caracas 20 years ago the latter stated that his elder brother, Jacobo, gave Alekhine considerable assistance as a sparring partner in Buenos Aires in connection with the 1927 world championship match.
Our correspondent asks what solid information exists concerning Alekhine's preparation for that match, beyond what he wrote in Auf dem Wege zur Weltmeisterschaft (Berlin and Leipzig, 1932).
---
C.N. 6562 gave this photograph from page 92 of Objectif mat! by R. Bertolo and L. Risacher (Paris, 1978):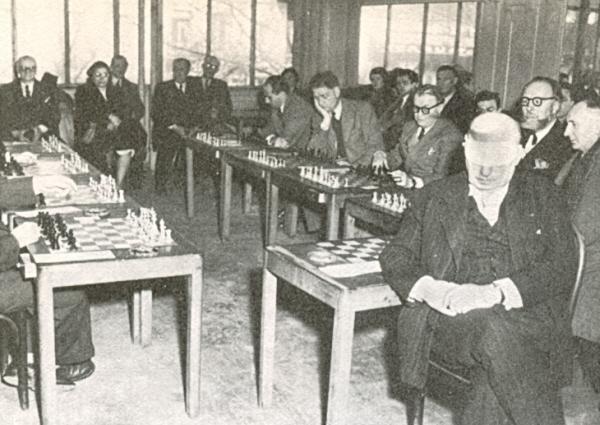 Olimpiu G. Urcan (Singapore) has forwarded the following from page 408 of the Illustrated London News, 14 March 1953: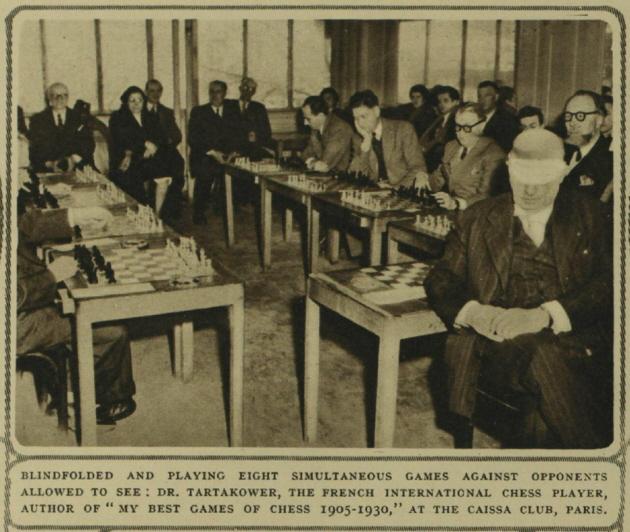 ---
With regard to the queen sacrifice which occurred in the 1910 Réti v Tartakower miniature, Eduardo Bauzá Mercére (New York, NY, USA) has found a similar finish in the game below:
C.E. Hewlett – F.M. Young
Hobart, 1890(?)
King's Gambit Accepted
1 e4 e5 2 f4 exf4 3 Nf3 g5 4 d4 g4 5 Ne5 Qh4+ 6 g3 fxg3 7 Qxg4 g2+ 8 Qxh4 gxh1(Q) 9 Be3 d6 10 Nc3 dxe5 11 O-O-O Qf3 12 Bd2 Bb4 13 dxe5 Bg4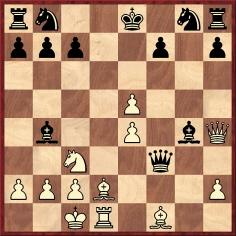 White gave mate in three moves.
Source: Galveston Daily News, 27 April 1890.
---
7505. Mervyn Stewart
'New Zealand is the latest country to announce a chess "prodigy" – in the person of 14-year-old Mervyn Stewart of the Christchurch Club.'
Source: CHESS, February 1943, page 68.
'Mervyn Stewart, aged 16, created the sensation of the tournament [the New Zealand championship in Auckland] by taking fourth prize with 7½ points. He is a "natural" player and, with the necessary study and experience, great things are expected of him.'
Source: BCM, June 1945, page 142.
Can games and other details be found?
---
John Donaldson (Berkeley, CA, USA) points out that during a radio interview (Baguio City, 27 January 1999) Fischer stated that after defeating Petrosian in the Candidates' final match in 1971 he undertook a tour of Argentina for simultaneous exhibitions. In all, he tentatively recollected in the interview, he gave 25 or 30 displays; he insisted on having the original of each game-score (a total of perhaps 600-1,000 games). Fischer added that the game-scores, unpublished, were subsequently stolen from him.
Noting that the Fischer-Petrosian match ended on 25 October 1971, our correspondent lists the following known displays by Fischer:
Buenos Aires, November 1971 (two exhibitions);
La Plata, November 1971;
Córdoba, 21 November 1971;
Tucumán, November 1971.
Mr Donaldson asks whether this list can be expanded and whether it is known where the game-scores are now.
---
The front-cover picture of Chess Review, October 1948: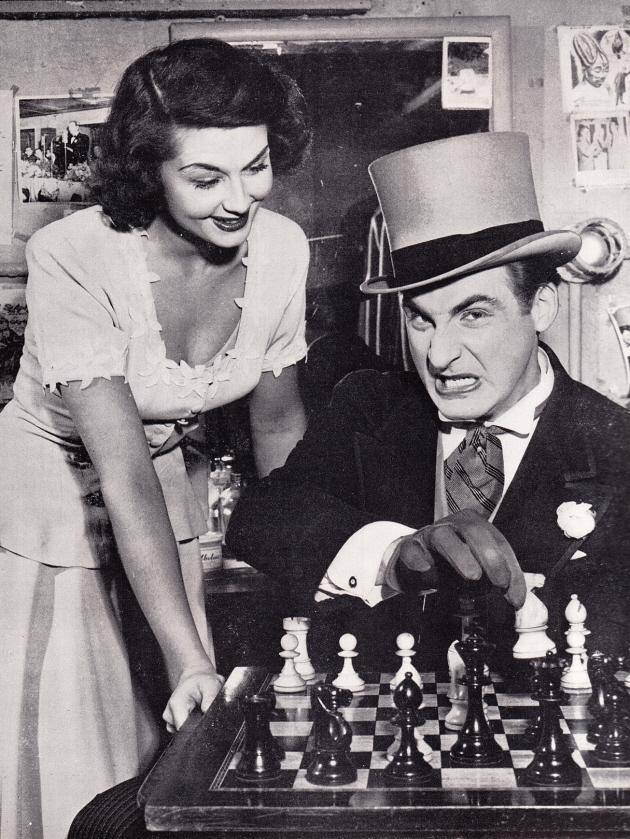 From page 2:
'If looks could kill, anyone facing Sid Caesar, comedy star of the hit musical Make Mine Manhattan, would die laughing. On the other hand, perhaps the wholesome beauty of Barbara Weaver, also a member of the company, offsets Caesar's hilarious mugging.'
---
7508. Belgium v the Netherlands
Pierre Bourget (Quebec, Canada) requests more information about a match reported on page 47 of the March-April 1940 American Chess Bulletin:
---
Eduardo Bauzá Mercére (New York, NY, USA) draws attention to a game published on page 31 of the inaugural (October 1927) issue of El Ajedrez Americano: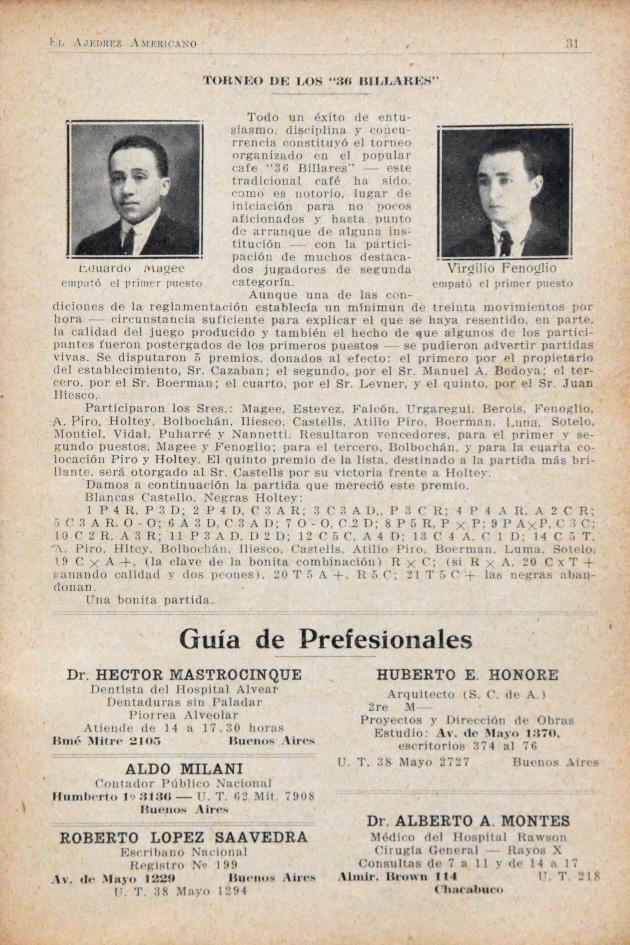 Noting that the game-score was garbled, our correspondent reconstructed it as follows:
Rafael Castells Méndez – Guillermo Holtey
Buenos Aires, 1927
Pirc Defence
1 e4 d6 2 d4 Nf6 3 Nc3 g6 4 f4 Bg7 5 Nf3 O-O 6 Bd3 Nc6 7 O-O Nd7 8 e5 dxe5 9 fxe5 Nb6 10 Ne2 Be6 11 c3 Qd7 12 Ng5 Bd5 13 Nf4 Nd8
14 Nh5 Bh8 15 Ng3 Be6
16 Qh5 gxh5 17 Bxh7+ Kg7 18 Nxh5+ Kh6 19 Nxe6+ Kxh5 20 Rf5+ Kg4 21 Rg5+ Resigns.
A curious point is that in our bound volume of the Argentinian magazine the page has been amended (providing corroboration of Mr Bauzá Mercére's reconstruction):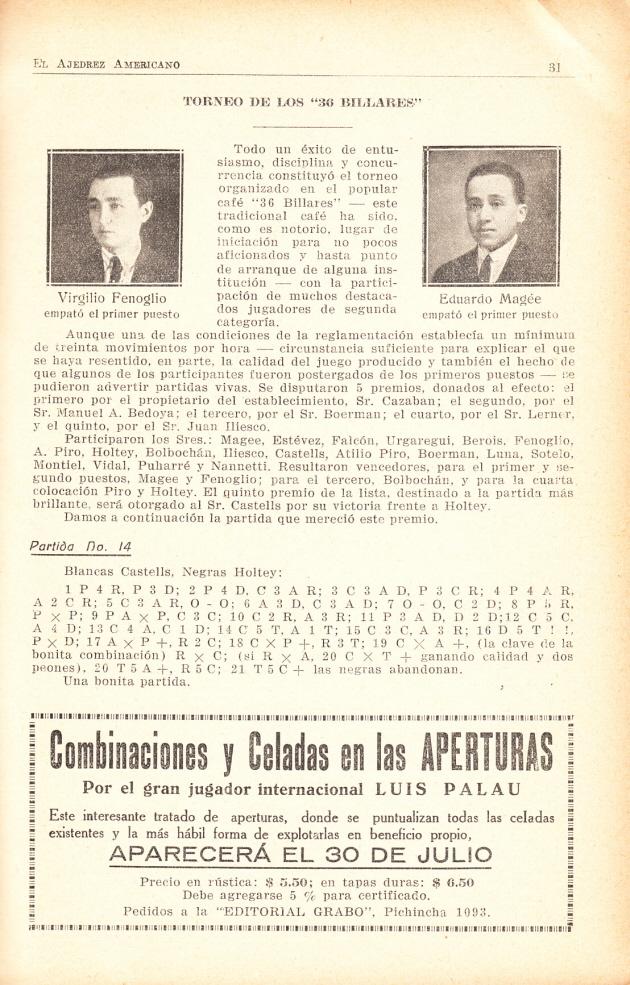 ---
From Olimpiu G. Urcan comes this photograph on page 643 of the Illustrated London News, 12 October 1929: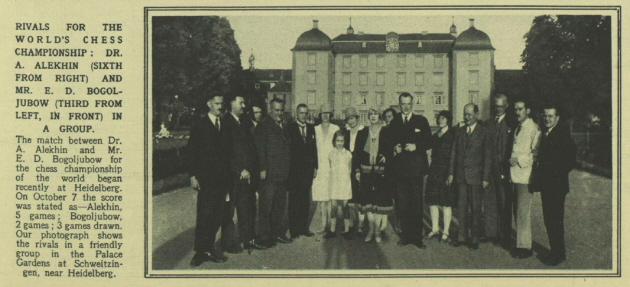 ---
Mr Urcan has also found these photographs: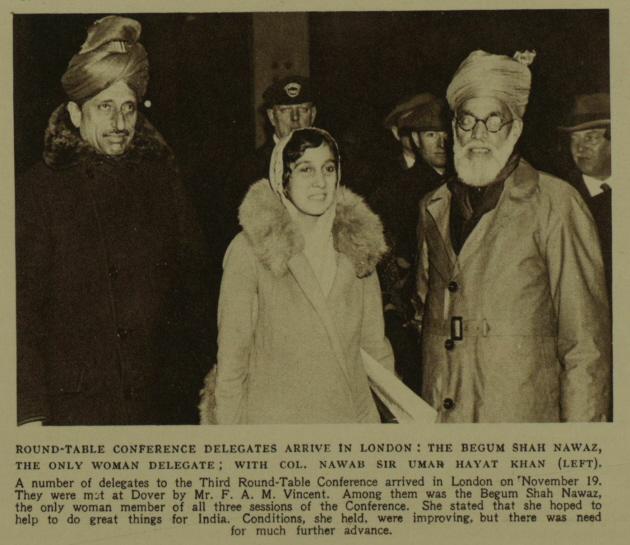 Illustrated London News, 26 November 1932, page 853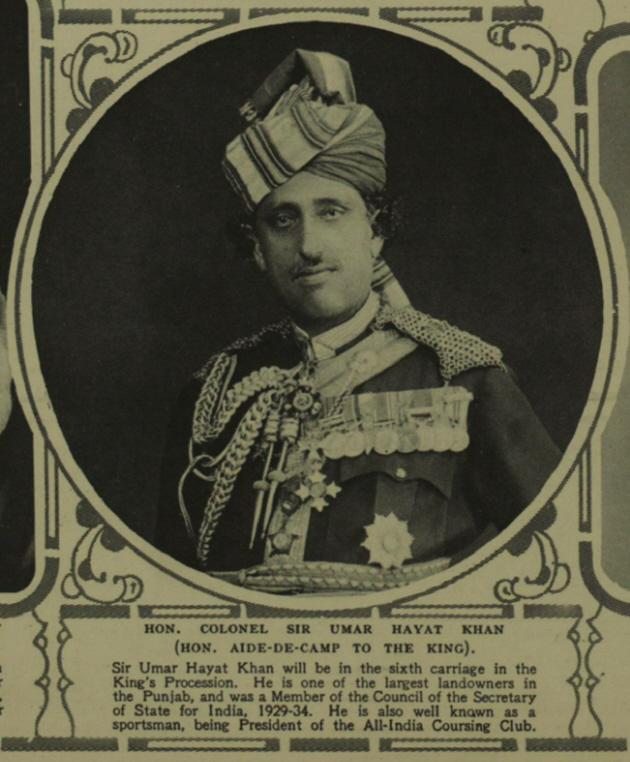 Illustrated London News, 4 May 1935, page 740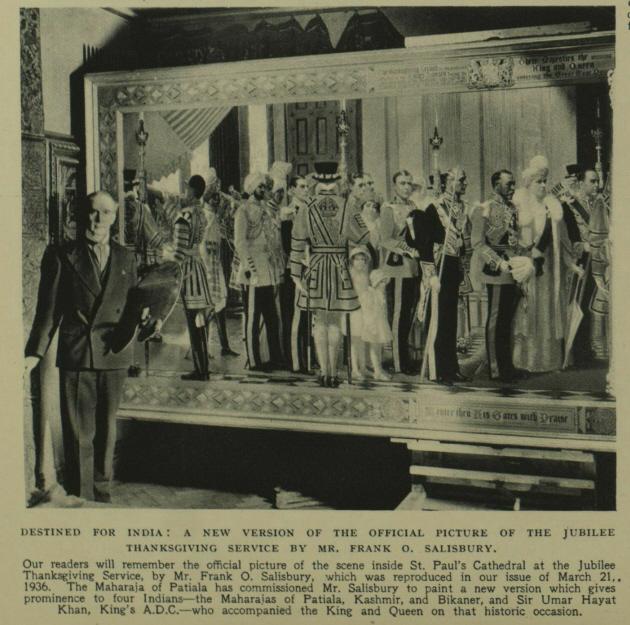 Illustrated London News, 20 March 1937, page 506.
---
7512. Visitors welcome
This article by G.H. Diggle was published in the September 1984 Newsflash and on page 9 of volume two of Chess Characters (Geneva, 1987):
'The "Old Chess Columnists' Triennial Outing" took place this month, when the BM and his old contemporary "T.W.S." of the Luton News appeared, like Pistol and Bardolph, at the BCF Congress at Brighton, having been officially informed that not only was "Admission Free" but that "Visitors would be welcome". Of course, the BM has heard this last one before. Too often has he been allured by "friendly" Congresses where, after timidly creeping halfway through a forbidding door with its handle muffled, and with "Strict Silence During Play" placarded all over it, he at once received "the icy eye" from an official at a side table, and remained frozen to the spot, causing a second official to growl like Larry Grayson "Shut That Door". But this goes back to the "stiff collar and heavy moustache" days of the Georgian era, a very different setting from that in August 1984; when the great Hall of the Brighton Centre was filled with hundreds of competitors in holiday attire, and though "it would help to minimize noise if players and spectators wore soft-soled shoes", the atmosphere was cordial; it was "Quiet please" rather than"Shut That Door", and officialdom, brilliantly though unobtrusively organized, kept, as the papers say, "a low profile" and presented "a benevolent image", especially when "baby-sitting" with the Under-Nines.

Among the performing "greats" the BM (though with difficulty) recognized our new Grandmaster (and, as it turned out, Champion) Nigel Short – considerably elongated since the BM last saw him in 1978 when he demolished the City of London in a famous "simul" at Salters' Hall – Tony Miles looking very relaxed after recent stern grandmaster Tournaments, and – sauntering amiably between his moves in the same carefree manner as Charles the Second – Jonathan Speelman, Champion in 1978, rather reminding one of Zukertort, though Z.'s was a heavier countenance. But apart from the Championship itself, equally illustrious faces were to be discovered "in another place", as it would seem that famous surviving Championship warriors of the past are now serenely elevated to the House of Lords, i.e. the Veterans' Tournament. It was pleasantly nostalgic to observe the two great Congress Archbishops of British Chess History, Harry Golombek and W. Ritson Morry, amicably crossing swords once more, though the latter seemed to be attempting to "smoke the unsmokable" – the tiniest of cigars resembling a "true geometrical point" which (says Euclid) "has position but is said to have no magnitude".

The Congress Programme, though costing £1, was well worth the money. Besides containing messages from Mr John Brew, Chief Executive of Grieveson Grant, the Mayor of Brighton, the Presidents of the BCF and the Sussex Chess Association, and the indefatigable Congress Director Stewart Reuben, it gave a full historical list of British and British Lady Champions from 1904 to 1983 and the full names of every one of the 700 competitors, from the Championship to the Under-Nines. From this last item T.W.S. excitably discovered that not all the competitors were human and, as though we were at the Zoo, "wanted to go to see the Computers", but unhappily none of the four was in action, and indeed "anyone who would prefer not to play a Computer" was invited to "make their views known to the Controller" should they find one of these monsters crawling about in their Section.'
---
From an article 'Echecs et publicité' by Jean Buchet on pages 28-30 of L'Echiquier de Paris, March-April 1949: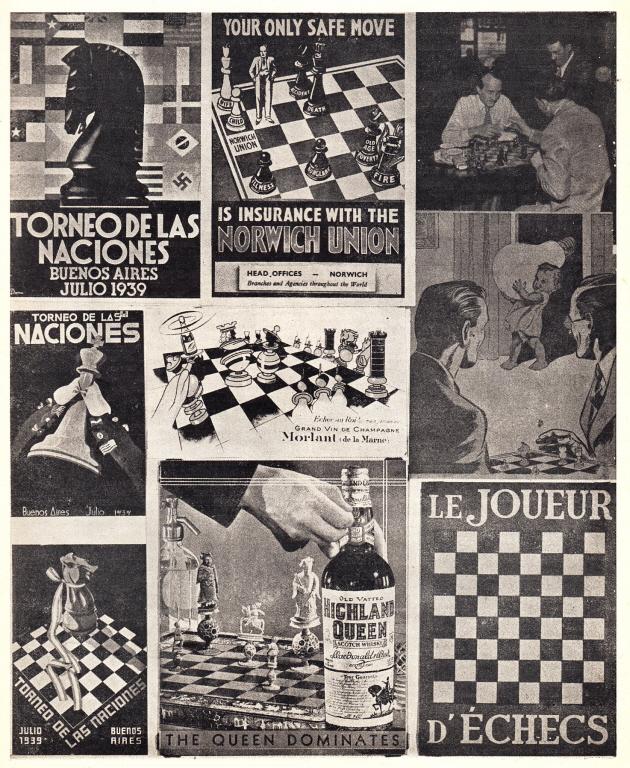 It was stated that the three olympiad posters (by, respectively, B. Juan Dell'Acqua, Ernesto M. Scotti and Alfredo Franzetti) were the winners of a competition set by the organizing committee, that the Norwich Union poster appeared during the Nottingham, 1936 tournament, that the photograph in the top right-hand corner was published in the Schweizer Illustrierte Zeitung of 10 February 1937 in an advertisement for the painkiller Togal, and that the light-bulb advertisement (Philips) was taken from the Algemeen Dagblad of 16 March 1948.
---
7514. F.M. Edge letters
John Townsend (Wokingham, England) has found in the National Archives three letters to Lord John Russell (1792-1878) in connection with F.M. Edge. The first was written by Thomas Brett Chester, a solicitor who lived on the west side of London:
'1 December 1860

My Lord,

I write to ask the privilege of an interview from you for Mr Edge a Gentleman possessing a master mind which for many years he devoted to travel in America for the purpose of studying their Political principles, economy and window of action specially in relation to Slavery. On returning to England he was resolved to write a work "Slavery doomed" denounced at the time as extreme if not futile in its anticipation but there were thinking Christian minds who felt its truth and force – and not a few in the Political world who acknowledged its remarkable ability. Recent & culminating events in America have fully proved in rapid sequence how thoroughly Mr Edge had studied & was able to grapple with his subject and to forecast the course of events which are only now in their commencement. Mr Lincoln's advent must lead to an almost entire re-organization which will seriously affect England. As an Englishman then I entreat you to see Mr Edge. I am sure he will afford you truthful valuable information and insight into the working and probable results of the present struggle. Knowing the value of your time and the pressure of engagements I would not frivolously trespass upon you but I am sure you would be thankful for the interview.

I have the honour to be
Your Lordship's most obedt. Servt.
T.B. Chester.

The Rt. Honble. Lord John Russell'
On a separate piece of paper attached to this letter is written:
'Mr T.B. Chester, 1 December 1856 [sic]
Asks interview for Mr Edge as a gentleman well acquainted with the state of America.
I should be glad to see him on Saty. at ½ p. 2.'
Reference: PRO 30/22/39, ff. 34-36.
---
'To the Right Hon. Lord John Russell MP
Her Majesty's Principal Secretary of State
For the Foreign Department

My Lord,

I beg most respectfully that your Lordship will be pleased to accord me an interview believing that I am in possession of such information in reference to the present revolution in the United States as may be of service to Her Majesty's Government.

I should not presume to trouble your Lordship were it not that personal acquaintance with American statesmen and politics of all parties enables me to foresee many dangers menacing this country; while at the same time, I might be permitted to offer a suggestion which, if carried into effect, would relieve our manufacturers from much anxiety.

I have the honor to be,
My Lord,
Your Lordship's most obedient
and very humble servant,

Frederick Milnes Edge
49 Hanover Street, South Belgravia

10 December 1860.'
On the reverse of this letter is written:
'Mr Edge
10 December 1860
Information respecting
United States
Asks interview.'
Reference: PRO 30/22/39, ff. 37-38.
---
The third letter was written by Stephen Bourne. Mr Townsend notes that Bourne, who died in 1868 aged 76, edited the World newspaper, which was incorporated with the Patriot in 1831.
'3 Melbourne Street, Brixton

15 December 1860

Dear Lord,

The last time I was at Chesham Place, I left with Your Lordship a book on the state of American Politics written by Mr Fred'k Edge. Since that publication Mr Edge has called on me several times.

The day before yesterday he informed me that he was to see your Lordship as this day but as he owed the appointment to a personal friend who is connected with the Conservative party he fears he may be ranked as one of them. He has asked me therefore to state to your Lordship, what I believe, that he is on the Contrary an advanced Liberal. He is well informed on American Politics.

I will take the liberty of calling at Chesham Place some morning in hopes of getting five minutes with you after breakfast as I have something to suggest on the same subject.

Ever Dear Lord
Faithfully yours

Stephen Bourne.'
On a separate piece of paper attached to this letter is written:
'Mr S. Bourne
15 December 1860
Respg. Mr Edge.'
Reference: PRO 30/22/39, f. 39.
---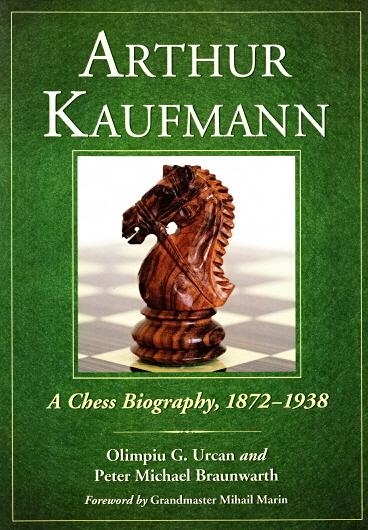 Arthur Kaufmann is a curiosity among twentieth-century masters in that he has yet to be positively identified in any photograph. The new monograph Arthur Kaufmann A Chess Biography, 1872-1938 by Olimpiu G. Urcan and Peter Michael Braunwarth (Jefferson, 2012) has been able to trace but two brief physical descriptions of Kaufmann by contemporaries (Josef Krejcik and Bettina Bauer, on pages 19 and 119 respectively).
C.N. 6232 mentioned that Kaufmann died in 1938 (and not 'circa 1940' as given in reference books). Page 132 of the McFarland book reproduces his death certificate, which is given below courtesy of Mr Urcan: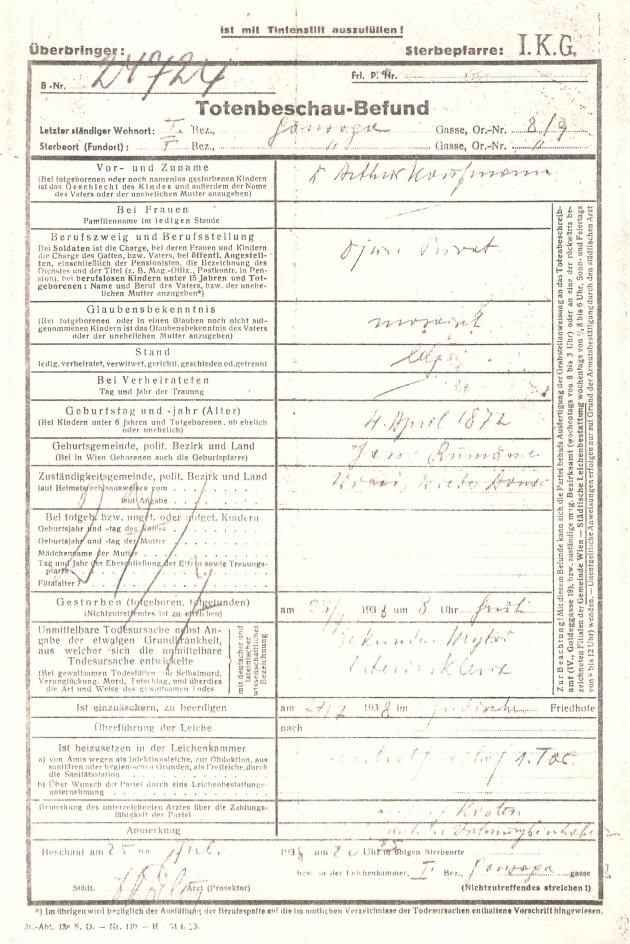 ---
7516. Valentine card
Presented without comment: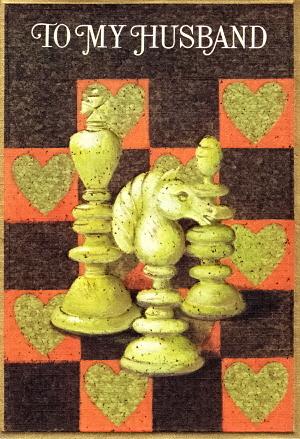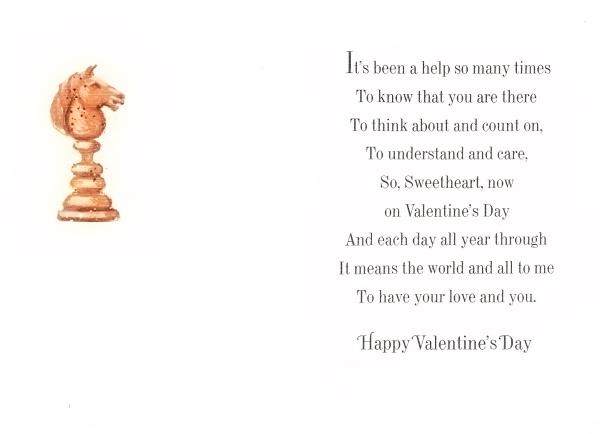 ---
An easier identification question than usual:
---
7518. Arthur Conan Doyle
Vitaliy Yurchenko (Uhta, Komi, Russian Federation) draws attention to the highlighted passage on page 196 of Mnogolikaya Kaissa by G.S. Aleksandrovich and E.S. Stolyar (Moscow, 1989):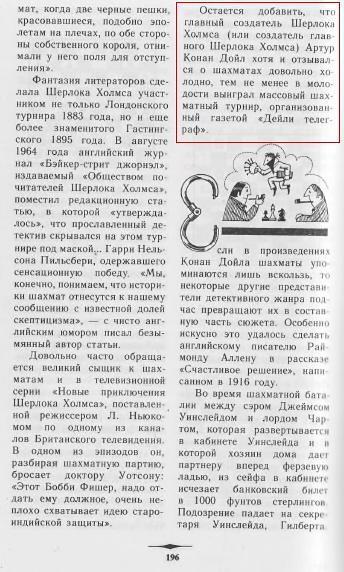 Below is an English translation supplied by Dan Scoones (Victoria, BC, Canada):
'It remains to be added that Arthur Conan Doyle, the principal creator of Sherlock Holmes (or the creator of the principal Sherlock Holmes), despite treating chess somewhat coldly, won in his youth a chess tournament for the masses organized by the newspaper the Daily Telegraph.'
What is known about Conan Doyle and chess?
---
From Vijay D. Pandit (Mumbai, India):
'C.N.s 4703 and 4715 comment on the book Essays on Chess (Bombay, 1814). Its original Sanskrit title is "Vilas-mani-manjari", and the author's name is indeed Trivengadacharya.

I am now in possession of a copy of the 87-page book which contains the Sanskrit text of the original manuscript and comments in Marathi added by the historian V.K. Rajwade (1863-1926); it was published by the Rajwade Research Centre, Dhule, after his death.

The book is printed in Devanagari script, which is used to write Sanskrit (and Marathi). Devanagari is phonetic in character (having 36 consonants and 14 vowels). The spelling and pronunciation of names (and words) are identical in this script.

In the Sanskrit text (shloakas) the author himself has given his name as Trivengadacharya. Until I saw this copy I had the impression that the name might be Thiruvenkatacharya. The South Indian (especially Tamil) names being long and difficult to pronounce, slight corruptions with them are common. We have, however, to accept here the way in which the author has chosen to identify himself.'
---
The Factfinder contains a number of references to Alistair Cooke's interest in chess. We note now a video clip in which he introduces a production of The Royal Game by Stefan Zweig.
[Addition on 29 July 2013: the link to the video clip is no longer working. Can another one be found?]
---
7521. Bobby Fischer in Argentina (C.N. 7506)
A list of locations in Argentina where Fischer gave simultaneous displays in 1971 has been provided by John Donaldson (Berkeley, CA, USA), from page 53 of the February 1972 issue of Ajedrez:
Rosario

Paraná

Tucumán +17 –2 =1

Buenos Aires

Resistencia

Corrientes

Salta

Jujuy

Córdoba (21 November) +16 –1, =3

San Juan

Mendoza

Neuquén

General Roca

Bahía Blanca

Balcarce

Mar del Plata

La Plata.
Eduardo Bauzá Mercére (New York, NY, USA) notes that page 26 of the January 1972 issue of Ajedrez published a photograph of Fischer in Tucumán watching the game Quinteros v Ferreira in the final round of the Pan American team championship: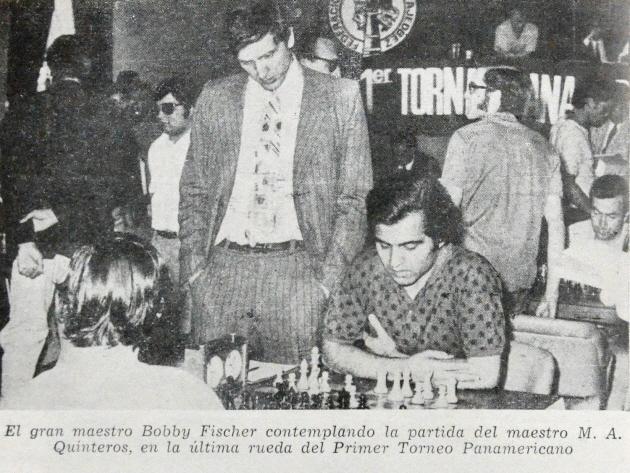 ---
In this position (from a game between Vandervelde and Schloesser, after 1 e4 e5 2 Nf3 Nc6 3 Bc4 Bc5 4 d3 h6 5 O-O Nf6 6 Nc3 O-O 7 Ne2 d6 8 h3 Nh7 9 Ng3 Be6 10 Bb3 a5 11 c3 a4) the 1 July 1871 issue of the Westminster Papers stated:
'Mr Schloesser forgets Mr Lowe's celebrated saying, "Pawns are not picked up in the street".'
A note to a game on page 89 of the 22 February 1881 Chess Player's Chronicle ended:
'... as we have heard a distinguished master very often remark, "Pawns are not to be picked up in the street".'
Or, again, from an article 'Memories of the Divan' by Senex on pages 80-82 of Checkmate, January 1903:
'... old Lowe, proprietor of a hotel near the Strand, the most genial of instructors, with his famous maxims, like "pawns are not picked up in the street".'
---
An original solution to the Wallace murder case is proposed in The Killing of Julia Wallace by John Gannon (Stroud, 2012).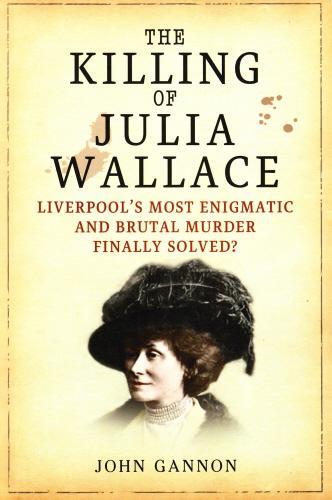 ---
7524. George Bernard Shaw
Michaël Smorowski (La Garde, France) owns this poster, dated 1972 and acquired in St Petersburg, concerning a production of The Apple Cart by George Bernard Shaw:
---
Mr Smorowski asks for a photograph of Fritz Van Seters. Shots from his later years can be found in the section about him on pages 92-100 of the 1988 book Histoire des maîtres belges by Michel Wasnair and Michel Jadoul. An older picture comes from page 52 of the February 1936 BCM: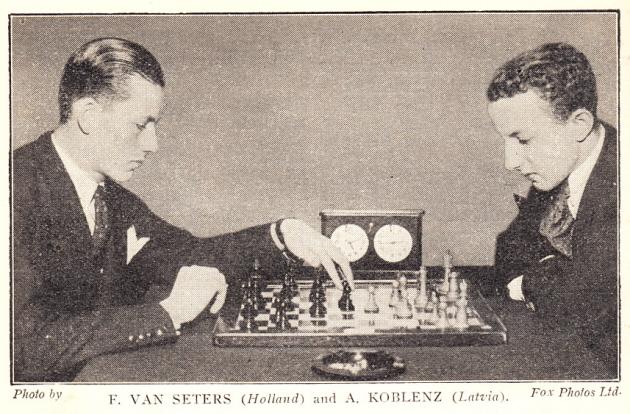 Following Van Seters' death, CHESS (May 1977, page 239) described him as follows:
'A fine player, a very pleasant fellow and, without being a dandy, the smartest chessplayer we've ever met: impeccable.'
---
At the British Newspaper Archive Chris Eve (Victoria, BC, Canada) has found a number of items about Conan Doyle and chess:
The Morning Post chess column of 25 October 1897, page 2, listed Conan Doyle among the participants in a chess dinner: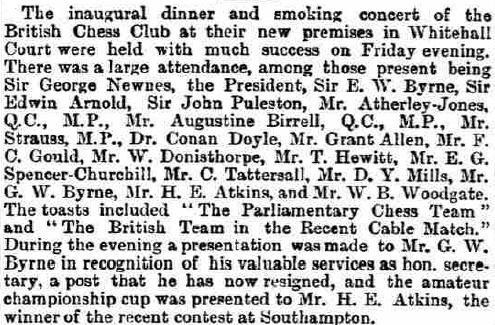 The Evening Telegraph, 12 June 1900, page 4, had the following: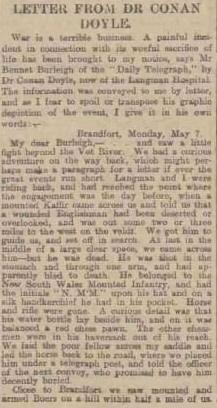 Finally, from the Gloucester Citizen of 13 January 1903, page 4: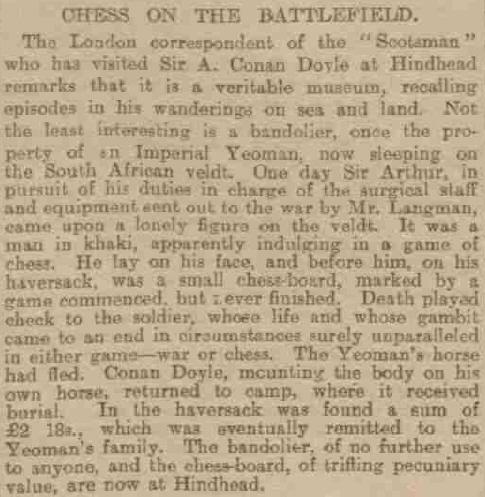 ---
Steve Wrinn (Homer, NY, USA) notes a discrepancy in the game-score Grünfeld v Tartakower, Semmering, 1926.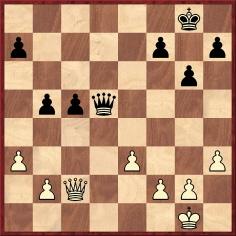 In this position, the question is whether play went 26 f4 c4 27 Qc3 Qe4 or 26 Qc3 c4 27 f4 Qe4. Our correspondent notes that Tartakower gave the former in the first volume of his Best Games but the latter when annotating the game at the time, in Kagans Neueste Schachnachrichten: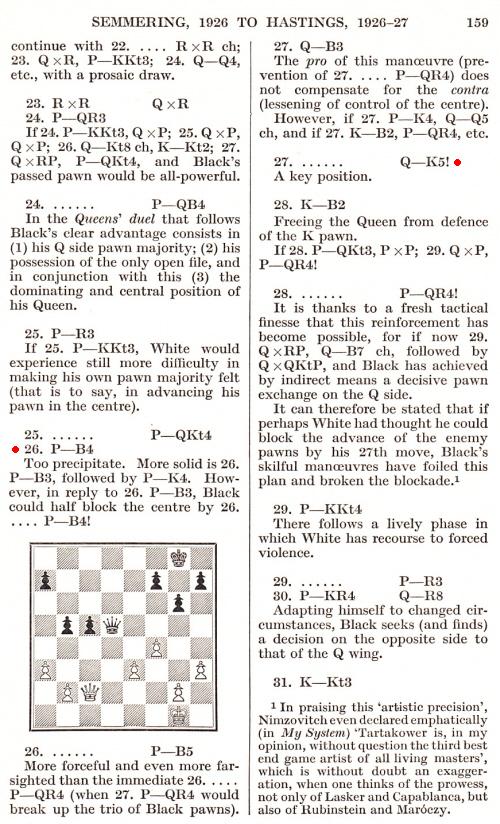 My Best Games of Chess 1905-1930 by S.G.Tartakower (London, 1953), page 159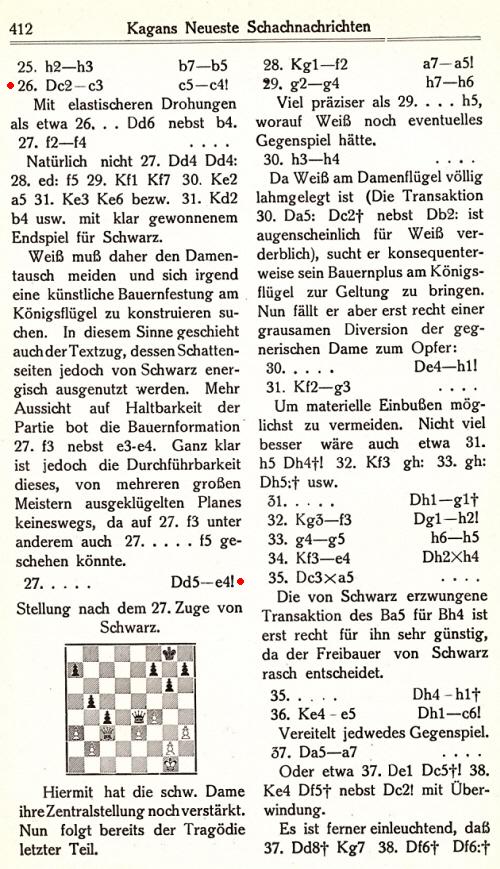 Kagans Neueste Schachnachrichten, July-September 1926, page 412
---
7528. Chail, 1925
For the forthcoming book on Indian chess history referred to in C.N. 6152 Manuel Aaron (Chennai, India) is trying to resolve a discrepancy concerning the result of the tournament held in Chail (Patiala Princely State) from 29 May to 13 June 1925. The crosstable indicates that B. Kostić finished second with ten points, half a point behind N.R. Joshi, whereas Kostić subsequently stated (East African Standard, 19 September 1925) that the two players tied for first place. The matter hinges on whether Kostić's game against S. Kishanlal, who finished third, was a win for Kostić, as he claimed, or only a draw. Can the game-score be found?
---
Stephen Davies (Kallista, Australia) notes that there are frequent references to Daniel Starbuck, including a number of additional game-scores, in Mirror of American Sports of the 1880s. A file is accessible from the first page of the index of the Cleveland Public Library Digital Gallery.
---
From Olimpiu G. Urcan (Singapore) comes this cutting: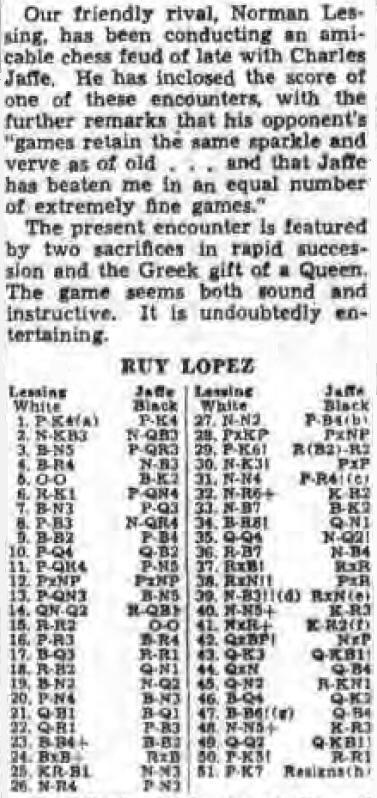 Norman Lessing – Charles Jaffe
Friendly game (venue and date?)
Ruy López
1 e4 e5 2 Nf3 Nc6 3 Bb5 a6 4 Ba4 Nf6 5 O-O Be7 6 Re1 b5 7 Bb3 d6 8 c3 Na5 9 Bc2 c5 10 d4 Qc7 11 a4 b4 12 cxb4 cxb4 13 b3 Bg4 14 Nbd2 Rc8 15 Ra2 O-O 16 h3 Bh5 17 Bd3 Ra8 18 Rc2 Qb8 19 Bb2 Nd7 20 g4 Bg6 21 Qc1 Bd8 22 Qa1 f6 23 Bc4+ Bf7 24 Bxf7+ Rxf7 25 Rec1 Nb6 26 Nh4 g6 27 Ng2 f5 28 dxe5 fxg4 29 e6 Rfa7 30 Ne3 gxh3 31 Ng4 h5 32 Nh6+ Kh7 33 Nf7 Be7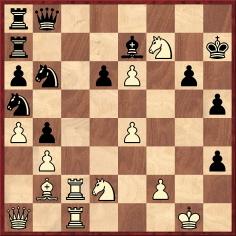 34 Bh8 Qg8 35 Qd4 Nd7 36 Rc7 Nc5
37 Rxe7 Rxe7 38 Rxc5 dxc5
39 Nf3 Rxf7 40 Ng5+ Kh6 41 Nxf7+ Kh7 42 Qxc5 Nxb3 43 Qe3 Qf8 44 Qxb3 Qc5 45 Qb2 Rg8 46 Bd4 Qe7 47 Bf6 Qc5 48 Ng5+ Kh6 49 Qd2 Qf8 50 e5 Rh8 51 e7 Resigns.
Source: page a7 of the New York Post, 14 January 1939.
---
Further to our material on page 258 of Chess Facts and Fables and in C.N. 7236, Mr Urcan has found this report on page 18 of the New York Evening Telegram, 28 December 1921:

---
7532. The Wallace murder
Our article Chess and the Wallace Murder Case quoted from page 269 of the 1969 book The Killing of Julia Wallace by Jonathan Goodman:
'Perhaps the worst libel of all was contained in an article "The Crime at 29 Wolverton Street", which appeared in the May 1932 edition of a magazine called True Detective Mysteries.

A photo-montage was given a centre-page spread, with Wallace standing on one side of a chess board, [Detective Superintendent] Hubert Moore on the other. Beneath the picture of Wallace a caption invited the readers to "observe his long, tapering fingers". The chess analogy was continued in the article, the implication being that Wallace, the master, thinking out his moves in advance, had had little difficulty in outwitting a bone-headed Moore. (Come to think of it, the article provided as many grounds for Moore suing the magazine as it did for Wallace.)

But the printers and publishers of True Detective Mysteries were in luck. The writ against them was not issued until February 1933. Before the statement of claim could be discussed in chambers the plaintiff died.'
We added:
'More information about that magazine item is sought. Can the reference be verified? We have the May 1932 issue of True Detective Mysteries, a New York publication, but it contains no such Wallace material.'
Page 174 of John Gannon's new book (C.N. 7523) states that the article was in the 'December 1931 issue (vol. 16 no. 3)' of True Detective Mysteries, which has enabled us to acquire the magazine. The Wallace article, by Hubert Dail, 'Noted Foreign Correspondent and Investigator', appeared on pages 28-33 and 76-78. The first two pages: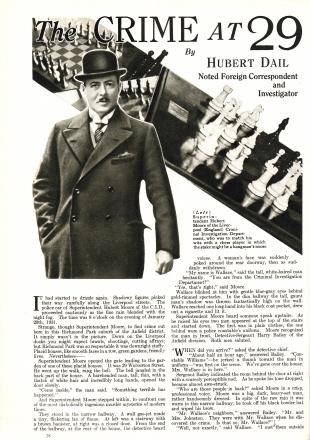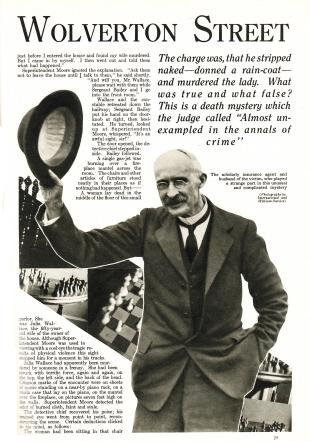 A photograph purporting to show Wallace's 'unusually long fingers' was on page 33. The article has few references to chess, although there is, on page 78, an alleged remark by Moore to Wallace when charging him with murder:
'"We believe", he went on relentlessly, that you planned this crime and carried it out with the same skill and foresight you would use in playing a chess game. Your moves were perfectly timed.'
Our reading of the article is that Hubert Dail considered Wallace guilty, with Moore the hero of the account and not remotely 'bone-headed'. Consequently, we do not understand Jonathan Goodman's suggestion that Moore could have sued the magazine. Virtually nothing of what Goodman wrote about the True Detective Mysteries article corresponds to what appeared in it.
---
7533. Advertisement (C.N. 7513)
An advertisement for Probak blades from page 65 of True Detective Mysteries, December 1931: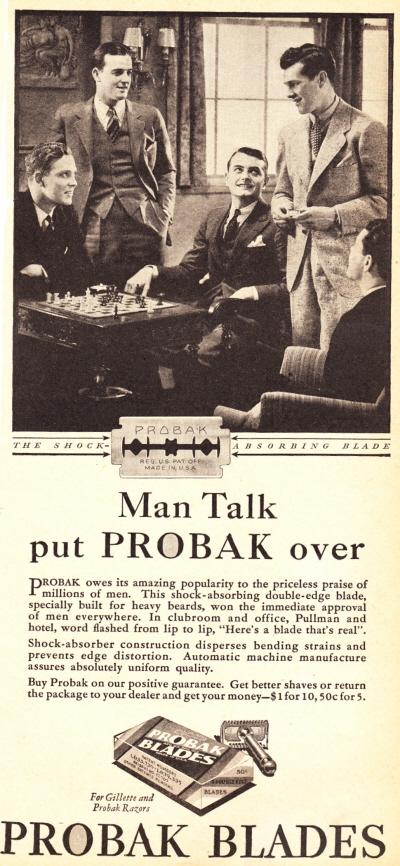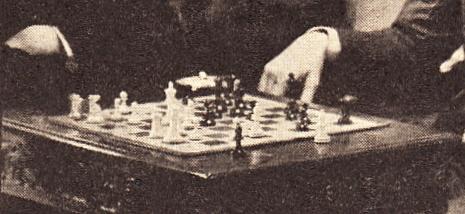 ---
Luca Monti (Castellanza, Italy) asks for information about an event reported on page 342 of the October 1949 BCM:
'On his way back to Buenos Aires after a long stay in New York, Herman Pilnik broke his journey at Havana and took part in a small tournament. He won first prize in front of the well-known Peruvian master E. Canal, who finished second.'
In a list of the 'principal international tournaments in 1949' the following appeared on page 2 of the January 1950 Chess Review:
'Havana (Cuba), won by Herman Pilnik then of Argentina, ahead of Esteban Canal of Peru.'
In the same magazine (January, 1949, page 10; May 1949, page 151; September 1949, page 258; October 1949, page 292) there are references to Pilnik's movements, but with nothing about any tournament in Havana.
The first of these items:
---
7535. Six Graves to Munich
John Roycroft (London) points out a number of chess-related passages in the novel Six Graves to Munich which Mario Puzo published, under the name Mario Cleri, in 1967, two years before the appearance of The Godfather. The following comes from pages 177-178 of the 2010 paperback edition:
'Rogan worked intently at the table for nearly three hours. He drilled a hole in the bottom of the king, and then took the bottom out entirely. Working very carefully, he hollowed out the inside of the chess piece and packed it with liquid explosive, wires, and the tiny electronic parts. When he was finished he put the bottom back on, and then with buffing cloth and enamel he hid all scratches and chips. He held the chess piece in his hand, trying to see if the extra weight was too obvious. He did notice a little difference, but he reasoned that this was because he was looking for the difference. The piece would pass.

He turned to Vrostk. "At eight o'clock tonight this thing will blow up in Pajerski's face."'
---
From page 357 of the December 1949 Chess Review:
'The claim is made that it is now possible to solve two-move chess problems automatically by means of an electronic calculating machine. Even if this device portends the invention of a monster that can play a whole game, the world of human chess, it is safe to predict, will stick resolutely to its time-honored methods of enjoying the royal game. It is fascinating, however, to speculate on whether a machine could ever defeat a Botvinnik and outstrip Ambrose Bierce's fantastic thriller Moxon's Master.'
---
Copyright: Edward Winter. All rights reserved.