Jan Timman on
A Chess Omnibus by Edward Winter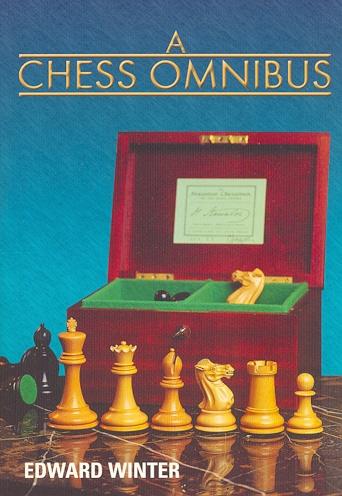 The Foreword to A Chess Omnibus:
Players, including the strongest, can derive great pleasure and instruction from the heritage of chess, a hinterland in which we can relax and profit from the game's rich culture. Unfortunately, though, much of what passes for chess history is simply myths or, at best, old facts, anecdotes and games which, even if accurate, we have all seen hundreds of times before.
Writers on chess history and the games of yesteryear are not normally pathfinders or perfectionists, but Edward Winter is an exception, taking great pains not only to tackle difficult research tasks but also to present the facts precisely. Throughout his writings he keeps the reader fully aware of the source of the information offered, and such respect for truth, which is also respect for the reader, is rare indeed in chess literature.
Winter was faithful to this approach in Chess Explorations (1996) and Kings, Commoners and Knaves (1999) and remains so now with A Chess Omnibus. The work is based on his famous 'Chess Notes' column, which began over 20 years ago as a privately-published journal and developed into a column (which appeared in various magazines, including, for a regrettably short time, New in Chess) and is now blossoming, richly illustrated, at the Chess Café.
A huge variety of subjects are covered, ranging from 'pure', academic chess history to the presentation of hundreds of unknown games, carefully researched with exact citations. Yet Winter is not dry. There is humour too, but the jokes are not there just for entertainment. Often they help make a serious point.
Although Winter follows contemporary chess closely, he seldom writes about it, since he likes to focus on areas that others tend to neglect. Nor does he believe in using his writings as a soapbox for whatever views he may hold. Indeed, he discloses few of his own opinions and evidently has little interest in disputing other people's. In contrast, he applies – to himself even more than to other writers – demanding standards of factual precision. If he criticizes another writer, he does so fairly by setting out the facts for the reader to inspect for himself.
A key to Winter's books is hard work, but he clearly enjoys sharing riches from his huge chess library. He is particularly skilled at sifting research material from a multitude of sources throughout the world and drawing everything together in the form of elegant essays and notes which take our knowledge forward.
A work of the quality of A Chess Omnibus deserves success with chess lovers of all strengths and in all countries.
Jan Timman
Amsterdam, February 2003
Signed copies of A Chess Omnibus
---
To the Chess Notes main page.
To the Archives for feature articles.
Copyright: Edward Winter. All rights reserved.