The Chess Prodigy Elaine Saunders
Edward Winter
Born in 1926, Elaine Saunders was a celebrated prodigy in the 1930s, and her exploits were well documented in British chess periodicals of the time. On 29 February 1952 she married the chess writer David Brine Pritchard (CHESS, April 1952, page 129).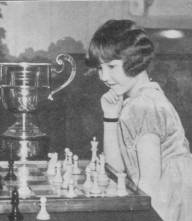 Elaine Saunders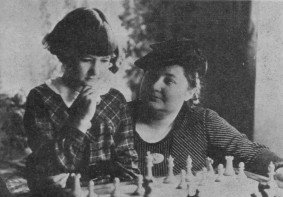 Elaine Saunders and Vera Menchik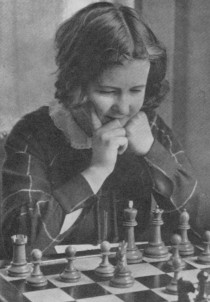 Elaine Saunders
(3812)
---
'She is a genius.' That was Alekhine's observation on the 12-year-old Elaine Saunders after playing her in a simultaneous exhibition in London on 22 January 1938. From page 190 of CHESS, 14 February 1938:
'Dr Alekhine was televised by the British Broadcasting Corporation in January, "lookers-in" seeing him make, once again, the move which regained for him the world's championship.

On 22 January he played simultaneously against 30 of Kent's strongest players and after four and a half hours had won all but three ... Twelve-year-old Elaine Saunders, British girl champion, covered herself with glory by holding out to the very end, succumbing in a rook-and-pawn endgame in the very last game to finish. Dr Alekhine, speaking afterwards, said, "She is a genius".

... [Elaine Saunders] became famous overnight – as far as the general public was concerned – as a result of her fine show against Alekhine. Pictures of her with eye to a telescope, boxing a punchball, walloping her father blindfold, etc. were published in many of the daily papers.'
A photograph (featuring Alekhine in play against R.C. Noel-Johnson, Elaine Saunders, C. Chapman, H.H. Cole, H. Israel and W.J.E. Yeeles) of the display at the Charing Cross Hotel, London was published on page 115 of the March 1938 BCM: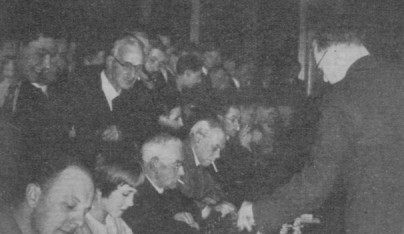 We have never seen the moves of her game against Alekhine, but below is a victory she scored in a simultaneous display given by another eminent figure:
Rudolf Spielmann – Elaine Saunders
Occasion?
Sicilian Defence
1 e4 c5 2 Nf3 Nc6 3 d4 cxd4 4 Nxd4 d6 5 c4 Nf6 6 Nc3 g6 7 Be2 Bg7 8 Be3 O-O 9 Nxc6 bxc6 10 h4 Qa5 11 Qd2 Ng4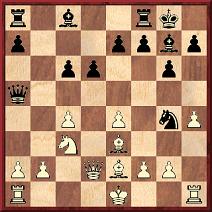 12 h5 Nxe3 13 Qxe3 Qb4 14 Qd2 Be6 15 hxg6 fxg6 16 a3 Qc5 17 O-O-O Rxf2 18 b4 Qe5 19 White resigns.
This score is taken from a feature on Elaine Saunders on pages 263-264 of the Australasian Chess Review, 31 October 1938, which commented:
'We do not intend to wallow in newspaper sensationalism about this little champion. Our readers will be more interested in the following remarks made by her father, Mr H. de B. Saunders, in response to our request for Elaine's photo.

"I should like to stress the point that despite the reports of the 'sensational press' Elaine is quite an ordinary child, and not a 'prodigy'. She is fond of all outdoor sports, and is especially keen on swimming, riding, skating and ball games. All the same, she has chess to thank for making innumerable friends both at home and abroad. She is playing three sets of correspondence chess with German opponents at the moment; all of whom are otherwise quite unknown to her.

Her successes have been almost entirely due to the kind and patient coaching of our friend Mr C.D. Locock (whose Imagination in Chess you have reviewed in the ACR). Although a veteran, Mr Locock still finds time to visit girls' schools and teach chess; his service in this direction being entirely voluntary. Without his help, Elaine would never have risen above the ranks of 'woodshifters' and she bears him a considerable debt of gratitude."'
Below is the illustration which accompanied the article in the Australasian Chess Review: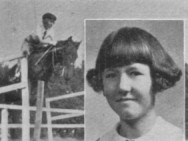 The Australasian Chess Review did not specify the occasion of the above game, but the following appeared on page 303 of CHESS, 14 May 1938, in a feature on the previous month's tournament in Margate:
'Twelve-year-old Elaine Saunders did it again. Beat Spielmann in his simultaneous display. She's hard on the masters!'
In 1939 P.W. Sergeant dedicated to her his book An Introduction to The Endgame at Chess, as follows:
'Dedicated to Miss Elaine Zelia Saunders because she doesn't (at present) like the Endgame.'
We wonder if any other chess book has been dedicated to somebody as young as 13.
(3817)
'To Elaine Saunders (b. 1926) Who has solved many of them' – Imagination in Chess by C.D. Locock (Leeds, 1937).
(4251)
---
An inscription by Elaine Saunders in one of our copies of the seventh edition of Modern Chess Openings (London, 1946):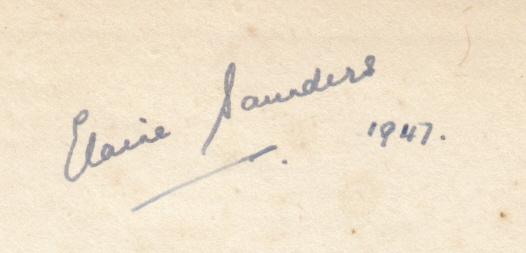 ---
Elaine Saunders gave an account of her game against Alekhine on page 224 of British Chess by G.S. Botterill, D.N.L. Levy, J.M. Rice and M.J. Richardson (Oxford, 1983):
'The incident which received the most publicity was the "affair Alekhine". Most of the pre-war giants were kindly if a little condescending towards me but the new world champion – he had just regained the title from Euwe – showed me no mercy. He took on 30 Kent players at the Charing Cross Hotel and after five hours demolished all except myself. [In fact, Alekhine's final score was +27 –2 =1.] The ending was equal. He stood over our board and glowered. "Give the child a draw", said someone in Russian in the audience, which despite the midnight hour were everywhere on chairs and even under tables. "I know what I am doing", came the reply, and of course he did. I lost.'
(3826)
---
C.N. 3817 mentioned that we had never seen the moves of Elaine Saunders' game against Alekhine. Maurice Carter (Fairborn, OH, USA) informs us that in a letter to him dated 19 February 1993 David Pritchard (later Elaine Saunders' husband) was able to provide part of the game-score:
Alexander Alexandrovich Alekhine – Elaine Saunders
London, 22 January 1938
Sicilian Defence
1 e4 c5 2 Nf3 Nc6 3 d4 cxd4 4 Nxd4 d6 5 c4 Nf6 6 Nc3 g6
7 c5 dxc5 8 Nxc6 Qxd1+ 9 Nxd1 bxc6 10 f3 Bg7 11 Be3 Nd7 12 Rc1 Rb8 13 b3 O-O 14 Nf2 Bb7 15 Nd3 Bd4 16 Kf2 f5 17 exf5 Rxf5 18 Be2 Rbf8 19 Rhd1 Rd5 20 b4 cxb4 21 Nxb4 Bxe3+ 22 Kxe3 Re5+ 23 Kf2 Nc5 24 Nd3 Nxd3+ 25 Bxd3 Ra5 26 Bc4+ Kh8 27 Rd7 Bc8 28 Rxe7 Rc5 (David Pritchard: 'Elaine's score then became corrupt. The end position (in which Elaine resigned – this was published) was ...
... after move 73 with (presumably) Elaine to move – she doesn't remember.')
(3874)
---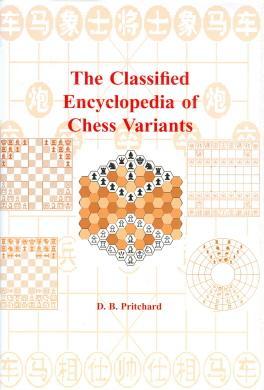 The Classified Encyclopedia of Chess Variants by D.B. Pritchard (Harpenden, 2007) is an updated edition of his 1994 volume The Encyclopedia of Chess Variants, having been 'completed and edited by John Beasley'. We had extensive correspondence with the late David Pritchard as he prepared, over many years, his 1994 volume, and John Beasley justly notes on page 15 of the new Variants book that D.B.P. 'stood head and shoulders above anyone else in this field'. For his part, Mr Beasley has carried out the editorial work in fine style, making this one of the best recent chess books.
(5106)
The text of C.N. 2078:
Published at the end of 1994 by Games & Puzzles: The Encyclopedia of Chess Variants by D.B. Pritchard. In a 384-page hardback the author offers alphabetically-organized entries on an astonishing array of games deviating from the 'normal' chess rules. What a pleasure to see a writer showing such mastery of a broad field.
---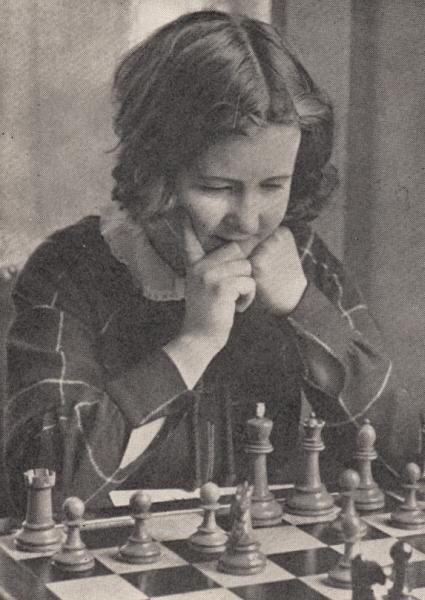 This photograph of Elaine Saunders comes from page 18 of Alt om Skak by B. Nielsen (Odense, 1943).
On 28 March 1991 the late David Pritchard wrote to us:
'I thought Elaine (my wife) had played Capa in a simultaneous but apparently not. She recalls however travelling to Lewisham in a carriage with him and Vera Menchik (top man, top woman, top girl) for some special occasion. The top boy (Frank Parr) travelled separately. Her only recollection is that she didn't like him (Capa) very much – perhaps she was intimidated.'
Is anything known about the 'special occasion'?
(7467)
Addition on 10 January 2023:
Andrew D. Craig (London) sends the following news item from page 9 of The Chronicle and Courier, 2 October 1936:

---
From Olimpiu G. Urcan (Singapore):
'A team of researchers is working on a potential chess history of Singapore (1945-2012) and is particularly interested in finding more information about Pat Aherne, Michael Davis and J.C. Hickey, three foreign players active in Singapore and Malaya in the 1950s.

David and Elaine Pritchard spent several years in Singapore during that decade and appear in a photograph with some of the leading players of that time:

David Pritchard sent me the picture without a caption, but I believe that it was taken during the Hollandsche Club Chess Invitational tournament in January 1955 and that he is playing Baris Hutagalung of Indonesia in the last round. Standing on the right are H.A.J. Pronk (a Singapore-based Dutch player) and Elaine Pritchard. The man on the far left is Tay Kheng Hong, a Chinese-born Singaporean player, and next to him is Lim Kok Ann (1920-2003), one of the pioneers of post-1945 Singapore chess and a highly respected person here.'
(7555)
---
Also from Olimpiu G. Urcan comes this photograph of David and Elaine Pritchard, sent to him by their daughter, Wanda Dakin: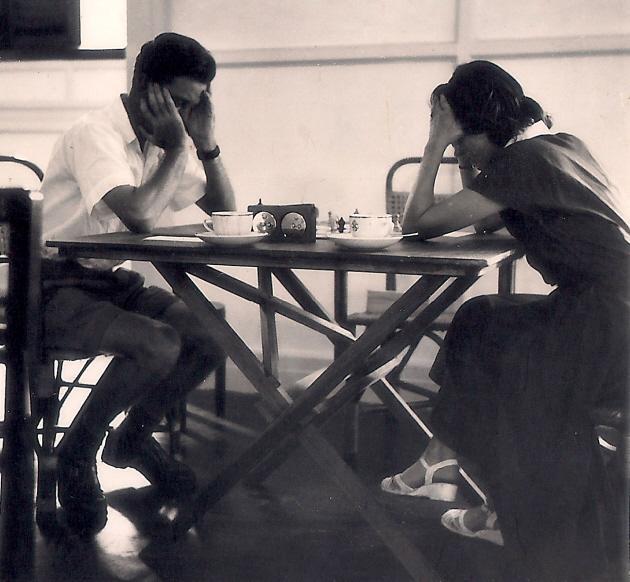 The picture was taken in Singapore in the mid-1950s.
(7766)
---
On the topic of Gaffes by Chess Publishers and Authors Peter Holmgren (Stockholm) gives this specimen: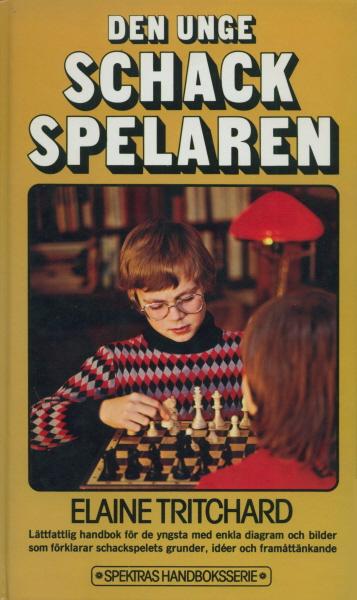 (7768)
---
From a set of photographs in the Daily Mirror: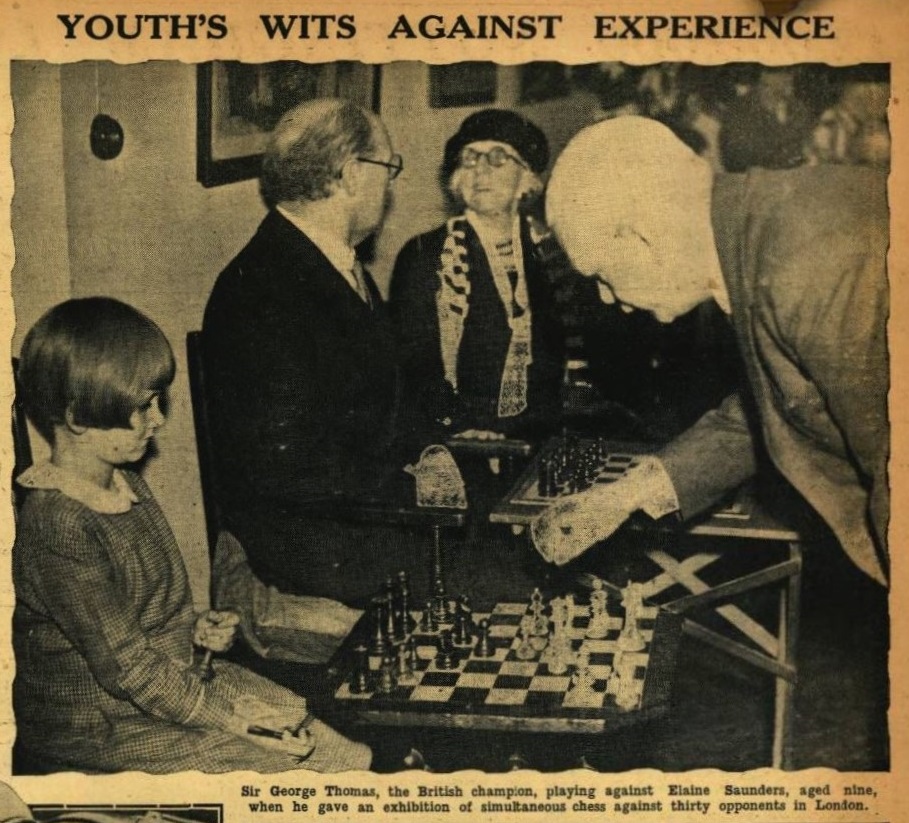 23 October 1934, page 19.
(This photograph was also given in C.N. 9238.)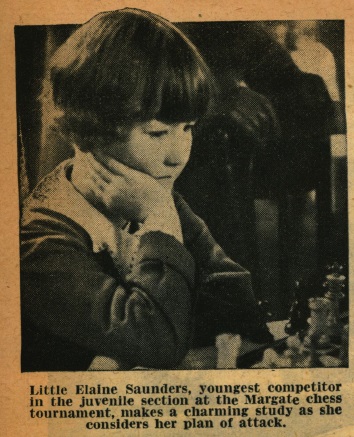 17 April 1936, page 10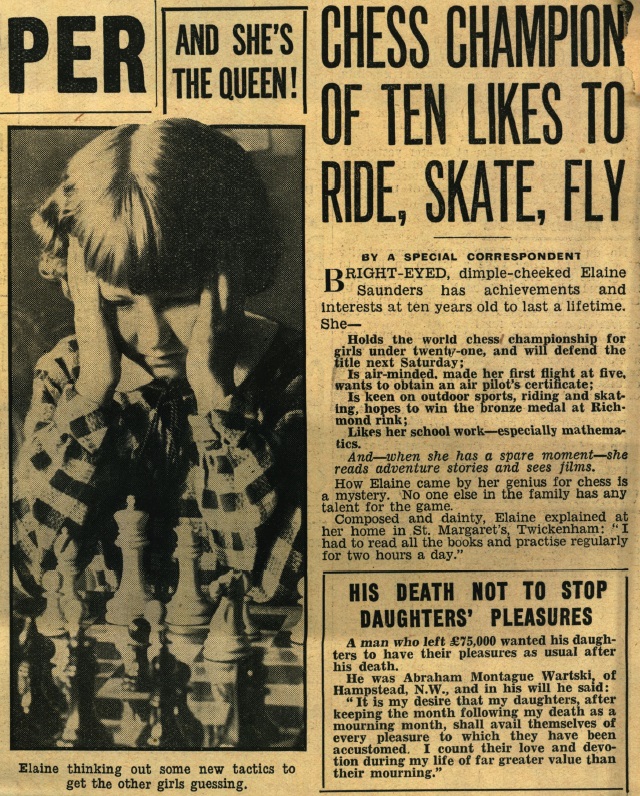 29 December 1936, page 24
---
A further contribution from Olimpiu G. Urcan:

Daily Mail, 24 January 1938, page 7.
(8193)
---
A game from the score-books of A.G. Laing: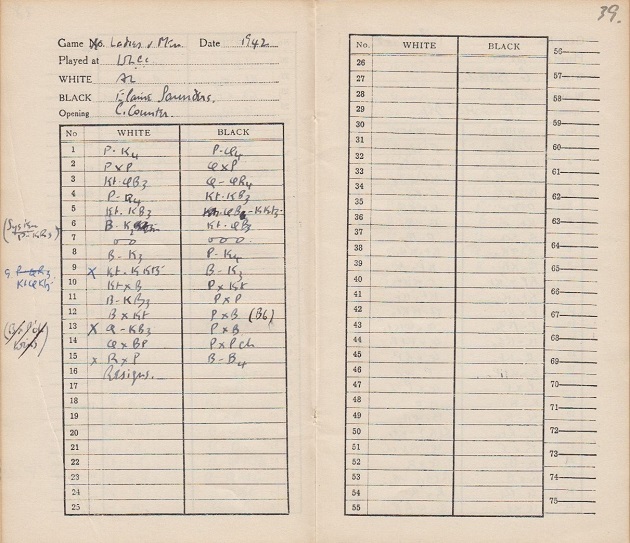 1 e4 d5 2 exd5 Qxd5 3 Nc3 Qa5 4 d4 Nf6 5 Nf3 Bg4 6 Be2 Nc6 7 O-O O-O-O 8 Be3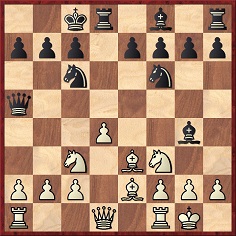 8...e5 9 Ng5 Be6 10 Nxe6 fxe6 11 Bf3 exd4 12 Bxc6 bxc6 13 Qf3 dxe3 14 Qxc6 exf2+ 15 Rxf2 Bc5 16 White resigns.
The Ladies v Gentlemen match, played on 9 May 1942, was reported on page 131 of the June 1942 BCM: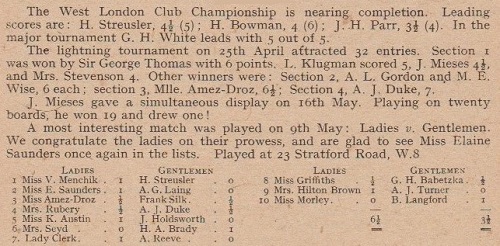 Laing's game against Elaine Saunders, who was then aged 16, was published on pages 152-153 of the July 1942 issue: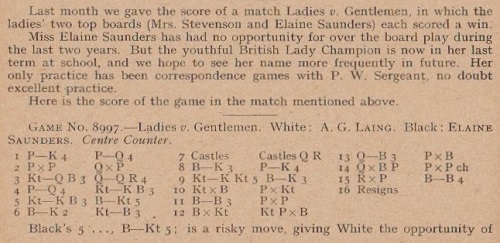 (9380)
For further material from A.G. Laing's notebooks, see C.N.s 8728, 8762, 8877 and 8967. His first forename has tentatively been given as Andrew, but on 7 January 2023 Alan McGowan (Waterloo, Canada) informed us that his researches so far have traced a player in Edinburgh named Alexander George Laing.
---
From Olimpiu G. Urcan:
'The Associated Press and British Movietone have just made available a large volume of archival footage, including much chess-related material. It can be consulted via the Associated Press official archive website and/or YouTube. One highlight is (aged 11) playing blindfold against her father in 1937:'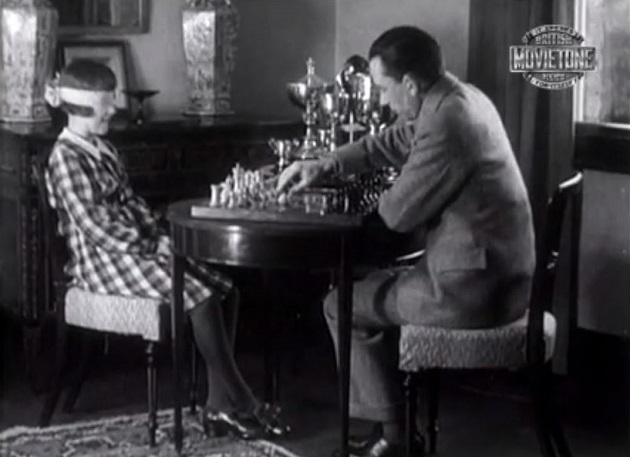 (9390)

¨

---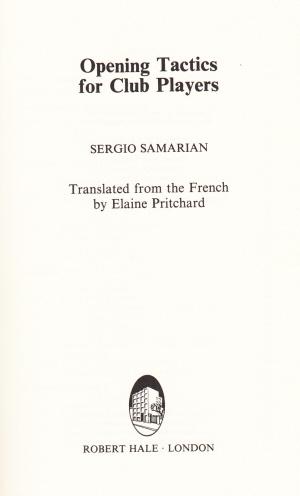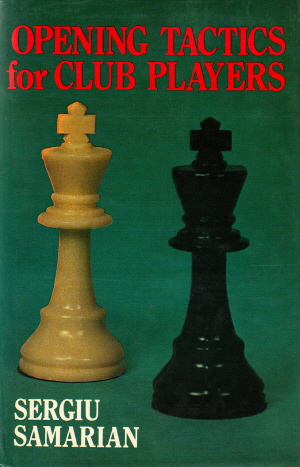 See C.N. 8432.
---
C.N. 3817 quoted from page 190 of CHESS, 14 February 1938 a remark by Alekhine about Elaine Saunders: 'She is a genius.'
An addition from page 8 of the Daily Telegraph and Morning Post, 24 January 1938:

(9728)
---
From Leonard Barden (London):
'I should draw attention to Jutta Hempel's disaster against Elaine Pritchard (who was a woman international master) which I personally witnessed.

Two games were played by radio by arrangement with the BBC World Service and a German radio station in autumn 1967. Elaine Pritchard had been a prodigy in the late 1930s, when she won the world girls' and British women's titles and performed well against Alekhine and Spielmann in simultaneous exhibitions. The objective of the radio programme was to find out how the two prodigies compared.

In the first game, Jutta Hempel had White and played to the standard of a weak club player and was crushed quickly by a king's-side attack: 1 e4 e5 2 Nf3 Nc6 3 Bc4 Bc5 4 O-O d6 5 d3 Nf6 6 Bg5 h6 7 Bxf6 gxf6 8 h3 Be6 9 Bxe6 fxe6 10 Nc3 Qd7 11 Qd2 Qg7 12 Ne2 Rg8 13 Ng3 Qxg3 14 Ne1 Qxh3 15 c3 O-O-O 16 b4 Rxg2+ 17 Nxg2 Rg8 18 White resigns.

In the second game, she played 2...f6 and lost like a beginner. When the move came through from the German announcer, Elaine shook her head and shrugged. There was even more astonishment in the BBC studio at Black's third move. The full game: 1 e4 e5 2 Nf3 f6 3 Nxe5 fxe5 4 Qh5+ Ke7 5 Qxe5+ Kf7 6 Bc4+ Resigns.

Afterwards, Jutta Hempel's father could only say that she was nervous on the big occasion. But, of course, she had already successfully coped with even more demanding situations. Two leading German players of the time, Lothar Schmid and Rudolf Teschner, expressed scepticism to me about Jutta Hempel's claimed exploits. The respected Deutsche Schachzeitung, edited by Teschner, never publicized her results, unlike the rival Schach-Echo, which was her major chess publicity outlet.

The two games against Elaine Pritchard can be found online easily enough, although they are wrongly attributed to her husband, David Pritchard.'
(10128)
Having mentioned the two games in C.N. 1394, we gave the scores in C.N. 1593.
---
Pages 9-10 of the Listener, 7 July 1960 reproduced, under the title 'The Feminine Touch in Chess', some observations by Elaine Pritchard in a radio talk on the BBC's Network Three. A few extracts:
'Most chess clubs are rather like barracks: they lack the feminine touch. We woman players are few, slightly despised, and even sometimes unpopular.'


'The Russians have won every world championship since the title became vacant at the death of Vera Menchik. Yet one feels that the disparity between these champions and some of our own women players is not so great; certainly not so great as between Menchik and any of her challengers.'


'What is the reason for the failure of women to reach the top class? To begin with, few of us have learned to play; a mere handful by comparison with men. I am no mathematician, but relatively speaking I would have thought our results were reasonable. ... In Russia, far more women play, and consequently more of them play better. We may lack imagination, and those of us who do not, tend to have too much of it; we get out of control and become wretchedly unsound. We are not always logical, and our positional play may lack depth. Women are not long-range planners in life, but rather deal with the practical and immediate. We usually lack the will to study, especially endgame play, and rely on intuition to see us through. We would rather trot out the faithful old openings we learned years ago than experiment with new ones. We may lack concentration and physical stamina for serious tournament play and tire more easily than men.

Vera Menchik, in contrast, had the perfect temperament, a natural ability furthered by study and a fine positional sense. She was sound rather than imaginative in her play. Although she appeared completely absorbed in chess, her life was not entirely devoted to the game. She had a great sense of fun, was a fine bridge player, and had a keen appreciation of the arts.'
(10148)
---
From page 17 of The People (London), 23 July 1939: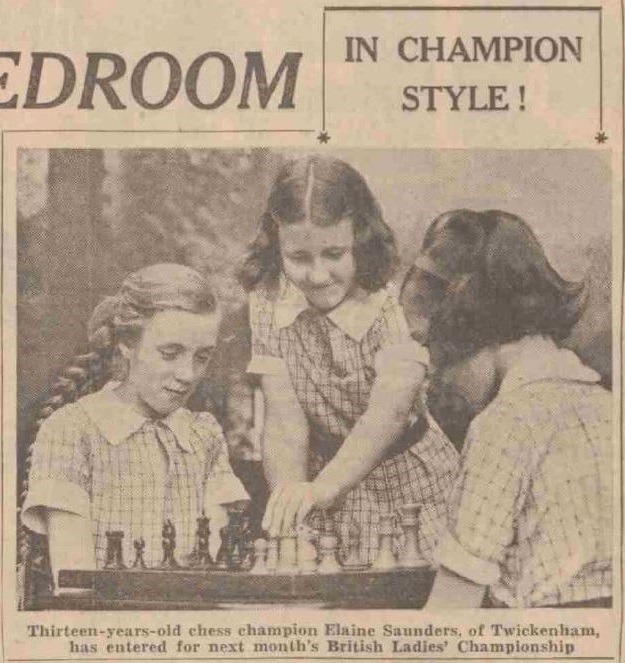 Elaine Saunders won the championship, in Bournemouth, by a two-point margin (BCM, October 1939, page 426).
(10347)
---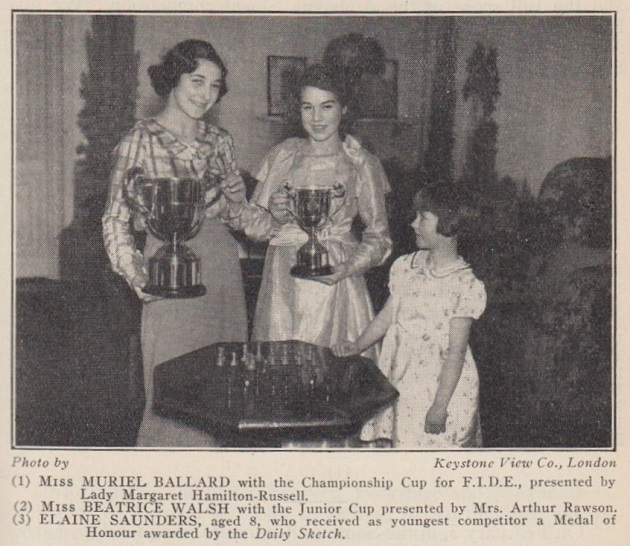 BCM, March 1934, page 109.
(10807)
---
Alt om Skak by Bjørn Nielsen (Odense, 1943) includes several good photographs from unspecified British sources, including the following from page 16: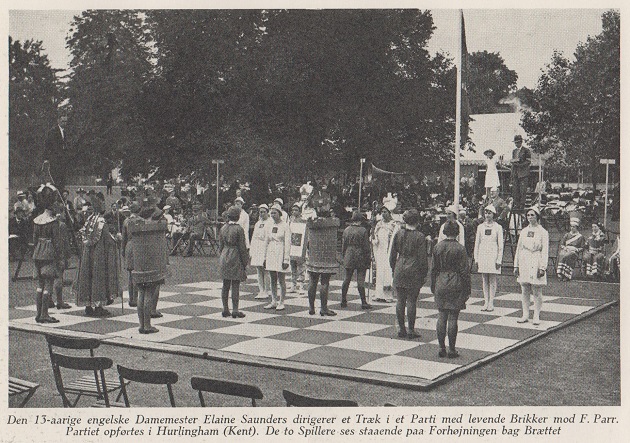 The Getty Images website has other photographs of the Royal Grammar School, Guildford and of living chess (Hurlingham).
(11769)
---
From Olimpiu G. Urcan: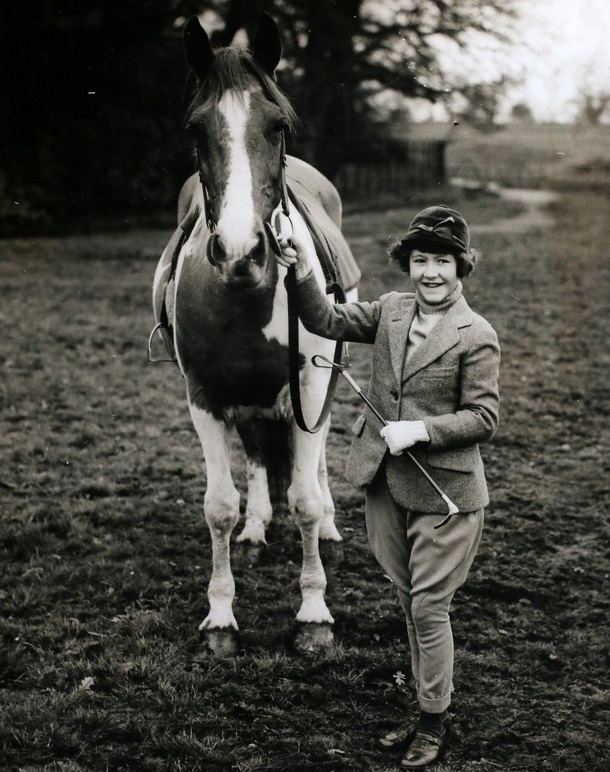 Elaine Saunders at Richmond Park, Twickenham, England on 5 January 1936 (courtesy of Fox Photos archives)
(11922)
Also from Mr Urcan, courtesy of the Keystone archive: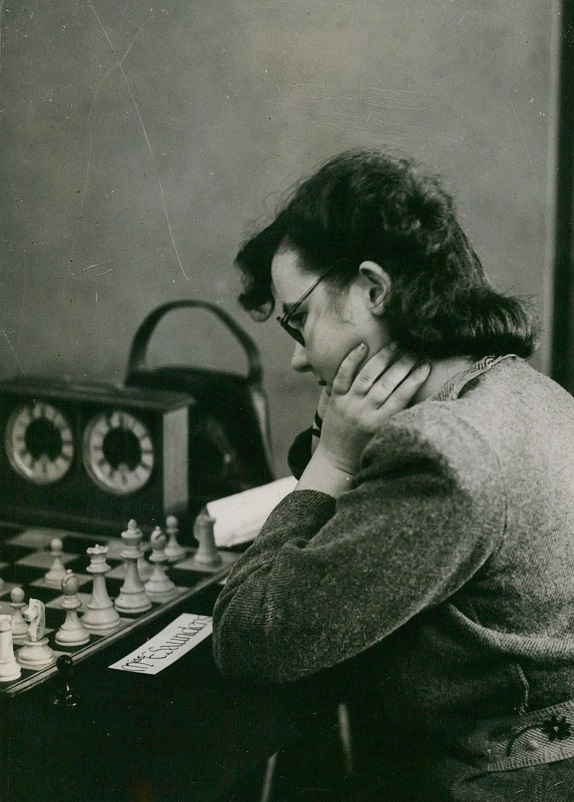 (11943)
---
David Brine Pritchard died in 2005, and his widow in 2020.
---
Latest update: 31 May 2023.
To the Chess Notes main page.
To the Archives for other feature articles.
Copyright: Edward Winter. All rights reserved.