Vassily Smyslov (1921-2010)
Edward Winter
We present a selection of photographs of Vassily Smyslov:
Source: Chess Review, February 1944, page 7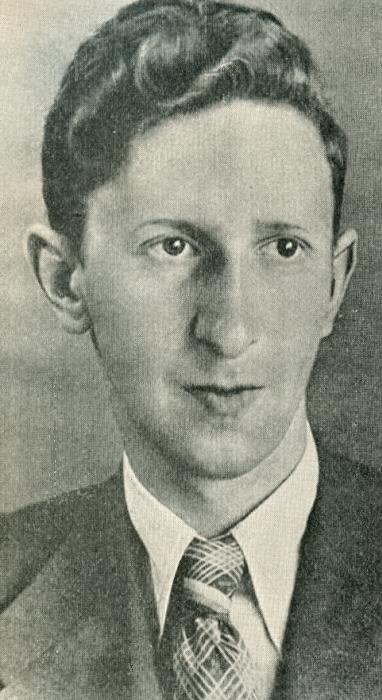 Source: Chess Review, June-July 1944, page 4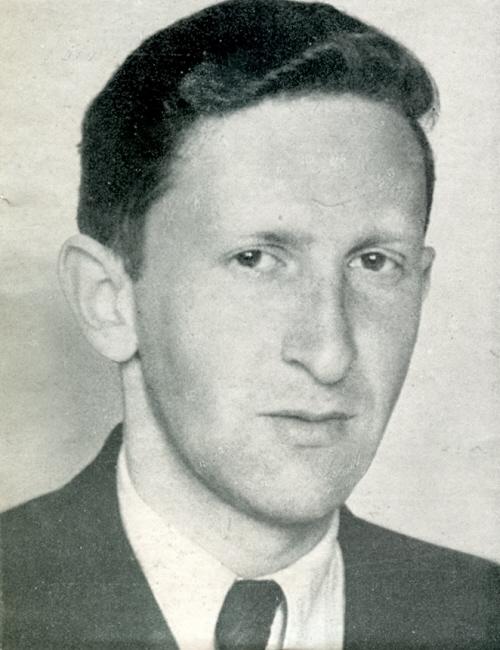 Source: Chess in Russia by P. Romanovsky, opposite page 26 (London, 1946).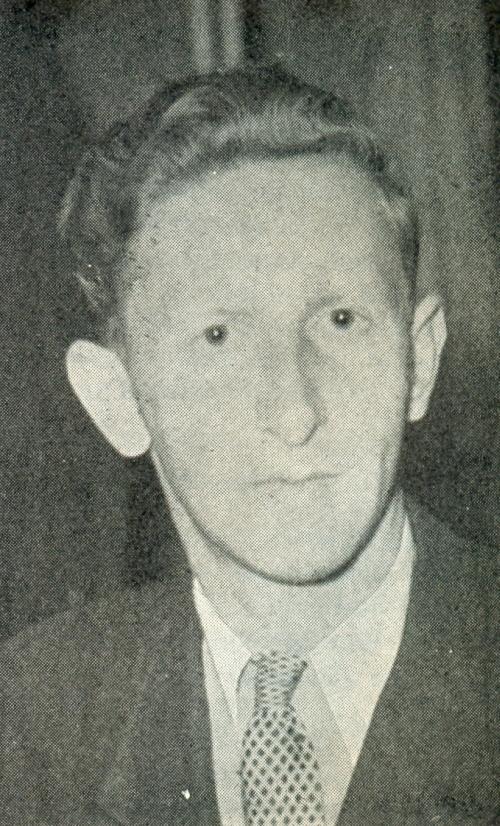 Source: Groningen 1946 by M. Euwe and H. Kmoch (Groningen, 1947).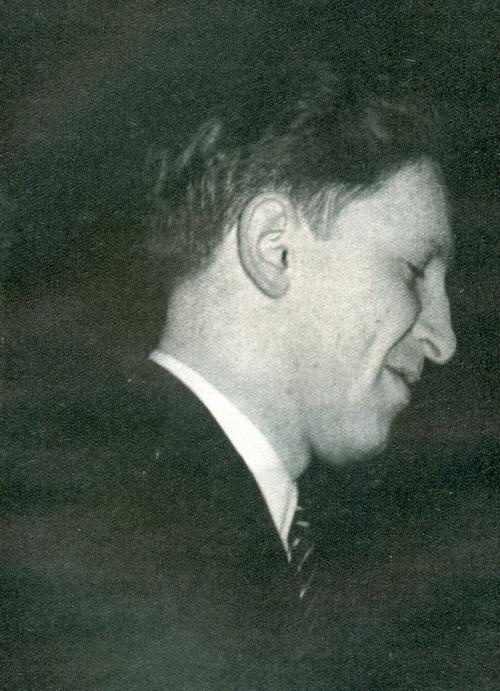 Source: Le Championnat du Monde des échecs 1948 à la portée de tous by C. Seneca, opposite page 204 (Paris, 1948).
Source: Die Schacholympiade in Helsinki 1952 by H. Müller (Vienna, 1953).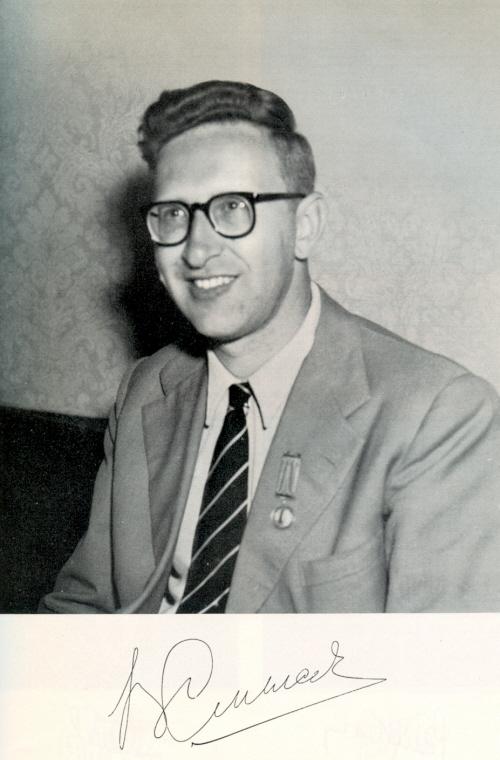 Source: Schach-Elite im Kampf, opposite page 30 (Zurich, 1954).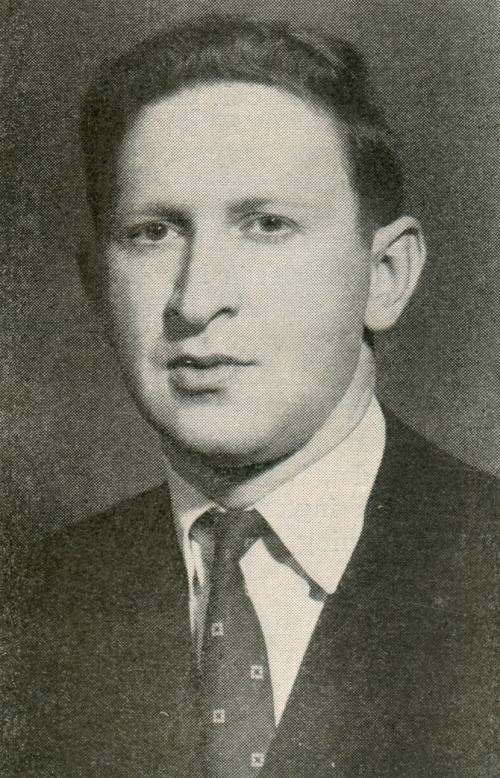 Source: Turneringsbok by G. Ståhlberg and P. Keres, page 11 (Örebro, 1954).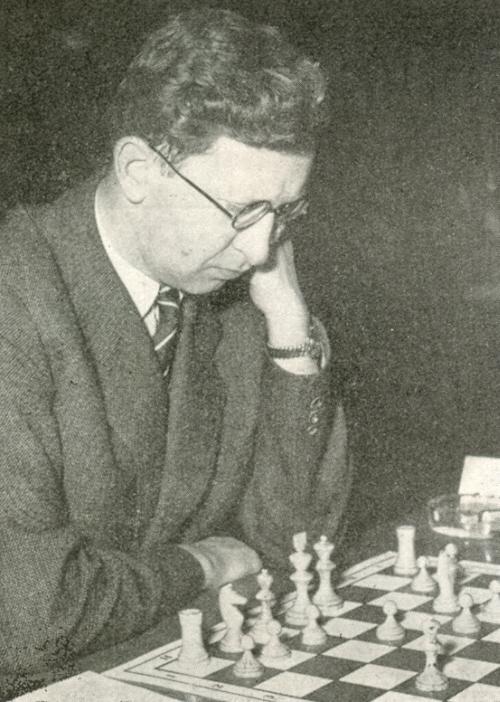 Source: Turneringsbok by G. Ståhlberg and P. Keres, page 138 (Örebro, 1954).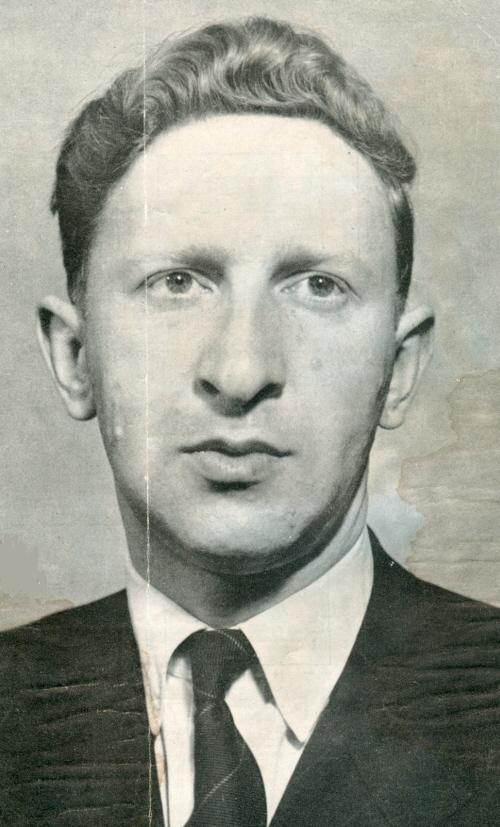 Source: Chess Review, front cover, April 1958.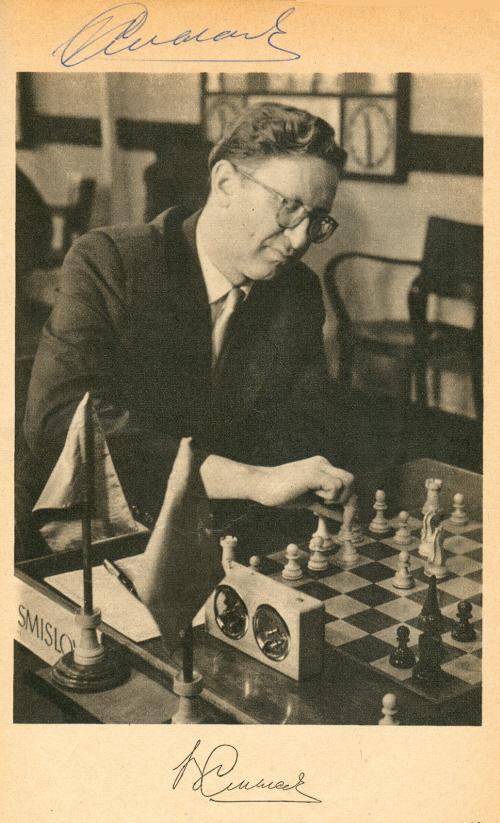 Source: Kandidatenturnier für Schachweltmeisterschaft by S. Gligorić and V. Ragozin, page 39 (Belgrade, 1960).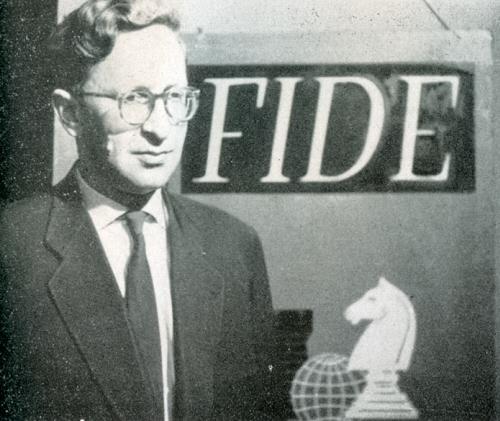 Source: Chess Review, December 1959, page 371.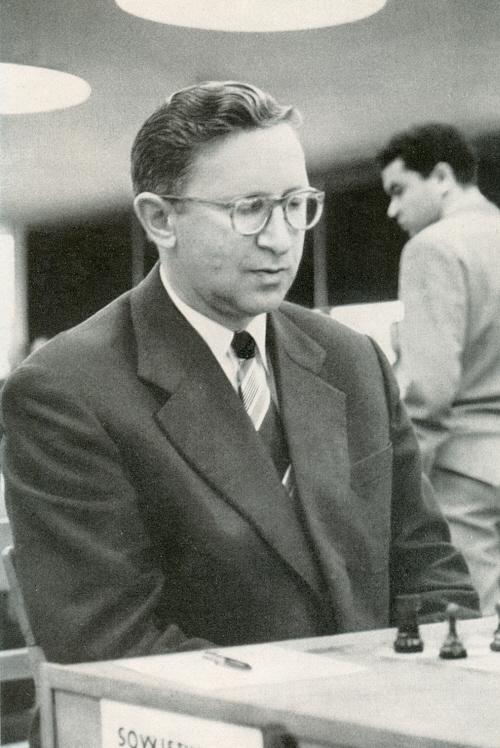 Source: XIV. Schach-Olympiade Leipzig 1960, page 31.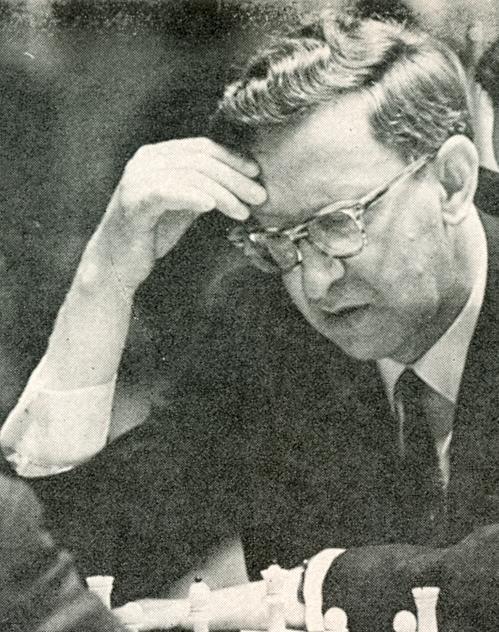 Source: Chess Review, November 1967, page 337.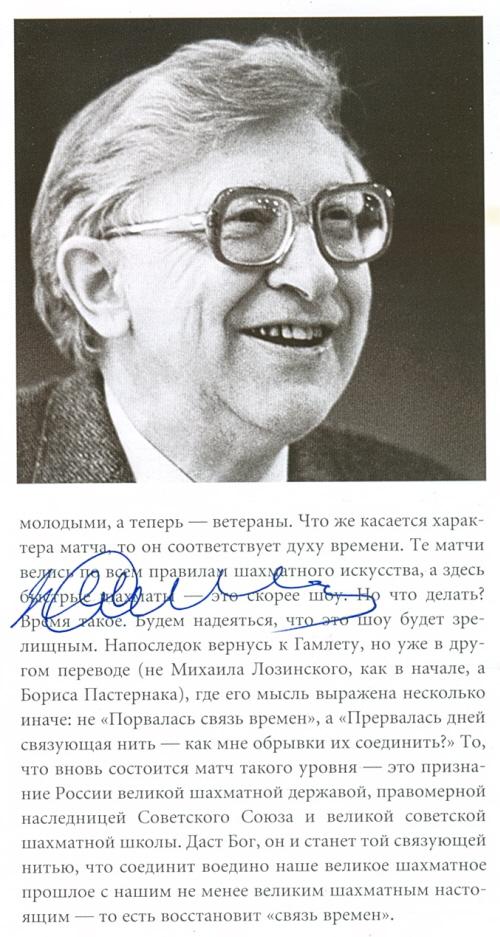 Source: Programme, Russia v Rest of the World tournament, 2002, page 7.
(6512)
---
Page 144 of A Chess Omnibus quoted from page 32 of the February 1943 BCM, and below for the record is the magazine's complete item:

This photograph of Smyslov comes from page 151 of the May 1943 Chess Review: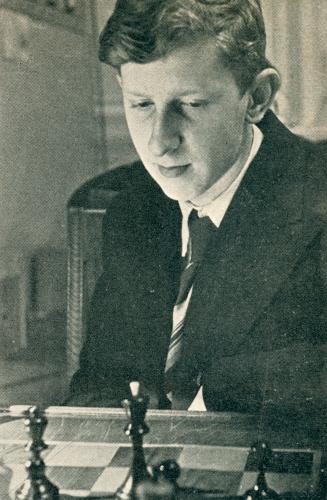 (6516)
---
Javier Asturiano Molina (Murcia, Spain) raises the subject of the first published game by Smyslov.
Game one in Smyslov's book 125 Selected Games (Oxford, 1983) was his win as Black against Gerasimov ('Championship of the Moskvoretsky House of Pioneers, Moscow, 1935'), and his concluding remark (page 20) was:
'This was my first tournament game to appear in print (in the newspaper 64)'
If a reader has that issue of 64 and can provide a copy of the Smyslov game, we shall gladly reproduce it here.
(6531)
Calle Erlandsson (Lund, Sweden) has submitted Smyslov's game against Gerasimov (Moscow, 1935), as published on page 3 of the 29 February 1936 issue of 64:
Our correspondent notes that the brilliancy, annotated by Fedor Lvovich Fogelevich (1909-1941), was presented as if Smyslov were White.
It became a famous game. See, for instance, pages 176-177 of The Chess Companion by I. Chernev (New York, 1968).
(6537)
---
The photograph below (taken in Vienna in 1957) was published opposite page 81 of Chess A Beginner's Guide by Stanley Morrison (Guildford and London, 1968):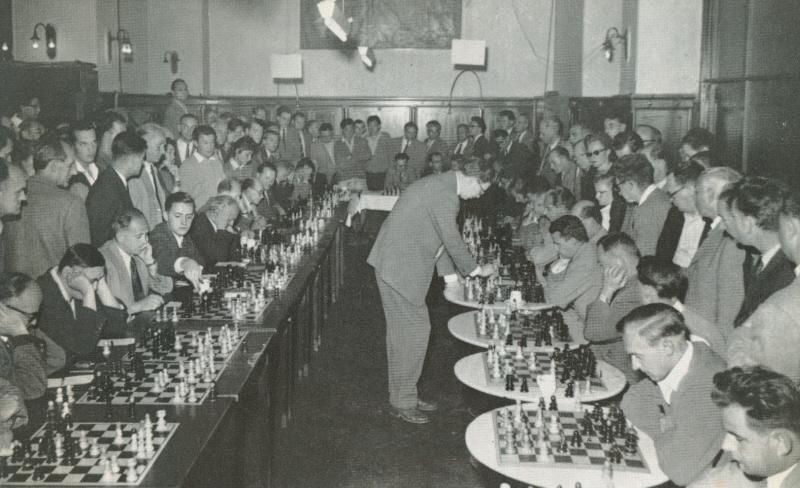 ---
Thomas Binder (Berlin) notes that an article about Bohatirchuk on pages 70-71 of the 6/2008 Rochade Europa includes this crosstable:
Our correspondent asks about the identity of the player who finished tenth.
Is it definitely established that he was Vassily Ossipovich Smyslov (1881-1943), the future world champion's father? Pages 1-3 of 125 Selected Games by V. Smyslov (Oxford, 1983) featured reminiscences of early family life and included his father's victory over Alekhine at St Petersburg, 1912. We should welcome further games played by Smyslov senior.
(5606)
From Andrey Terekhov (Singapore):
'I have found another crosstable which mentions Smyslov of Kiev, published in the 8/1945 issue of Shakhmaty v SSSR in an article about the All-Union tournaments of first-category players. That year there were four semi-finals in different cities of the USSR. The crosstable of the Tallinn tournament (published on page 233) included Smyslov (of Kiev), who scored 6½/15 and shared 10-12th places. The article also gave, on page 234, a game which "Smyslov of Kiev" lost in that tournament to Serebriyskiy (of Kharkov):

1 e4 e6 2 d4 d5 3 Nd2 Nc6 4 Ngf3 Nf6 5 e5 Nd7 6 c3 f6 7 exf6 Qxf6 8 Bb5 Bd6 9 Qe2 O-O 10 Nf1 e5 11 Bxc6 bxc6 12 dxe5 Nxe5 13 Nxe5 Bxe5 14 Bd2 a5 15 O-O-O Ba6 16 Qe1 a4 17 a3 Rab8 18 Ne3 Bd6 19 f3 Bxa3 20 bxa3 Bd3 21 Nc2 Bxc2 22 White resigns.

A player named Smyslov was also mentioned on the last page of the 13/1937 issue of the Ukrainian-language newspaper Shahist in a brief report on the semi-finals of that year's Kiev championship:

The semi-finals comprised three groups of 12 players, and the top players in each group qualified for the final. A player named Smyslov was in the second group, but he did not finish among the top four and thereby qualify.

The following chronology is offered tentatively to suggest that Smyslov of Kiev and Vassily Ossipovich Smyslov were different people:

Vassily Ossipovich Smyslov studied in St Petersburg and began working there in the "Expeditsiya po zagotovleniyu zennyh bumag";
He played in a number of tournaments in the early twentieth century;
After the 1917 Revolution the organization where he worked was renamed "Goznak" and was transferred to Moscow. Vassily Ossipovich Smyslov moved to Moscow;
Vassily Vassilievich Smyslov was born in Moscow in 1921;
Somebody named "Smyslov" played in the Kiev championship in 1929 and in the semi-finals of the 1937 Kiev championship;
Vassily Ossipovich Smyslov died in 1943. (This, together with the above information about him, is taken from V.V. Smyslov's book Letopis shakhmatnovo tvorchestva (Moscow, 1993);
"Smyslov of Kiev" played in a tournament in 1945.'
(10098)
---
Another example of the quirkiness of CHESS, from page 73 of the 8 September 1956 issue:
<
(8156)
---
Andrey Terekhov forwards a news item on page 4 of the 48/1936 issue of 64: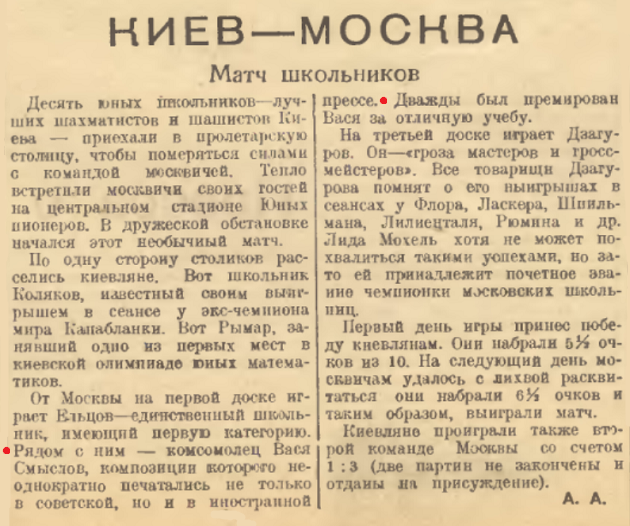 This report on a Kiev-Moscow schoolchildren's match mentions Smyslov as a composer of chess studies published not only nationally but also abroad. Our correspondent asks whether 64 was correct and, if so, where Smyslov's compositions were published outside the Soviet Union in or before 1936.
(10541)
---
Sean Robinson (Tacoma, WA, USA) notes a remark by Spassky in an interview on page 23 of the Autumn 1998 Kingpin:
'Smyslov is a chess player with a fantastic intuition. I call him "Hand" because his hand knows exactly on which square to put which piece at a given moment; actually, he does not have to calculate anything.'
Our correspondent asks whether earlier occurrences of the term are known.
He adds this slightly later citation from page 155 of The Unknown Bobby Fischer by John Donaldson and Eric Tangborn (Seattle, 1999):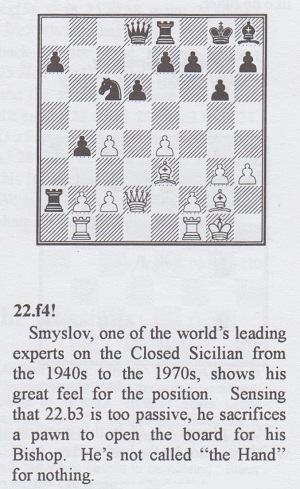 For observations on the physical appearance of Smyslov's hands see page 57 of Chess Duels by Yasser Seirawan (London, 2010).
(10666)
Andrey Terekhov (Singapore) forwards this picture of Vassily Smyslov: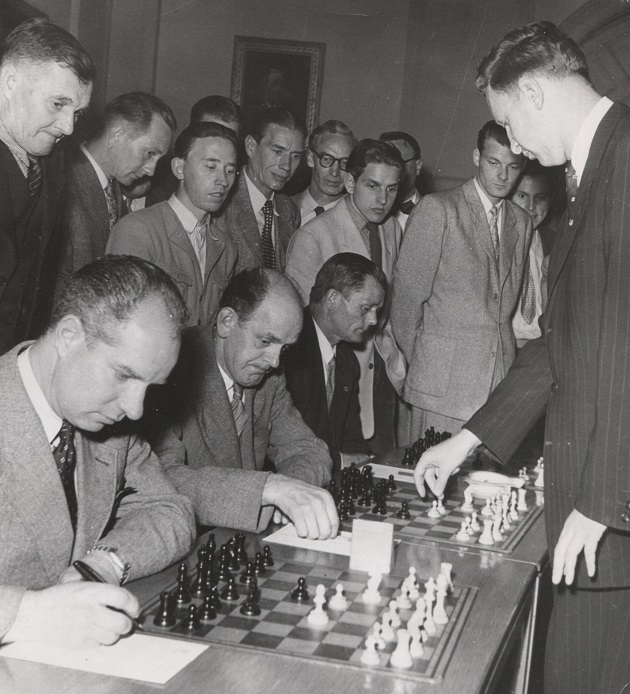 Our correspondent reports that the reverse of the (undated) photograph states that it was taken in Sweden.
(10669)
---
From page 104 of the November-December 1940 American Chess Bulletin, in a report on that year's USSR championship in Moscow:
'The play of the youthful Smyslov is of unusual profundity, originality and versatility. He invites complications and preferably selects difficult systems of defense. When opportunity offers, he is capable of giving a display of fireworks on the chessboard.'
(10758)
---
David Prabitz (Graz, Austria) notes Vassily Smyslov's slightly different accounts (i.e. with 'father' and 'uncle') of the first chess book that he was given as a child. Below are the Russian and English texts in three autobiographical works: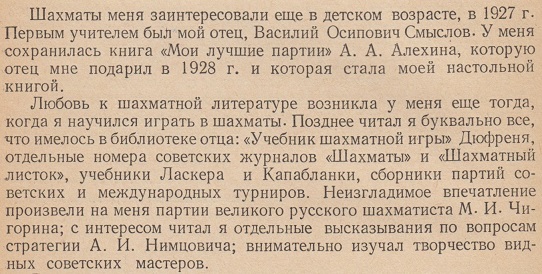 Избранные партии (Moscow, 1952), page 16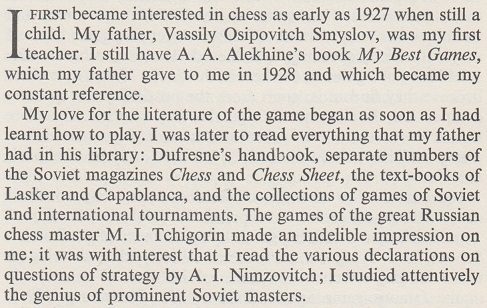 My Best Games of Chess 1935-1957 (London, 1958), page xxxiii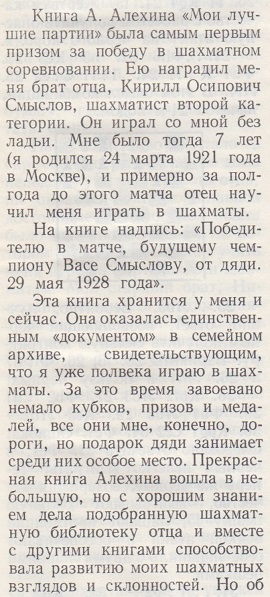 В поисках гармонии (Moscow, 1979), page 5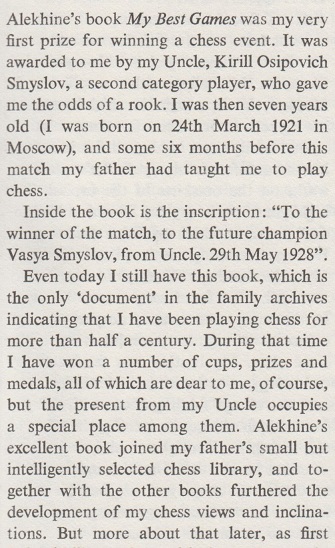 125 Selected Games (Oxford, 1983), page 1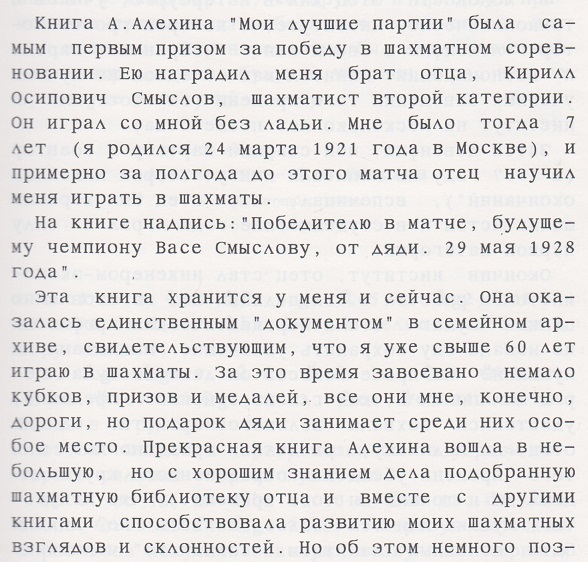 Летопись шахматного творчества (Moscow, 1993), page 7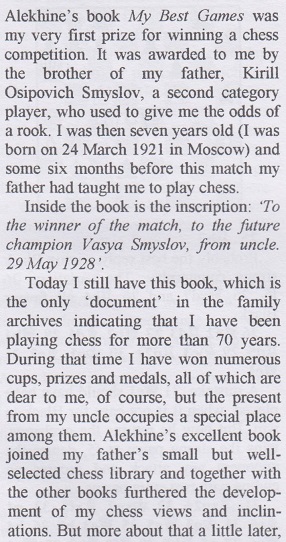 Smyslov's Best Games, volume one (Olomouc, 2003), page 5.
The first English translation was by P.H. Clarke, and the other two were by Kenneth P. Neat.
The Russian translation of Alekhine's first Best Games volume was published in 1927, mentioning a print-run of 5,000 copies. The second edition (1928) stated that 7,000 copies were printed.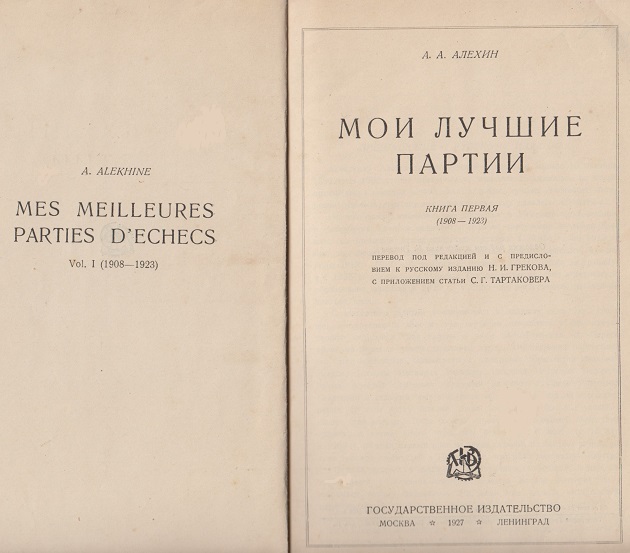 Notwithstanding the text opposite the title page, Alekhine's book did not appear in French until 1936 and was not entitled Mes meilleures parties d'échecs. See C.N.s 4436 and 4439.
(11385)
---
Olimpiu G. Urcan (Singapore) has obtained permission from the Keystone Pictures archives for two photographs of Vassily Smyslov (Hastings, 1954-55) to be reproduced here: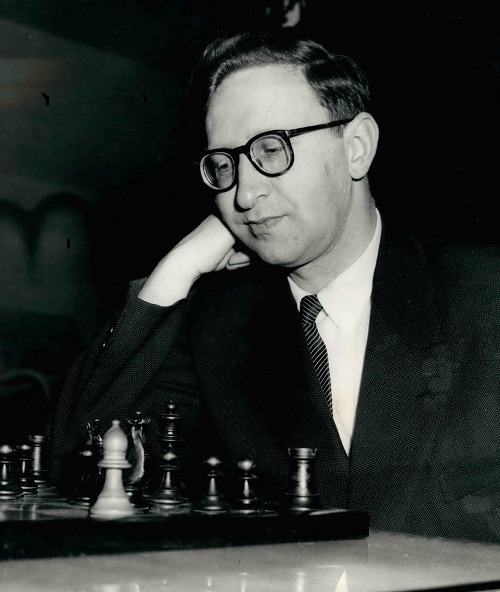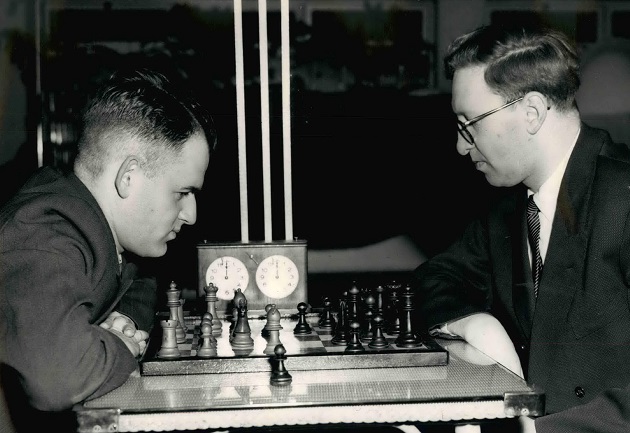 Another shot of Smyslov and Unzicker was on page 169 of CHESS, 8 January 1955: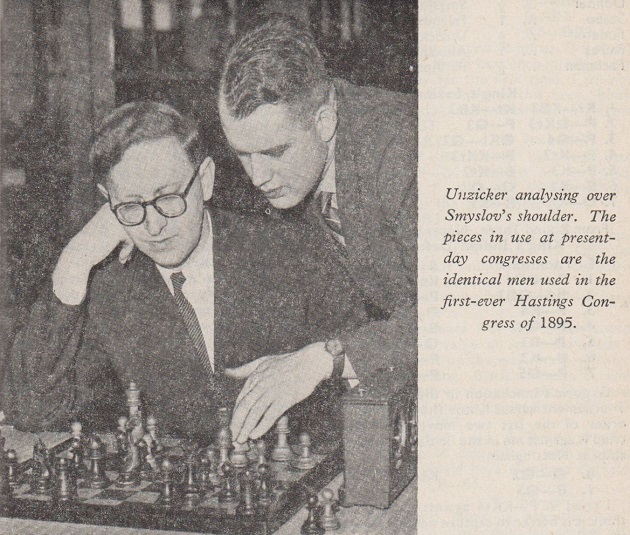 Page 184 of the 22 January 1955 issue of CHESS had an account of these press reports by Ralph Hewins:
Daily Express, 5 January 1955, page 5

Daily Express, 7 January 1955, page 5.
J. Hudson and A. Spiller participated, respectively, in the Major Section, Premier Reserves and in the Premier Reserves 'A', each obtaining 3½ points (BCM, February 1955, page 69).
(11390)
---
Latest update: 26 August 2020.
To the Chess Notes main page.
To the Archives for other feature articles.
Copyright: Edward Winter. All rights reserved.