Chess and Postage Stamps
Edward Winter
It may be recalled that Karpov discussed his stamp collection in the 8/1988 New in Chess; he also gave a detailed interview for the cover article in Das Magazin (Zurich) of 8-14 May 1999.
Daniël De Mol (Wetteren, Belgium) now draws our attention to a number of errors on stamps with a chess theme. Some are obvious misspellings, such as 'Kaprov' on a 1991 stamp from Niger and 'Andersen' on one from Kampuchea issued in 1986. In 1988 Guinea-Bissau produced a stamp with a portrait of 'Fracois' Philidor, whereas in 1982 Chad put 'Jean-Paul' Capablanca. Top prize, however, must go to Guinea. In 1998 it brought out a stamp labelled 'Paul Morphy'; no spelling mistakes, but the accompanying picture was of Boris Spassky.
(2366)
The front cover of Das Magazin was shown in C.N. 5489:
Das Magazin (Zurich), 8-14 May 1999
---
This postage stamp has recently been issued in Austria:
(3680)
Although the Alekhine-Capablanca photograph is a fake, the postage stamp shown in C.N. 3680 is genuine, being one of a set which includes the following portrayal of Fischer: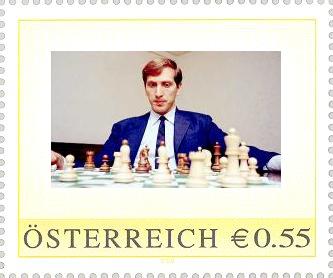 (3681)
The stamp depicting Kasparov in the same set was shown in C.N. 3689: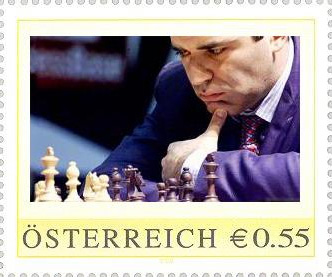 C.N. 9904 added a stamp with a well-known photograph of Rubinstein and Mieses: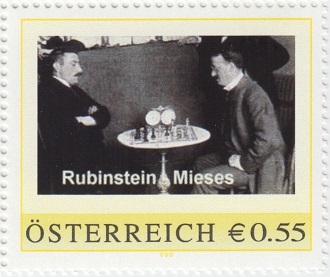 C.N. 10545 gave these additions (Steinitz, Lasker and Smyslov):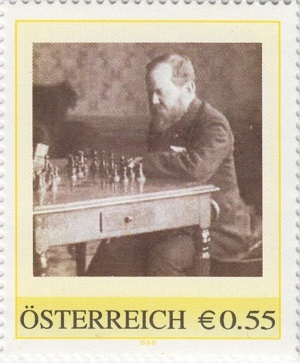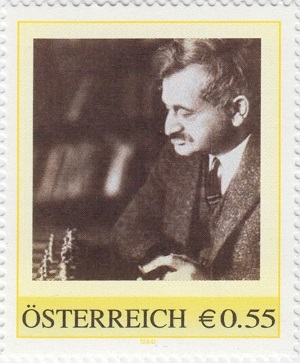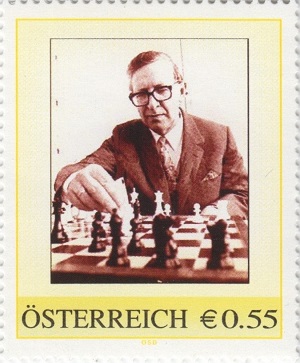 A set of stamps issued by Kyrgyzstan in 2000: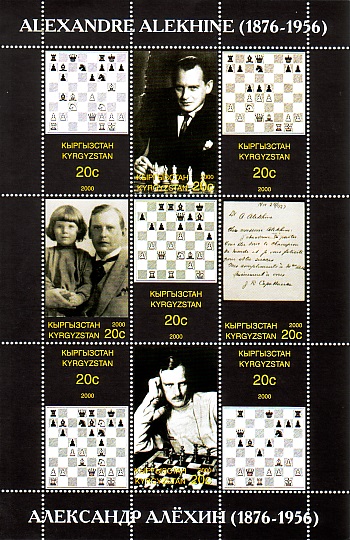 Instead of 1892-1946, Alekhine's dates were given as 1876-1956. These were, we believe, the birth-year and death-year of his last wife, but how could such a mix-up have happened?
(3318)
Christian Sánchez (Rosario, Argentina) suggests that the mix-up occurred because the dates 1876-1956 also appear on Alekhine's tombstone in the Montparnasse Cemetery, Paris.
(3459)
C.N. 3239 (see page 250 of Chess, Facts and Fables) referred to an alleged illustration of Ruy López on page 82 of Historia general del ajedrez by Julio Ganzo (third edition, Madrid, 1973):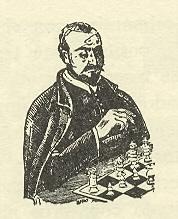 We asked if it had an historical basis, a question yet to be resolved. We can, though, add that the following appeared in the first plates section of Şah de la A la Z by Constantin Ştefaniu (Bucharest, 1984):
Moreover, it may be recalled that a similar illustration was on a Cuban postage stamp in 1976. The picture may be contrasted with what appeared on a stamp issued by Guinea Bissau in 1988.
What is the original source of these depictions of Ruy López?
(4376)
Further to our feature article Napoleon Bonaparte and Chess, Colin Rose (Sydney, Australia) draws attention to his webpage Chess on Stamps, which discusses a picture of Napoleon used on a Paraguayan stamp.
(5409)
We note further postage stamps issued by Cuba in 2008 which feature Capablanca:
The well-known shot of Capablanca at the board was published on page 414 of CHESS, 14 July 1936: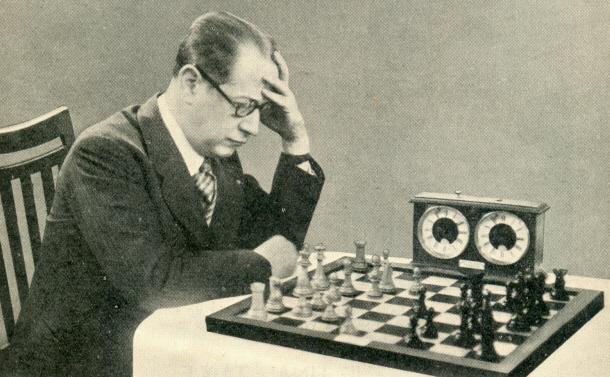 (6199)
From our collection, another postage stamp (Mozambique, 2002) featuring Capablanca: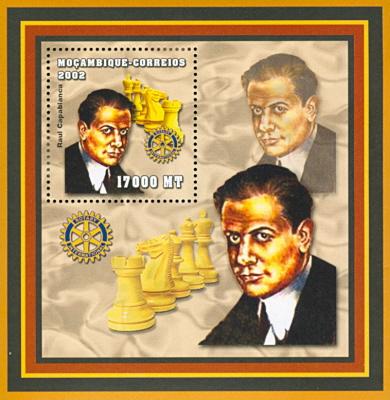 Does any reader have a tally of how often various leading masters have appeared on stamps?
(6221)
In C.N. 2366 (see above) Daniël De Mol reported that in 1998 Guinea issued a postage stamp which misidentified Spassky as Morphy. We are grateful to our correspondent for enabling us to reproduce the faulty stamp here, together with the rest of the set.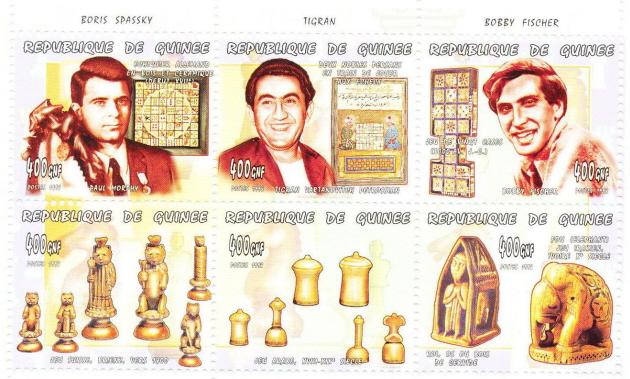 (6243)
A quote commonly attributed to Anatoly Karpov is given, to pick a book at random, on page 45 of Kasparov v Deeper Blue by Daniel King (London, 1997):
'Karpov, the blue-eyed Russian who once stated that the two great loves of his life were "chess and Marxism" ...'
We have seen the original quote ascribed to Der Spiegel of 3 June 1985 and shall be grateful if a reader can provide a copy. In the meantime, two later comments by Karpov come to mind:
'On dit souvent de lui qu'il a deux passions: "Les échecs et le marxisme". "C'est une vision simpliste", rétorque-t-il, "j'ai aussi d'autres intérêts culturels. De plus, je suis président du Fonds soviétique en faveur de la paix." Une fonction à laquelle il tient particulièrement, ajoute-t-il.'
Source: Le Journal de Genève, 1-2 February 1986, page 25.
'– You've been quoted as saying you have two loves – chess and Communism.'

'– I never said this. That was a provocation invented by the people who prepared the press information. I have many loves – my wife, my family, my son. I play tennis, I collect stamps. I like the theater.'
Source: interview given by Karpov to Anne Underwood, Newsweek, 3 December 1990, page 58.
The above photograph accompanied an article about Karpov and his stamp collection on pages 42-50 of Das Magazin, 8-14 May 1999. It stated that he owned over a million items.
(6301)
---
From Calle Erlandsson (Lund, Sweden) comes this first-day cover (issued on 1 November 1951) with the signatures of Zenaida Capablanca, Gloria Capablanca de Palacios, Graziella Capablanca, Aída Capablanca and José R. Capablanca Jr.: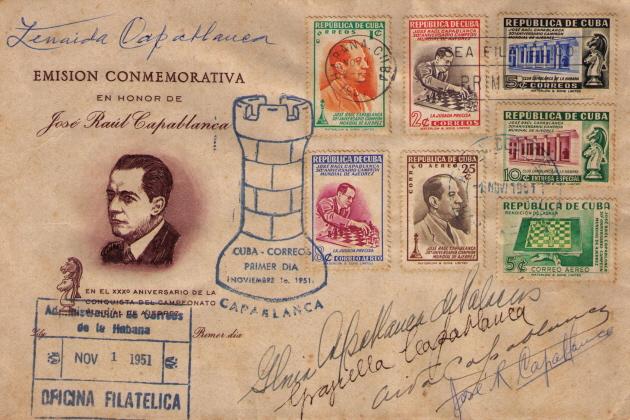 (6686)
---
Dan Scoones (Coquitlam, BC, Canada) draws attention to a set of postage stamps: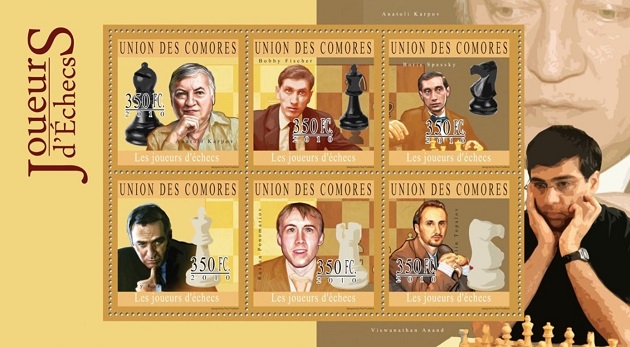 Our correspondent notes that 'Boris Spassky' is Vladek Sheybal, who played the role of Kronsteen in the 1963 film From Russia with Love.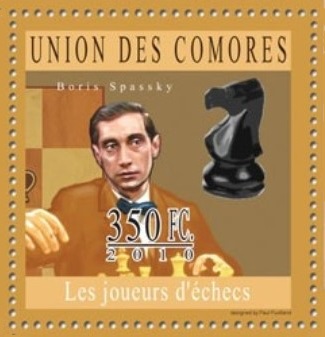 (9658)
Vitaliy Yurchenko (Uhta, Komi, Russian Federation) informs us that his collection of postage stamps includes the following:
(9723)
This block of nine postage stamps (North Korea/'Democratic People's Republic of Korea', with the dates 1984, 1985 and 1986) is a curiosity in our collection: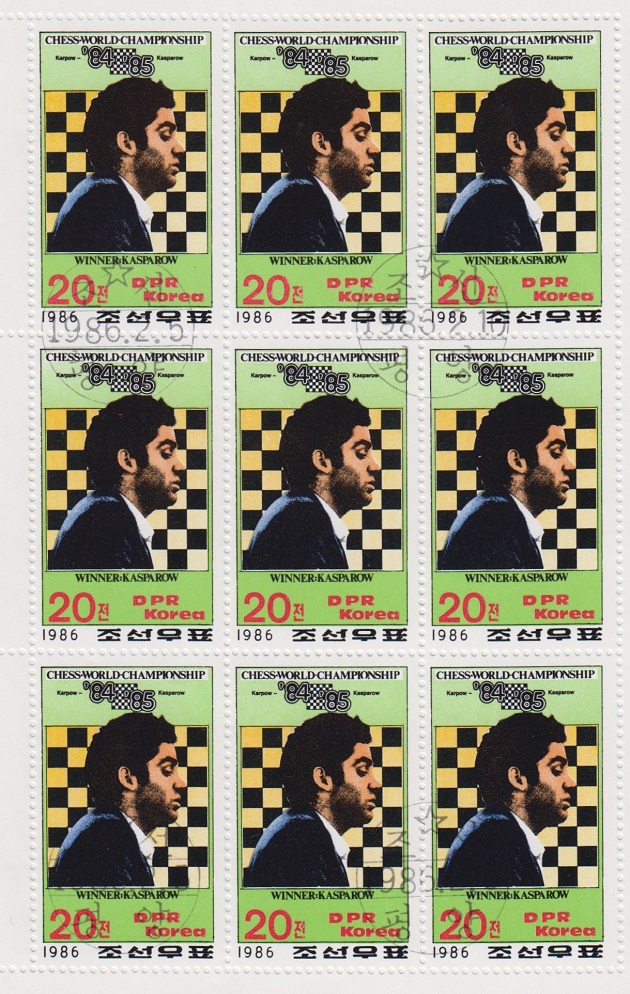 (10389)
See too the article 'Chess in Postage Stamps' by A.G.K. Leonard on pages 45-47 of CHESS, 11 November 1961. He wrote a follow-up feature, 'Attractive New Chess Stamps', on page 263 of the June 1962 issue. (June 1962 was the date on the front cover. The masthead stated that the magazine was issued on 22 May 1962, and the individual pages were dated 18 May 1962.)
---
The following quote comes from the press conference transcripts in No Regrets by Y. Seirawan and G. Stefanović (Seattle, 1992):
Fourth press conference, 21 September 1992 (page 116):
'Paul Morphy was a great chessplayer, a genius. I'm a little embarrassed when I think that I've got a [commemorative] stamp and I'm still even alive. As far as I know he hasn't got a stamp, at least not in America, and I think it is really outrageous that he hasn't got a stamp. Nonentities have got a stamp. A few years ago, I think it was a hundredth anniversary of the birth of Capablanca, the Cuban world chess champion, and the Cubans sent me, I think, 30 stamps that they had published and printed about Capablanca just in one year. They already had stamps in earlier years of Capablanca. Morphy, I think everyone agrees, was probably the greatest genius of them all, and he's never gotten a single stamp. That tells you something about our government.'
---
Latest update: 22 August 2022.
To the Chess Notes main page.
To the Archives for other feature articles.
Copyright: Edward Winter. All rights reserved.