Chess Notes
Edward Winter
When contacting us by e-mail, correspondents are asked to include their name and full postal address and, when providing information, to quote exact book and magazine sources. The word 'chess' needs to appear in the subject-line or in the message itself.
---
11645. An ingenious problem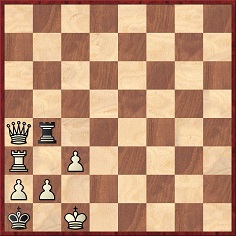 Mate in two
---
11646. Edward Lasker
Avital Pilpel (Haifa, Israel) writes:
'I have been authorized by Michal Golan to share this photograph which is in her possession. In the inscription her aunt Renate is thanked, for an 85th-birthday present, by Edward Lasker, who was the brother of Michal Golan's grandfather, Alfons Lasker.'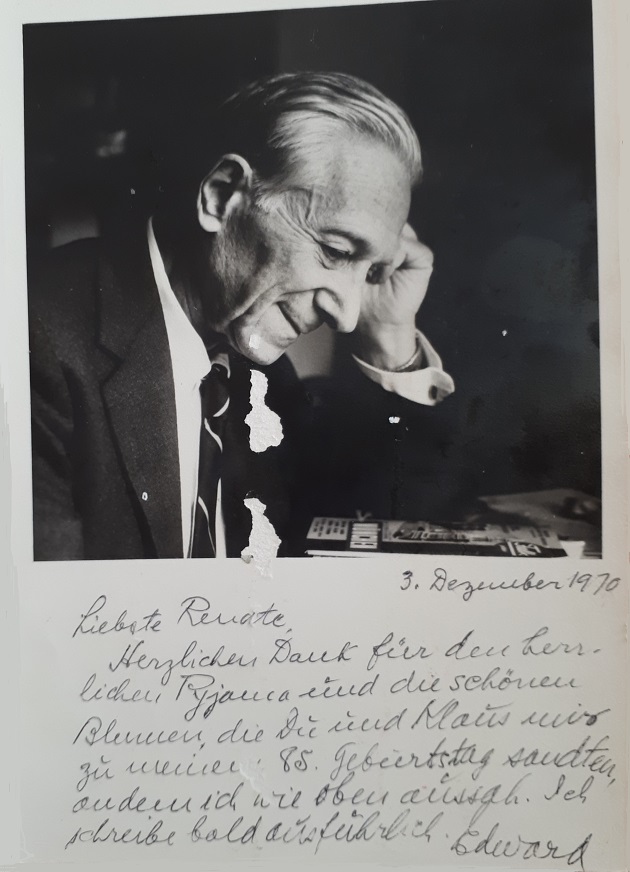 Alfons Lasker was mentioned in C.N. 2106 (see pages 232-233 of Kings, Commoners and Knaves), and the relevant section is reproduced below:
Another Lasker was Alfons. Page 143 of the May 1910 Deutsche Schachzeitung gave this game between him and Eduard (i.e. Edward):

Alfons Lasker – Eduard [later: Edward] Lasker (simultaneous)
Breslau, October 1909
Giuoco Piano

1 e4 e5 2 Nf3 Nc6 3 Bc4 Nf6 4 d3 Bc5 5 Bg5 d6 6 h3 Be6 7 Bb5 a6 8 Bxc6+ bxc6 9 d4 exd4 10 Nxd4 Bxd4 11 Qxd4 c5 12 Qc3 Nxe4 13 Qxg7 Qxg5 14 Qxh8+ Kd7 15 Qxa8 Qc1+ 16 Ke2 Qxc2+ 17 Ke3 Qxf2+ 18 Kd3 c4+ and mate next move.

According to page 48 of Fred Reinfeld's Chess: win in 20 moves or less, a reprint of his 1948 book Relax with Chess, the two players were brothers. Giving this game on page 15 of 500 Italian Miniatures (Coraopolis, 1987), Bill Wall affirmed that Black was Emanuel Lasker.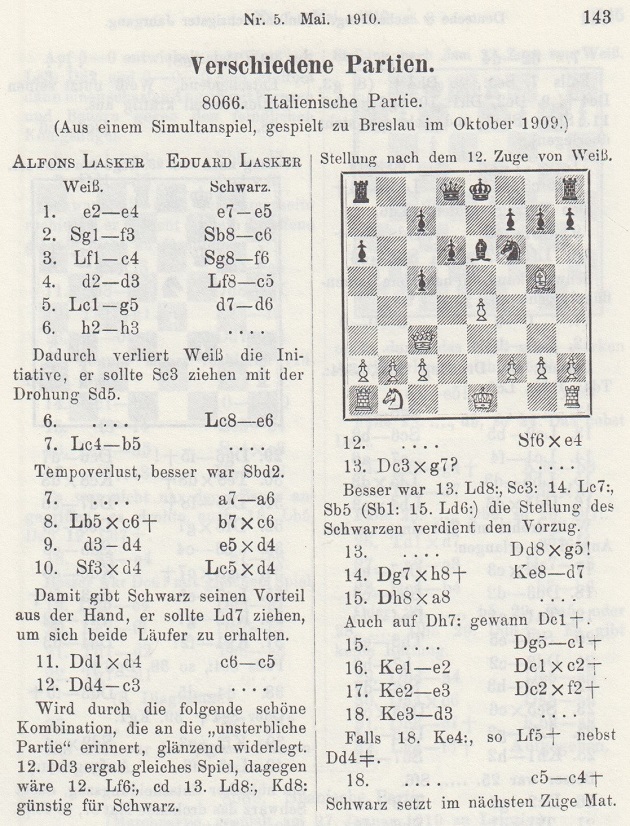 ---
11647. Ernest Kim (C.N.s 8884, 8886, 9742, 9756 & 11068)
The following have been received from Eduardo Bauzá Mercére (New York, NY, USA):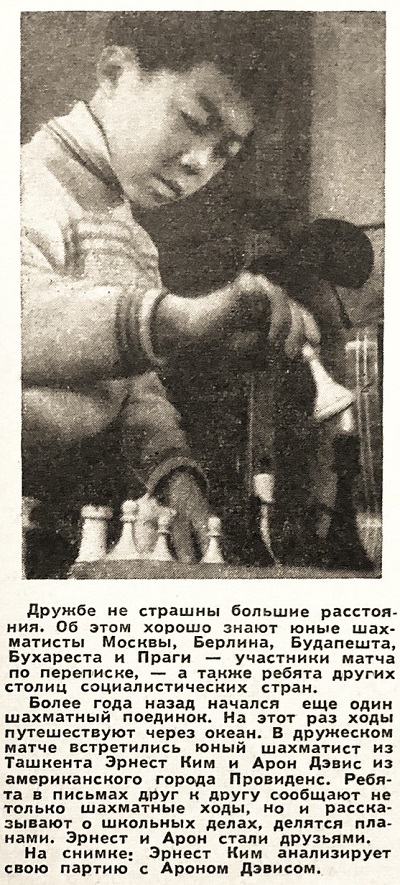 Shakhmaty v SSSR, 5/1962, page 131. Kim analysing his game with Aron Davies, mentioned in C.N. 11068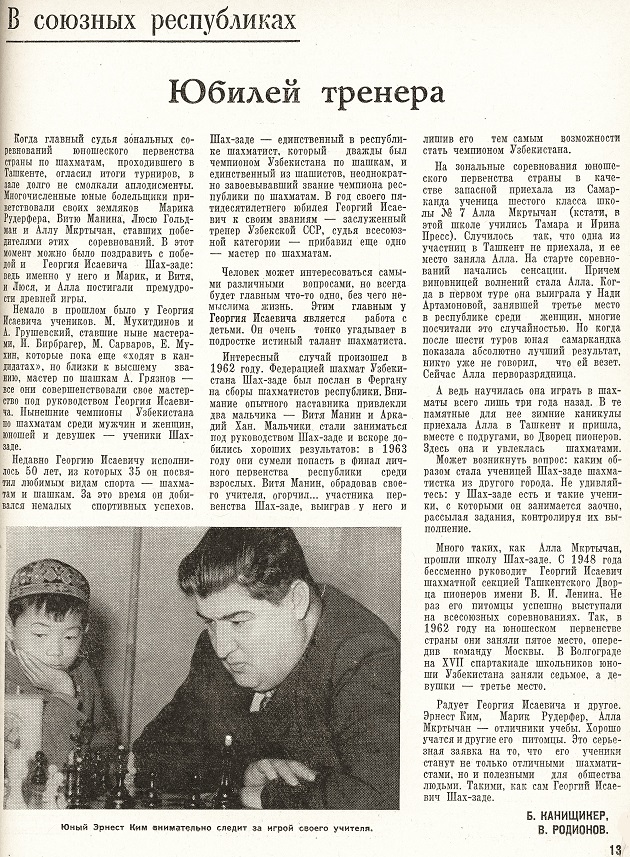 Shakhmaty v SSSR, 3/1964, page 13. Kim with his trainer, Georgy Isaevich Shakh-Zade.
---
11648. An ingenious problem (C.N. 11645)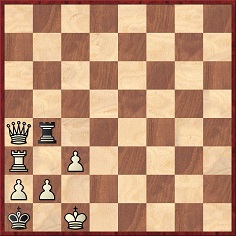 Mate in two
The solution is 1 Qc2 (threat: 2 Qb1 mate) 1...Rxb2 2 Qxb2 mate.
The problem was composed by Knud Hannemann to honour the fine performance of the Danish players in the first International Team Tournament (London, 1927). The four representatives of Denmark were Ruben, Andersen, Norman-Hansen and Krause, and the initial letters of their surnames are depicted in the course of the solution, i.e. beginning with R in the starting position. The composer's own initials (forename and surname) also appear, and a particularly clever point is that in the case of Norman-Hansen the relevant position (after 1...Rxb2) can be read as both an N and an H: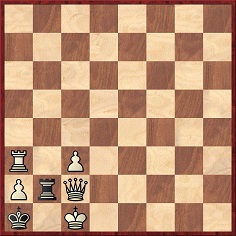 The composition, sent to us by Michael McDowell (Westcliff-on-sea, England), was published on page 112 of the Danish magazine Skakbladet, August 1927: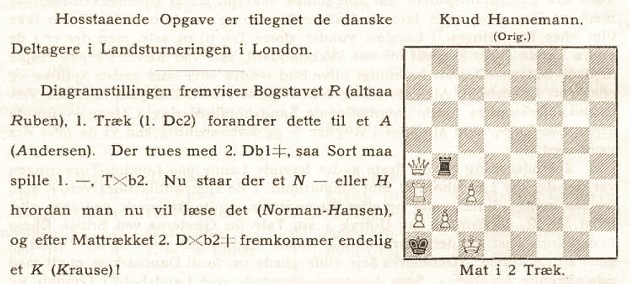 From page 109 of the same issue:

Issues of Skakbladet available online at the website of the Dansk Skak Union include the period 1924-39.
---
11649. Capablanca v Judge Bryn Roberts (C.N. 11627)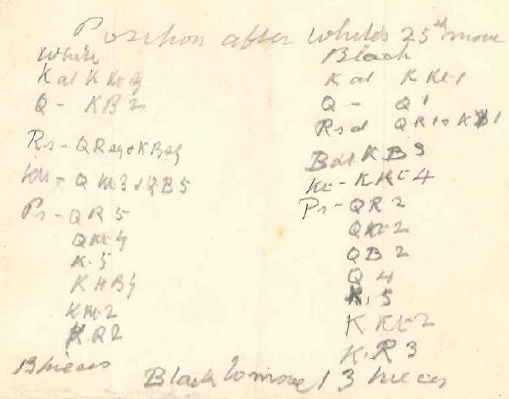 Concerning the 'tough deciphering challenge' put forward in C.N. 11627, the first 31 moves are tentatively proposed by Olimpiu G. Urcan (Singapore):
1 e4 e6 2 d4 d5 3 Nc3 Nf6 4 Bg5 Be7 5 e5 Nfd7 6 Bxe7 Qxe7 7 Qd2 Nc6 8 f4 Nb6 9 Nf3 Bd7 10 Nb5 O-O-O 11 a4 a6 12 a5 Na8 13 Nc3 Na7 14 Bd3 c5 15 dxc5 Qxc5 16 Ne2 Nc7 17 b4 Qe7 18 Ned4 Qe8 19 O-O Nc6 20 Nb3 Na7 21 Nc5 Kb8 22 Nd4 Ncb5 23 Bxb5 Nxb5 24 Ndb3 Bc6 25 Qf2 d4 26 Rad1 Qe7 27 Nxd4 Nxd4 28 Rxd4 Ka8 29 Rfd1 Bd5 30 Qd2 Rc8 31 c4 Bc6.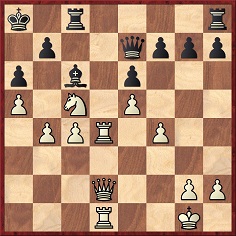 ---
11650. An old problem
The finish to Monticelli v Horowitz, Syracuse, 1934 has been discussed in C.N.s 10068, 10073, 10076 and 10105, and a further snippet is added here, from page 79 of the March 1962 Chess Review (in an article by Walter Korn):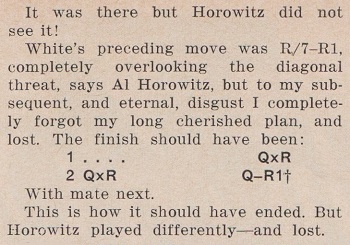 The game was played in 1934, and not 1938, but the present item will focus on the three-move problem, labelled 'P. Daley (1935)' by Korn. That unexplained date is about 60 years adrift.
The composition is customarily presented without a source, as on page 311 of the July 1906 BCM:
'Everybody, or at least most problem students, are in touching knowledge of the oft-repeated classic by P. Daley. It crops up time after time, not by reason of its intricacy or special beauty but on account of its simplicity of solution. The chic method of the little bauble has infatuated not only composers but players, since we have presented it as an endgame.'
P.H. Williams gave the 'well-known position' on page 97 of his book The Modern Chess Problem (London, 1903), commenting:
'I have known this problem to puzzle capable solvers for hours.'
On page 252 of Brentano's Chess Monthly, September 1881 there was neither a source nor a white pawn on a6:
Page 300 of the October 1881 issue of Brentano's Chess Monthly noted the missing white pawn on a6 and had this correction regarding of the Martindale problem: 'The bishops should stand on QR2 and QB sq.' See too the Chess Player's Chronicle, 20 September 1881, page 450 and 1 November 1881, page 525.
The path backwards continues, as Michael McDowell (Westcliff-on-sea, England) has pointed out by sending us this entry in the WinChloe database (reproduced here with the permission of Christian Poisson):
On page 59 of the April 1874 issue of the City of London Chess Magazine the composer's name was indeed given as Daly, and not Daley, and the same spelling was on page 128 of the June 1874 edition: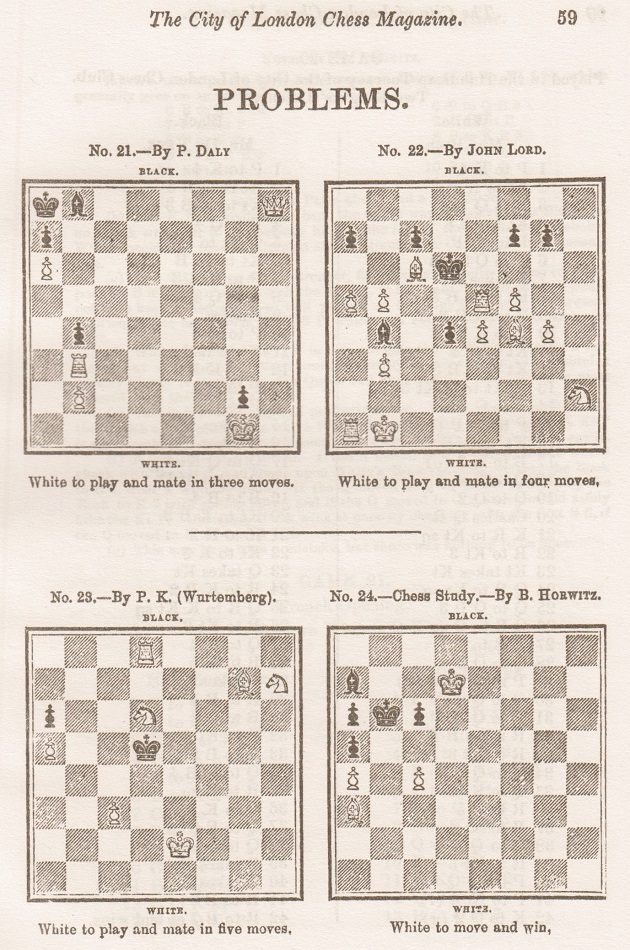 Was he Daly or Daley, and who was he?
---
11651. Blackburne v Daly
A game won by J.H. Blackburne against a player named Daly was published on pages 5-6 of the Household Chess Magazine, 31 January 1865: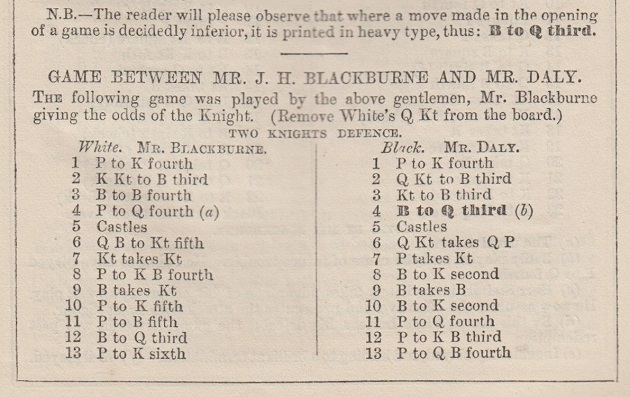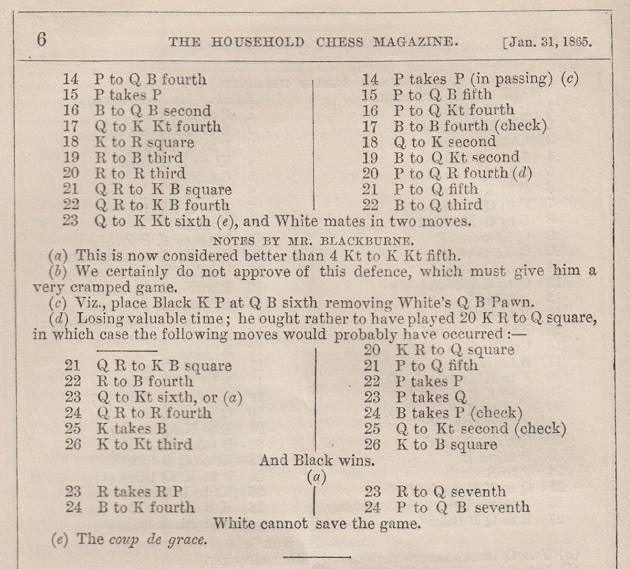 (Remove White's queen's knight.) 1 e4 e5 2 Nf3 Nc6 3 Bc4 Nf6 4 d4 Bd6 5 O-O O-O 6 Bg5 Nxd4 7 Nxd4 exd4 8 f4 Be7 9 Bxf6 Bxf6 10 e5 Be7 11 f5 d5 12 Bd3 f6 13 e6 c5 14 c4 dxc3 15 bxc3 c4 16 Bc2 b5 17 Qg4 Bc5+ 18 Kh1 Qe7 19 Rf3 Bb7 20 Rh3 a5 21 Rf1 d4 22 Rf4 Bd6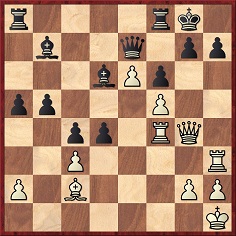 23 Qg6 'and White mates in two moves'.
---
11652. FIDE flags (C.N. 11641)
Claus Montonen (Helsingfors, Finland) notes that a FIDE flag is in a photograph captioned 'Participants of [sic] the Interzonal Tournament, Gothenburg, Sweden 1955' in the 2009 edition of the Bronstein/Fürstenberg book The Sorcerer's Apprentice, and that partial shots of what appears to be the same flag are in Tidskrift för Schack, 10-11/1952, page 254, and 4/1955, page 201.
As mentioned in C.N. 9711, the Swedish magazine can be read online.
---
11653. A short story about Alekhine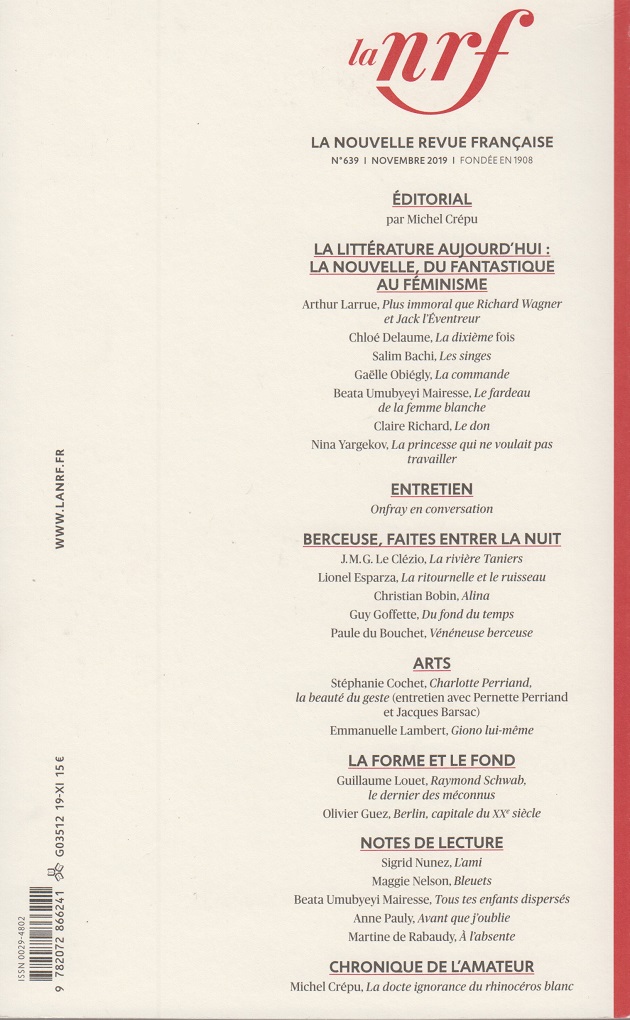 Arthur Larrue (Lisbon) informs us that a short story that he has written about Alekhine, as well as Tartakower and Najdorf, set in Buenos Aires, September 1939, has been published on pages 15-30 of the November 2019 issue of La nouvelle revue française.
The title, 'Plus immoral que Richard Wagner et Jack l'Eventreur', is adapted from a grossly misjudged remark about Alekhine by Harold Schonberg quoted in The Games of Alekhine.
---
11654. Fischer's final years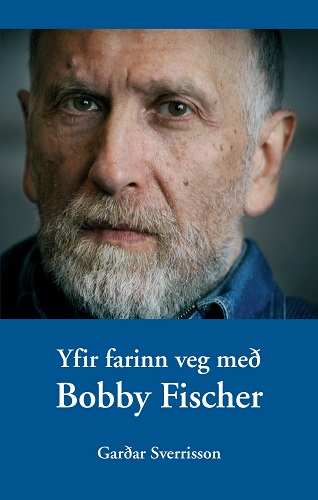 C.N. 9568 mentioned Yfir farinn veg með Bobby Fischer by Garðar Sverrisson (Reykjavik, 2015), and C.N. 9600 drew attention to a particular point: the author's categorical statement that Fischer had nothing to do with My 61 Memorable Games.
An English translation, by Maria Helga Guðmundsdóttir, of Sverrisson's 'personal memoir' has now been published, a 224-page hardback entitled Bobby Fischer The Final Years (Reykjavik, 2019).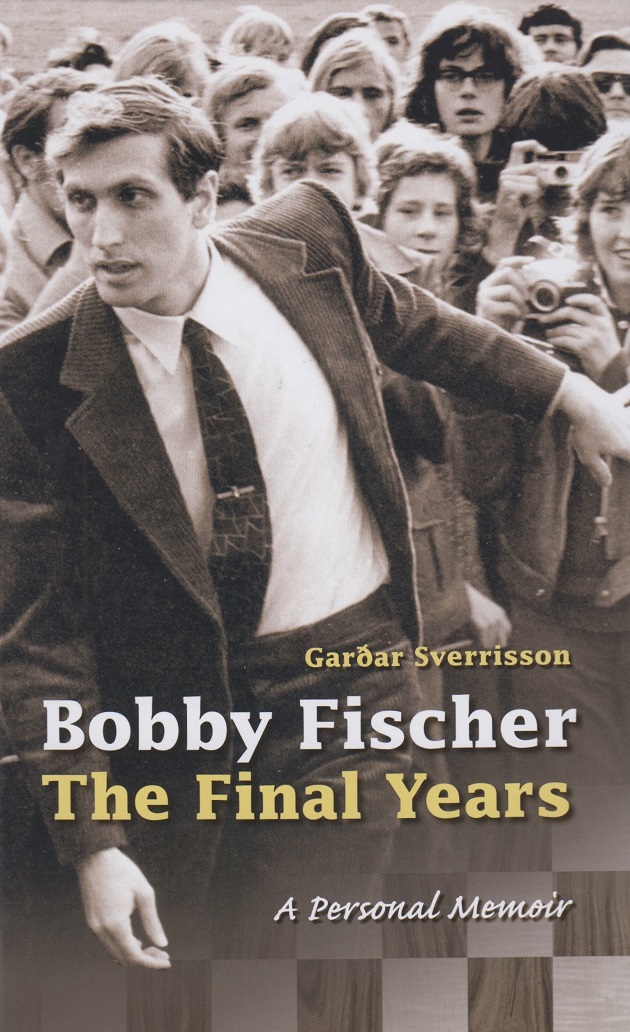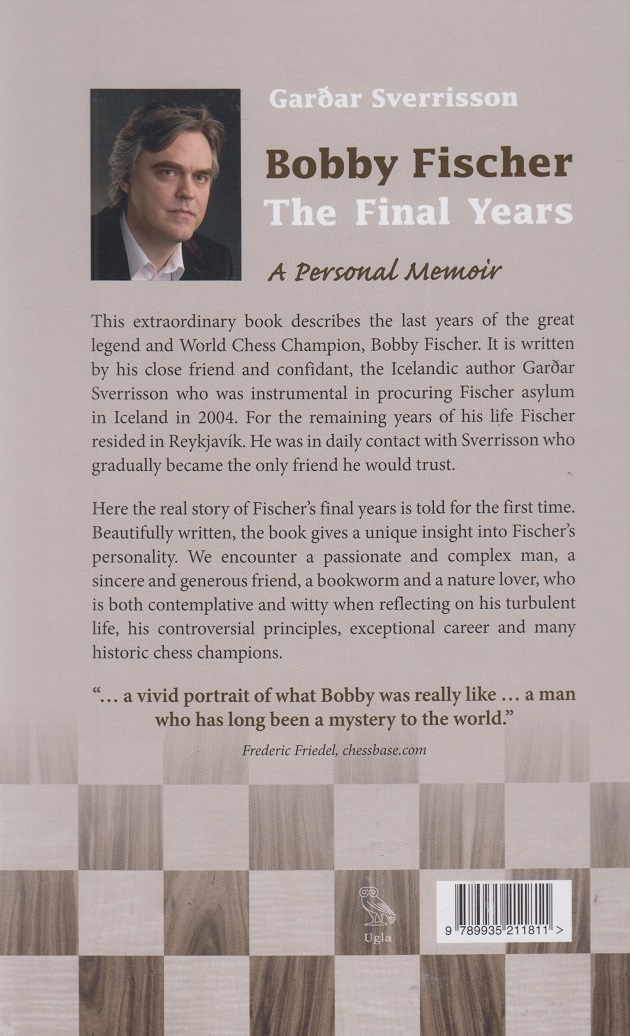 Among the many dozens of volumes about Fischer, Sverrisson's exceptionally informative and gripping work stands out, and for as long as interest in Fischer endures, it will be avidly read and quoted.
---
11655. Charles Dickens
On the subject of Charles Dickens and Chess, Ross Jackson (Raumati South, New Zealand) draws attention to an academic paper, 'Dickens's Gamers: Social Thinking in Victorian Gaming and Social Systems' by Alyssa Bellows (Cambridge University Press, 2019).
---
11656. Reuben Fine's addresses
Aidan Woodger (Halifax, England) expands on the entries for Reuben Fine in Where Did They Live?:
'1910:

Zlotta (head), Bertha and Sarah Nedner and Rubin Lazarus (boarder);

230 100th Street, Manhattan, New York (USA Federal Census, 1910).

---

1915:

Jacob, Bertha, Eva and Ruby (the children's names are diminutives);

71 and 73 East 112th Street, Block I, Election District 16, New York, Assembly District 26, New York County, New York State (New York Census, 1920).

---

1920-24:

921 Home Street, Bronx Assembly District 5, Bronx County, New York (USA Federal Census, 1920; Jacob Fine's Petition for Naturalization).

---

1925:

1155 Simpson Street, Bronx County, Block II, Election District 29, Assembly District 5, New York City, New York State (New York Census, 1925).

---

1930:

1569 Vyse Avenue, Bronx, Bronx County, New York (USA Federal Census, 1930).

---

1940:

115-25-84 Ave Cor 116 Street, Borough of Queens, New York (USA Federal Census, 1940).

A link to the census was given in C.N. 11518. A handwritten note at the top of the page indicates that the Fines lived in the Rosesmith Apartments. Further work is required to identify the exact location.

The State census and naturalization documents were found by Jane Daw.'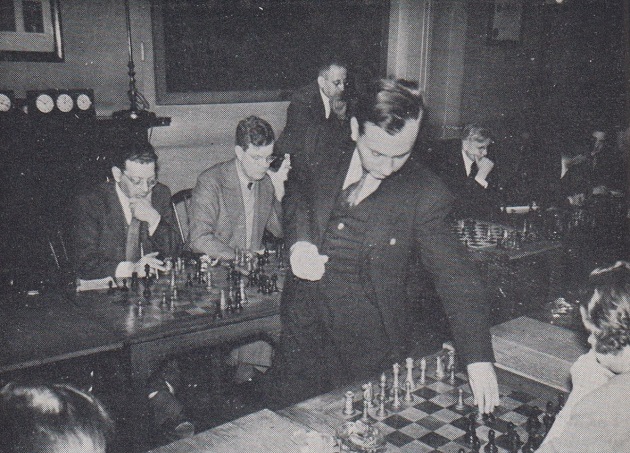 Reuben Fine, Marshall Chess Club, 7 December 1942
Chess Review, January 1943, page 9
---
11657. Ossip Bernstein
The Gallica website has two fine photographs of Ossip Bernstein dated 1927.
---
11658. Sergei Belavenets (C.N. 4938)
Eduardo Bauzá Mercére (New York, NY, USA) sends this photograph of Sergei Belavenets (1910-42) from page 7 of a special issue of 64. Шахматно-шашечная газет, 27 May 1938: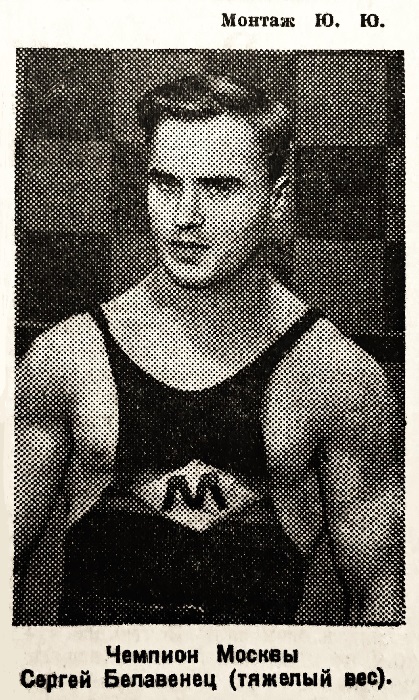 ---
11659. A book list
Mark Erickson (Richland, WA, USA) reports that pages 265-266 of Good Books: A Book Lover's Companion by Steven Gilbar (New Haven, 1982) included a section on chess. The titles picked were Every Great Chess Player Was Once A Beginner (Byfield and Orpin), The Chess Companion (Chernev), Idle Passion (Cockburn), Bobby Fischer vs. the Rest of the World (Darrach), King Kill (Gavin), All About Chess (Horowitz), Paul Morphy (Lawson), The Defense (Nabokov), Modern Ideas in Chess (Réti), Grandmasters of Chess (Schonberg), and A Picture History of Chess (Wilson).
Little effort was invested: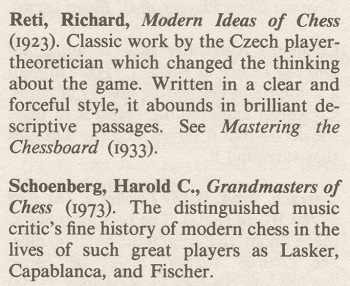 ---
11660. Charles Tomlinson
Information is sought regarding the documents mentioned in the chess column of the Rev. Dr Davies on page 6 of the Ipswich Journal, and Suffolk, Norfolk, Essex, and Cambridgeshire Advertiser, 3 June 1898: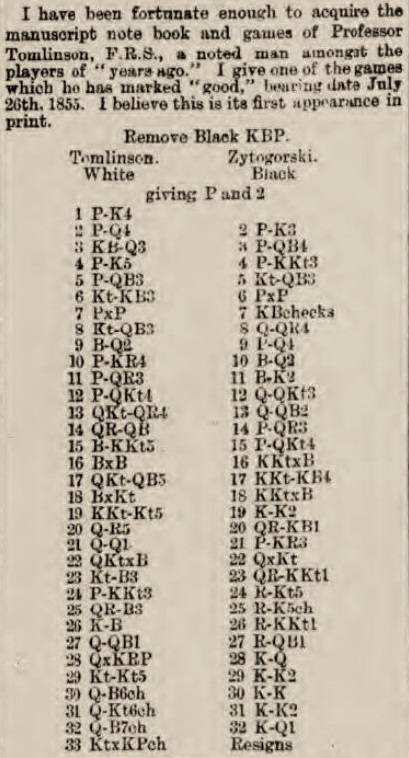 (Remove Black's f-pawn.) 1 e4 ... 2 d4 e6 3 Bd3 c5 4 e5 g6 5 c3 Nc6 6 Nf3 cxd4 7 cxd4 Bb4+ 8 Nc3 Qa5 9 Bd2 d5 10 h4 Bd7 11 a3 Be7 12 b4 Qb6 13 Na4 Qc7 14 Rc1 a6 15 Bg5 b5 16 Bxe7 Ngxe7 17 Nc5 Nf5 18 Bxf5 gxf5 19 Ng5 Ke7 20 Qh5 Raf8 21 Qd1 h6 22 Nxd7 Qxd7 23 Nf3 Rfg8 24 g3 Rg4 25 Rc3 Re4+ 26 Kf1 Rg8 27 Qc1 Rc8 28 Qxh6 Kd8 29 Ng5 Ke7 30 Qf6+ Ke8 31 Qg6+ Ke7 32 Qf7+ Kd8 33 Nxe6+ Resigns.
---
11661. Alekhine's vase (C.N.s 3697, 9916, 9924 & 11339)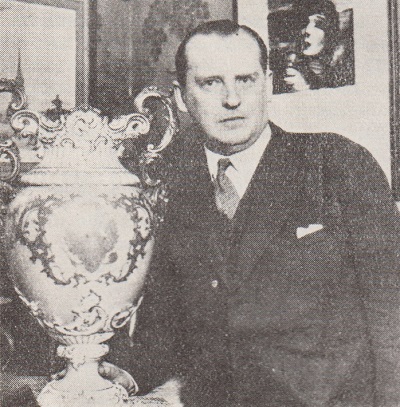 El Ajedrez Americano, November 1935, page 175 (C.N. 3697)
From Michael Clapham (Ipswich, England):
'Page 13 of Shakhmatnoye Obozreniye for January, February, March and April 1909 includes the well-known photograph of the 16-year-old Alekhine with the vase awarded to him for winning the Masters' Tournament in St Petersburg that year. Lower down the page the object is described as a "precious porcelain vase from the Imperial Factory", and a footnote described the object in detail.




The board position appears to relate to Alekhine's win against B. Gregory at St Petersburg, 1909 (game one in his first Best Games collection):

The following is from pages 26-27 of the Russian-language tournament book:





A question that arises is why references exist to a Sèvres vase (i.e. from France and not from the Imperial Porcelain factory in St Petersburg), as in Alekhine's conversation with Informaciones, quoted in your feature article Two Alekhine Interviews (1941).

Andrew Soltis muddies the waters on page 14 of Soviet Chess 1917-1991 (Jefferson, 2000), when discussing the First Soviet Championship, held in Moscow in 1919:

"Alekhine wrote that the players had been promised a first prize of an ivory Chinese set. But the organisers improvised instead with belongings of émigrés confiscated from pawn shops: Alekhine, who placed first by a full point, selected 'some bulky vase' apparently impressed by the weight."

Page 34 of Alexander Alekhine's Chess Games, 1902-1946 by L. Skinner and R. Verhoeven (Jefferson, 1998) states, in a discussion of the 1909 tournament, that "the first prize consisted of a cut glass vase". A similar claim was made on page 45 of Emanuel Lasker Second World Champion by I. and V. Linder (Milford, 2010): "He [Alekhine] was awarded the title of Master, along with the first prize, a luxurious crystal vase donated by Tsar Nicholas II." Page 26 of Max Euwe The Biography by A. Münninghof (Alkmaar, 2001) referred to a Sèvres vase which Alekhine "had received from the Tsar in 1914 for winning the all-Russia tournament of St Petersburg".

Returning to Shakhmatnoye Obozreniye for January, February, March and April 1909, I note that page 16 gives details of the diploma in watercolour which Alekhine also received:

The artist is named as Yuri Artsybushev, and the diploma was also reproduced on page 37 of the Russian edition of the St Petersburg, 1909 tournament book.'
---
11662. A painting of Capablanca
From page 19 of the book on the 1966 Olympiad in Havana: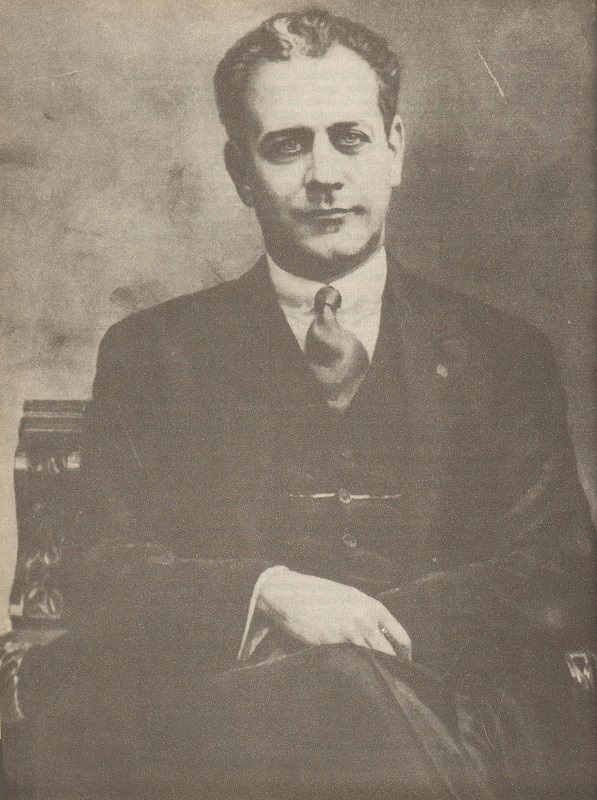 Wanted: more information about this painting, which is based on the Bad Kissingen, 1928 group photograph.
Page 362 of the October 1971 BCM gave this shot: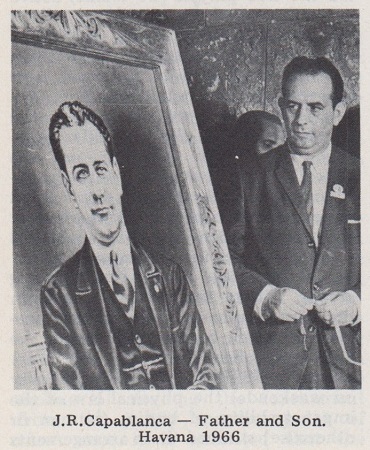 Two appearances of the painting on the front cover of the Cuban periodical Jaque Mate: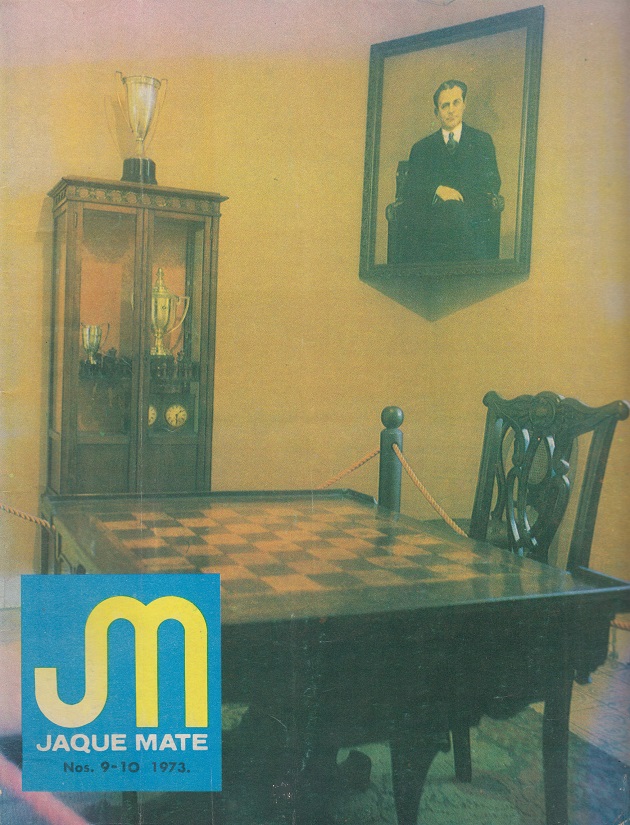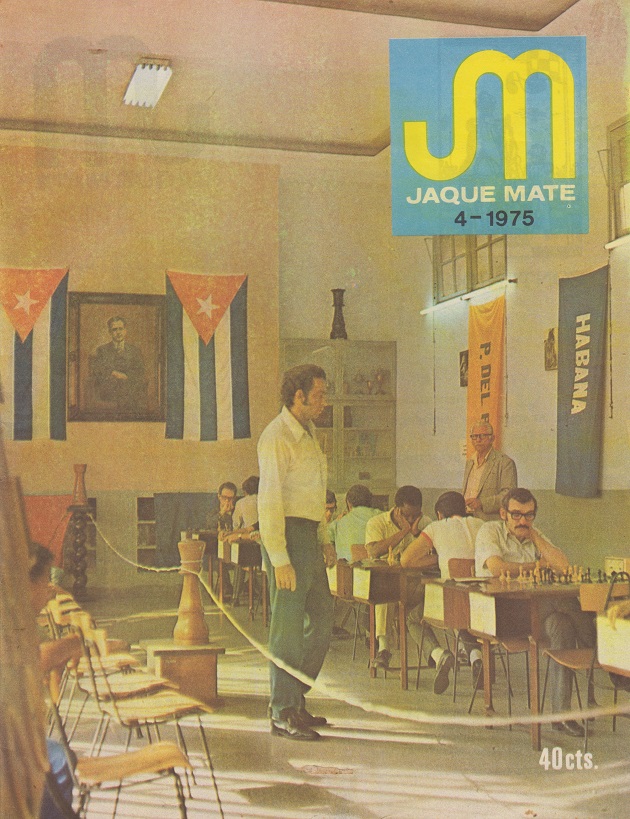 The photograph below, showing a commemoration of the 1921 world championship match, was taken at the National Museum of Sports, Havana by Bernardo Alonso García and was sent to us in 1994 by Armando Alonso Lorenzo (Prov. Ciego de Avila, Cuba):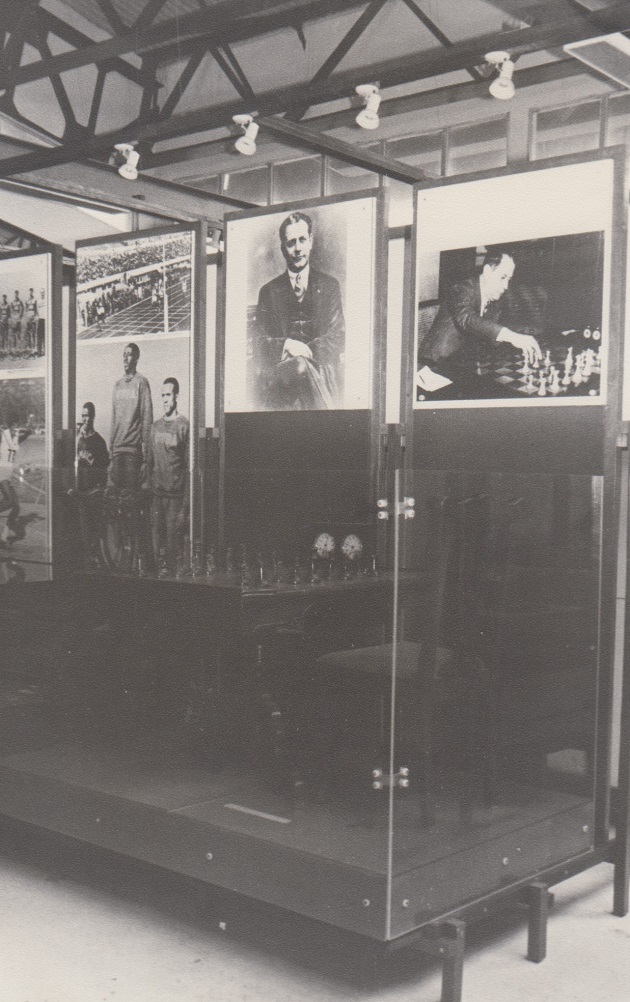 ---
11663. A study by Korolkov (C.N. 11640)
C.N. 11640 gave this 1938 study by Vladimir Korolkov, without notes:
White to move and win
1 Qg1 b1(Q) 2 Qxb1 g1(Q) 3 Qxg1 Rg3 4 Qg2 Rg4 5 Qg3 Rg5 6 Qg4 Rxg4 7 Ke7 Re4+ 8 Kxd7 Rd4 9 f8(Q) Rxd6+ 10 Ke7 Rd7+ 11 Ke6 Re7+ 12 Kd6 Rd7+ 13 Ke5 Re7+ 14 Be6+.
The profundity of the composition is shown by pages 116-118 of Korolkov's book Избранные этюды (Moscow, 1958):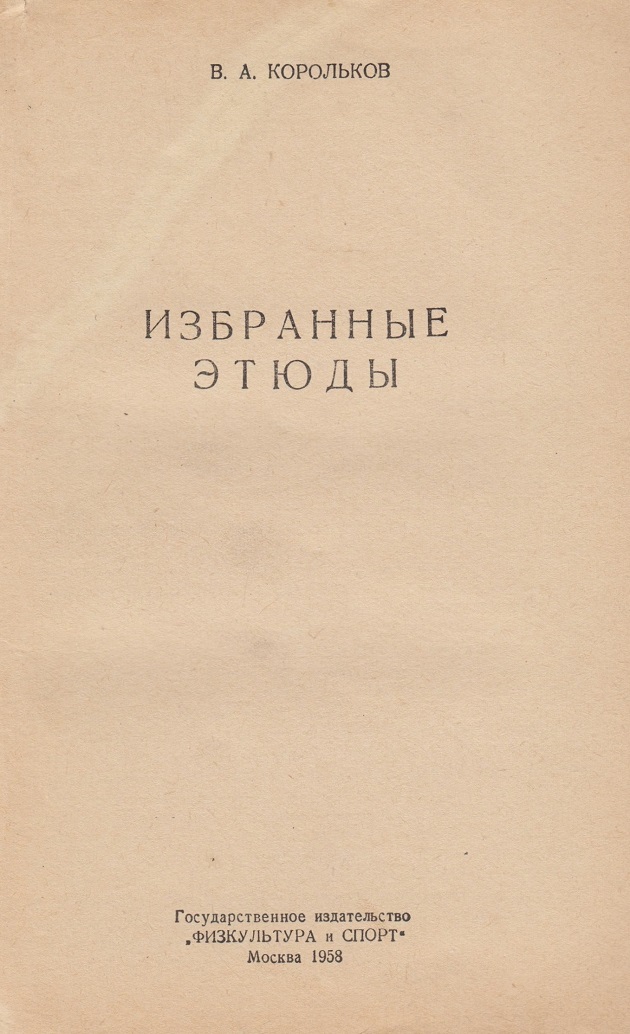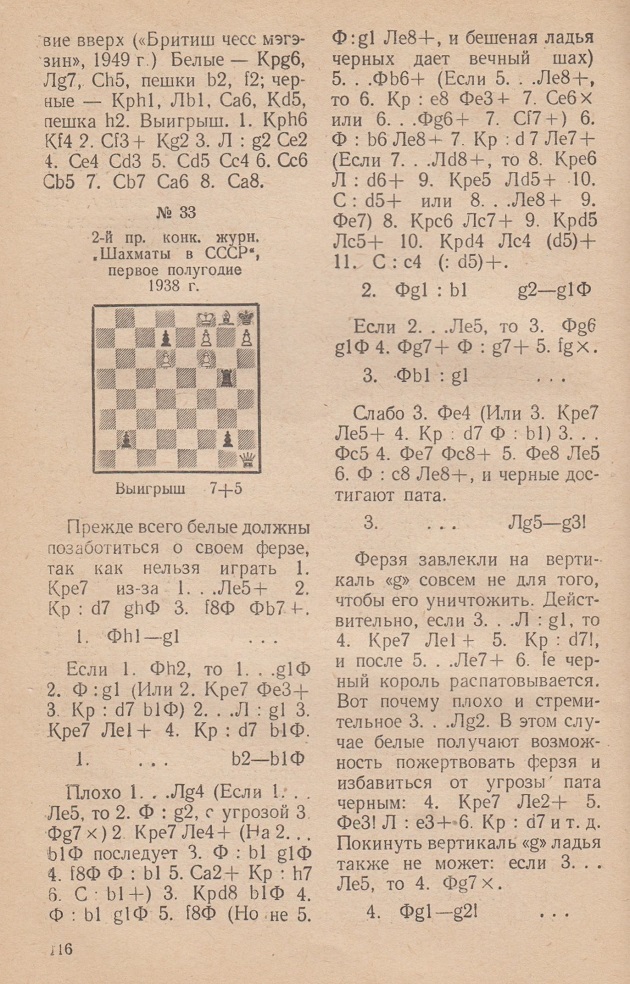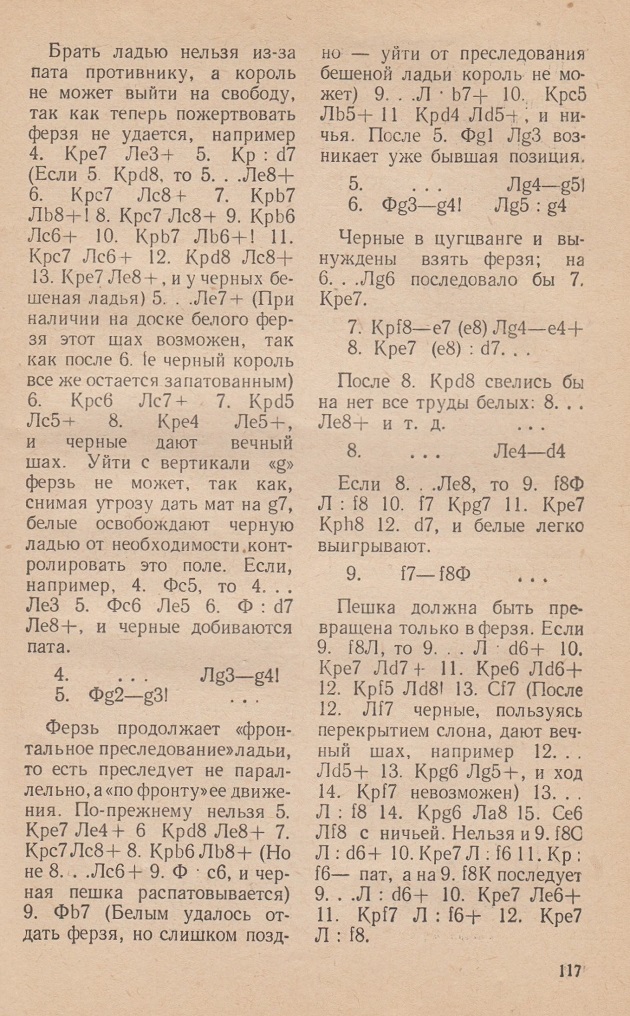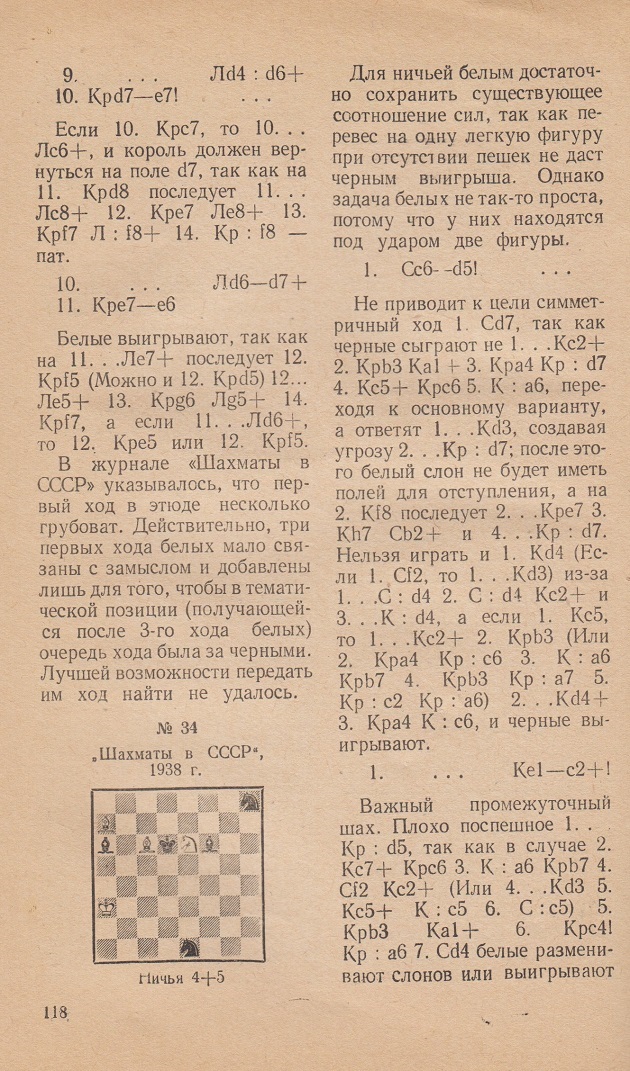 ---
11664. Another Capablanca book
The Introduction (page 5) to Play Like a World Champion José Raúl Capablanca by Bill Jordan ('Amazon Fufillment', Wrocław, 2019) begins with a paragraph which was considered good enough to reproduce on the back cover:

---
11665. Oslo, 1939
From page 223 of Alt om Skak by Bjørn Nielsen (Odense, 1943):
---
11666. Robert B. Long
Sean Robinson (Tacoma, WA, USA) informs us of the death of Robert B. Long earlier this month. He was murdered at his home in Davenport, IA, USA.
Bob Long was a chess editor, bookseller and writer whose magazines included the Chess Gazette, Lasker & His Contemporaries and Squares. The most prominent of the many books published by his company, Thinkers' Press, was a series of compilations of C.J.S. Purdy's writings.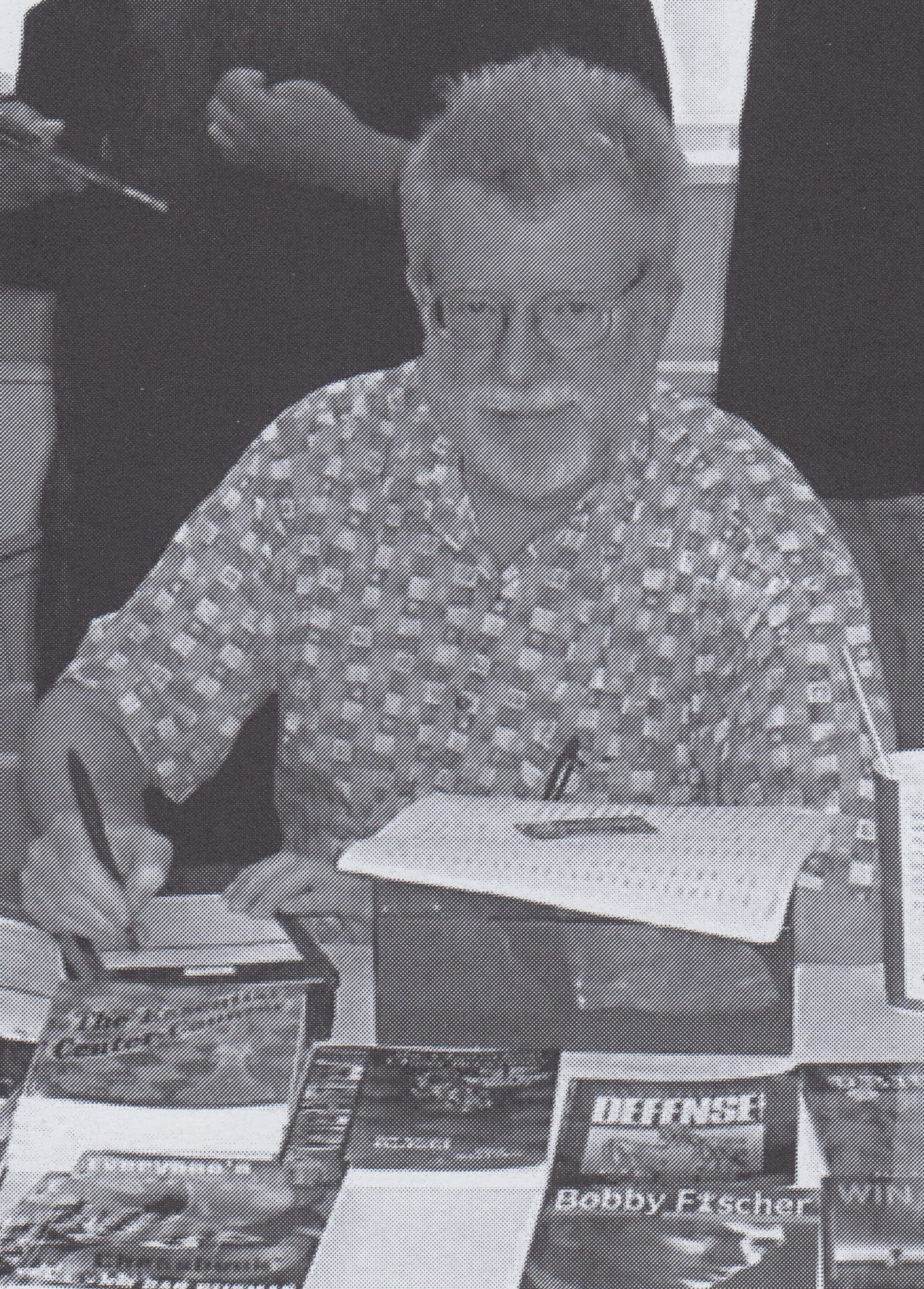 Bob Long
Squares, Fall 2005, page 34
---
11667. van Vliet v N.N.
From page 10 of the Globe, 24 December 1910 (chess column by O.C. Müller):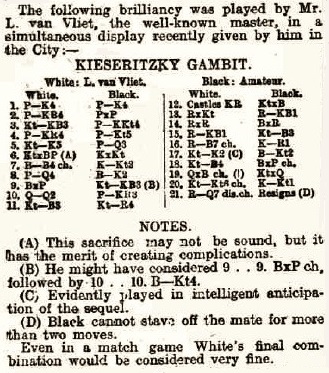 1 e4 e5 2 f4 exf4 3 Nf3 g5 4 h4 g4 5 Ne5 d6 6 Nxf7 Kxf7 7 Bc4+ Kg7 8 d4 Be7 9 Bxf4 Nf6 10 Qd2 h6 11 Nc3 Nh5 12 O-O Nxf4 13 Rxf4 Rf8 14 Rxf8 Bxf8 15 Rf1 Nc6 16 Rf7+ Kh8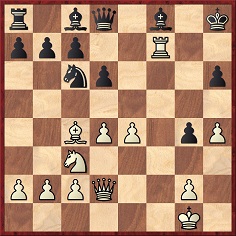 17 Ne2 Bg7 18 Nf4 Bxd4+ 19 Qxd4+ Nxd4 20 Ng6+ Kg8 21 Rd7+ Resigns.
---
11668. Důras v Thomas

Source: The Globe, 14 January 1911, page 8.
Though absent from various databases, the game is not altogether 'unknown'. It is on pages 117-118 of The Complete Games of Oldrich Duras by Jan Kalendovský (Nottingham, 1997), which took the score from Časopis českých šachistů, 1911, page 22: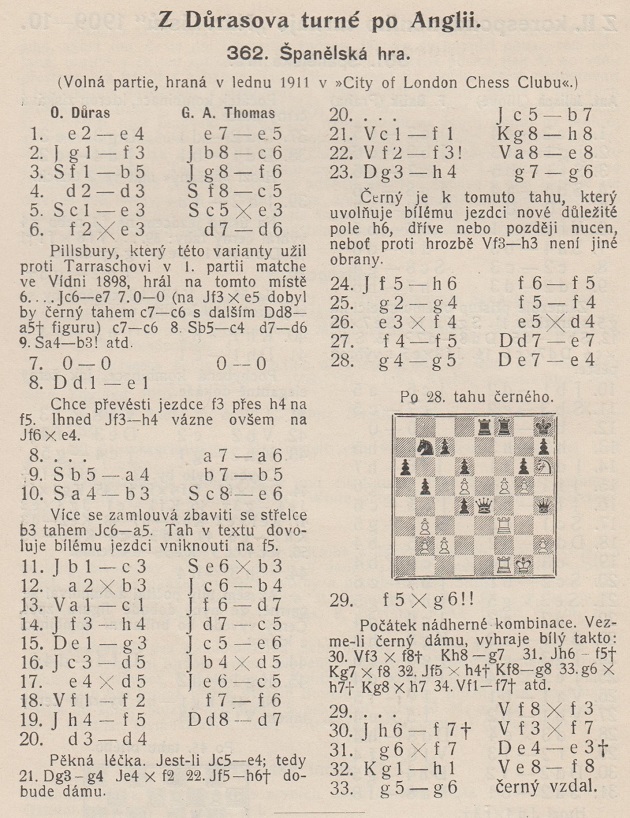 1 e4 e5 2 Nf3 Nc6 3 Bb5 Nf6 4 d3 Bc5 5 Be3 Bxe3 6 fxe3 d6 7 O-O O-O 8 Qe1 a6 9 Bc4 b5 10 Bb3 Be6 11 Nc3 Bxb3 12 axb3 Nb4 13 Rc1 Nd7 14 Nh4 Nc5 15 Qg3 Ne6 16 Nd5 Nxd5 17 exd5 Nc5 18 Rf2 f6 19 Nf5 Qd7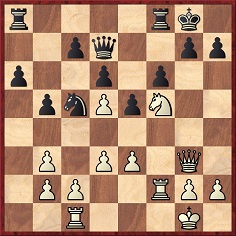 20 d4 Nb7 21 Rcf1 Kh8 22 Rf3 Rae8 23 Qh4 g6 24 Nh6 f5 25 g4 f4 26 exf4 exd4 27 f5 Qe7 28 g5 Qe4 29 fxg6 Rxf3 30 Nf7+ Rxf7 31 gxf7 Qe3+ 32 Kh1 Rf8 33 g6 Resigns.
---
11669. Daley/Daly (C.N. 11650)
Jerry Spinrad (Nashville, TN, USA) notes that when the mate-in-three problem was given on page 35 of the Melbourne Leader, 9 July 1898 it was referred to as 'a little American production ... of which Philip Daley was the author'. Additional citations are sought.
---
11670. Folkestone, 1933
Further to C.N.s 5777, 5974, 9216 and 9465 ('balcony photographs' taking during the 1933 International Team Tournament, held at the Leas Cliff Hall, Folkestone), below is the Swedish team, from page 181 of Skakbladet, December 1933: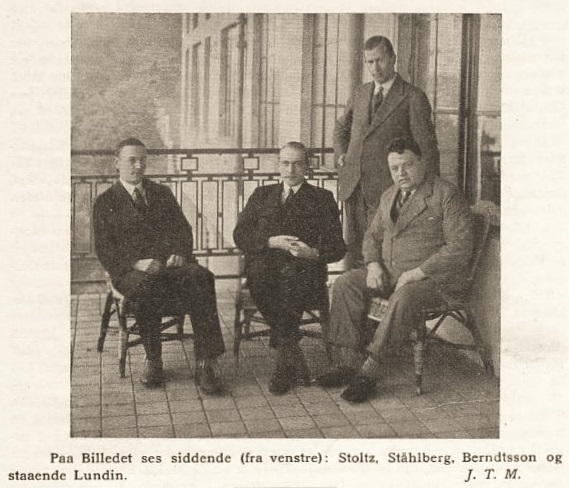 ---
11671. Heidenfeld v Roele
From W.H. Cozens' review of Lacking the Master Touch by Wolfgang Heidenfeld (Cape Town, 1970) C.N. 8300 quoted a remark about the 'comical' 1954 game Heidenfeld v Roele: 'the dénouement must be seen to be believed.'
1 e4 e5 2 Nc3 Nf6 3 f4 d5 4 fxe5 Nxe4 5 d3 Nxc3 6 bxc3 Be7 7 Nf3 O-O 8 Be2 c5 9 d4 Nc6 10 O-O f6 11 Bf4 g5 12 exf6 gxf4 13 fxe7 Qxe7 14 Bd3 c4 15 Re1 Qa3 16 Bxh7+ Kxh7 17 Ng5+ Kg6 18 Ne6 Bxe6 19 Rxe6+ Kf5 20 Rh6 Qxc3 21 Qh5+ Ke4 22 Rd1 Rae8 23 Qg6+ Ke3 24 Rh3+ f3 25 Rxf3+ Ke2 26 Rxc3 Kxd1 27 h4 Nxd4 28 Kh2 Ne2 29 Rf3 d4 30 h5 Rxf3 31 gxf3 Re3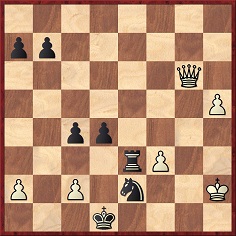 32 Qf5 d3 33 cxd3 c3 34 Qc5 Rxf3 35 h6 Rf6 36 Qg5 Rf2+ 37 Kh3 Nf4+ 38 Kg4 Rg2+ 39 Kf5 Rxg5+ 40 Kxg5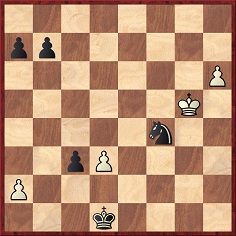 40...c2 41 h7 c1(Q) 42 h8(Q) Nxd3+ 43 White resigns.
Heidenfeld's concluding note on page 29 of Games & Puzzles, February 1977, after recording his resignation:
'And then? We both laughed!'
An analytical point on the same page of Games & Puzzles indicates a further publication: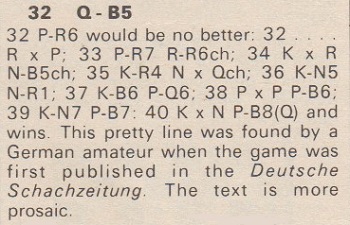 Heidenfeld had written similarly on page 35 of Lacking the Master Touch: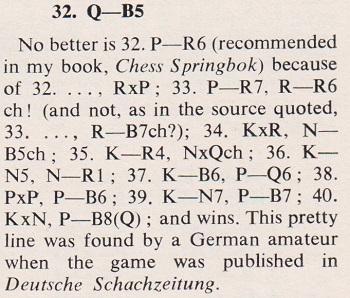 The game was not published by the Deutsche Schachzeitung in 1954. It was annotated by Heidenfeld on pages 44-45 of the February 1961 issue (with 32 h6 recommended), but no subsequent analytical correction from a reader has been traced.
More information is sought regarding Heidenfeld's remark on page 33 of Lacking the Master Touch that his loss to Roele 'was awarded the prize for the most amusing game in a competition run by Harry Golombek in the Observer'.
The game was discussed on pages 94-97 of Chess Curiosities by Tim Krabbé (London, 1985), but here too there is an unexpected hitch for the researcher, as the section concludes:
'(Notes mainly by Heidenfeld in the British Chess Magazine.)'
We have not noted the game in the BCM of any year.
On the analytical front, see too an article by Allan Beardsworth.
Introducing the score in Games & Puzzles, Heidenfeld wrote:
'My most entertaining game of chess ... was played in the course of a short training match against the Dutch player C.H. Roele at Amsterdam in 1954. Roele was a strong player but never got anywhere in Dutch chess because, I believe, of some dubious politics at the time of the Nazi occupation – I do not know the details.'
Heidenfeld also gave the occasion as 'a small training match at Amsterdam 1954' on page 33 of Lacking the Master Touch. More details were in the introduction to the game on page 34 of his book Chess Springbok (Cape Town, 1955):
'C.H. Roele is a strong Dutch player who, though not playing much in his home country, has successfully competed in several French tournaments. Although he beat me by 2½-1½, I have no complaint, seeing that the following crazy game made the whole difference between winning and losing the match. I cannot help feeling that much stronger players would have misjudged the position in the same way as I did.'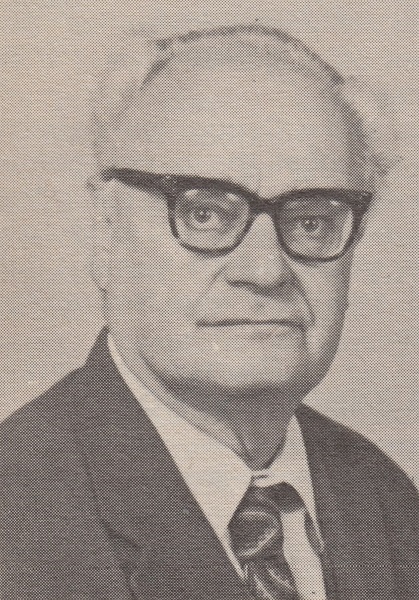 Wolfgang Heidenfeld
Games & Puzzles, February 1977, page 28
In all four sources referred to (Chess Springbok, the Deutsche Schachzeitung, Lacking the Master Touch and Games & Puzzles) Heidenfeld stated that the game was played in Amsterdam. So did Tim Krabbé on page 94 of Chess Curiosities, but in an online article 'Migrating to the South' he amended Amsterdam to Utrecht on the basis of information received from a reader in 2004:
'An interesting communication by the South African chessplayer Christoff Mans adds some details to this game. It was the fourth and last game of a match (played in Utrecht, not Amsterdam as I first had it), won by Roele with 2½-1½. In the April 1954 issue of The South African Chessplayer Heidenfeld described it as "a hair-raising game in which I had won the hostile queen by a very long combination in the course of which my opponent's king had to travel all over the board – and then could not reconcile myself to the fact that it was he and not I who had winning chances. I do not grudge my opponent his win: the fun alone was worth the money."'
However, the change from Amsterdam to Utrecht seems to be based on a misinterpretation of the article, which is reproduced below in full, courtesy of the Royal Dutch Library in The Hague: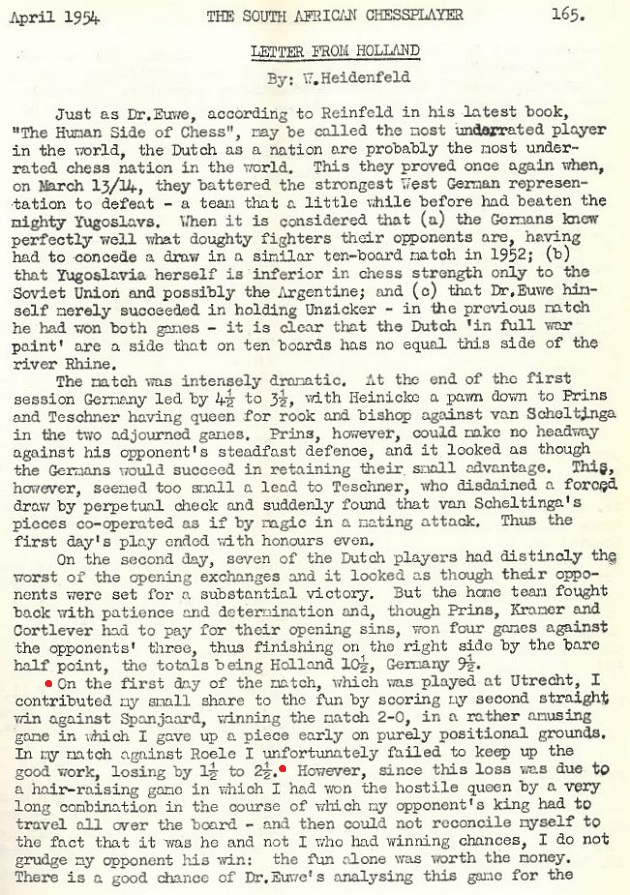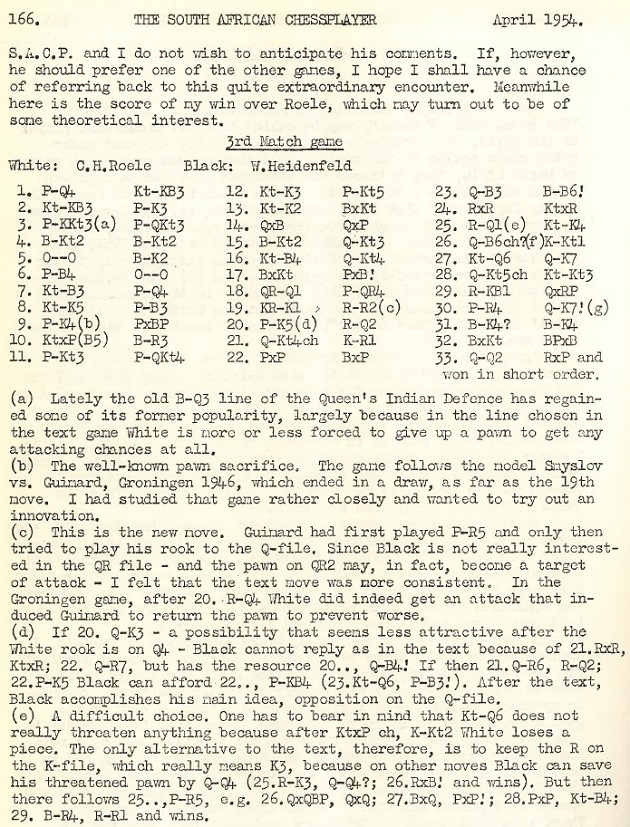 The reference to Utrecht in the last paragraph of page 165 concerns, primarily, the double-round match between Holland and West Germany (witnessed by Heidenfeld, who wrote a report on pages 109-110 of the April 1954 BCM) and, secondarily, his two-game match against E. Spanjaard (a 'side-show' to the international match, he wrote on page 28 of Chess Springbok). As Heidenfeld consistently gave Utrecht as the venue for his match against Spanjaard and Amsterdam in the case of Roele, it is unlikely that the passage in the South African Chessplayer meant to imply that the match against Roele took place in Utrecht.
In Lacking the Master Touch Heidenfeld v Roele preceded Spanjaard v Heidenfeld, but Chess Springbok had this sequence: Heidenfeld v Spanjaard (Utrecht, March 1954), Spanjaard v Heidenfeld (Utrecht, March 1954), Heidenfeld v Roele (Amsterdam, March 1954).
Despite the remark on pages 165-166 of the April 1954 South African Chessplayer, there was no follow-up coverage of Heidenfeld v Roele, although pages 177-180 of the May 1954 issue had an article by Euwe which discussed Heidenfeld's visit to Holland and annotated his victory with the black pieces against Spanjaard. The former world champion included this general assessment of Heidenfeld:
'He could not be a grandmaster with so little serious practice. There are gaps in his theoretical knowledge and in his endgame routine, and these have cost him many a full and half point. But beyond those shortcomings one can discern the gifted player with a daring combinative style.'
As regards Roele, on page 94 of Chess Curiosities Tim Krabbé wrote:
'Around 1960, he disappeared without a trace.'
---
11672. Alekhine's father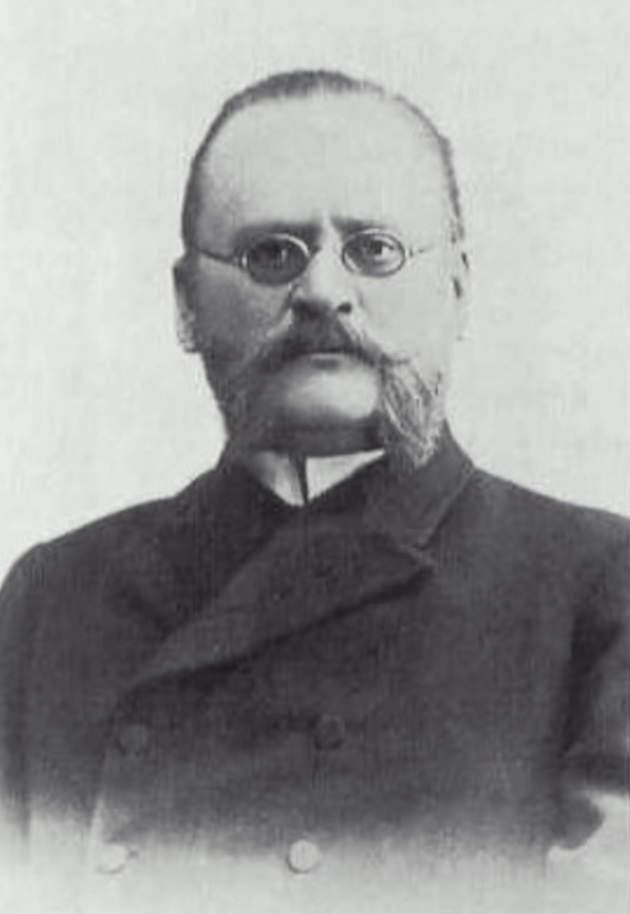 Permission from Alamy.com for us to reproduce this photograph of Alexander Ivanovich Alekhin (1856-1917) has been obtained by Olimpiu G. Urcan (Singapore).
---
11673. Fischer on Purdy
C.N. 9561 showed part of the back cover of C.J.S. Purdy's Guide to Good Chess (Davenport, 2006):

The front cover of another Thinkers' Chess production, published towards the end of 2019, also has a reference to Fischer on which more information is sought: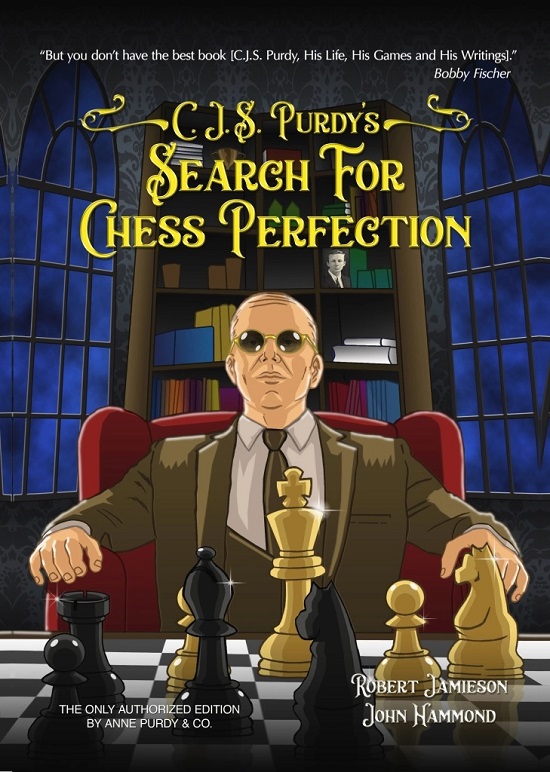 Purdy is almost universally admired, but C.N. 9639 quoted the following from Larry Evans, in a letter to us dated 12 November 1990:
'... the relatively obscure Australian magazine Chess World (which probably never reached 1,000 subscribers) edited by a minor master to whom I could have given pawn and move ... If you care to place a wager – with the loser to pay for the cost of a poll – I maintain that not ten in a thousand subscribers to Chess Life have ever heard of or seen a copy of Purdy's Chess World, which they would probably confuse with Frank Brady's short-lived periodical.'
We add here a film clip of Purdy giving a simultaneous display. An announcement of the event was on page 41 of Chess World, 1 February 1951: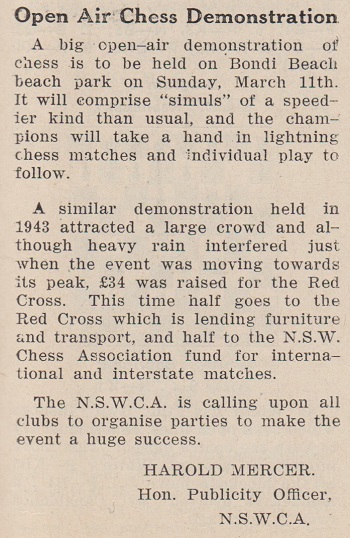 The photograph of Purdy below comes from page 155 of the Australasian Chess Review, 30 June 1938 and is of slightly better technical quality than the version given in C.N. 4924 from page 284 of Chess World, December 1951.
---
11674. Premature resignation
To the many cases listed in the Factfinder, an addition is made from page 12 of the Universities Chess Annual, November 1950: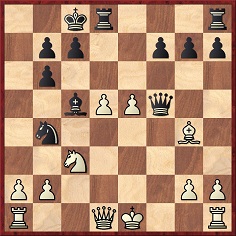 Black to move
This position arose in the game between J.E. Littlewood and M.J. Egginton in round ten of the inaugural individual championship of the British Universities Chess Association, held at Trinity College, Cambridge on 17-28 July 1950:
'Egginton resigned in the diagram position, but Kt-B7ch would have won for him.'
Nothing more was said about the game.
---
11675. Thinking
From page 27 of Games & Puzzles, July 1976: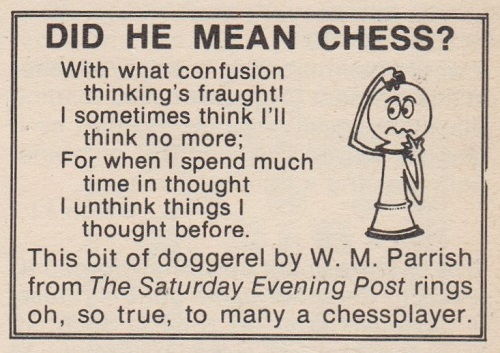 The poet's name was given as M.M. Parrish on page 71 of the Saturday Evening Post, 24 November 1951:
---
11676. Blindfold play by Flesch (C.N.s 3583 & 5941)
An addition to Chess Masters on Film is some footage of János Flesch playing blindfold chess.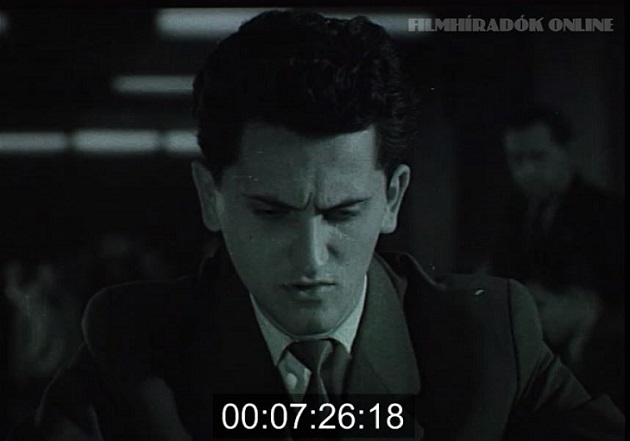 ---
11677. Books on Capablanca by M.A. Sánchez
Given the possibility of bibliographical confusion, below is a list, expanded from the entries in Books about Capablanca and Alekhine, of the various editions of Miguel A. Sanchez's work:
Capablanca, Leyenda y Realidad (Ediciones Unión, Havana, 1978; two volumes). 306 and 397 pages, plus unnumbered pages with crosstables and photographs;


José Raúl Capablanca A Chess Biography (McFarland & Company, Inc., Jefferson, 2015). viii + 553 pages;


Capablanca, Leyenda y Realidad (Ediciones Unión, Havana, 2017/19). 404 pages;


Capablanca, Leyenda y Realidad (Editorial Casa Vacía/Lightning Source UK Ltd., 2019; two volumes: 'El rey coronado' and 'El rey destronado'). 397 and 268 pages;


Capablanca, Leyenda y Realidad (Editora Solis, Santana de Parnaíba, 2019). 549 pages;


Capablanca Lenda e Realidade (Editora Solis, Santana de Parnaíba, 2019). 544 pages. Translation into Portuguese by Francisco Garcez Leme.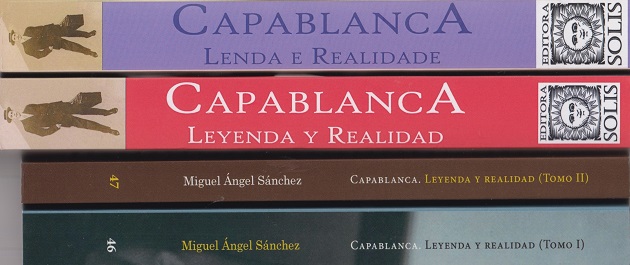 ---
11678. Modern-looking
Eduardo Bauzá Mercére (New York, NY, USA) sends a game from pages 31-33 of An Easy Introduction to the Game of Chess (London, 1813):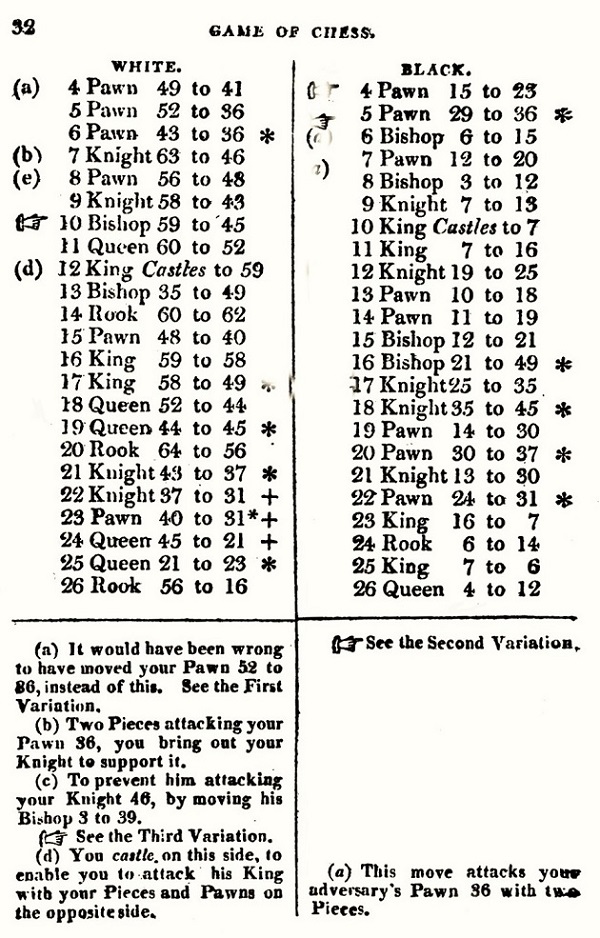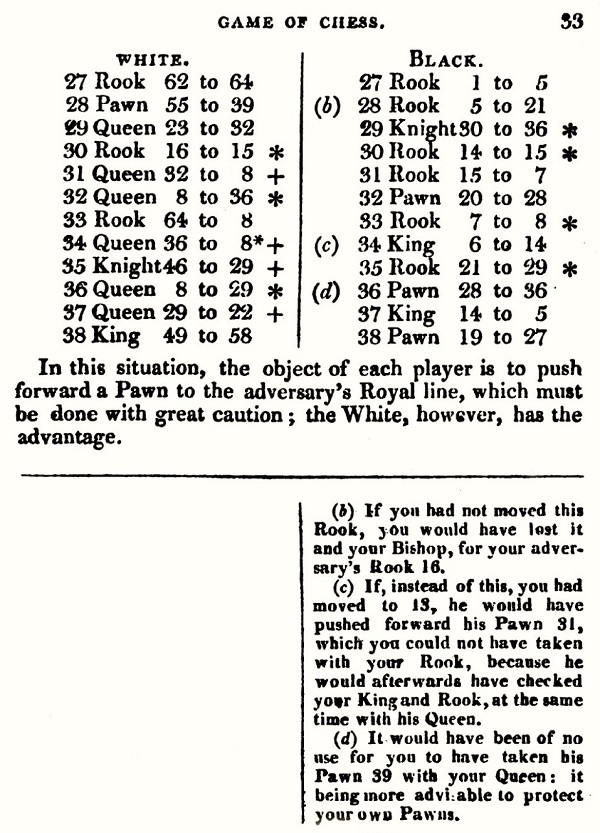 1 e4 e5 2 Bc4 Nc6 3 c3 h6 4 a3 g6 5 d4 exd4 6 cxd4 Bg7 7 Nf3 d6 8 h3 Bd7 9 Nc3 Nge7 10 Be3 O-O 11 Qd2 Kh7 12 O-O-O Na5 13 Ba2 b6
14 Rdf1 c6 15 h4 Be6 16 Kb1 Bxa2+ 17 Kxa2 Nc4 18 Qd3 Nxe3 19 Qxe3 f5 20 Rh2 fxe4 21 Nxe4 Nf5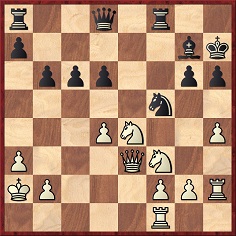 22 Neg5+ hxg5 23 hxg5+ Kg8 24 Qe6+ Rf7 25 Qxg6 Kf8 26 Rh7 Qd7 27 Rfh1 Re8 28 g4 Re6 29 Qh5 Nxd4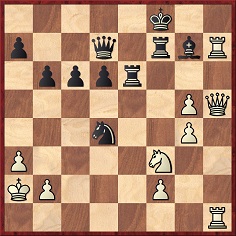 30 Rxg7 Rxg7 31 Qh8+ Rg8 32 Qxd4 d5 33 Rh8 Rxh8 34 Qxh8+ Kf7 35 Ne5+ Rxe5 36 Qxe5 d4 37 Qf6+ Ke8 38 Kb1 c5.
---
11679. The trébuchet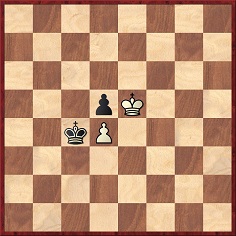 Illustrated with the above position, 'trébuchet' has an entry in the 1984 and 1992 editions of The Oxford Companion to Chess by D. Hooper and K. Whyld (pages 360 and 428 respectively) with the statement that the term was introduced by Philippe Ambroise Durand and Jean-Louis Preti in 1871.
In the Internet age it can be easy to take such matters further. In the 1860 volume of La Régence the word 'trébuchet' is on page 121 of the April issue in an endgame article by Durand:
'une position insidieuse que nous nous permettrons d'appeler le trébuchet.'
On pages 154 and 155 of the May 1860 issue he gave examples: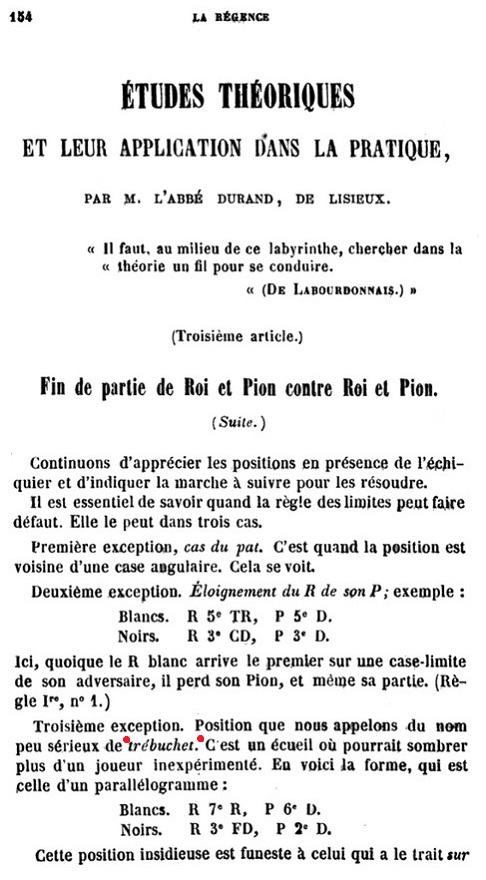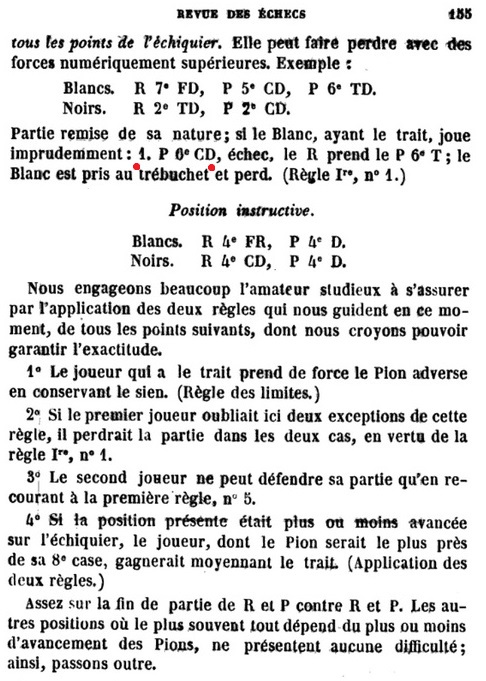 For information about Durand, see C.N.s 10156 and 10157.
---
11680. A 1945 chess set
Israel Raphaelli (Robbinsville, NJ, USA) provides photographs of an unusual large chess set which he owns: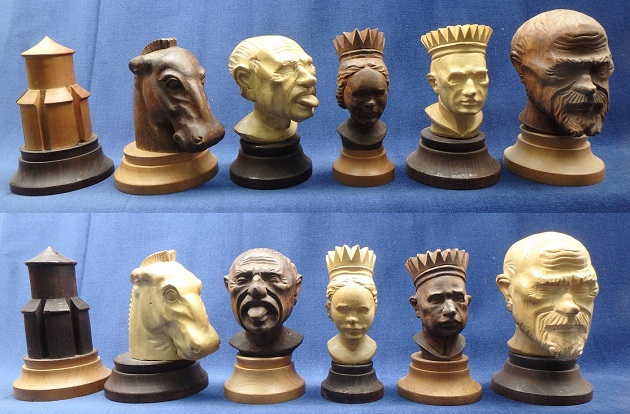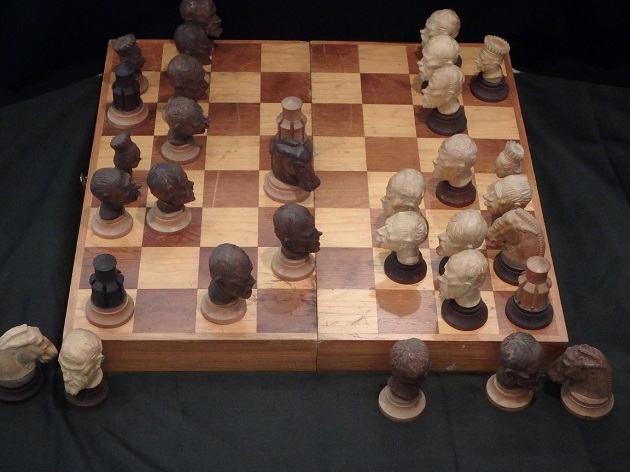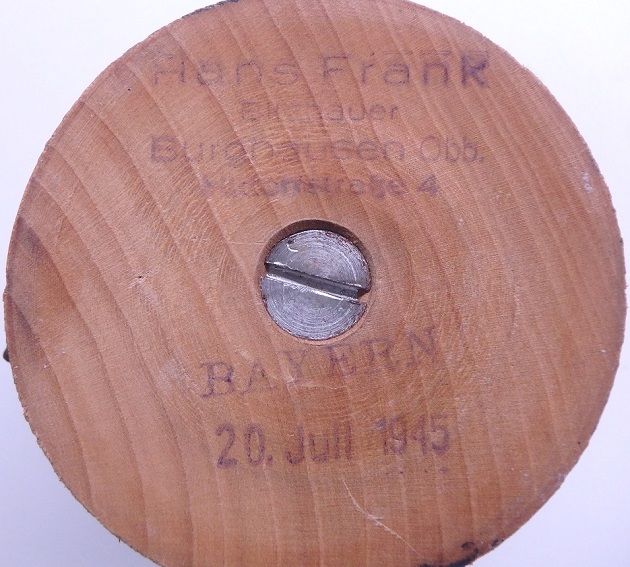 See too our correspondent's Garden State Chess website. He seeks further information about the set, there being no suggestion that the Hans Frank named had any connection with the leading Nazi Hans Michael Frank.
---
11681. Chess and the Law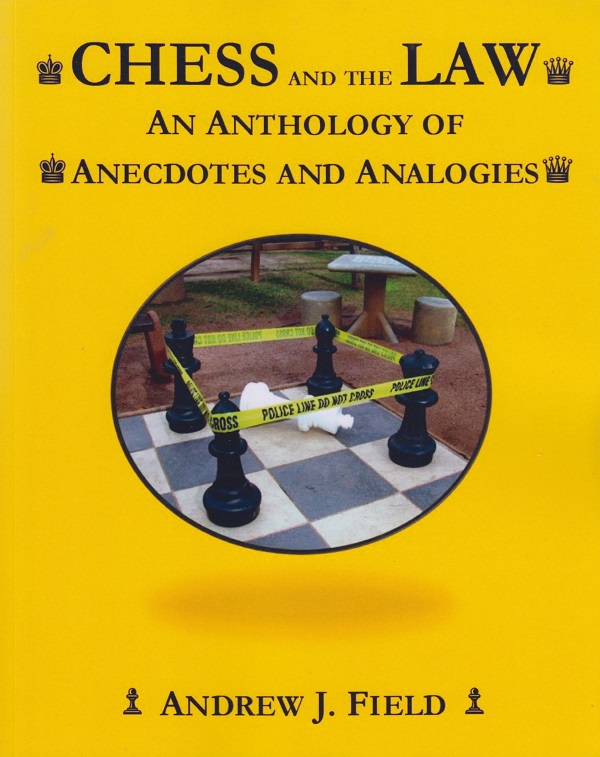 The hundreds of entries in Chess and the Law An Anthology of Anecdotes and Analogies by Andrew J. Field ('Amazon Fulfillment', Wrocław, 2019) range from a brief paragraph on a minor court-case to four pages on Norman Tweed Whitaker and nine on William Henry Russ. An unnumbered introductory page states that the book 'surveys the many interesting and unusual ways that the game of chess has intersected with the practice of law in the United States' and warns that 'this book is not appropriate for children'. Many violent cases are discussed.
Among the few light items, there is none lighter than a puzzle-joke on page 162 credited to page 67 of the Nashville Tennessean, 24 November 1966. As that was the column with the (hoary) solution, we show first the previous 'Scram-lets' column, on page 32 of the 23 November 1966 edition: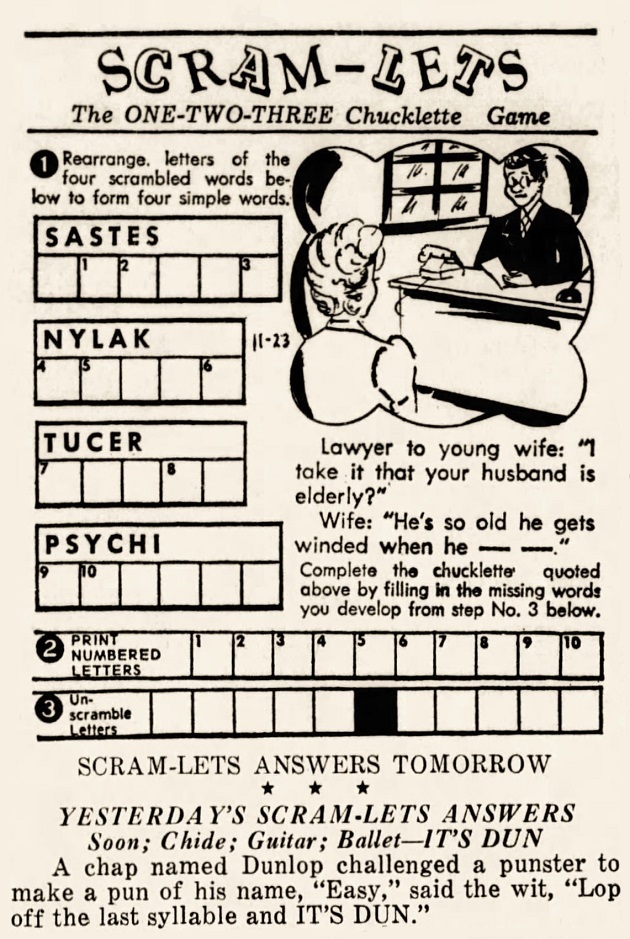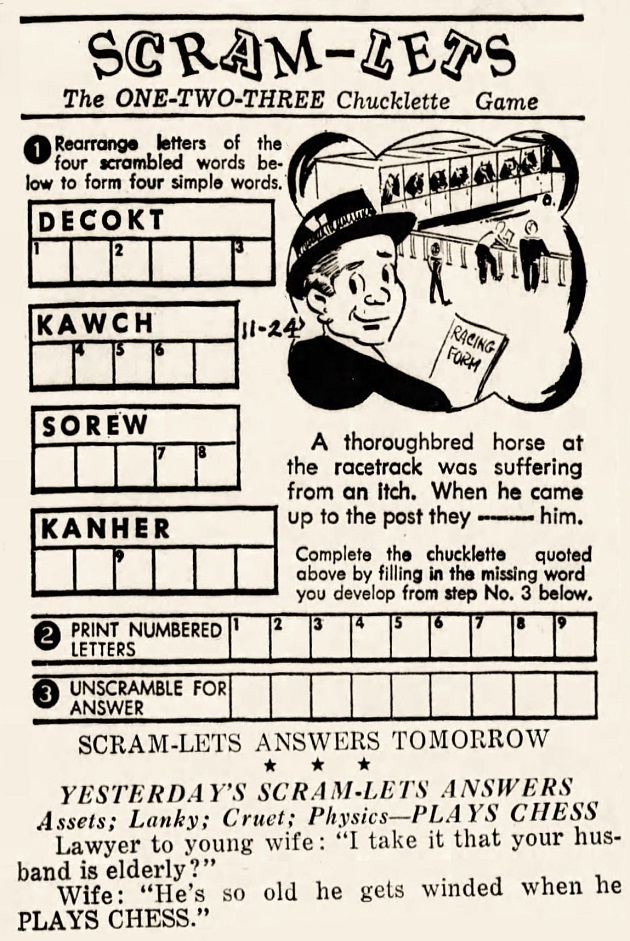 Chess Corn Corner has worse.
---
11682. Capablanca at the House of Commons (C.N. 11626)
C.N. 11626 reproduced from pages 9-10 of the January 1920 BCM a report on the exchanges in the House of Commons on 2 December 1919 regarding arrangements for Capablanca's simultaneous display in Committee Room No. 14 later that day. A grievance was expressed by James Myles Hogge (1873-1928), the Liberal MP for Edinburgh East.
The Hansard record shows that the BCM gave only an abridged account of the exchanges between Hogge and the Leader of the House, Andrew Bonar Law.
Reproduced with authorization: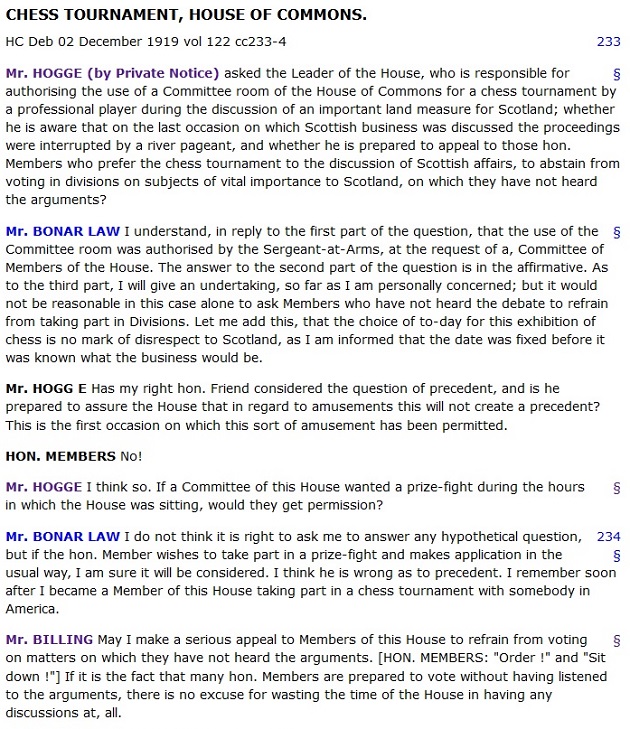 ---
11683. The Laskers
From page 102 of Chess Memoirs by Joseph Platz (Coraopolis, 1979), in a section on Edward Lasker:
'Martha Lasker, Emanuel's wife, did not care too much for Edward and made no bones about it. She felt that Edward took undue advantage of the fact that his name was Lasker. In fact, in Germany, he had published a book under the name Dr E. Lasker, and that induced a book critic to write: "Another great book by the famous world champion".'
We are aware of no grounds for the accusation. Two title pages: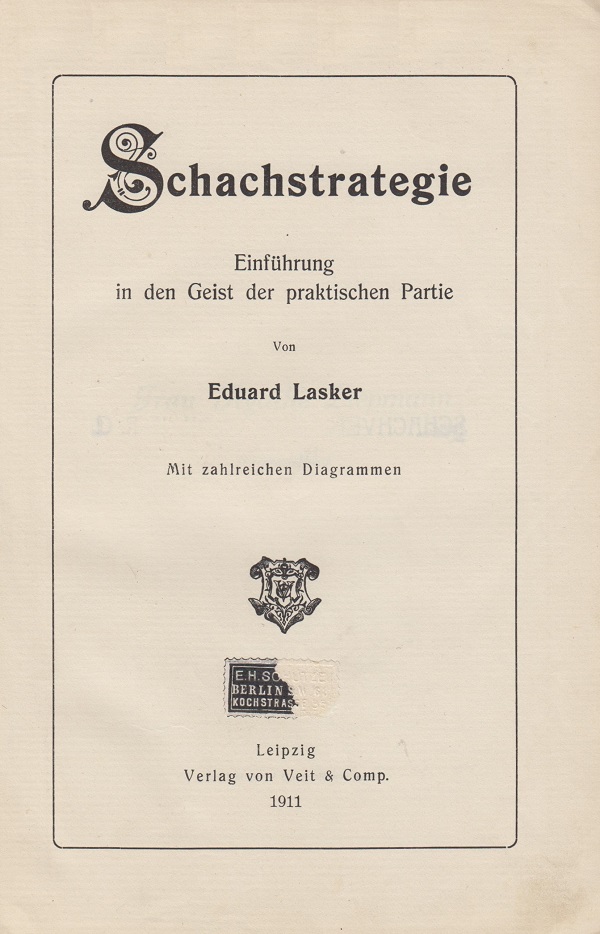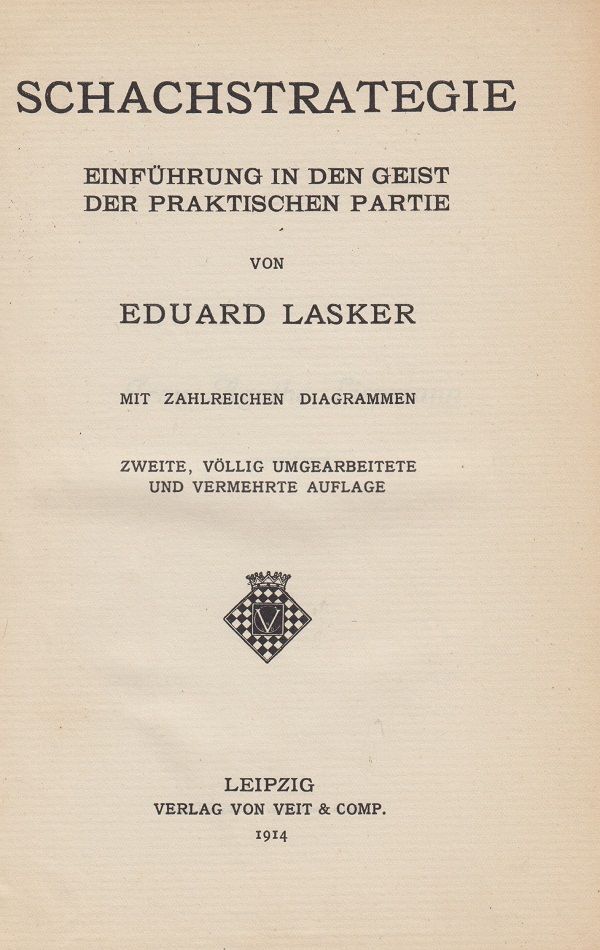 ---
11684. Emanuel Lasker and draughts/checkers
Assisted by Yuri Kireev and Mikhail Sokolov (Moscow), Richard Forster (Winterthur, Switzerland) has submitted four further games by Emanuel Lasker, and they have been added direct to our feature article.
The fourth game, against L. Glezer (Moscow, 1936), is accompanied by this picture, from page 19 of Shashki, January-February 1967:

Can better-quality photographs be found of Lasker playing draughts/checkers?
---
11685. A 'funny game' between Euwe and Kostić
From pages 177-178 of the South African Chessplayer, May 1954, in an article entitled 'Greetings to South Africa!' by Max Euwe (C.N. 11671):
'Five years ago I met Kostić in Belgrade and played a funny game with him. Each of us in turn mentioned a country where he had been, and a point was scored when the other had not been there. The game consisted in discovering the "weak spots" of the other. I started with Trinidad, he answered Singapore. The score remained 0-0 for a long time. Then I scored: Guatemala; he answered New Zealand. I found out that Kostić had not been in Central America, and he discovered I had not been to Australia, China or Japan. The score went to 4:4, and 7:7. Africa had not been mentioned so far. When my Central American trumps were exhausted, Kostić started on Rhodesia, Kenya, Angola. Then I resigned. I had to – I knew how many countries in Africa I had never visited.'
---
11686. P.H. Williams' three-move miniature
From page 244 of 777 "Chess Miniatures in Three" by E. Wallis (Scarborough, 1908):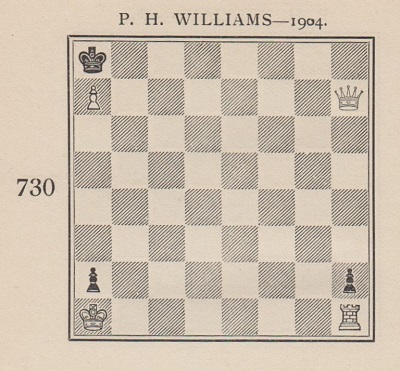 The composition is in our feature article on P.H. Williams, but when exactly did it first appear in print? Problem databases give the source as 'Christmas Greeting, 1904', which suggests that it was a personal communication from Williams to colleagues, at least some of whom may be expected to have published it.
An unsuccessful search in the Morning Post has provided, at least, some quotable general remarks by Williams, on page 8 of the 19 December 1904 edition:
'Regarding the relative merits of slender and ponderous three-movers much may be said. Your readers may notice that my three-movers are always of slight build, and, while I do not claim much difficulty, I do, I believe, secure a fair amount of neatness. When solving the work of others, I put elegance a long way ahead of difficulty. The miniature seems to me the essence of problematic beauty, and though there are, of course, many splendid compositions of heavy build, they do not, as a class, appeal to me. (I speak of three-movers only.) Take, for instance, Loyd's famous Checkmate prize-winner; the main play is undoubtedly brilliant, but, if the outlying pieces are touched, mating positions will result which are positively hideous, to say nothing of duals. The more ugly the by-play the more is the beauty of the main-play discounted. Not so with a good miniature; play any move of Black, and a beautiful mating position is or should be produced. Duals in a miniature are, to my mind, inexcusable, and I would rather abandon a position than cure a defect by additions, since every added piece seems to weaken the charm of the initial position.'
'Loyd's famous Checkmate prize-winner' (motto: 'The Steinitz Gambit') was first published on page 262 of the August 1903 issue of Checkmate: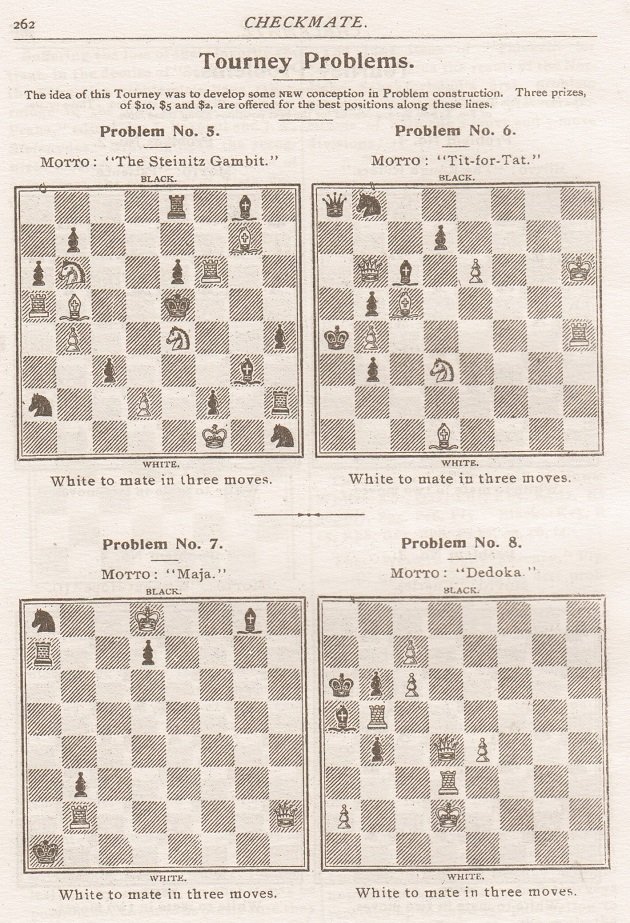 The Canadian magazine announced that Loyd had won first prize ($10) on page 66 of the January 1904 edition.
---
11687. Camille Moriau (C.N. 9441)
From John Townsend (Wokingham, England):
'A 1901 census entry regarding 4 Holford Street, Clerkenwell, London, records that "Camille Morian" was a boarder there, a single man, aged 50 (National Archives, RG13/252, page 22). His occupation was entered as "Manufacturer's Agent: ex-chess champion". He was an employer, and was a French subject, born in Lyons.

The same man can be identified in the censuses of 1881 and 1911, despite vagaries in the spelling of his surname. In 1881, "Camille Moraiu" was a boarder at 177 Cold Harbour Lane, Lambeth, unmarried, aged 30, a commission agent, born in Lyons. (National Archives, RG11/618, folio 106). The 1911 census has "Camille Mooriau" as a visitor at 2 Athelstan Road, Margate, Kent, single, aged 60, a manufacturer's agent for buttons and canvas, an employer, born in Lyons (National Archives, RG14/4496).

The National Probate Calendar supports the date of death of Camille Moriau which was reported by Jerry Spinrad in C.N. 9441, i.e. 24 November 1926. His effects amounted to £7,158 15s. 2d. An entry in the General Register Office's online index of deaths for Camille Moriau (December quarter 1926, Barnet registration district, volume 3A, page 440) gives his age as 75.'
---
11688. Purdy quote (C.N. 9211)
'Chess is as much a mystery as women.'
C.N. 9211 asked for a source for that famous Purdy quote, and we now note the following on page 5 of the Australasian Chess Review, 20 January 1938: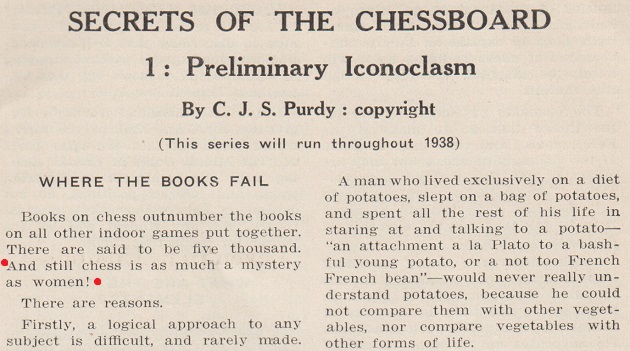 ---
11689. Deceptively tricky
'I have shown this problem to quick solvers with reputations to guard, and have made enemies of them in consequence of the fact that so simple a position should beat them.'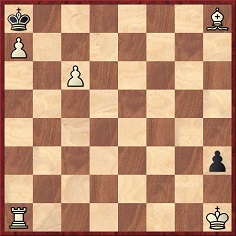 Mate in three
The remark was by P.H. Williams, on pages 76-77 of The Modern Chess Problem (London, 1903). His caption stated 'Author unknown', but Michael McDowell (Westcliff-on-sea, England) informs us that the composer and source are in the WinChloe problem database: Ellis Ridley in the Illustrated Sydney News, 25 October 1890.
We add that the newspaper (page 28) stated that Ridley was from 'Kirchheim, Q[ueensland]'. The place-name was later changed to Haigslea.
---
11690. Capablanca and Kostić (C.N. 11266)
C.N. 11266 showed this photograph of Capablanca and Kostić from Carteles, August 1919, page 59: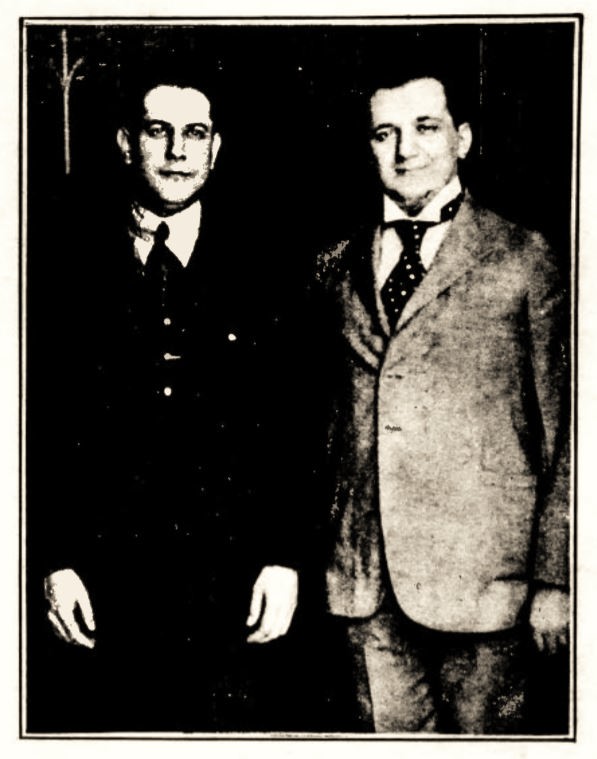 Yandy Rojas Barrios (Cárdenas, Cuba) notes a case of misidentification on page 154 of Bohemia, 15 November 1953, where Capablanca was said to be with 'Alhekine' in 1927: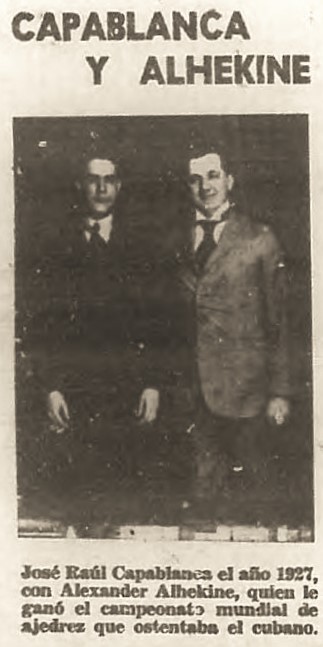 Our correspondent also refers to another photograph in C.N. 11266, from Carteles, September 1919, page 36: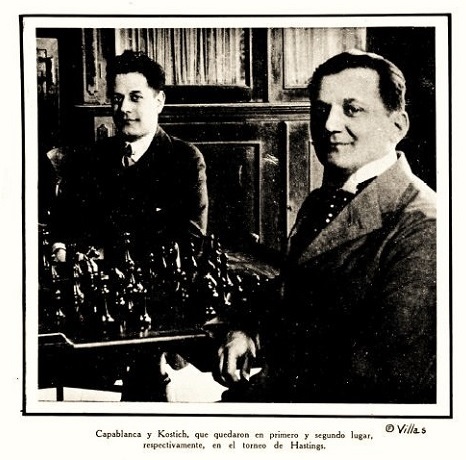 He adds that the following was on pages 36-37 of Social, April 1919: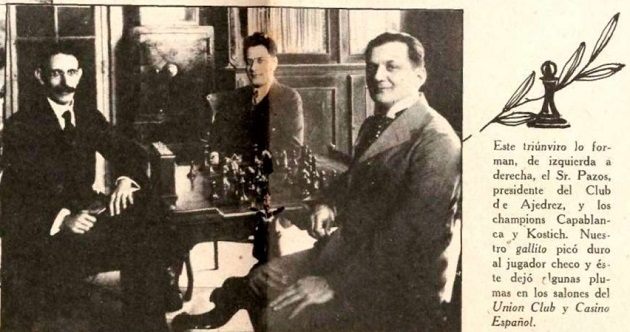 Rafael de Pazos is also in a group photograph opposite page 80 of Glorias del Tablero "Capablanca" by J.A. Gelabert (Havana, 1923):
---
11691. Another ingenious composition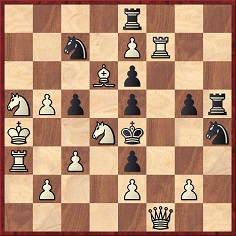 White to play. Mates in three moves
---
11692. Annotations by Rubinstein (C.N.s 1705, 1843, 1910, 3120, 3124 & 3516)
Information about primary sources for annotations by Akiba Rubinstein is still being sought.
He was an occasional contributor to Kagans Neueste Schachnachrichten, and an example follows, from pages 21-22 of the January 1931 issue: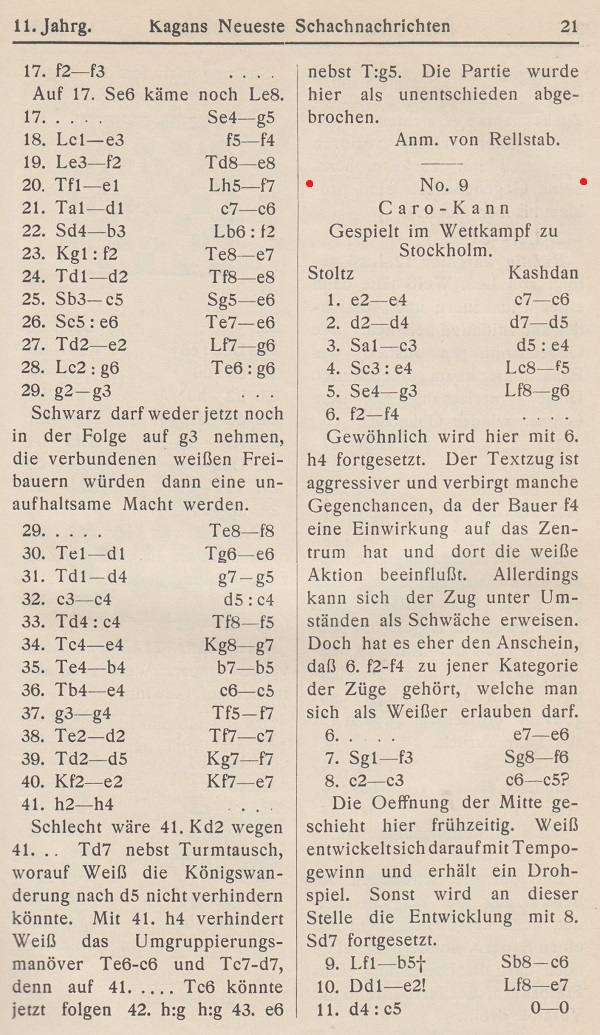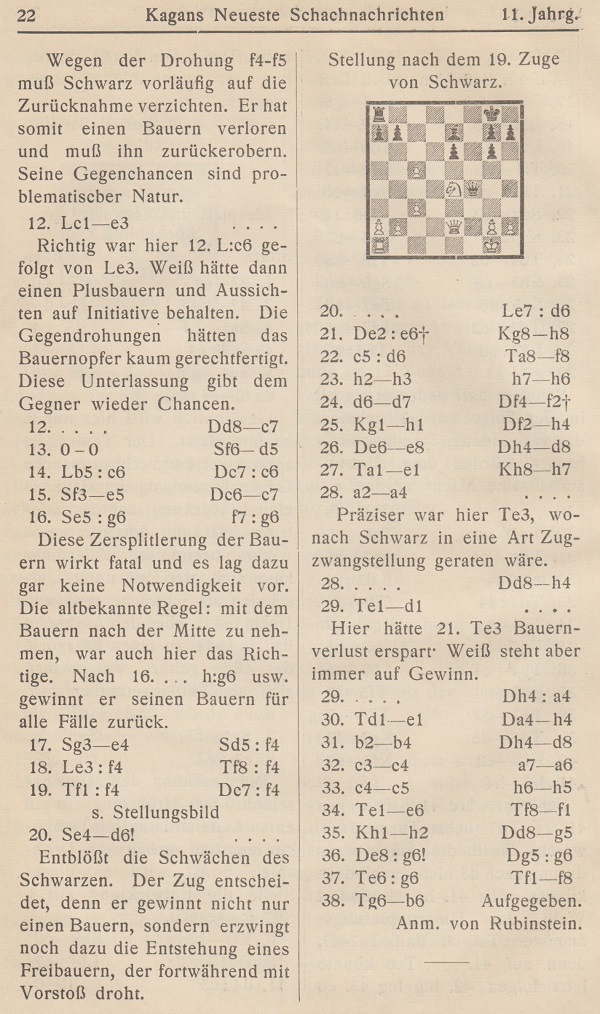 ---
11693. Parliament
The Hansard website yields hundreds of references to chess in the proceedings of the House of Commons and the House of Lords, and one brief exchange is reproduced here as an example, from Questions to the Prime Minister (Tony Blair) on 28 April 1999:
'Charlotte Atkins (Staffordshire, Moorlands)

Will the Prime Minister congratulate our young United Kingdom chess players, who have won so many world titles and records recently? Does he agree that the best way of making the United Kingdom the top chess nation in the world is to recognise chess as a sport, and to end the discrimination of United Kingdom chess players, who suffer from lack of training facilities, lack of finance and very little organisation of chess games in schools? Is it not time that we joined the 100-plus nations of the world that already recognise chess as a sport and fund it accordingly?

The Prime Minister

It is at a moment like this that I look along the Front Bench in search of inspiration, but do not find any. [Interruption.] Yes, I have just located the inspiration, but, unfortunately, she is rather far away from me. My hon. Friend's comments sound thoroughly persuasive. Perhaps the safest thing for me to say is that I shall make further inquiries and write to her.'
Charlotte Atkins, who was the Labour MP for Staffordshire, Moorlands from 1997 to 2010, informs us that there was no follow-up action by the Prime Minister, but that the then Minister for Sport, Tony Banks (1942-2006), pressed the case for chess to be recognized as a sport. However, he occupied that post only until July 1999.
We shall be glad to hear from readers who find notable chess references in Hansard, or in other countries' parliamentary transcripts.
---
11694. Another ingenious composition (C.N. 11691)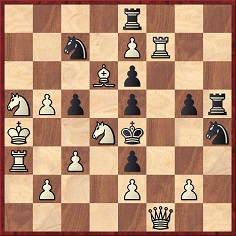 White to play. Mates in three moves
The unusual phrasing of the caption may have offered a clue. 'Mates' is a noun as well as a verb.
The position is on page 79 of The Book of Extraordinary Chess Problems by Stephen Addison (Ramsbury, 1989):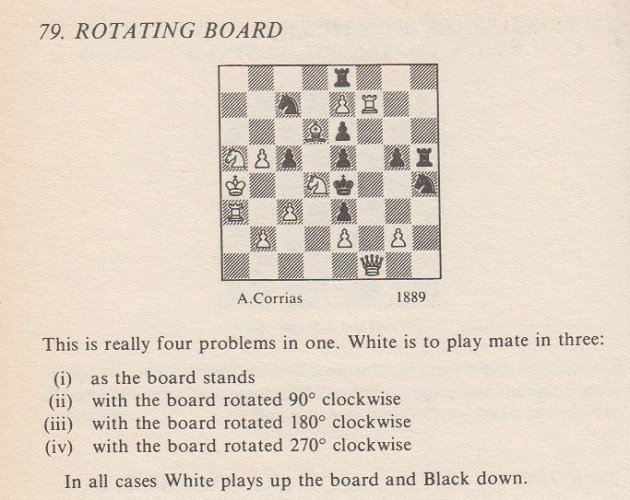 Michael McDowell (Westcliff-on-sea, England) tells us that the problem is given in the WinChloe database as a joint composition by Giovanni Corrias and Antonio Corrias, with the source 'Gazzetta Letteraria (before 1889)'. The earliest publication listed with a precise date is the Australasian, 15 June 1889. The key move is 1 c4, and with 90-degree rotations of the board the other key moves are 1 Qa7+, 1 d8(N) and 1 g8(Q).
A further composition, by Giovanni Corrias, on the same theme is listed by the Winchloe database as published in the Nuova Rivista degli Scacchi in 1892. Below are pages 119 and 120 of the April 1892 issue and page 279 of the October-November 1892 edition: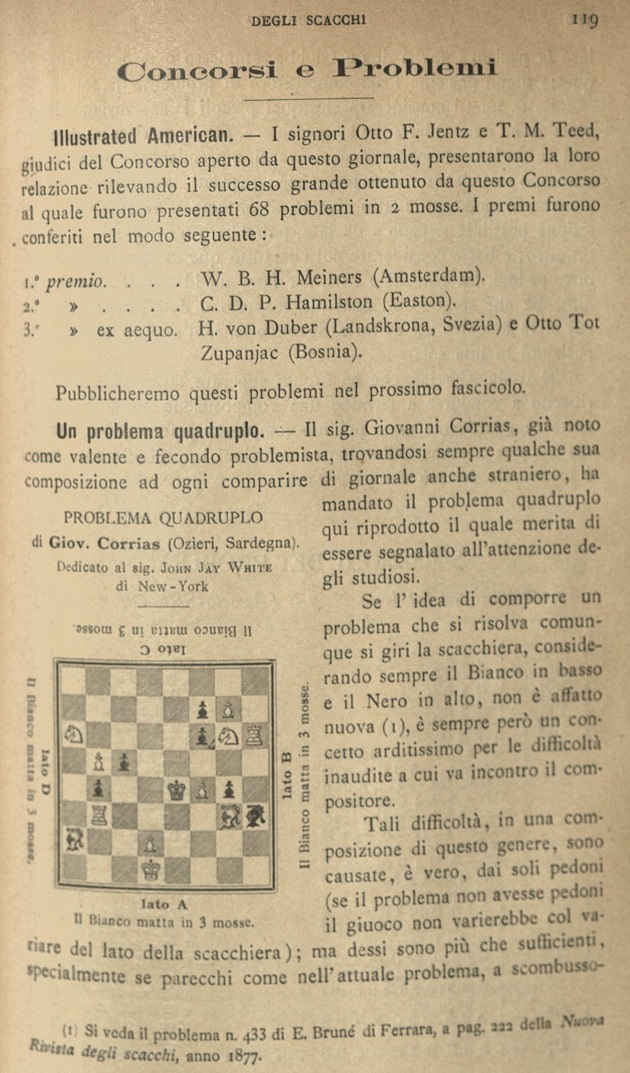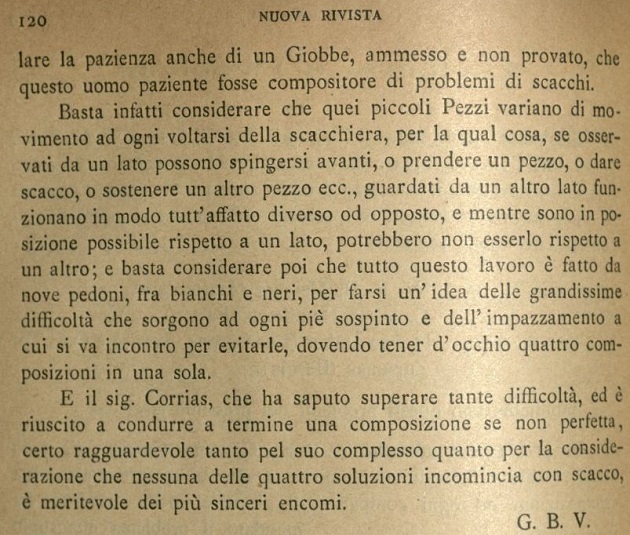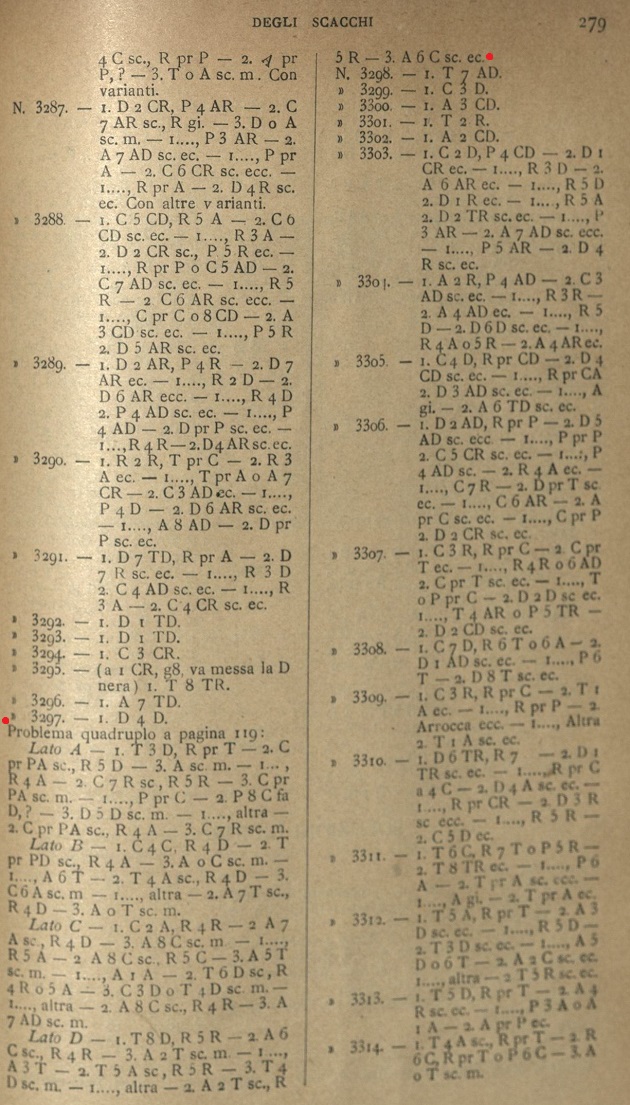 When the problem was published on page 107 of Einhundertundfünfzig exzentrische Schachaufgaben by Max Weiss (Halle a.S., 1910) it was ascribed to A[ntonio] Corrias (1872-1923):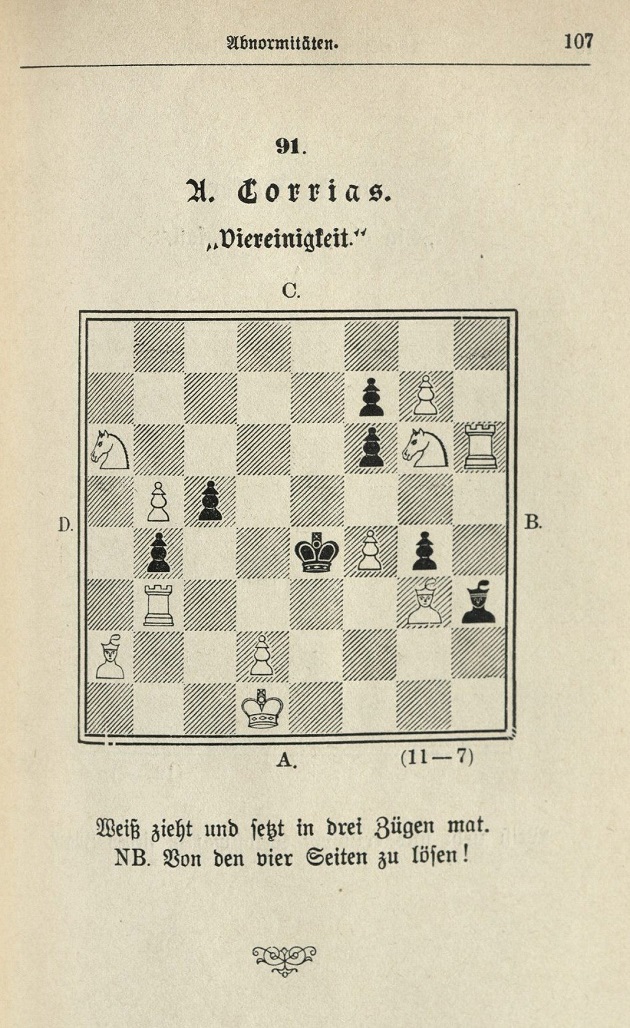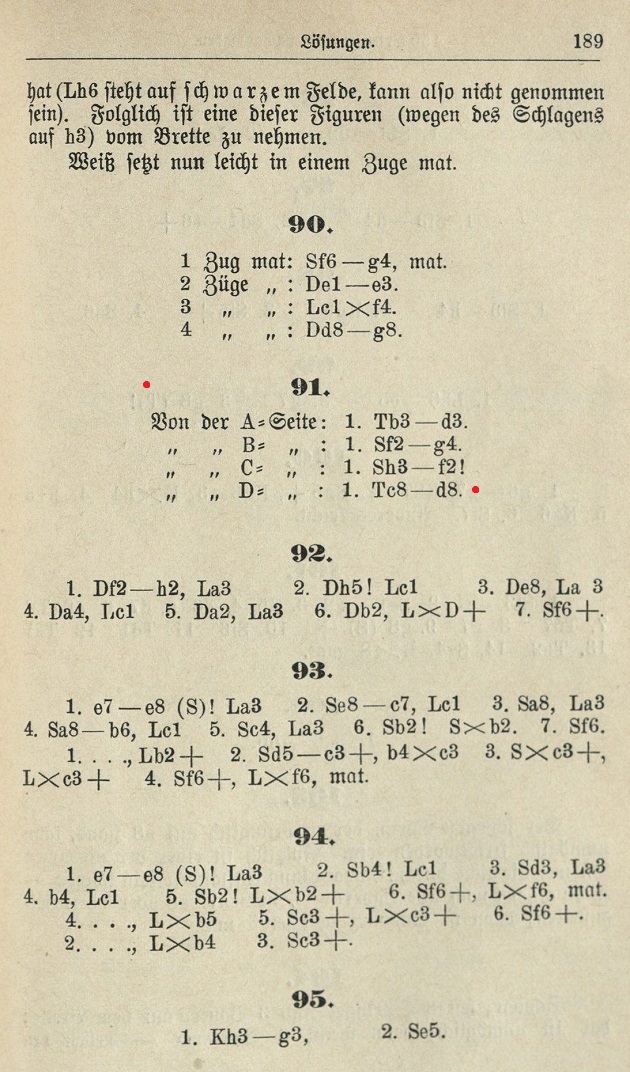 The 'G.B.V.' who signed the article on page 120 of the April 1892 Nuova Rivista degli Scacchi was Giovanni Battista Valle (1843-1905), the editor of the problem section. His footnote on page 119 mentioned that the 1877 volume contained a composition on the same theme, by E. Bruné/Brunè of Ferrara: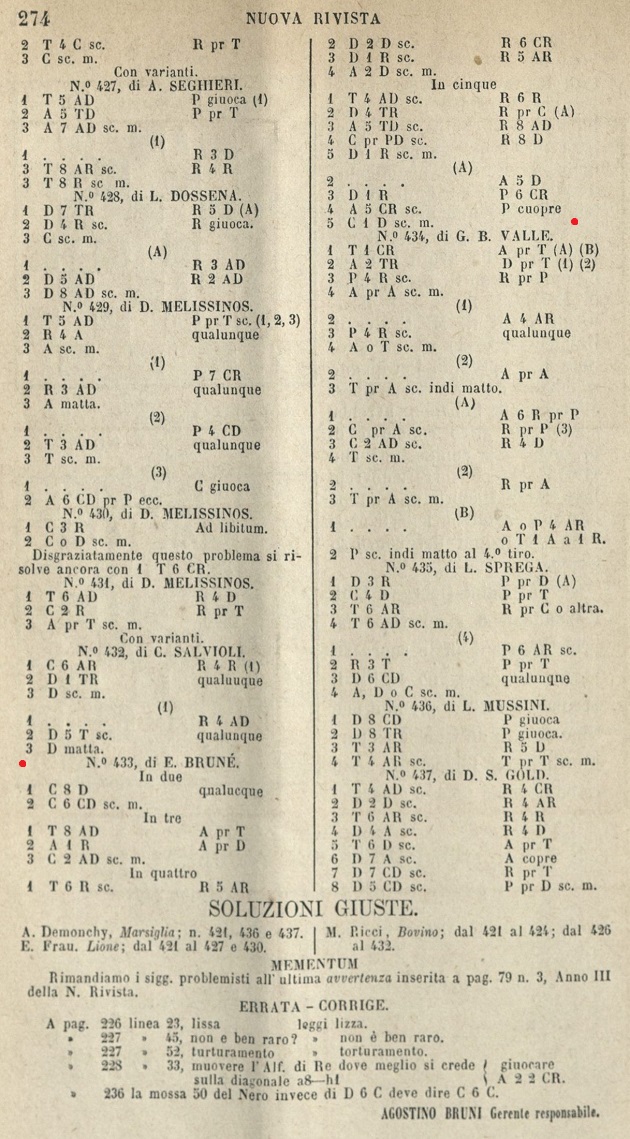 That composition by Bruné/Brunè was in the August issue, and the solution appeared in the October edition. Michael McDowell comments that it is badly flawed, with a cook in one part and a short solution in another.
Acknowledgement for the images in the present item: the Cleveland Public Library.
---
11695. The Evening Standard
Leonard Barden (London) informs us:
'The daily chess column in the Evening Standard will finally reach its end on Friday, 31 January 2020. I have given the starting-date as Monday, 4 June 1956 since although I am not totally sure of the exact date I recall that it was early June and some time after Whitsun, which was in May that year. The total is thus 63 years, 7 months and 27 days without a day missed. The final puzzle is a Carlsen win from the 2019 world blitz championship.'
---
11696. Autographs
From page 25 of volume three of Chess Pie (1936):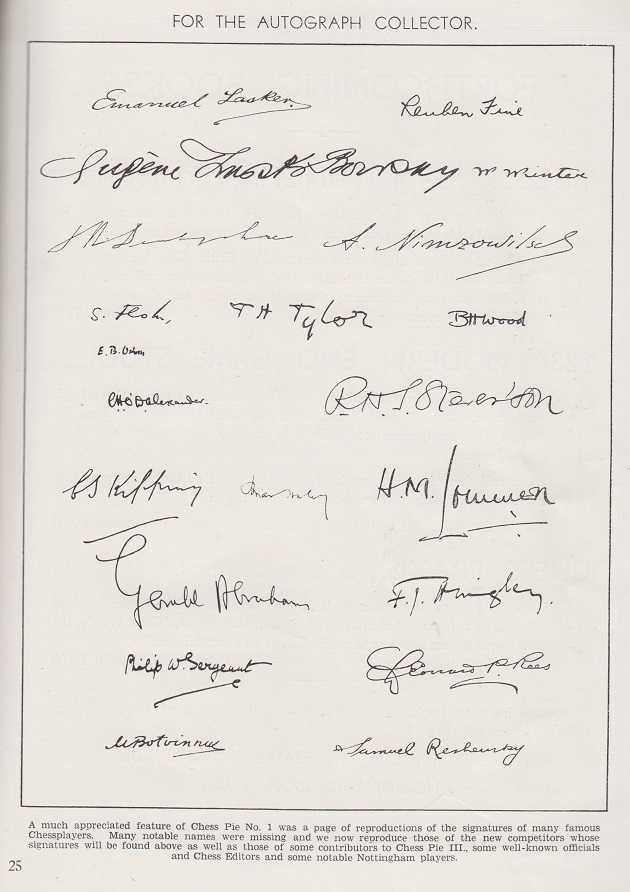 For the signatures in the first volume of Chess Pie (1922), see Chess Autographs.
---
11697. A Teed brilliancy
A game won by F.M. Teed, from pages 280-281 of the September 1885 International Chess Magazine: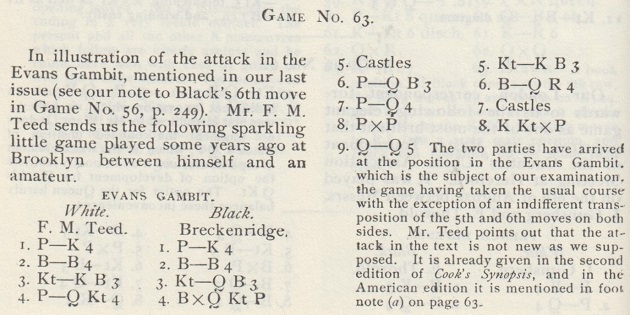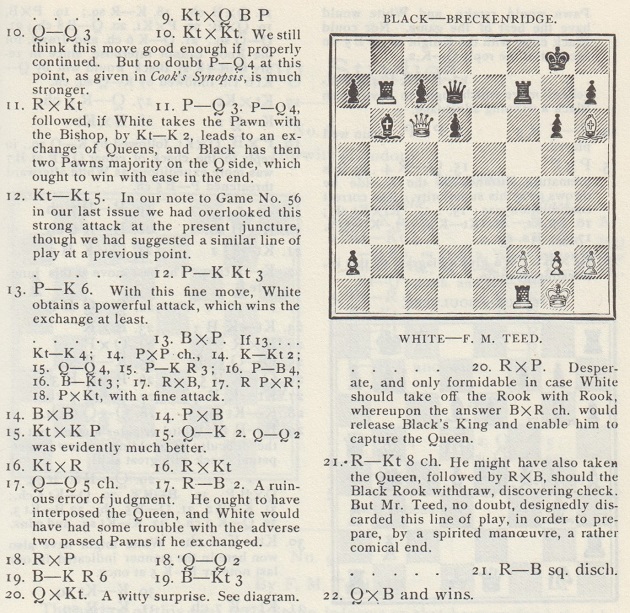 1 e4 e5 2 Bc4 Bc5 3 Nf3 Nc6 4 b4 Bxb4 5 O-O Nf6 6 c3 Ba5 7 d4 O-O 8 dxe5 Nxe4 9 Qd5 Nxc3 10 Qd3 Nxb1 11 Rxb1 d6 12 Ng5 g6 13 e6 Bxe6 14 Bxe6 fxe6 15 Nxe6 Qe7 16 Nxf8 Rxf8 17 Qd5+ Rf7 18 Rxb7 Qd7 19 Bh6 Bb6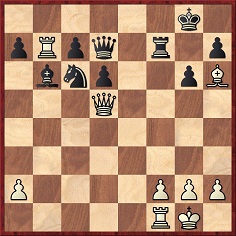 20 Qxc6 Rxf2 21 Rb8+ Rf8+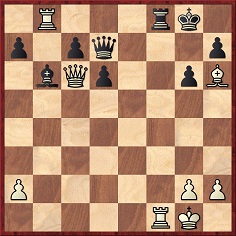 22 Qxb6 and wins.
It needs to be clarified whether Black's name was Breckinridge rather than Breckenridge. From John Hilbert (Amherst, NY, USA):
'I am not aware of any earlier publication of the game. There are references to R.A. Breckinridge in my books on Napier (page 52) and Marshall (pages 41 and 156), and my spelling follows Hermann Helms' repeated usage in his columns. However, my references are associated with Brooklyn chess during the period 1894-1904, long after the Teed game. There was also Rollin C. Breckinridge, to whom I refer on page 212 of my book on Hodges.'
---
11698. Albert Whiting Fox
John Hilbert shares this 1947 photograph of A.W. Fox, received in 1998 from his last surviving child, Isabel Fox, who died in 2002: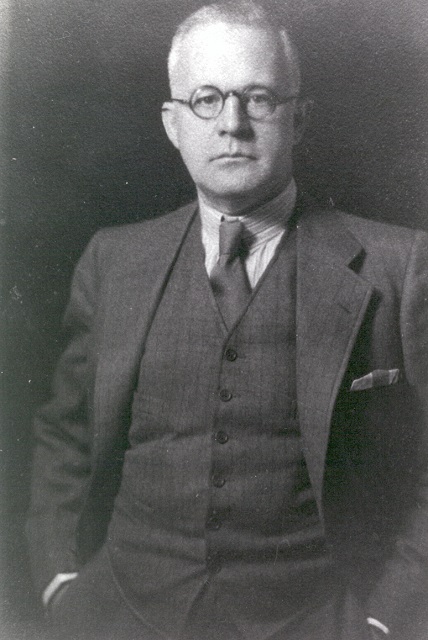 Fox appeared in the Cambridge Springs, 1904 souvenir (C.N. 4563), and the portrait below comes from the final page of the article 'The Race for Chess Championship' by Paul Severing in Everybody's Magazine, October 1904, pages 495-502: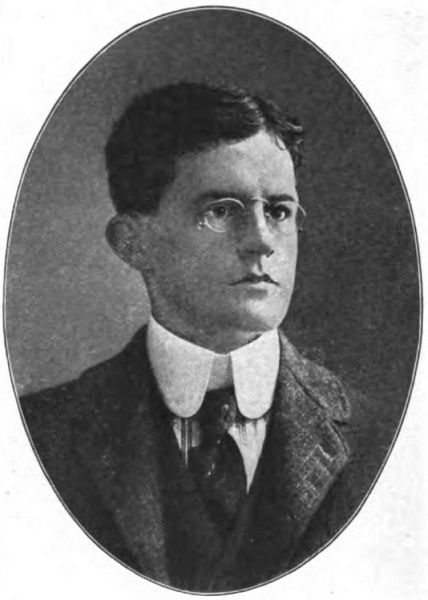 ---
11699. The 1964 Interzonal tournament, Amsterdam

On the subject of autographs, Roberto Roig (Lima) draws attention to page 193 of Schach-Echo, 8 July 1964: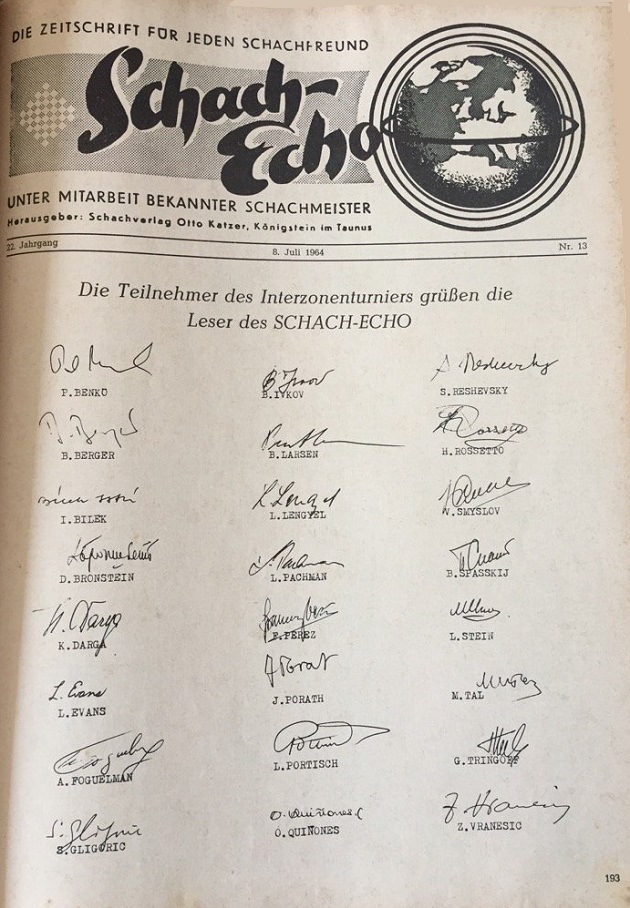 ---
11700. C.J.S. Purdy
Our latest feature article is on C.J.S. Purdy.
---
Copyright: Edward Winter. All rights reserved.