Chess Myths
Edward Winter
From the front cover of Mitología del Ajedrez by Francesc Lluís Cardona (Barcelona, 2000). See C.N. 3734.
Myth: The Lasker v Janowsky match played in Paris in autumn 1909 was for the world championship.
See Lasker v Janowsky, Paris, 1909.
---
Myth: Lasker defeated Capablanca in the final round of St Petersburg, 1914.
From page 15 of Modern Chess Preparation by Vladimir Tukmakov (Alkmaar, 2012), concerning the celebrated Lasker v Capablanca game at St Petersburg, 1914:
'The young Cuban, who was confidently leading the tournament, needed only not to lose with Black against the current World Champion in order to claim overall tournament victory.'
Some myths endure no matter how often they are disproved, or how easily. Reviewing From Morphy to Fischer by Al Horowitz (London, 1973) W.H. Cozens commented on page 159 of the May 1974 BCM:
'Horowitz does fall into one historical error – one which has been made by other writers before him – when he speaks [on page 69] of "Lasker's last-round victory over Capablanca" at St Petersburg, 1914.'
See too, for instance, Larousse du jeu d'échecs. The game was played in the seventh of ten rounds in the final section.
(7846)
---
Myth: Marshall saved the move 8...d5 in the Ruy López for many years in order to surprise Capablanca (at New York, 1918).
See The Marshall Gambit.
---
Myth: This is a genuine photograph of Alekhine and Capablanca during their 1927 world championship match.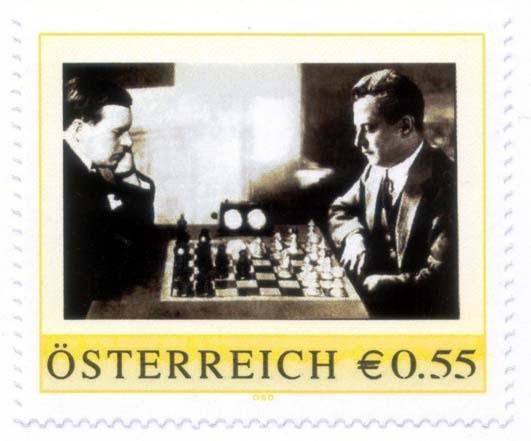 ---
Myth: Najdorf won the 'Polish Immortal' in Warsaw in 1935.
See The Polish Immortal.
---
Myth: Campomanes' termination of the 1984-85 world championship match was a clear-cut attempt to 'save' Karpov.
See The Termination.
---
Latest update: 17 November 2012.
To the Chess Notes main page.
To the Archives for other feature articles.
Copyright: Edward Winter. All rights reserved.