Chess Notes
Edward Winter
When contacting us by e-mail, correspondents are asked to include their name and full postal address and, when providing information, to quote exact book and magazine sources. The word 'chess' needs to appear in the subject-line or in the message itself.
---
11491. Lucy Knox (1756-1824)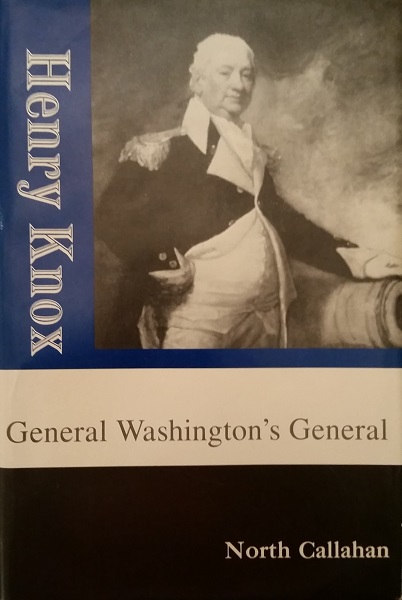 Tony Bronzin (Newark, DE, USA) quotes from page 378 of a biography by North Callahan, Henry Knox. General Washington's General (New York, 1958), which mentions the love and aptitude that General Knox's wife Lucy had for chess. It quotes a letter written to Dolly Madison by her sister Anna Cutts:
'We have very pleasant lodgings, and for my companion, the famous Madame Knox, who although very haughty, I find pleasant and sensible. Chess is now her mania, which she plays extremely well, only too often for my fancy, who am not of late so partial to it. Every morning after breakfast, there is a summons from her ladyship, which if I attend, pins me to her apron-string until time to dress for dinner, after which she retires, again inviting me to battle. Out of 21 games, in only two, and a drawn game, has she shown me any mercy; she is certainly the most successful player I have ever encountered.'
---
11492. When was Labourdonnais born? (C.N. 11428)
John Townsend (Wokingham, England) writes:
'There is an interesting, though not always accurate, article about Labourdonnais the chessplayer in P.J. Levot's Biographie Bretonne (volume II, Paris, 1857, pages 60-61). A footnote mentions that Louis-François Mahé de la Bourdonnais, the son of the Governor of the Ile de France and Bourbon, had a son Pierre-Marie-Philippe-Charles, who was born on 9 November 1773 and married, on 16 April 1796, Jeanne-Françoise Bunel. This couple is identified as the parents of the famous chessplayer, regarding whose birth the following is stated:

"On a quelques raisons de croire que Louis-Charles, issu de leur mariage, naquit, l'année suivante, à Paris, rue ou impasse Féron, où sa mère avait un hôtel, qu'elle a vendu depuis."

The next sentence mentions, however, the absence of proof as to his place of birth. Although the passage quoted is rather vague as to the time of the birth, this possible answer has the advantage of associating the birth with a specific marriage, allowing for a suitable interval.

Birth during 1797 would make his age at death 43. That is the age given in the index of deaths of the General Register Office, in the burial register of All Souls General Cemetery, Kensal Green, where he was buried on 17 December 1840, and it is also the age which appeared on the headstone at his grave.

There are two references in Le Palamède to 1795 as his year of birth, but it is not explained how that year was arrived at, or who his parents were.'
---
11493. Hans Müller's grave
From Michael Lorenz (Vienna) come two photographs which he took on 25 September 2019 in the Baumgarten cemetery in Vienna's 14th district: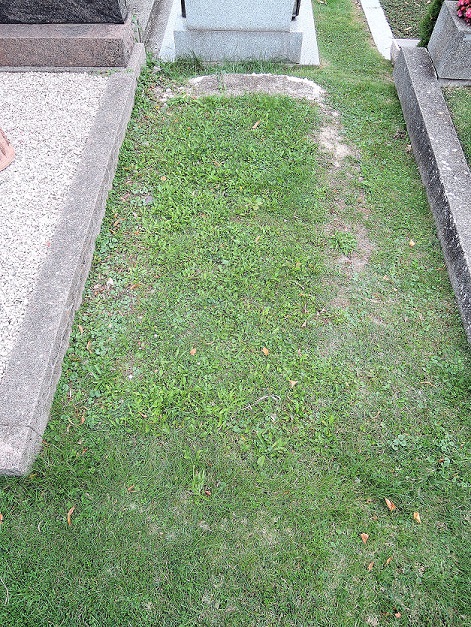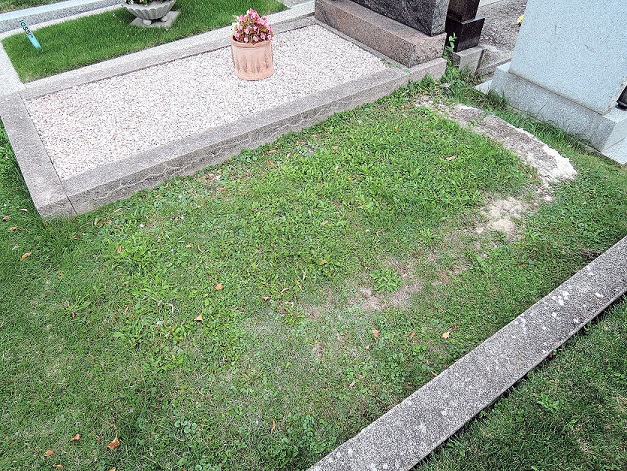 Our correspondent writes:
'Hans Müller died on 28 February 1971 in the Sisters of Mercy Hospital, at Liniengasse 12, in Vienna's Mariahilf district and was buried on 10 March 1971 in the grave number 2158 in group U in the Baumgarten cemetery. Müller had no children and was survived by two unmarried elder sisters, Hella and Maria Müller. On 18 January 1971, on his sick-bed, Müller had married his lifelong companion Friederike Madlmayr, whom he also appointed his universal heir. Friederike Madlmayr-Müller (as she signed her name) paid for the burial, a new headstone and – if the cemetery records are correct – also for the exhumation of Müller's first wife Luise Müller (1896-1965), whose remains were transferred to Baumgarten from another cemetery. The fee for the grave was paid for a period of 30 years, and the right of use expired in March 2001. The headstone has gone.'
---
11494. H.L. Brooke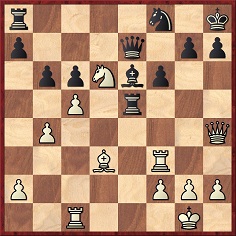 White to move
In this simultaneous game Capablanca played 27 g4, and the finish was 27...Bxg4 28 Qxg4 Rg5 29 Nf7+ Resigns.
Concerning his 27th move, Black (H.L. Brooke) wrote:
'I intended 27...Bd5, and awaited Capablanca's return, but just before he again reached my board I took a second and fatal look, and was ensnared by the prospect of trapping the white queen. For such a childish idea I afterwards apologized, for it was idiotic to imagine that he, of all men, would permit that. He, of course, was highly amused, and, in fact, so was I.'
It was gratifying to be able to include the full game (Bradford, 7 October 1919) on pages 101-102 of our book on Capablanca, gleaned from the Yorkshire Observer Budget of 18 October 1919: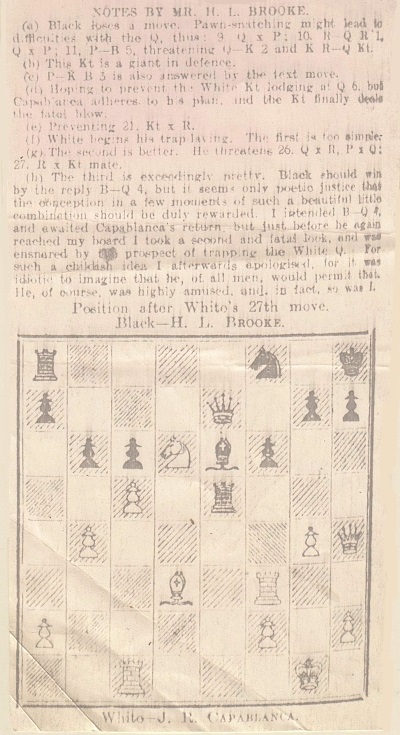 Now, basic biographical information is sought about H.L. Brooke. He was a non-fatal casualty of the Charfield train crash on 13 October 1928, as reported in a Yorkshire Observer Budget item which was reproduced on page 28 of the November 1928 Chess Amateur: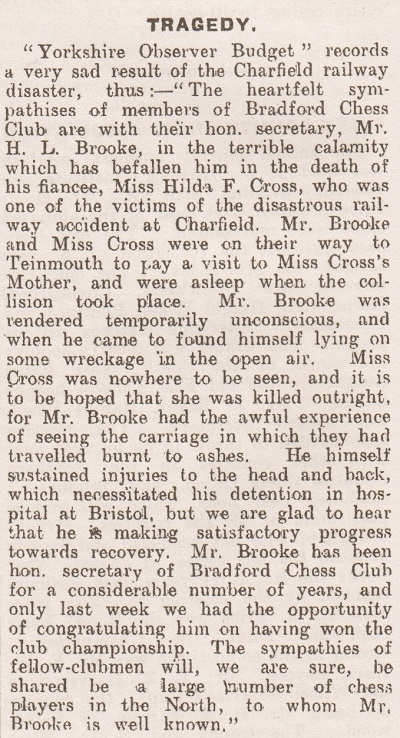 ---
11495. Ortueta v Sanz
Christian Sánchez (Rosario, Argentina) writes regarding the Ortueta v Sanz game:
'Page 4 of La Correspondencia de Valencia, 15 June 1933 has the first appearance found so far of the full Ortueta-Sanz game-score. It came four days after Casa Alta showed the key position, and it even predates Sanz blowing his own trumpet.'

---
11496. A letter from the Princess of Wales
We are grateful to Nigel Short (Athens) for permission to reproduce here, and in Chess and British Royalty, a letter from Diana, Princess of Wales (1961-97) which he received following his match against Kasparov in 1993 and which he has recently made public on his Twitter page: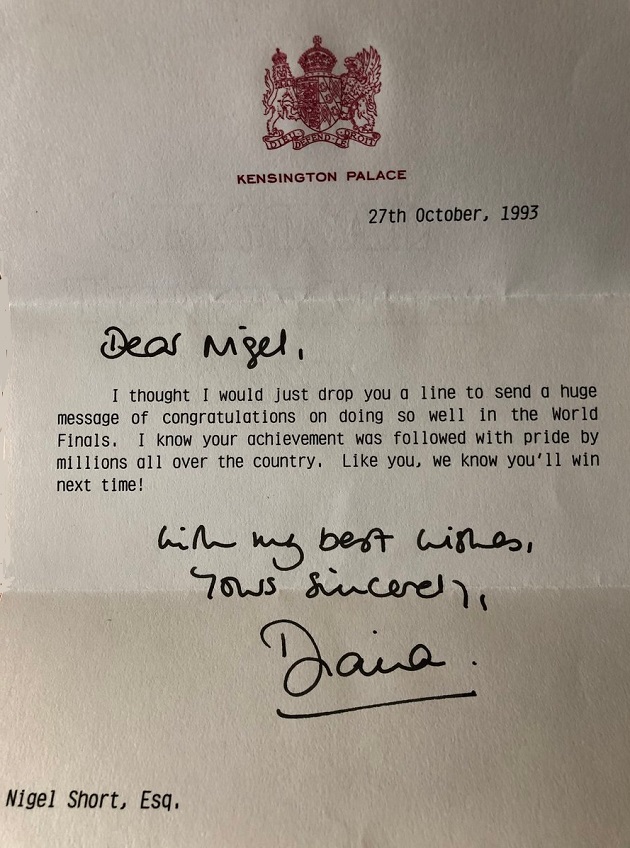 ---
11497. Lasker at Nottingham, 1936
From page 261 of the November 1936 Chess Review: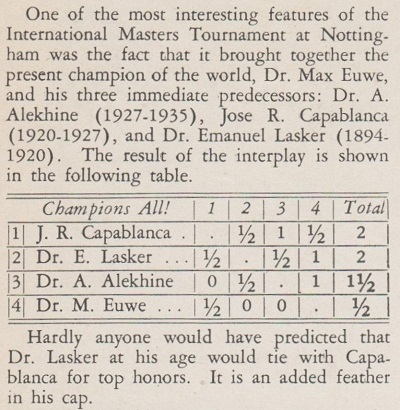 ---
11498. Frank Wilson Wynne
Leonard Barden (London) draws attention to the problem by F.W. Wynne in the Yorkshire Observer Budget of 18 October 1919 (C.N. 11494):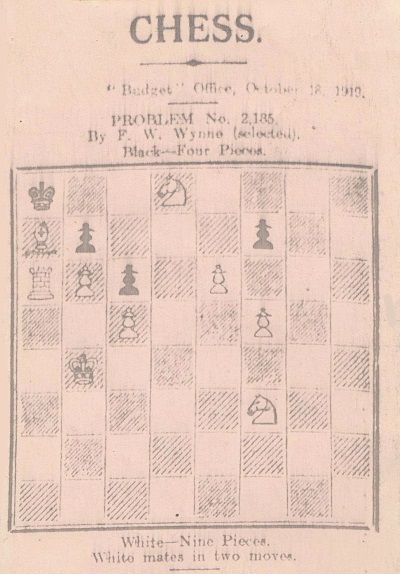 We lack subsequent columns to verify when any correction (White mates in three moves) may have been published.
On page 275 of the October 1941 BCM (one of the references in Gaige's Chess Personalia) T.R. Dawson reported:
'I read in the Problemist that F.W. Wynne, born in 1883, who was quite well-known some 20 years ago for a number of excellent compositions, has perished in an air-raid. I have no other details.'
---
11499. A new Capablanca work
The latest addition to Books about Capablanca and Alekhine is Неизвестный мир Капабланки by Mikhail Sokolov (Moscow, 2018).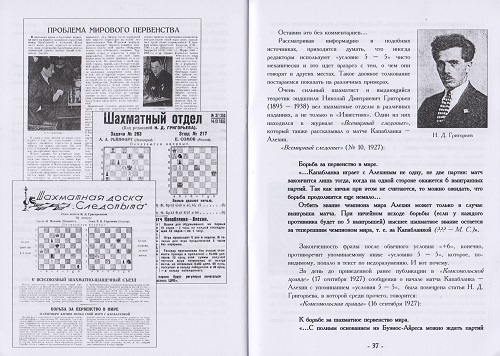 The contents of this 48-page booklet of historical investigation based primarily on Russian-language sources:

The first section is a discussion of Alekhine's remark about Capablanca (BCM, April 1956, page 105) that in 1914 'he gave all the St Petersburg masters the odds of 5-1 in quick games – and won'.
---
11500. H.L. Brooke (C.N. 11494)
From John Townsend (Wokingham, England):
'In a report on the railway accident at Charfield, The Times, 15 October 1928, page 9, gave Brooke's full name and address in a list of the injured:

"Mr Holman Linnell Brooke, aged 56, of 17 North Side-terrace, Bradford; abrasions and shock."

(Note: The age reported here, 56, appears to be inaccurate by two years compared with the time of his birth registration cited below.)

The Glasgow Herald (5 November 1928, page 8) discussed his evidence to the inquest. His fiancée was noted as Miss Florence Hylda Cross, aged 38, of Belper, Derbyshire. The report included the following regarding Brooke:

"Mr Holman Brooke, a mechanical engineer, of Lidget Hill, Bradford, who was travelling with her, is still in hospital at Bristol, and, attended by a nurse, was brought to Wotton-under-Edge in a motor ambulance. He looked very ill, and was deeply affected while giving his evidence."

In the General Register Office's index of births, Holman Linnell Brooke's birth entry falls in the quarter ending 30 June 1874 in the Wakefield registration district (volume 9c, page 55), his mother's maiden surname being Child.

His name appeared several times in the chess column of the Manchester Times during 1898 in lists of problem solvers. On one such occasion (13 May 1898, page 7), he was referred to as being of Rochdale (Lancashire). Later, he played regularly for his club, Bradford, and for his county, Yorkshire, often on Board 3, where he had a good record.

In his capacity as an engineer he registered a number of patents concerning gears.

The National Probate Calendar shows that Holman Linnel [sic] Brooke, of Egmont, Town Street, Middleton, Leeds, died on 13 April 1942 and that administration of his effects of £169 2s 5d was granted to Annie Chambers (the wife of Friend Chambers). She was his younger sister.'
---
11501. Sir Umar Hayat Khan
Sébastien Moig (Villiers-Adam, France) refers to this feature (American Chess Bulletin, January 1932, page 5) in Sultan Khan and asks about the location of Sir Umar Hayat Khan's residence in London: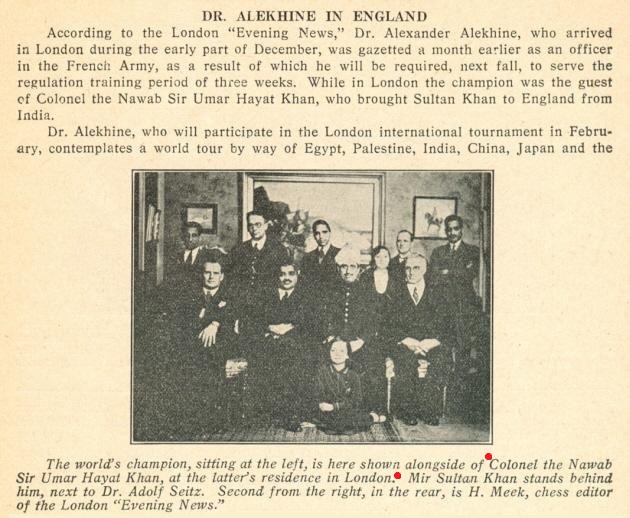 Rahmat Ali by Khursheed Kamal Aziz (Wiesbaden, 1987) has several references of relevance, including the following on page 209:
'10 Albert Road, Regent's Park (residence of Sir Umar Hayat Khan Tiwana).'
That address (today: 10 Prince Albert Road) is in the entry for Sultan Khan in Where Did They Live?, on the basis of page 113 of Ranneforths Schachkalender, 1932: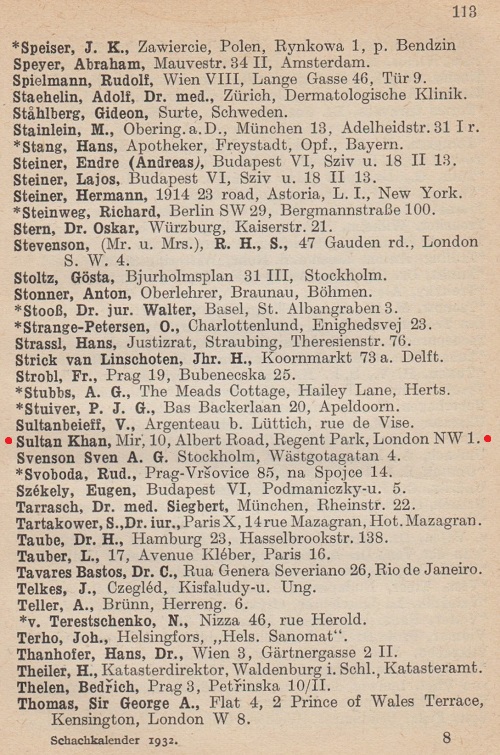 ---
11502. Frank Wilson Wynne (C.N. 11498)
From Michael McDowell (Westcliff-on-sea, England):
'The Wynne three-mover does not seem to be in any of the main databases, though that is perhaps not surprising as it is a rather mediocre problem. This is probably his best-known composition (first prize, Birmingham News, 1903):

It is an excellent example of the style of the English School, which placed emphasis on dual-free variations. Accuracy from multiple moves of a black queen was a favourite two-move idea.'
The composition was given, 'diagramlessly', on page 436 of the October 1903 BCM.
Jeremy Gaige's Chess Personalia states that Wynne died in Birmingham on 2 March 1941, but Mr McDowell notes that according to a Commonwealth War Graves Commission webpage his death-date was 10 April 1941.
---
11503. The Dragon Variation
'The Dragon Variation is unique among novels – unique in that its sole theme is chess, which figures on virtually every page. The only comparisons that can be drawn are with Ellison's Master Prim and Nabokov's The Defence, which tells the story of the life's failure and eventual suicide of a grandmaster. But Anthony Glyn's subtly constructed plot is far more probable than either of those, and his writing displays many touches of instant humour somewhat lacking in the others.'
Source: page 70 of King, Queen and Knight by N. Knight and W. Guy (London, 1975). Pages 69-73 gave extracts from the novel.

From the inside front cover of CHESS, November 1969: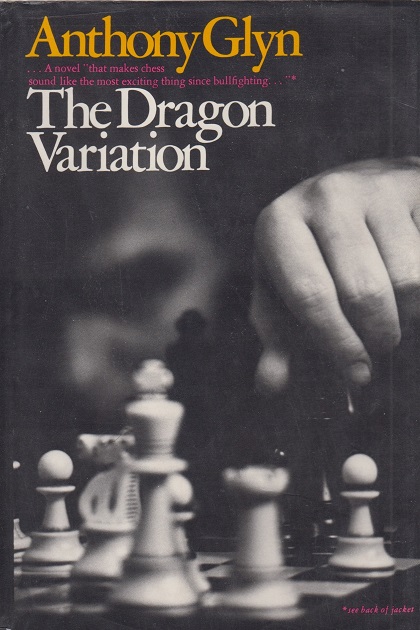 The citation on the front of the dust-jacket comes from The Times (Saturday Review), 14 June 1969, page 22, where Roger Baker wrote:
'Mr Glyn has achieved what would seem (to me at least) impossible, and that is making chess sound like the most exciting thing since bull-fighting.'
Also from the dust-jacket:

Below are three sample pages: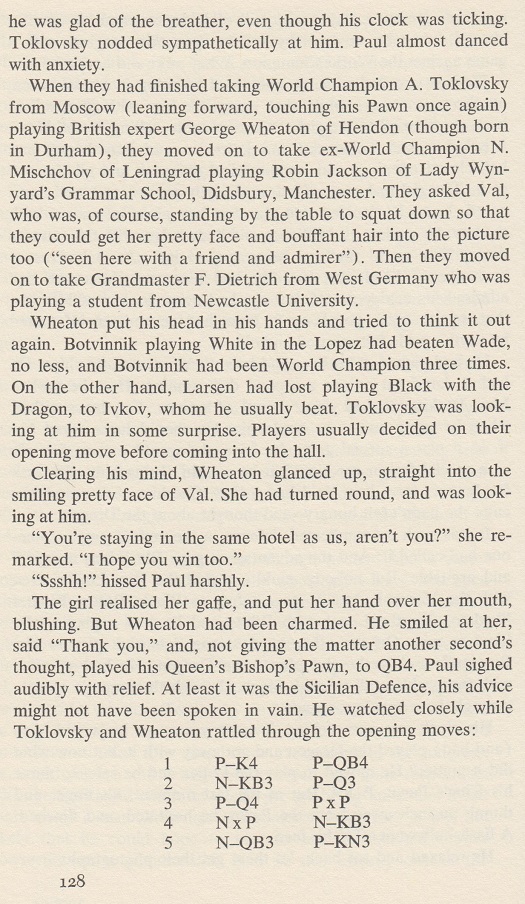 From B.H. Wood's chess column in the Illustrated London News, 31 May 1969, page 38:
Page iv of the End-June 1969 issue of CHESS had this assessment:
The reference to Botvinnik is incorrect; his name appears many times in the novel, including, as shown above, on page 128.
---
11504. Glasgow Weekly Herald
Does any reader have access to the Glasgow Weekly Herald (not the Glasgow Herald) of the mid-1890s?
---
11505. Emanuel Lasker
This strange photograph on page 1 of Leninsky iskry, 6 January 1936 has been submitted by Yuri Kireev and Mikhail Sokolov (Moscow):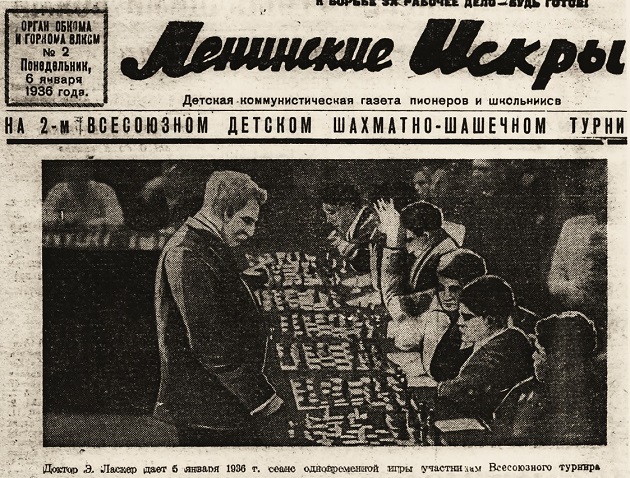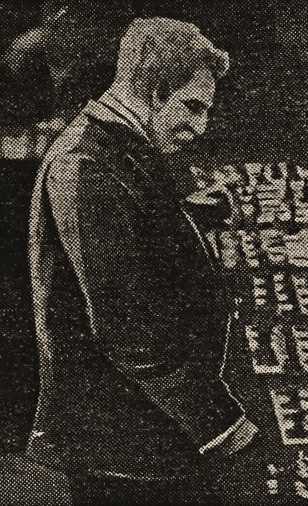 ---
11506. A constant struggle
In his second Spectator chess column (12 October 2019) Luke McShane expresses fondness for a deservedly well-known remark by Jan Gustafsson:
'Chess is a constant struggle between my desire not to lose and my desire not to think.'
Many websites quote the observation, but we seek a precise source.
This screen-shot from a broadcast on 26 March 2016 was made with the permission of chess24: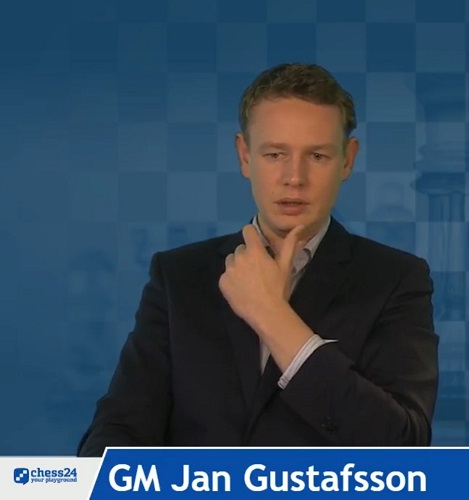 ---
11507. Frank Wilson Wynne (C.N.s 11498 & 11502)
John Townsend (Wokingham, England) writes:
'The National Probate Calendar records the date of Frank Wilson Wynne's death as 9 April 1941. Administration (limited) was granted at Llandudno (as was normal during the War) on 10 January 1942 to William Wakelin, a manufacturer's manager, and Mabel Phillips, a widow, the effects amounting to £145.

There were heavy enemy raids on Birmingham on both 9 and 10 April 1941.

The General Register Office's index of deaths contains an entry for Frank W. Wynne in the quarter ending 30 June 1941 in the Birmingham registration district (volume 6d, page 492).'
---
11508. Alekhine v Evensson
A game annotated by Harry Golombek on page 60 of the 'special Alekhine number' of the BCM, March 1956: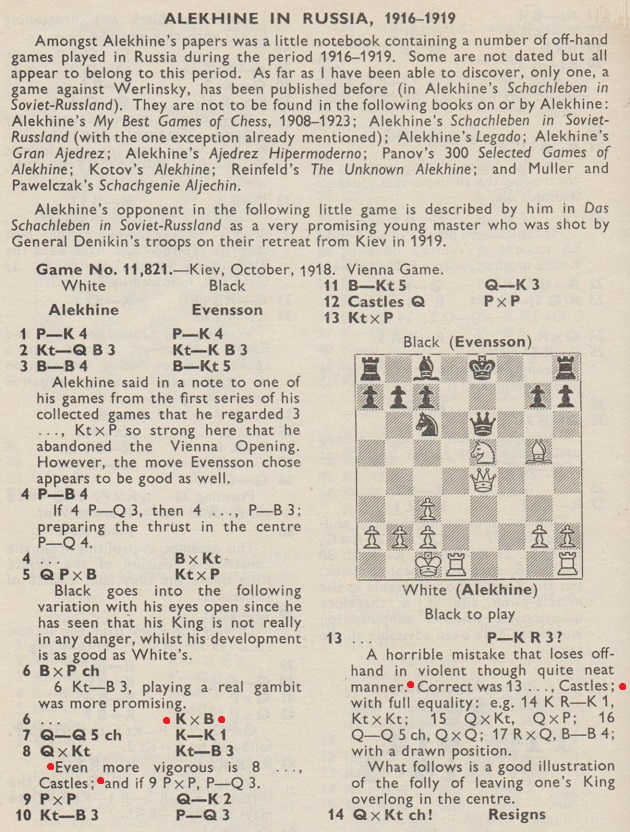 1 e4 e5 2 Nc3 Nf6 3 Bc4 Bb4 4 f4 Bxc3 5 dxc3 Nxe4 6 Bxf7+ Kxf7 7 Qd5+ Ke8 8 Qxe4 Nc6 9 fxe5 Qe7 10 Nf3 d6 11 Bg5 Qe6 12 O-O-O dxe5 13 Nxe5 h6 14 Qxc6+ Resigns.
A follow-up item by Golombek on pages 104-105 of the April 1956 BCM: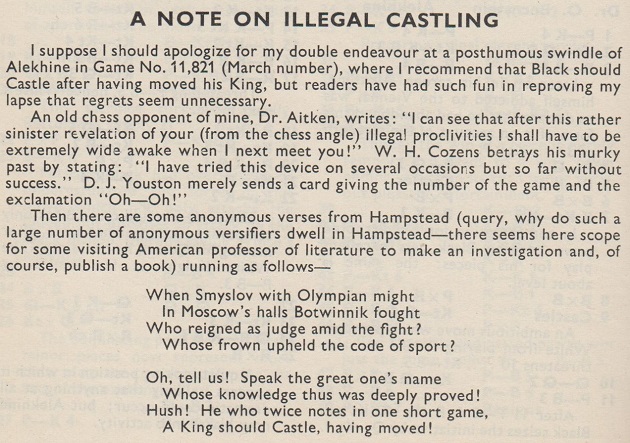 ---
11509. Repetition of position?
From page 84 of The Fireside Book of Chess by I. Chernev and F. Reinfeld (New York, 1949):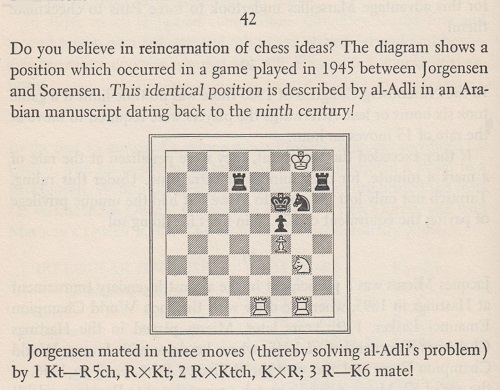 C.N. items discussing this topic were brought together on page 274 of Chess Facts and Fables. Augmented, they have just been posted as a new feature article, Chess Reincarnation.
An additional point is that on page 226 of the August 1970 BCM, in D.J. Morgan's Quotes and Queries column, Kenneth Runkel of Wausau, WI, USA appealed for the score 'of Jorgensen v Sorensen, Storkovenhagen, 1945'. On page 288 of the October 1970 issue Morgan wrote:
'J.P. Toft. Thank you for note, and for our wanted score of Jorgensen v Sorensen, played in the Danish Worker-Chessbund in Copenhagen, March 1945. For a copy will Kenneth Runkel of Wisconsin send his full address.'
Nothing further appeared in the BCM.
We have taken the matter up with Claes Løfgren (Fur, Denmark), who has found the following on pages 126-127 of the October 1946 edition of Arbejder-Skak ('Workers' Chess'):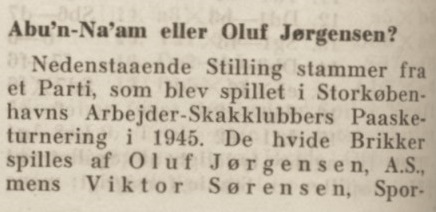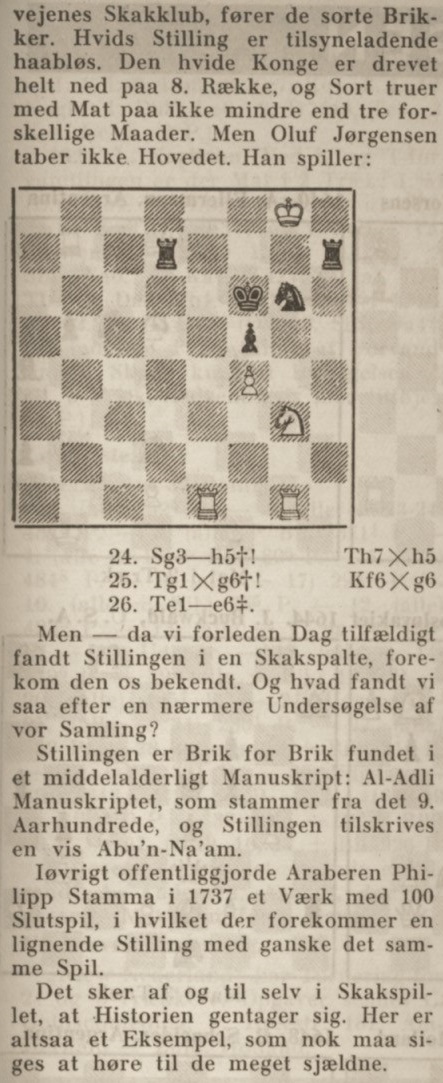 Our correspondent's translation:
'Abu'n Na'am or Oluf Jørgensen?

The position below comes from a game which was played in the Easter Tournament of the Greater Copenhagen Workers' Chess Clubs in 1945. The white pieces are played by Oluf Jørgensen, A.S. [the Copenhagen Workers' Chess Club] while Viktor Sørensen, Tram Workers' Chess Club, conducts the black pieces. White's position is apparently hopeless. The white king has been driven all the way down to the eighth rank, and Black threatens mate in no fewer than three different ways. But Oluf Jørgensen does not lose his head. He plays:

[DIAGRAM]

24 Ng3-h5+! Rh7xh5
25 Rg1xg6+! Kf6xg6
26 Re1-e6 mate.

But – when we accidentally found the position in a chess column the other day, it appeared familiar to us. And what did we find then after a closer search in our collection?

The position is piece for piece to be found in a mediaeval manuscript: the Al-Adli manuscript, which dates back to the ninth century, and the position is ascribed to a certain Abu'n-Na'am.

Besides, the Arab Philipp Stamma published a work in 1737 with 100 endgames, in which a similar position with exactly the same play appears.

It happens occasionally even in the game of chess that history repeats itself. Here is an example then, which it must be said is one of the very rare cases.'
Mr Løfgren comments that the article was unsigned, but that the main editor of Arbejder-Skak was J.P. Toft. The tournament in question was covered in the May 1945 issue; a few games were given, but without mention of the Jørgensen v Sørensen encounter. Another curiosity is the information that the diagrammed position arose after only 23 moves. It is not yet possible to say where the position had been published in 'a chess column the other day', or whether, in 1970, J.P. Toft sent D.J. Morgan the full game-score, as the latter implied.
---
11510. Remarks attributed to Emanuel Lasker
Stefan Müllenbruck (Trier, Germany) sends a column relevant to two topics discussed in C.N.: the player who claimed never to have beaten a healthy opponent (pages 322-323 of Kings, Commoners and Knaves and C.N. 4189) and the 'When I am White, ... when I am Black ...' remark (C.N.s 5063, 9647 and 10407). Both observations were ascribed to Emanuel Lasker in a column by 'Philidor' (C.H.O'D. Alexander) on page 866 of The Spectator, 22 June 1956:
---
11511. The Leopold Löwy overcoat story
This cartoon has been provided by David McAlister (Stirling, Scotland) from a Ripley's syndicated column published on page 8 of the Evening Echo (Cork, Ireland), 28 May 1963: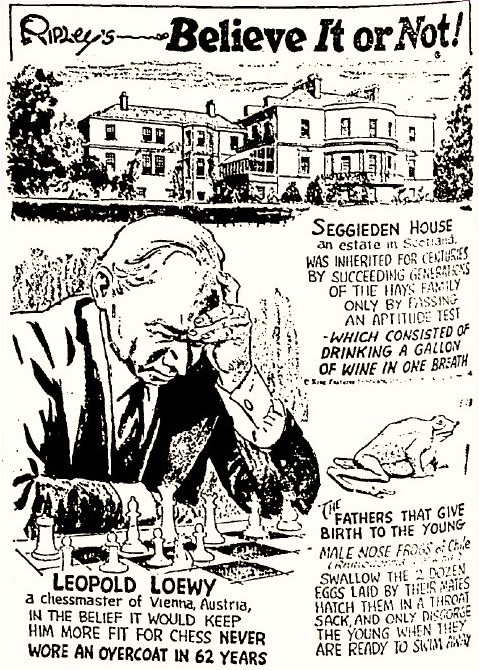 The coat matter was mentioned by Josef Krejcik on page 20 of his book Mein Abschied vom Schach (Berlin, 1955), as shown in C.N. 11012:

Michael Lorenz (Vienna) reports that a series of caricatures by Leopold Löwy was published in Die Bühne in 1925: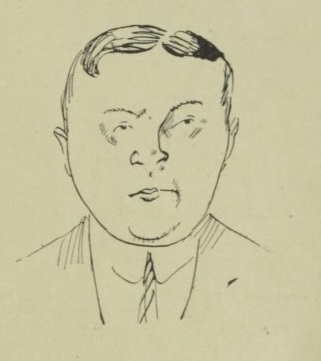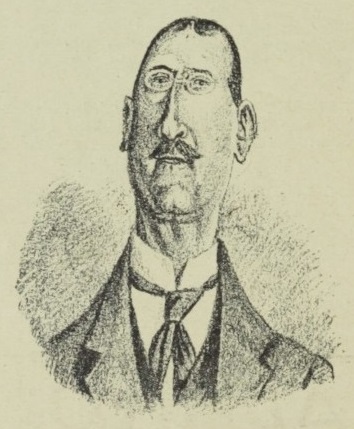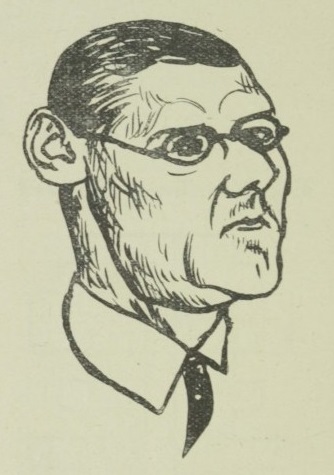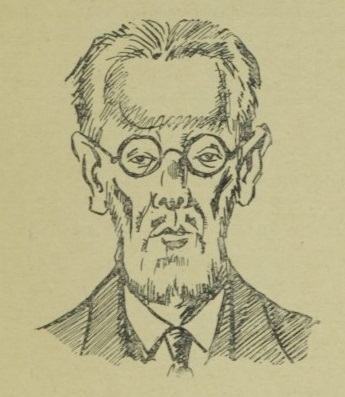 ---
11512. Repetition of position? (C.N. 11509)
Concerning the alleged Jørgensen v Sørensen game, Luc Winants (Boirs, Belgium) draws attention to this similar position (White mates in three) ...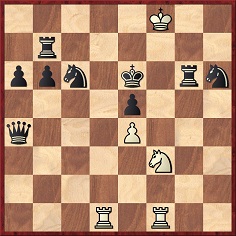 ... on pages 337-339 of Le jeu des Eschets by Gioachino Greco (Paris, 1669):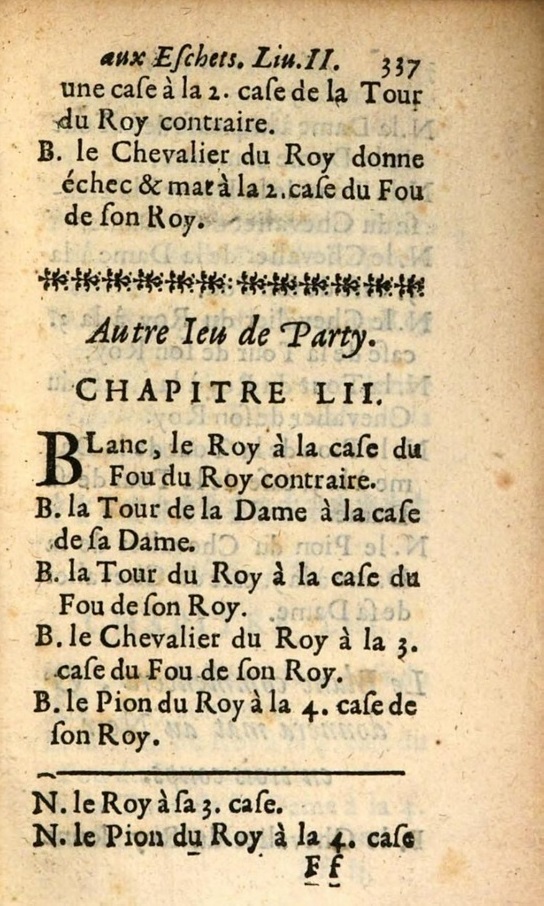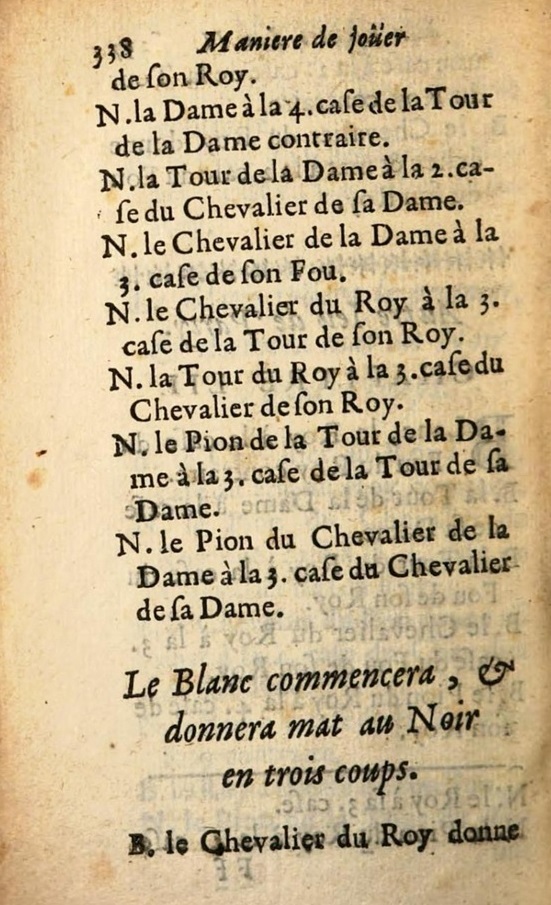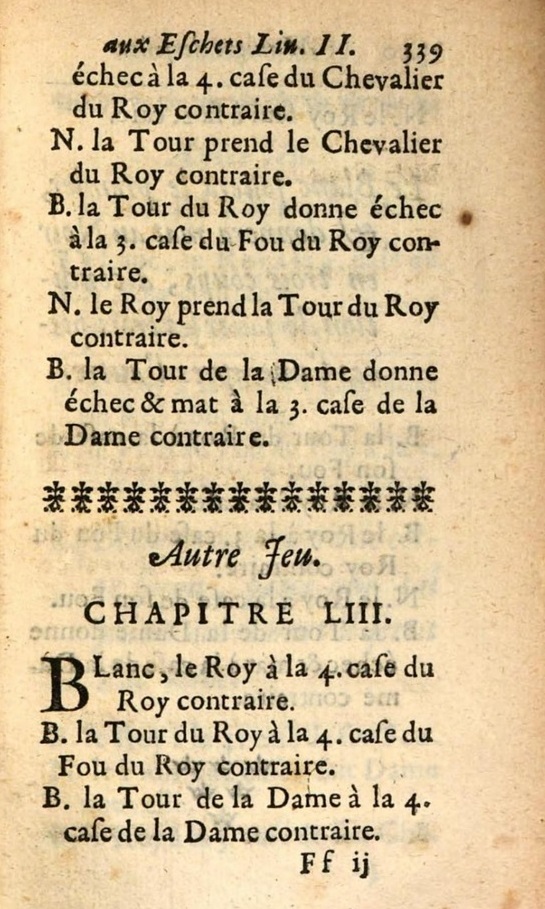 ---
11513. Israeli photograph collection
Avital Pilpel (Haifa, Israel) informs us, courtesy of his colleague Moshe Roytman, that a search for the word שחמט (chess) yields many pictures of interest in the Israeli national library's photograph collection Mare'h Eynayim, and notably concerning a simultaneous exhibition by Boris Spassky in 1964.
---
11514. Who?
---
11515. Luck
On the topic of Luck in Chess, below is an extract from pages 82-83 of The Pleasures of Chess by Assiac (New York, 1952):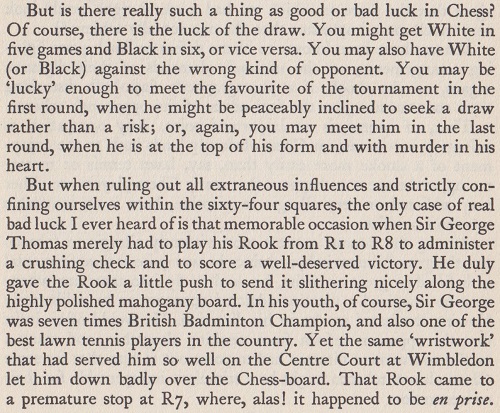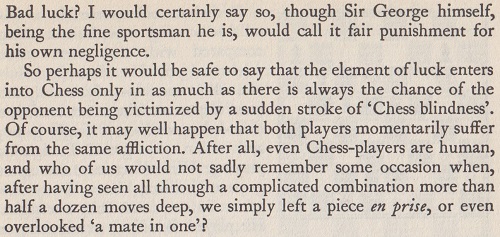 Wanted: details of the 'memorable' occasion involving Sir George Thomas.
---
11516. The rook
On a board otherwise empty, the rook has the unique distinction of always controlling the same number of squares (14). Page 311 of La Stratégie, 15 October 1891 has this by Andrés Clemente Vázquez: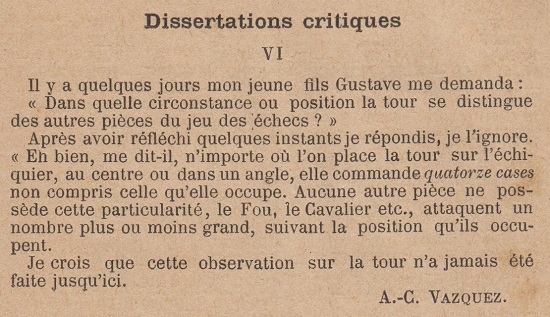 ---
11517. The Vančura position
Jean-Pierre Rhéaume (Montreal, Canada) asks for historical particulars about the Vančura position in rook and pawn endings.
It has been discussed in many endgame manuals, and below, for instance, is part of the coverage by P. Keres, on page 106 of his book Practical Chess Endings (London and New York, 1974):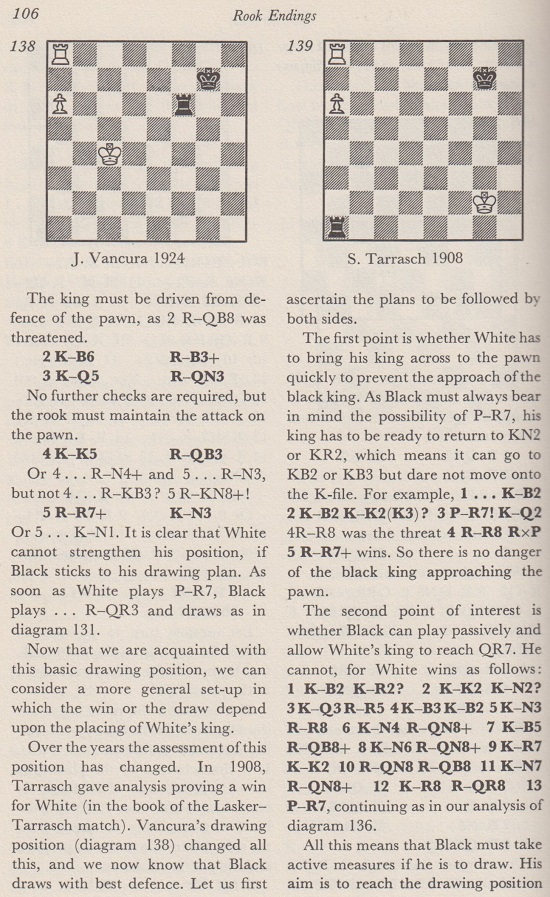 A selection of other references:
Comprehensive Chess Endings, volume 5 by Y. Averbakh and N. Kopayev (Oxford, 1987), pages 158-159;
Winning Chess Endings by Y. Seirawan (Redmond, 1999), pages 88-92;
Secrets of Rook Endings by J. Nunn (London, 1999), pages 27-46;
Fundamental Chess Endings by K. Müller and F. Lamprecht (London, 2001), pages 188-189;
Dvoretsky's Endgame Manual by M. Dvoretsky (Milford, 2003), pages 153-155.
As noted by Keres, the oft-mentioned citing of Tarrasch relates to Der Schachwettkampf Lasker-Tarrasch (Leipzig, 1908), which had a lengthy appendix entitled 'Neue Untersuchungen über Turmendspiele' (pages 125-148). Two sample pages: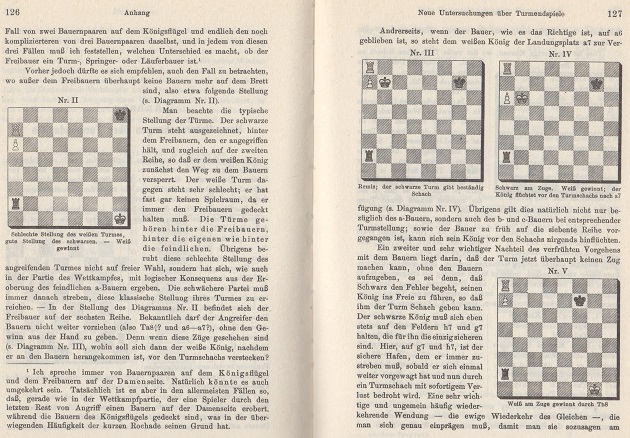 An English translation was published in the 1909 BCM in six instalments. J. Berger discussed the analysis on pages 277-278 of Theorie und Praxis der Endspiele (Berlin and Leipzig, 1922). See too the broad coverage on pages 262-274 of Nouveau traité complet d'échecs. La fin de partie by A. Chéron (Lille, 1952), which includes references to Tarrasch and Vančura.
The exact nature and origins of the Tarrasch/Vančura connection are unclear. Nor are we yet even able to show the Vančura position in a 1924 source, although in the mid-1920s Časopis Československých Šachistů reproduced, posthumously, many of his compositions from the Czech newspaper 28. Říjen.
His death in 1921 was reported on page 21 of the February 1922 Časopis Československých Šachistů:

Some further information, by Josef Martinák, has been drawn to our attention by Karel Mokrý (Prostějov, Czech Republic).
We end for now by lobbing in a complication from the unpublished 1994 edition of Chess Personalia by J. Gaige: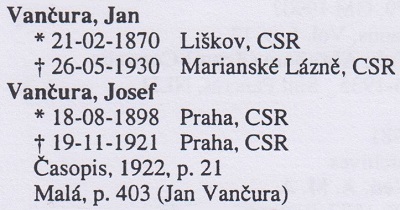 'Malá' refers to Malá encyklopedie šachu by J. Veselý, J. Kalendovský and Bedrich Formánek (Prague, 1989), which has this entry:

---
11518. Reuben Fine
Aidan Woodger (Halifax, England) has provided the entries for Reuben and Emmy Fine (lines 31 and 32) in the 1940 US Federal Census, which has allowed a small amendment to be made to Where Did They Live?
Our correspondent, the author of the McFarland book on Reuben Fine, adds:
'I have been looking for documents about the Fine family and have so far found the following: US Federal Census data 1910, 1920, 1930, 1940; New York State census 1915 and 1925; naturalization documents for Bertha (Nedner) Fine and Jacob Fucher (Fine); marriage index for Manhattan 1907-2018.

Jacob is difficult to track as there seem to be no census entries for 1910, 1920 or 1940 which closely match his details.

Contrary to what had been thought, Reuben Fine (born in 1914) was not an only child, but the second. Evelyn (Eva) was born in 1912, and there is still a record of her in 1932. I did not find her in the 1940 census, but that may be because she had married or because there was a mistranscription.

Reuben Fine appears as Ruby (1915), Rubin (1920 and 1925) and Reubin (1921/1924). In addition to the above-mentioned variant Jacob Fucher/Jacob Fine, Bertha signed her name as Feine on her 1932 naturalization documents.

Reuben Fine's uncle, Reuben Lazarus (who seems to be the person who taught him chess), married Bertha's sister, Sarah. He also appears as Rubin in documents.'
---
11519. Gabriel Wood
Eric Fisher (Hull, England) has just produced a 76-page large-format work on Gabriel Wood (1903-83).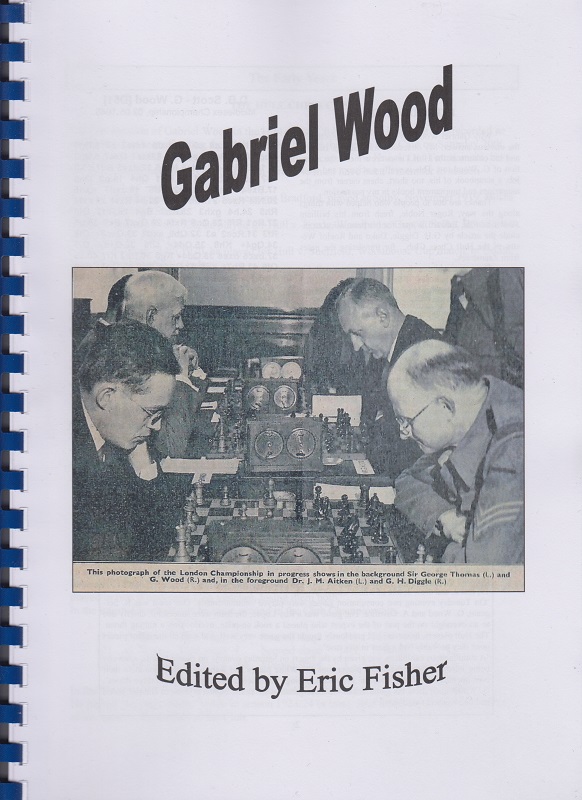 ---
11520. Leopold Löwy (C.N. 11511)
Michael Lorenz (Vienna) notes an illustration which accompanied a biographical note about Löwy on pages 12-13 of the January-February 1907 Wiener Schachzeitung: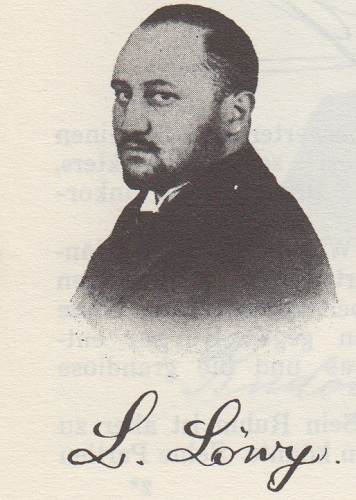 ---
11521. Georg Marco
A further contribution from Michael Lorenz is this caricature by Leopold Löwy of Georg Marco: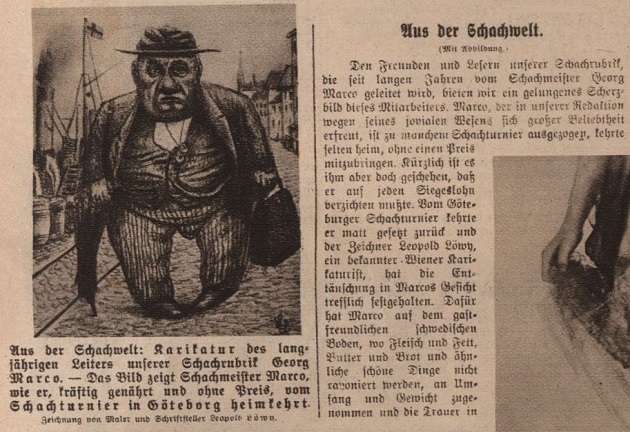 Das interessante Blatt, 18 November 1920, page 14
The caption describes Marco as returning from the Göteborg tournament 'very well fed and without a prize' ('kräftig genährt und ohne Preis').
---
11522. The rook (C.N. 11516)
Michael Clapham (Ipswich, England) refutes the 1891 claim by A.C. Vázquez regarding the earliest mention of a unique characteristic of the rook. He shows the following from page 20 of Elements of the Game of Chess by William Lewis (London, 1822):

The second paragraph is not a model of clarity.
---
11523. Krotki v South
On the subject of Fast Chess, Eduardo Bauzá Mercére (New York, NY, USA) sends a game on page 42 of the Ottawa Journal, 24 July 1976: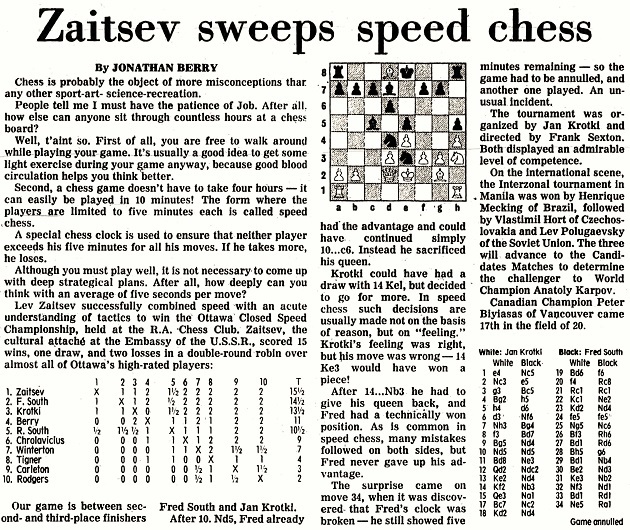 We are grateful to Jonathan Berry (Nanaimo, BC, Canada) for permission to reproduce his column.
1 e4 Nc6 2 Nc3 e5 3 g3 Bc5 4 Bg2 h5 5 h4 d6 6 d3 Nf6 7 Nh3 Bg4 8 f3 Bd7 9 Bg5 Nd4 10 Nd5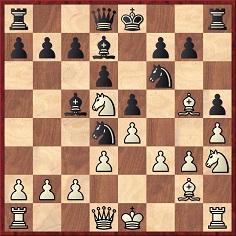 10...Nxd5 11 Bxd8 Ne3 12 Qd2 Ndxc2+ 13 Ke2 Nd4+ 14 Kf2 Nb3 15 Qxe3 Bxe3+ 16 Kxe3 Nxa1 17 Bxc7 Nc2+ 18 Kd2 Nd4 19 Bxd6 f6 20 f4 Rc8 21 Rc1 Rxc1 22 Kxc1 Ne2+ 23 Kd2 Nd4 24 fxe5 fxe5 25 Ng5 Nc6 26 Bf3 Rh6 27 Bd1 Rxd6 28 Bxh5+ g6 29 Bd1 Nb4 30 Be2 Nxd3 31 Ke3 Nxb2 32 Nf3 Nd1+ 33 Bxd1 Rxd1 34 Nxe5 Ra1. Game annulled.
---
11524. Staunton medallions
John Townsend (Wokingham, England) writes in connection with Pictures of Howard Staunton:
'Regarding claims that Staunton's 1843 victory over Saint-Amant in Paris was commemorated with a bronze medallion associated with St George's Chess Club, page 157 of my 2011 book Notes on the life of Howard Staunton mentioned a life-size medallion of Staunton's head which had been "cleverly" modelled by an Italian sculptor "some years ago". In 1873 Staunton ordered further casts to be made and sent two of them to his fellow Shakespeare editors, James Orchard Halliwell-Phillipps and Horace Howard Furness, an American.

The following passage on pages 133-134 of C.A. Gilberg's book on New York, 1880 has just come to my attention:

"Facing the entrance to the hall our own national emblem bore within its massive folds the name of Paul Morphy, while, vis-à-vis, a large medallion bust in alto relievo of the late Howard Staunton was appropriately surrounded with the flags of Great Britain."

Can any further information about the Staunton medallion bust be found, and are images of any Staunton medallions known?'
We can add, courtesy of the Cleveland Public Library, the back cover of the September 1853 Chess Player's Chronicle: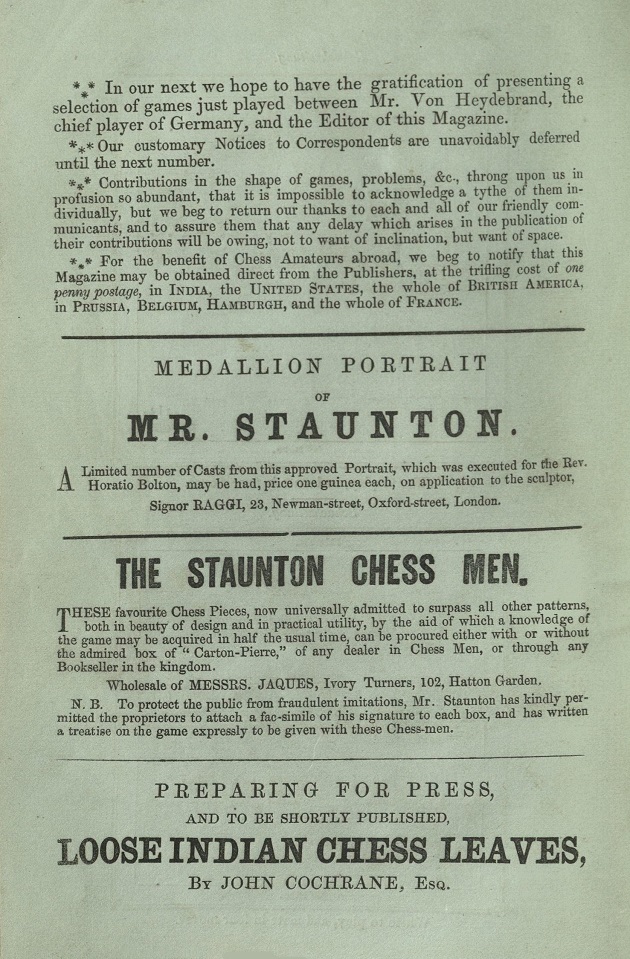 ---
11525. Lasker, Janowsky and Nardus
C.N. 3715 (see too Léonardus Nardus) reproduced a number of portraits by Nardus, including one of Emanuel Lasker: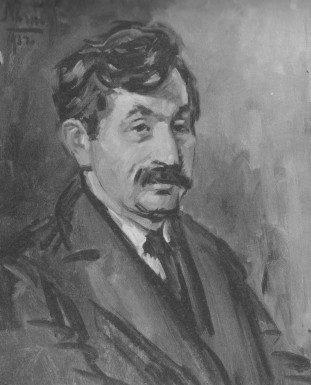 The painting was mentioned in the introduction to an off-hand Janowsky v Lasker game on pages 16-17 of the January 1913 issue of La Stratégie: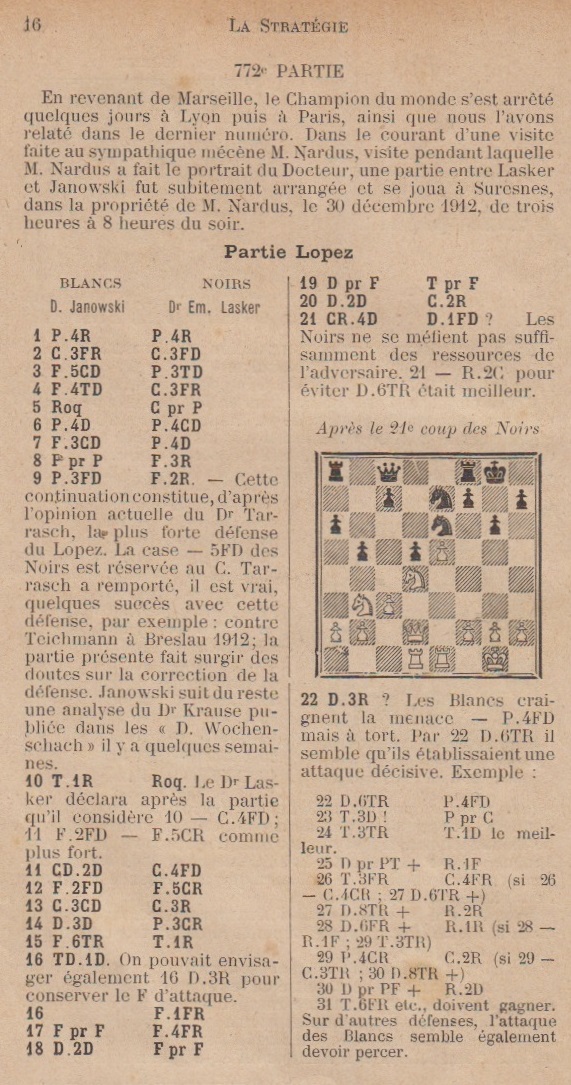 Page 158 of K. Whyld's 1998 collection of Lasker's games erroneously gave the source as 'La Stratégie 1913, p. 39'. The game is on pages 39-40 of the February 1913 Deutsche Schachzeitung, which stated after 37...Nf5 'und Weiß gab nach einigen Zügen die Partie auf'. That corresponds to what Lasker himself had written in the annotations in his Pester Lloyd column of 5 January 1913, pages 9-10: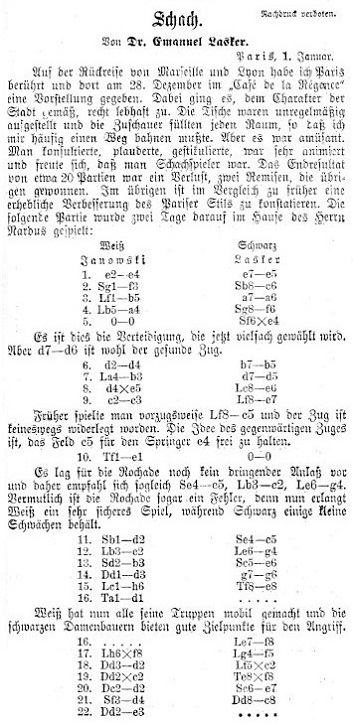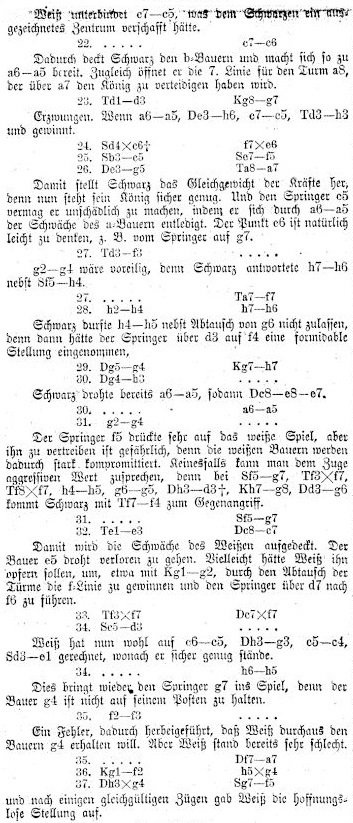 1 e4 e5 2 Nf3 Nc6 3 Bb5 a6 4 Ba4 Nf6 5 O-O Nxe4 6 d4 b5 7 Bb3 d5 8 dxe5 Be6 9 c3 Be7 10 Re1 O-O 11 Nbd2 Nc5 12 Bc2 Bg4 13 Nb3 Ne6 14 Qd3 g6 15 Bh6 Re8 16 Rad1 Bf8 17 Bxf8 Bf5 18 Qd2 Bxc2 19 Qxc2 Rxf8 20 Qd2 Ne7 21 Nfd4 Qc8 22 Qe3 c6 23 Rd3 Kg7 24 Nxe6+ fxe6 25 Nc5 Nf5 26 Qg5 Ra7 27 Rf3 Raf7 28 h4 h6 29 Qg4 Kh7 30 Qh3 a5 31 g4 Ng7 32 Ree3 Qc7 33 Rxf7 Qxf7 34 Nd3 h5 35 f3 Qa7 36 Kf2 hxg4 37 Qxg4 Nf5 and wins after a few more moves.
---
11526. Who? (C.N. 11514)
This player was identified as Géza Maróczy in an article about Lasker and phrenology on page 8 of the Pall Mall Gazette, 14 July 1899:

The article was featured on page 123 of the American Chess Magazine, September 1899. Regarding the sketches, see too C.N. 5729 and our feature article on London, 1899.
---
11527. Leopold Löwy (C.N.s 11511, 11520 & 11521)
Michael Lorenz (Vienna) has discovered the date and circumstances of Löwy's death: on 29 February 1940 he hanged himself in his apartment in Vienna: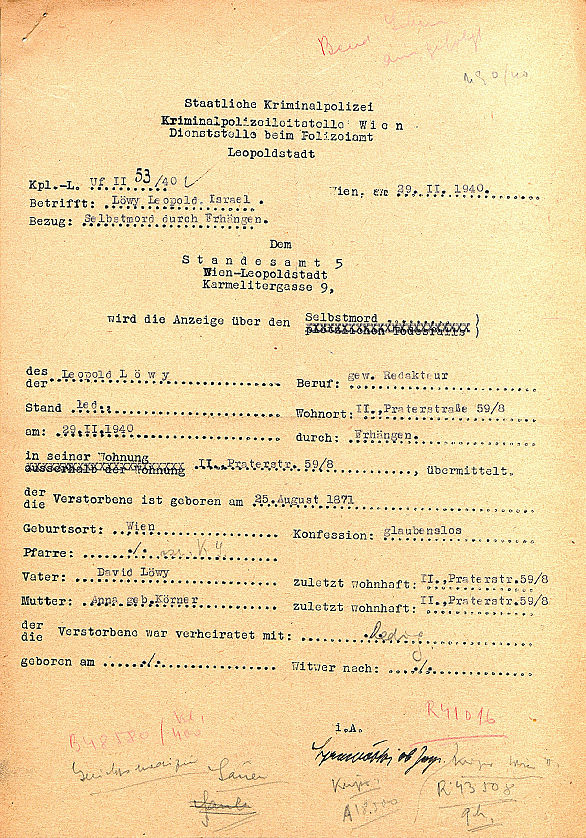 It will be noted that his full name was given as Leopold Israel Löwy and his birth-date as 25 August 1871.
Our correspondent adds:
'Löwy's remains were cremated on 5 March 1940 and buried on 9 March in the urn cemetery of the Simmering Crematorium at section 6, ring 2, group 2, No. 57. The plot in the cinerarium has been reassigned since then. Löwy had renounced Judaism in 1905. His ability to live in retirement despite his youth (as Krejcik put it – C.N. 11511) came from inheriting a share of his wealthy father's leather factory, which, until 1929, was run by his brothers Gustav and Alfred. None of the four Löwy siblings ever married. Gustav (who assumed the surname Weitprecht) died in 1939. Valerie Löwy, who was mentally handicapped, died in 1928 in the Steinhof asylum, and Alfred Löwy disappeared in Yugoslavia during the Second World War. The house at Praterstraße 59 in Vienna was destroyed by bombing during the War.'
---
11528. Overcoats (C.N. 11511)
Ronald Young (Bronx, NY, USA) draws attention to a passage on page 213 of a history of the New York Times by Gay Talese entitled The Kingdom and the Power (New York, 1969):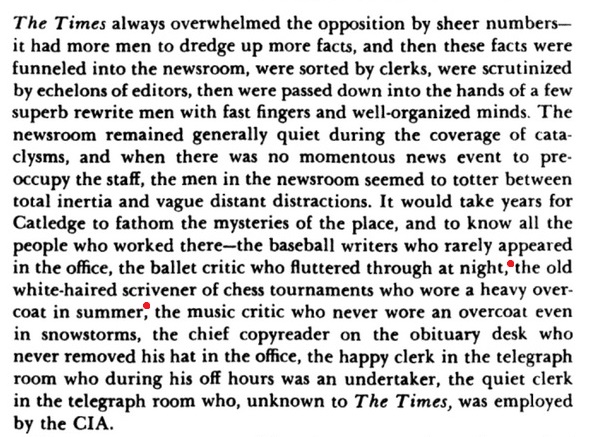 ---
11529. The Max Lange Attack
A correspondence game played in 1919 between Zd. Formánek and A. Vavřinský:
1 e4 e5 2 Nf3 Nc6 3 Bc4 Nf6 4 d4 exd4 5 O-O Bc5 6 e5 d5 7 exf6 dxc4 8 Re1+ Be6 9 Ng5 Qd5 10 Nc3 Qf5 11 Nce4 O-O-O 12 Nxe6 fxe6 13 g4 Qe5 14 fxg7 Rhg8 15 Bh6 d3 16 c3 d2 17 Re2 Bb6 18 Kg2 Ne7 19 f3 Nd5 20 Qc2 Nf4+ 21 Bxf4 Qxf4 22 Rd1 Rd3 23 Nxd2 Rxg7 24 Re4 Rxg4+ 25 Kh1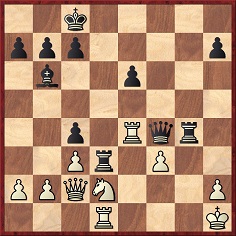 25...Qxd2 26 White resigns.
The score is taken from pages 27-28 of Časopis Československých Šachistů, February 1920: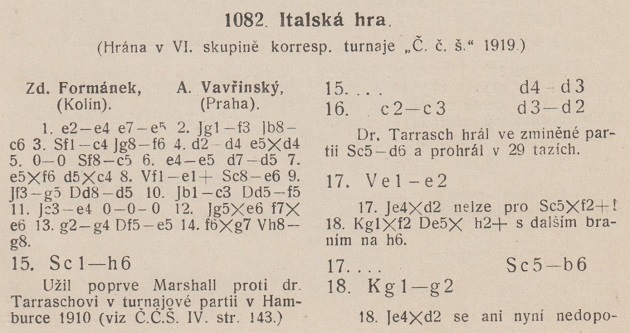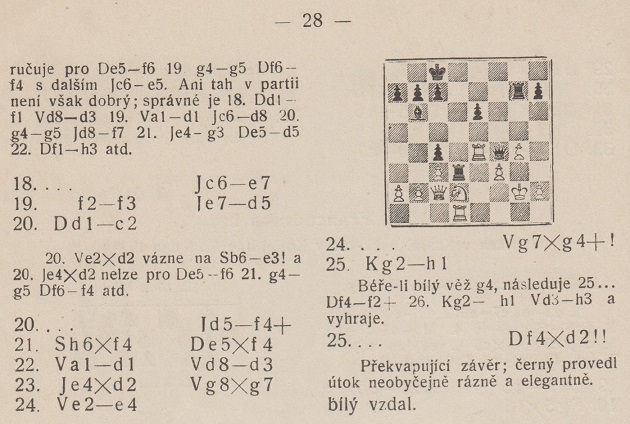 It was also published on page 352 of the September 1920 Chess Amateur: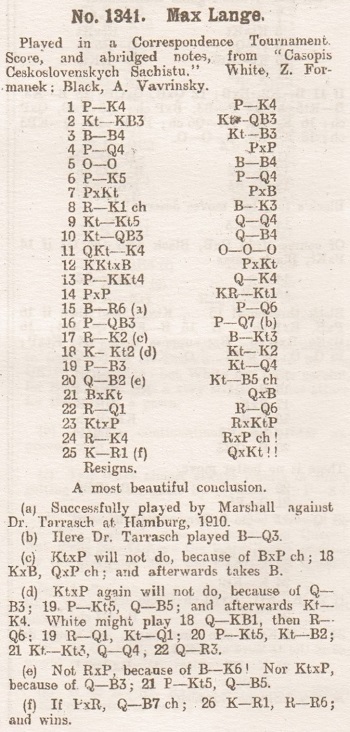 As regards the above-mentioned game Marshall v Tarrasch, Hamburg, 1910, below is the key phase, with a reference to 16...d2, on page 118 of Marshall's book My Fifty Years of Chess (New York, 1942):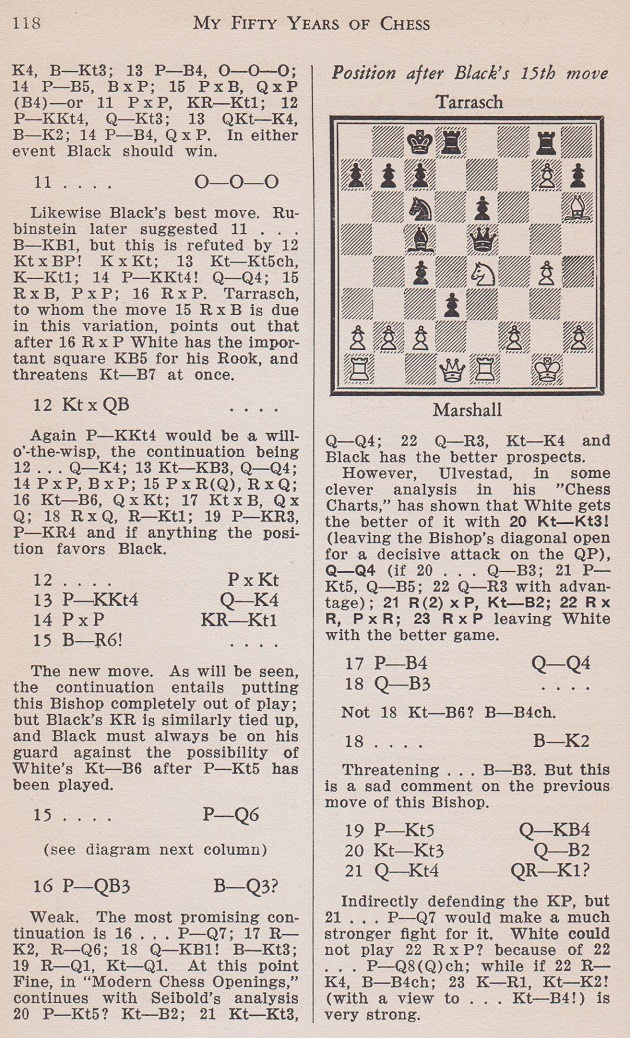 The game was also included in the American's scarce book Modern Analysis of the Chess Openings (Amsterdam, 1912/13), where it was followed by some Marshall v Capablanca games with the same opening: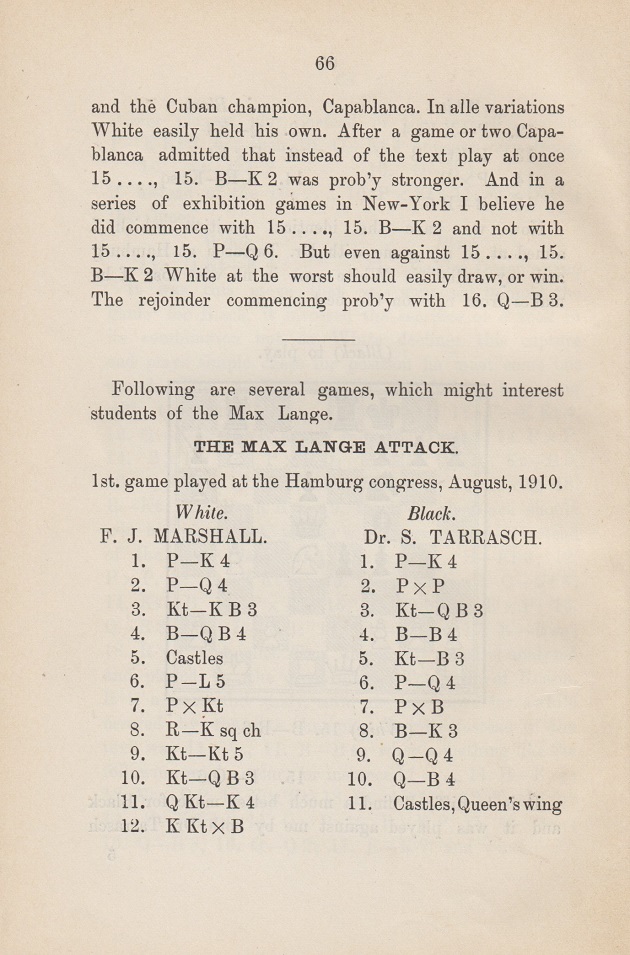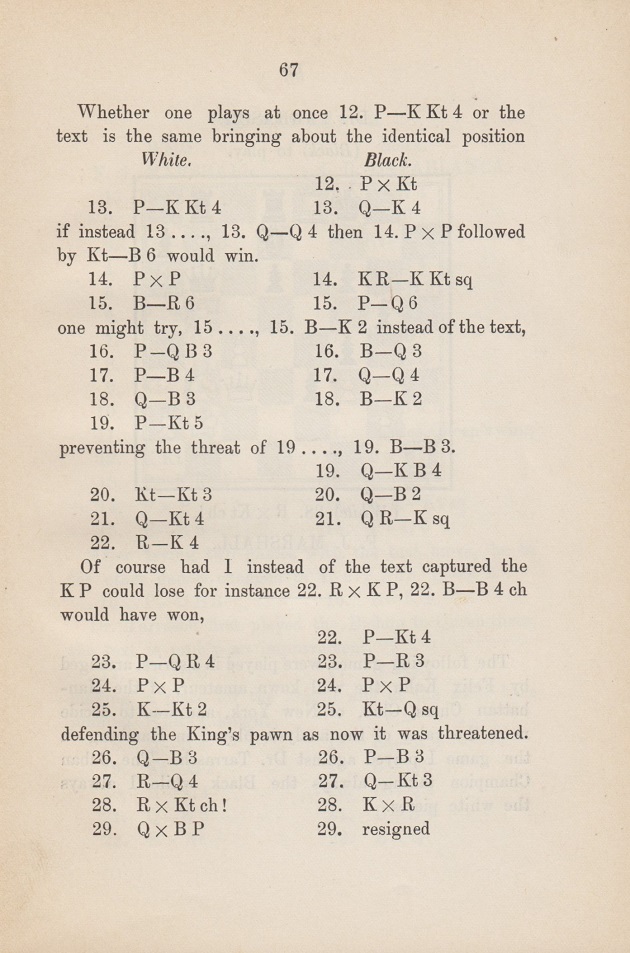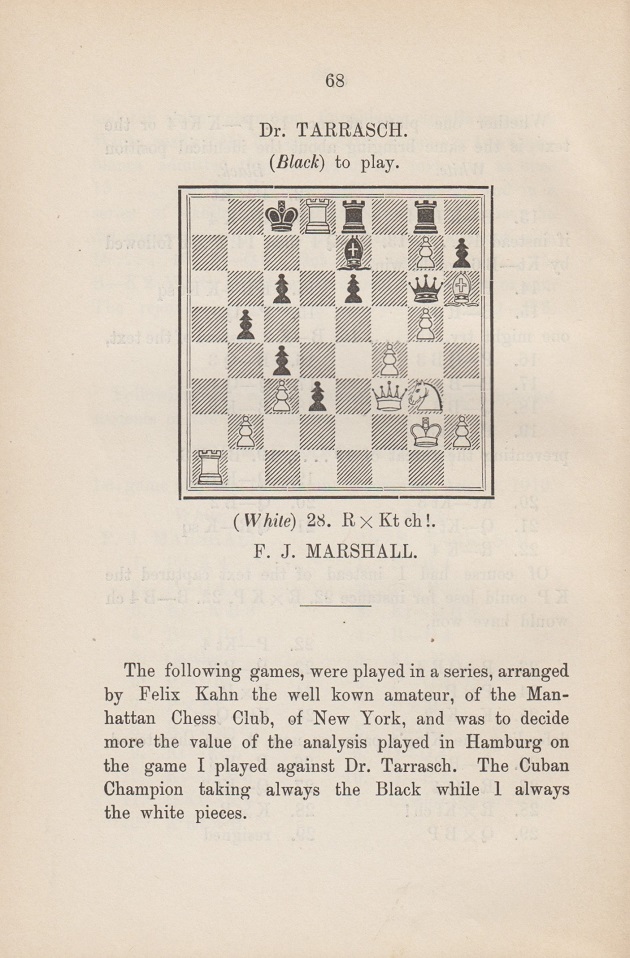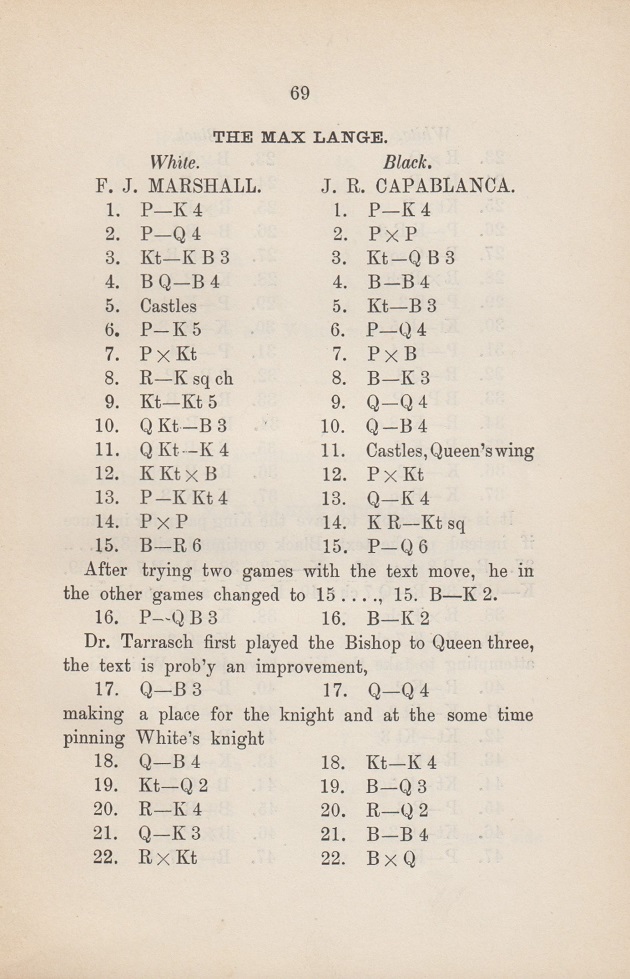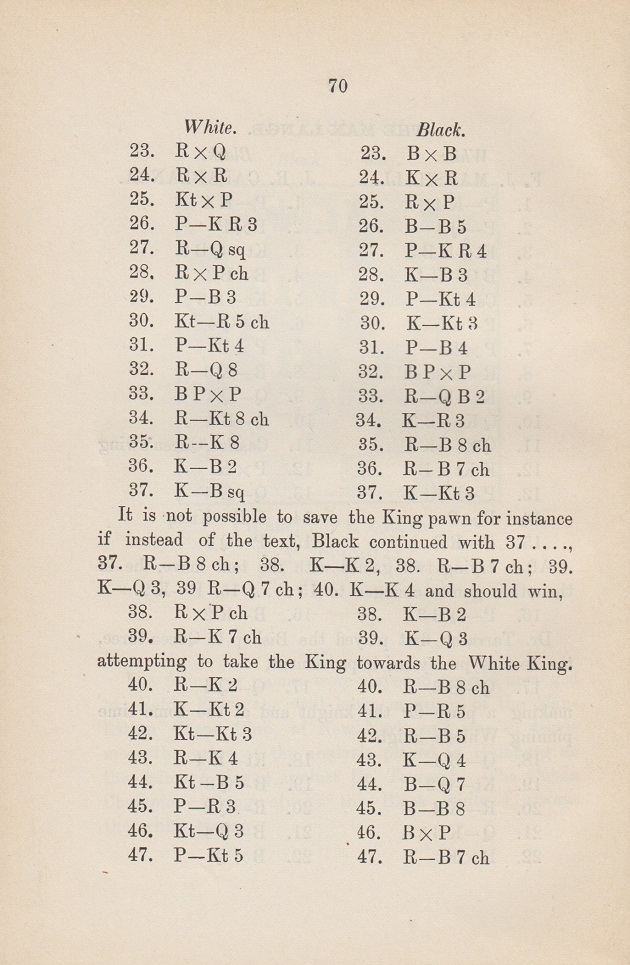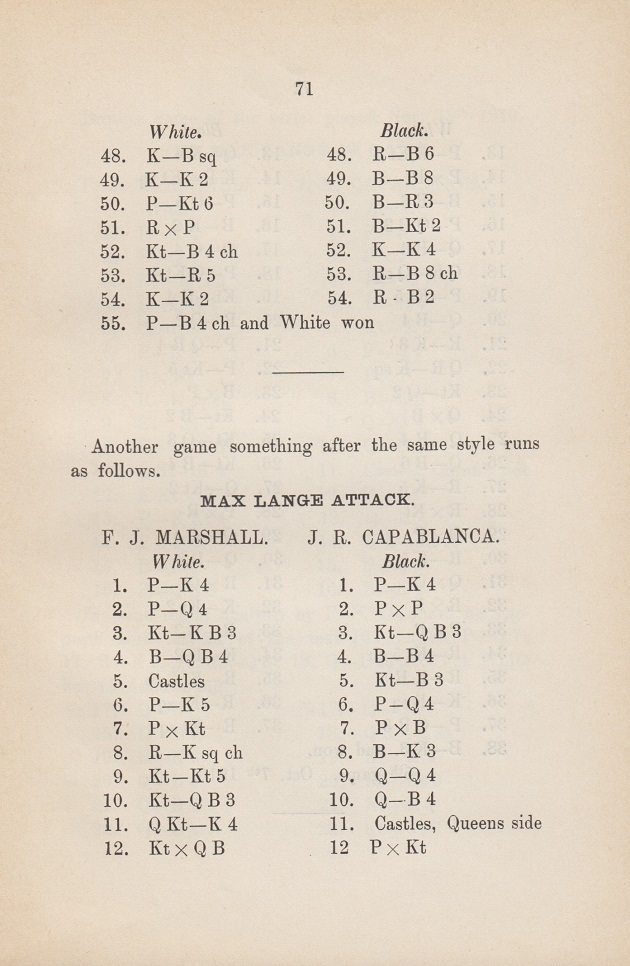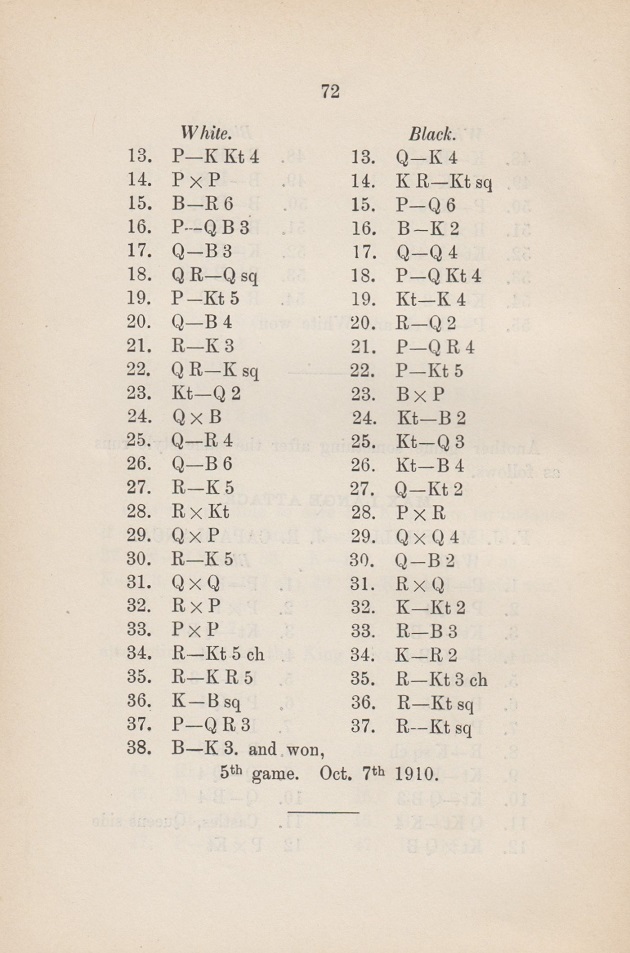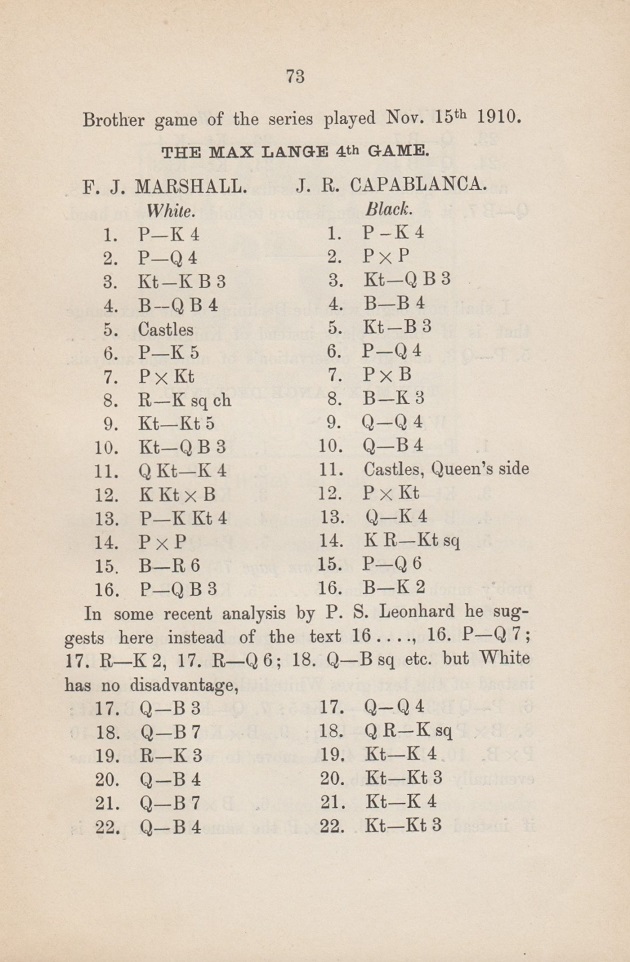 Those games are on pages 108-109 of The Unknown Capablanca by David Hooper and Dale Brandreth (London, 1975):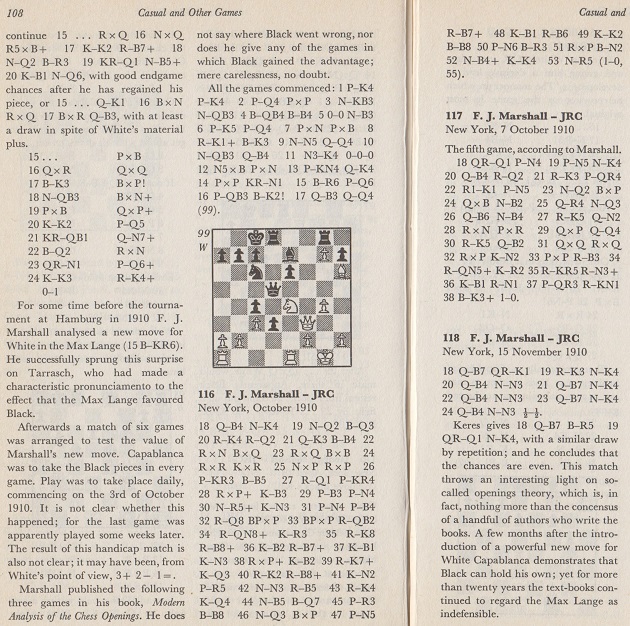 ---
Copyright: Edward Winter. All rights reserved.