Chess Notes
Edward Winter
When contacting us by e-mail, correspondents are asked to include their name and full postal address and, when providing information, to quote exact book and magazine sources. The word 'chess' needs to appear in the subject-line or in the message itself.
---
10191. Vera Menchik by Robert B. Tanner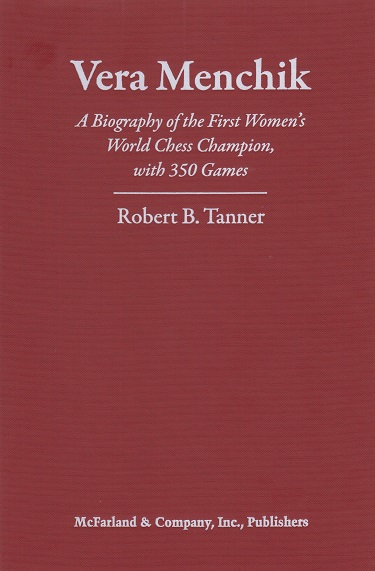 McFarland & Company, Inc. has let itself down badly with Vera Menchik by Robert B. Tanner (Jefferson, 2016).
Far smaller than most of the company's chess biographies, it is also far sloppier. A 15-minute skim of the General Index revealed about 30 misspellings, most of them obvious (e.g. 'Folkstone', 'Jermey' Gaige and 'San Sebastion'). The unimpressive Bibliography includes an entry with errors in authorship, title and date:

Vera Menchik by Robert B. Tanner has been consigned to the bottom of our reading pile.
---
10192. Another book on Vera Menchik
On successive days, by chance, monographs on Vera Menchik have been received, today's arrival being Královna šachu Věra Menčíková by Jan Kalendovský (Prague, 2016).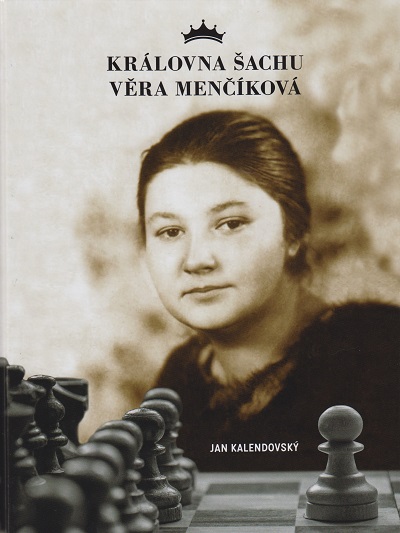 Karel Mokrý's excellent on-line chess shop has information about the book.
---
10193. Psychology
A remark by C.J.S. Purdy on the subject of chess and psychology:
'Against a wary chessplayer the possibilities of applied psychology by an opponent are very limited. The real psychological opponent of every player is himself.'
Source: an article entitled 'Psychology in Chess' in Chess World, November 1957, pages 230-232.
---
10194. An old challenge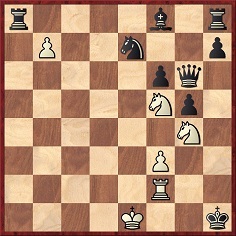 White to move and mate in two
---
10195. Curt and Bixby (C.N. 10187)
John Hilbert (Amherst, NY, USA) supplies another victory by Curt over Bixby, from page 136 of the Chess Weekly, 26 September 1908:
1 e4 e5 2 f4 exf4 3 Nf3 g5 4 h4 g4 5 Ng5 h6 6 Nxf7 Kxf7 7 d4 d5 8 Bxf4 dxe4 9 Bc4+ Kg7 10 Be5+ Nf6 11 Nc3 Bb4 12 O-O Nbd7 13 Qxg4+ Kh7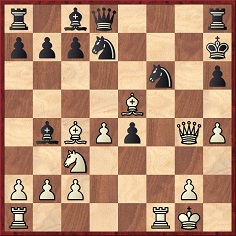 14 Qxe4+ Nxe4 15 Rf7+ Kg6 16 Rg7+ Kh5 17 Bf7+ Kxh4 18 g3+ Nxg3 19 Bxg3+ Kh3 20 Be6 mate.
The Chess Weekly gave no information about the venue or date.
We also have on file from Dr Hilbert three more games between the same players, from the Pittsburg Dispatch, 23 December 1901, the Brooklyn Daily Eagle, 12 July 1903, page 8, and the Brooklyn Daily Eagle, 27 November 1904, page 12.
Our correspondent adds biographical notes on both players:
W.C. Bixby was born on 17 January 1845, in Princeton, NJ. His parents soon moved to Brooklyn, where Bixby first went to school. He learned chess at the age of 14. He attended Williams College, a private liberal arts school in Williamstown, MA, where he graduated in the class of 1867. He was an early player of baseball and had a varied career. He taught in school for a few years in Hoboken, NJ, but by 1871 had become an "inspector of ores in the iron district of Pennsylvania". Around 1875 he travelled to the Hawaiian Islands, where he lived for seven years, working in the sugar milling business and, by his own admission, not playing chess. In the early 1880s he returned to Brooklyn, and engaged in business. He never married, living the rest of his life in Brooklyn with his sister. During the 1880s he joined the Brooklyn Chess Club, where he competed in club events and occasionally composed chess problems. Bixby was remembered as quiet, shy, mild-mannered and patient. He was active in the Brooklyn Chess Club almost until the very end, having played his last game there five days before his death, which was said to be "from an attack of bronchial pneumonia" on 9 March 1916.

Sources: J. Gaige in Chess Personalia (Jefferson, 1987), pages 39-40; Brooklyn Daily Eagle, 29 May 1913 (largely reprinted in the American Chess Bulletin, July 1913, page 152); The Obituary Record of the Society of Alumni, Williams College, 1916-1917 (April 1917, Sixth Series, 1910-1919, No. 7), pages 356-357. A small photograph of Bixby was on page 67 of the American Chess Bulletin, 1905 (Rice Gambit Supplement).'
There is some question regarding Curt's exact date of birth. Jeremy Gaige's Chess Personalia (Jefferson 1987), page 81, gives only "1868". The Brooklyn Daily Eagle for 17 July 1910, however, stated that Curt "was born near Leipzig, on 6 July, 42 years ago", thus suggesting that Charles Curt was born on 6 July 1868. Helms did not include this information when reporting on Curt's death in the August 1910 American Chess Bulletin (page 198).

References in parentheses in this paragraph refer to the Brooklyn Daily Eagle: Curt came to the United States in either late 1900 or early 1901, and very soon became an enthusiastic regular at the Brooklyn Chess Club. He quickly amassed a record in the Club of playing 696 games during the January-March 1901 session of the continuous handicap tournament. (7 April 1901.) For several years Curt showed regular improvement. In May 1901 he won a match against W.C. Bixby by the score of 5½-2½, in what must have been some of the first of many games that the two men played over the next nine years. (12 May 1901.) In August 1901 Curt travelled to Buffalo, NY, where he participated in the New York State Chess Association's summer meeting. He won the second-class tournament, scoring 6-0. (18 August 1901.) During the July-September 1901 Brooklyn continuous tournament, Curt played 1,040 games (664-376). (13 October 1901.) In July 1902 he advanced to the first class at the NYSCA's summer meeting at Murray Isle, winning that tournament as well. (27 July 1902.) He then defeated John D. Elwell in a match 5-3, with one draw. (24 August 1902.) He defeated E.W. Libaire in a match in December 1903 (5-1), but lost to a young Albert Fox that same month by 3-0. (27 December 1903.) Curt continued to improve and in 1906 he avenged his loss to Fox, defeating him in both of their games at Trenton Falls. He finished second in that small tournament, after Emanuel Lasker. (29 July 1906.) Curt won the Brooklyn Chess Club's championship tournament in 1907. (19 May 1907.) The following year he drew a match with Magnus Smith, 4-4, with seven draws. (13 August 1908.) Curt was a pianist by profession. After a long illness he died on 16 July 1910, at the age of 42. He had no family in the United States, and clearly had very little money. Two prominent members of the Brooklyn Chess Club, William M. de Visser and Frederick Rose, saw to Curt's needs during his last months, including his final hospitalization. He was buried in the de Visser family plot in Brooklyn's famous Greenwood Cemetery. (17 July 1910 and 19 July 1910.)

Although Helms gave only the tabulated results of the Curt v Magnus Smith match in the American Chess Bulletin (September 1908, page 190), five of the 15 games appeared in the Brooklyn Daily Eagle (on 8, 13, 14, 20 and 25 July 1908). Magnus Smith also published several of the games from this match with some annotations in the early issues of the Chess Weekly (11, 18 and 25 July and 1 August 1908), as he was one of the editors.'
Finally, Dr Hilbert has provided, from page 6 of the Brooklyn Standard-Union, 18 June 1902, a particularly entertaining game (occasion not specified) in which Bixby (White) was defeated by C.S. Howell. Black gave the odds of his f-pawn.
1 e4 c5 2 Qh5+ g6 3 Qxc5 Nc6 4 f4 e5 5 Qf2 Nf6 6 Nc3 b6 7 Bc4 Bc5 8 Qh4 Qe7 9 d3 exf4 10 Bxf4 d5 11 Bb5 Bd7 12 Bg5 O-O 13 Nxd5
13...Nxd5 14 Bxe7 Bxe7 15 Qg3 Nf4 16 O-O-O Nd4 17 Bc4+ Kg7 18 Kb1 b5 19 Bb3 a5 20 c3 Nxb3 21 axb3 a4 22 b4 a3 23 Qe3 Be6 24 Rd2 a2+ 25 Ka1 Nd5 26 Qd4+ Bf6 27 e5 Bg5 28 Nf3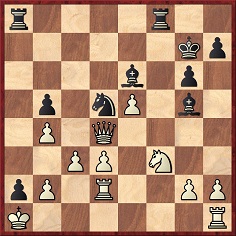 28...Be3 29 Qh4 Rxf3 30 gxf3 Bxd2 31 Qf2 Be3 32 Qe2 Bf4 33 Qe4 Ne3 34 Rc1 Rf8 35 Qb7+ Rf7 36 Qxb5 Bb3 37 Qc5 Nd5 38 Re1 Bd2 39 e6 Rxf3 40 e7 Bxe1 41 e8(Q)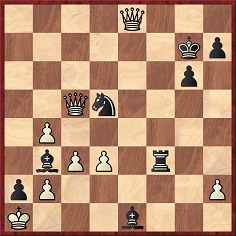 41...Bxc3 42 Qg1 Bf6 43 Qd7+ Kh6 44 Qc8 Ne3 45 Qcc1 Bg5 46 h4 Bf4 47 Qh1 Rf2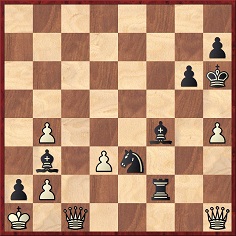 48 h5 Nc2+ 49 Qxc2 Rxc2 50 hxg6+ Kxg6 51 Qe4+ Kg5 52 Qe7+ Kg4 53 Qg7+ Kf3 54 Qb7+ Kf2 55 Qa7+ Kf1 56 White resigns.
---
10196. Capablanca and Gedroiz
C.N. 2101 (see page 315 of Kings, Commoners and Knaves and Chess Grandmasters) referred to a report on page 28 of the January 1914 Deutsche Schachzeitung that Capablanca had drawn a game against Prince Gedroiz, aged ten, in a simultaneous display in St Petersburg in 1913: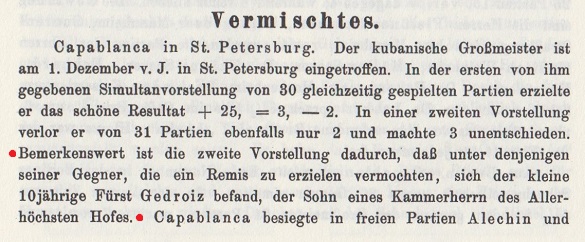 A news report on page 9 of the New York Tribune, 8 January 1914: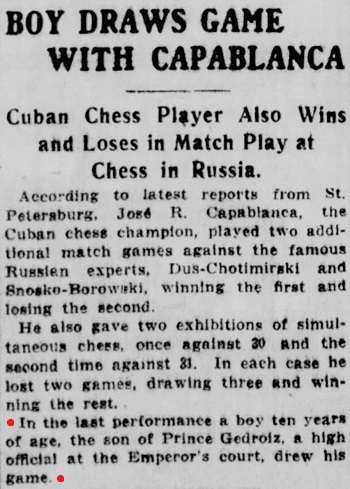 As ever, it is painfully difficult to obtain access to Russian sources of the time.
---
10197. Chessy words
A few chessy words were reproduced from the Cheltenham Examiner on page 207 of the Chess Amateur, April 1908: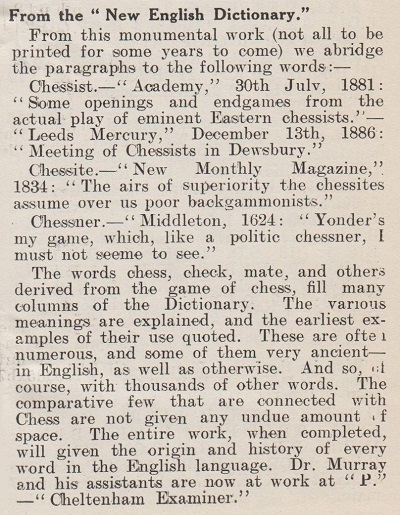 ---
10198. An old challenge (C.N. 10194)
White to move and mate in two
One of our feature articles on the Laws of Chess mentioned that the 'International Chess Code' was published, inter alia, on pages 207-224 of Chess for Fun & Chess for Blood by Edward Lasker (Philadelphia, 1942). An extract from the provisions on castling (pages 212-213):
'The king can be moved to a square adjoining the square he occupies except in the case of castling, which is a combined move of the K and the R, but counts as one move, in which first the K, occupying his own square, is placed on one of the two nearest squares of the same color as his own in the same rank and then the R, towards which the K has been moved, is placed on the next square on the further side of the moved K. Castling is not permitted (a) when either the K or R has been moved previously; (b) when any square between the K and the R is occupied by a man; (c) if the K be in check; or (d) if castling would cause the K to pass over, or occupy, any square on which he would be in check.'
The position in C.N. 10194 was presented by Jack Straley Battell on page 33 of the February 1955 Chess Review: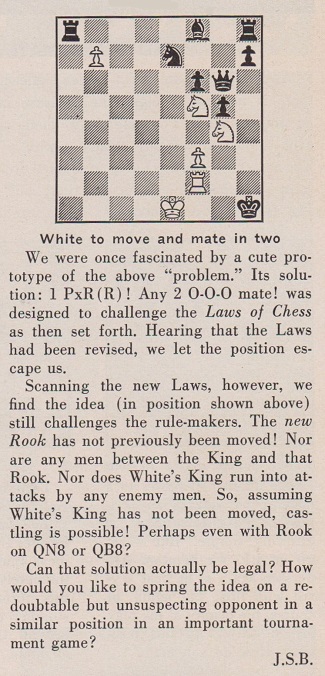 Where did the problem originate?
---
10199. Walter Pulitzer
From John Hilbert (Amherst, NY, USA) comes this report on page 5 of the Reno Evening Gazette, 20 February 1918:

---
10200. The Quarterly for Chess History
In private e-mail messages, correspondents sometimes mention to us – and it is an increasing trend – their decision to discontinue subscribing to certain chess magazines. Such withdrawal of 'support' is often understandable, and we take this opportunity to ask readers to make no assumptions as to which periodicals we still see regularly.
One publication which, at least for now, we continue to acquire is the Quarterly for Chess History edited by Vlastimil Fiala. After a hiatus of nearly five years, issue 17, thicker than ever (634 pages), has just been published.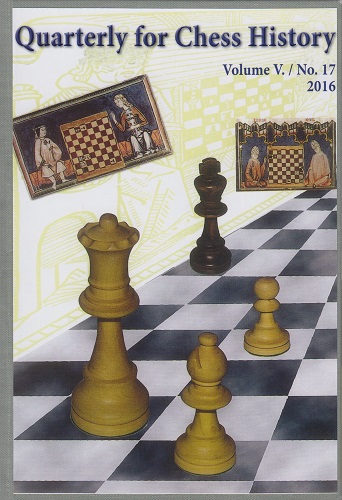 Indiscriminatingly elephantine, the Quarterly begins with a 90-page article on two years (1907-08) in the early career of F.D. Yates. The first line of the first paragraph misspells the name of the magazine itself, and the lack of a competent proof-reader and proper English-language reviser (problems left unresolved ever since the first issue was published, in 1999) is once again on show:

Another example is a paragraph about Morphy on page 323: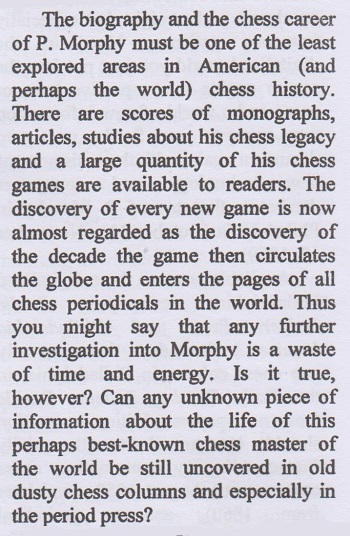 In the second line, 'the least' should presumably read 'the most', but there is still this to digest:
'The discovery of every new game is now almost regarded as the discovery of the decade the game then circulates the globe and enters the pages of all chess periodicals in the world.'
Linguistic infelicities aside, such claims about the treatment of newly-discovered Morphy games bear no relation to reality.
Pages 524-525 unwisely give, from an 1867 newspaper, a supposed Rousseau v Conti game (see, however, Jean-Jacques Rousseau and Chess). In the Quarterly, even the title is mangled:

Pages 548-551 offer seven simultaneous games played by Samuel Rosenthal in Paris in 1874. Our selection of the best three, taken from La Stratégie, appeared in an article on pages 86-92 of the 7/1999 New in Chess (see A Forgotten Showman). The Quarterly misprints the source as 'La Strategia' in all seven game-scores.

A final example is the feature 'Capablanca in Portland, April 1916' on pages 408-413, which begins, 'The following unknown games were played by Capablanca in Portland ...' Four games are presented, but three of them have already been given in C.N.s 9366, 9371 and 9372. The remaining game appears as follows on pages 411-412 of the Quarterly: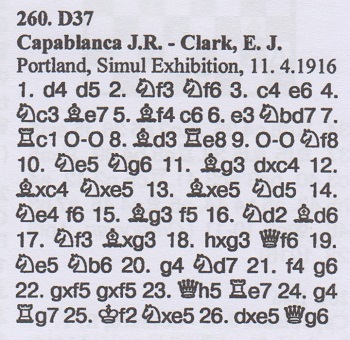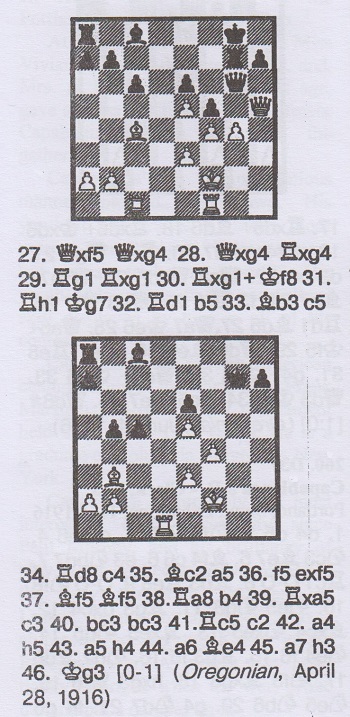 In reality:
1) The game is not unknown, having been given in, for instance, issue 689 of the Mechanics' Institute Chess Club Newsletter (21 November 2014);

2) Black was Clarke, and not Clark;

3) The venue was San Francisco, and not Portland;

4) The result was 1-0, and not 0-1;

5) The game was published in the Sunday Oregonian of 28 May 1916 (page 3), and not 28 April 1916.
---
10201. Prince Gedroiz (C.N. 10196)
Dominique Thimognier (Fondettes, France) has sent us an article on page 163 of the November-December 1950 issue of L'Echiquier de Paris: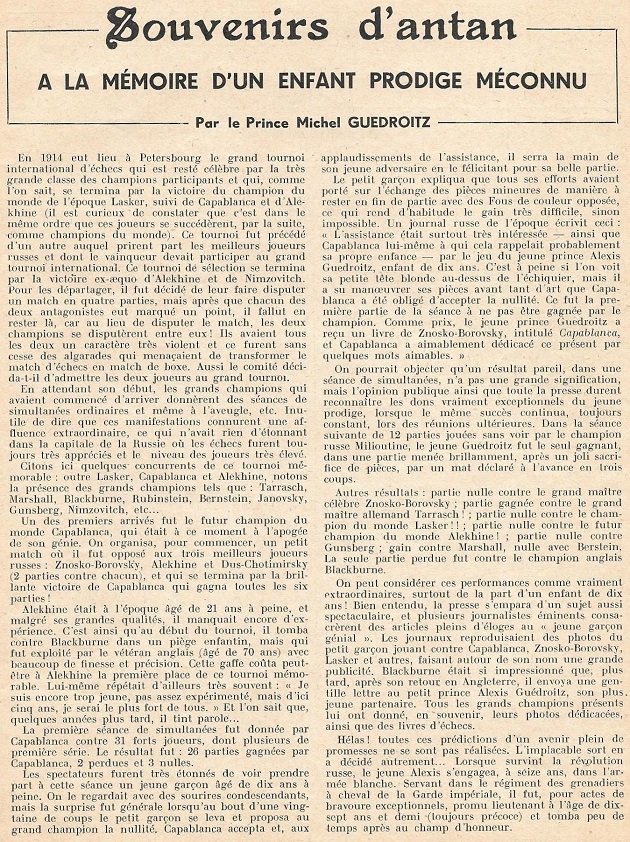 There are some evident factual errors but also a number of tantalizing points, such as the reference in the penultimate paragraph to newspaper photographs of the young Prince Alexis Gedroiz in play against Capablanca, Znosko-Borovsky, Lasker and others.
---
10202. Excellent resigning chances
Mr Thimognier also refers back to the 'cynical', sourceless annotation attributed to Tartakower, 'Here Black overlooks that he has the right to resign' (C.N.s 10171 and 10182).
Our correspondent draws a parallel with a remark given in C.N. 202 (see page 233 of Chess Explorations). That item pointed out that page 27 of the Australasian Chess Review, 30 January 1936 quoted a comment by Tartakower concerning Alekhine's move 30...Kh8 in the 12th match-game against Euwe in 1935: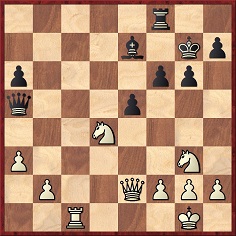 Position after 30 Rxc1
We add that a similar annotation was attributed to Tartakower on page 127 of CHESS, 14 December 1935:
Tartakower covered the world championship match for De Telegraaf, and below is his note on page 9 of the 30 October 1935 edition of the Dutch newspaper:

Although the Australasian Chess Review and CHESS both had the adjective 'excellent', the usual meaning of 'geschikte' is 'suitable', and a more literal translation of Tartakower's remark 'Hier mist zwart een geschikte gelegenheid om op te geven' would therefore be 'Here Black missed a suitable opportunity to resign'. That, though, is far less quotable than 'Here Black missed excellent resigning chances'. It is difficult to judge how much humour and/or irony Tartakower's note in Dutch was intended to convey.
---
10203. Reshevsky in 1931
From page 5C of the Brooklyn Daily Eagle, 24 May 1931: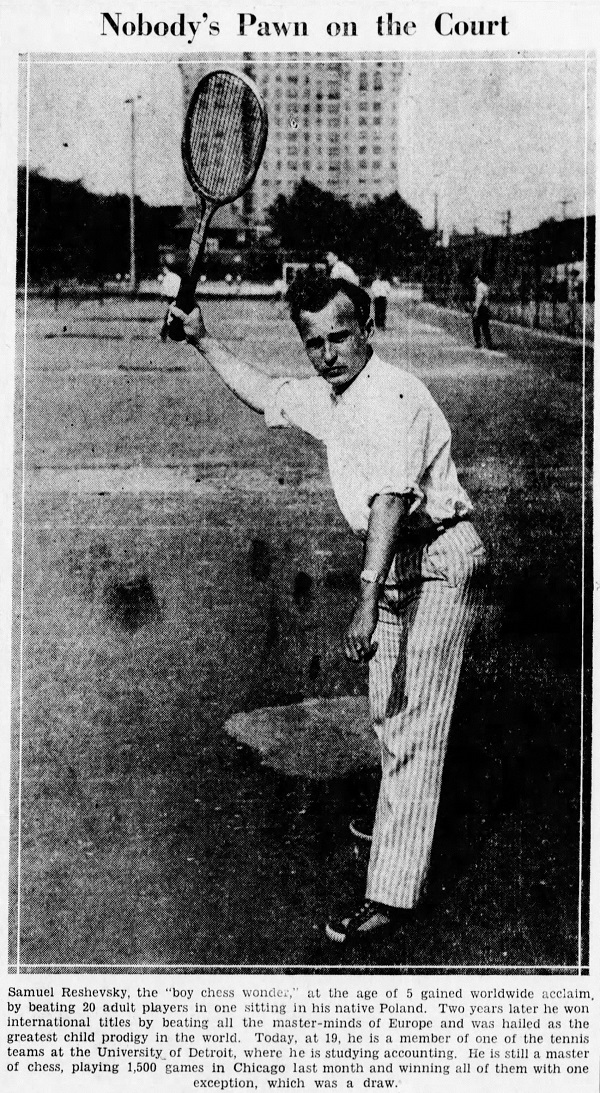 ---
10204. Journalistic longevity (C.N.s 10174 & 10186)
Pages 37 and 121 of Schachgesellschaft Zürich 1809 bis 2009 by Richard Forster (Zurich, 2009) report that the chess column of the Neue Zürcher Zeitung began in 1893 and, except for a break from 1900 to 1908, has continued to appear ever since. Do readers know of any other chess column, whether or not in German, with a longer run?
---
10205. King hunt
Eduardo Bauzá Mercére (New York, NY, USA) has forwarded a game between Sournin and Adair from page 12 of the Washington Evening Star, 27 December 1902:
1 e4 e6 2 d4 d5 3 Nc3 dxe4 4 Nxe4 Nf6 5 Bg5 Nbd7 6 Nf3 Be7 7 Nxf6+ Nxf6 8 Bd3 a6 9 O-O Nd5 10 Bd2 b6 11 c4 Nf6 12 Bc3 Bb7 13 Ne5 c5 14 Qa4+ Nd7 15 dxc5 b5 16 cxb5 Nxe5 17 Bxe5 Qd5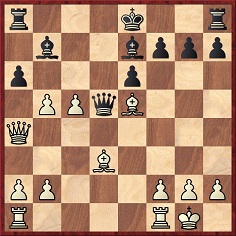 18 c6 axb5 19 cxb7 bxa4 20 bxa8(Q)+ Qxa8 21 Bxg7 Rg8 22 Bb5+ Kd8 23 Rfd1+ Kc8 24 Rac1+ Kb8 25 Be5+ Ka7 26 Rd7+ Kb6 27 Bc6 Qf8 28 Bd4+ Ka5 29 Ra7+ Kb4 30 Rxa4 mate.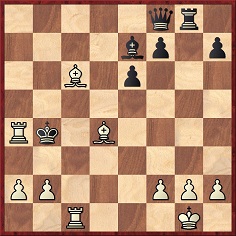 ---
10206. Chernev and Reinfeld (1949)
Page 290 of The Fireside Book of Chess by I. Chernev and F. Reinfeld (New York, 1949):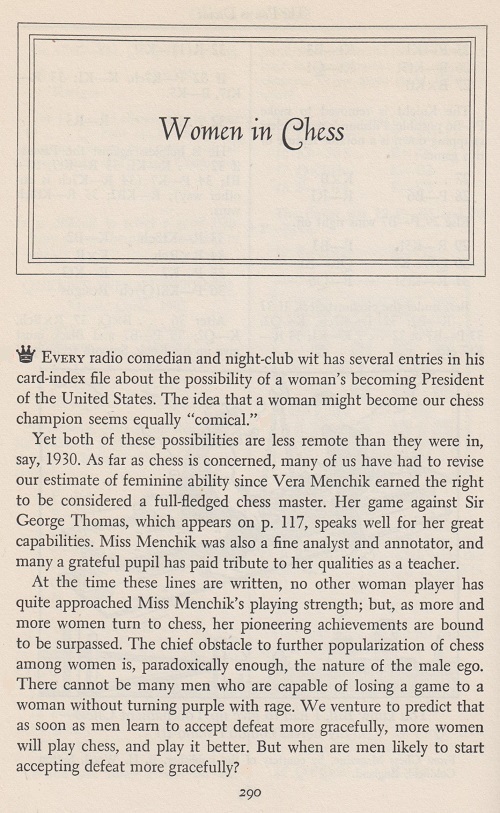 ---
10207. Norman Whitaker's offices
Gerard Killoran (Ilkley, England) notes a 1921 photograph of Norman Whitaker's offices in Washington, DC.: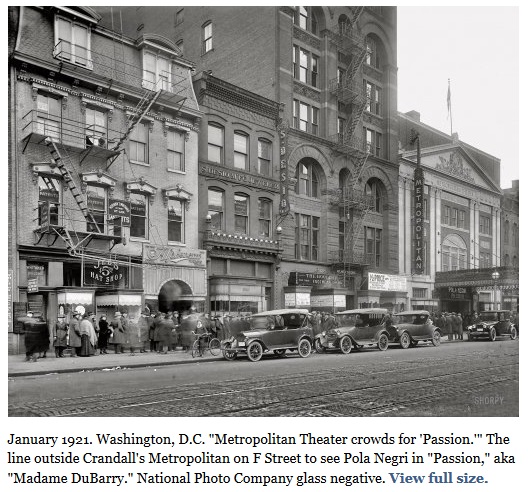 This small version is reproduced with the permission of the Shorpy website. The large version shows many occurrences of Whitaker's name.
---
10208. Estimates
A rare old estimate of the number of chessplayers in the United States was made by C.S. Howell in an article entitled 'The Ingratitude of the Chess Public' on pages 25-26 of the American Chess World, February 1902:
'There are somewhat over two thousand chessplayers in the United States (estimated).'
On page 34 of the same issue an editorial note referred to 'C.S. Howell's eloquent arraignment, which, by the way, seems to err by underestimate, as we believe that there are at least ten thousand chessplayers in the United States'.
There was no indication as to how either estimate had been made.
---
10209. N.W. Banks v H. Steiner (blindfold)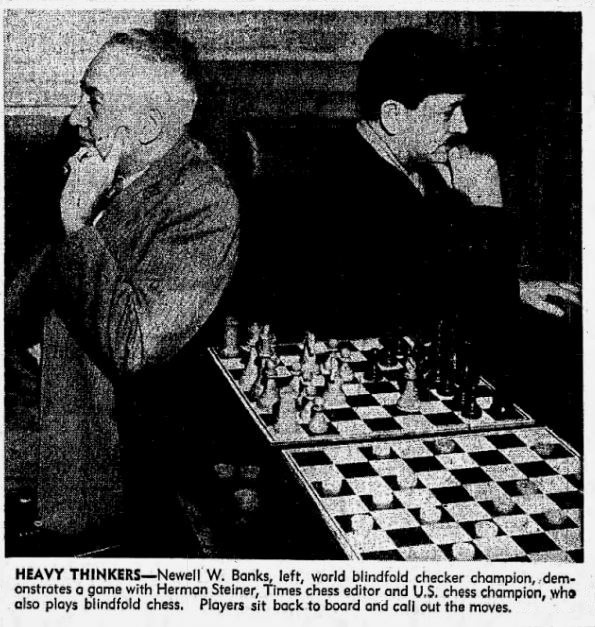 Source: Los Angeles Times, 29 December 1950, part 2, page 1.
---
10210. Picture-tampering (C.N.s 3757, 3901 & 10147)
Michael Clapham (Ipswich, England) provides this sample from Короли и королевы шахмат by V.D. Baturinsky and A. Muratbekov (Frunze, 1983):
---
10211. Capablanca (New York, 1916)
From page 4 (Section Six) of the Pittsburgh Gazette Times, 30 January 1916: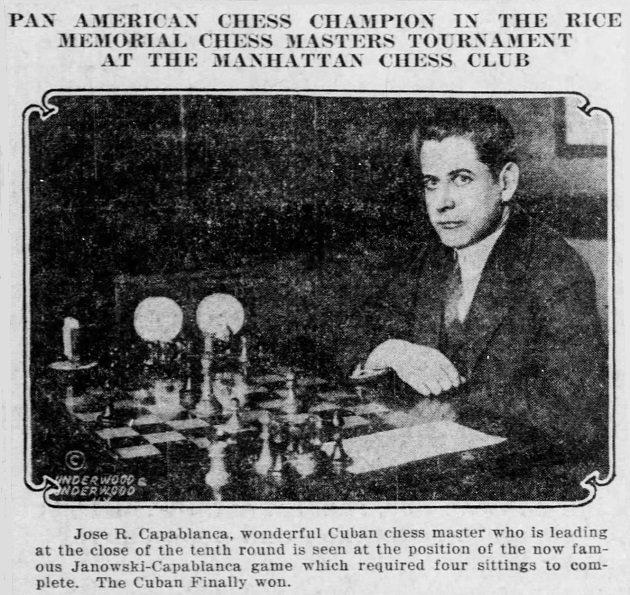 ---
10212. Access to game-scores
Copyright on Chess Games refers to the demands of the organizers of the London, 1899 tournament. An additional cutting (page 157):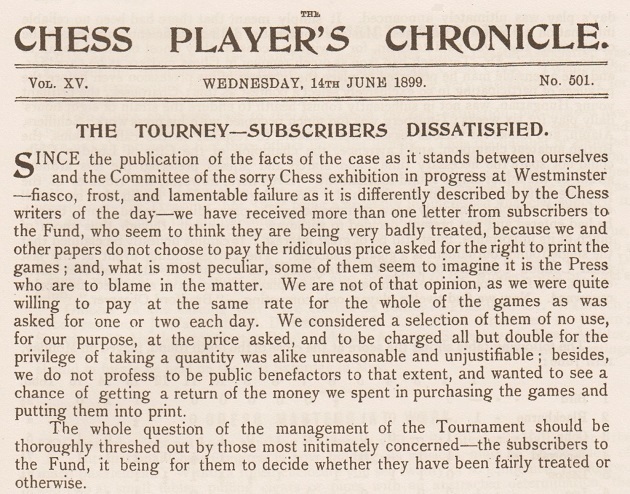 ---
10213. William Winter
As shown in our feature article on William Winter, there have been contradictory claims as to whether he was born in 1898 or 1899. Now, however, John Townsend (Wokingham, England) writes:
'In the recently available index of births on the website of the General Register Office, the only birth of any William Winter between 1897 and 1902 for whom the mother's maiden surname was Barrie was registered in the last quarter of 1897 in the district of Alton (volume 2c, page 177). This means that the correct year of birth of the former British champion is 1897.

The entry is consistent with the age of three which was given for William Winter in the 1901 census, when he was living with his Scottish-born parents, William Henderson Winter and Margaret Winter at "The Boynes", Medstead, near Alton (source: National Archives, RG 13/1099, f. 72). Similarly, in the 1911 census he was aged 13, described as a student, still with his parents at "The Boynes" (National Archives, RG 14/6216/196).

He can be identified in the "National Registration: 1939 Register" as the William Winter, "author and journalist", who was living at 27 Guilford Street, Holborn (National Archives, RG 101/250A). His date of birth in that document is given as 11 September 1897, which is exactly a year earlier than the date of birth mentioned in C.N. 8743. (The description of "author and journalist" is the same as was used for William Winter in the National Probate Calendar entry for his father, William Henderson Winter, whose will was proved on 2 April 1937.)'
---
10214. St Gallen, 1943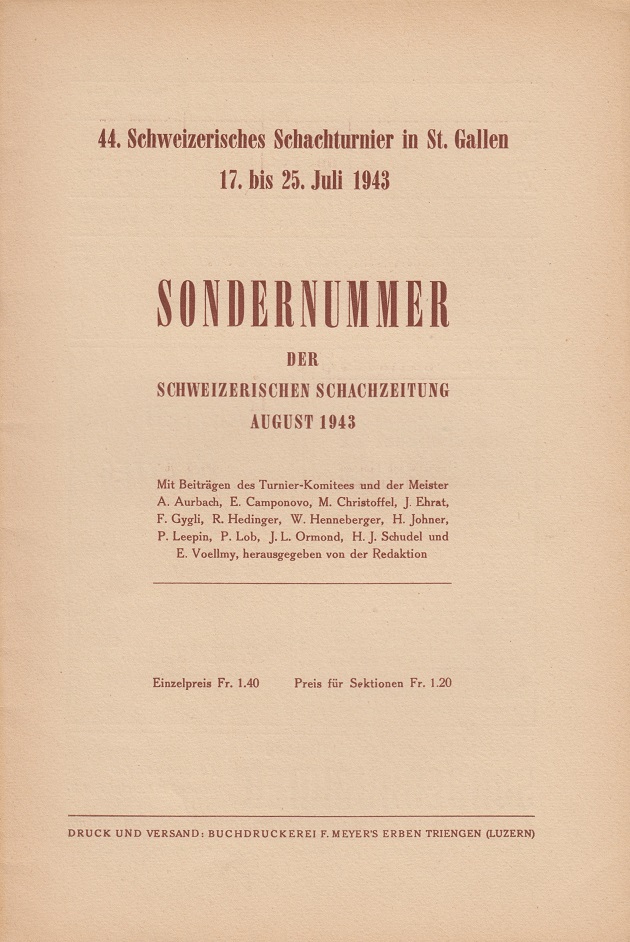 The centre pages: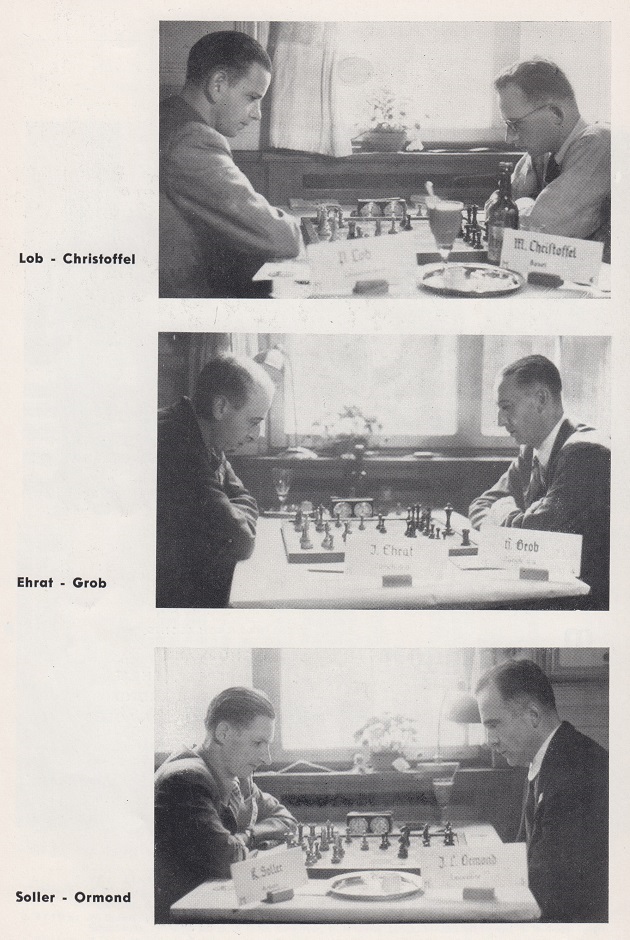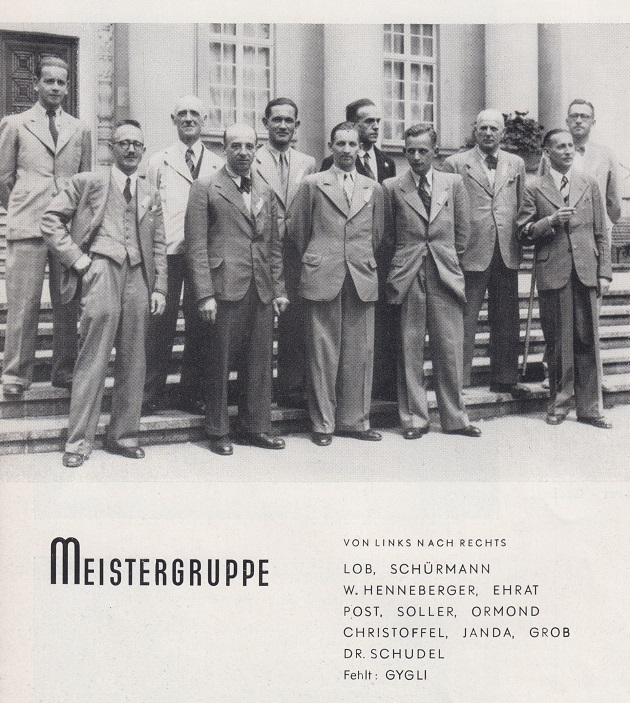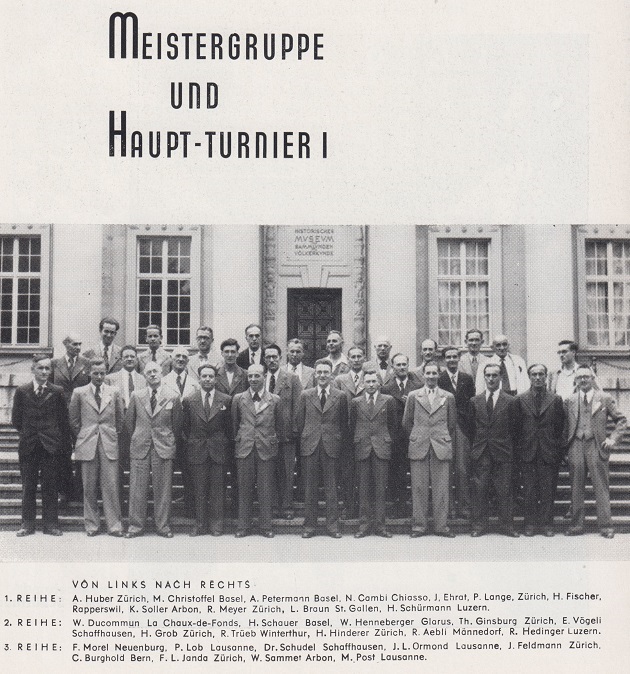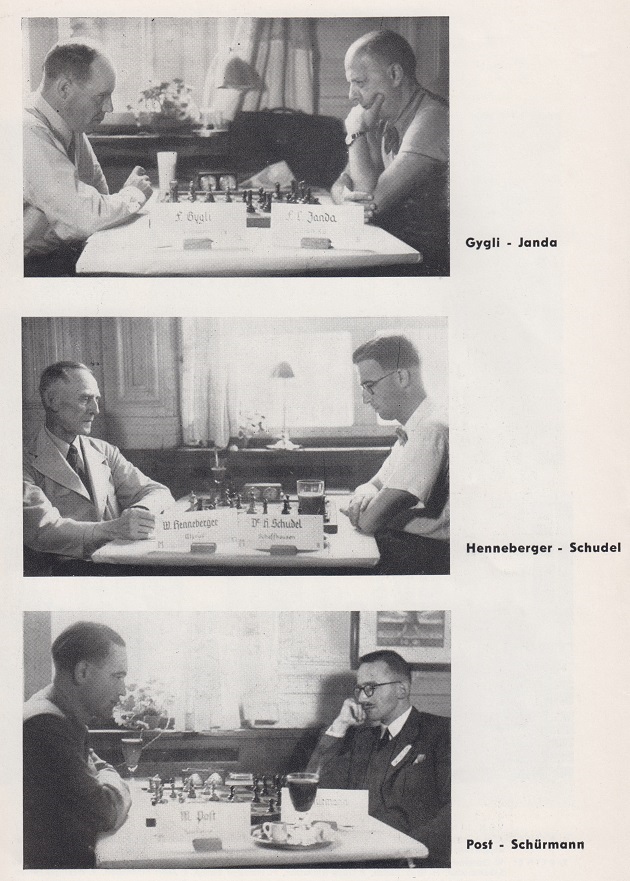 ---
10215. The knight's move
Concerning The Knight Challenge:
Source: Chess Amateur, July 1912, page 673.
---
10216. More Purdy quotes
Some gleanings from the article 'Luck in Chess, the Clock, the Bad Bishop' by C.J.S. Purdy on pages 189-190 of Chess World, September 1957:
'Capablanca gave the other masters at the tourney of St Petersburg, 1914 the odds of three [sic] to one in lightning chess, and nobody had a chance against him. But although Capablanca's "sight of the board" was absolutely unearthly, the great players he could make fools of in lightning chess were all very fast chess calculators by ordinary standards; otherwise they could not have been great cross-board players.'


'It is as well to remember that quick calculation is not in itself decisive. A big part of chess skill lies in judging what not to calculate.'


'Chess is in the last resort a battle of wits, not an exercise in mathematics. Theory helps you; but you have to fight. Hence our contempt for the stupid word "swindle" in chess.'
Another remark by Purdy about the term 'swindle', from page 22 of Chess World, January 1957, was quoted in C.N. 9749.
---
10217. Portraits by Grob
C.N. 10159 showed a picture of Koltanowski drawn by Henry Grob and published on page 1 of the 4 December 1936 issue of Schach-Kurier.
Richard Forster (Zurich) notes that it is one of five portraits of chess figures in Henry Grob: der Zeichner und Maler by Henry Grob (Zurich, 1965). The pages in the booklet were unnumbered, and the works were arranged chronologically.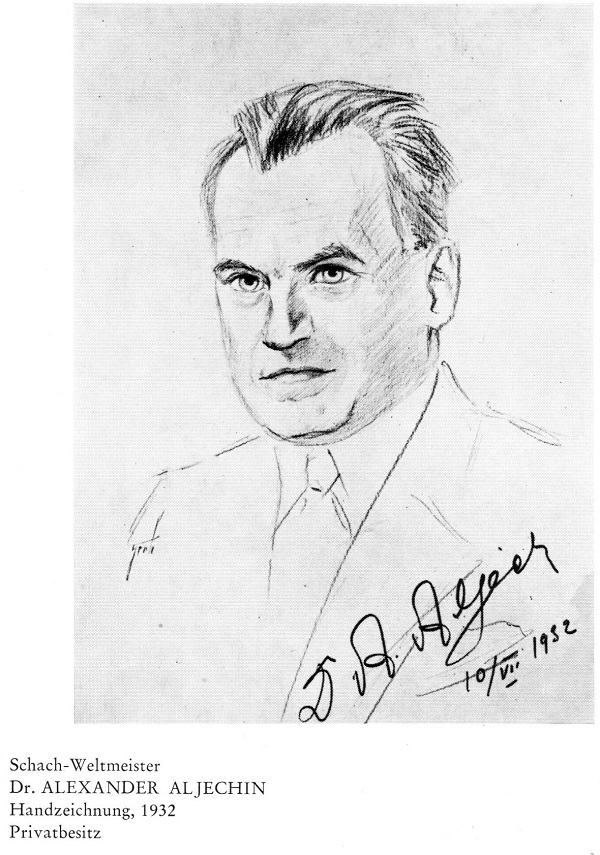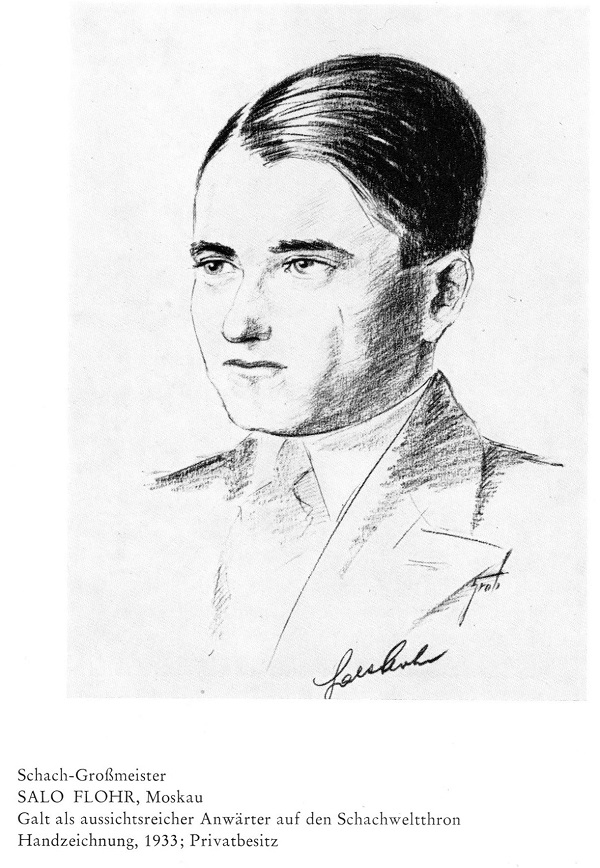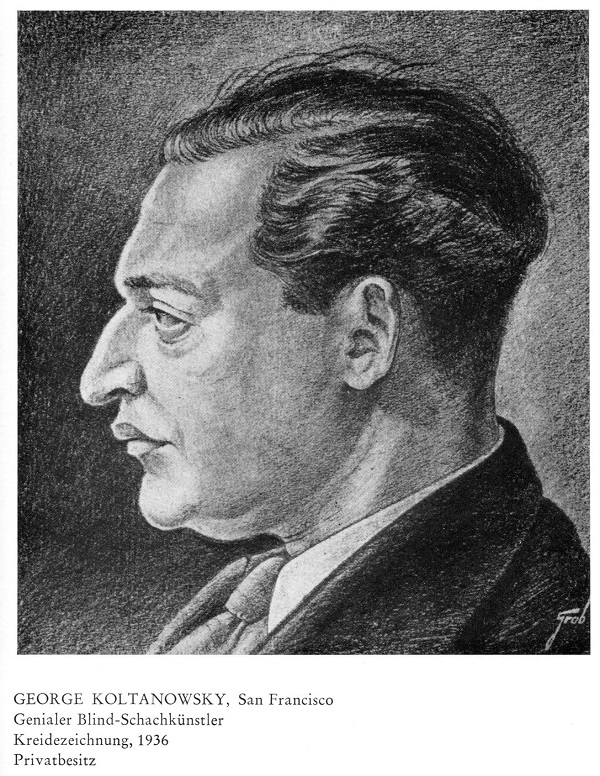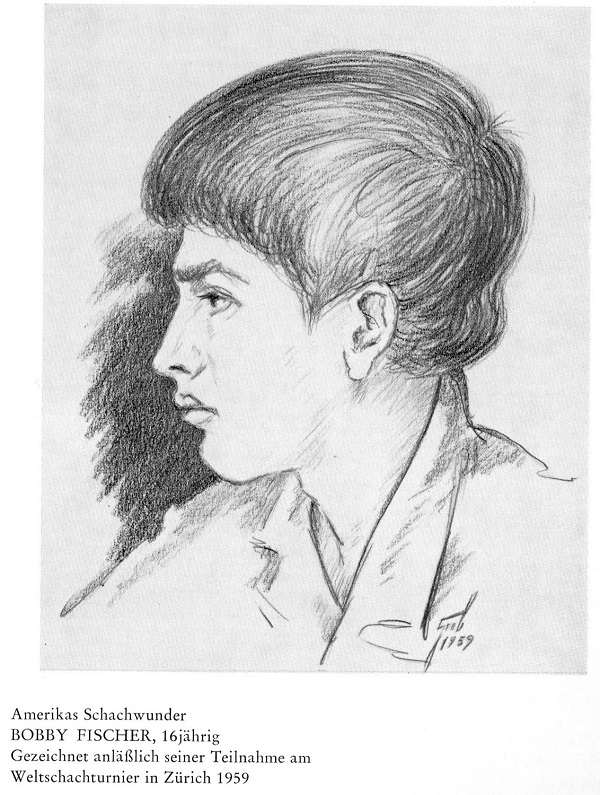 Below is the information about the booklet given on the final page of Die Eröffnungen in der Schachpartie by Henry Grob (Zurich, 1966):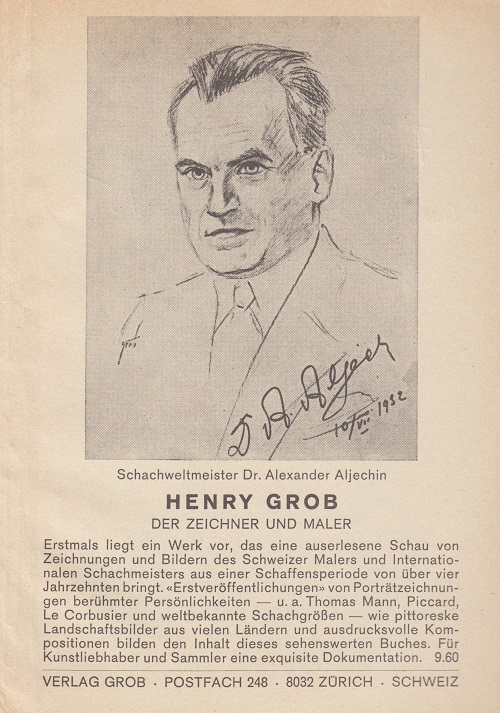 ---
10218. The rules of chess and Harry Golombek
Harry Golombek was in characteristic form in his Times column, Review section, page 9, 6 May 1972:

The work referred to by Golombek was undertaken in the early 1950s. On pages 278-279 of the October 1952 BCM he wrote:
'For some years now the FIDE has been making attempts to revise the old rules and produce a new version that will avoid the ambiguities, omissions and falsities that abounded in the former set of rules of chess. The matter proved too complex to be dealt with at last year's congress at Venice, when the sub-committee for the task produced differing drafts exceeding in number the actual composition of the committee.

This time a sub-committee was appointed to consider a new version (members being the President of FIDE, Folke Rogard, and Messrs Berman, Golombek and Wade). After some arduous and concentrated work this committee was able to agree on a final version that was subsequently approved by the General Assembly ...'
The text was finally passed by FIDE's Congress in Schaffhausen the following year. Source: page 273 of the British Chess Federation's Year Book 1953-1954 (Leeds, 1953). Pages 273-293 gave the full text.
Further to C.N. 10198, below is an extract from the section regarding castling, on page 277:
'Castling is a move of the king and a rook, reckoned as a single move (of the king), which must be carried out in the following manner: The king is transferred from its original square to either one of the nearest squares of the same colour in the same rank; then that rook towards which the king has been moved is transferred over the king to the square which the king has just crossed.'
Page 279 stated that 'a move is completed ...'
'... In the case of castling, when the player's hand has quitted the rook on the square crossed by the king; when the player's hand has quitted the king the move is still not yet completed, but the player no longer has the right to make any other move except castling.'
---
10219. FIDE and pasta
On the subject of Harry Golombek and FIDE meetings, we recall the concluding paragraph of his report on the FIDE Congress in Sofia (September 1961) on pages 48-51 of the British Chess Federation's Year Book 1961-1962 (Warrington, 1961):

A brief Internet search shows an entity which produces noodles. The Bulgarian products include this one: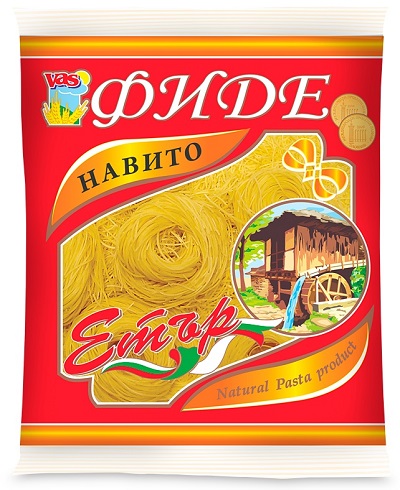 ---
10220. Drawless matches
Wanted: nominations concerning lengthy matches devoid of draws.
The best-known case may be Steinitz's defeat of Anderssen (+8 –6 =0) in London in 1866. Twenty years later, also in London, there was a tied contest between Bird and Burn in which all 18 games were decisive. Detailed coverage can be found in the McFarland monographs on the two players, by Hans Renette and Richard Forster respectively. This chart is on page 200 of the latter work:

---
10221. Fast play in a world championship game
From page 96 of Wonders and Curiosities of Chess by Irving Chernev (New York, 1974):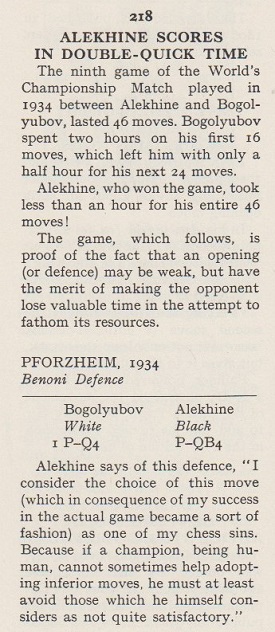 This was number 63 in Alekhine's second volume of Best Games. The final clock times given on page 55 of Bogoljubow's book on the match were White: 2 hours 41 minutes; Black: 58 minutes.
---
10222. R.C. Griffith
A photograph of R.C. Griffith, the co-founder of Modern Chess Openings, was given in C.N. 5608. Below is another one, from page 5 of the Chess Amateur, October 1912: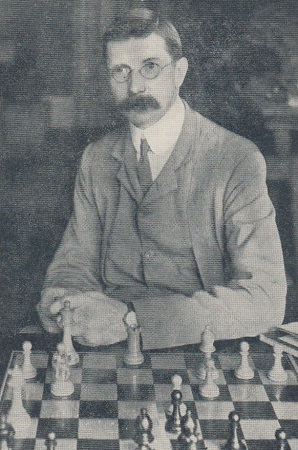 ---
10223. Pérez v Najdorf, Torremolinos, 1961
From pages 41 and 217 of Combination as a Fine Art by Werner Golz and Paul Keres (London, 1976):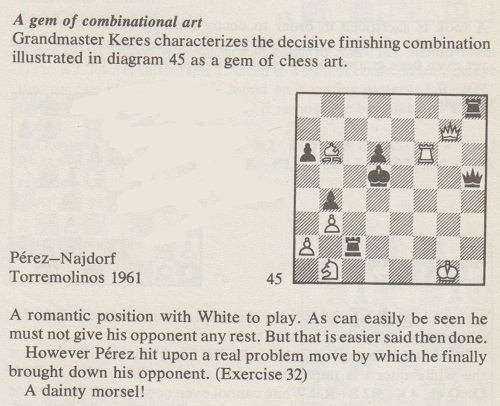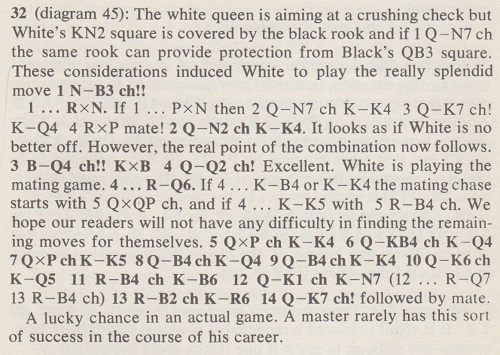 In the original German edition, Schönheit der Kombination (East Berlin, 1972), the position and solution were on pages 47 and 224.
C.N. 2111 (see pages 281-283 of Kings, Commoners and Knaves) pointed out that in reality Pérez lost the game and that the position in the Golz/Keres book did not arise. The full score was given from the tournament book:
1 e4 c5 2 Nf3 e6 3 d4 cxd4 4 Nxd4 Nf6 5 Nc3 d6 6 g3 a6 7 Bg2 Bd7 8 O-O Nc6 9 Be3 Be7 10 Qe2 Qc7 11 Rad1 Na5 12 h3 Rc8 (The tournament book had the misprint 'Rg8'.) 13 f4 Nc4 14 Bc1 b5 15 g4 b4 16 Nb1 h6 17 b3 Nb6 18 g5 hxg5 19 fxg5 Nh5 20 Qf3 f6 21 Qg4 Qc5 22 gxf6 Nxf6 23 Qg6+ Kd8 24 Be3 Qh5 25 Nxe6+ Bxe6 26 Bxb6+ Kd7 27 Qg3 Bxh3 28 e5 Bxg2 29 Qxg2 Rxc2 30 e6+ Kxe6 31 Rde1+ Kf7 32 Rxe7+ Kxe7 33 Qxg7+ Ke6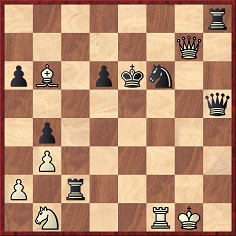 34 Qxf6+ Kd7 35 Qg7+ Kc6 36 Qc7+ Kd5 37 Qb7+ Rc6 38 Rc1 and White resigned.
The combination in the Golz/Keres book could have arisen if White had played 34 Rxf6+ instead of 34 Qxf6+.
C.N. 2111 mentioned that Keres wrote accurately about the actual version of the game-score in the Swiss newspaper Tages-Anzeiger, 28 June 1961 (although a white pawn on c2 was missing in the first diagram):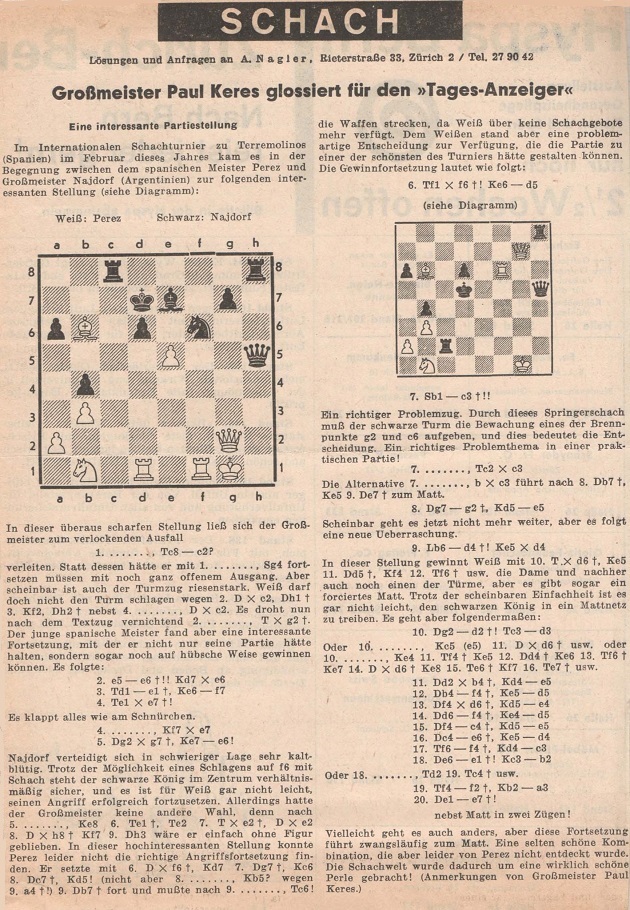 We add now that an Italian translation of Keres' analysis was published on pages 178-179 of the September 1961 Schweizerische Schachzeitung: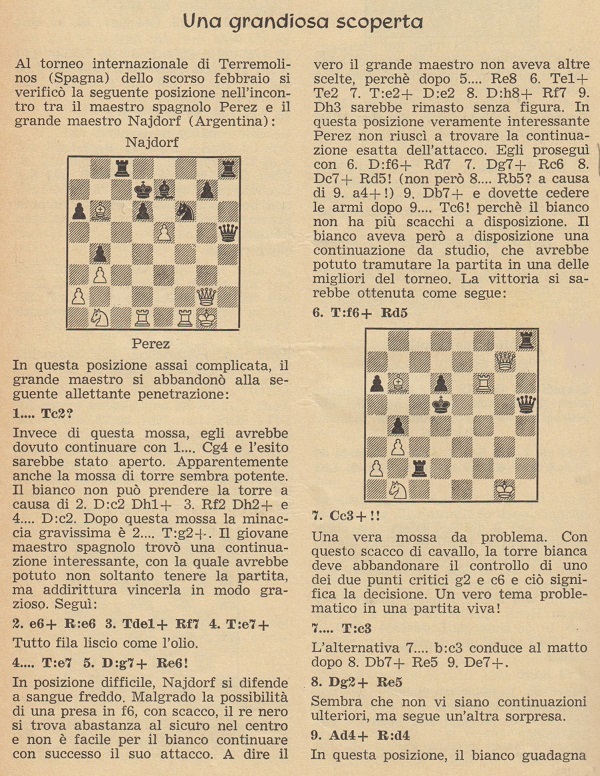 Page 225 of the December 1961 issue published a letter from a reader, Werner Schaer of Regensdorf, with an analytical correction: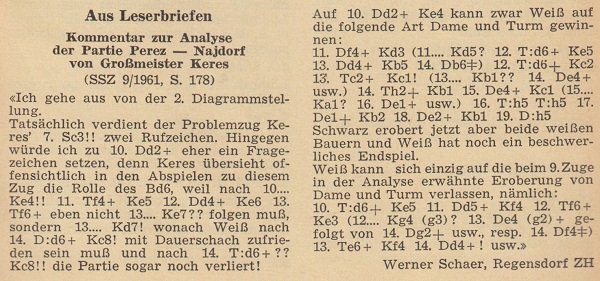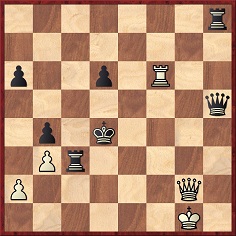 In the above position, Schaer faulted Keres' move 10 Qd2+ on the grounds that, for instance, after 10...Ke4 11 Rf4+ Ke5 12 Qd4+ Ke6 13 Rf6+ ...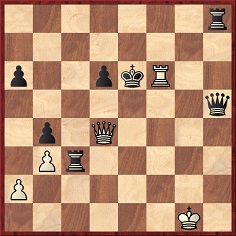 ... Black has 13...Kd7, and White cannot win.
Footnote: on pages 178-179 of The Joys of Chess (Alkmaar, 2011) Christian Hesse naturally gave no credit when he repackaged C.N. 2111 under his own name.
---
10224. Woodshifters, woodpushers, etc.
As a companion to Chessy Words there is now a feature article on woody ones. The citations relate not only to shifting and pushing but also to chopping, shoving, shuffling and thumping.
---
10225. Capablanca v de Vries
From Luc Winants (Boirs, Belgium):
'In the chess column on page 4 of the Antwerp newspaper Neptune, 5 May 1924 I have found a game from a simultaneous exhibition by Capablanca at the Brooklyn Chess Club on 7 March 1924 (an event referred to on pages 124-125 of your book on Capablanca).

Paul de Vries of Antwerp had won the "Minor" (or second category) Championship of Belgium in 1923.

There are mistakes in the notation. At move 16 it is not specified which rook moved to d1, but I have assumed that it was the queen's rook, since otherwise 23 Qe3 makes no sense. In the newspaper, moves 26 and 27 were inverted.

1 e4 e5 2 Nf3 Nc6 3 Bb5 a6 4 Ba4 Nf6 5 O-O b5 6 Bb3 Be7 7 Re1 d6 8 c3 O-O 9 d4 Bg4 10 Be3 Na5 11 dxe5 Bxf3 12 Qxf3 dxe5 13 Nd2 c5 14 Bd5 Nxd5 15 exd5 f5 16 Rad1 e4 17 Qg3 Bd6 18 Bf4 Rf6 19 Bxd6 Rxd6

20 b4 Rxd5 21 bxa5 Rxd2 22 Rxd2 Qxd2 23 Qe3 Qxe3 24 fxe3 Rd8 25 Rf1 g6 26 g4 Rd5 27 gxf5 gxf5 28 c4 bxc4 29 Rc1 Kf7 30 Rxc4 Ke6 31 Kf1 Kd6 32 Ke2 Rd3 33 Rc2 Kd5 34 a4 c4 35 Rb2 c3 36 Rb8 Kc4 37 Rb6 c2 38 Rxa6 Kb3 39 Rb6+ Ka2 40 Rc6 Kb2 41 White resigns.'
The coverage of the display on pages 50-51 of the March 1924 American Chess Bulletin was based on material published in the Brooklyn Daily Eagle on 8 March 1924, page 12 (report) and 13 March 1924, page 14 (games against Steiner, Perkins, Schleifer, Tholfsen, Cohen and Kevitz). The 8 March 1924 report:

In the Bulletin 'S. Steimer' became 'S. Steiner', but in view of the reference to the Rice-Progressive Chess Club it should be noted that in 1924 H. Steiner was a member of that Club (see, for instance, the Brooklyn Daily Eagle, 31 December 1924, page A3). Material in the newspaper is easily checked via the link given in C.N. 8688 (see Chess History Research On-Line).
The best-known games in the 7 March 1924 exhibition were Capablanca's win against Erling Tholfsen (given in The Unknown Capablanca by Hooper and Brandreth, though misdated 1923) and his short loss (with 1 b4) to Alexander Kevitz (published in Chernev's 1000 Best Short Games of Chess).
---
10226. Carlsbad
These pages have been provided by Jan Kalendovský (Brno, Czech Republic):
---
10227. Reshevsky Teaches Chess
Further to the references to Reshevsky in Chess and Ghostwriting, is anything known about the provenance of Reshevsky Teaches Chess (New York, 1973/74)?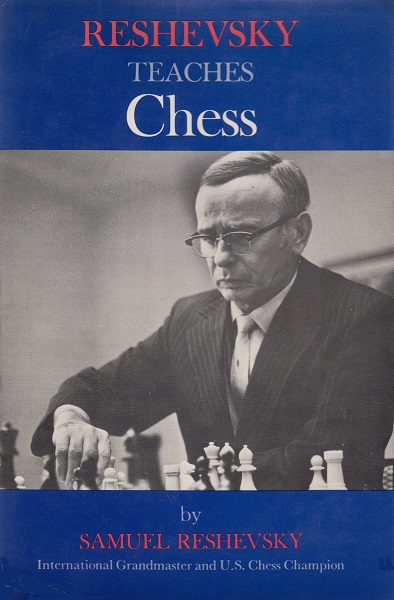 A mundane, impersonal treatise for beginners, it ends by flitting through some of the old usuals: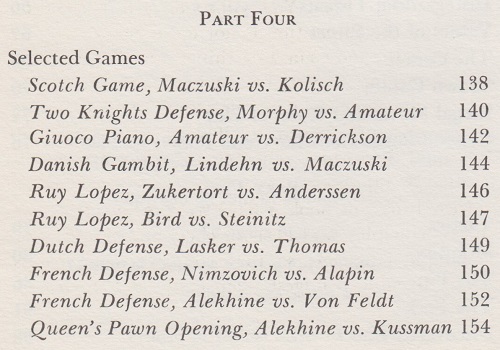 Our copies of the hardback and paperback editions were inscribed by Reshevsky. The latter volume: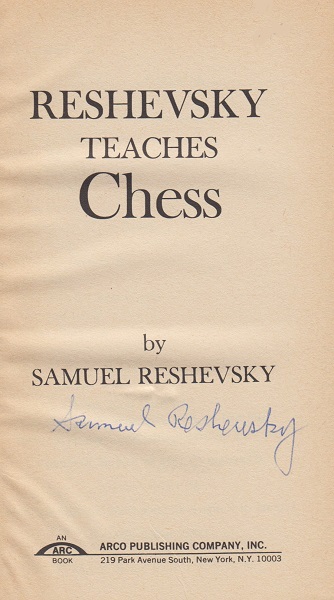 ---
10228. 'I understand chess as well as Fischer does'
From an article about Walter Browne by Mark Saylor on pages 10-12 of the January 1978 Chess Life & Review: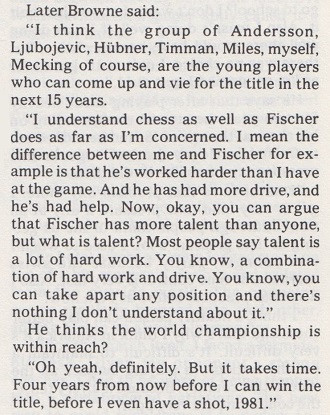 ---
10229. Medieval chess pieces

Wijnand Engelkes (Zeist, the Netherlands) draws attention to a webpage featuring medieval chess pieces.
---
10230. Mieses v N.N.
Wanted: details regarding a game ('Liverpool, 1934') in which Mieses was White and there was an unusual stalemate finish: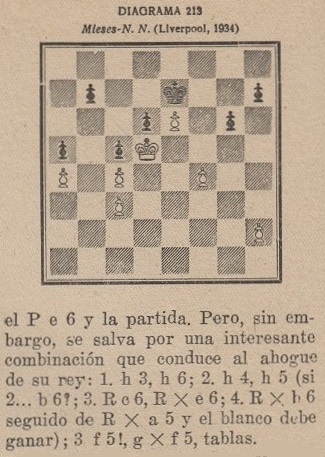 Source: Finales de ajedrez, volume one, by Ramón Rey Ardid (Saragossa, 1944), page 116.
---
10231. Mark Taimanov (1926-2016)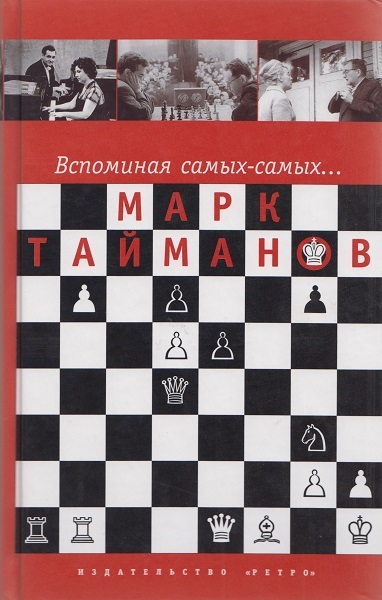 Mark Taimanov's memoirs Вспоминая самых-самых ... (St Petersburg, 2003) have yet to be translated into English, but in 2010 a new Russian edition appeared which is one of the most beautiful autobiographical chess works: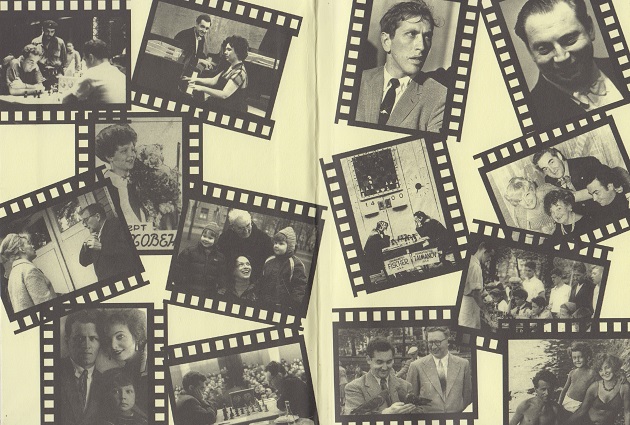 Inside covers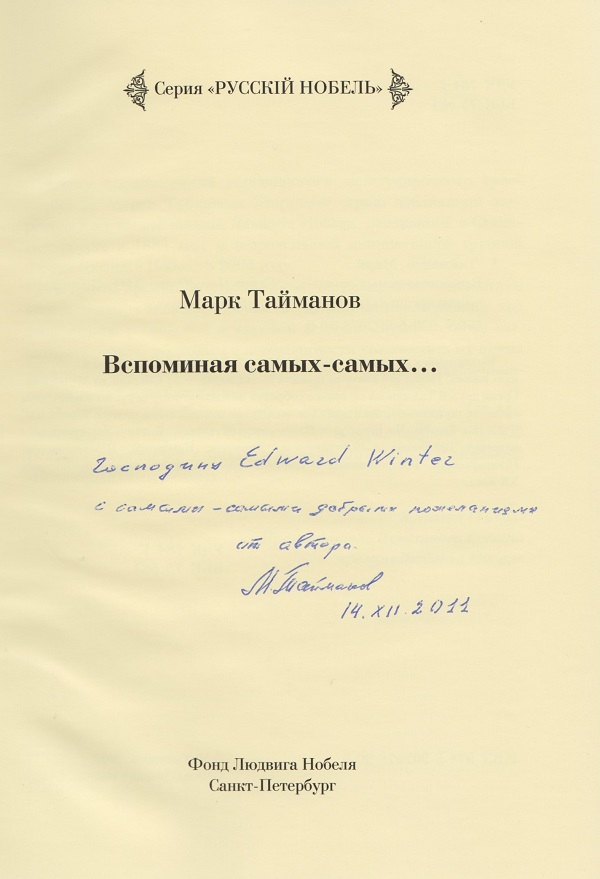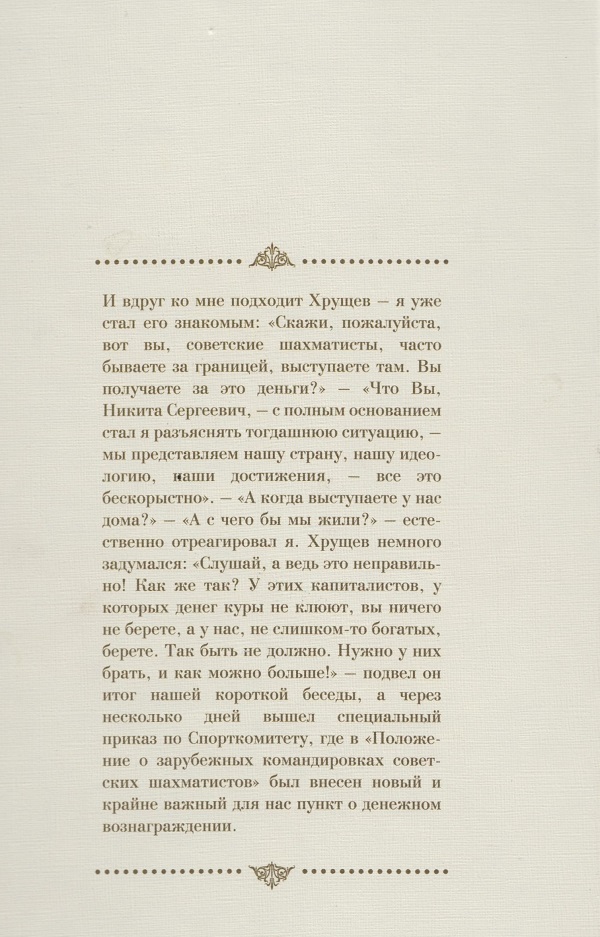 Back cover
---
10232. Early Western references to Mark Taimanov
C.N. 7680 quoted an early reference to Taimanov (though as '16-year-old Mark Makov') on page 89 of the September-October 1943 American Chess Bulletin. The full page: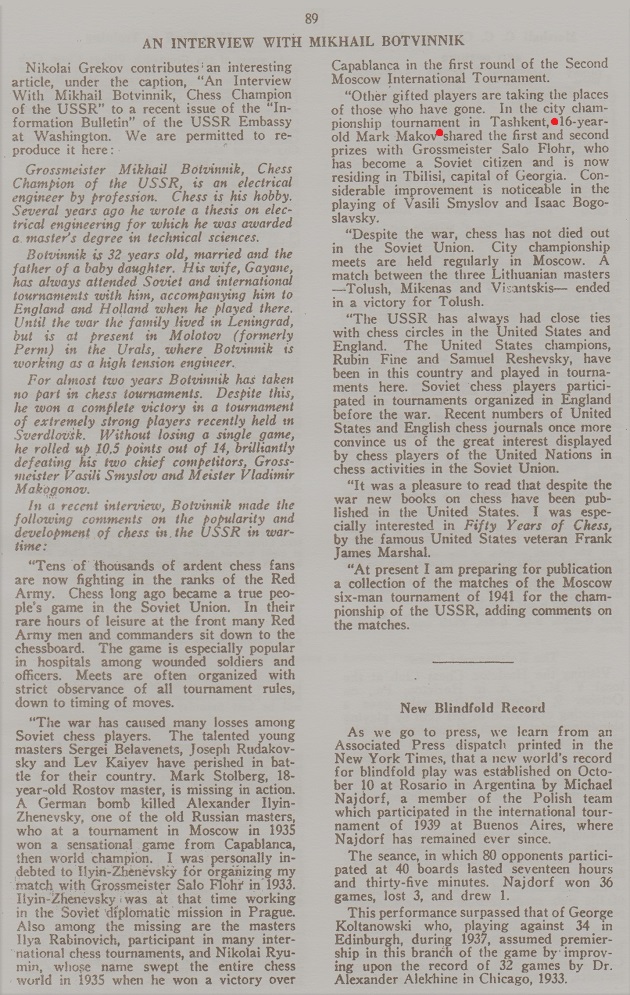 Taimanov was also mentioned in an article on page 379 of the December 1943 Chess Review:


---
10233. Amateurs
From page 127 of Chess to Enjoy by A. Soltis (New York, 1978):
Whatever details about the players and occasion are lacking, perhaps of necessity, did Soltis take the position from a reliable source? The reader is not told even that.
His comment 'will force White to upgivvet' is doubly wrong: the Swedish word is not upgivvet but uppgivet and, in any case, 'will force White to ge upp' is needed.

The same misspelling upgivvet was on page 57:

Larry Evans blindly availed himself of that material, though without mention of Soltis, in his syndicated column in, for instance, the Reno Evening Gazette, 3 March 1979, page 17. Even the idea of 'disgust' in connection with the German term aufgegeben was repeated: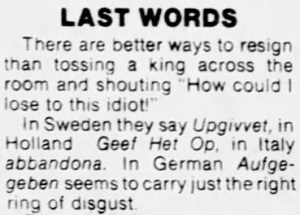 For the full (uncorrected, of course) column, see page 45 of Evans' book The Chess Beat (Oxford, 1982).
---
10234. Frederick Orrett
A further set (the penultimate) of portraits forwarded by Michael McDowell (Westcliff-on-sea, England) features Joseph William Abbott, Mrs William James Baird and Percy Francis Blake: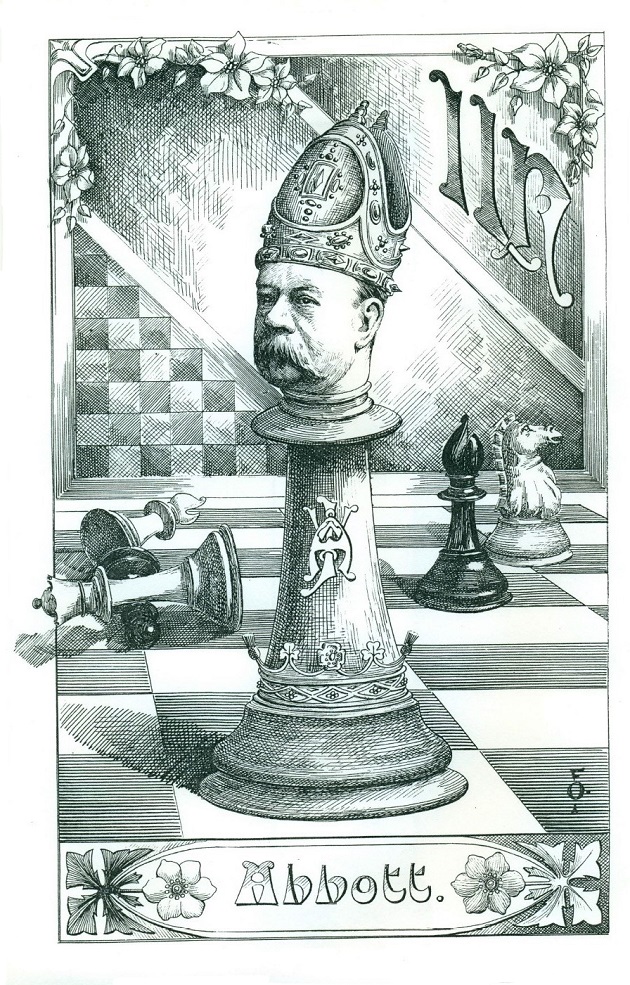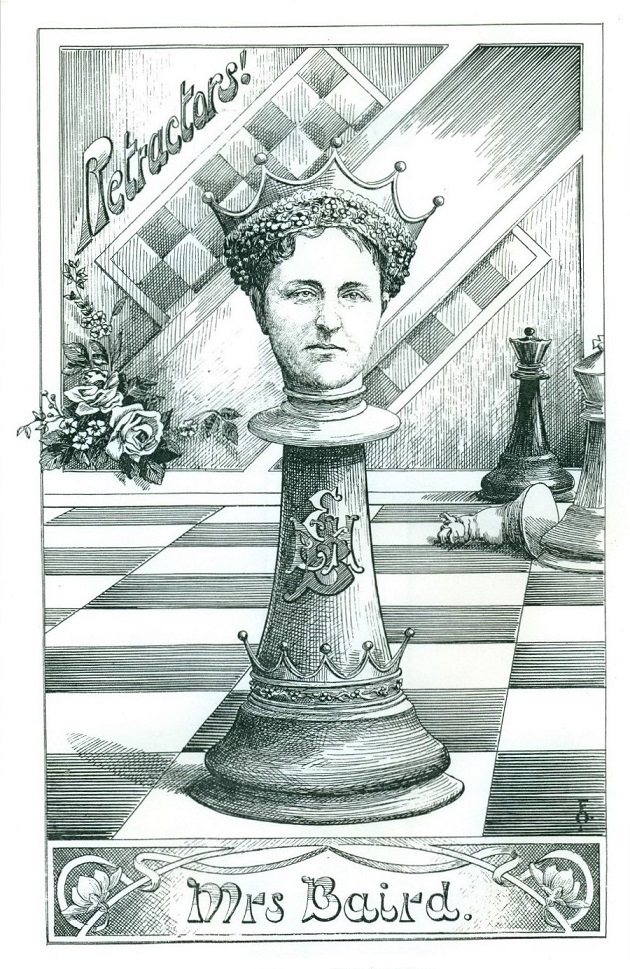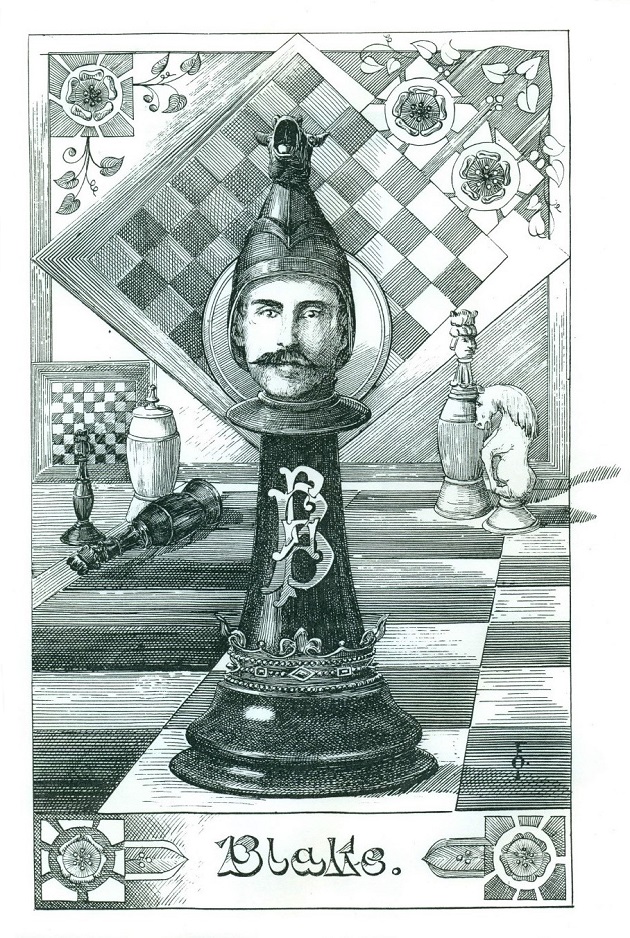 ---
10235. Réti v Alekhine, Baden-Baden, 1925
From page 142 of The Bright Side of Chess by Irving Chernev (Philadelphia, 1948):
C.S. Howell's notes are referred to in our feature article Réti v Alekhine, Baden-Baden, 1925, and below is his full introduction (with the familiar Mah Jong remark), from page 94 of the May-June 1925 American Chess Bulletin:
---
10236. Photographic archives (25)
In this photograph from our collection, readers may recognize two figures, but we have no information about the occasion: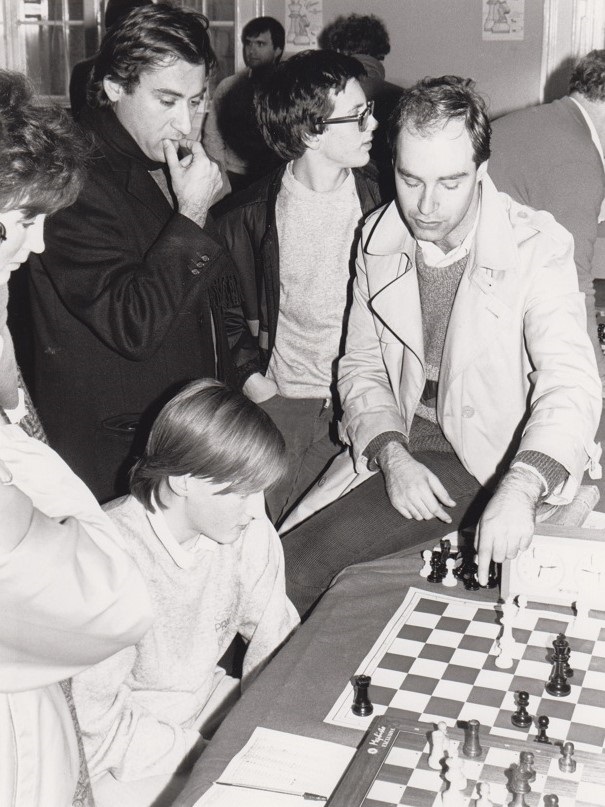 ---
Copyright: Edward Winter. All rights reserved.