---
8418. Tartakower blindfold game
C.N. 8118 mentioned the rarity of blindfold games played by Tartakower. Below is a specimen (from a five-board display) published on page 138 of Schachjahrbuch für 1909 by Ludwig Bachmann (Ansbach, 1909):
Savielly Tartakower – Häusler
Augsburg, 14 September 1909
Queen's Gambit Declined
1 d4 d5 2 c4 e6 3 Nc3 c5 4 cxd5 exd5 5 e4 dxe4 6 d5 Bf5 7 g4 Bg6 8 Bf4 Bd6 9 Qa4+ Kf8 10 Bxd6+ Qxd6 11 O-O-O Qf4+ 12 Rd2 Nf6 13 h4 h5 14 Nh3 Qxg4 15 Rg1 Qd7 16 Qc4 Na6
17 Rxg6 fxg6 18 Ng5 Re8 19 Bh3 Ng4 20 Ne6+ Kg8 21 Qxe4 Qf7 22 f3 Nf6 23 Qc4 Nc7 24 Ng5 Re1+ 25 Kc2 b5 26 Nxf7 (The Schachjahrbuch does not mention the possibility of 26 Qxc5.) 26...bxc4 27 Nxh8 Kxh8 28 d6 Na6 29 a3 Re8 30 d7 Rd8 31 Ne4 Nxe4 32 fxe4 Kg8 33 e5 Kf8 34 e6 Nc7 35 Rf2+ Ke7 36 Rf7+ Kd6 37 e7 Rxd7 38 e8(Q) Nxe8 39 Rxd7+ Ke5 40 Re7+ Resigns.
---
8419. The Rice Gambit
Isaac Leopold Rice and Richard Teichmann – Erich Cohn and Oscar Tenner
Berlin, 16 September 1910
Rice Gambit
1 e4 e5 2 f4 exf4 3 Nf3 g5 4 h4 g4 5 Ne5 Nf6 6 Bc4 d5 7 exd5 Bd6 8 O-O Bxe5 9 Re1 Qe7 10 c3 Nh5 11 d4 Nd7 12 Qxg4 Ndf6
13 Qxc8+ Rxc8 14 Rxe5 Ng4 15 Rxe7+ Kxe7 16 Na3 f5 17 Bd2 Kf6 18 Nc2 Rce8 19 Rf1 Ng3 20 Rf3 Re7 21 d6 Ne2+ 22 Kf1 Nh2+ 23 Kf2 Ng4+ Drawn.
Source: Deutsches Wochenschach, 9 October 1910, page 369. Page 350 of the 25 September 1910 issue reported that the players contested three games beginning with 13 Qxc8+ (two draws and one win for Black).
As shown in Professor Isaac Rice and the Rice Gambit, in the diagrammed position Capablanca played 13 Qe2 in a 1913 consultation game which he lost.
---
8420. Nimzowitsch's lamentation (C.N.s 5019 & 6718)
C.N. 5019 quoted from an article by H. Kmoch and F. Reinfeld on page 55 of the February 1950 Chess Review:
'A man mounting a table, however, and yelling at the top of his voice, "Why must I lose to this idiot!" ("Gegen diesen Idioten muss ich verlieren!") would be following the example of Nimzowitsch, who thus vented his rage – after losing in the last round of a great rapid transit tournament in Berlin and so missing first prize.'
We mentioned that the tournament in question had not been identified.
Now, Alan McGowan (Waterloo, Canada) draws attention to pages 168-169 of Schachwart, September 1928: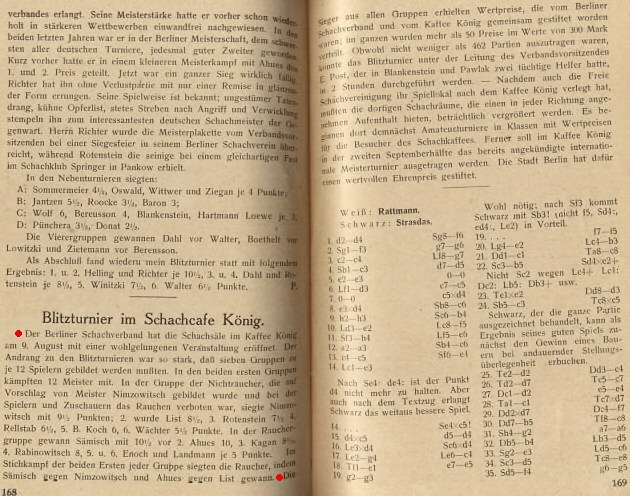 The magazine states that for the rapid transit tournament in Berlin two preliminary groups were formed: non-smokers (Nimzowitsch being the victor, ahead of List) and smokers (Sämisch finished ahead of Ahues). In the play-off games, the smokers were victorious: Sämisch defeated Nimzowitsch, and Ahues won against List.
---
8421. Feature articles
Information is sometimes added direct to feature articles. Today, for instance, we have made additions to:
As listed on the Archives page, there are now nearly 340 feature articles.
---
8422. An ending published by Lasker
Our article A Pawn Ending Mystery refers to page 279 of The Joys of Chess by Fred Reinfeld (New York, 1961), where a chapter entitled 'Boners of the Masters' discussed an alleged mistake by Capablanca in Chess Fundamentals.
By way of introduction, on pages 277-278 Reinfeld wrote:
'When superb masters of the endgame – such outstanding men as Lasker and Capablanca – go wrong in simple endings, then we can only proclaim our utter bafflement.'
He then wrote about 'a simple ending in which Lasker goes sadly wrong':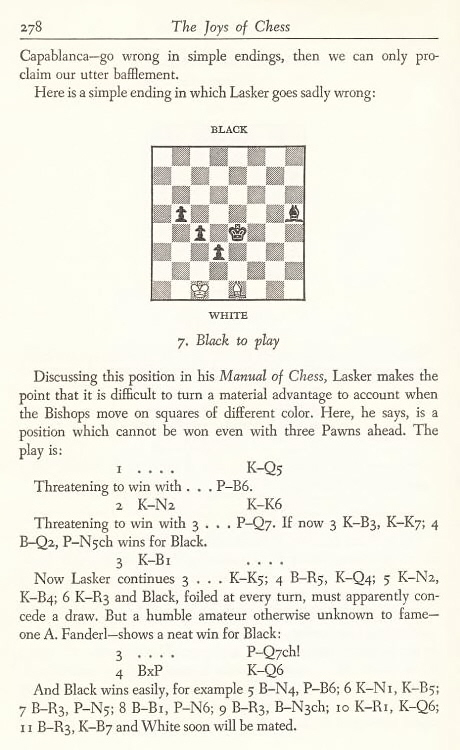 In passing, mention may be made of the notational error 11 B-R3 in the final line.
As with the Capablanca position, matters are far more complicated than Reinfeld indicated. Firstly, we have found no edition of the Manual of Chess in which Lasker gave the position shown by Reinfeld. There was, however, a very similar position (no black pawn on b5):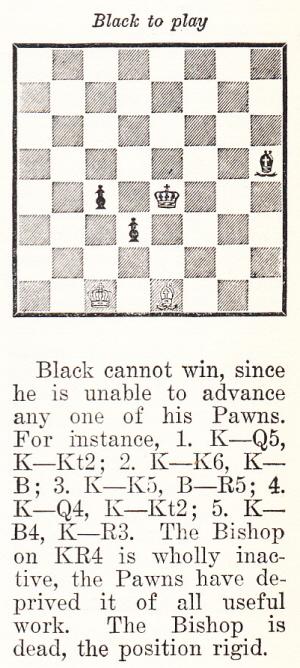 Lasker's Manual of Chess (New York, 1927), page 258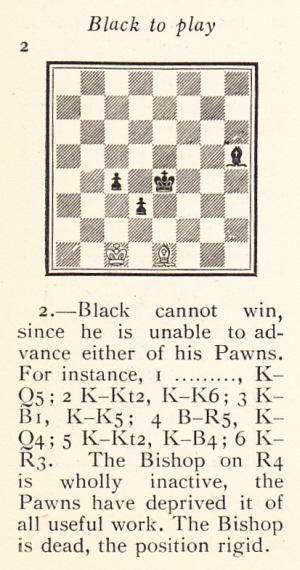 Lasker's Manual of Chess (London, 1932), page 232, as well as the edition revised by Reinfeld (Philadelphia, 1947)
It will be noted that the text varies: the original 1927 edition's ungrammatical wording 'any one of his Pawns' was amended to 'either of his Pawns' in the 1932 edition. Analytically, however, what Lasker wrote was correct.

The Manual was a translation/adaptation of Lehrbuch des Schachspiels, first published in Berlin in 1926 and with, it seems, a total of eight editions by 1928. We do not have them all, but the following sample pages show that a position with three black pawns did appear. Subsequently, the b5 pawn was removed, and the text was amended (with a mention of 3...d2+ in case Black had three pawns):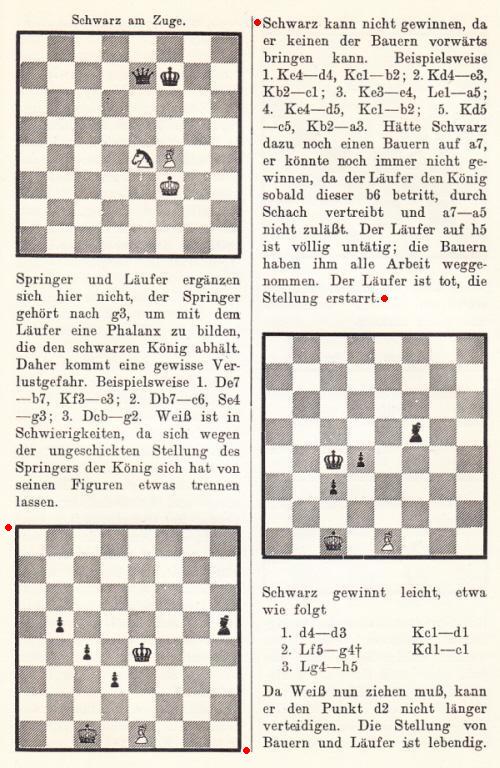 Three pawns: page 199 of Lehrbuch des Schachspiels, third edition (Berlin, 1926)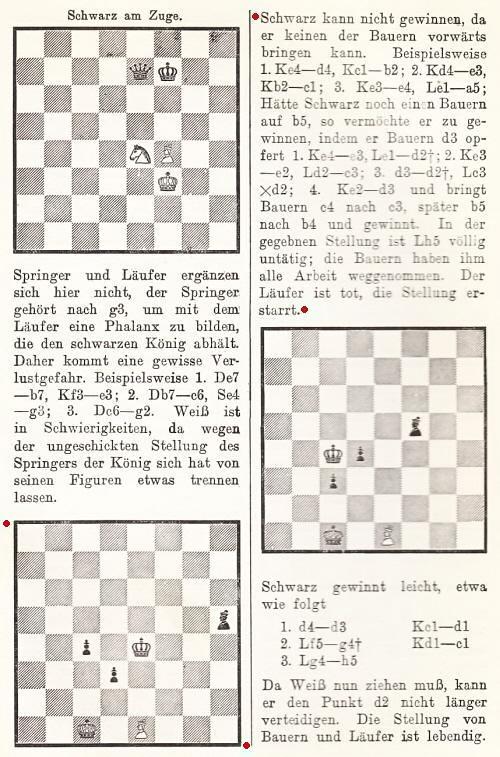 Two pawns: page 203 of Lehrbuch des Schachspiels, sixth edition
('sechste durchgesehene und vermehrte Auflage') (Berlin, 1928)
The three-pawn position was discussed by Walter Korn in Chess Review, May 1965, page 143:

It will be appreciated if a reader can provide the items in Caissa (1950) and L'Echiquier de Paris (1951), as well as any other information about A. Fanderl (described by Reinfeld in The Joys of Chess as 'a humble amateur otherwise unknown to fame').
Below is an extract (pages 507-509) from Nouveau traité complet d'échecs. La fin de partie by André Chéron (Lille, 1952):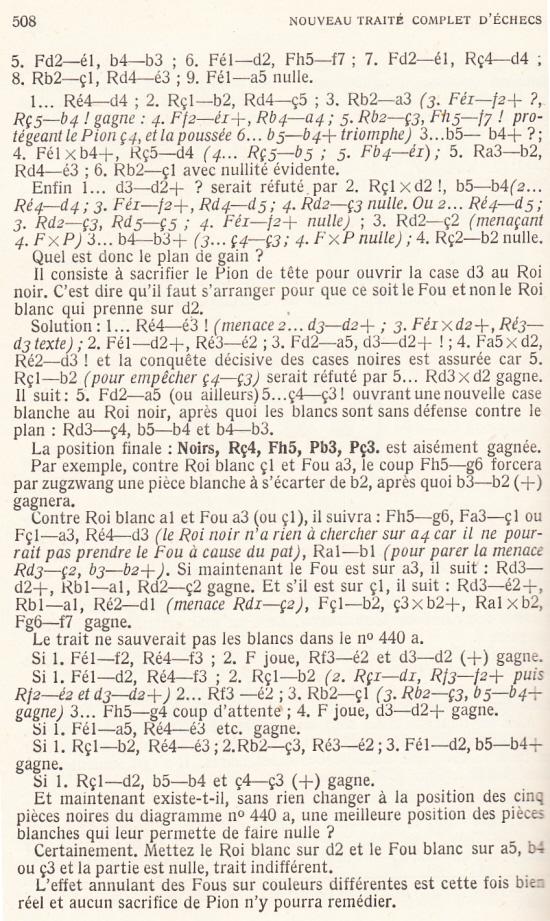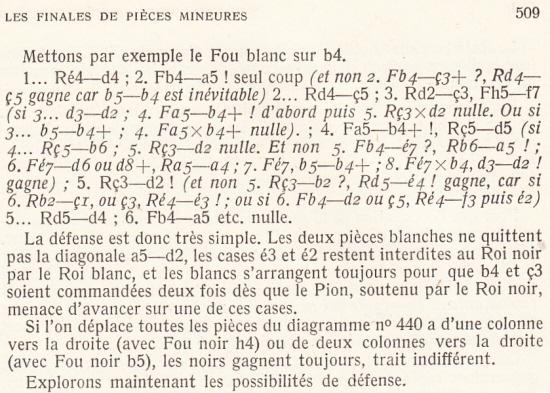 Finally, we add, courtesy of the Cleveland Public Library, the article by Lars Hanssen in Norsk Schakblad which was mentioned by Chéron in the footnote on page 507: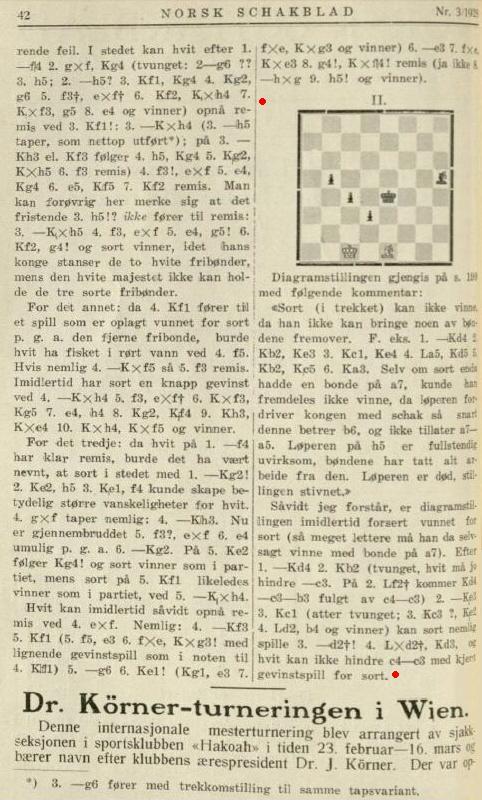 Loose ends currently remain, and it cannot be said when Lasker realized that he was mistaken about the position with three black pawns. As shown above, a correction had already been made (in the New York, 1927 edition of the Manual) before Hanssen wrote about the position in the Norwegian magazine.
---
8423. Caro-Kann Defence
Regarding the Caro-Kann Defence, Thomas Niessen (Aachen, Germany) draws attention to an article by A. Csánk, 'Die Vertheidigung 1...c7-c6 als Entgegnung auf 1 e2-e4', in the Wiener Schachzeitung, 1 September 1887 (pages 49-52) and 1 October 1887 (pages 73-75).
Our correspondent comments:
'Csánk reports that Marcus Kann, who had died the previous year, was the first to apply the defence, and that Csánk, Ja[c]ques Schwarz and M. Weiss analysed it before Weiss played it at Nuremberg, 1883.'
---
8424. Repetition
A general provision concerning repetition of position or moves was published on pages 106-107 of Le Palamède, March 1846 (the fifth in a list of possible ways of drawing):
'1. quand il y a Pat;

2. quand on persiste dans un Echec perpétuel;

3. quand il n'y a plus assez de forces pour donner le Mat;

4. quand, même avec assez de forces, on ne sait pas dans une fin de partie faire Mat en cinquante coups;

5. quand les deux joueurs persistent toujours à jouer le même coup.'
Page 107 contained a brief elucidation of the fifth point:
'Supposons qu'un joueur persiste à attaquer une pièce avec une des siennes, et que son adversaire persiste à la jouer toujours sur les mêmes cases, ou que de semblables systèmes de répétition soient adoptés de part et d'autre, sans qu'aucun des deux joueurs veuille céder en changeant son coup, alors il est évident que la partie est nulle, car le résultat est en réalité le même que celui d'un Echec perpétuel.'
---
8425. Drawn positions
'It is an axiom in chess that he who plays to win a drawn game loses it.'
Source: Chess Player's Magazine, 1 August 1867, page 229.
---
8426. An ending published by Lasker (C.N. 8422)
Luc Winants (Boirs, Belgium) has supplied the requested article in L'Echiquier de Paris, published on pages 42-43 of the March-April 1951 issue. It will be noted that the Lasker and Capablanca endings were both given, and that the remainder of the article contained sharp criticism of Reuben Fine's Basic Chess Endings.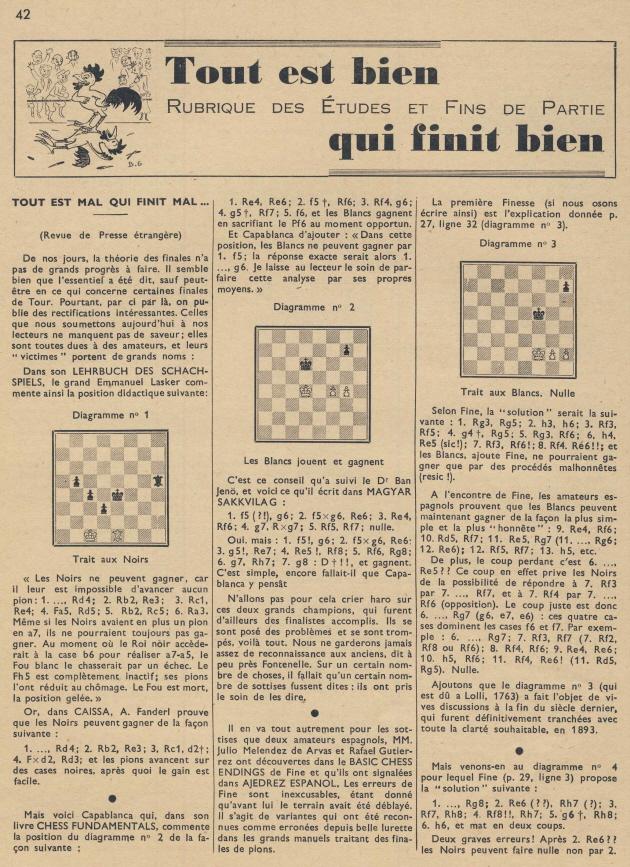 ---
8427. Who? (C.N. 8416)
This photograph was published in L'Echiquier, 23 March 1933, with the following information on page 64:
'Président de la fédération portugaise des échecs, le Docteur João Maria da Costa est certainement la personnalité la plus éminente des milieux échiquéens portugais.'
---
8428. Capablanca in San Francisco
Olimpiu G. Urcan (Singapore) has found the game below (from a 32-board simultaneous display) on page 4 of Section Two of the Sunday Oregonian, 13 May 1917:
José Raúl Capablanca – Frank Sternberg
San Francisco, 11 April 1916
Vienna Game
1 e4 e5 2 Nc3 Nf6 3 Bc4 d6 4 d3 Nc6 5 f4 Bg4 6 Nf3 Nd4 7 O-O Nxf3+ 8 gxf3 Be6 9 Kh1 Qd7 10 f5 Bxc4 11 dxc4 O-O-O 12 b4 Qc6 13 Qd3 g6 14 Bg5 Be7 15 Bxf6 Bxf6 16 Nd5 Bh4 17 f6 Qd7 18 b5 Qe6 19 a4 Bxf6 20 a5 Bg5 21 b6 axb6 22 axb6 c6
23 c5 Kd7 24 Ra7 Rb8 25 Nc7 Qe7 26 Rd1 Rhd8 27 cxd6 Qf6 28 Na6 Ke8 29 Nxb8 Rxb8 30 d7+ Kf8 31 Rda1 Kg7 32 Ra8 Qd8 33 Rxb8 Qxb8 34 c4 c5 35 Qd5 Be7 36 Ra7 Resigns.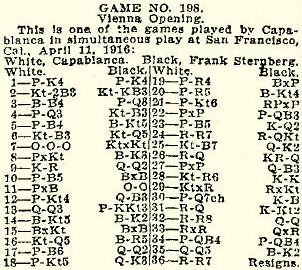 ---
8429. An ending published by Lasker (C.N.s 8422 & 8426)
Alan McGowan (Waterloo, Canada) has forwarded the brief article by A. Fanderl which was published on page 133 of the May 1950 issue of Fritz Barkhuis's periodical Caïssa: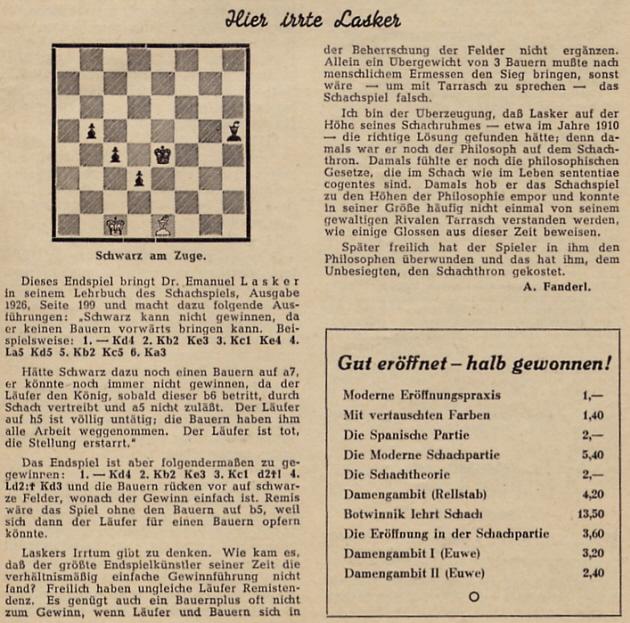 Our correspondent has found no other references to Fanderl, whose 'discovery', in any case, was not new.
---
8430. Leonhardt and blindfold chess
Leonhardt's name is seldom associated with blindfold chess, but a specimen of his play (in a six-board display) can be given from pages 42-43 of Schachjahrbuch für 1910. II. Teil by L. Bachmann (Ansbach, 1911):
Paul Saladin Leonhardt – Oskar Andresen
Kristiania, 6 May 1909
French Defence
1 e4 e6 2 d4 d5 3 Nc3 c5 4 exd5 exd5 5 Nf3 Be6 6 Be2 h6 7 O-O Nf6 8 Be3 c4 9 Ne5 Nc6 10 f4 Ne7 11 g4 g6 12 Rf2 a6 13 Qf1 Rg8 14 Kh1 b5 15 f5 gxf5 16 gxf5 Bc8 17 Qh3 Qc7 18 Bh5 Ng6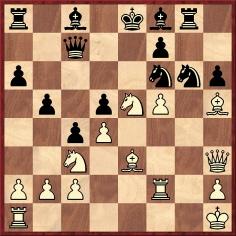 19 fxg6 fxg6 20 Qf3 Nxh5 21 Nxd5 Qb7 22 Nc7+ Qxc7 23 Qxa8 Qb7+ 24 Qxb7 Bxb7+ 25 Kg1 Bd5 26 Raf1 g5 27 Rf5 Be4 28 Rf7 Nf4 29 Bxf4 gxf4+ 30 Kf2 Rg2+ 31 Ke1 Rxc2 32 Rxf8+ Kxf8 33 Rxf4+ Kg8 34 Rxe4 Resigns.
---
8431. Learn Chess Fast!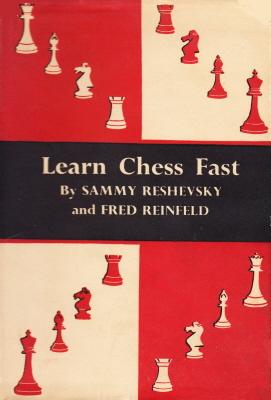 From page 7 of Learn Chess Fast! by S. Reshevsky and F. Reinfeld (London, 1952):

Concerning the reference to 'some 60 centuries', we have seen other editions of the book (originally published in the United States in 1947) which have 'some 13 centuries':

Readers' help is requested to determine the chronology of that textual change in the various editions published on both sides of the Atlantic.
Below is Reshevsky's inscription in our copy of a New York edition, published by David McKay Company, Inc. ('Sixth Printing January 1958'):
Another curiosity, on pages 25-26, is the presentation of the knight's move in the captions to diagrams 50-53: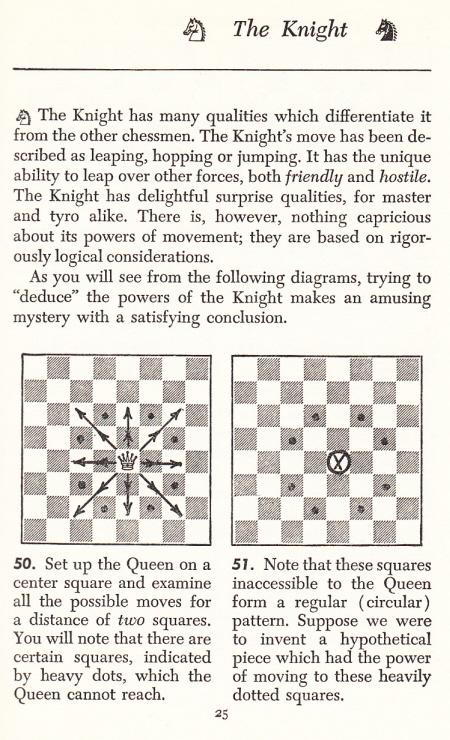 Have many other instructional works explained the knight's move in this way, i.e. by reference to squares inaccessible to the queen?
---
Factfinder
Copyright: Edward Winter. All rights reserved.