---
9882. New York, 1987
Eduardo Bauzá Mercére (New York, NY, USA) has forwarded two photographs which he took during the New York Open tournament in 1987:
Michael Rhode, Boris Spassky, Joel Benjamin
John Fedorowicz, Lajos Portisch
---
9883. Adeler v Choinatzky (C.N. 9878)
Thomas Binder (Berlin) informs us that the family of Erhard Adeler has provided his years of birth and death: 1901 and 1976.
---
9884. Christopher Nicole
From page 61 of Introduction to Chess by Christopher Nicole (London, 1973):
'It is difficult to imagine a position very much stronger than both sides before the first move; so from then on you are steadily weakening yourself. What you have to try to do is weaken the other chap more.'
---
9885. Photographic archives (18)
From our archive collection, photographs of the late Victor Gavrikov have been presented in C.N. 9590 and in Chess Jottings. A further picture (Biel, 1991) is added now: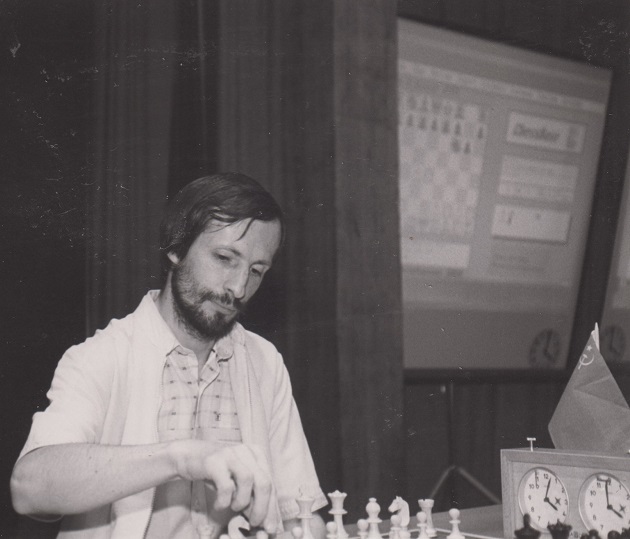 ---
9886. Bled, 1959
More and more archive film on chess is coming to light, including particularly interesting footage from the Candidates' tournament, Bled in 1959.
Two screen-shots: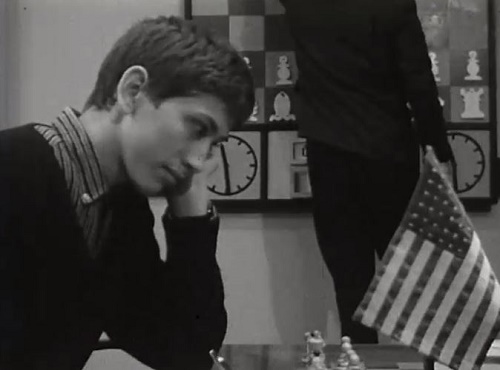 Bobby Fischer
Mikhail Tal
---
9887. Honourable uncertainty
Chess and the English Language and Chess Punctuation have drawn attention to a common oddity: the way question marks are increasingly tagged on to sentences which are not questions.
In other circumstances, however, many writers make insufficient use of question marks. When the facts about, for example, a player's identity, a date or a venue are open to doubt, the reader needs to be informed accordingly, and a question mark helpfully signals caution. Nonetheless, some writers prefer to plump, perhaps at random, for one of the options, thereby presenting as a certainty a matter on which the evidence is mixed. A question mark added in, for instance, a game heading, to indicate that the factual details are not clear-cut, is a sign of strength, not weakness.
There are many game-scores (e.g. Lasker v Thomas, London, 1912 and Réti v Alekhine, Baden-Baden, 1925) where the exact moves played are open to doubt, as well as games, such as Adams v Torre, New Orleans, 1920, which may not even have occurred over the board. It may seem obvious that a chess writer should differentiate between what is known for sure and what is obscure, but readers are often denied that basic service.
Pace the plumpers, the final score of a match may also be dubious, and as an example we take a contest in Havana between Jean Taubenhaus and Andrés Clemente Vázquez. Anyone consulting Hundert Jahre Schachzweikämpfe by P. Feenstra Kuiper (Amsterdam, 1967) will be told, on pages 97 and 98, that in 1895 Taubenhaus won +5 –1 =4. The spelling 'Vasquez, Dr Andreas C.' on page 98 does not inspire confidence, and the reader seeking corroboration of the score may well turn to page 161 of Chess Results, 1747-1900 by G. Di Felice (Jefferson, 2004):
With not a question mark in sight, can it therefore be assumed that the information is correct? Not at all. Firstly, the match was played in 1894-95. That 'detail' apart, we give below four earlier reports on the result of the match, all different from each other:
Taubenhaus 4 Vázquez 1 =5. La Stratégie, 15 February 1895, page 54;
Taubenhaus 4 Vázquez 1 =2. BCM, March 1895, page 114. However, page 66 of the February 1895 issue had stated that 'the winner should make the best score in ten games played; and by the last accounts the score stood Taubenhaus 3 Vázquez 1, drawn 3';
Taubenhaus 5 Vázquez 1 =4. Deutsche Schachzeitung, April 1895, page 124;
Taubenhaus 4 Vázquez 1 =1. Ajedrez en Cuba by C. Palacio, page 205.
The next step is to try to assemble the full set of game-scores, however many there were, and in that exercise databases are of no help.
Through old-fashioned methods we have so far traced the following:
First game: Vázquez v Taubenhaus, 29 December 1894. Bird's Opening. 1-0 (62). La Stratégie, 15 February 1895, pages 46-47 (notes by Vázquez). The Times, 29 January 1895, page 14 (42 BxKt and wins);
Second game: Taubenhaus v Vázquez, 30 December 1894. Sicilian Defence. 1-0 (46 + a note that some additional moves were played). La Stratégie, 15 February 1895, pages 47-48 (notes by Vázquez). In the Albany Evening Journal, 19 January 1895 (page ?) Pollock gave the same game, also as far as move 46, with 'notes condensed from those of Sr. Vázquez in the Diario de la Marina';
Fourth game: Taubenhaus v Vázquez, (? 1895). Sicilian Defence. 1-0 (40). Deutsche Schachzeitung, May 1895, page 141;
Fifth game: Vázquez v Taubenhaus, 5 January 1895. Bird's Opening. Drawn (77). La Stratégie, 15 March 1895, pages 76-77 (notes by Vázquez);
Sixth game: Taubenhaus v Vázquez, 7 January 1895. Philidor's Defence. 1-0 (28). Baltimore Sunday News, 23 January 1895, page ? (notes by Pollock). San Francisco Chronicle, 27 April 1895, page 10 (notes by Martínez).
A future C.N. item will give all the available game-scores, together with any additional information that can be traced with readers' help.
---